"Within minutes you're in a different world": an interview with cave diver John Volanthen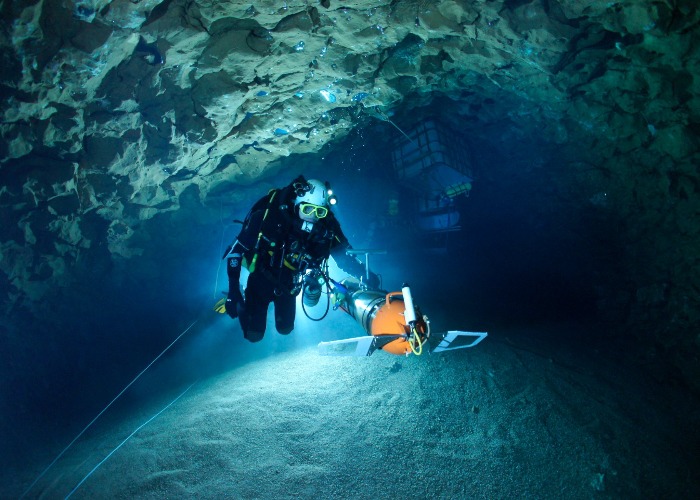 On 10 July 2018, the world watched in awe as 12 young football players and their coach were lifted out of Tham Luang cave in northern Thailand – after almost three weeks of being trapped. John Volanthen, one of the cave divers involved in the miraculous rescue, reveals the inside story.
On 23 June 2018, it was Peerapat "Night" Sompiangjai's 17th birthday. Night, along with his friends on the Wild Boars football team, had gone out to celebrate. They ended up in the Tham Luang cave, beneath the Doi Nang Non mountains of northern Thailand.
Little did any of the 12 young boys, aged 11-17, or their 25-year-old coach, know that they'd end up staying there for almost three weeks. They had been only been planning to stay an hour, but a sudden flash flood had filled the cave with water and they had been unable to scramble out to safety.
The road to the Tham Luang cave (Image: LILLIAN SUWANRUMPHA/AFP via Getty Images)
What ensued was an international rescue effort on a scale which had never been seen before. The story of the lost young boys swept around the world, catching the attention of media outlets, and before long the Thai Navy Seals, hundreds of soldiers and volunteers had rallied around the entrance of the cave.
Yet the task of pulling these young boys out required diving underwater through 0.9 miles (1,450m) of the cave complex – parts of which were so narrow a body could barely fit through. Even the Navy Seals, with years of rigorous military training, didn't have the specialist knowledge to carry out such a dangerous and complex operation.
This is where a small and unlikely community of rescuers came in. John Volanthen, 51, and Rick Stanton, 61, had decades of experience in cave diving: a niche hobby which requires navigating narrow, claustrophobia-inducing underwater caves. The pair, along with other cave divers from around the world, international organisations and the Navy Seals, worked together to rescue the young boys and their coach.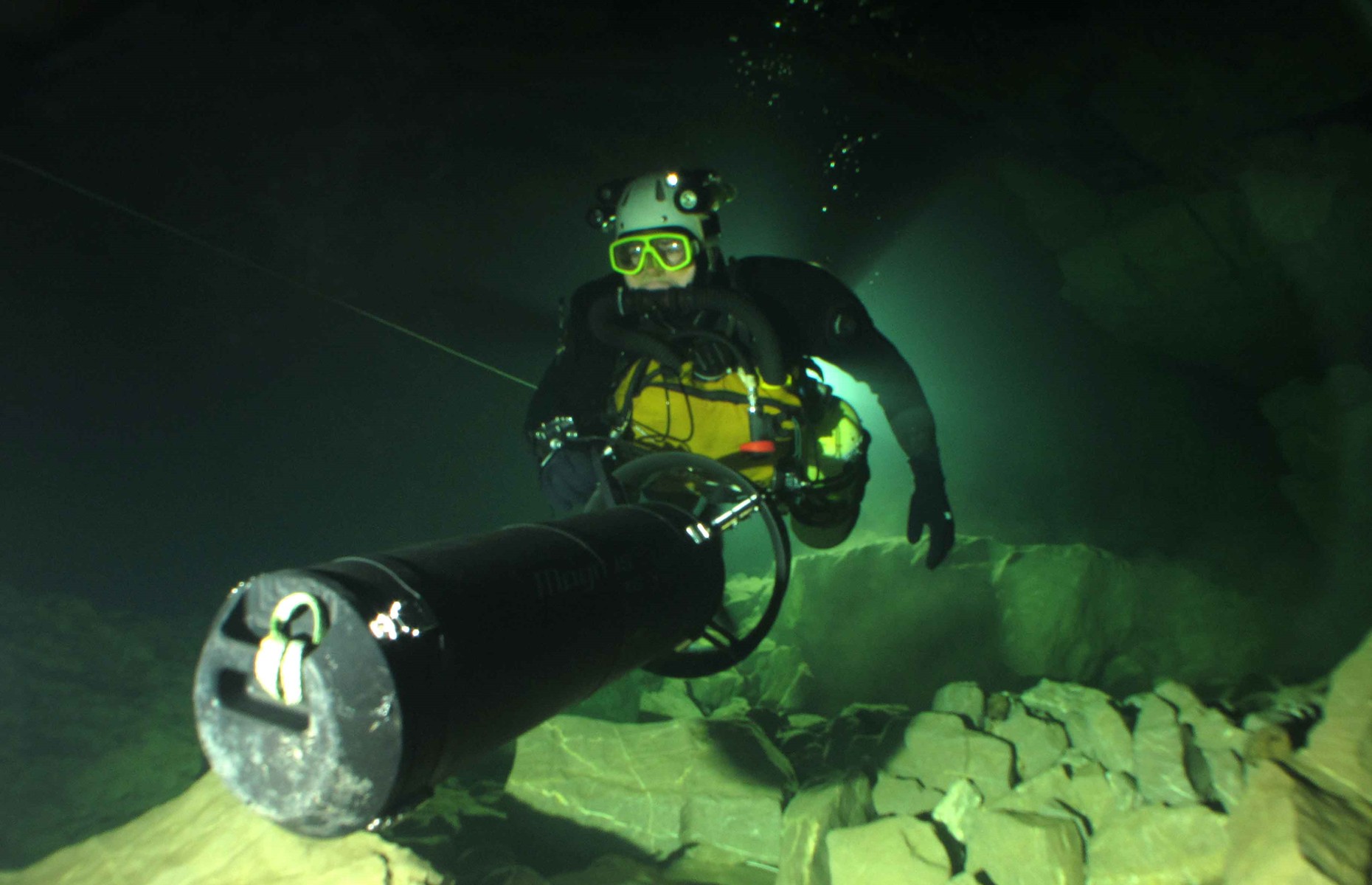 Image: John Volanthen
Following his appearance in the recent documentary The Rescue, we caught up with John Volanthen to find out how his unusual hobby became part of a remarkable rescue mission.
Receiving the life-changing call
John clearly recalls the day he found out he'd be heading to Thailand to take part in the rescue. "I was working at the time. I came out of a meeting, turned my phone on and had a dozen missed calls from Rick saying we were booked on a flight. I think it was in something like three hours."
"I thought, hang on. I'm two hours from Heathrow. So I had an hour to get home." He and Rick had already discussed the idea of going – "we both felt we had something to add" – and he had "sort of packed", but everything happened fairly quickly.
John, who has been involved in numerous cave rescue efforts in the past, says it's unusual for a country's government to seek help internationally in such situations. "We had expected to be called in much later." But he feels strongly that it was important they arrived when they did: "There's no question that it contributed to the boys' safety."
READ MORE: An interview with Robert Ballard, the scientist who discovered the Titanic
Taking things one step at a time
When John arrived, the media frenzy around the site was already picking up pace. "I can tell you it was as chaotic as it looks", he says, reflecting on footage he watched afterwards.
But at the time, "We did our usual method of ignoring the press because that was the best thing to do." It seems this unflappable mentality was part of the reason for the divers' success.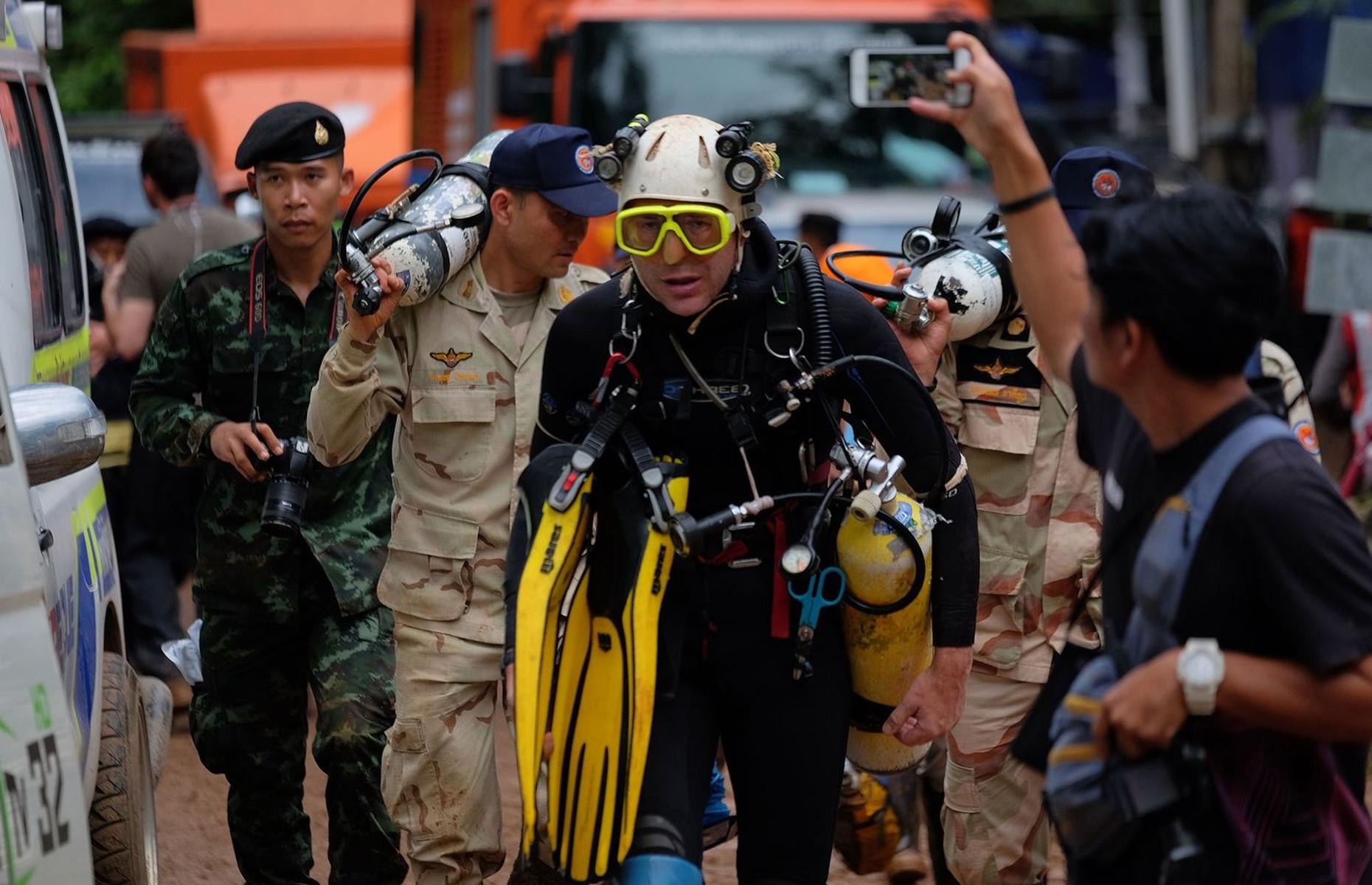 John arriving on the scene (Image: John Volanthen)
"Lots of people talk about focus – it's a really interesting thing. I imagine focus to be a laser-like beam of your attention. But with cave diving, I think it's much more important to be able to relax and just take a look at your surroundings. It's more a sense of awareness than focus. You need both, but that awareness is quite important."
READ MORE: An interview with world-famous mountaineer Nims Purja
The miraculous moment
When they first dived through the cave, laying out guide ropes and searching the route as they went, John and Rick had grimly prepared themselves for what they might find.
"I was 100% expecting us to find bodies," says John. "Normally, in these incidents you need either proof of life or proof of death, because at that moment there's no uncertainty. When there's uncertainty, you have to assume that they're alive."
But then the unthinkable happened. On 2 July, the two men stumbled across signs of life.
Huddled on a rocky shelf, some 1.8 miles (2.95km) from the cave's entrance, were all 13 of the Wild Boars.
"I simply couldn't believe they survived. To this day, I always say they were incredibly unlucky to be caught in the cave, but beyond that point, they were extremely lucky. They found the only place in the cave [where they] could have possibly survived."
The Wild Boars football team (Image: LILLIAN SUWANRUMPHA/AFP via Getty Images)
Devising an unthinkable plan
Finding the boys alive was one thing – now they had to work out how to get them out. After heading back to the rescue camp to spread the good news, John, Rick and an international group of cave divers conferred with the Seals to figure out how to help the Wild Boars to safety.
Initially, it was thought that the young boys could be taught how to dive. But "we decided it was almost inevitable that at some point, these boys would panic" – which, he stresses, would have been fatal.
Other options included pumping water out of the cave and waiting for the water levels to fall, or drilling alternative escape routes into the cave. But these were ultimately dismissed as too time-consuming or too dangerous.
READ MORE: How an all-woman team is beating poachers in South Africa
A tragic loss
While plans were being hatched for the Wild Boars' rescue, volunteers rallied to deliver them food, air tanks and other supplies.
Thai Navy Seals delivering supplies (Image: YE AUNG THU/AFP via Getty Images)
But on 6 July, tragedy struck. Former Thai Navy Seal Saman Gunan, who had been on his way back from delivering air tanks to the boys, lost consciousness after running out of oxygen.
The death of the 38-year-old sent shockwaves around the camp, showing just how dangerous the rescue operation was. If Saman – who was fit, healthy, a triathlete and skilled diver – had died inside the cave, how could the boys be retrieved alive?
A ticking time bomb
To make matters worse, the team was up against a brutal and unstoppable force: Mother Nature. Monsoon season was expected to start at any moment, which would bring perilous rains that could fill the cave with up to 16 feet (5m) of water.
John doesn't mince his words about how dangerous this could have been. "The boys were in this strange situation where, if we did nothing, they were going to die. That makes difficult decisions, which you wouldn't even normally consider, much more justifiable."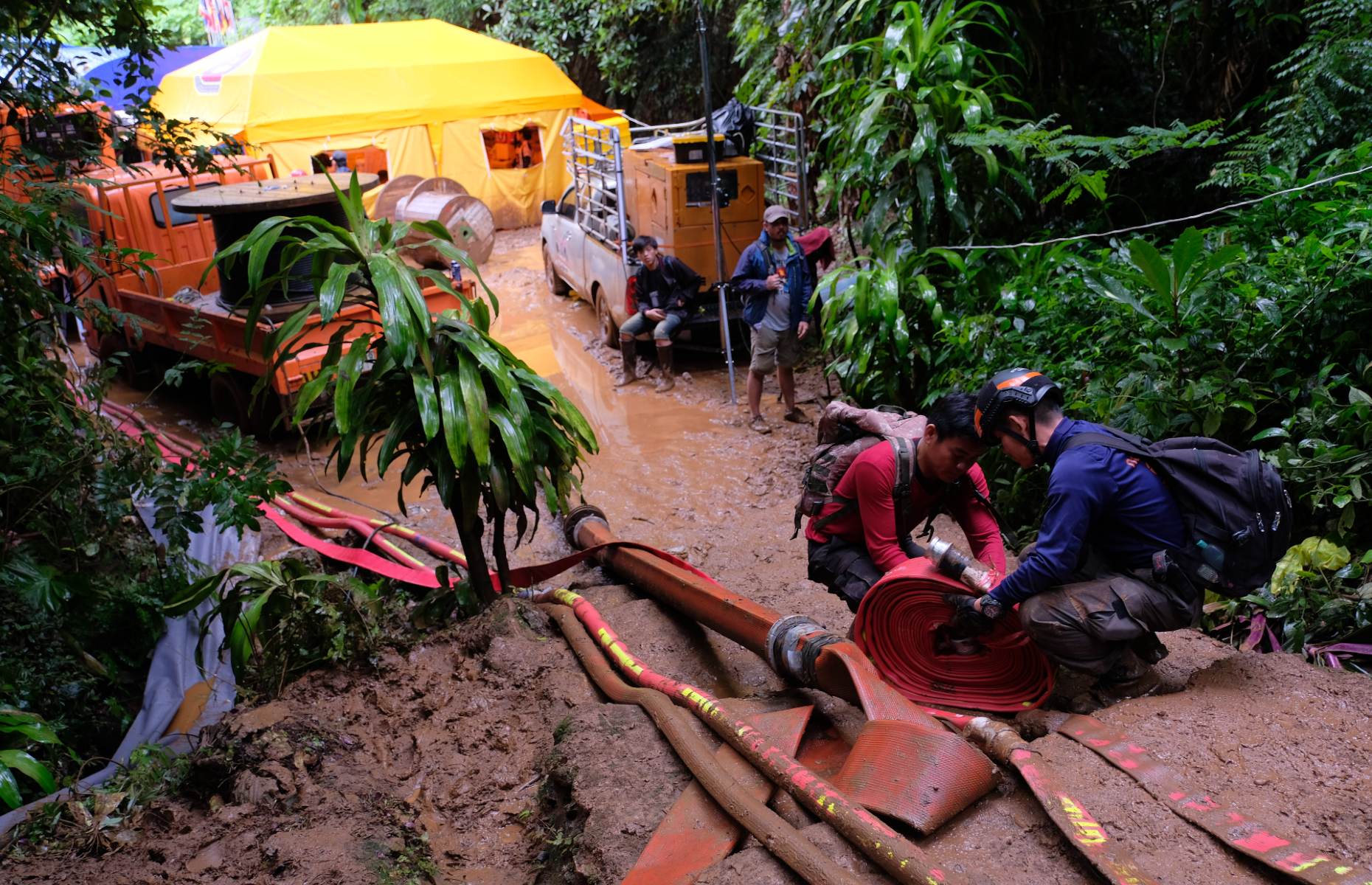 Workers install a pump to reduce water levels in the cave (Image: Linh Pham/Getty Images)
The team decided to sedate the young boys, using a mixture of ketamine and Xanax. The mixture was concocted by Australian anaesthetist and fellow cave diver Dr. Richard Harris who was also working with the rescue effort. At first, Harris "wasn't keen to say the least", John tells us.
After all, something like this had never been done before. But when it became apparent that sedation was the boys' only hope of survival, Harris agreed to the plan. On 8 July, the rescue mission began.
READ MORE: An interview with underwater sculptor Jason DeCaires Taylor
A complex system
Working in pairs, John and Rick, along with six other divers, attached oxygen masks to the sedated boys and carried them through the flooded parts of the cave. This was the most complex part of the route, involving many narrow sections which required extensive cave diving knowledge.
Once the divers reached air spaces along the route, the boys were re-sedated. Then, when they reached the entrance, the Navy Seals and US military checked that the boys were alive and loaded them on to stretchers.
One by one, the Wild Boars were lifted out of the cave – much to the astonishment of the world. They were taken straight to Chiang Rai hospital where they were greeted by cheering crowds.
Crowds cheer as news of the boys' release spreads (Image: Lauren DeCicca/Getty Images)
Miraculously, all 12 boys and their coach survived. After a series of health checks in hospital, they were on the mend. Shortly afterwards, a video emerged showing the boys smiling and waving from their hospital beds.
Down-to-earth view of success
After such a momentous rescue effort, how did it feel to have saved all 13 boys? John's attitude is characteristically matter-of-fact. "I wasn't really feeling celebratory," he admits. "I was just happy that nothing bad happened."
Yet having completed other cave rescues which weren't so successful in the past, John knows what it feels like to deliver tragic news. "It's never a pleasant thing to do when you have to try and explain the death of the person, even if you weren't involved. You're the closest link that relative has to their lost loved one."
"I was just incredibly relieved that I didn't have to say 'I'm sorry for your loss.'"
John receives a George Medal at Buckingham Palace in February 2019 (Image: VICTORIA JONES/AFP via Getty Images)
Life lessons
After the inspiring rescue of the young boys, John has had plenty of time to mull over everything he's learned. He's written a book – which he describes as a "lockdown project" – offering a set of lessons that are applicable to both life and cave diving.
"I was very keen not to write an autobiography, and not to just tell the story. I've experienced a good number of situations now which some might say were life-threatening. As I look back, it's interesting to see how I've developed from them and come up with a set of rules."
READ MORE: An interview with astronaut Steve Smith
John's enthusiasm for cave diving is palpable. "What's nice about cave diving is that you can be relatively close to home. But then within a few minutes, you're in a different world."
While he loves the exploration side of it – he's off to dive in Mexico's cenotes next – his biggest passion is passing on his knowledge.
He now teaches cave diving at his local Scout group, where he first got into caving at the age of 14. "The important thing is what I started with. It's that youth engagement. That's where my focus is."
John Volanthen recently featured in the National Geographic documentary The Rescue, which can be found on Netflix. He has also written a book, Thirteen Lessons That Saved Thirteen Lives, published by Aurum. You can find out more about John via his website.
Main image courtesy of John Volanthen
Be the first to comment
Do you want to comment on this article? You need to be signed in for this feature