'We are the eyes and ears of the reserve': how an all-woman team is beating poachers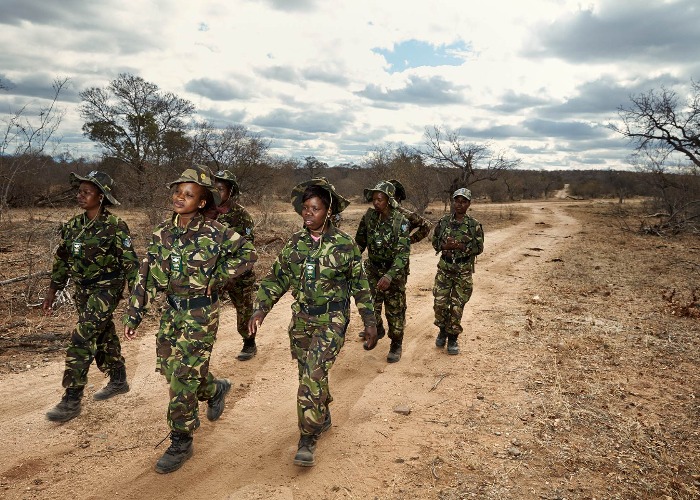 In South Africa's Greater Kruger National Park, a group of female rangers are stopping poachers in their tracks. To mark the first ever World Female Ranger Day – created to recognise these trailblazing women – we spoke to anti-poaching ranger Collet Ngobeni about preserving the region's beautiful wildlife and acting as a role model to the community.
In Africa, 96 elephants are killed every day by poachers. Yet in the fight to stop them, it's not men with guns that are coming out on top – it's female-led anti-poaching groups like The Black Mambas. Protecting the 62,000-hectare Balule Nature Reserve, part of the Greater Kruger Area, these women carry out daily patrols, stop and search vehicles entering the park and destroy snares set by poachers.
Image: Ilan Godfery/Getty Images
The rich array of wildlife scattered across Balule Nature Reserve means it's not only favoured by safari-goers hoping to see animals up close, but poachers looking to kill them. Ordinary anti-poaching units are heavily armed and often kill poachers, but The Black Mambas have taken a softer approach, with a focus on patrolling on the ground. And it's working: since being founded in 2013, poaching rates in the reserve have decreased by 89%.
"We are the eyes and ears of the reserve", says Collet Ngobeni, a member of The Black Mambas. She started working for the unit in 2013, and today she's part of an all-female team of 23 rangers and seven environmental monitors. I caught up with her to find out how The Black Mambas combat poaching in this wildlife hotspot.
READ MORE: From coral reefs to rainforests, places bouncing back from the brink
"I wanted to protect the voiceless"
Working in hot, dusty conditions and putting in eight-hour shifts every day, life is far from easy for The Black Mambas. To become a ranger, Collet had to go through a rigorous training process that involved learning how to use special equipment, how to arrest poachers and first aid, as well as extensive fitness training. "It was very hard,'' Collet tells me.
Collet Ngobeni. Image: Rivoni Mkansi
But despite the gruelling conditions, protecting the region's beautiful wild animals makes it all worthwhile. Collet describes the first time she saw a dead rhino, its horns and ears taken by poachers. "I decided that from that point, I wanted to protect the voiceless. I wanted to protect any wild animals in the world."
It's not just rhinos that are poached in the Balule Nature Reserve. Lions are targeted for their bones, which are used for medicines; pangolins are killed for their meat and their scales, which are also used in medicine; elephants are hunted for their ivory.
Image: MUJAHID SAFODIEN/AFP via Getty Images
Elephants play an important role as ecosystem engineers – meaning they physically change the shape of the landscape by knocking down trees, pulling up grass and digging up the earth. This might sound destructive, but it's actually known to help create and maintain habitats for other animals.
READ MORE: The Dead Sea and other natural wonders facing a perilous future
"Conservation belongs to everyone"
The Black Mambas' work goes well beyond the front lines of conservation. They also run a school programme, known as the Bush Babies, which teaches young people the importance of protecting the environment.
Image: Ilan Godfrey/Getty Images
Working with schools in the Greater Kruger National Park, the scheme aims to make conservation a part of the day-to-day curriculum, running courses and summer camps to educate children. The programme also helps recruit the next generation of rangers, which is how Collet got her job back in 2013.
"Our grandmothers and our mothers were prisoners of this idea that animals belong to white people", says Collet. "Which is wrong – nature belongs to everyone, conservation belongs to everyone. So by educating those young children, we are changing their mindset, so then they can grow up understanding that nature belongs to them."
"The young ones, every time they see us, they ask us about when the Mambas are hiring again. They say: "When you go back, take my CV!" They are very proud of us. They're very supportive."
READ MORE: An interview with Hilary Bradt MBE
Recognising female rangers
Even though The Black Mambas are an all-female team, just 11% of wildlife rangers worldwide are women. That's why conservation charity How Many Elephants has created the first ever World Female Ranger Day to recognise their achievements.
Image: Courtesy 3DE Studios
Taking place on 23 June 2021, the international day aims to raise awareness about female anti-poaching rangers across the world, in locations as diverse as Zimbabwe, Sri Lanka, China, India, Scotland – and of course, South Africa.
According to Holly Budge, founder of How Many Elephants, the impetus behind it "was just creating a platform to bring female rangers from around the world together and share their stories and share best practice".
"But what we're also finding is that even though these women are on different sides of the world, a lot of them are facing very similar challenges. So we're hoping that World Female Ranger day will not only raise awareness of the work that they're doing, but also raise very valuable funds for them."
Image: Courtesy 3DE Studios
Collet is excited by the prospect of the day. "It's a big privilege to be recognised like that. Not long ago, only men were recognised. I even love the sound of it: World. Female. Ranger. Day.", she repeats slowly, savouring the words.
In the communities in and around the Balule Nature Reserve, The Black Mambas are helping to change the perception of roles available to women. "The most rewarding thing about my job is that now, a lot of people's mindsets have changed", says Collet.
"Seeing more people understanding about conservation and nature gives me the courage to empower more women in the world, and [to tell them] they can do anything they want."
World Female Ranger Day is being held on 23 June to recognise the achievements of female wildlife rangers all over the world. It was launched by UK charity, How Many Elephants and co-founded by Holly Budge (Founder of How Many Elephants) and Margot Dempsey (Head of Communications at How Many Elephants). To find out more, follow World Female Ranger Day on Facebook, Twitter or Instagram. You can also check out the website here.
To find out more about The Black Mambas, check out their website here, or donate towards their work here.
You can learn more about How Many Elephants here.
Be the first to comment
Do you want to comment on this article? You need to be signed in for this feature