Explore Edinburgh: what to do, places to visit and where to eat and stay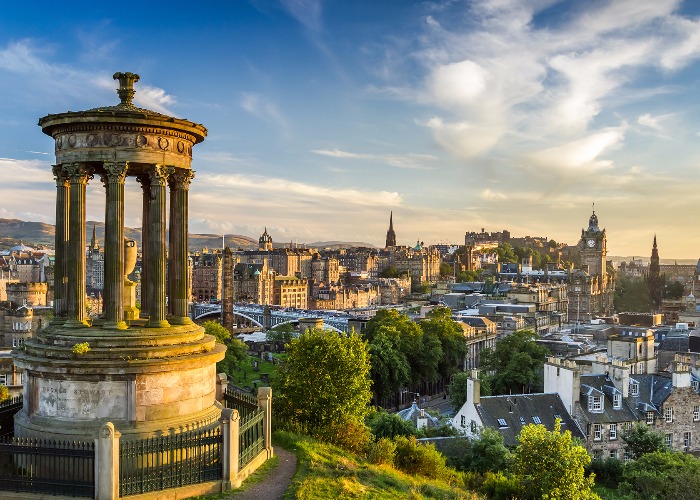 One of the UK's most handsome cities, Edinburgh is a place where history and architecture merge seamlessly with the avant-garde. Grab a dram and read our insider guide on to what to do, where to eat and where to sleep on all budgets.
Introducing Edinburgh
Edinburgh has long been one of Europe's most beguiling historical cities, its cobble-strewn, deeply atmospheric Old Town is medieval and the grand "New Town" was gracefully conceived in the 18th and 19th centuries.
You can trace the Scottish capital's intriguingly nefarious history through the architecture, museums and grand public spaces, whilst simultaneously enjoying the recent rise in Scottish-identity that has engendered in the ancient streets.
5 essential things to do in Edinburgh
Edinburgh isn't short of stellar attractions. Here are five things you shouldn't miss:
1. Storm Edinburgh Castle
This mighty redoubt is arguably the finest castle in Scotland. Plan on at least a half day as there is plenty for kids and big kids alike with cannons, the Scottish Crown Jewels, military museums and decent cafés.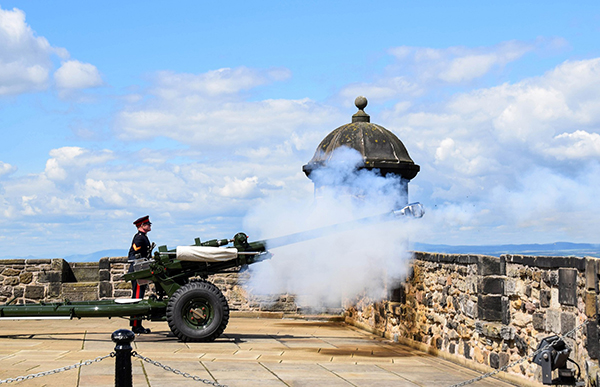 Edinburgh Castle's one o clock gun
2. See it all from Arthur's Seat
Edinburgh's highest peak, this rugged 822ft-high hill dominates the city, offering views across all its quarters and out across the Firth of Forth. The hike is lung bursting and not suitable for pushchairs. Stick to the well-worn paths as the crags are lethal.
3. Delve into Scotland's story at the National Museum
This massive museum fuses a graceful Victorian building, with a sleek modern sandstone extension. It tells many of Scotland's most alluring stories, adding context for those with an interest in how Scotland got to where it is today. Home to everything from a colossal whale skeleton to Dolly the cloned sheep.
4. Taste a dram at the Scotch Whisky Experience
This excellent attraction on the Royal Mile, the Old Town's main thoroughfare, is enjoyable even for timid whisky first-timers. A whirl through whisky production in a moving barrel explains how "water of life" is conjured up. There is also the chance to sample a wee dram and snare a rare bottle.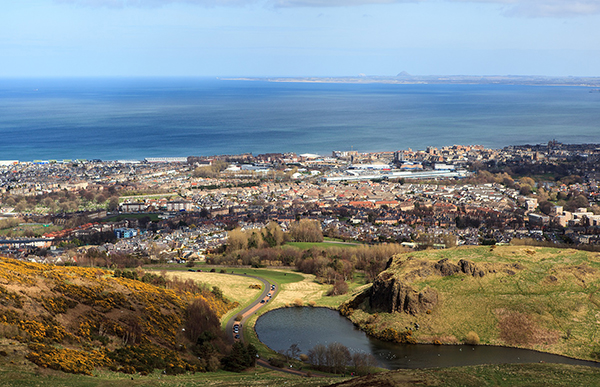 Arthur's Seat
5. Take in a trio of national galleries
Edinburgh hosts Scotland's National Gallery, National Portrait Gallery and its National Gallery of Modern Art, with a shuttle bus (£1 voluntary donation) connecting the trio. They're all brimming with world-class art, from global masters like Monet, Raphael and Rembrandt, through to local luminary Henry Raeburn.
4 alternative Edinburgh highlights
If you want to try something a little different, head to some of these lesser known attractions:
1. Do a delicious self-guided walking tour
The self-guided Edinburgh Food Heritage Trail brilliantly guides you through the UNESCO World Heritage listed old and new towns, via the taverns where the lower classes used to feast on oysters, and grand dining rooms where the moneyed elite dined in serious luxury.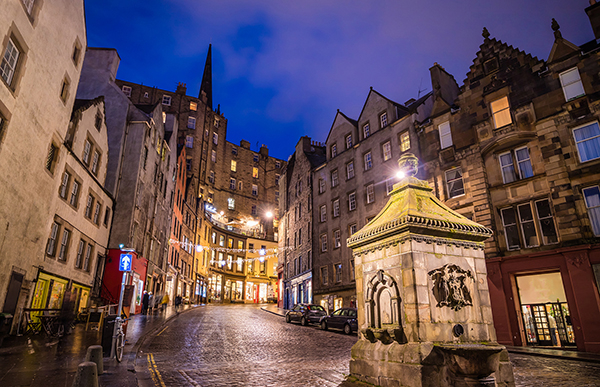 2. Go gastro in smooth Stockbridge
The affluent Stockbridge quarter is little visited by tourists, but much enjoyed by locals looking for quality delis, gastro pubs and independent shops, plus riverside walks. Stroll downhill from the New Town and you won't want to heave back up.
3. Follow the Romans to Cramond
Bus 41 to Cramond delves back through the centuries to when Romans set up camp near the eastern end of the Antonine Wall. Today it's a sleepy waterfront retreat with a beach and small river. You can visit the site of the Roman fort, enjoy lovely walks and duck into tempting cafés.
4. Enjoy more atmosphere at Myreside
In 2017 Edinburgh Rugby moved from playing games at the cavernous, but often half full at best, Murrayfield Stadium to much cosier Myreside. Getting a ticket is usually still possible and the atmosphere has really cranked up a notch.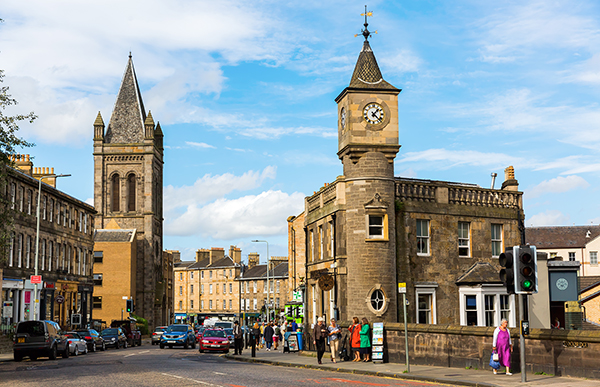 Stockbridge by Christian Mueller/Shutterstock
Map of Edinburgh
We've pinned all our favourite things to do and places to eat and sleep on this interactive map:
Where to stay in Edinburgh
Splash out:
1. For an old favourite: The Balmoral is quite simply the finest luxury hotel in Edinburgh. This old world dame presides over the city centre with an award winning spa, one of the country's best stocked whisky bars and a Michelin star restaurant.
2. For a boutique retreat: The G&V Royal Mile Hotel sits within a short stroll of the castle and is all lush fabrics and designer flourishes. A favourite of the Scottish cognoscenti.
3. For your own space: The Chester Residence, luxurious and spacious apartments in the stately West End, are spread across a series of elegant Georgian townhouses. Book an apartment on the ground floor and enjoy a private garden. Also has a residents' bar.
On a budget:
1. For an Old Town view: The Motel One hotel chain is expanding in Edinburgh, but the signature Princes Street bolthole remains their best option. Book a room with an Old Town view.
2. For a bargain: bag some ridiculously cheap rooms by booking well in advance for the Tune Hotel. There are decent beds and showers, but little in the way of space, though it's still unbeatable for value.
3. For a cheap boutique: Enjoy views of the world famous Forth bridges in the historic waterfront suburb of South Queensferry at the welcoming Orocco Pier. The restaurant and bar have excellent views too.
Where to eat in Edinburgh
1. For Michelin magic: Edinburgh is a serious foodie destination with a quartet of Michelin star restaurants. Martin Wishart offers classic Francophile dining, with Number One at the Balmoral classic too. TV-chef Tom Kitchin's eponymous Kitchin, and 21212, are more innovative.
2. For seafood: Scotland's boasts over 10% of Europe's coastline and some of the planet's best seafood. Sample it at the simple Mussel Inn in the centre, head for one of the waterfront restaurants of Leith, or posh it up at Roy Brett's Ondine, arguably Scotland's finest seafood restaurant.
3. For Haggis: The national dish of haggis, neeps (turnips) and tatties (potatoes) is served in most Royal Mile pubs. Better pub food awaits in Stockbridge and Leith, though – try Kings Wark in the latter, where you can eat in the bar or slightly fancier dining room. A cosy countryside-style pub, but still in the city, is Duddingston's Sheep Heid Inn.
Insider Edinburgh travel tips
1. Hop on a bus: Forget taxis as Edinburgh is well served council-run bus company, LRT. They are reliable and their fares cheap, with the airport bus not only cheaper, but often faster, than the shiny new tram.
2. Make a list: The List Magazine is a widely available free events and listings guide that helps you get under the skin of this multi-faceted city.
3. Find a festival: Edinburgh is known as the "Festival City". There is, of course, the world's biggest arts festival in summer, the Edinburgh Fringe, and winter's nefarious Hogmanay party. A flurry of festivals bash on year-round, so time your visit around a festival to suit you, whether it's film, jazz or science.
Edinburgh day trips
If you want to get out of Edinburgh and discover more of the Lothians try one of these great day trips:
1. South Queensferry
This royal burgh lies within the city limits but feels like a different world. The historic cobbled High Street is awash with shops, cafés and restaurants, but the main attraction are the three bridges that span the Firth of Forth: the Victorian Forth Bridge, the 1960s Forth Road Bridge and the brand new Queensferry Crossing. Boat tours on the Maid of the Forth take you beneath them all. "Scotland's Versailles" – Hopetoun House – awaits back on land.
2. North Berwick
The train snakes through the East Lothian countryside from Edinburgh Waverley to this old Victorian era spa and beach resort. Laze away on the sands, enjoy the sweet local lobster or pay a visit to the Scottish Seabird Centre. The latter enjoys an aerial view of Bass Rock just offshore, which has one of the world's largest gannet colonies.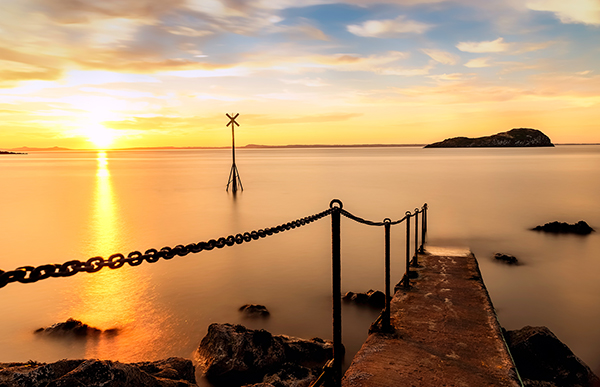 North Berwick pier by Karen Deakin/Shutterstock
3. Abbotsford
The newly opened Borders Railway – an attraction in its own right – eases down from Edinburgh to Tweedbank, within walking distance of Abbotsford, the palatial home of Scotland's most famous writer, Sir Walter Scott. Learn more about the man behind the writing with the engaging and informative self-guided audio tours before a local produce laden lunch in their restaurant.
4. The Highlands & Loch Ness
It's also possible to head out into the Highlands to sample some of Scotland's most beautiful scenery. Day tours run from Edinburgh to Loch Ness and surrounds, taking in Glen Coe, Rannoch Moor and Fort Augustus.
When to go to Edinburgh
There is no bad time to visit Edinburgh, but May–September bring warmer temperatures and are the most popular months. August can be too frenetic for some as the Edinburgh Festival doubles the city's population and prices soar.
Late autumn and early spring see the crowds clear and are a cheaper time to visit, before the city booms again with Edinburgh's Christmas and Hogmanay. Many winter days are crisp and blue skied.
How to get there
Edinburgh these days is an international travel hub, with dozens of daily flights in and out of the city to destinations all over the UK, Europe and further afield.
The international airport, which is served by dozens of airlines, is just six miles from the centre of Edinburgh and is connected by both tram and bus.
Be the first to comment
Do you want to comment on this article? You need to be signed in for this feature