Explore Berlin: what to do, where to eat and sleep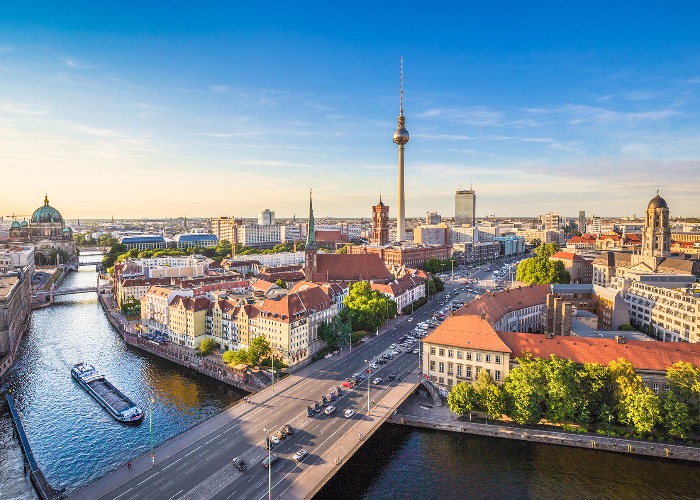 Berlin has transformed itself in recent decades, and its popularity keeps on growing. Here's our guide on what to do in Berlin, with insider travel tips, plus where to eat and sleep for all budgets.
Introducing Berlin
Capital of reunified Germany since 1999, Berlin is a young and dynamic city, a never-ending construction site that attracts tech entrepreneurs and artists from across the globe. It is also a city with a tumultuous history, its problematic past etched into the city's architecture.
For a visitor, this can be disconcerting. You can spend your days immersing yourself in Berlin's past at its thoughtful museums and memorials. By night you'll discover a city that relentlessly looks forward, where the next big thing – the new restaurant or club, the up-and-coming neighbourhood – is what pre-occupies local minds. Embrace this contradiction, and you'll find it a compelling place to visit.
5 Essential things to do in Berlin
1. Climb the Reichstag dome
Plan a visit to the Reichstag for the start of your trip. The views from the glass dome are sublime, and give you a great overview of the city, while the excellent audioguide explains the building's history and what you can see all around.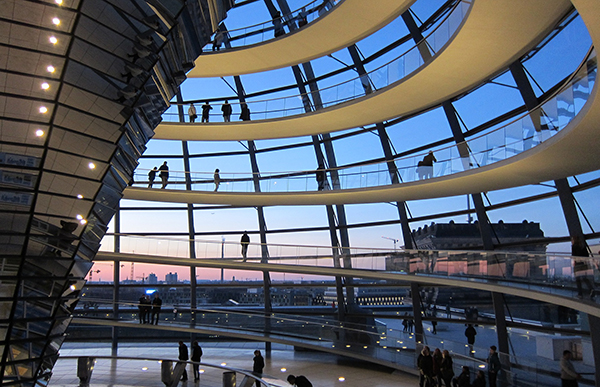 Reichstag Dome
2. See the Brandenburg gate
The Brandenburg Gate is a gleaming monument to Prussian glories that now stands as a symbol of a split city brought back together. For decades it stood isolated between East and West. Now tourists promenade underneath its columns. Nearby are several Holocaust memorials: the vast memorial to murdered Jews, plus smaller, no less moving ones to the gay community and to Sinti and Roma victims of the Nazis.
3. Spend a day on the Museum Island
Five extraordinary museums form a graceful ensemble and hold treasures from across the globe. The standout exhibit? It's hard to choose, but perhaps the enigmatically beautiful bust of Nefertiti, displayed within the imaginatively rebuilt Neues Museum.
4. Trace the Wall's path
There are several remaining stretches of Berlin Wall. Start near Bernauer Strasse, where the sense of divided city is made tangible through skeletal re-creations of watchtowers and an excavation of the houses that stood along the border when the wall was hastily constructed in 1961. Climb up the observation tower to look out over the remaining complete section of wall and death-strip.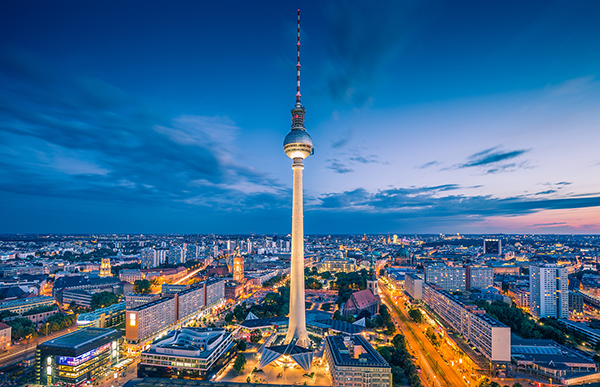 TV Tower/canadastock/Shutterstock
5. Rise to the top of the TV tower
East Germany's television tower (Fernsehturm), completed in 1969 as a bold statement of a socialist future, is one of the few GDR-era buildings in the centre that has outlasted the regime. Its glistening 1,200ft-high, globe-on-a-stick silhouette stands out on the skyline, and offers incredible views from the top.
4 alternative Berlin highlights
1. Kiez crawl through Kreuzberg
Kreuzberg abutted the Wall in old West Berlin, and became a notorious countercultural enclave. It's also home to a large Turkish community. Though now gentrified, it retains a distinctive vibe, and is a fun "Kiez" (neighbourhood) to explore. Depending on the day, visit the Turkish market by the canal (Tues & Fri), or head to "street food Thursday" at Markthalle Neuen (5–10pm). Don't miss the expertly mixed cocktails at Würgeengel.
2. Uncover Mitte's Jewish history
Oranienburger Strasse formed the centre of Berlin's Jewish life before World War II. The rebuilt dome of the New Synagogue is the most obvious symbol, but also duck into the graffiti-daubed courtyard next to Hackesche Höfe to visit Otto Weidt's former workshop for the blind. The exhibition recounts how the owner of a small brush factory protected his Jewish workforce, and, with heart-stopping poignancy, conveys something of the neighbourhood's Jewish community in the early 20th century.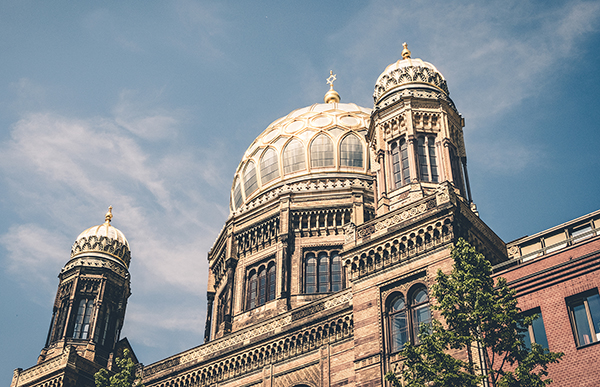 New Synagogue/hanohiki/Shutterstock
3. Hear the bells ring out on Gendarmenmarkt
Gendarmenmarkt is Berlin's most beautiful square, with the twin domes of Französischer Dom and Deutscher Dom framing Schinkel's Konzerthaus. For a fine view of this scene, clamber up the 254 steps of the Französischer Dom. If you time your climb for when the bells chime on the hour, you'll also experience an up-close bell recital.
4. Gallery-hop around Auguststrasse
Auguststrasse was, in the heady days of the 1990s, at the cutting edge of Berlin's art scene, with squatted studios and galleries occupying shrapnel-scarred buildings. Now, the area is more chic than shabby, home to stylish gallery spaces such as me Collectors Room. Along with temporary exhibits, it displays its patron's "Wunderkammer" of curious objects – everything from a "unicorn" horn to a Chapman brothers' piece. For photography exhibitions check out CWC Gallery (before having lunch at Mogg downstairs, see below).
Map of Berlin
We've pinned all our favourite places in Berlin on one interactive map:
Where to stay in Berlin
Splash out:
1. For Old World elegance: An opulent grand hotel in pre-war times, Hotel Adlon Kempinski, overlooking the Brandenburg Gate, was rebuilt and re-opened in the 1990s. It remains a celebration of Old World elegance, with impeccable service.
2. For serious style: In a restored 1920s department store, Soho House Berlin combines raw, unfinished touches with luxe fabrics, artworks and extravagant fittings, like roll-top baths and a rooftop pool.
3. For a great location: Ideally located in the historic centre, the luxurious 5-star Hotel de Rome is housed in a former bank headquarters. The swimming pool is in the vault, and there are first-rate facilities, including a roof terrace with superb views.
On a budget:
1. For a central stay: Welcoming and attractive, Circus Hotel in Rosenthaler Platz is conveniently near the main sights in a neighbourhood packed with cool coffeeshops and boutiques. They also have a sister property nearby.
2. For an unusual restoration: In residential Prenzlauer Berg, Hotel Oderberger occupies a converted former public swimming pool. The pool has been immaculately restored, while rooms are contemporary, and simply furnished to a high standard.
3. For a night on the town: The aesthetic is hip and deliberately rough around the edges at the quirky but stylish Michelberger Hotel. Near Friedrichshain's nightlife, it has a good bar and excellent restaurant.
Where to eat in Berlin
1. For casual but classic in Mitte: Mogg serves New York-style deli dishes – doorstep thick pastrami sandwiches and pulled pork – prepared from the open kitchen. At Lebensmittel in Mitte a short menu of traditional, mainly southern German food – so schnitzels and käsespätzle (cheesy pasta) – is chalked up behind the counter.
2. For food on the go: Long before the street-food craze swept the globe, Berliners enjoyed chowing down on their favourite snack from a stand tucked under the railway arches. Konnopke's Imbiss has served Currywurst (sausage with curry sauce) to Prenzlauer Berg locals since 1930. Save space for dessert – a few streets away you'll find Hokey Pokey, the best ice cream shop in Berlin. Burgermeister set up shop a decade ago under the arches in Kreuzberg. Expect queues as locals and tourists fill up on juicy burgers on a night out.
3. For quality coffee: The Visit, in a quiet courtyard just off Unter den Linden, takes its coffee very seriously, and also serves a short menu of sandwiches and soups; in Friedrichshain hipster café Silo attracts the expat media crowd for their excellent coffee and breakfasts.
Insider Berlin travel tips
1. Book ahead: Before your trip, book some of the big sights. You must reserve ahead for the Reichstag, and remember take ID with you. For the TV tower advance booking means you'll avoid the queues, and timed tickets ease the crowds at the Neues Museum.
2. Get a neighbourhood guide: For English-language neighbourhood guides, check out Oooh Berlin for hipster cafés, boutiques and intriguing sights.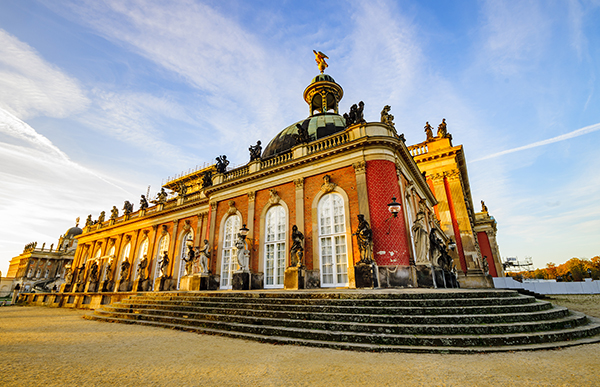 Sanssouci/Mike Mareen/Shutterstock
Berlin day trips
1. The Palace of Sanssouci
Southwest of the centre, the town of Potsdam is primarily known for the palace of Sanssouci. Frederick the Great built his retreat from urban life here in 1744, and the result is a series of lavish Baroque and Rococo pleasure palaces, plus follies, orangeries and formal gardens, set in beautiful parkland.
2. Sachsenhausen
The nearest concentration camp to Berlin, Gedenkstätte Sachsenhausen (Memorial Sachsenhausen) is a grim, but essential destination. It was used from 1936 by the Nazis, and was a prototype for others that followed. From 1945 onwards the Soviets used it to imprison political opponents.
When to go to Berlin
Berlin winters are harsh, with biting cold temperatures and snow. In December, the bleakness is offset by a plethora of Christmas markets, where mugs of glühwein warm the hearts (and hands) of visitors.
January to March are a little too cold for comfort. From late April onwards, the better weather and streetside café tables transform the city; overall April to June, September and October are the best months to visit. High summer can see weather in the 30s (followed by thunder storms).
How to get there
Berlin has two airports: Tegel is 20 minutes by bus from the main train station; Schönefeld is 30–40 minutes by train south-east of the centre. A new airport, Berlin Brandenburg, is under construction next to Schönefeld, and is currently scheduled to open in 2018, but so far has been delayed by seven years.
Berlin is well connected by train to all German and central European cities (it takes about 11 hours by train to travel from London to Berlin).
Be the first to comment
Do you want to comment on this article? You need to be signed in for this feature