'The world is a wonderful place': an interview with Hilary Bradt MBE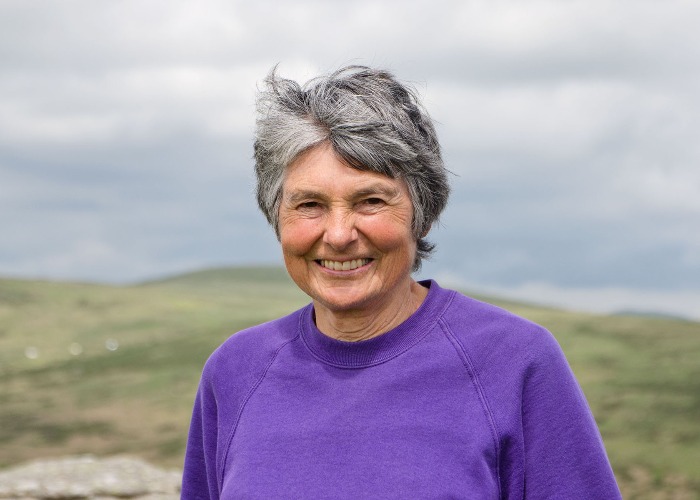 Hilary Bradt MBE on a lifetime of travel, her most memorable horseback journey through western Ireland and why exploring can take place on your doorstep – if you just walk around with a curious mind and your eyes peeled.
It's hard to describe Hilary Bradt as anything but inspiring. One of Britain's most celebrated travel writers and publishers, her pioneering career has spanned over four decades and included tour guiding, writing several guidebooks and, of course, co-founding the award-winning Bradt Guides with her ex-husband after their 18-month backpacking trip from Colombia to Tierra del Fuego in the 1970s.
Bradt Guides focuses on guidebooks to more remote, less-travelled parts of the world not typically covered by other publishers, and Hilary has never shied away from politically challenging destinations blessed with terrific nature and wildlife. From publishing the first English-language guide to Madagascar to her most recent guide to Socotra, Hilary has always been committed to scratching beneath the surface and uncovering the heart and soul of a destination, both in the UK and abroad.
Her incredible dedication to travel writing has also been celebrated across the world – she's been inducted into the Latin American Travel Association (LATA) Hall of Fame for contributing significantly to the image of Latin America in the UK, and has also been awarded the National Order of Madagascar, a Malagasy equivalent of an OBE, for her service to the country.
Closer to home, she's received a Lifetime Achievement Award from the British Guild of Travel Writers and was appointed a Member of the Order of the British Empire (MBE) for services to the tourist industry and to charity.
We caught up with Hilary to chat about the importance of guidebooks, her favourite trips and her latest book, A Connemara Journey, which recounts her trip on horseback through western Ireland in the 1980s.
If you had to introduce yourself, how would you describe yourself?
I think these days I would say I'm a semi-retired publisher of travel books, writer and sculptor. I'm nearly 80 but I'm still earning a living – that's what's unusual. You don't stop exploring as you get older. You may explore nearer to home, but with your eyes wide open from the experience of a lifetime.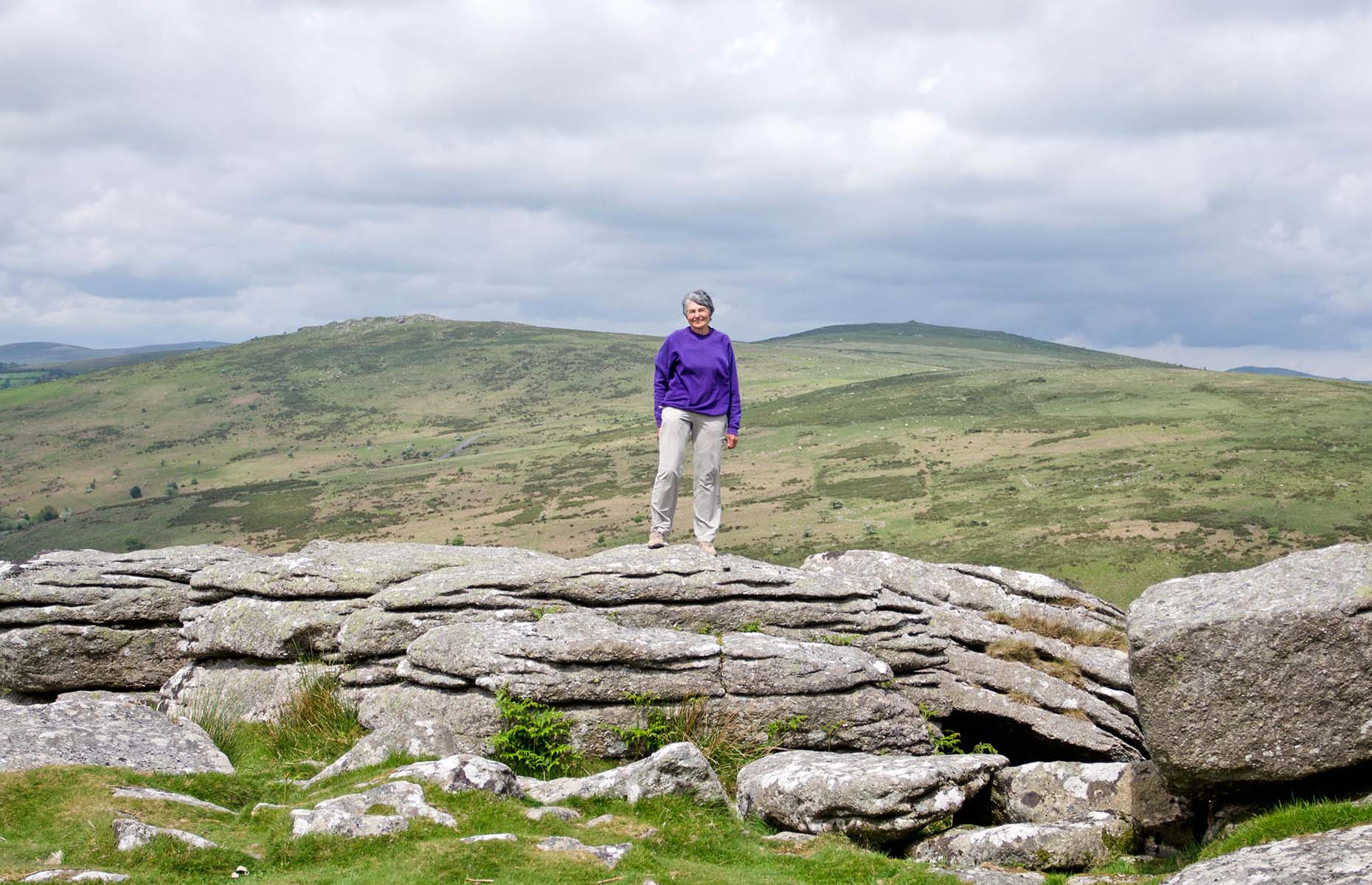 Hilary in Dartmoor National Park
What's behind your drive to travel and explore?
Curiosity. Since childhood I've just been curious about the world. I was passionate about natural history, arts, architecture, how people live, sculpture – it has all always fascinated and excited me. The world is such a wonderful place.
READ MORE: "Every step counts": Nimsdai 'Nims' Purja on being the first to conquer K2 in winter
Does your love for the natural world come from childhood too?
I think I'm very lucky to be the generation that I am. My sister always says our mother opened the back door in the morning and let us out, and she certainly never said: "Don't do that, it's dangerous." So, we went on long bike rides, long walks to the woods to climb trees, unsupervised. I think that was an enormous help growing up, because it got me out into the countryside. We lived in quite a rural part of Buckinghamshire in those days and the natural world was all around me.
I found insects particularly fascinating. I was very short-sighted as a child and it wasn't picked up until I went to school and was starting to read. So what I could see was beetles if I lifted up a stone, but not much else. That gave me good grounding on the small miracles of the natural world.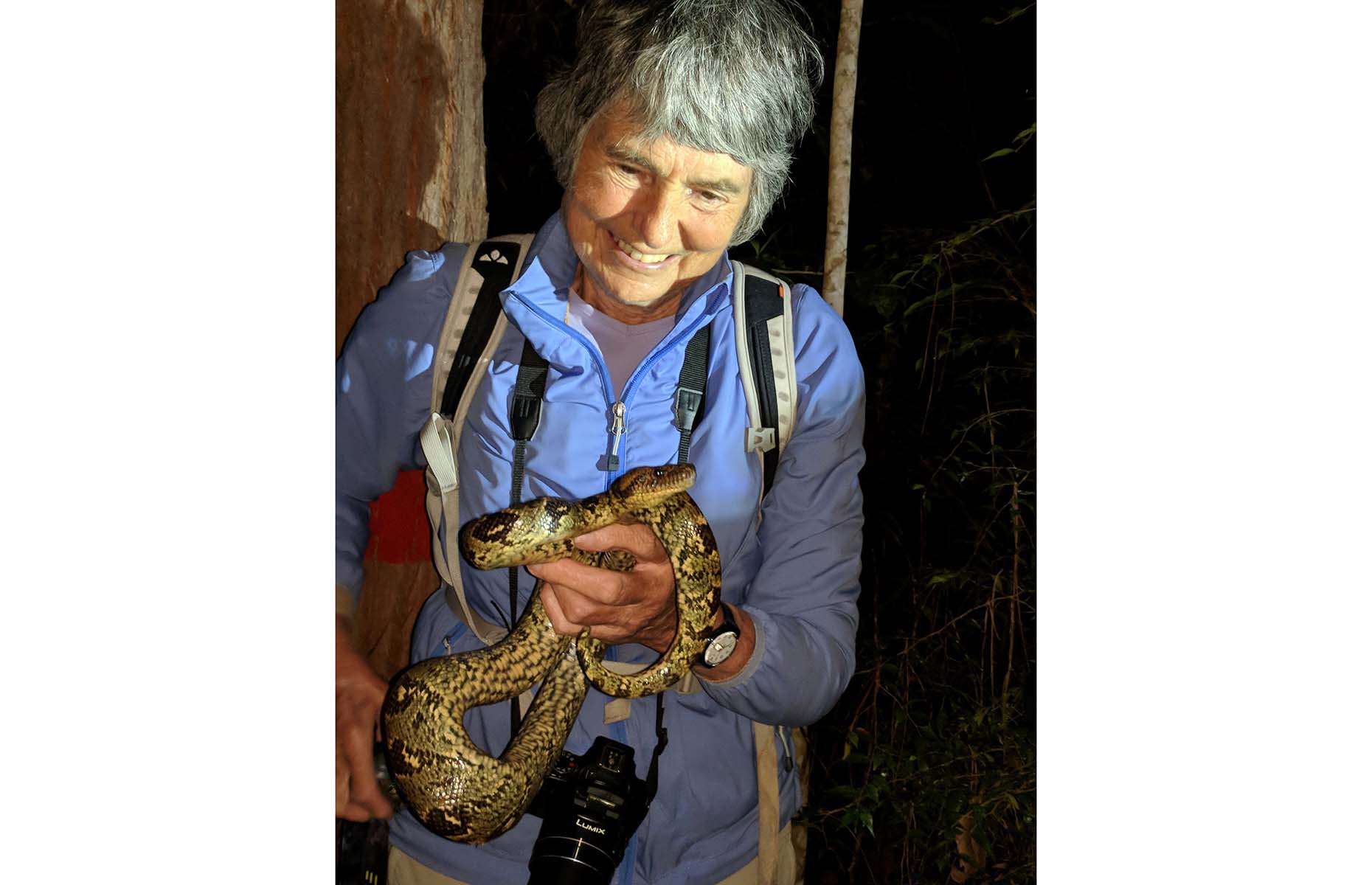 Hilary with a snake in Madagascar
Who has inspired you throughout life?
One of my great inspirations is Dervla Murphy (the Irish adventure travel writer). She's 10 years older than me and I first met her in Peru in 1979. She is just such a wonderful traveller and what's inspiring about her is she feels no fear. No situation is too alarming, it's just interesting and something to deal with. And I think that's a very good message for everyone who likes to travel, but perhaps find themselves a bit nervous about certain situations. Have a little fear, but do it anyway.
Your latest book is about a journey through western Ireland – was it your most memorable trip?
Yes, going through the manuscript for A Connemara Journey, all the memories surged back and, although it was just the country next door, it was a huge adventure because I was in charge of a horse and I was doing it on my own.
At that point I hadn't owned a horse for around 20 years and hadn't even ridden for several years. I had also fairly recently got divorced – George and I had travelled together for 10 years, and travelling as a couple is much easier. It was a very good trip for me and an absolute delight – something I'll never forget. It did change me and change me for the better, I think.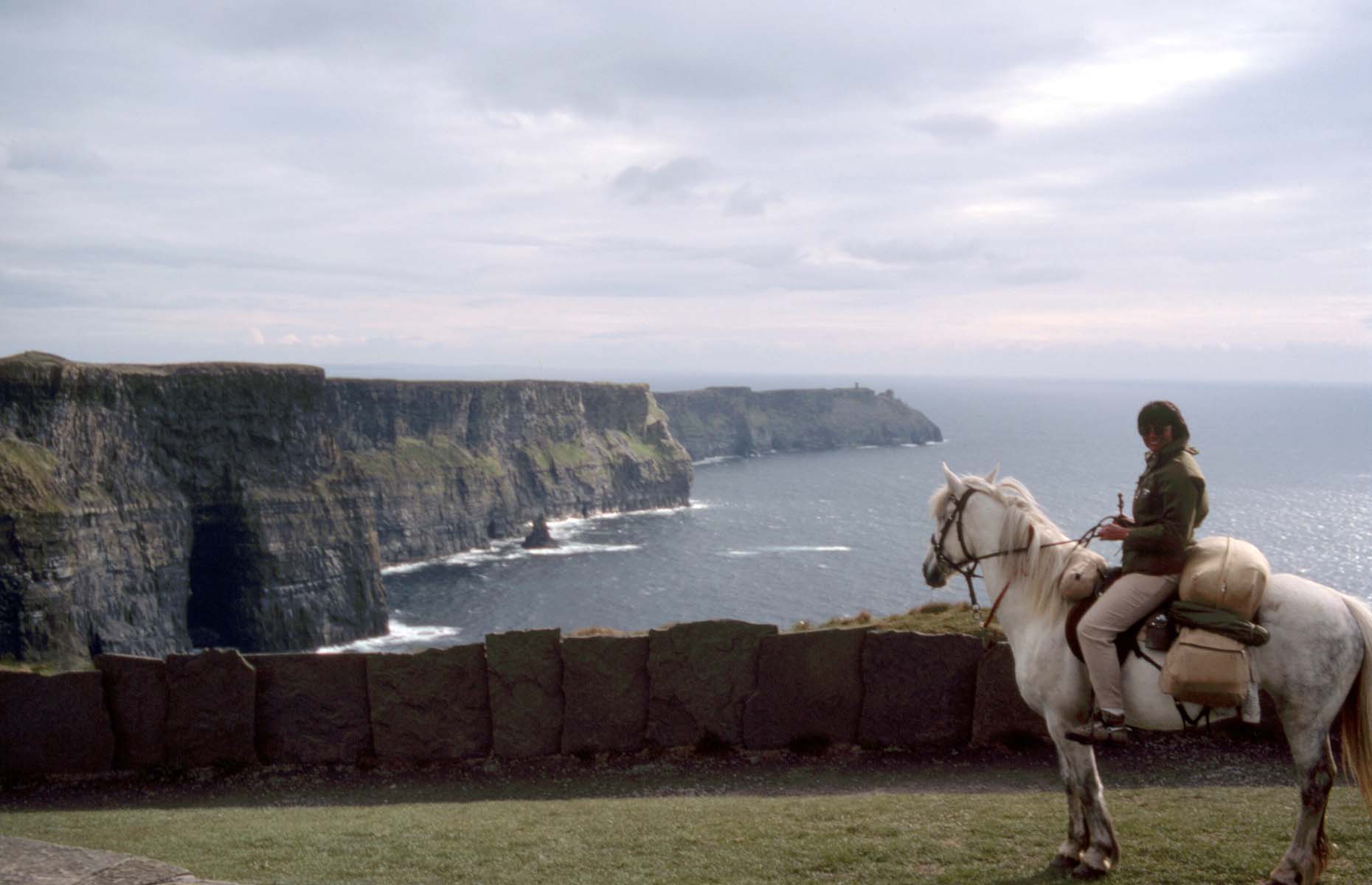 Molly and Hilary at the Cliffs of Moher in Ireland in 1984
Why did you choose to do that trip in Ireland?
It was actually supposed to be Iceland, but someone misread my writing and said: "Oh, Ireland? What a good idea!" So, I embraced the idea of Ireland and it all fitted together nicely because I wanted to go somewhere with a strong native pony and Ireland was just right for that sort of trip. Although it's English-speaking, it's still a different country and a different culture. It was perfect and once I considered Ireland, I wondered why I hadn't thought of it before.
Why write about it now, all these years later?
It's a good question! I lost the manuscript after writing it in 1984 right after the trip and then when I got it back six months later, I could read it with the benefit of distance and thought 'Oh gosh, this needs a lot of revision'. It was also handwritten so the thought of having to type it up was too discouraging, so I put it in the loft.
Then we started publishing travel narratives at Bradt and I said at a meeting that I had this book in the loft. So I got it out and had it typed up to revise. It was published in two volumes, first Connemara Mollie and the next year Dingle Peggy. I'd always wanted to combine the two books into one volume, adding more photos and text, but the time never seemed right.
Then, last summer I was asked to write an article about a holiday that changed me for The Telegraph, and I wrote about this trip. I got quite a lot of really positive responses, so I thought now, when people are reading more travel narratives than guidebooks, is a good time to publish it.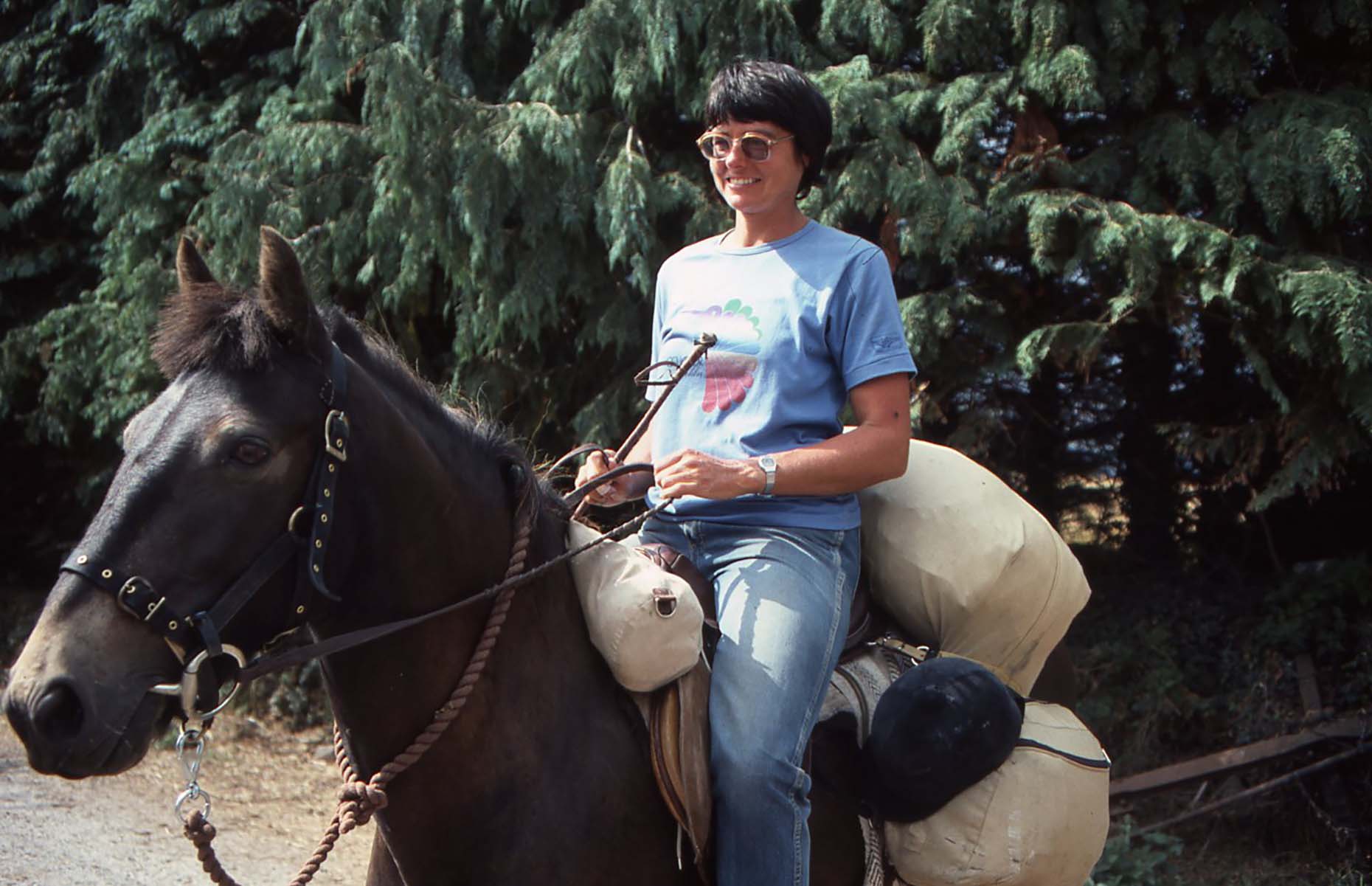 Peggy and Hilary in Ireland in 1984
You've written several UK guides too – where do you think the best place to visit in the UK is?
We think we've got to go far away to really get something different. But I'd say start with your doorstep. Wherever you live, if you walk around with your eyes open, you'll find wonderful things and that's what true exploring is about.
It's finding something wonderful, intriguing or interesting near to home. It's a huge lack of imagination if you have to go somewhere that everyone knows about. Now is a great time to find wonderful and beautiful places before they become popular.
READ MORE: The UK's most stunning natural wonders
Another destination close to your heart is Madagascar. What's so special about it for you?
The natural world, of course. People think of Madagascar and lemurs, but there are the most wonderful insects, frogs, snakes and chameleons, and I love things like that! It doesn't have to be a furry, fluffy thing – it can be a slippery or a scaly thing.
The people are so terrific too because they are so smiley. It's a cliché to say they're happy but it's one of the poorest countries in the world, yet you wouldn't know it looking at people's faces. They sort of radiate a contentment, which is quite bizarre [to me] considering their circumstances, but it makes it a very agreeable place to travel.
Hilary in Madagascar with a lemur. Image by Caroline Hampstead
Why do you think physical copies of travel guides still matter in a digital age?
Many people have said you just can't beat having a book in your hand. Occasionally, in the old days, someone updating an edition of a guide would just send me their copy because it had so many notes in there and it was lovely. It was like their own diary with sentences written in the margins and exclamation marks next to notes.
Also, the kind of places that we [Bradt Guides] write about, the more unusual destinations, you can't go to with an iPad. There's often no electricity to charge the device and you also don't want to attract too much attention. It just wouldn't be practical.
Is there still a destination left that you're extremely keen to visit and write about?
Not really, I think I already achieved my lifelong ambition early last year, going to Socotra, the Yemeni island, and that was fabulous. I did that because I thought if I don't do it then, I would just be too old, because it's quite a rugged place to visit.
It was everything I hoped for and better. It was wild and exciting and extraordinarily beautiful. Me and my friend who came with me, Janice Booth, wrote the Bradt guide to it which was a perfect final curtain. I would still like to see the birds of paradise in New Guinea, though.
Once travel is back on the cards, where do you want to go first?
I'm hoping to go back to the Falkland Islands with Rainbow Tours, who I worked for as a guide for years and years. It's one of the most exciting places I've been to. I went in 1974 and then in 1981, just a couple of months before the Falklands War and it was another world.
The penguins are absolutely fantastic but also the Britishness of it in a sort of unassuming way – it was far more British than Britain. I'd love to see it now and revisit the penguins. That would be my last long-haul trip, but it's a lovely thing to think about and plan.
Hilary Bradt's latest book A Connemara Journey (Bradt Guides, £12.99) is available from 8 April.
All images courtesy of Hilary Bradt unless stated otherwise. Lead image: Alex Graeme
Be the first to comment
Do you want to comment on this article? You need to be signed in for this feature