"Every step counts": Nimsdai 'Nims' Purja on being the first to conquer K2 in winter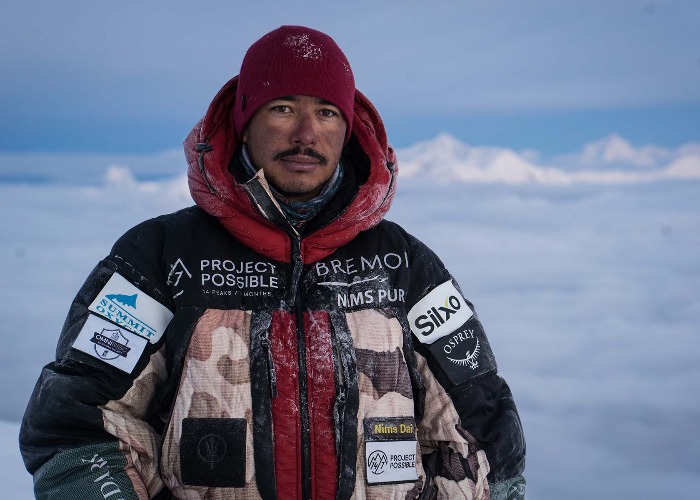 There's a reason why K2 is known as the Savage Mountain – and until Nims reached the summit in January 2021, nobody had scaled this treacherous peak in the winter months. We caught up with the military-man-turned-mountaineer about this landmark feat and what's next.
Quickly becoming an extremely accomplished climber, Nims already has a long list of record-breaking expeditions under his belt and an MBE for outstanding achievements in high-altitude mountaineering. From scaling all 14 of Earth's eight-thousanders (mountains above 8,000 metres) in a record six months and six days to climbing the top five highest mountains in the world in 70 days, his latest endeavour is the most incredible of all.
K2, about 200m (656ft) shorter than Everest, is part of the Karakoram Range that straddles the Pakistan-China border and is the most demanding to climb in winter. Due to its incredibly harsh and hostile environment, US mountaineer George Bell said "it is a savage mountain that tries to kill you" after his own failed attempt in 1953 and the nickname stuck. The Savage Mountain was the last yet to be climbed during winter, but on 16 January Nims and his team of nine Sherpas reached the summit, making history.
Nims and the team on K2. Courtesy of Osprey
"I'm very proud of my performance," says Nims. With just a few steps left to the summit the team waited for everyone to arrive and reached it together as they sung the Nepalese national anthem. "There were more than 60 climbers at the base, but we were the best," Nims says. "There wasn't a single weak character. When it's so cold, so dangerous, you're struggling to look after yourself, you can't also look out for a friend so you want people around you who you can rely on."
And he's not wrong. Nims and his team – Mingma Gyalje Sherpa, Gelje Sherpa, Mingma David Sherpa, Mingma Tenzi Sherpa, Dawa Temba Sherpa, Pem Chiri Sherpa, Kilu Pemba Sherpa, Dawa Tenjin Sherpa and Sona Sherpa – are simply the best high-altitude climbers in the world.
Determined to succeed
This was also an important achievement for the Nepalese Sherpas (a Tibetan ethnic group native to the mountainous regions of Nepal and the Himalayas), who are often referred to as the backbone of high-altitude climbing. Usually helping others reach the 8,000-metre peaks, no Sherpa had ascended any of the 14 summits in winter before. As one of the Sherpas on the team, Mingma Gyalje Sherpa, explained on an Instagram post: "K2 was the last one remaining and if we don't conquer K2 this time then we would definitely lose the last one too."
Nims on K2. Courtesy of Osprey
Nims' story began 37 years ago in Nepal, where he was born. Raised in Chitwan, in the country's lowlands, Nims never dreamed of climbing. His focus was solely of becoming a Gurkha in the British military like his father and brothers before him. Nims achieved his goal at the age of 18 and went on to being the first Gurkha to join the UK Special Boat Service (SBS), one of the most elite units in the British military alongside the SAS.
"Special Forces isn't a course. You're selected because of your mindset," Nims says. "People who end up in Special Forces are extremely self-motivated. If you don't have that, that's it. And it's only because of this drive that I've been successful." Nims stresses that it has nothing to do with ego, though. "What I took away from my career is the ability to handle the pressure and make decisions in extremely stressful environments. But you have to have a purpose. If you're doing a mission to chase glory, you can't achieve it. When you have a bigger purpose, then you can go above and beyond."
Strength in numbers
Nims and his team's bigger purpose for scaling K2 was to show the world that with unity everything is possible. From shining a light onto the political crisis in Nepal to the ongoing pandemic and climate change, Nims insists that "if we unite, we can make the impossible possible. My most important message is that I want to give people strength." Before setting out on his historic climb, Nims wrote on Instagram: "It's about the incredible things that can be achieved when you set your mind onto it and when you work as a team towards common goals."
Obviously, such a landmark achievement hasn't come without its challenges. Each climber was carrying more than 35kg (77lbs) of gear up to the summit, the freezing temperatures got as low as -60°C (-76°F) and all team members, including Nims, were battling a bit of frost nip. Nims also hadn't acclimatised adequately after only sleeping as high as Camp 2 at 6,600 metres due to weather conditions and time (ideally, climbers need to sleep or at least rest at Camp 4 to acclimatise to the altitude changes). However, he never doubted the success of their mission for a second.
"Even when I left Nepal, I said I won't return home until I summit K2," Nims laughs. "It could be winter next December, but I'm not leaving the base camp until I've done it. I never had doubt, honestly. I never thought about turning back.
"If I start doubting it as a leader then how can we be successful as a team? It's one thing to talk about it at sea level, but up there, when everything you do counts, every step counts, every breath is a struggle and your leader shows doubt and isn't leading you properly, why would you keep going? If I start doubting it as the leader, the whole team collapses."
His previous challenge, the aptly named Project Possible, now a Netflix documentary called 14 Peaks: Nothing Is Impossible, saw him scale the world's 14 highest peaks in under seven months, smashing the previous record of eight years and achieving a further six world records in the process. Completed between April and October 2019, it's the most ambitious sequence of climbs ever attempted – and completed. Only 40 climbers in history have reached the summits of all 14 tallest peaks, let alone in the space of mere months.
Nims on the summit of Everest during Project Possible. Courtesy of Osprey
Life-saving leader
But it's not the K2 climb or any other of his records that Nims is most proud of. "I've had 21 successful expeditions in terms of reaching the summit – that's amazing. But what's important is that every team member that's gone on an expedition with me has come back the same as they've left home," Nims says. He is referring to risking his own life twice to help others safely get off the mountains, once on Annapurna and less than a month later on Kanchenjunga, sacrificing his own supplementary oxygen. "I am proud of that," he finishes. "That is my track record."
And when it comes to the future, Nims has a simple answer up his sleeve: "Don't worry, I will always give a pleasant surprise!"
Be the first to comment
Do you want to comment on this article? You need to be signed in for this feature