'It's important to reveal what's beneath the surface': an interview with underwater sculptor Jason deCaires Taylor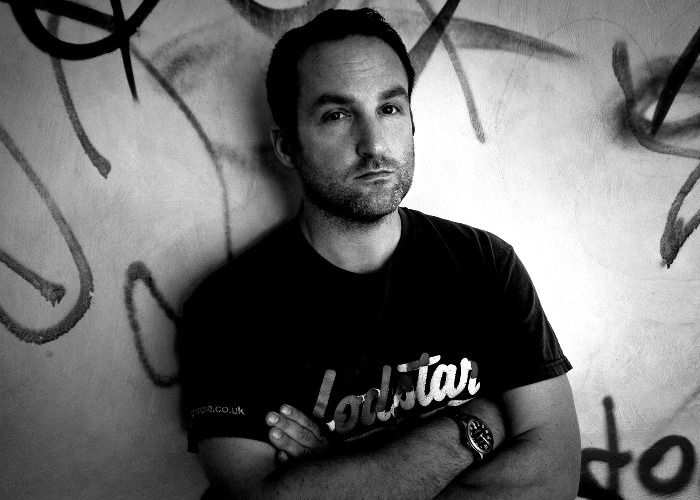 In March, Jason deCaires Taylor's latest underwater museum opened off the coast of Cannes. We caught up with the boundary-defying sculptor and environmentalist to talk about how he creates his stunning installations, the link between art and activism, and why we urgently need to readdress our relationship with the natural world.
Looking at one of the sculptures at the Underwater Museum of Cannes from a certain angle, they almost seem two-dimensional. But turn a little further and you'll see that these fractured faces actually conceal another, hidden layer. This is the message that Jason deCaires Taylor is trying to convey about our oceans: that we need to understand what's going on under the surface in order to protect them.
"I wanted to create this analogy that the surface of the sea is like a mask, where it seems very resolute and endless and indestructible", he explains. "Whereas actually, beneath the mask it's extremely fragile, and in real peril."
Jason deCaires Taylor/Underwater Museum of Cannes
The thought-provoking installation, comprising six fractured faces made from ocean-friendly cement, can be found at the bottom of the sea near the island of Sainte-Marguerite in Cannes, southern France. Visitors can either snorkel or dive to see the exhibition, which is the latest in the long line of underwater artworks created by the sculptor.
From explorer to artist
How does one get into underwater sculpture? Just ask Jason – he pretty much invented it. Since creating the world's first underwater museum off the coast of Grenada in 2006, he's made more than 1,000 sculptures all over the world, in coastal areas as diverse as Norway, Mexico and the Bahamas.
His interests in marine biology and the art world "probably evolved at the same time". He describes his upbringing as "unusual": his parents worked as English language teachers so they travelled around a lot, living in Malaysia, Thailand and the Caribbean. Meanwhile, many of his family members were involved in the art world, and he went to art college after leaving school.
"I also trained as a diving instructor and learned to be an underwater naturalist", he recalls. "So it was pretty obvious that a few things started to merge together, and I started thinking more about the underwater world as an exhibition space."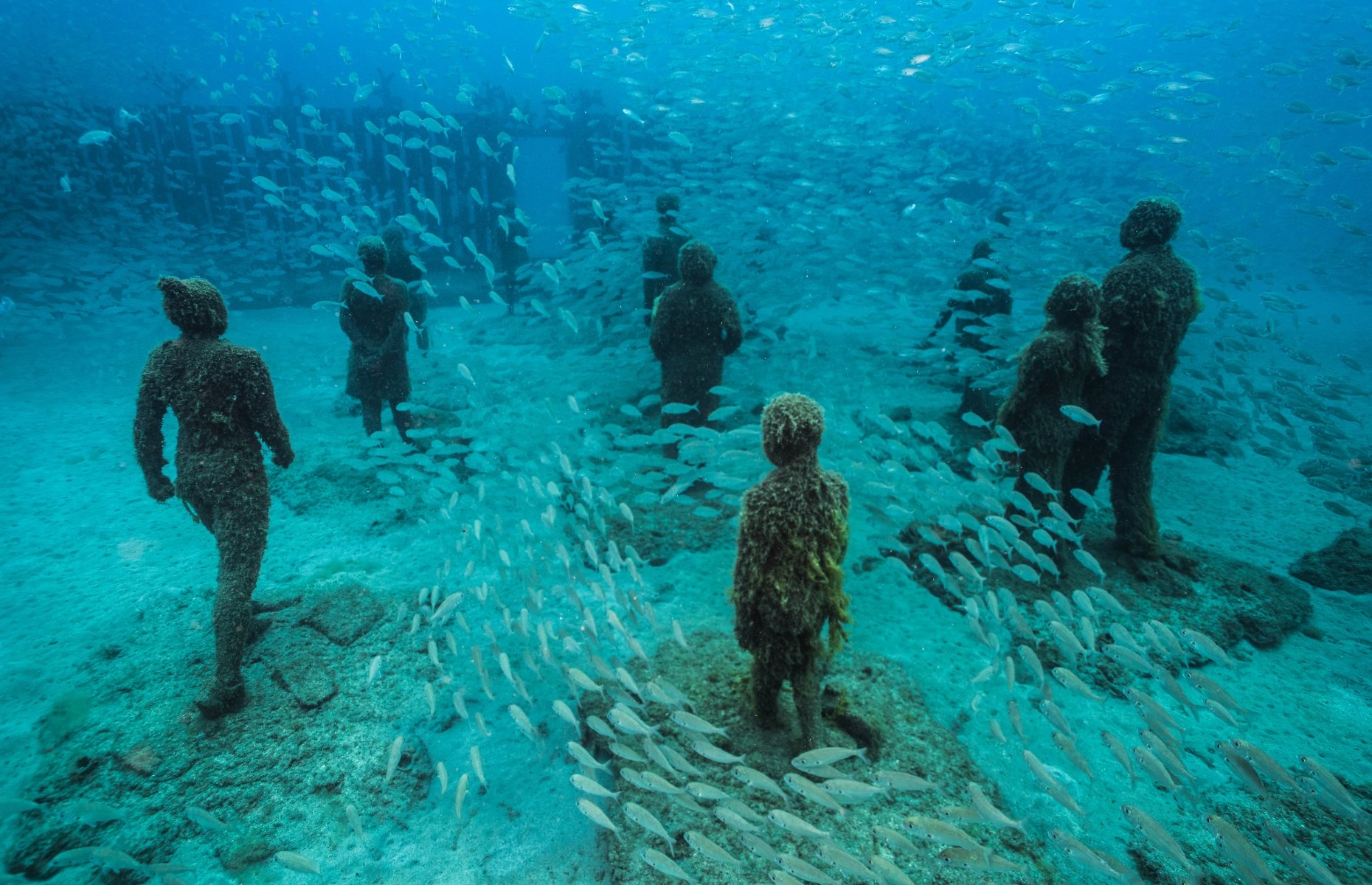 Museo Atlantico, Lanzarote. Image: Jason deCaires Taylor
Yet hand-in-hand with experiencing the ocean's beauty, he became increasingly aware of its fragility. "Everybody, in every place I visited, always said the same thing: that I should have seen it 20 years ago, it was paradise."
That was when the urge to use art as activism kicked in. Since diving was "quite a niche sport", the arrival of the internet would allow him to show his work to a wider audience. In 2006, he created the world's first-ever underwater sculpture park off the coast of Grenada, which he says is still one of his favourite installations to date. "The people I met were so warm and genuine", he says, "they really made the project special."
READ MORE: Coral reefs to rainforests, places bouncing back from the brink
Havens for biodiversity
As well as being strikingly beautiful, Jason's sculptures fulfill an important ecological purpose. The areas in which they're built are specially selected to draw divers away from popular reefs, which mitigates the issue of overtourism. They also undergo a thorough clean-out before sculptures are introduced, reducing ocean pollution levels.
The sculptures are created from pH-neutral cement, with textured surfaces designed to attract coral and fish. This means they frequently transform barren environments with hardly any wildlife into stunning, biodiverse artificial reefs.
Museo Subacuático de Arte, Isla Mujeres, Cancun, Mexico. Image: Donald Miralle/Getty Images for Lumix
And that's part of the beauty of it all. As the years pass, these cement-based forms morph into something entirely different, covered with a kaleidoscopic array of different-coloured corals. "I've done installations in Spain and there have been thousands and thousands of schools of fish there, and it's amazing", he says. "Then I go two weeks later and they're all gone!"
How the sculptures change over time is influenced by myriad factors: ocean cycles, the water's temperature, the depth at which they're placed and the way in which the light hits the water. "I think of the sculptures as almost like children", Jason jokes. "We build them, but then there's a real sort of letting go – once they go into the sea, they enter their own journey."
READ MORE: An interview with pioneering travel writer Hilary Bradt
The process
It seems there's no shortage of inspiration for Jason's designs. "We're living through such turbulent times and are subjected to so many influences now", he muses. "It becomes hard to differentiate what is an original thought and what is past experience. "I almost want to go the other way. I'm really thinking of getting a studio somewhere remote, where I don't have such a bombardment of digital media. The best ideas always take time to evolve and pass through multiple stages on the way. "
As an environmentalist, Jason wants to ensure the sculptures are as sustainable as possible at every stage of the process. Previously, he has used carbon capture technology to cut down CO2 emissions from the cement, but he says they're beginning to move towards new geopolymer cements, which are carbon neutral.
The construction process varies from place to place. Typically, sculptures are created on land before being transported underwater, although some are partially built in the sea. Projects can take anywhere from six months to five years to build, although, "it's generally not the construction that takes the time, it's the permitting and the fundraising and the political decisions."
Constructing the Underwater Museum of Cannes. Image: Jason deCaires Taylor/Underwater Museum of Cannes
In turn, the installations can bring about political change. The creation of the Molinere Underwater Sculpture Park, for example, prompted the Grenadian government to designate the area a marine protected area. Proceeds from ticket sales go towards paying park rangers to enforce fishing and tourism quotas.
READ MORE: An interview with legendary astronaut Steve Smith
What's next?
Despite the pandemic forcing him to work remotely – which he's found "frustrating" at times, largely because he can't go and visit his sculptures – Jason has several projects in the pipeline.
"We're working on the next phase of sculptures in Australia, on the Great Barrier Reef, and I'm making a snorkel trail, which is a series of sculptures based on well-known marine biologists. The idea is it's an educational trail where you visit each sculpture and you learn about each marine biologist, what their area of study was, and their history."
On top of that, he's planning to create an underwater forest off the coast of Cyprus. This will include hundreds of tree sculptures placed on the seabed, ranging in height from 10 to 20 feet (3-6m), which will aggregate lots of fish and help rewild the ocean.
Museo Subacuático de Arte, Isla Mujeres, Cancun, Mexico. Image: Donald Miralle/Getty Images for Lumix
Despite the incredible impact his sculptures have had, Jason is grave about how much needs to be done to save our oceans. "The human race has to change its relationship to the natural world. That's one of the fundamental things – we have to stop calling nature a resource. It's not a resource. It's something that we depend on, and it's part of us."
He emphasises a need for more protections on oceans and coastlines. "And we need to be able to enforce those rules as well. It's all well and good designating them, but there has to be somebody maintaining that."
Yet he remains tentatively hopeful about the future. He says people "are much more aware now" about what needs to be done to protect the oceans. As for government action? "The pandemic has highlighted that we do have the ability to make sweeping changes, very quickly, but we need to get to that critical point where we all get behind it."
To find out more about Jason deCaires Taylor, check out his website here.
Lead image: Jason deCaires Taylor/Underwater Museum of Cannes
Be the first to comment
Do you want to comment on this article? You need to be signed in for this feature