Explore Nantes, France: where to eat, the best hotels & what to see
Medieval streets, modern art and serious seafood are just some of the reasons to say mais oui to a break in this lesser-visited city in western France.
Why go to Nantes?
When you think about a mini break in France the chances are Nantes isn't top of your list. Yet this city on the river Loire stands up to the big hitters of Paris, Lyon and Nice: Nantes's wiggling medieval streets sit next to modern developments offering big-league restaurants, relaxed cafés and an artistic energy.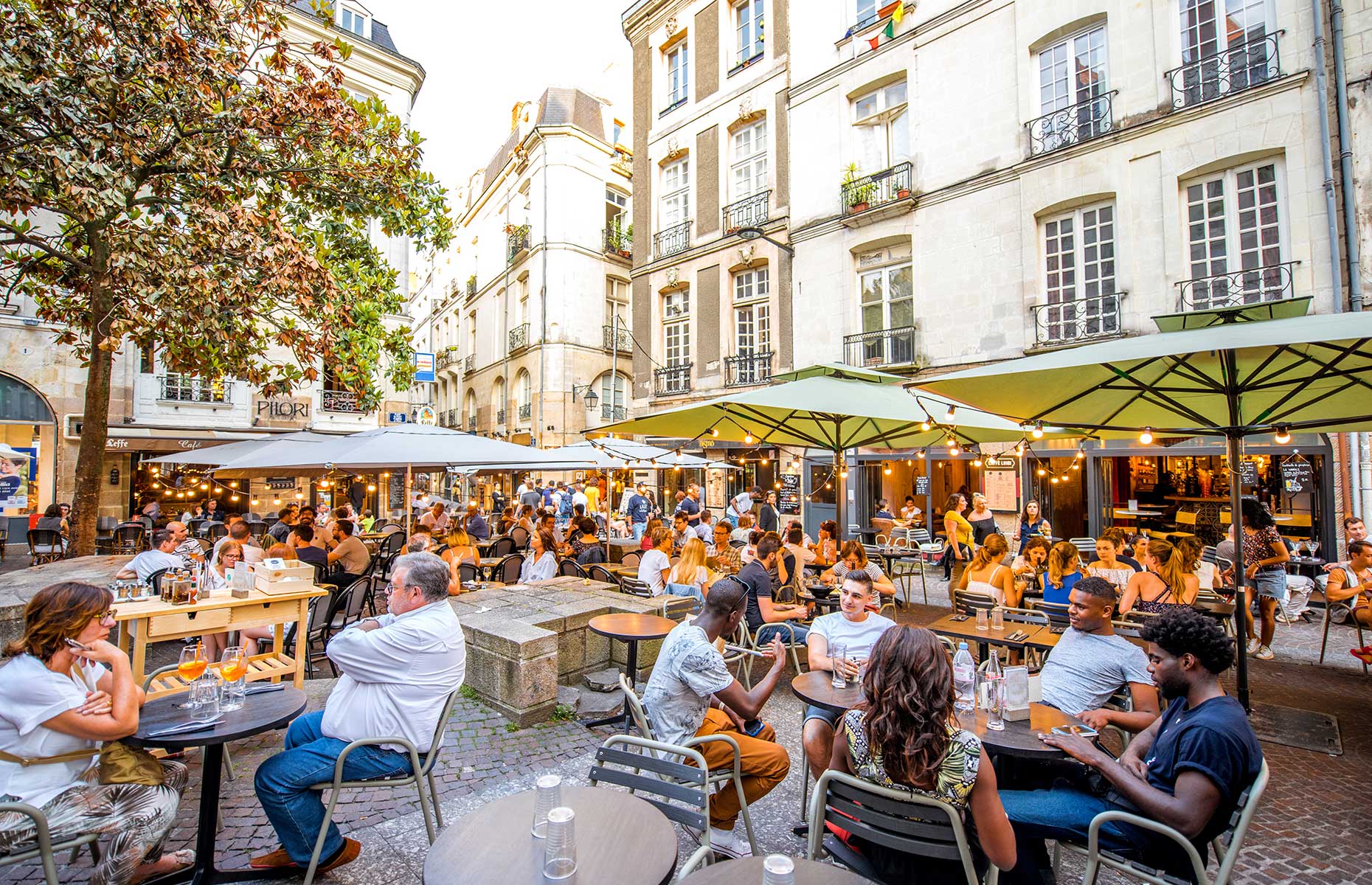 RossHelen/Shutterstock
Around 31 miles (50km) upriver from the Atlantic, Nantes was once the proud capital of Brittany, and home to France's foremost port which plied much of its trade with the New World.
Now Nantes is the capital of the Pays-de-la-Loire region. And in recent years the hometown of author Jules Verne has undergone a renaissance bringing startling new visitor attractions, such as a mechanical elephant you can ride in, plus a new swagger among its youthful population.
READ MORE: Explore the Altantic coast near Nantes
The key neighbourhoods in Nantes
Medieval Nantes
This district has been the heart of life in Nantes since Celtic tribes first settled the area. As a visitor you'll probably spend most of your time in the little lanes that snake off from the landmark Château des Ducs de Bretagne.
READ MORE: The world's most stunning historic cities
Today the medieval streets have seen residents leave and independent shops, little cafés and restaurants move in. It's a great spot for aimless strolling, especially as pedestrians are generally given priority. Make sure to visit by day and again by night as the atmosphere ramps up a gear when the sun slips down.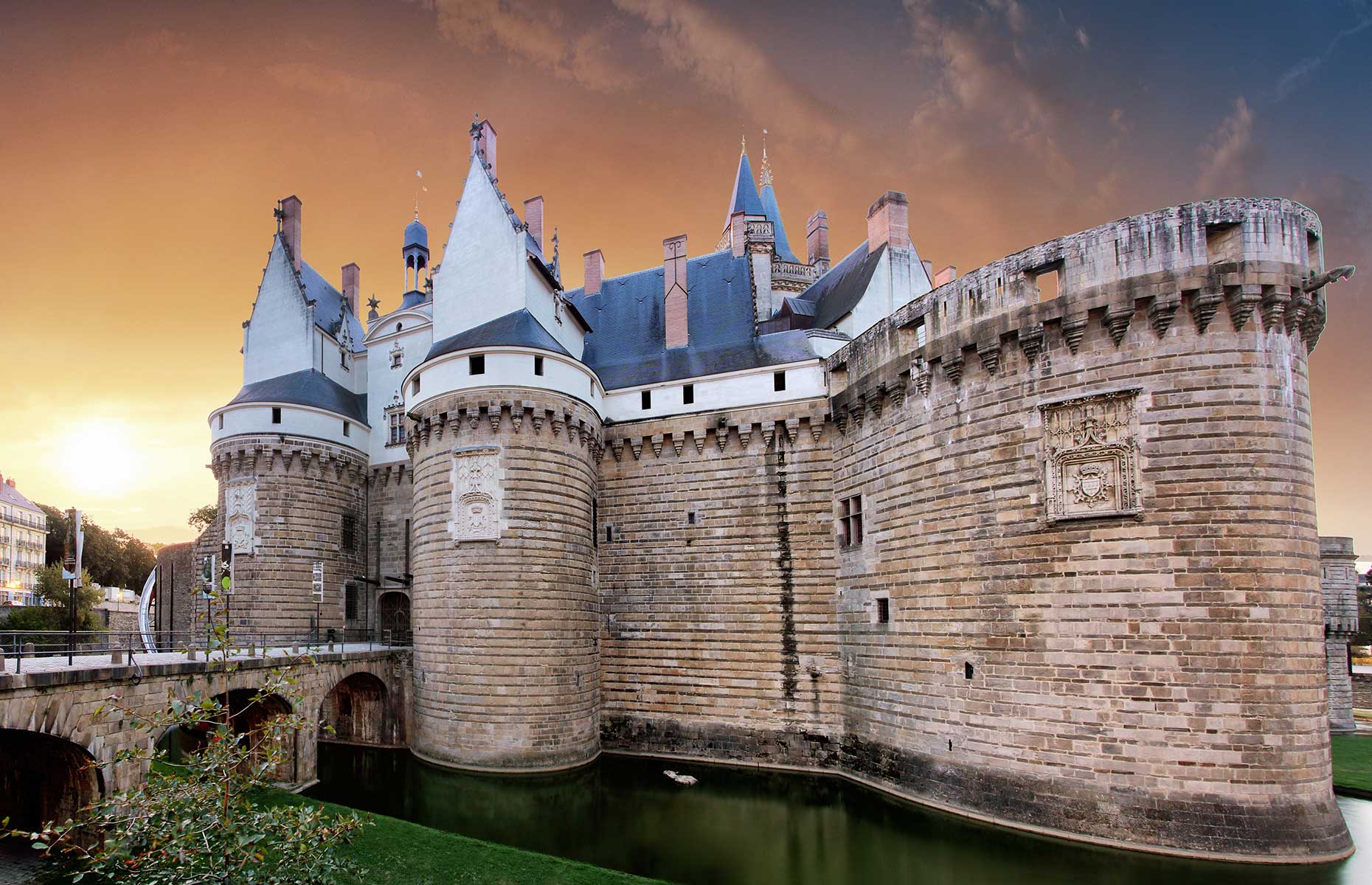 TTstudio/Shutterstock
'New Town'
West of Nantes' oldest quarter lies this elegant 19th century oasis. In place of rambling warren-like streets are wider boulevards and grand buildings, befitting a city of wealth and stature. This is where you will find the larger shops and the commercial heart of the city. There are a sprinkling of museums and cultural attractions, including the Jules Verne Museum. There are also a flurry of squares to relax in, replete with pavement cafés, spinning off from the Place du Commerce and the Place Royale, pictured.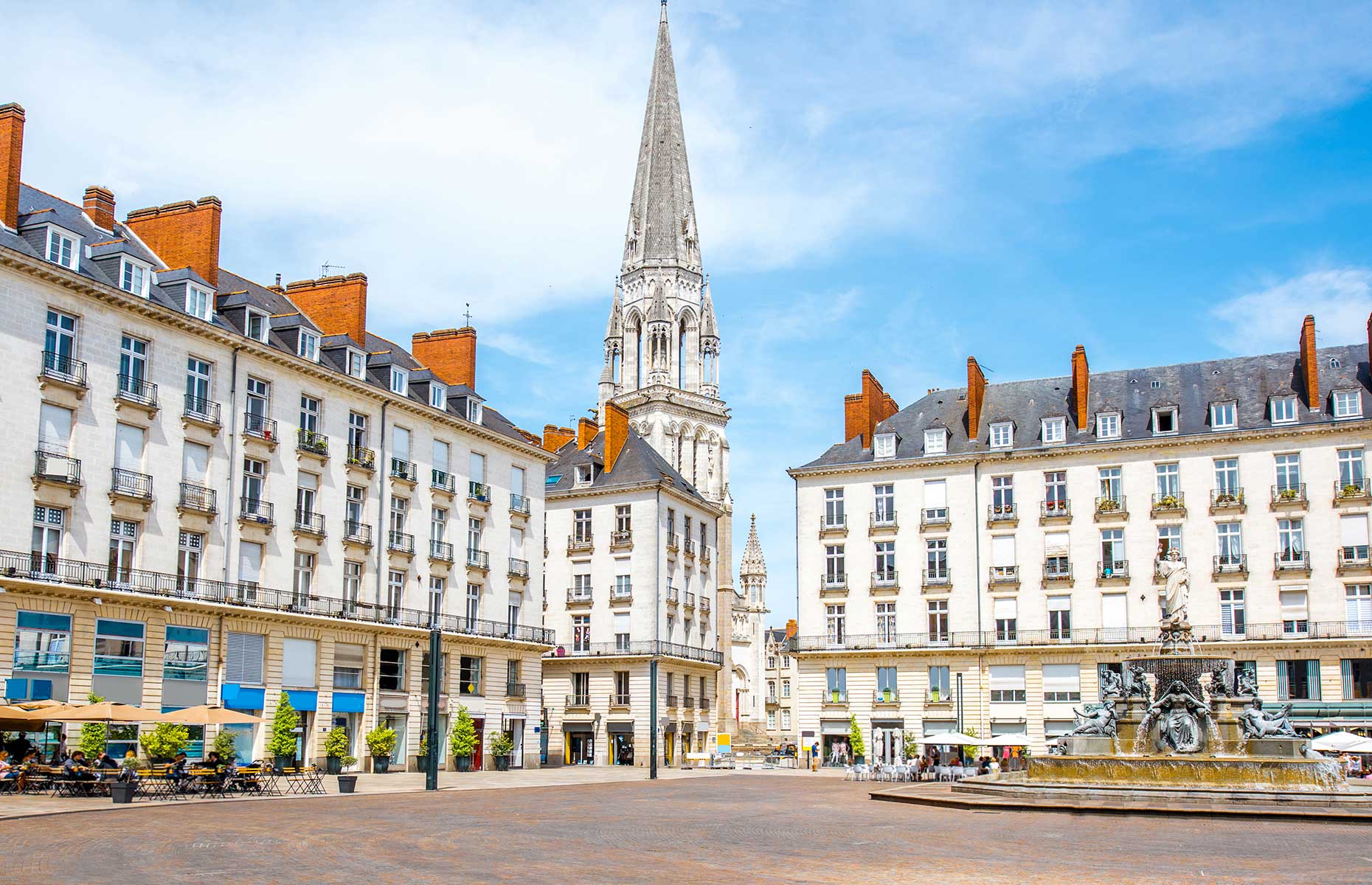 RossHelen/Shutterstock
Ile de Nantes
Since the shipbuilding and naval activity went downstream to Saint-Nazaire, the old warehouses and giant dockyards of Ile de Nantes, connected to the rest of the city by bridges, have been reinvented.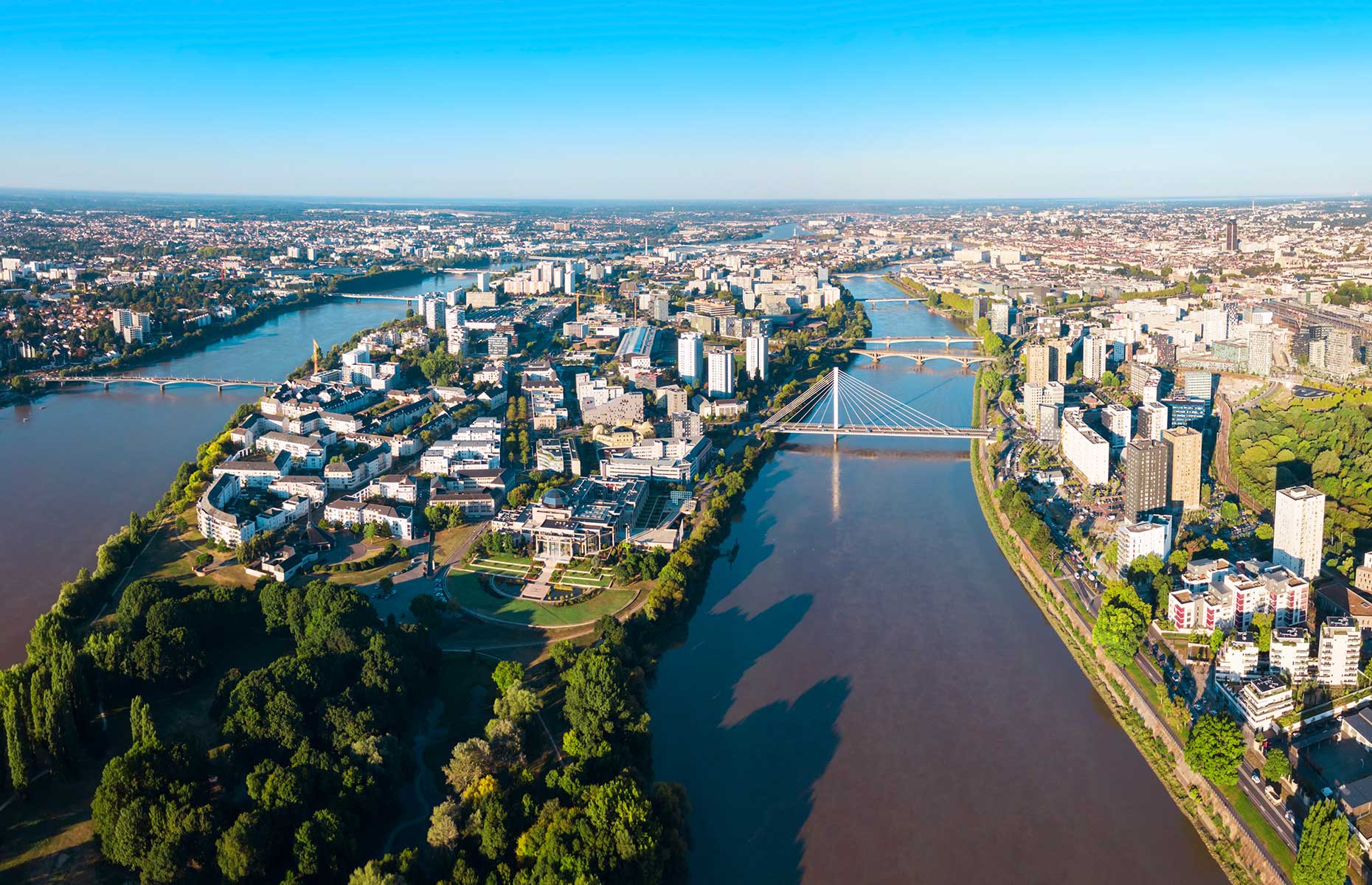 saiko3p/Shutterstock
Les Machines de l'Île – a museum of working mechanical toys – is an impressive example of what you can do with a rundown industrial wasteland.
The Quai des Antilles on the island has also been reborn in recent years with cafés, bars and restaurants too.
The highlights
Explore the Château des Ducs de Bretagne
This grand edifice on the right bank of the Loire River was the seat of power of the Dukes of Brittany from the 13th century right through to the 16th century, with the current building dating from the 15th century.
Even after it became the Brittany bolthole of the French monarchy it still played an administrative role until the 1950s. A massive renovation project during the 1990s aimed to bring it back to the best so that the public could enjoy it. They've done a great job – the complex really helps paint a picture of how the city grew. Make sure to take time to walk its ramparts to peer into the surrounding sections of the city.
Gasp at Les Machines de l'Île
There is nothing quite like this mind-boggling cultural attraction, filled with mechanical toys and inspired by local visionary Jules Verne. The old shipyards here have been revamped into a place of wonder for both kids and big kids alike. Allow plenty of time as the tour – only in French – takes about an hour.
Then climb aboard four-floor high mechanical elephant. It's quite a sight and this 40-foot high (12m) pachyderm is worth coming to Nantes for alone.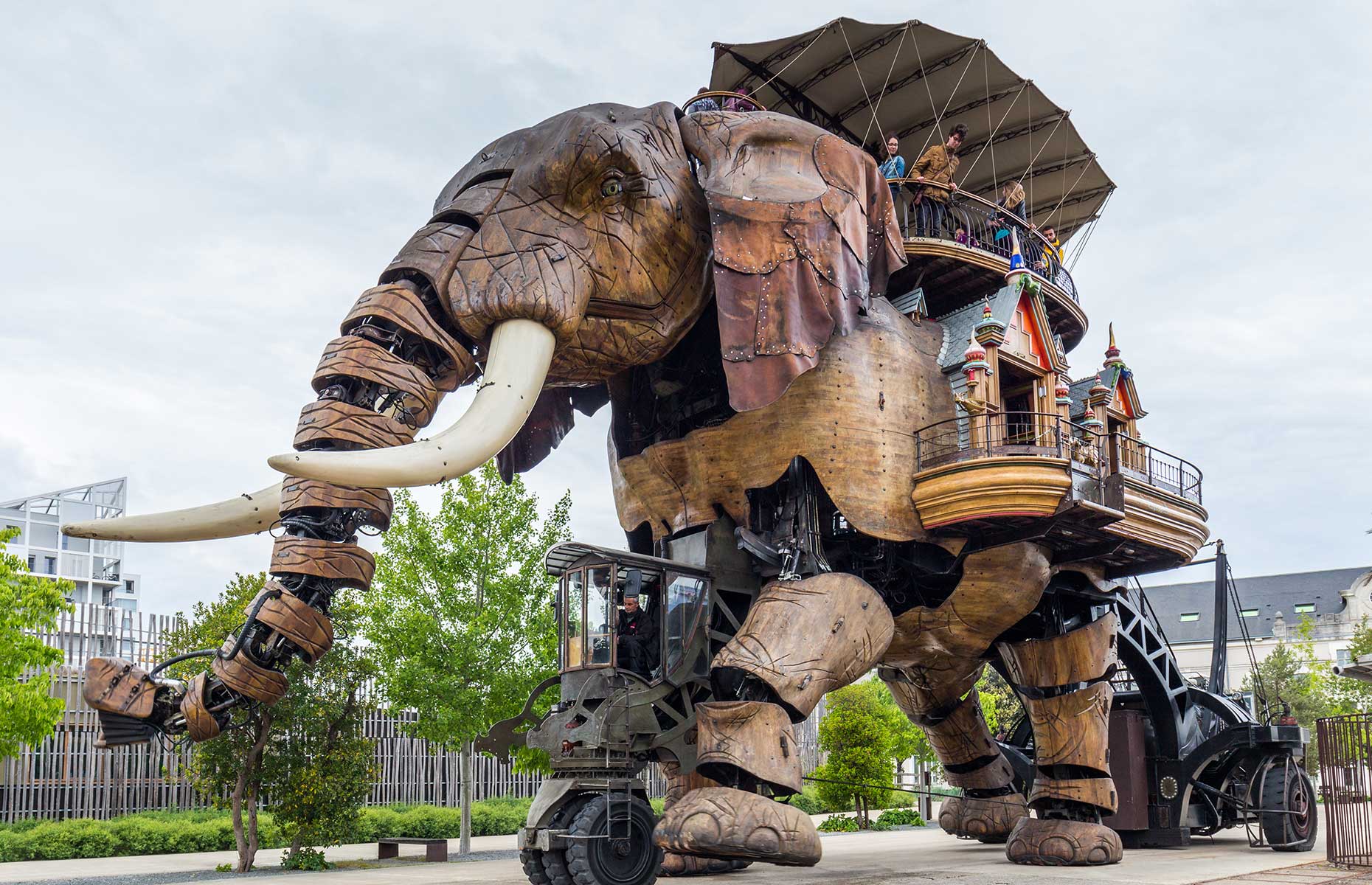 DaLiu/Shutterstock
Never a city content to rest on its laurels in 2022, the Heron's Tree art project, housed in an old quarry will open, which has been five years in the making,
Take a boat trip
In a city that was built on the access its waterways opened to the world heading out on a boat tour is de rigueur. Bateaux Nantais set off from the Quai de la Motte Rouge for a cruise on the River Erdre. They offer a series of cruises, including the option to have lunch or dinner aboard. En route you slip back in time with châteaux easing into view on the tree-lined banks of this little known (outside France) river.
Delve into the world of Jules Verne
The much-celebrated science fiction writer is arguably Nantes' most famous son. A museum was opened dedicated to him in 1978 on the 150th anniversary of his birth. It is housed in a grand 19th century mansion overlooking the Loire. You can learn about his boyhood spent in Nantes, where the comings and goings of ships and people from all over the world helped inspire his wildly imaginative work.
Where to stay in Nantes
While there is a decent amount of choice and many hotels offer great value, don't expect Nantes's hotel stock to be as vast and luxurious as some of France's larger cities.
You could not get a handier location than that of L'Hotel. This welcoming 3-star overlooks the Château des Ducs de Bretagne and is next to a tram stop too. Make sure to book a room with a château view.
It is a stylish bolthole with design touches including retro wallpaper prints, clashing cushions and 1950s-style chairs. The only downside is that petit déjeuner is not included and is a bit steep, so best to breakfast out.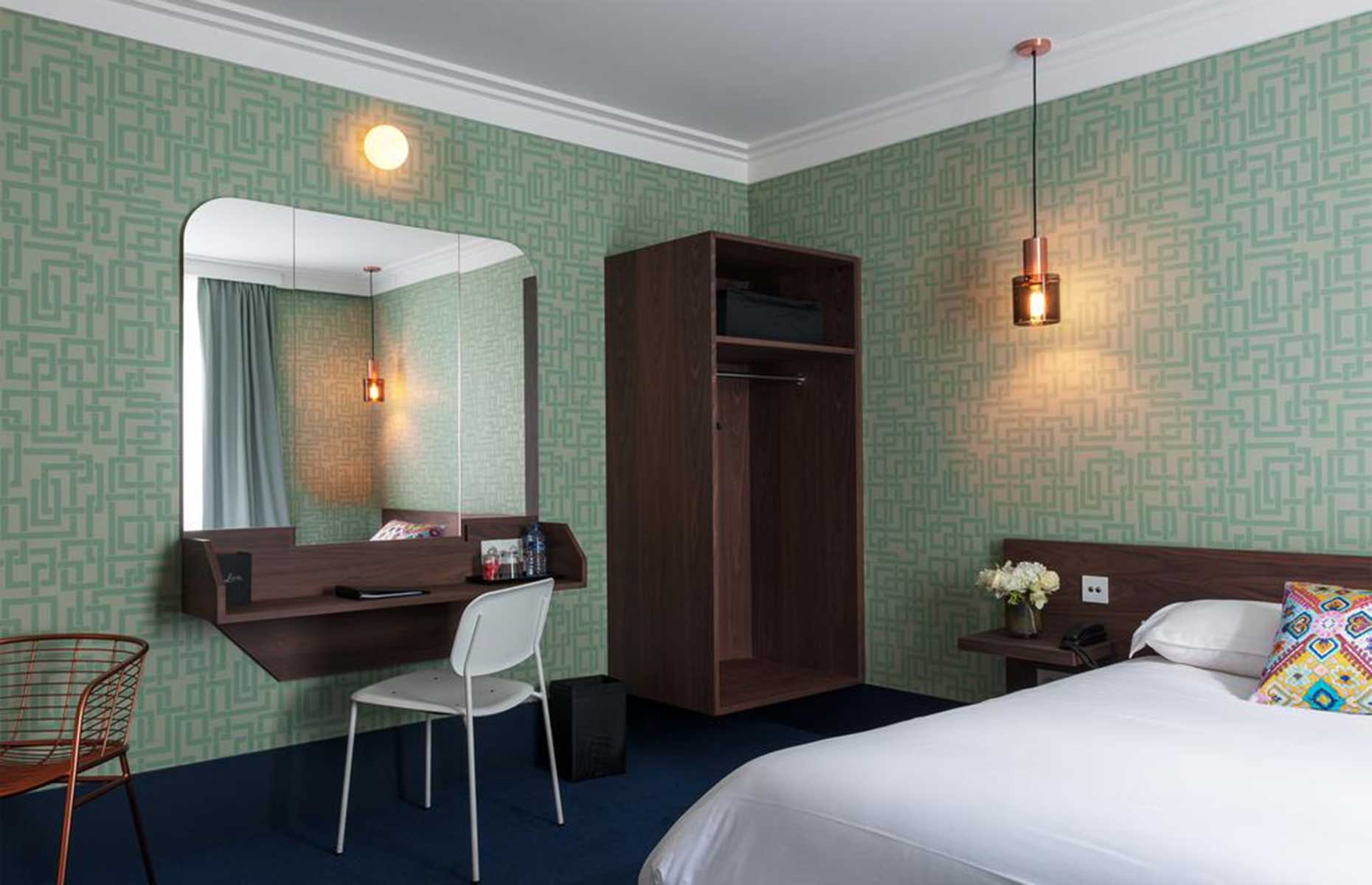 L'Hotel/booking.com
A step up in comfort is the Hôtel La Pérouse, a 4-star that lies within walking distance of the château and is even closer to the city's cathedral. It boasts impressive design, both in its bold exterior and thoughtfully curated interior. Breakfasts here excel with local produce and sound provenance to the fore.
Airbnb accommodation is popular too, especially with so much quality local produce and affordable wine on hand for visitors happy to self-cater.
READ MORE: 10 tips to make self-catering a breeze
Where to eat in Nantes
In Nantes first-class food and wine is a way of life; an expectation rather than a treat.
And it's not just all about fine dining as the one-time capital of Brittany is claimed by some to have been the birthplace of the crêpe. You can find crêpes on sale all over the city and they make for a filling, great value meal. (Note crêpes are always the sweet variety and anything with a savoury filling is a galette, made with buckwheat flour).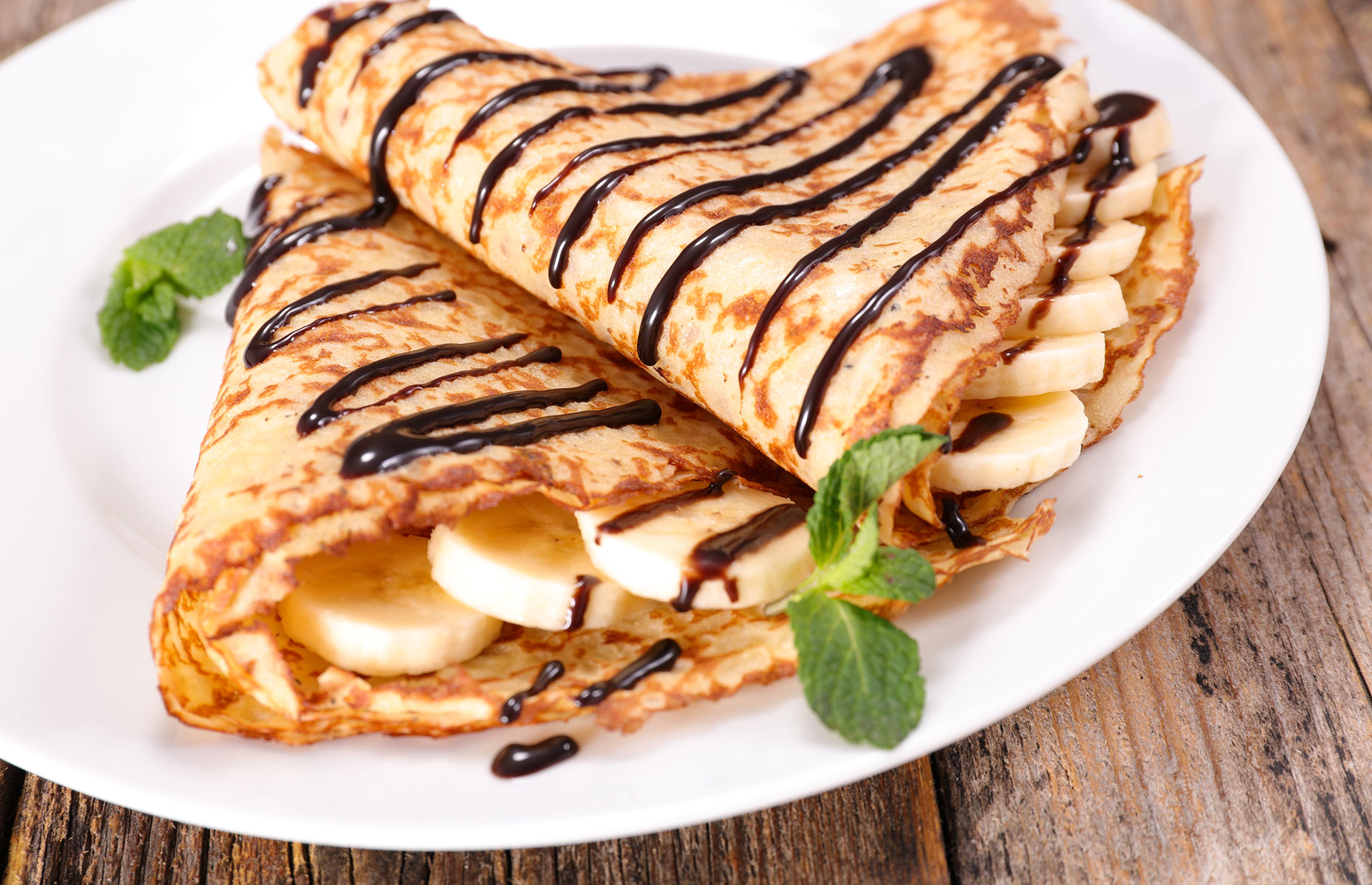 margouillat photo/Shutterstock
Do as the Nantais do and start the day a bit later with brunch. They don't get much more classic than at Bistrot du Cours. The main fixed option includes a croissant, quarter baguette with butter and jam, a hot drink and a fruit juice. Optional extras include an egg and/or bacon.
For a classic French brasserie experience head to La Cigale. Its gloriously overblown fin de siècle architecture is up there with any of the grand Parisian brasserie old dames. Seafood from the nearby Atlantic Ocean (especially mussels and lobster) is the star. You won't get much change out of £127 (€150) for the colossal seafood platter for two but it's well worth it for an unforgettable Breton feast.
Less heralded and with a lesser hit to the pocket is La Taverne la Loco. This relaxed brasserie overlooks the château and offers highlights such as Breton lobster risotto, which you should wash down with a fine Loire white wine.
For a more fine dining experience L'Atlantide 1874 is the place. Jean-Yves Gueho is the mercurial culinary luminary at the helm of a gastronomic temple that well deserves its Michelin star. It is charmingly set too in a 19th century palace overlooking the river.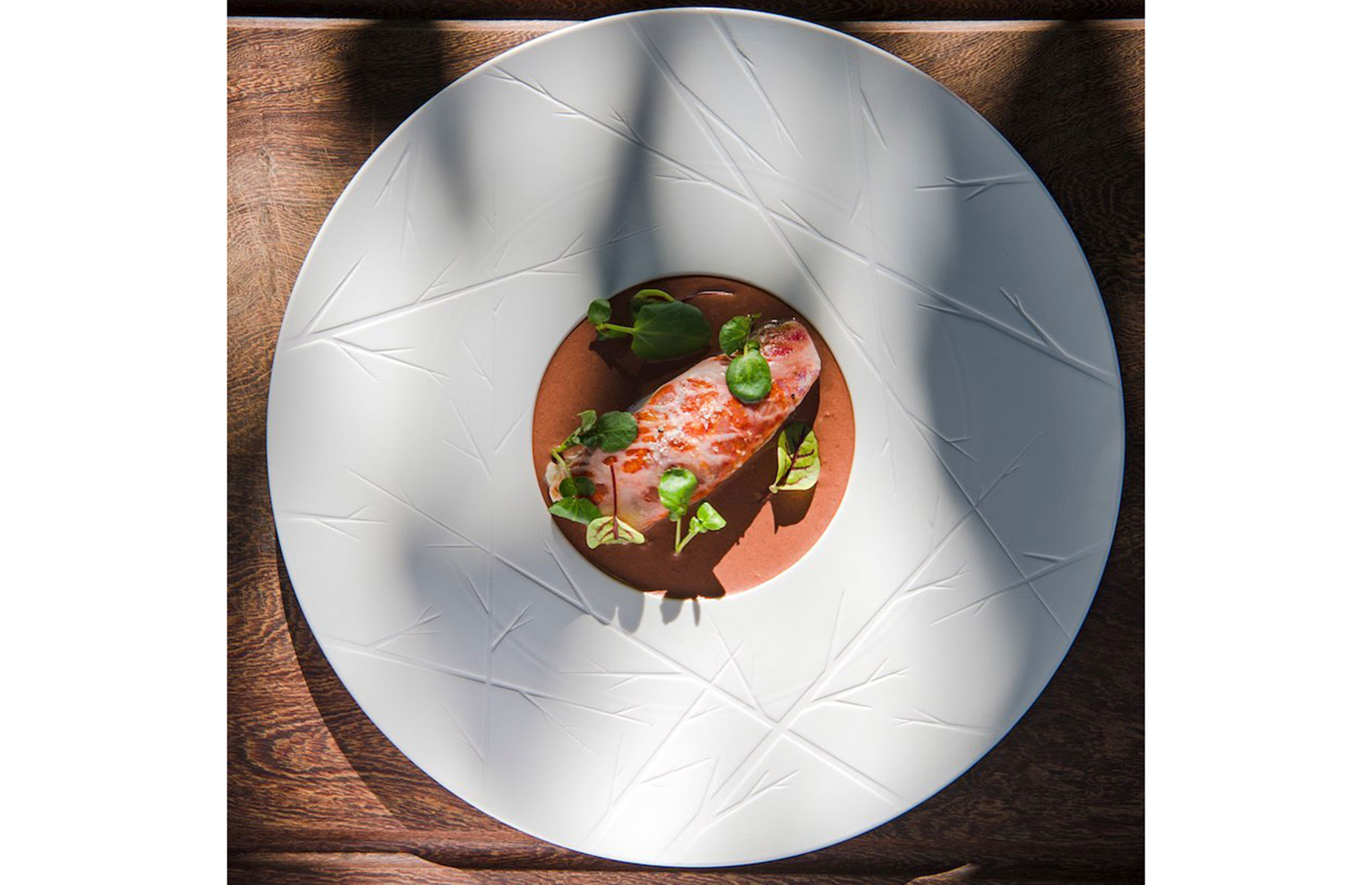 L'Atlantide/Facebook
Song Saveurs and Sens meanwhile is a bright, creative space that dishes up creative cuisine with a palpable Asian influence. Think gyoza dumplings and avocado sushi, with Thai spices high in the mix too. There are great value set menus as well.
With such a large student population and a cosmopolitan population it's no surprise that the local nightlife is lively. For a sundowner head to the Quai des Antilles, which reclines on the western fringes of the Ile de Nantes. There are a flurry of bars and lounges here with something to suit all tastes.
If you're looking for something a touch classier and more refined Bootlegger back towards the city centre hits the spot with superb cocktails.
Vineyards
Nantes's vineyards, in the Pays de la Loire, are 15 miles out of town and accessible by car and bike.
There are four main wine-growing areas – the Vignoble de Nantes, the Anjou Saumur, the Loire Valley and the Fiefs Vendeens.
READ MORE: 6 reasons to visit Puy du Fou theme park
The regional tourist office lists 16 different wine routes to savour. With a nominated driver at the helm the 115-mile circuit from Nantes to Clisson (pictured) is a joy for fans of sèvre and on-trend grape muscadet.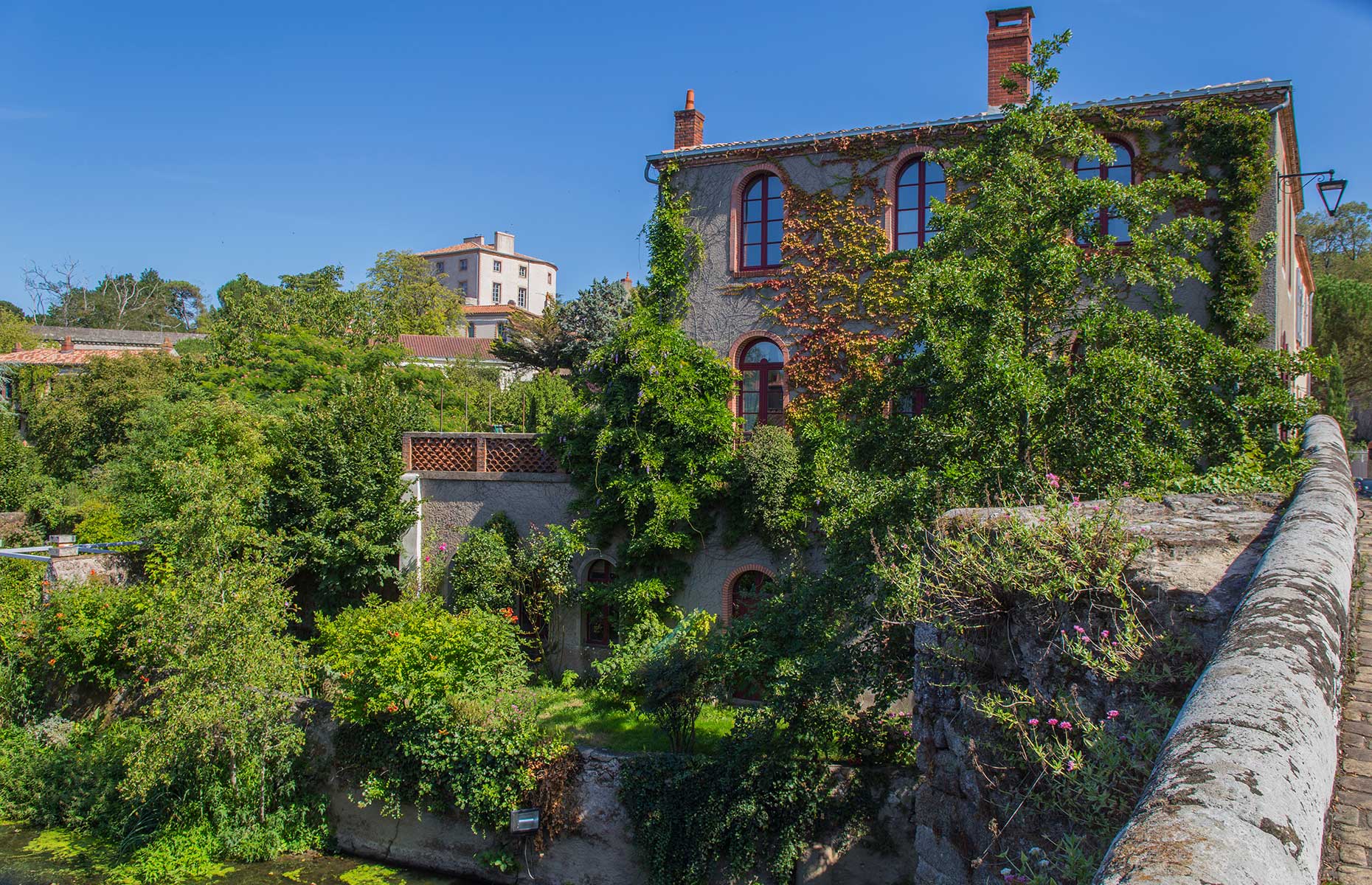 Yapasphoto StefClement/Shutterstock
It's also possible to take to two wheels and cycle a wine route. The easy 10-mile route around the Jasnières territory takes you through the hallowed vineyards and also to the picturesque village of La Chartre-sur-Le-Loir.
Getting there
Eurostar offers trains from London to Nantes (changing in either Paris of Lille) from £55 one way. The journey takes just over five hours.
Ryainair flies from Edinburgh, Manchester and London Stansted to Nantes from £9.96 one way.
Main image of Nantes: Altitude Drone/Shutterstock
Map
Be the first to comment
Do you want to comment on this article? You need to be signed in for this feature