10 tips to make self-catering holidays a breeze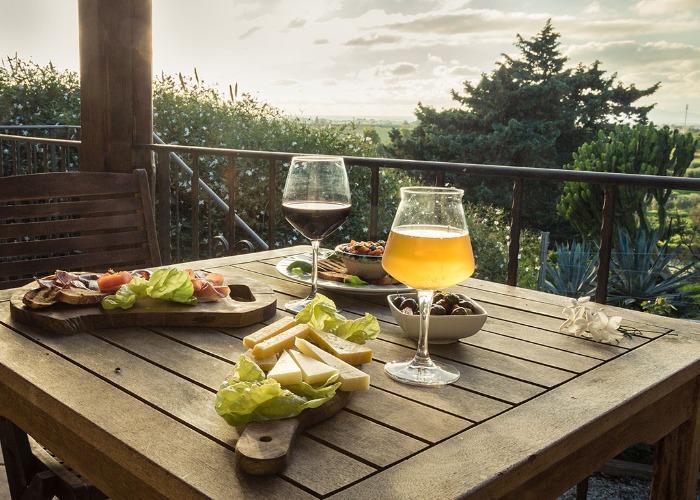 Forget spending hours in the kitchen and a fortune on food, our time and money saving ideas will help you make the most of your break away
Few holidays allow you the freedom of a self-catering break. From eating what you want, when you want, to giving you the chance to escape to somewhere more remote, it's no surprise self-catering getaways continue to rise in popularity. Plus, there's always the added perk of keeping costs down (more holidays anyone?).
So here are our 10 tips to make your self-catering stay your best holiday yet...
1. Bring your own essentials
We've all been there. You spend your first big shop buying everything you need – vast boxes of tea, detergent bottles fit to burst, enough salt to season a month's worth of ready meals – only to realise by the end of your holiday you've barely made a dent in your purchases.
This time plan before your trip and avoid that frustrating last day "donation" to the next occupant. Bring only what you need: teabags, spices and seasonings are small and light enough to take on a plane, while if you're going on a staycation then toilet rolls, a half-full washing up liquid bottle, a handful of dishwasher tablets, a pack of antibacterial surface wipes and a small roll of bin bags are all worthy of car boot or suitcase space.
Read more: Unusual places to stay in the UK
2. Plan for your first evening and morning
When you arrive late off a flight, or bundle out of the car after a long drive, then heading to a supermarket – which may not even be open – is the last thing you want to face. Instead, by thinking through your first night before you leave, you'll be sure to kick your holiday off to a smooth start.
If you're not flying then bring a made-ahead meal that you can just bung in the oven when you arrive (a lasagna or casserole will do the job nicely) while if you're flying then a bag of pasta and a small packet of sauce are well worth squeezing into your suitcase.
And don't forget food for the next morning: freeze a small bottle of milk (remember to take a little out first so it doesn't burst in the car en route). And pack some cereal as no one likes pushing a trolley around the supermarket on an empty stomach.
Photo: Lee Walker/Shutterstock
3. Keep it simple
Let's be honest, you don't want to spend your holiday slaving away for hours in the kitchen. This is where the one-pan dish really comes into its own. And don't worry low-effort doesn't have to mean bland or boring – easy to make, space-saving, minimal-washing up wonder meals can be full of flavour.
From a breakfast of delicately spiced shakshuka to a dinner gorging on moorishly tender pulled pork, these one-pan dishes may even become your post-holiday favourite meals too.
4. Think like a local
If you're staying in a resort then beware the tourist trap supermarket as these places always whack a premium on the price. Instead, find out where the locals go. This might mean a bit of a drive or a walk but you'll be rewarded with fairer prices and a much more exciting array of produce.
And while we're thinking local, remember it's worth tuning into the timing of your destination too. If you're travelling in Europe, be aware that many shops close on Sundays and may even remain shut on Monday too.
5. Order in advance
Staying in the UK? Take a proper break from your normal routine and avoid the supermarket altogether. Set up a food order the week before you travel and have it ready to arrive an hour or so after you get to your accommodation. Just think about it: no hot, stuffy car drives to the supermarket (with those perennially burning metal seat belts) and no sweat-inducing bag-laden schleps to the shops. It's a holiday after all.
6. Head to a market
Trying new food is definitely one of the best things about travelling. And nothing beats the buzz of visiting a local market, so find out if there's one near where you're staying. From colourful bundles of fruit and vegetables to crunchy-crusted mounds of fresh bread and oozing wedges of local cheese, you really won't regret anything you decide to bring home.
Photo: Erik J/Shutterstock
7. Take the night off
The best thing about self-catering is the flexibility. Don't fancy cooking on your last night? Then don't. Celebrating a special occasion and want to mark it with a more exciting meal? Be our guest. Ordering a takeaway is a great way to take the pressure off your last night – and let's not forget that there's still that packing and cleaning to do. Even better, splash out and book a caterer to take over for a night or two, it's a great way to celebrate and really embrace your holiday.
8. Bring your brew
Enjoying a great cup of coffee on holiday doesn't have to mean hauling your Nespresso machine with you in the car or pounding the streets trying to find a decent caffeine fix. There's now a new breed of clever, fuss-free travel cafetiere-meets-coffee mugs that get you the perfect brew on the move. A great option is the Bodum Travel Press (£23.99, John Lewis) a cup with an inbuilt French press that has double walled insulation to keep your coffee hot for hours, making it perfect for day-trip adventures or that long drive home.
Photo: Kite_Rin/Shutterstock
9. Keep dietary requirements in mind
Food allergies and intolerances are on the rise. And while catering for dietary requirements has become a lot easier in recent years, eating while on holiday can still be a bit of a minefield.
Self-catering puts you back in the driving seat with your food planning but just make sure you bring with you anything you might need; some items such as dairy free long life milks can often be tricky to find abroad.
10. Know before you go
There's nothing worse than turning up at your accommodation loaded with armfuls of ice cream and frozen goods just to find there's only a fridge in the kitchen. Not all self-catering accommodation is fully equipped so check what's there before you go. A few things are probably worth bringing regardless: sandwich bags and tupperware are great for picnics and storing leftovers, and you might want to bring your own tin opener – the ones provided tend to be infuriatingly flimsy.
Be the first to comment
Do you want to comment on this article? You need to be signed in for this feature