An easy guide to LA's best beach areas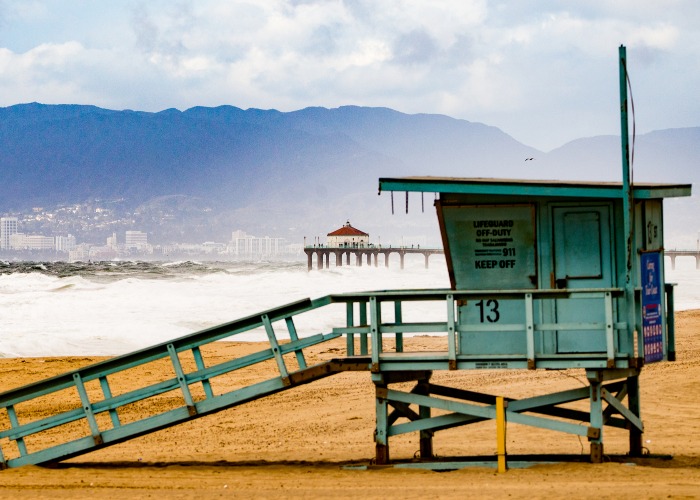 All you need to know about LA's easy, breezy beach areas is right here...
It's easy to escape the urban sprawl and busy streets of Los Angeles – just follow the sea breeze to the coastline.
Once there, you'll discover beach towns and communities with laid-back charm and plenty of delightful quirks. These are the places where the roar of the ocean is louder than the roar of traffic, where you're more likely to queue for fish and chips (or fish tacos) than for entry to a glitzy nightclub, and where the only suits you'll see are ones made for swimming.
READ MORE: An easy guide to Los Angeles neigbourhoods
Santa Monica
Though it's just a short drive from LAX airport and still within Los Angeles County, Santa Monica is a city in its own right – and it feels like it.
There's the vibrant downtown area, with blocks of hip record shops, bookstores, juice bars and emporiums stuffed with antique curios and vintage fashion.
oneinchpunch/Shutterstock
The diverse and dynamic dining scene ranges from sleek seafood spots like The Lobster to gastropubs like The Misfit, whose vintage decor, zingy, aromatic cocktails and seasonal tapas tempts you to stay all day.
Then, of course, there's the beach, stretching either side of iconic Santa Monica Pier and always scattered with surfers and sunbathers.
It's refreshingly stress-free to explore on foot or by bike – perhaps on one of the beach cruisers free for guests' use at Shutters on the Beach, one of Santa Monica's most beautiful hotels.
Shutters on the Beach/Booking.com
Venice
Right next door to Santa Monica, Venice has long been LA's quirkiest, most offbeat neighbourhood. Some might say it's lost a little of its bohemian spirit over the years, but it can still be felt along palm-lined Venice Boardwalk, where you can get anything from a tattoo to a tarot reading.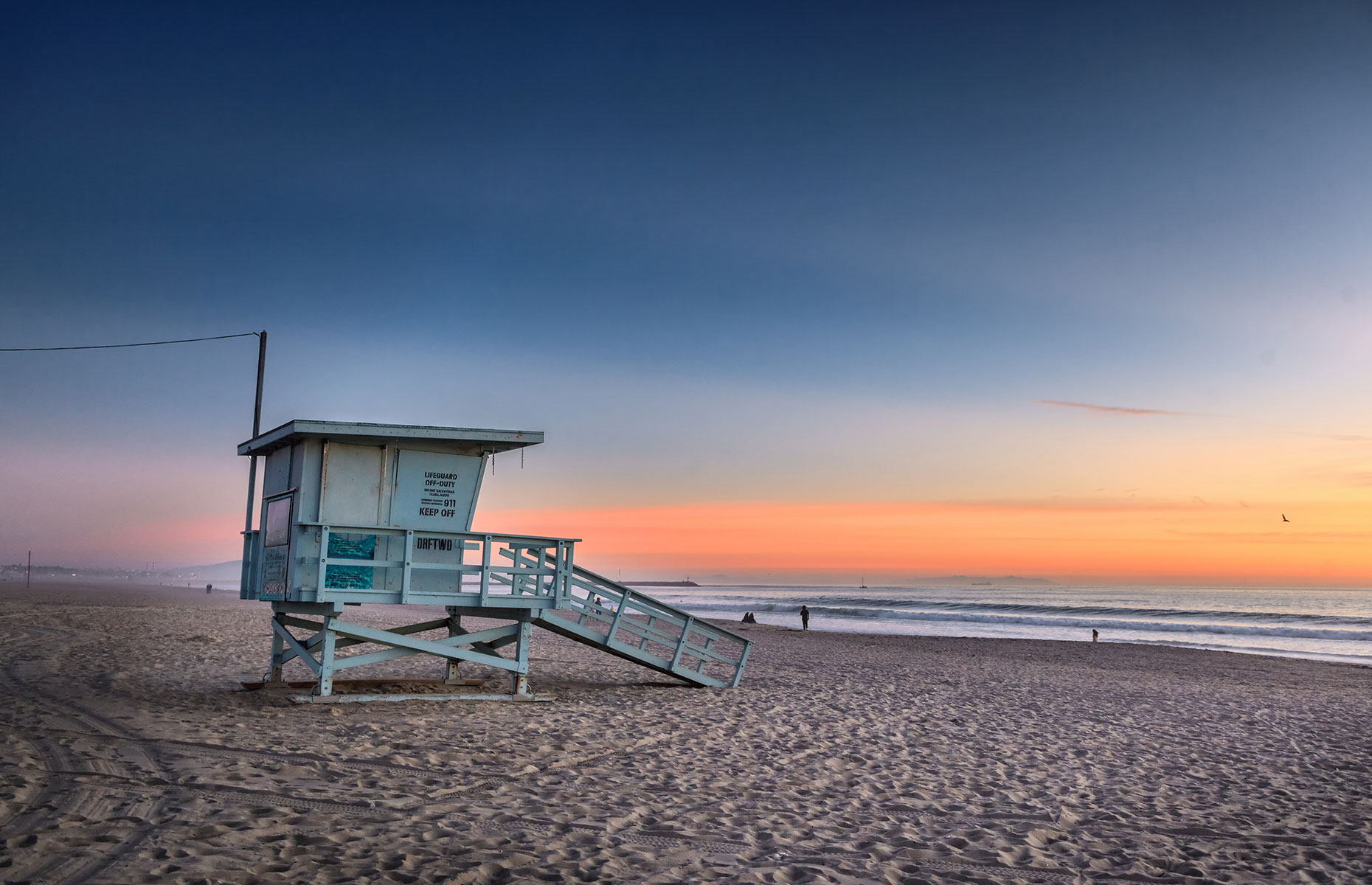 logoboom/Shutterstock
It's unbeatable for people-watching, too; bikini-clad bodies swish by on roller skates as leotard-clad bodies pose and flex at Muscle Beach, an outdoor gym once frequented by Arnold Schwarzenegger.
Away from the sand, Venice is home to a network of canals and buzzy Abbot Kinney Boulevard, a mile-long stretch with boutiques, brunch restaurants, pavement cafes and tiny art galleries.
The best hotels revel in the area's quirkiness – try The Kinney, where the action centres around a courtyard with bar, ping-pong tables and pool, or Hotel Erwin, whose enormous rooms have balconies facing the ocean.
READ MORE: 6 things you mustn't miss in Anaheim
Redondo Beach
The southernmost of the South Bay trio of beach towns (which includes Manhattan and Hermosa), Redondo Beach's most obvious point of difference is its horseshoe-shaped pier, which loops over the bay. It's an incredible spot for sunset, either from one of the many benches along the front stretch or with a plate of calamari and drink in hand at Tony's On The Pier.
Kirk Wester/Shutterstock
This and the marina are also prime spots for whale watching between November and April, when gray whales pass on their migration from Alaska to Baja, Mexico, while dedicated boats offer a closer glimpse.
A little back from the sandy beach, which is backed by popular green space Veterans Park, Riviera Village is stuffed with cute and quirky boutiques.
But the area's biggest claim to fame is as the birthplace of surfing USA. Hawaiian-born surfer George Freeth was invited to Redondo Beach in 1907 to promote the building of a saltwater plunge pool. His ability to "walk on water" drew huge crowds and (obviously) caught on.
DON'T MISS: An area-by-area guide to California's wine regions
Manhattan Beach
Everything (and everyone) emits a golden glow in sun-drenched Manhattan Beach. Perhaps it's because life here is all about surfing, sunbathing and splish-splashing around in the ocean. At least it seems that way when you're a visitor here.
Lucky-photographer/Shutterstock
The area's streets, which stretch lazily out from the coast, have an equally laid-back vibe, with independent galleries, beachy-chic boutiques and seafood restaurants. Head to the pier to visit free Roundhouse Aquarium or do a spot of people (and surfer) watching.
Manhattan Beach is also a gateway to The Strand, a 22-mile paved cycling path that follows the curve of the coastline, skimming alongside deep golden beaches and pastel beach homes, up to Will Rogers State Beach, north of Santa Monica.
There's no shortage of old-school motels here but, for a little more luxury, rooms at Westdrift are filled with luxurious textures and decorated in rich jewel tones.
READ MORE: Top things to see in Palm Springs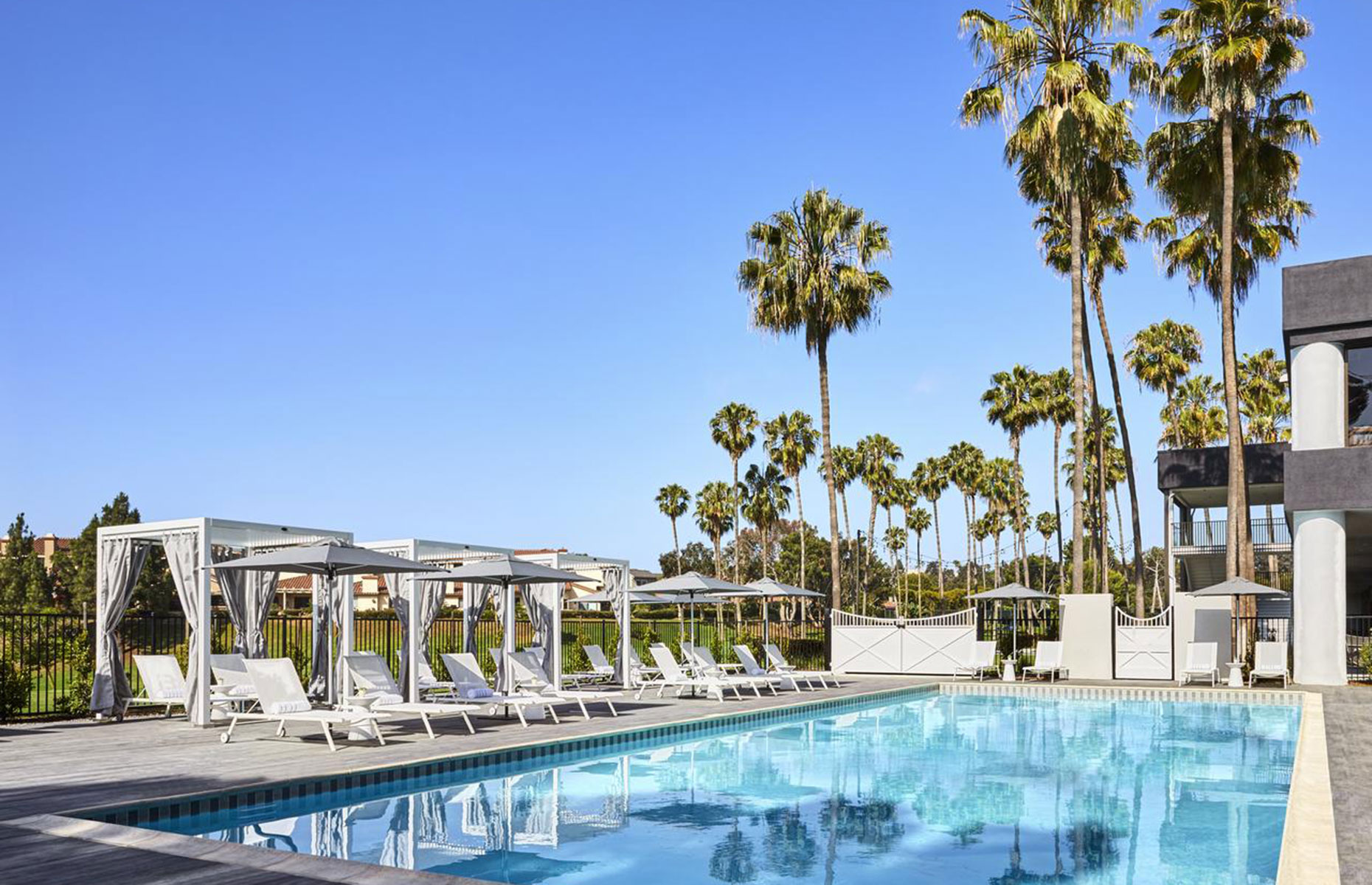 Westdrift/Booking.com
Torrance
Torrance High School is something of a screen star – it featured on Beverly Hills, 90210 and cult 1990s TV show Buffy the Vampire Slayer. Yet the cute beach community where it's located, in LA's South Bay region, stays largely out of the limelight.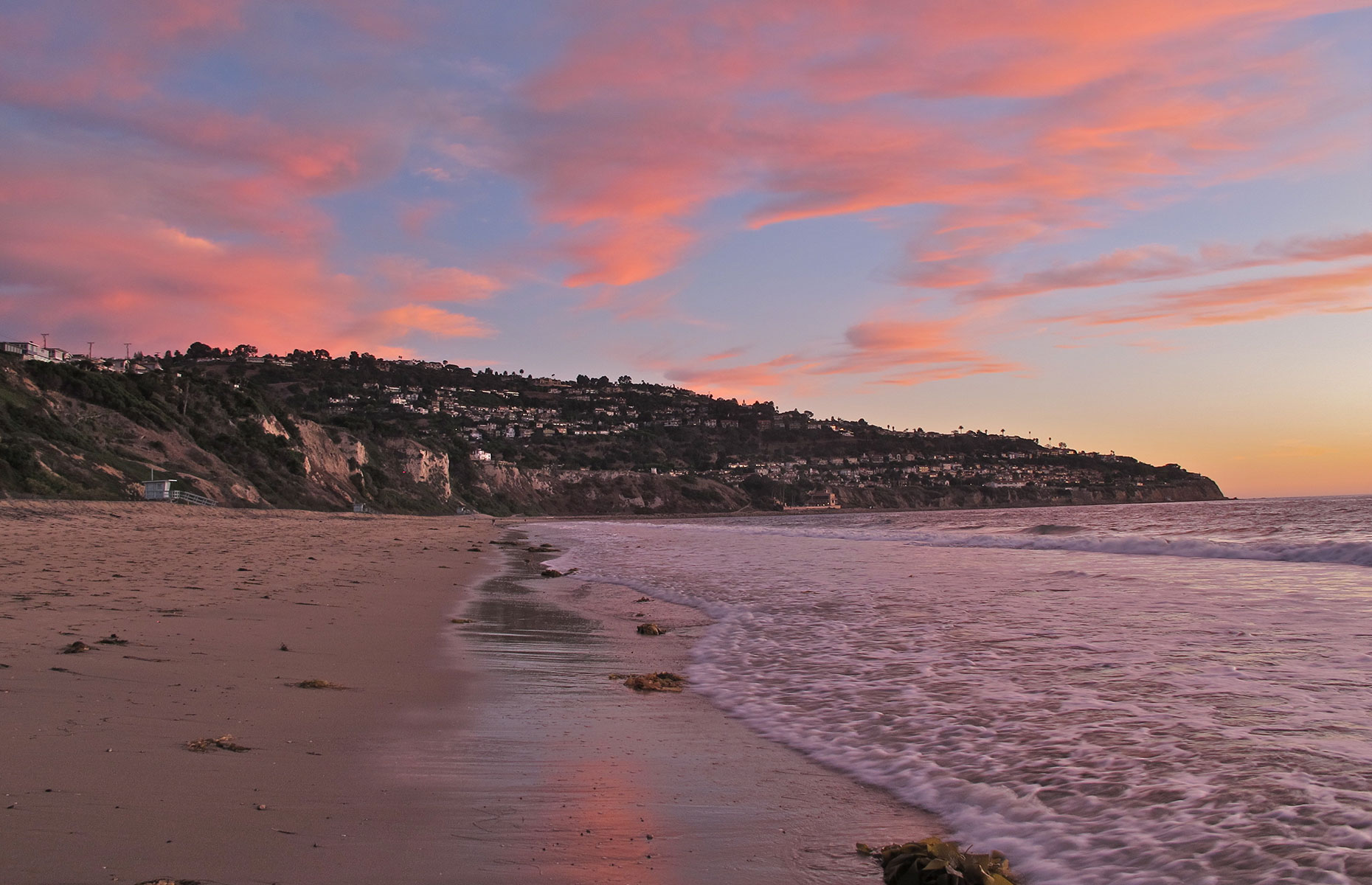 Angel La Canfora/Shutterstock
The fact that it's still so blissfully crowd-free seems something of a miracle as you potter around cultural highlights like Chen Art Gallery, which has the largest collection of Chinese artefacts outside China, and stroll along the broad, biscuity beach, which skirts Santa Monica Bay for 1.5 miles.
That could change, though, with the area's first boutique property opened in May 2019. Bluestem Hotel sticks to the breezy tones and vibe that befit its location – the courtyard, with potted plants and yellow armchairs arranged around fire pits, is a lovely spot to hang out after a day on the sand.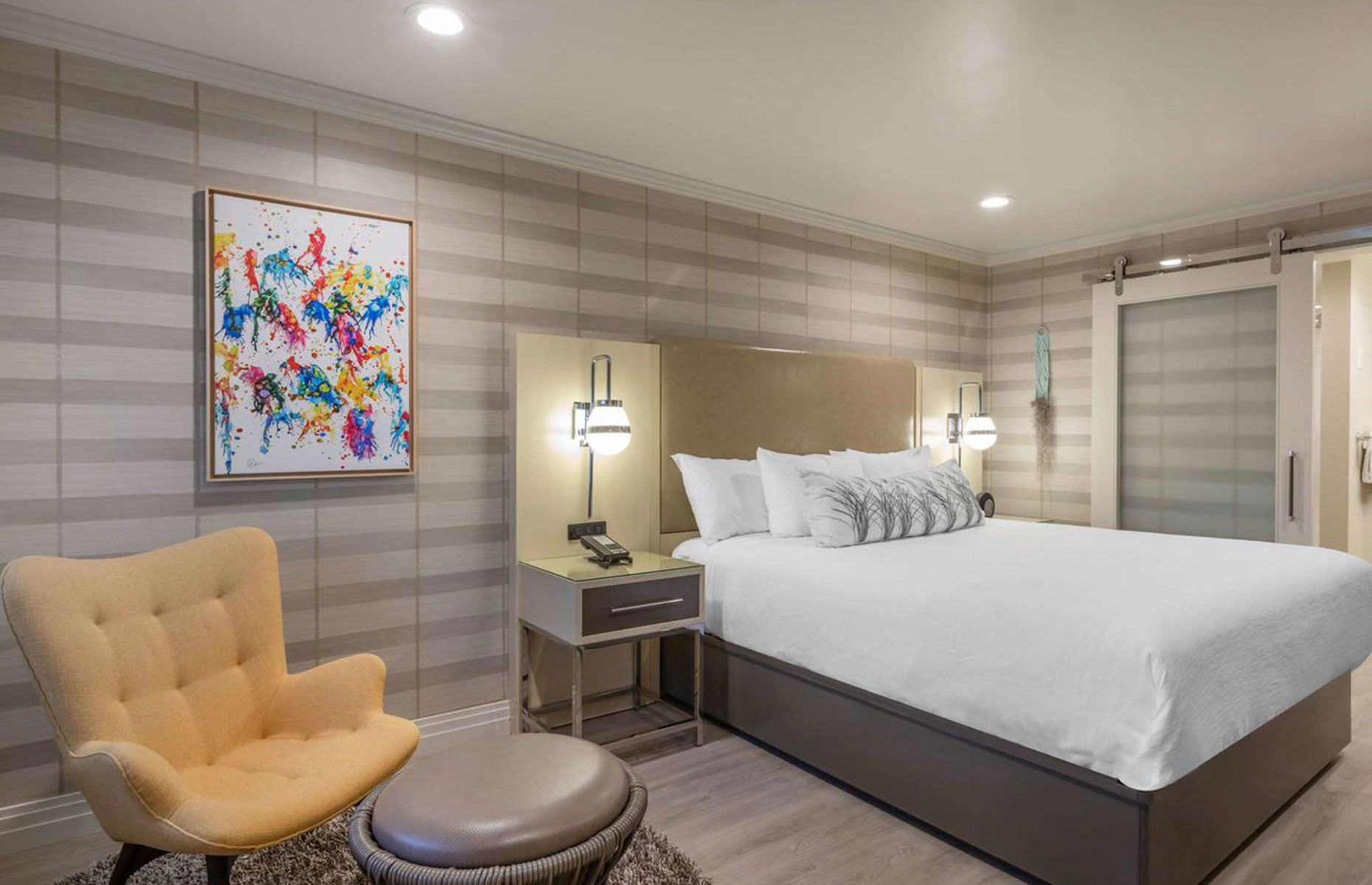 Bluestem Hotel/Booking.com
It makes a chic base for trying out some of the area's culinary hotspots, from top-rated ramen restaurants to craft breweries.
Hermosa Beach
Flanked by Manhattan and Redondo, Hermosa positions itself as the most laid-back of the three South Bay beach towns. Which is saying something in the context of this languid stretch.
The beach itself is a glorious golden caramel hue, backed by a section of The Strand bike path (equally favoured by skateboarders and joggers) and stretching either side of the pier, where people fish for mackerel and halibut. There's no need for a fishing licence – Hermosa Beach is far too chilled-out for stuff like that.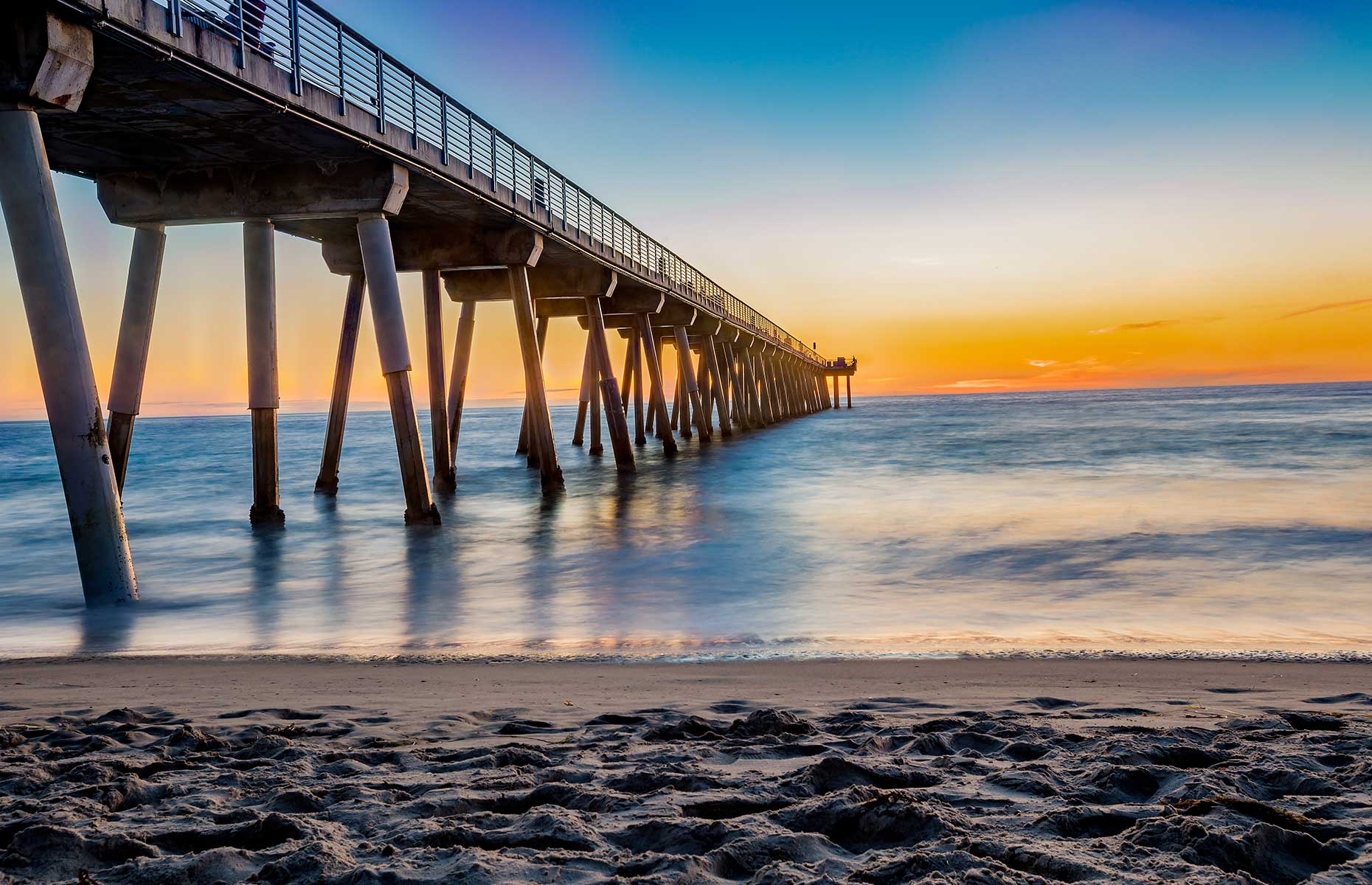 MT Photos/Shutterstock
Pier Avenue is the area's main spot for beachy clothing shops, cute cafés and inexpensive restaurants – try Silvio's Brazilian Beach BBQ for steak with sea views.
READ MORE: 6 things you must see in San Luis Obispo
Post-dinner, catch some live jazz at beachfront Lighthouse Café, operating since 1949. Or get some laughs at The Comedy & Magic Club. Famous comics perform here regularly, among them Jay Leno – the former chat-show host does a set here almost every Sunday night. He's probably drawn to the unpretentious vibe, too.
El Segundo
El Segundo has been rather overlooked compared to other LA beach destinations, perhaps because it's so close to LAX airport – many visitors skim right past it to reach the southern beaches, or head north and miss it altogether.
Which is a shame, because this small town is stuffed with quirky charms.
Airport noise may be unavoidable, but it's a plus for those who gather on Dockweiler Beach, where you can picnic and have bonfires while watching planes soar overhead.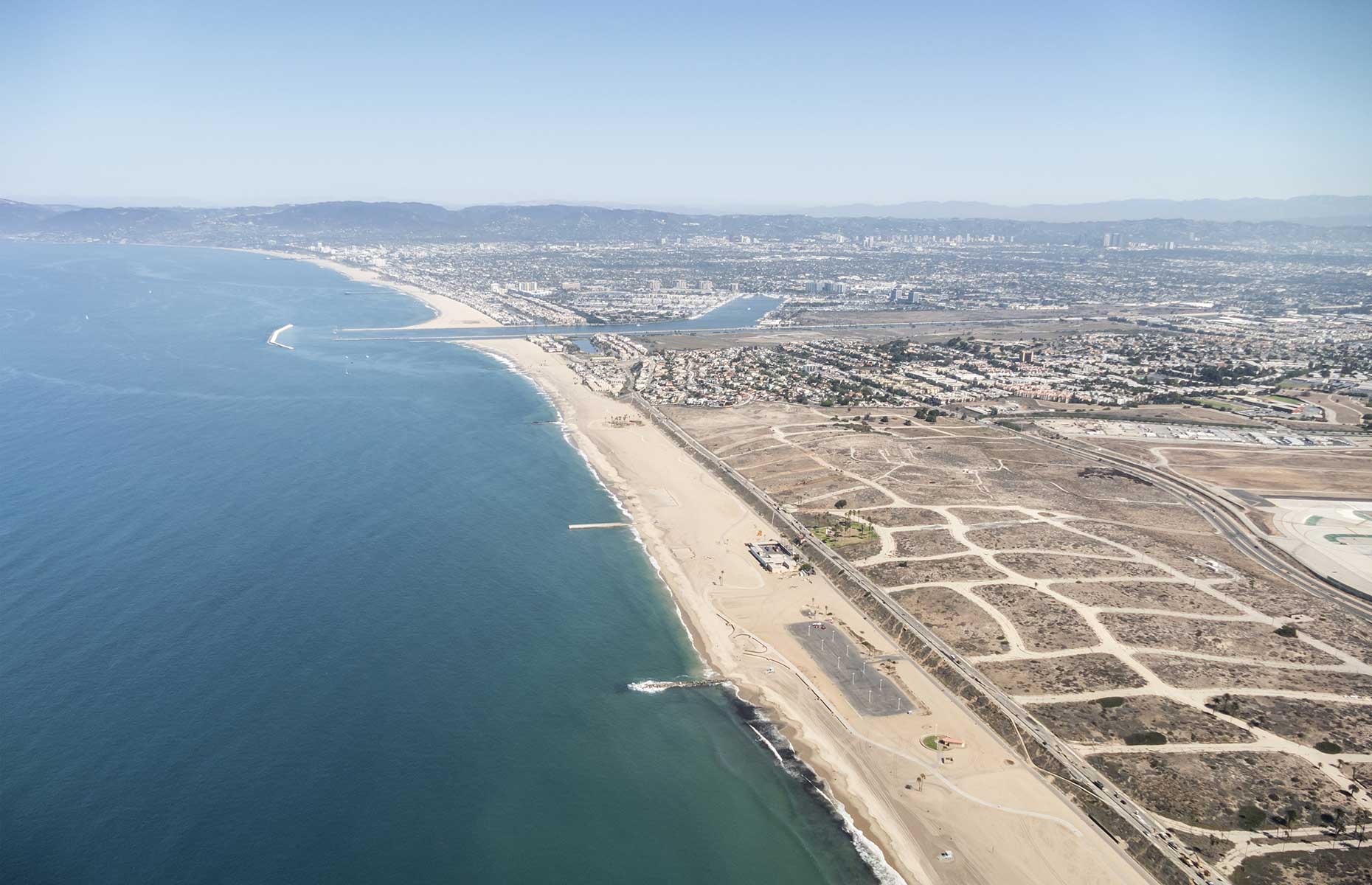 trekandshoot/Shutterstock
The compact downtown area, centred around Main Street, has restaurants from BBQ to Japanese (Kagura serves "gozen" combination boxes and sake) and a thriving art scene, with bold murals, independent studios and the El Segundo Museum of Art, a free-to-enter "art laboratory". There are also plenty of tucked-away gems – R6 Distillery, for example, has a tasting room and speakeasy-style bar in Smoky Hollow, an industrial area that's becoming a creative hub.
An AC Hotel opened in July 2019, and it's perhaps the first to fully embrace the destination rather than advertise itself simply as an airport hotel – though its rooftop bar, with cocktails and tapas, is sure to have incredible views of all those planes.
AC Hotel/Booking.com
READ MORE: 50 amazing Californian attractions not to miss
Lead image: Richard Podgurski Jr/Shutterstock
Be the first to comment
Do you want to comment on this article? You need to be signed in for this feature