6 experiences not to miss in Anaheim, California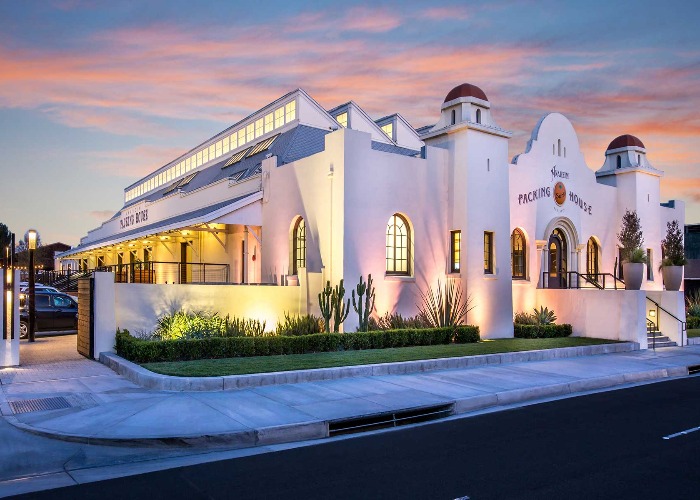 For many the city of Anaheim means one thing: Disneyland. But while the theme parks are a big part of what's on offer in this Orange County metropolis, the spotlight's not just on Mickey. Here are the highlights...
Strap in for foodie treats, craft beers and superb shopping in La La Land's thrilling city.
1. Visit another galaxy
It will certainly feel like you've just taken your first step into a larger world when you arrive at Star Wars Galaxy's Edge, the latest attraction at Disneyland Park, California, in the heart of Anaheim.
Storm Troopers are roaming around looking for Resistance fighters, Oga's Cantina is on hand when you want to indulge in some Jabba Juice and you can even build your own robot in the Droid Depot.
The "Imagineers" (Disney's in-house designers) have really gone to town and even if you're not steeped in Star Wars geekdom you can't fail to be impressed by the level of detail.
Queuing for the main ride, the Millennium Falcon – and truly be prepared to queue, around 90 minutes seems to be average – you'll see intricate details of the exterior of the spacecraft as you move along the jetway.
Before you board you even get to loiter in the Dejarik room.
Then towards the front of the line you're bunched into groups of six, with two people each acting as pilots, gunners and engineers. Top tip: elbow your way to the front to get the best job as a pilot.
On the ride itself you'll feel like you're controlling the Millennium Falcon on the Smuggler's Run – a backstory invented just for the ride. It's a fun few minutes as you twist and turn through space, but don't expect a massive adrenaline hit. This is all about the special effects rather than sheer G-force.
Courtesy of Disney
Outside of the Millennium Falcon, another mission awaits: trying to track down Chewbacca. Unfortunately the quiet and brooding Wookie doesn't enjoy being photographed…
2. Do the Disney double
Did you know there's not just one Disney park in Anaheim, but two adjacent attractions? In addition to Disneyland Park (where you'll find Sleeping Beauty's Castle, Space Mountain and the new Star Wars Galaxy's Edge) is Disney California Adventure Park. It's home to some exciting stuff including Cars Land (pictured below) and Pixar Pier.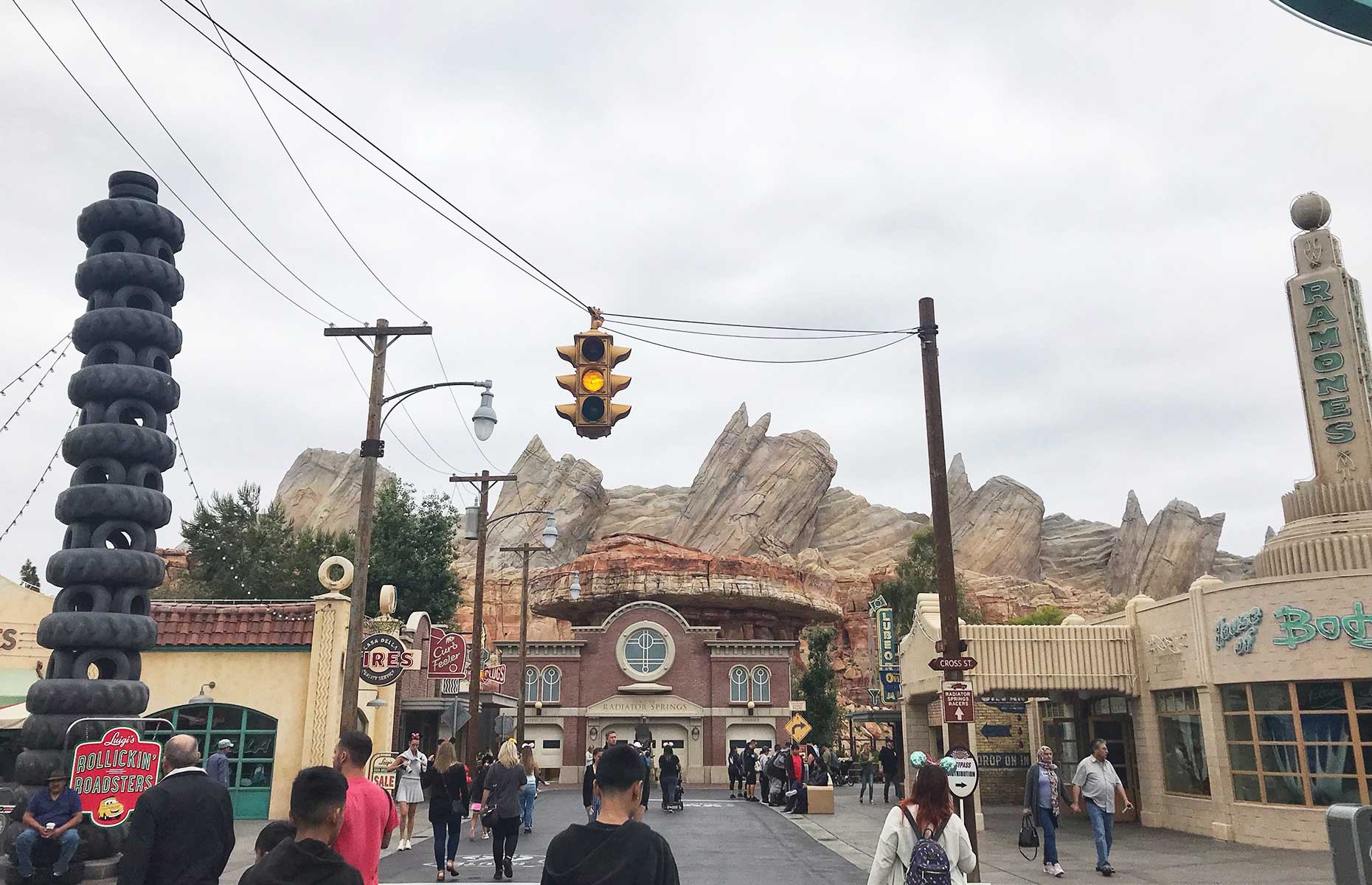 Laura Jackson
It can be a little quieter than the "main park" next door, especially if you want to buy Disney merchandise and experience slightly shorter queues.
You won't miss out on characters here either as Goofy and Pluto seem happy to interrupt a stroll for cuddles and photographs with members of the public.
READ MORE: Magic kingdoms: historic pictures of Disney's parks
The key rides worth getting in line for are Soarin' Around the World – which takes you over the Egyptian pyramids and Sydney Harbour Bridge – and the Radiator Springs Racers, where you get to race around the Cadillac Range on a speedy track. The highlight for me, however, was the Incredicoaster, a traditional four-minute wiggling train that's thrilling enough to have you coming back for more. Three times, in my case.
3. Get an adrenaline rush at Knott's Berry Farm
You might think you've had your fill of theme parks after Disney, but save some time and energy for a trip to Knott's Berry Farm.
It's a family-friendly, wholesome kind of place, but it's also the spot for true coaster addicts as the park offers much more fearsome rides than Disney.
Courtesy of Knott's Berry Farm
GhostRider, for example, is deceptive. From below it appears to be an old-fashioned gentle coaster, but once you're on board hurtling around bends that are 118 feet (35m) off the ground at 56mph, it's impossible to not leave surprisingly jelly-legged.
Meanwhile Hangtime slowly winches you up a 150-foot (46m) lift with your back parallel to the ground before plummeting you down through five inversions.
READ MORE: America's most jaw-dropping roller coasters (only for the brave)
Food at Knott's Berry Farm is a cut above usual theme park fare too. Their famous Southern fried chicken, mash and gravy has been served since the 1930s and is a sure-fire way to soothe any post-ride shakes.
4. Go batty for baseball
Let's be honest: the rules of baseball are mystifying for most people born outside the States. But even when you don't know your batting from your pitching, there's something about sitting in the stands with a hot dog in a potato-bread bun and a beer, that's just all part of the American experience.
The Angel Stadium of Anaheim is in the south of the city and during baseball season, typically from April to October, there are regular games during the week.
Usa-Pyon/Shutterstock
While the Los Angeles Angels aren't the best team in the USA, they do have some outstanding players including Mike Trout, widely recognised as the best hitter in the world.
It's a real show too, with blasts of fireworks going off whenever there's a home run.
5. Eat some proper food
When you've spent several days feasting on burgers and fries, corndogs on sticks and mini tubs of ice cream at the theme parks, you're likely to be craving an actual meal.
Head to the Anaheim Packing District, a food marketplace in an old Sunkist factory. Our pick of the outlets is Georgia's Restaurant serving Southern-style foods including Creole flat iron steaks, and chicken and waffles. See it all off with a hoppy but strong (7%) State Nice Chucks beer from The Iron Press.
You'll also find the worst kept secret in Orange County too – a hidden speakeasy called the Blind Rabbit. If you're into cocktails you'll find many unique ones here including Does This Spark Joy?, apparently named in honour of the queen of decluttering, Marie Kondo. Hopefully she's into vodka, peach bitters, strawberry, cucumber, pineapple and lime.
6. Hit the shops
You're in California after all so there's a choice of excellent shopping malls if you fancy some retail therapy. The Outlets At Orange is run by Simon Malls and is the place to pick up everything from Nike to Victoria's Secret.
READ MORE: A guide to LA neighbourhoods
We found the biggest bargains were at Sunglasses Hut, where new season Ray-Bans had a third off while DKNY saw handbags with 50% off.
Top tip: Ask at the info desk and they'll give you a booklet that offers a further 10% off many of the brands.
There's also a small shopping centre at Disneyland itself, featuring US-only outlets such as make-up brand Sephora.
North from Anaheim just off the I-5, is Citadel Outlets with big names including Coach, Kate Spade, Levi's and Italian handbag designer Furla.
Where to stay and getting there
Hilton Anaheim offers rooms from £93 per night.
Virgin Atlantic offers flights from London Heathrow to Los Angeles.
For more information see VisitAnaheim.
Be the first to comment
Do you want to comment on this article? You need to be signed in for this feature