7 ways to avoid paying too much for your holiday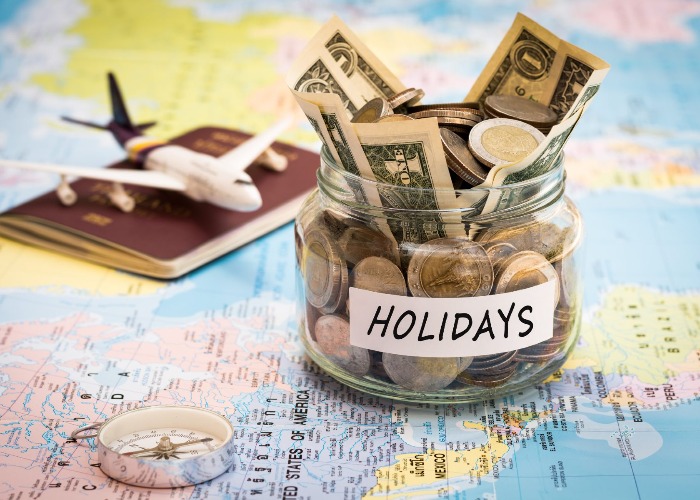 How to get your next trip for less – it's easier than you think.
Working out how to cut the cost of your holiday, whether it's a transatlantic city break or a long-awaited Euro trip, can be tricky, which is why we've come to the rescue with our top tips for slashing the cost of your getaway. The result? More money to spend on whatever you fancy, whether it's airline upgrades or shopping sprees in far-flung cities (or simply some wonderfully tacky souvenirs, if that's what floats your boat).
1. Let's talk timing
Before the pandemic, peak periods were more defined. Air fares, hotel stays and holiday packages will still cost more during popular periods such as weekends and summer holidays, but the lines have been blurred, due to more people working from home and more companies rolling out flexitime-based contracts.
Pajor Pawel/Shutterstock
In summary? Don't discount holidays during peak periods, but do book ahead, especially if your holiday is in the UK. Many travellers are still wary of venturing abroad, so the demand for UK-based hotels, packages and self-catering breaks has never been higher.
READ MORE: 9 ways to save money on self-catering holidays
2. The insurance issue
While we wouldn't go as far as to call this a silver lining, one pandemic-related perk is that companies – ranging from hotels and self-catering properties to booking agents and cruise lines – have been forced to up their game when it comes to offering travellers guarantees that they'll get their money back if the worst happens. And we're not just talking about COVID-19.
A growing number of companies are offering guarantees that money will be refunded if the holiday is cancelled for a wide range of reasons, so don't assume that this isn't something which will be offered, or which isn't worth asking about.
This sea change is partly due to demand, proof of which is a survey recently carried out by Booking.com. A whopping 74% of travellers polled said they want travel booking platforms to increase transparency around cancellation policies, refund processes and trip insurance options.
3. Come fly with me
Working out how to find the cheapest flights can be tricky, but on the plus side, some things never change, one of which is the fact that midweek flights are typically the least expensive.
"Flights which depart on a Tuesday and Wednesday are usually cheaper," says Cat Jordan at Travelzoo. Another reason to embrace midweek travel? "Airports are also less busy on these days," says Cat.
Jaromir Chalabala/Shutterstock
For the latter reason, booking midweek can be an especially useful tactic for anyone keen to avoid crowds, especially if they're flying to destinations which still require proof of negative COVID tests.
READ MORE: The top 7 online travel agents for the best holiday deals
4. City speak
During the height of COVID, there was endless speculation that the pandemic had dampened our appetite for city breaks – something which clearly hasn't proved true. However, if you're planning on an urban escape, a little tactical timing is key, especially at a time when business travellers are returning to the skies in growing numbers.
Vladimir Sazonov/Shutterstock
"Hotels in cities that see a lot of business traffic like Washington DC or Milan usually have better rates at the weekend as they're full in the week, but often struggle to fill their rooms on Saturdays and Sundays," says Cat. Her top tip? If you're in the market for a cheap city break, extending your weekend break – even by one day – can reap huge rewards, and it's all to do with the hotel's quietest night of the week. "Booking a weekend break which includes a Sunday night usually brings the price right down," says Cat.
5. Embrace slow travel
There are admittedly certain situations when slow travel simply isn't possible. Yes, some shipping companies might allow passengers to book cabins on their container ships, for example (one for the bucket list, perhaps?), but in reality, most of us are keen to maximise the time we spend at the destination we're heading to. And there are various methods of land-based slow travel which can truly enhance a holiday.
Ken Wolter/Shutterstock
Take Amtrak, which operates some of America's most spectacular sleeper train services between destinations such as New Orleans, Chicago, LA and New York. Taking the train between the cities served by Amtrak is often significantly cheaper than flying.
Hop onboard one of these services (commonly referred to as 'land cruises') and you'll gain a whole new perspective on America's best bits.
As with most sleeper train services, there are accommodation options for all budgets, ranging from reclining seats to two-person roomettes and interconnecting bedrooms.
READ MORE: The world's best overnight trains
6. BYO
The travel industry – and hotels in particular – took a hammering during the pandemic, and are keener than ever to cut costs. The most obvious impact has been on housekeeping.
Walt Disney World hotels now only offer a reduced housekeeping service (waste removal and towel replacement) every other day, while a growing number of chain hotels, including Marriott hotels, are replacing daily spruce-ups with on-request housekeeping.
New Africa/Shutterstock
But this doesn't just mean imminent extinction for the towel animals on your bed – those free teabags or coffee pouches next to the kettle are less likely to be replaced, as are basics like shampoo. Our advice? Bring your own.
Packing a decanted travel bottle of your favourite shower gel or a stash of Yorkshire Tea teabags won't just ensure you don't run out, but will help cut costs by minimising the need for a dash to the nearest over-priced coffee shop for a caffeine fix, or to splurge on a huge bottle of shampoo (which, to add, will fall foul of the liquids restrictions if you're travelling hand luggage only).
7. All hail the travel agent
Post-COVID, travel agents have never been so popular. Hays Travel recently revealed that almost half of its business now comes from first-time customers, while Inghams reports that 60% of its customers are booking with them for the first time. And although it always pays to consider booking direct when you're just looking for a night or two in a hotel, for longer stays it's always worth checking in with your local travel agent.
Yes, some might have affiliations with certain resorts or destinations, but travel agents can also offer discounts which you simply won't be able to access if you're booking independently. They'll also be able to offer plenty of advice which can reap huge rewards for your wallet, whether it's where to find the best restaurants in Paris, or where to find the cheapest hotels in New York.
READ MORE: 7 secrets you need to know before booking with a travel agent
Lead image: surasaki/Shutterstock
Be the first to comment
Do you want to comment on this article? You need to be signed in for this feature