Explore Washington DC: top things to do, where to stay and what to eat
Named after the first President of the United States George Washington, Washington DC is a city steeped in politics and history that demands respect. At first, its defined by its seriousness, with marble-clad government buildings trying to outdo each other in size and some of the best museums in the world. But pull the thick government curtain aside and the view beyond reveals hip bars and innovative restaurants, an exciting arts scene, cool neighbourhoods full of greenery and a city that's unrestrained in its friendliness. Karlina Valeiko and Charlotte Irwin travelled to DC to discover the best of both worlds.
Key neighbourhoods
National Mall & Penn Quarter
Nicknamed America's front yard, the National Mall is the most-visited national park in America and it isn't hard to see why. Breathtaking monuments and memorials, superb museums and historic attractions all come together in this unique place. The adjoining Penn Quarter offers museums, top dining spots and is home to the Ford's Theatre, where President Abraham Lincoln was assassinated. Restored to look exactly like it did that fateful night in 1865, it's rather eerie walking in the steps of Abraham Lincoln himself.
Capitol Hill
Home to some of the most important buildings in the US, including the US Capitol, the Supreme Court and the Library of Congress, Capitol Hill oozes power and politics. As soon as you get to central DC, you'll be able to spot the famed dome of the Capitol building – book on a free guided tour that takes visitors round the Crypt and the Rotunda. You'll need a separate pass to visit the Senate and House Galleries, which you can get on the day, if one or both houses are not in session. Southeast from the Capitol, you'll find charming 19th-century rowhouses and a surprisingly down-to-earth residential vibe.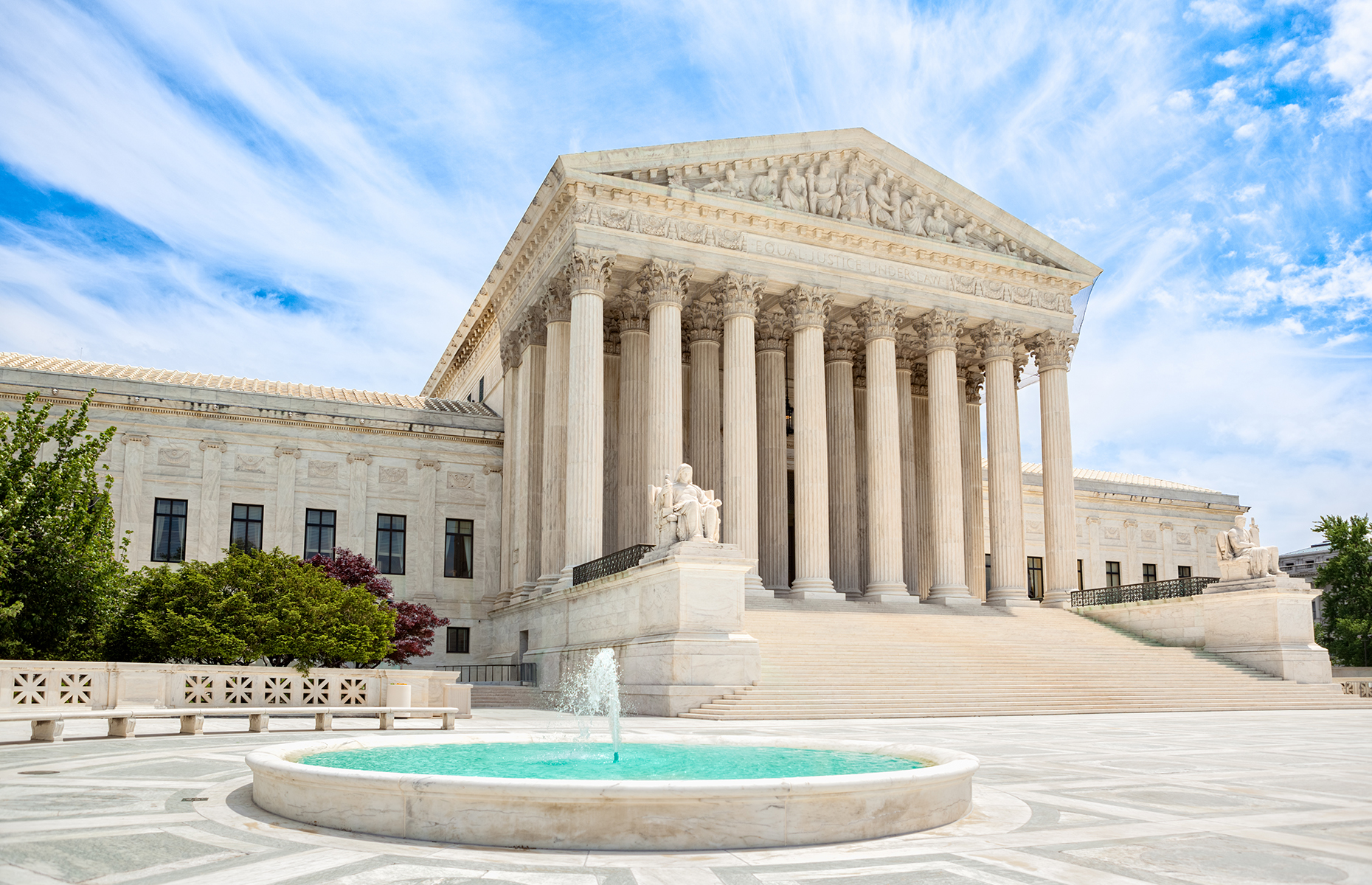 eurobanks/Shutterstock
Georgetown
Picturesque Georgetown, home to Georgetown University, is arguably DC's most charming neighbourhood. Come here for a relaxing walk along the cobblestone sidewalks past the historic homes and stay for a wealth of dining experiences. History buffs shouldn't skip a tour of the stunning 18th- and 19th-century mansions that were once homes of JFK and the chef Julia Child.
Downtown
Perhaps the nation's most prominent Downtown, this is where you'll find the city's most important address 1600 Pennsylvania Avenue – the formal location of The White House. One of the busiest neighbourhoods in the city, you'll find everything from shopping and restaurants to museums and historical attractions.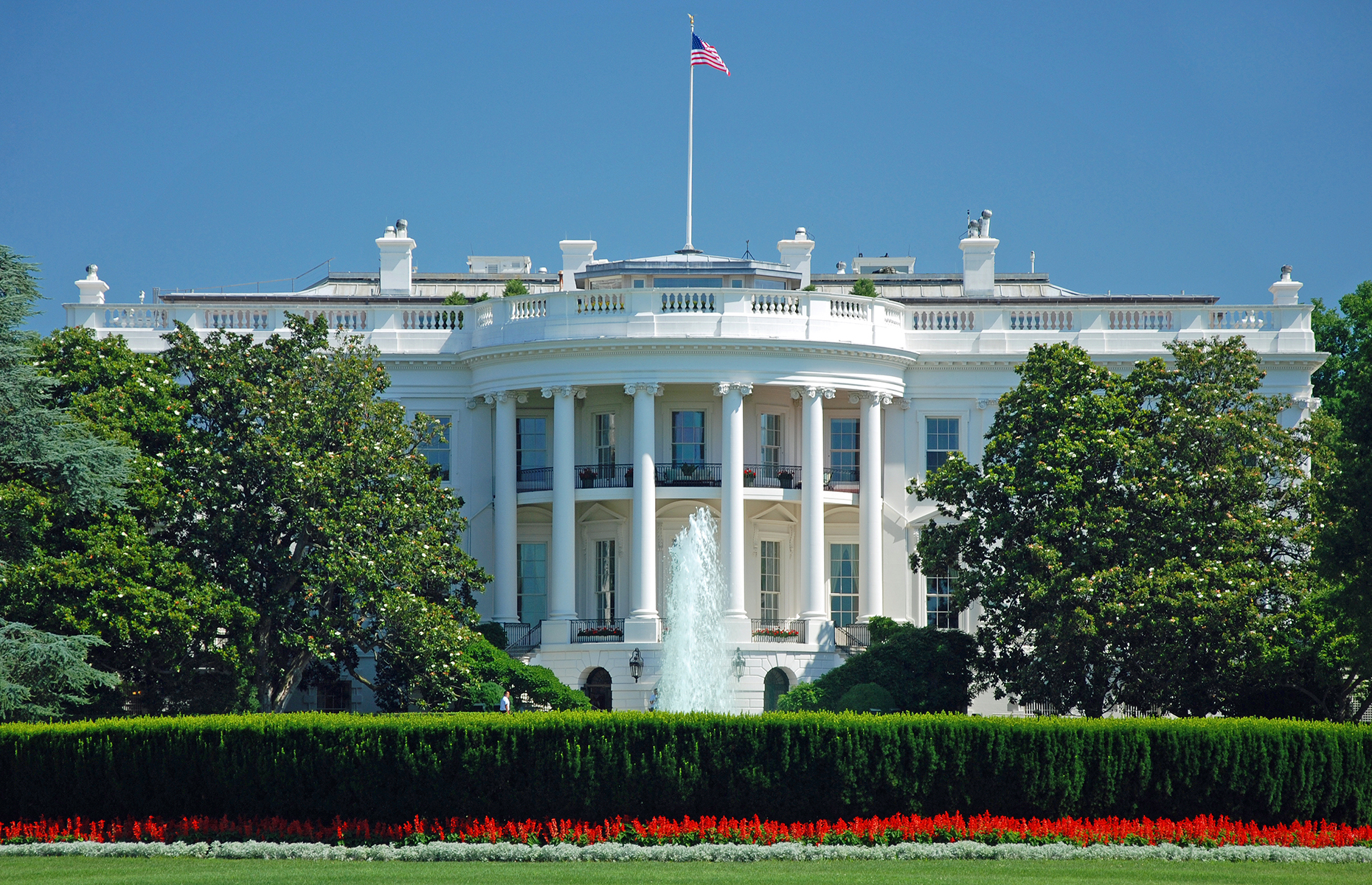 Vacclav/Shutterstock
READ MORE: Our complete guide to New York
H Street NE
Artsy and energetic, this one-and-a-half mile stretch in northeast DC is a fun mix of galleries, bars, art and food pop-ups and casual dining. Don't miss the Atlas Performing Arts Center – it bills itself as the place "where the arts, culture and connection happen on H Street" so expect a variety of performances and events on offer. To catch the chilled artistic vibe of H Street, head to Copycat Co. for late-night dumplings and cocktails.
Where to stay in DC
Billed as the world's first activist hotel, Eaton DC is Downtown's wellbeing paradise yet still manages to embrace the city's political spirit. Crystals, a record player and a selection of vinyls await in the room that's highly curated with dark hard-wood furniture, vintage accessories and woven rugs. But this inner-city oasis isn't completely shut off – it's centrally located for easy access to all the top sights and attractions and has a busy cultural programme. There is a cinema screening room and several bars, including Allegory, which has enchanting Alice in Wonderland-style murals depicting the true story of child civil rights activist Ruby Bridges.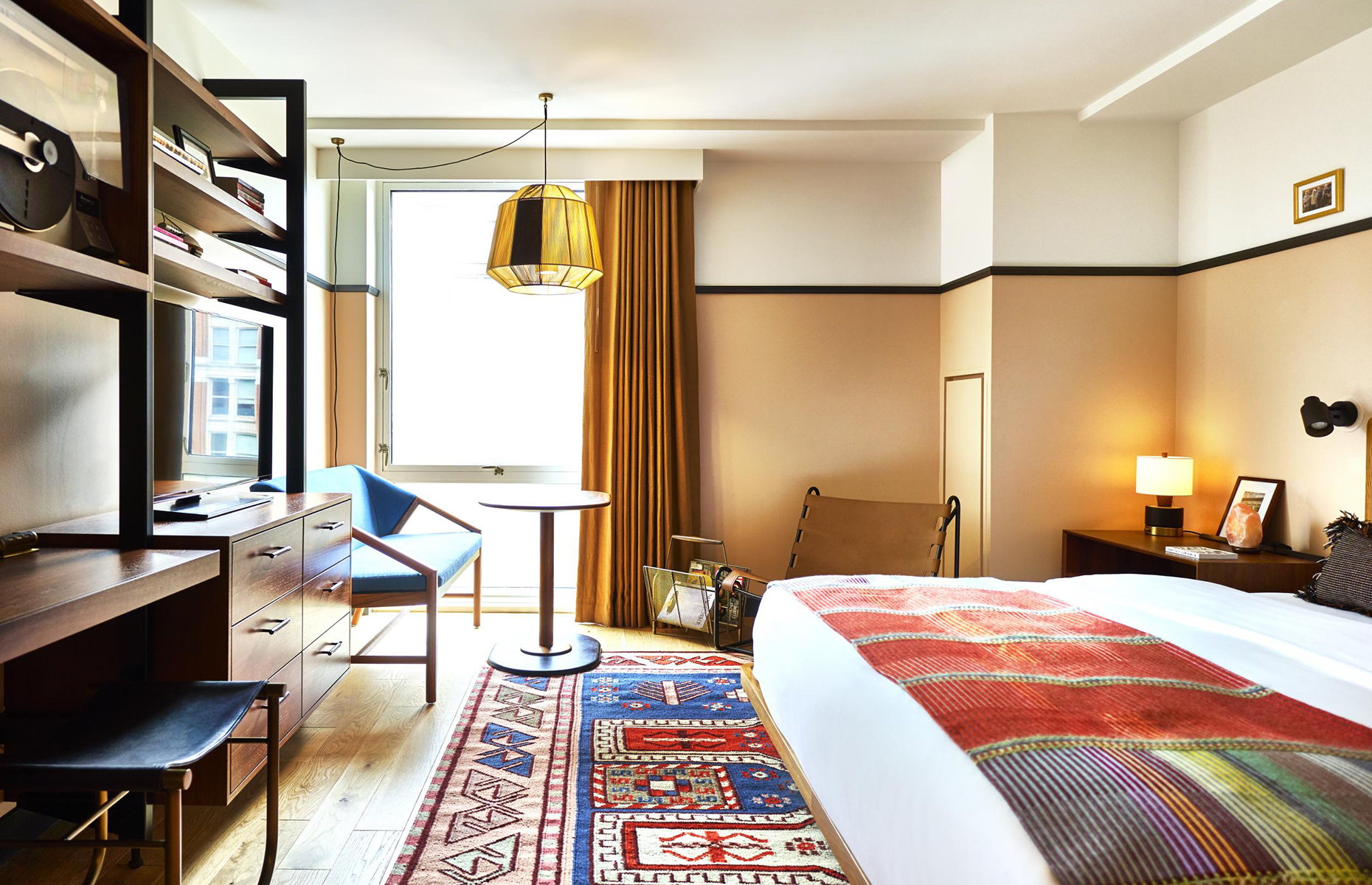 Eaton DC/booking.com
For something more luxurious, W Washington DC has just updated the historic Beaux-Arts building to the tune of $50 million. Think stylish rooms, two restaurants as well as 24-hour in-room dining and top-notch service. The revamped rooftop bar POV looks out over Downtown and the White House.
To escape the city's politically charged atmosphere, seek refuge at the The Avery in leafy Georgetown. It's a little out of town but benefits from it – the intimate boutique hotel is locally owned and suits the down-to-earth feel of the historic neighbourhood.
Best places to eat in DC
Not always mentioned among the best food cities in the US, DC definitely has some great dining options up its sleeve. An absolute must is the famous half-smoke. Unchanged since it opened in 1958, Ben's Chili Bowl is an ubiquitous part of the DC food scene. Order the original chili half-smoke – a grilled hot dog served in a steamed bun with mustard, onions and Ben's spicy chilli sauce – and snap a picture outside its original U Street location.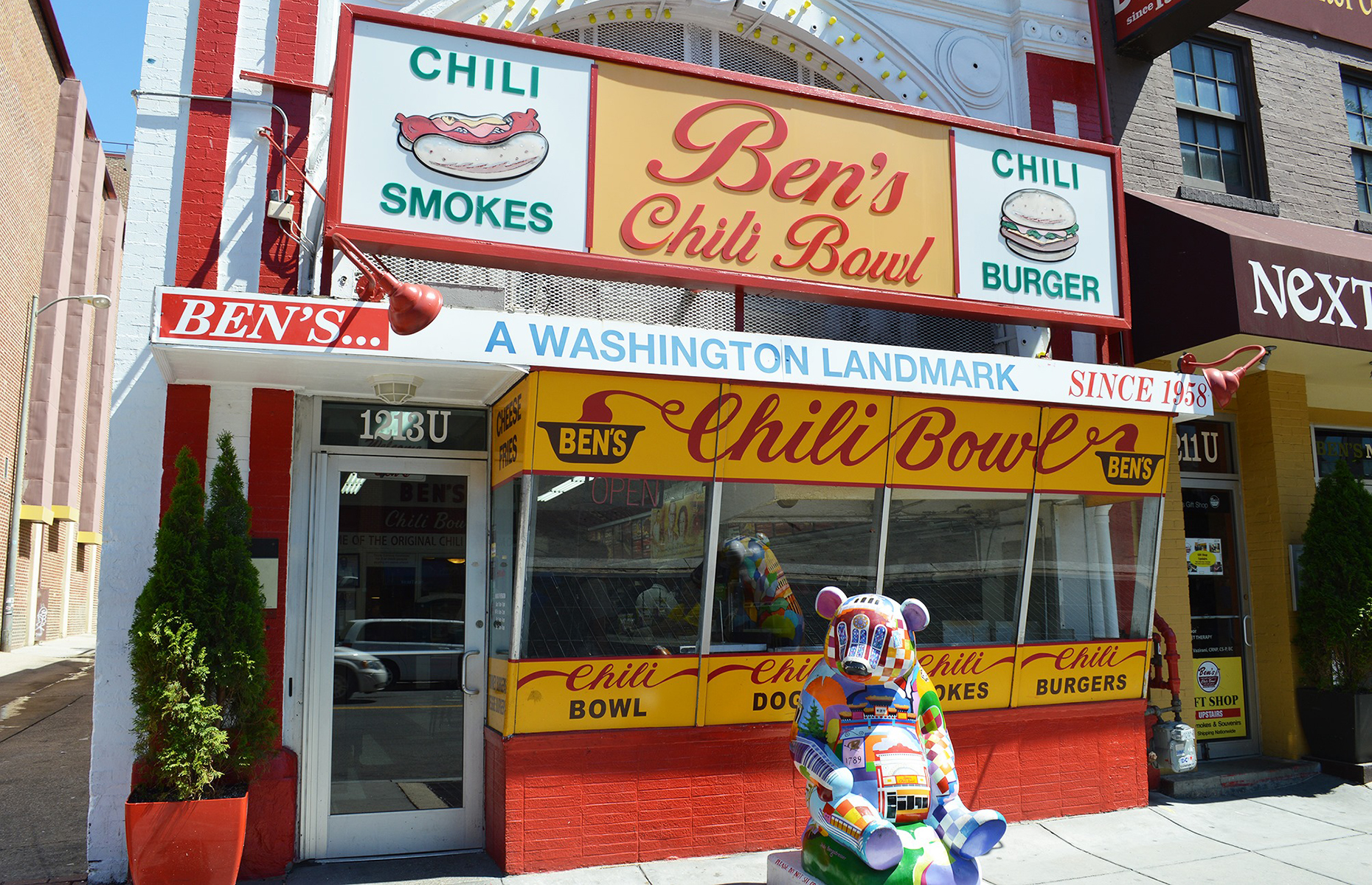 Ben's Chili Bowl/Facebook
DC is a city with a lot of disposable income so it's no surprise its tasting menu-centric restaurants have many a Michelin star, Bib Gourmand and James Beard award. For a special meal in DC splash out either at Poca Madre, an explosive Mexican restaurant with fun, flavoursome dishes, or The Dabney, which focuses on food sourced from the mid-Atlantic – think kohlrabi salad with cucumber and yogurt, softshell crab with sweet and sour cherries and grilled lamb loin with confit potatoes.
Day trips from DC
Washington DC has a lot to offer – you'll struggle to see everything in one visit – but if you fancy expanding your trip beyond the capital, there is much to explore.
Capital Region
Part of the Capital Region, DC is a good starting point for a Virginia and Maryland road trip. Discover Maryland's Ocean City beaches in summer or take in the autumn colours of Virginia's Blue Ridge Mountains. Craft beer trails criss-cross both states and the Allegheny Passage, stretching from DC all the way to Pennsylvania, is a cyclist hot spot thanks to its nearly level path and stunning scenery.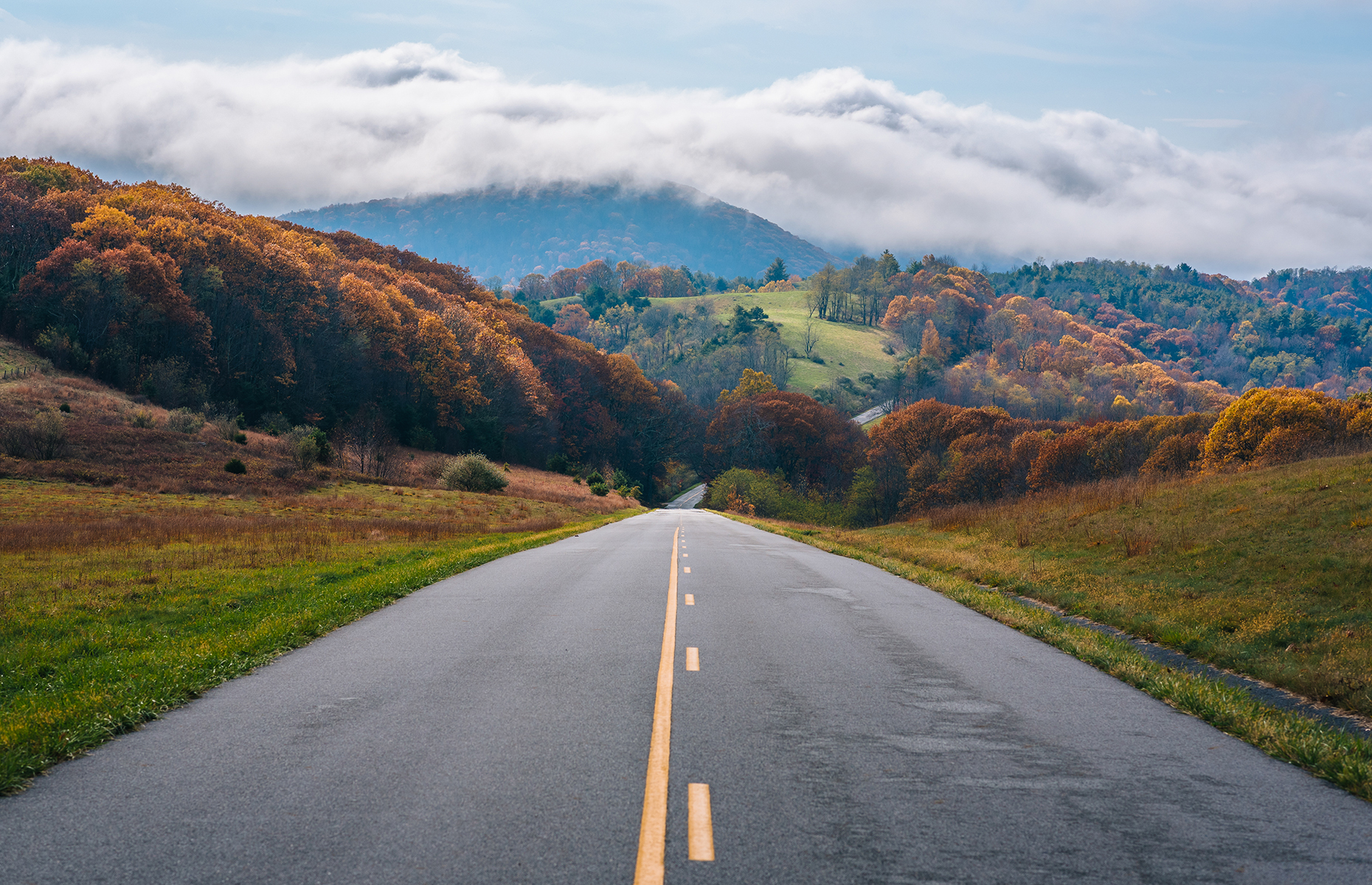 Jon Bilous/Shutterstock
Arlington, Virginia
Across the Potomac River, Arlington is just a taxi or subway ride away. The sombre yet powerful sight of the Arlington National Cemetery is deeply touching as is the National 9/11 Pentagon Memorial. You may have thought it impossible to see inside the HQ of the nation's Department of Defence itself, but you can take an hour-long tour of the Pentagon building on weekdays, provided you register online at least 14 days in advance.
Top DC tips
Wear comfy shoes
Although public transport in DC is very good, you will still end up walking considerable distances so make sure you're wearing comfy shoes. DC is an incredibly beautiful city with a unique character – don't take so many subway trips to hop from sight to sight you don't miss out on experiencing the city itself.
Food choices along the National Mall are sparse
National Mall is huge – it's much bigger in real life than you'd ever expect. Even though there are countless museums and attractions along the Mall, there aren't many reasonably-priced dining options. Forget about packing a picnic either as you're not allowed to bring your own food in the museums. Plan to visit one or two museums along the Mall before or after lunch so you can sit down for a bite elsewhere in the city.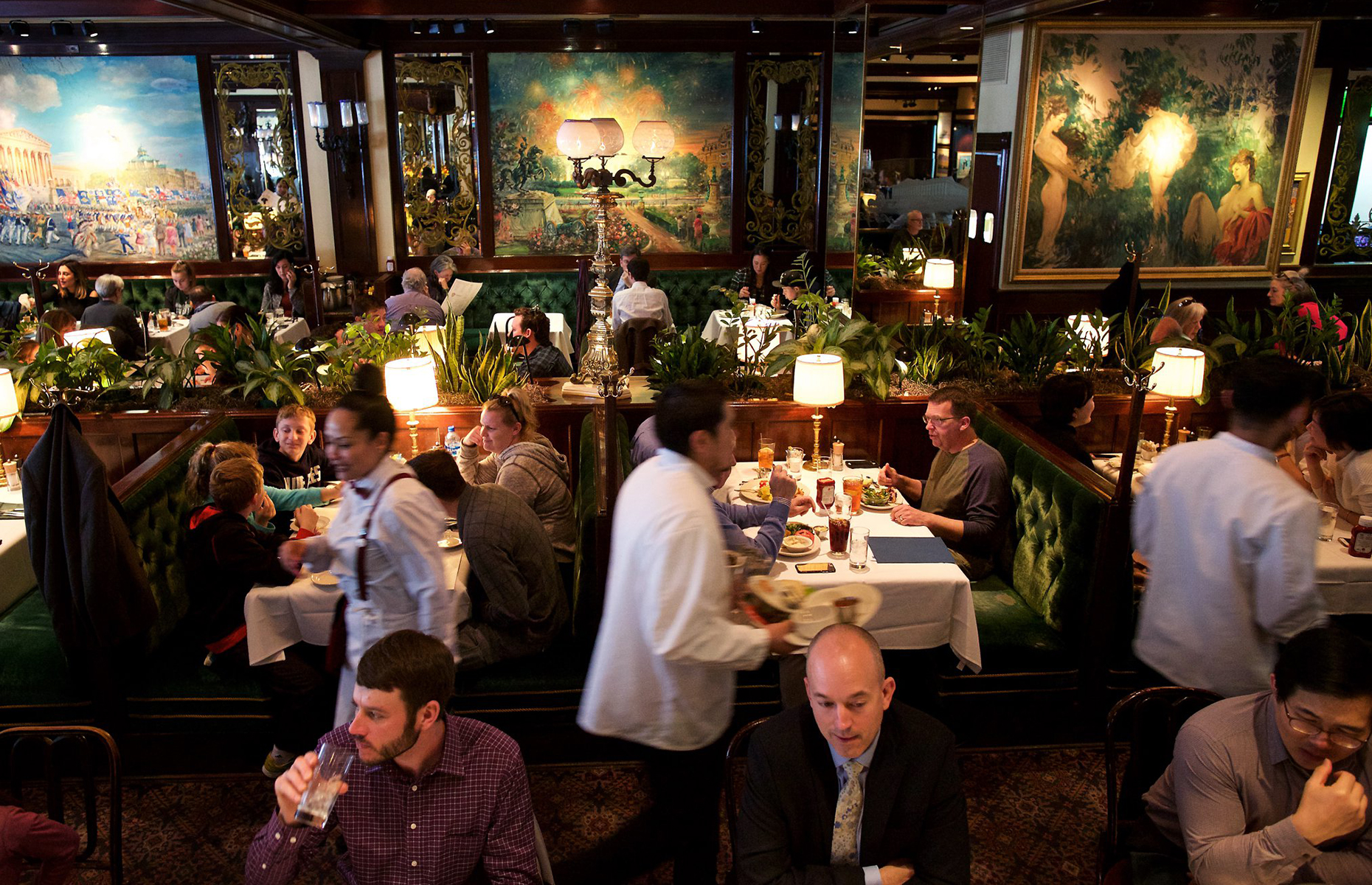 Old Ebbitt Grill/Facebook
Make restaurant reservations ahead of time
Dining out is a staple of DC life and you'll see bars, restaurants and cafés packed every single night of the week. Do your research before and book a few restaurants you'd love to eat at to avoid disappointment. Walk-ins during peak times are rarely accepted and the wait for a table is usually a good hour, maybe even two.
The ultimate Washington DC itinerary
Friday
Check-in at: Eaton DC. Conveniently located near all of the top sights, the hotel is a refreshing breath of fresh air among DC's black SUVs, suited officials and government building bonanza. The perfect place to retreat after a long day of sightseeing, its calming colour palette and comfy beds are all you need to recharge for a new day in the capital.
Brush shoulders with the big dogs at: Old Ebbitt Grill. Immensely popular with everyone in DC, from lobbyists to tourists, Old Ebbitt Grill is never quiet. A proper introduction to the buzz of DC's dining and late-night drinks scene, Old Ebbitt is an absolute must. Any of the seafood offerings are a safe bet, especially the raw bar, while the all-American classics like clam chowder, glazed meatloaf and jumbo crab cakes can't be faulted either.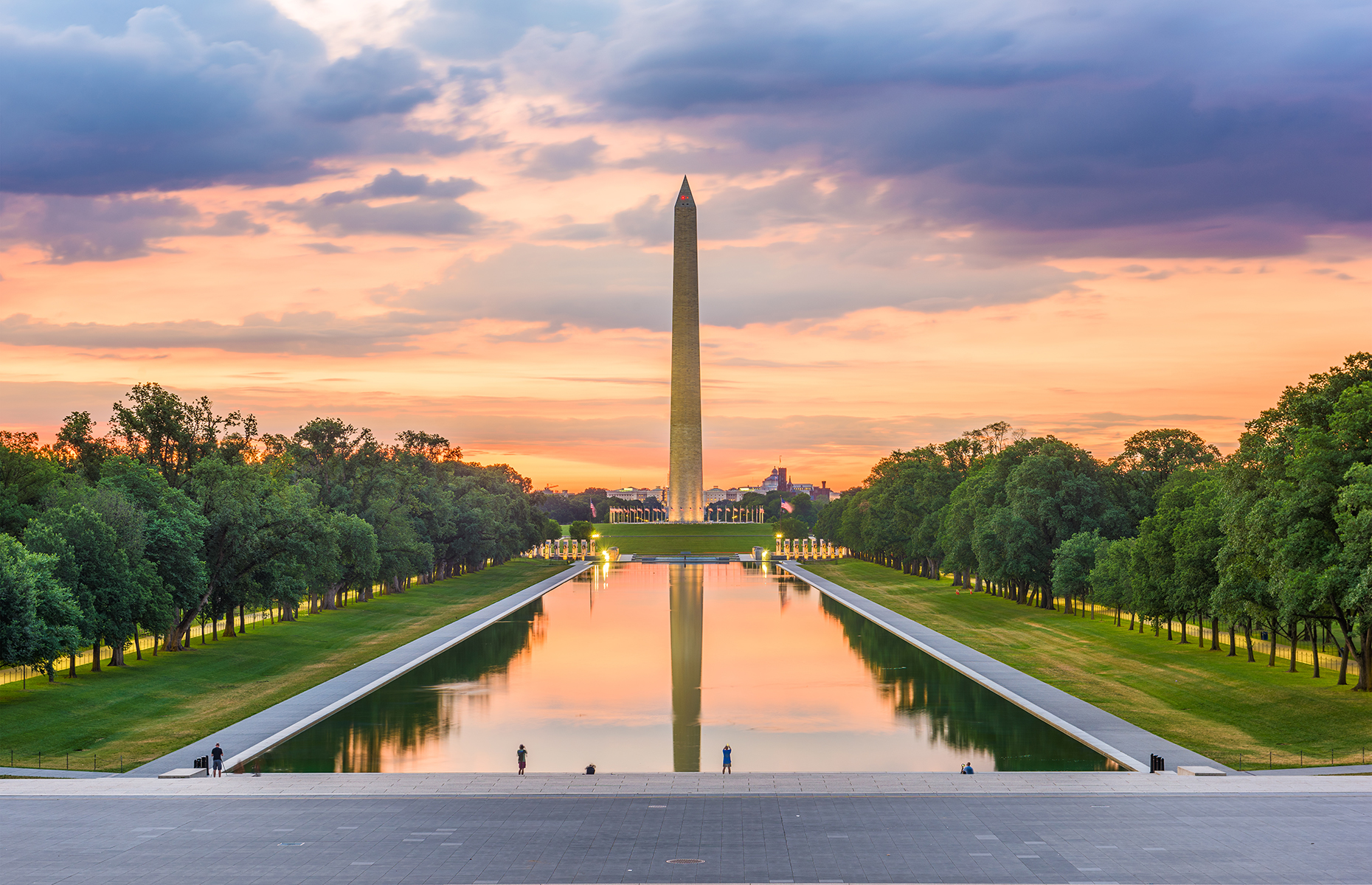 Sean Pavone/Shutterstock
Catch a taxi to: the Washington Monument. It's far more brilliant at night, lit up from below. If it's a warm night, walk off dinner by heading past the Second World War Memorial, along the Reflecting Pool, towards the Lincoln Memorial for a crowd-free visit. There's something hauntingly beautiful about Lincoln's faint smile at night.
Have a nightcap at: W Washington DC. Head straight up to the POV rooftop bar and order a Stormy Jack Daniels or cold brew covfefe – tongue-and-cheek cocktails inspired by President Donald Trump – and enjoy them overlooking the president's home.
Saturday
Start the day right at: Unconventional Diner. It's in the name – no classic greasy spoon dishes here. Instead chef David Deshaies combines fried chicken with Cajun aïoli and honey sriracha in a sesame brioche bun and tops corned beef hash with black pepper gravy and sunny side up eggs.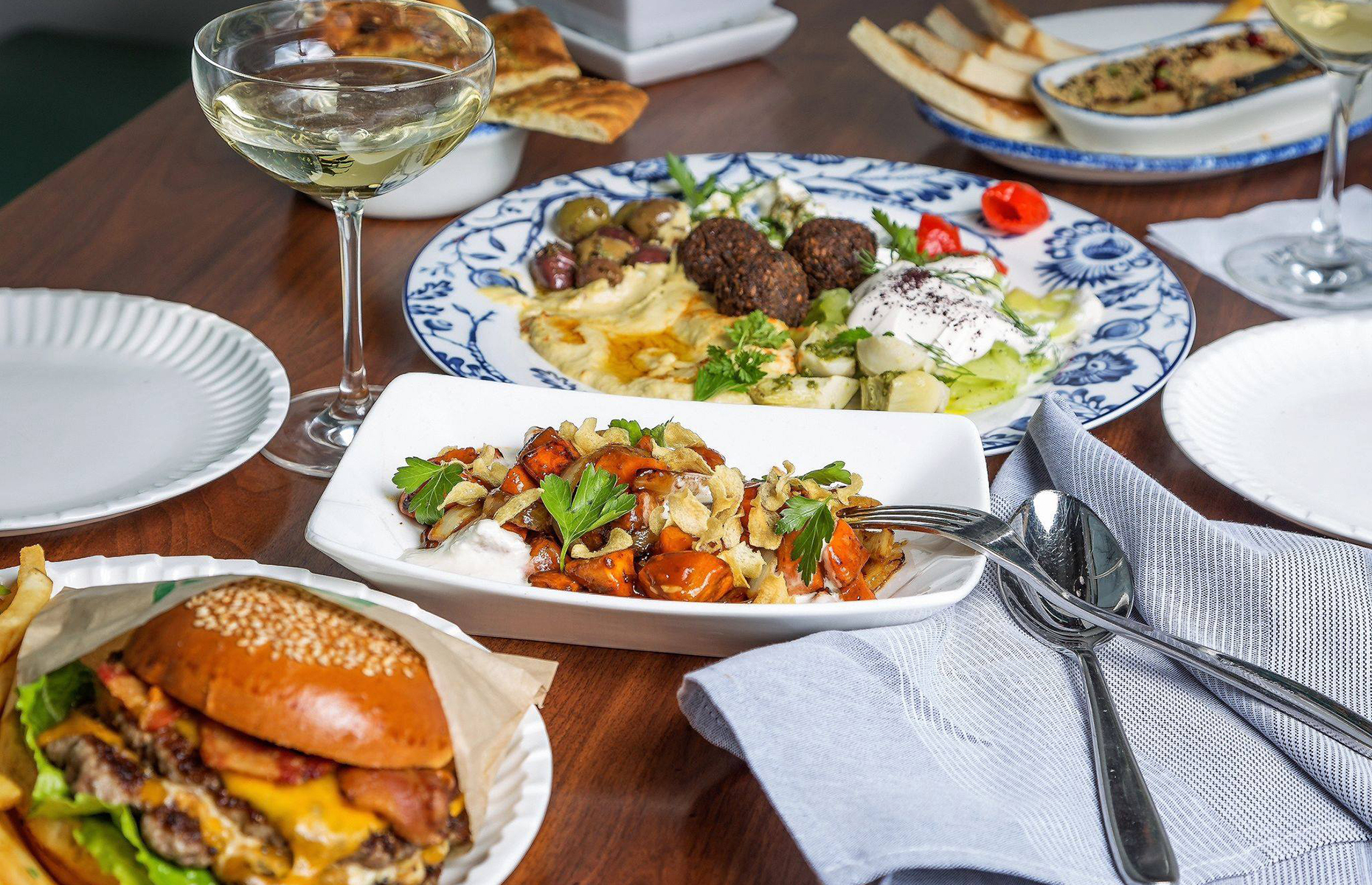 Unconventional Diner/Facebook
Take in the highlights: on a Segway tour. A good way to get your bearings is to take a Segway tour, stopping at all the key sights, from the National Archives to the imposing Lincoln Memorial, all in just a morning. You'll see everyone doing it and it is really good fun too – don't worry you can hop off for photos.
Follow the news at: the Newseum. Dedicated to news and press freedom, in the era of fake news its ethos is more pertinent than ever. Find out about the stories behind 9/11 and the fall of the Berlin Wall as well as see the original Unabomber cabin.
Lunch at: Founding Farmers. The ultimate farm-to-table restaurant, it's all about sustainability and bringing produce directly from farmers to consumers. The restaurant has now got eight offspring in three states, but the original location is just a few minutes' walk from the White House. Start with fried green tomatoes, take your pick between the signature beer can chicken or the slow-braised short rib and, if you've still got room for dessert, finish with the farmer Ellen's carrot cake.
Spend time at: one or two of the Smithsonian Museums. You can't cram in all of DC's many museums into your itinerary but it's worth researching ahead of time and stopping by a couple of the Smithsonian Museums lining the National Mall. Not only are they among the best museums in the world, they're free.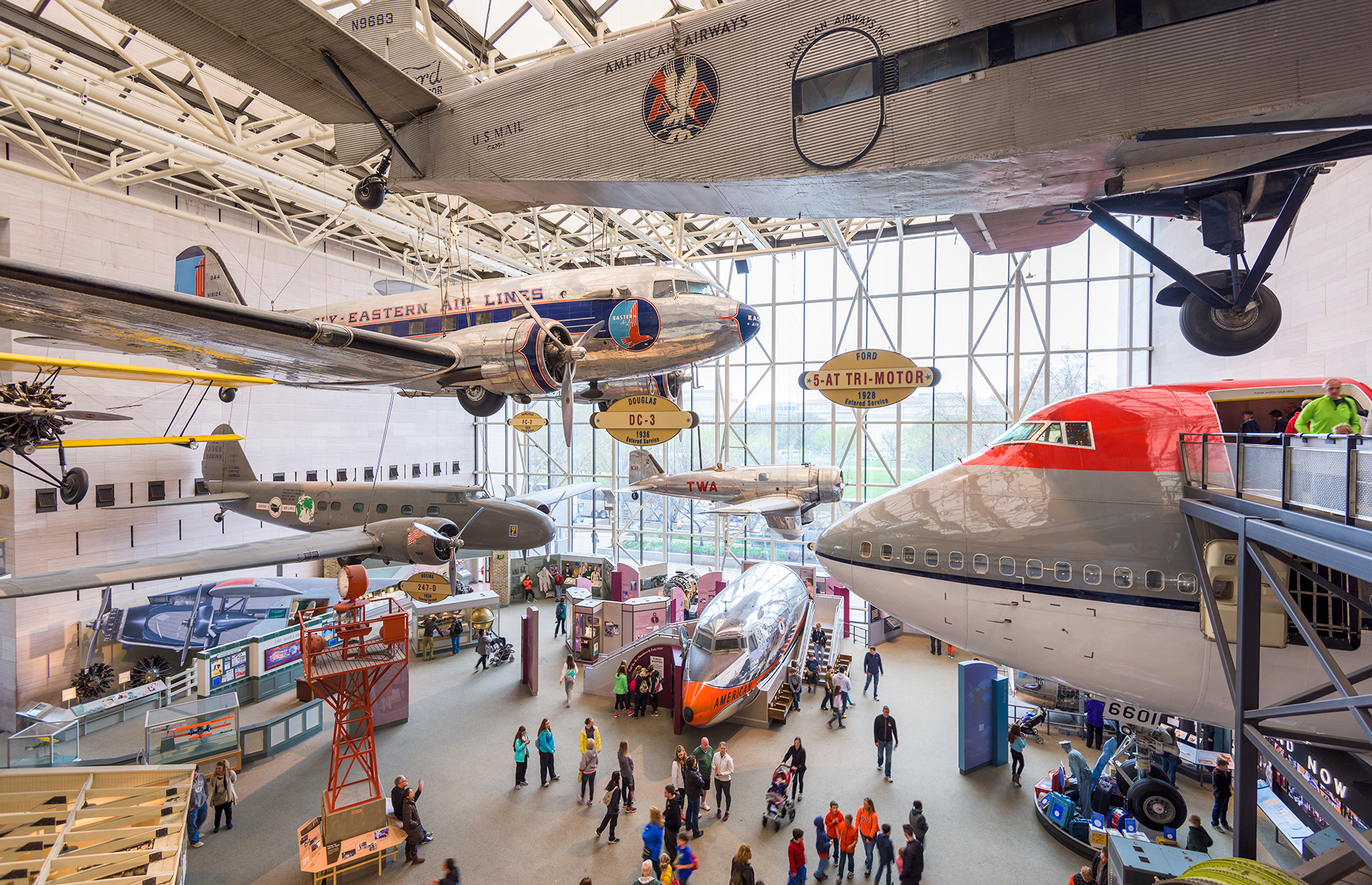 Sean Pavone/Shutterstock
Air and Space Museum holds everything air and space, obviously, from the first Wright Brother's plane to the boots Neil Armstrong wore for his walk on the Moon. Not your thing? Hirshhorn Museum next door displays art by some of the world's most cutting-edge creators, from American conceptualist Barbara Kruger to Japanese artist Yayoi Kusama.
Across the Mall, National Museum of Natural History has an impressive dinosaur hall while keen home cooks will love seeing Julia Child's kitchen at the National Museum of American History.
Order a pig at: The Pig. A celebration of the whole animal, head to toe, dining at The Pig is more an event than a meal. Come hungry and feast on a selection of charcuterie, pork belly buns, grilled crispy pig tails or exceptional trotter croquettes. The mains feature pretty much every part of the animal, from confit shank to smoked ribs.
Sunday
Learn more about history at: the National Museum of African American History and Culture. One of the newest of the Smithsonians (it opened in 2016), it's a stunning museum both inside and out. Spend a few hours here learning about the history of the African American experience, from slavery to popular culture, and the impact it has had on America. You will need to book in advance but it's free to enter.
Nigel Jarvis/Shutterstock
Grab lunch at: Union Market. North of the H Street NE neighbourhood, this indoor food market is where the locals head for a bite to eat. Open from 8am till 8pm, choose from ramen, dumplings, burgers or even oysters and slip into DC weekend life.
Have a wild afternoon at: the National Zoo. A bit further out the city, it's free to enter and you can hang out with raven-haired Goeldi's monkeys, make friends with a red panda or try and spot the elusive sand cat.
Washington DC map
Find all of our favourite DC spots with this handy map:
Lead image: Sean Pavone/Shutterstock
Be the first to comment
Do you want to comment on this article? You need to be signed in for this feature