The best cities to visit in Spain
Can't decide where to go this summer? Head to one of these great cities in Spain for a brilliant break.
Barcelona, Granada, Seville, Madrid – Spain's cities are among the most exciting in Europe. But with so many brilliant choices, where should you go first?
Luckily, there's no need to whittle it down to just one spot. Madrid already runs high-speed, low-cost trains to Barcelona and Seville and recently launched more services between the city and Alicante and Valencia. There are also plans to expand the service again in 2023 to Andalucía, with designated stops at Córdoba, Seville and Málaga in the Costa del Sol. With ticket prices starting as low as €7 (£5.89), there's never been a better time to see Spain by train.
Whether you want to visit one city or more, read on to discover our favourite cities in Spain and where to stay in each.
For art aficionados & football fans: Barcelona
Take a stroll around the Catalan capital and the brilliance of Spanish architect Antoni Gaudí is everywhere to be seen. His most impressive Barcelona project is the Sagrada Família, a huge and somewhat flamboyant church which was only a quarter finished when Gaudí was knocked down by a tram and died, aged 73, in 1926. Work continues today, with an estimated finish date in 2026.
The rooftop at Casa Milà with its quirky chimneys is a must-see too, as are the mosaics and mask-like balconies of Casa Batlló. If you want to escape the heat, head to Gaudi's Parc Güell. Rest at the terrace's tiled bench, shaped as a sea serpent, for a panoramic view of the city.
V_E/Shutterstock
Barcelona was also the birthplace of artists Joan Miró and Antoni Tàpies, and the city boasts galleries showcasing their paintings and sculptures, as well as one dedicated to Pablo Picasso.
Football fanatics should head to Camp Nou, home to Barcelona FC. It's the largest stadium in Europe with a seating capacity of 122,354 and you can take a tour for the full Barça experience and visit the team's museum with its own "Messi Space".
Where to stay in Barcelona
Opposite the cathedral and Gothic Quarter, the 4-star Hotel Colón couldn't be better located for a day's sightseeing. Alternatively, just a short walk from Plaça de Catalunya is the good-value and stylish eight-bedroomed Anakena House.
READ MORE: What to do, the best hotels and where to eat in Barcelona
For traditionalists: Seville
If, when you think of Spain, images of flamenco dancers, matadors, castanets, tapas and sherry appear, then Seville is for you. Centuries-old Spanish traditions are kept alive in this seductive city, allowing the visitor to easily immerse themselves in the Andalucían way of life.
Despite the controversial sport that takes place there, you can't deny that the Plaza de Toros de la Maestranza, is a magnificent building. Opera fans will also know it was immortalised in Bizet's Carmen – the nearby Royal Tobacco Factory, where the title character worked, is now part of the University of Seville.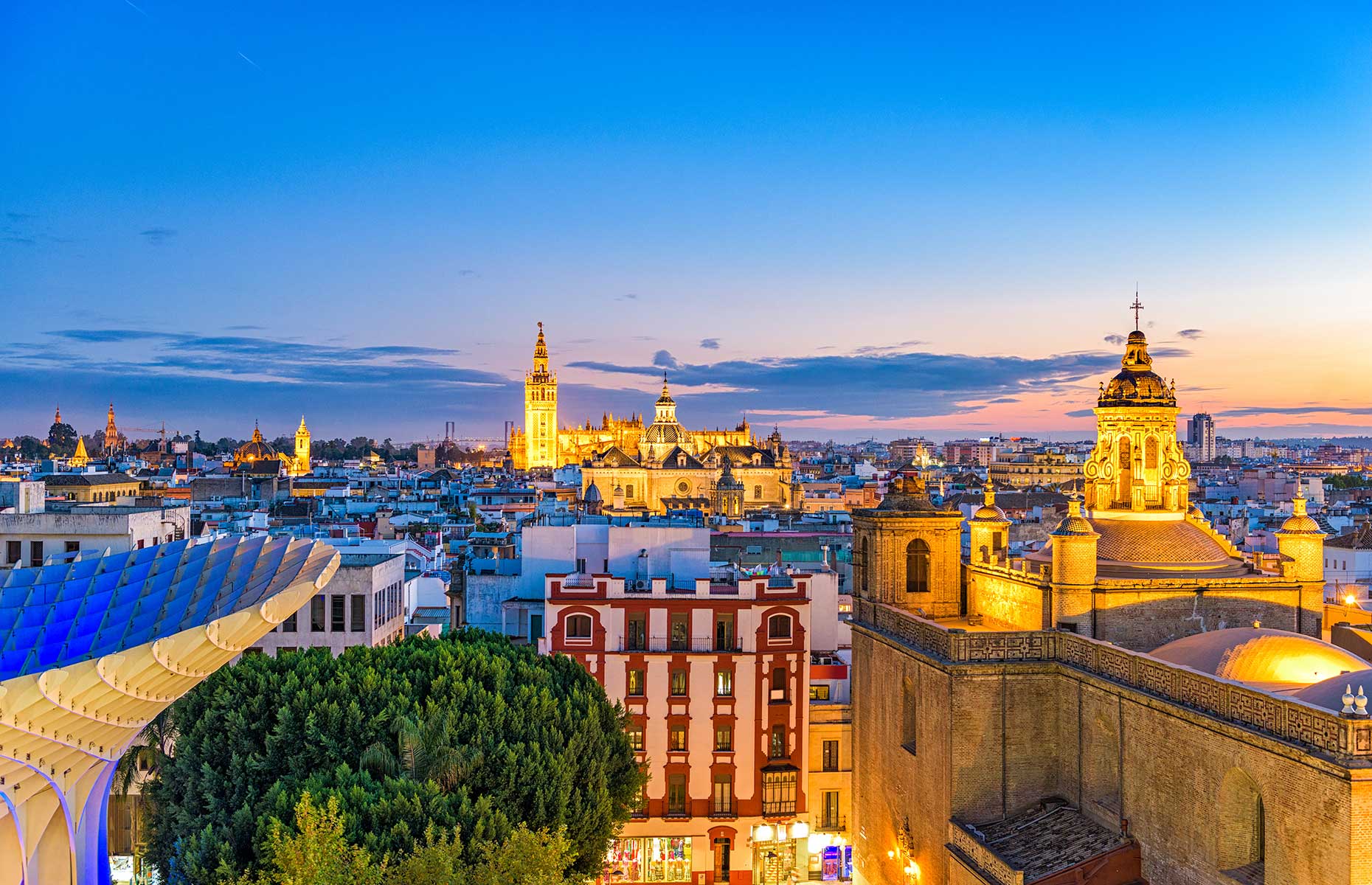 Sean Pavone/Shutterstock
Want to witness – or even take part in – an intense and exhilarating flamenco show? Authentic and often spontaneous dancing occurs in bars in the Triana district.
As for the tradition of tapa, make a beeline for El Rinconcillo Bar. Although becoming a little touristy, it's said to be the oldest tapas bar in Seville and deserves at least a quick visit.
Where to stay in Seville
Pretend you are royalty in the 5-star Hotel Alfonso XIII, a former palace with rooms decorated in Spanish or Moorish style. Or, in the heart of the city, Corral del Rey is a small boutique hotel with a rooftop bar and relaxed atmosphere.
READ MORE: 8 reasons to visit Andalucía's scenic capital
For shopaholics: Madrid
Zara, Mango, Massimo Dutti – anyone who enjoys a bit of retail therapy will be familiar with these Spanish brands. In Madrid, it's easy to shop until you drop, and well-defined shopping areas make the whole experience a breeze. All the usual high-street stores are found around Gran Vía, along with Spain's congenial department store, El Corte Inglés.
If you've a weakness for shoes, march to Calle Augusto Figueroa; if it's designer labels you desire, visit Calle de Serrano, Madrid's equivalent of Rodeo Drive. For those on a tight budget, Armani, Burberry and Gucci all have outlets at Las Rozas shopping village, 30 minutes' bus journey away. Just jump on the number 626.
Pedro Rufo/Shutterstock
On Sunday mornings, El Rastro comes alive with a sprawling flea market. And around Plaza Mayor, stalls set up selling stamps and coins. A little niche perhaps, but nearby in Calle Cruz is a shop that's sold capes, and only capes, for the past hundred years. Take a peek in the window.
It's from Madrid that you can catch a high-speed train to the likes of Seville or Barcelona and, later in 2022, Valencia and Alicante.
Where to stay in Madrid:
Vincci The Mint is a unique 4-star hotel on Gran Vía, full of nooks and crannies, a rooftop terrace and inventive cocktail menu. Nearby is the recently renovated Hotel Atlántico, a grand establishment where service is first class.
READ MORE: Where to stay, what to eat and what to see in Madrid
For beach bums: València
Beach holiday or city break? Sometimes you just can't decide. Enjoy both in coastal València, Spain's third largest city. What's more, due to its subtropical Mediterranean climate, visitors can bask in sunshine fo rmuch of the year – the average annual temperature is a comfortable 18°C.
The most popular beach, La Malvarrosa, is just 10 minutes north of the city and has fine golden sand and a Blue Flag Award. However, while it's wide, on a hot summer's day you'll struggle to find space for your beach towel. A little more tranquil, but slightly further away, is Playa de Patacona.
On the southern side of the city, and half an hour away, El Saler Beach has a beautiful natural setting beside large dunes. Close by is Albufera Natural Park, known for its rich diversity of birds and other wildlife.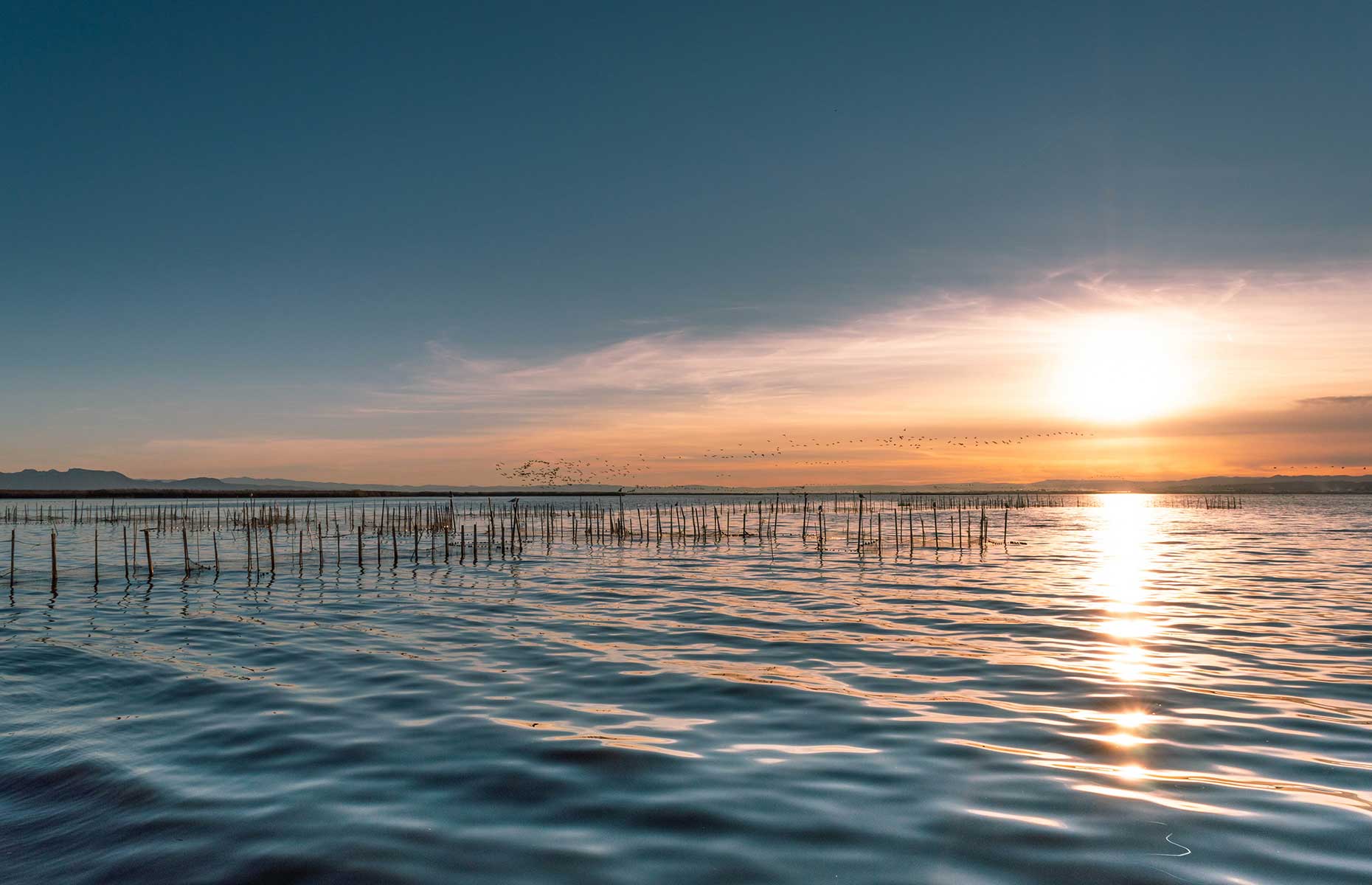 Connie Nicolau/Shutterstock
For city exploration, hire a bike and explore the two cycle paths run the length of the Jardin del Turia, the park on the dried-out bed of the city's former river. This is also an easy scenic way to get to the City of Arts and Sciences, an entertainment-based cultural complex that would make a fitting backdrop to a sci-fi series. Go in March to party at Las Fallas, a five-day festival during which huge papier-mâché monuments are erected in València's squares, then set alight. Spectacular fireworks fill the night skies too.
Where to stay in Valencia:
A former 19th-century palace, the 5-star Hotel Caro has 26 rooms, each with its own individual style and furnishings. With names such as the 'palace cellar', 'Arab tower' and 'secret staircase', you're guaranteed an interesting stay. Alternatively, the modern 4-star Hotel Dimar has a small fitness centre and is conveniently located beside a metro station.
READ MORE: Six reasons to visit sunny Valencia
For foodies & walkers: Santiago de Compostela
Santiago de Compostela has been an important place of pilgrimage for centuries, and in 2016 almost 280,000 people were awarded the Compostela, a certificate given to pilgrims who walk the last hundred kilometres of the Camino de Santiago route. Get your hiking boots on and arrive in the city by foot, then refuel on some of the country's most delicious food.
There is no shortage of tasty cuisine being served in outstanding establishments here – 18 restaurants appear in the Michelin Guide, and Casa Marcelo, with its Galician-Japanese menu and communal tables, has a coveted one star.
For tapas, raciones and pintxos, head to Rúa do Franco or simply meander around the maze of cobblestoned streets of the Old Town and pop into one of the many cafés or bars. Try one of the area's signature dishes – boiled octopus, known locally as polbo á feira. Padrón peppers are delicious too, just try to avoid the hot one!
VicVa/Shutterstock
There's no shortage of fine wine either. Galicia has five Denominations of Origin for wine production and the red variety from the region of Ribeiro is fruity and full-bodied. If you develop a taste for the tipple, buy a bottle to bring home. You'll rarely find it on your local supermarket shelf.
For those with a penchant for the historical past, the city's Old Town was designated a UNESCO World Heritage Site in 1985. Gothic, Neo-classical, Baroque and Romanesque architecture sit side by side.
Where to stay in Santiago de Compostela:
Formerly a pilgrims' hospital, and sometimes referred to as the Hostal dos Reis Catolicos, the 5-star Parador of Santiago de Compostela is located opposite the city's cathedral. Some rooms have four-poster beds. Another option is the 4-star San Francisco Hotel Monumento, a tranquil retreat with heated pool that was once a Franciscan convent.
For bucket listers: Granada
Granada is everything you want from a traditional Spanish city but with a twist: there's a distinctive Moroccan flavour throughout the place. With its Moorish history, at times you might feel like you're in Marrakesh rather than a southern Spanish centre, and nowhere highlights that influence more than the Alhambra. The ornate palace and fortress dominate the horizon towards the Sierra Nevada mountain range, and is a staggeringly beautiful site to visit.
Amid all the tapas bars hiding in the shadows of the cathedral, you'll find narrow streets leading off Plaza Bib-Rambla, with stalls selling Moroccan herbs and spices, as well as silks and trinkets. Try out your bartering skills.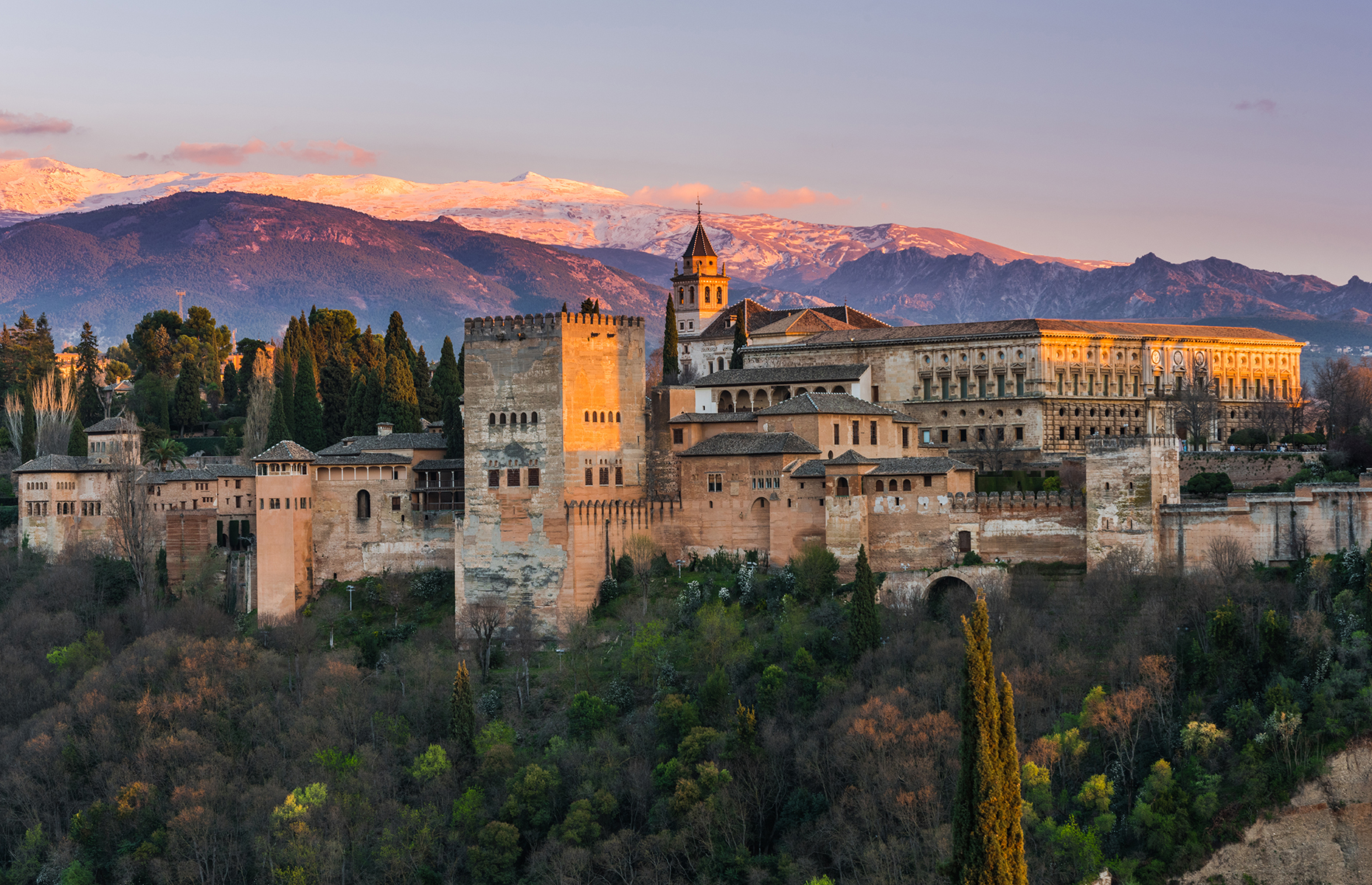 marcin jucha/Shutterstock
El Bañuelo, majestic Arabian baths dating back to the 11th century, should be on your itinerary too – not least because entrance is free. Look out for the star-shaped holes in the roof which allowed light to enter and steam to escape. For a traditional bathing experience, consider Baños Árabes de Grenada.
Where to stay in Granada:
The luxurious 5-star Hospes Palacio de Los Patos is an elegant hotel, with spa, just a short walk from Granada Cathedral and the city's shopping streets. Another charming option is the Vincci Albayzín Hotel with its Arab-inspired décor.
For snap-happy visitors: Málaga
Those in search of great views will fall in love with Málaga, a fortress city on the Costa del Sol in Andalucia. The number of sweeping vistas are as neverending as the panoramics themselves. Photograph the Renaissance splendour of Málaga Cathedral and join one of the night-time rooftop tours (June-September) to enjoy twilight views over the whole city and the misty mountains in the north. Take in its solo bell tower, which gives the cathedral its nickname of La Manquita (the one-armed woman), before ascending the 200 steps to its 40-metre pinnacle.
This fortress city was once part of Moorish Andalucía so make a beeline for Alcazaba, which starts in the centre of the old town (by a Roman amphitheatre). It winds up to Castillo de Gibralfaro where you can zig zag along the turrets and point out the details of the city. Or, if you want your snaps to showcase sun, sea and sand, head out on a sightseeing boat around the bay. Even stopping for food or drink is a photographer's dream.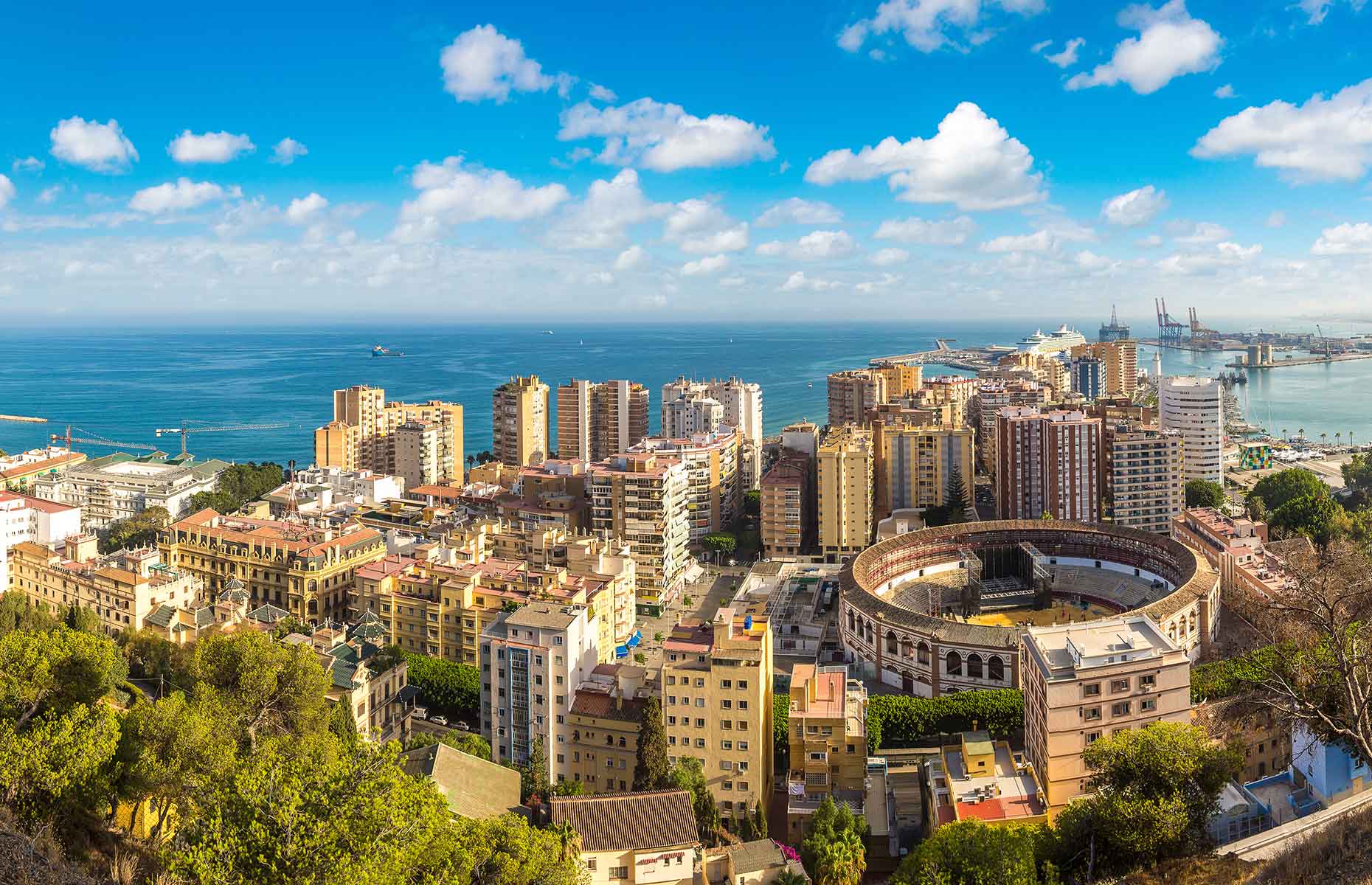 S-F/Shutterstock
At the top of Molina Lario Hotel is La Piscina Lounge, with two panoramic terraces overlooking the likes of the cathedral, port and Málaga Park. Just as importantly, it's a great spot for a late afternoon tipple of local wine or a feast of tapas.
Where to stay in Málaga
Attached to Málaga's main train station is Barceló Málaga, which includes a corridor overlooking the platforms. Otherwise the Parador de Malaga Gibralfaro feels embedded into the hillside and offers twinkling views overlooking the sea as well as a historic setting beside the Alcazaba.
READ MORE: The ultimate 48-hour city break in Málaga
Lead image: STEFI PANCHESCO/Shutterstock
Be the first to comment
Do you want to comment on this article? You need to be signed in for this feature