Seductive Seville: 8 reasons to visit Andalucía's scenic capital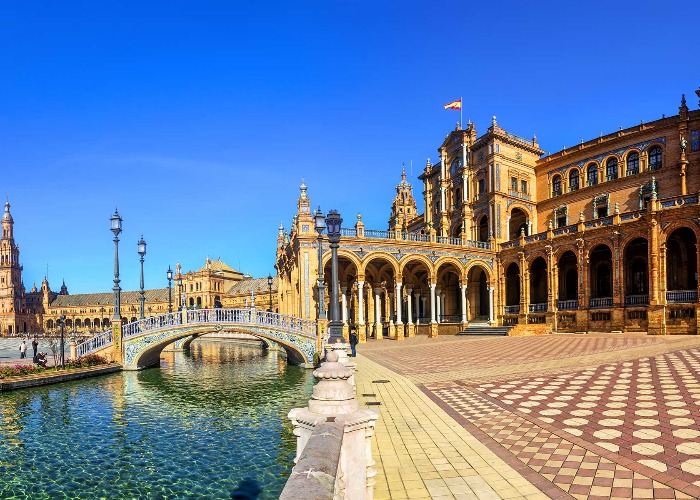 Get lost in the winding streets, relax on the river or brush up your history in this stunning Spanish city that sizzles year round. Here's our pick of Seville's most unmissable sights.
Beautiful and bewitching, Seville is a deliciously seductive city. Its somewhat romantic history and endless sunshine sets the scene for a city break to remember. With a happy mix of architectural styles, tales to be told and ancient attractions, you can't help fall for Roman Spain and experience the legacy of Al-Andalus.
READ MORE: 5 hidden highlights of AndalucÍa
Take a wander in the winding old quarter, hop on a river cruise, tuck into tapas, lose a day to the museums or simply sit back and watch the world go by, glass of chilled cava in one hand and a slice of tangy manchego in the other. However you do Seville, you're sure to fall for this most Spanish of cities.
1. Get lost in the old Jewish quarter
One of the most enjoyable ways of getting to grips with any old town is by putting the map down and just throwing yourself in, and Seville is no different. In particular, the 'barrio' (area) of Santa Cruz begs a little aimless exploration.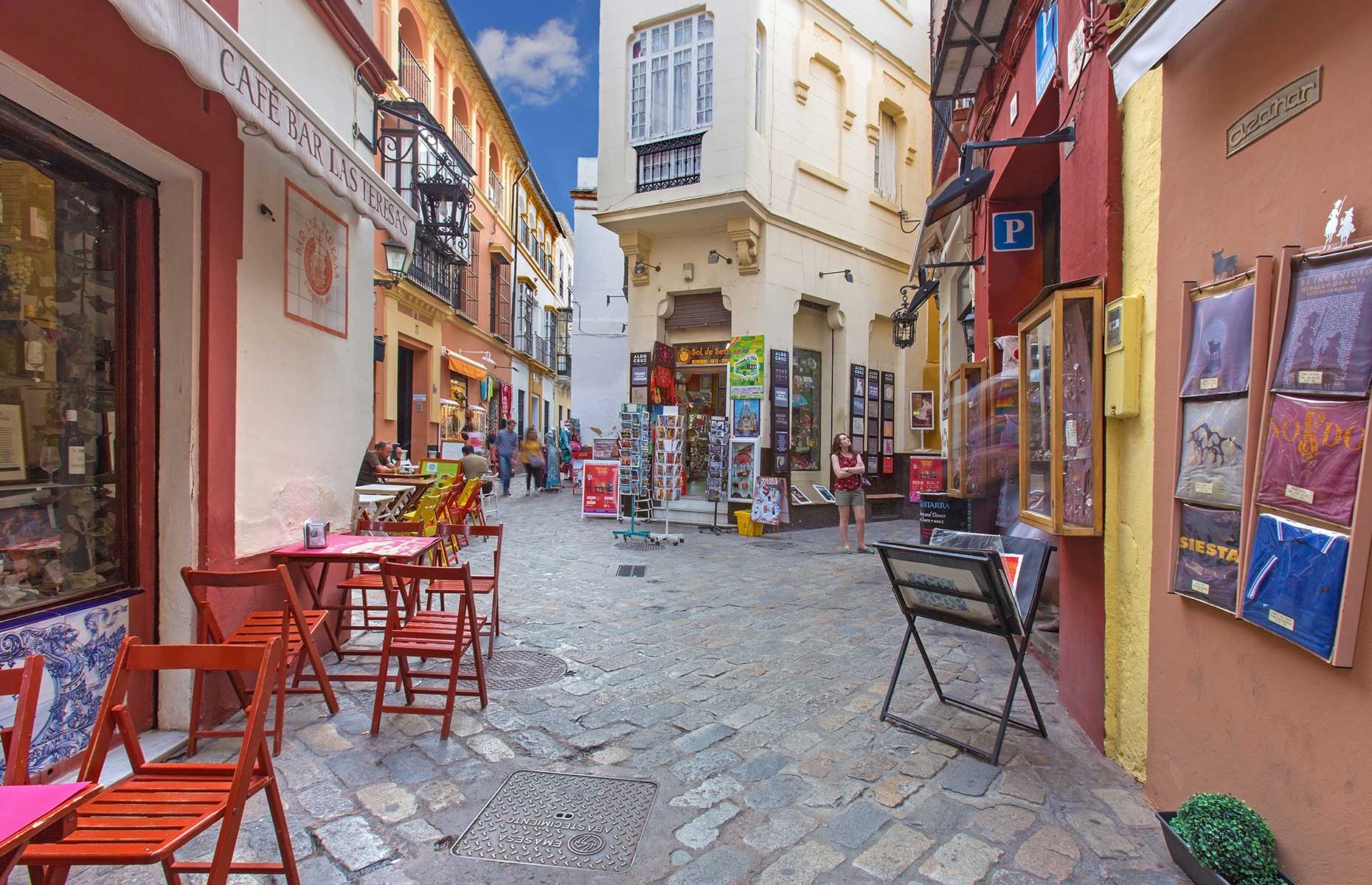 Renata Sedmakova/Shutterstock
The warren-like maze of short, narrow streets and dark passageways is a treasure trove of scenic stopping points. Here, the mustard hues and bright whites of the buildings contrast beautifully against Seville's blue sky, which emerges between the low-rise but tightly compacted houses.
You'll find pretty plazas, miniature gardens, manicured courtyards and intricate doorways at every turn. Look out for indy shops selling ceramics, clothing and souvenirs, and – of course – local bars tucked in quiet squares with ice cold cerveza on tap.
READ MORE: The best places to visit in Spain
2. Visit a trio of UNESCO charmers
First up is the Cathedral of Seville: construction of this unmistakably Gothic cathedral, one of the largest in the world, began in 1401 on the site of what had been a great Moorish mosque. As such, some of the oldest parts still visible today date from the late 12th century, including the Courtyard of Orange Trees and the 97-metre-high Giralda Tower. The story of the cathedral's evolution, detailed stone carvings, stained glass windows and views from the top of the Giralda Tower make it worth seeing.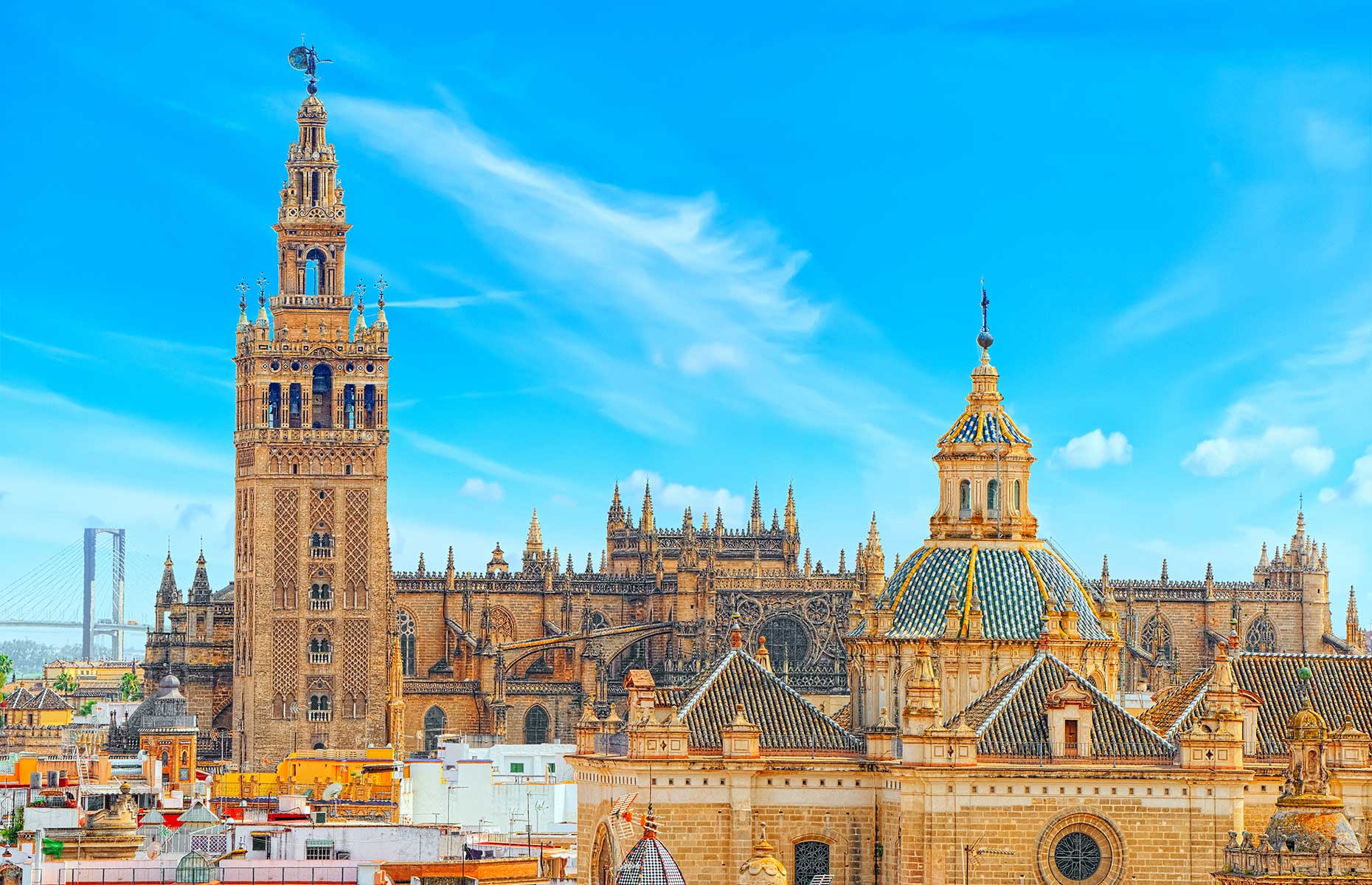 Brian Kinney/Shutterstock
Next is the magnificent Real Alcázar Palace, which could be said to encapsulate the history of Seville in one. It too has evolved over centuries, absorbing the contrasting styles and influences of those who called it home. While the interior tilework and picture-perfect courtyard might put you in mind of Granada's Alhambra Palace, it's the gardens that steal the show here.
You'll weave between hedgerows, beneath towering palms, past flowing fountains (favoured watering holes of the resident sparrows), while speedy swifts dip and dive around you. Even on the busiest day, you'll still find a quiet spot in the far reaches of the grounds. Go in spring for the fragrant orange blossom.
Finally, the Archive of the Indies is revered for its authoritative collection of maps, paperwork and drawings relating to the administration of Spain's far-flung colonies. This centralised approach, which began under King Carlos III in 1795, brought thousands of detailed documents together under one, mighty fine, roof. What's more, it's free to visit.
Nigel Jarvis/Shutterstock
3. Take an urban canopy walk
In a city so celebrated for its historic architecture, the Metropol Parasol can't help but stand out. Said to be the world's largest wooden structure, this modern addition sprouts between the more traditional buildings of Seville's old quarter - you can just picture the raised eyebrows when it first opened in 2011.
mstepanphotographer/Shutterstock
Affectionately known as 'Las Setas', or 'The Mushrooms', by locals, owing to its toadstool shape, it now has pride of place on the city's tourist trail. Constructed with more than 8,000 individual pieces of timber, this abstract installation is an archeological museum, bar and viewing platform all in one. Take the lift up to the elevated walkway for 360° views, and a sky high stroll to remember.
4. Get to know the Guadalquivir
The Río Guadalquivir is one of the longest rivers in Spain, not to mention the only navigable one. It has served as a lifeline since Roman times and helped Seville flourish, especially during the Age of Discovery when intrepid explorers set off from this inland port to find fame and fortune in the New World.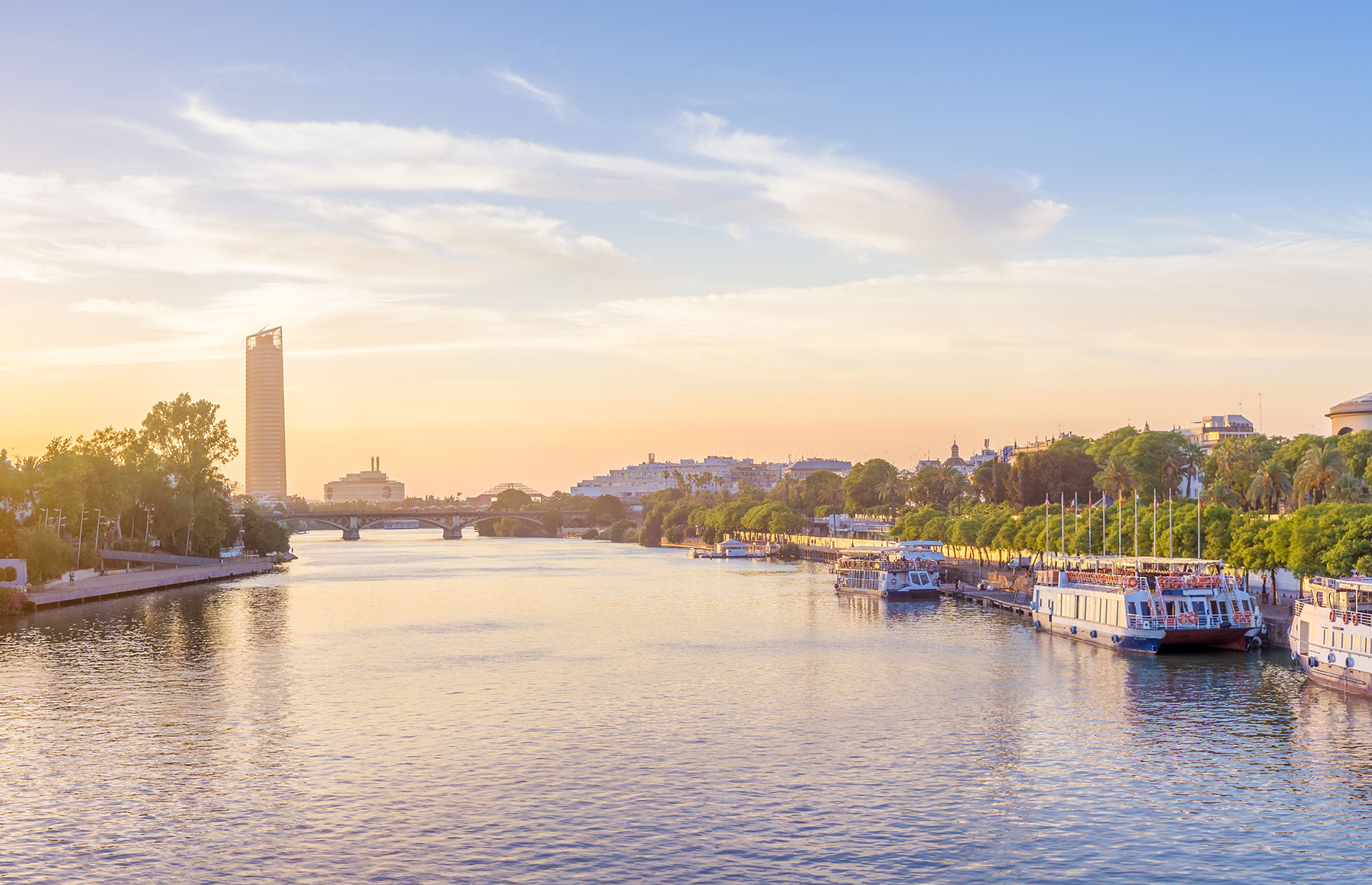 LucVI/Shutterstock
Today, the large and lazy river, which connects Seville with the mighty port of Cadiz, is a great place for a waterside roam (be sure to venture across to the neighbourhood of Triana) or boat trip. You'll find competing companies along the riverbank or opt for a more hands on experiences with a canoe, kayak or SUP tour.
READ MORE: 8 brilliant reasons to visit Cadiz
5. Be dazzled by the Tower of Gold
The 12-sided Torre del Oro is hard to miss. This striking 13th-century tower has served as everything from a defensive lookout and prison to a chapel, and is now a small maritime museum with a terrific terrace to boot.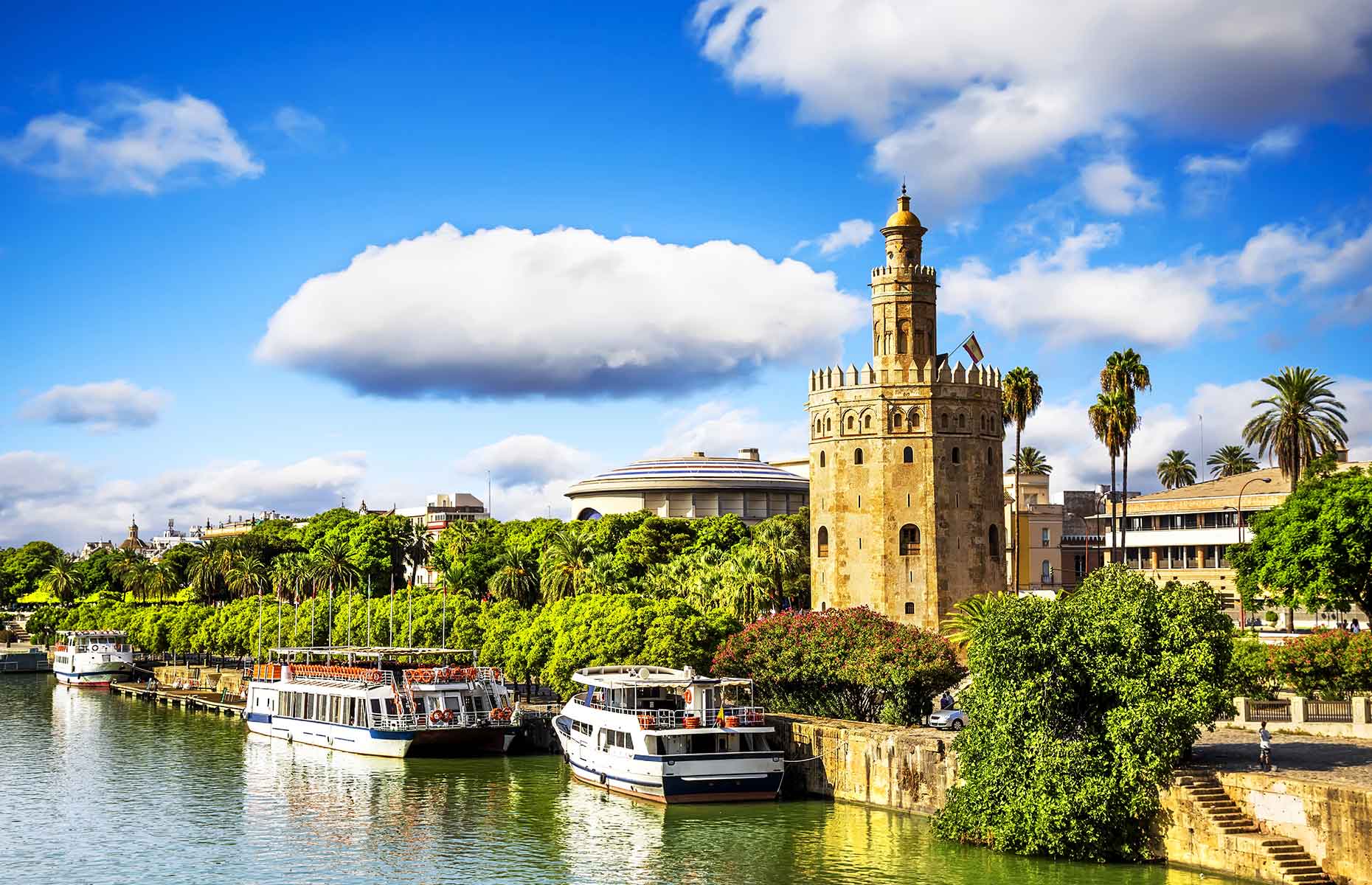 Marques/Shutterstock
Originally part of the Real Alcazar's outer defences, it was also one of two towers which supported a giant chain suspended across the Guadalquivir River to control who sailed in and out of the city. Be there at sunset to see just why it's long been called the "Tower of Gold".
6. Potter in the park
For a sun-soaked city in southern Spain, Seville is packed with green parks and gardens. Top spot goes to Maria Luisa, by far the biggest. Dotted with palms and crisscrossed with dusty ochre paths, you can escape the heat and tick off a number of attractions at the same time. We're talking fountains, vintage pavilions and marble statues as well as a handful of museums and the iconic Plaza de España (main image).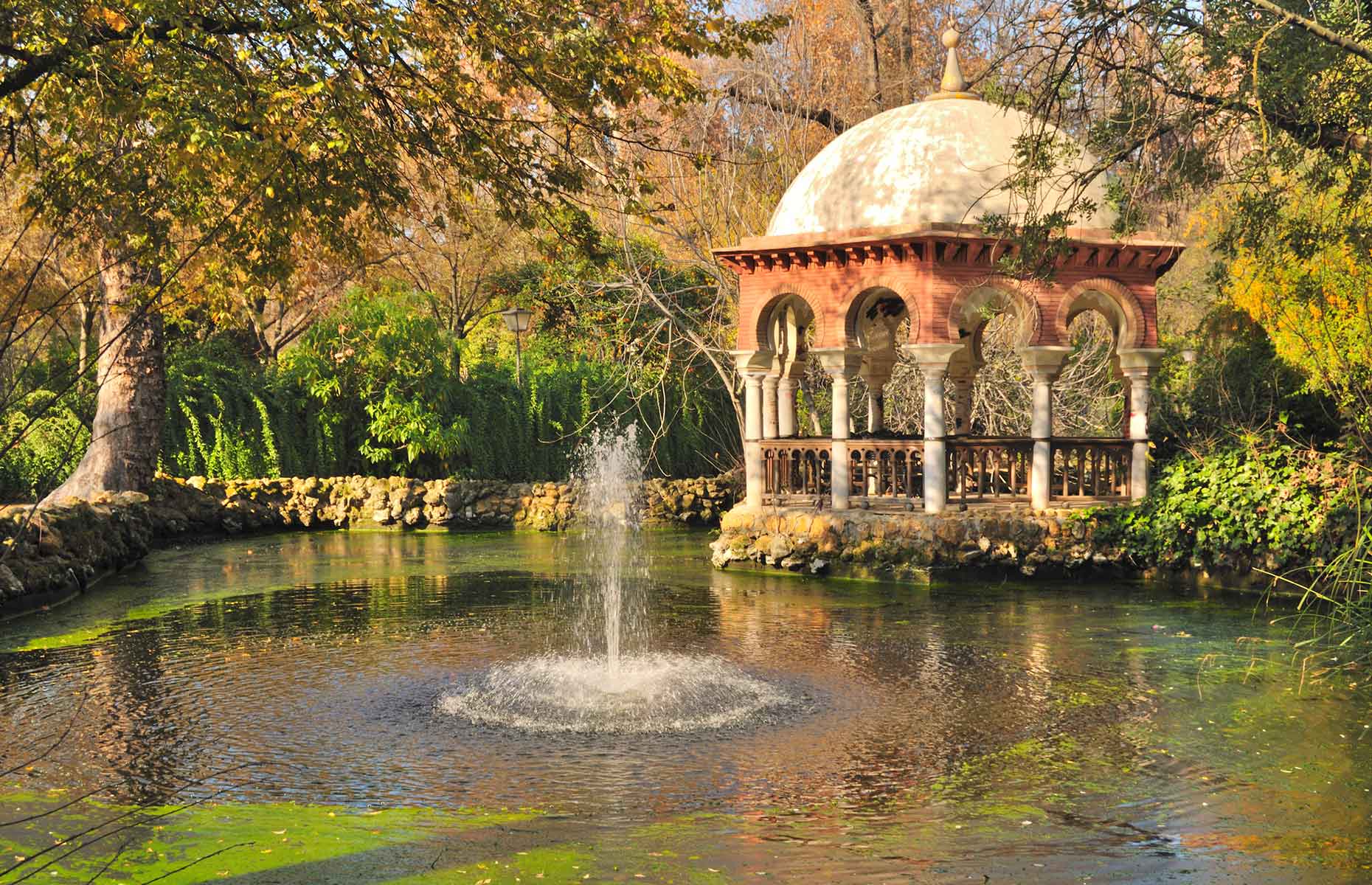 monysasu/Shutterstock
7. Take in the Roman ruins of Italica
A mere 9km northwest of Seville lie the remarkably well-preserved ruins of the city of Italica, complete with an amphitheatre (the empire's third largest in its day), theatre, original cobbled streets and colourful mosaics depicting birds, animals and mythical creatures.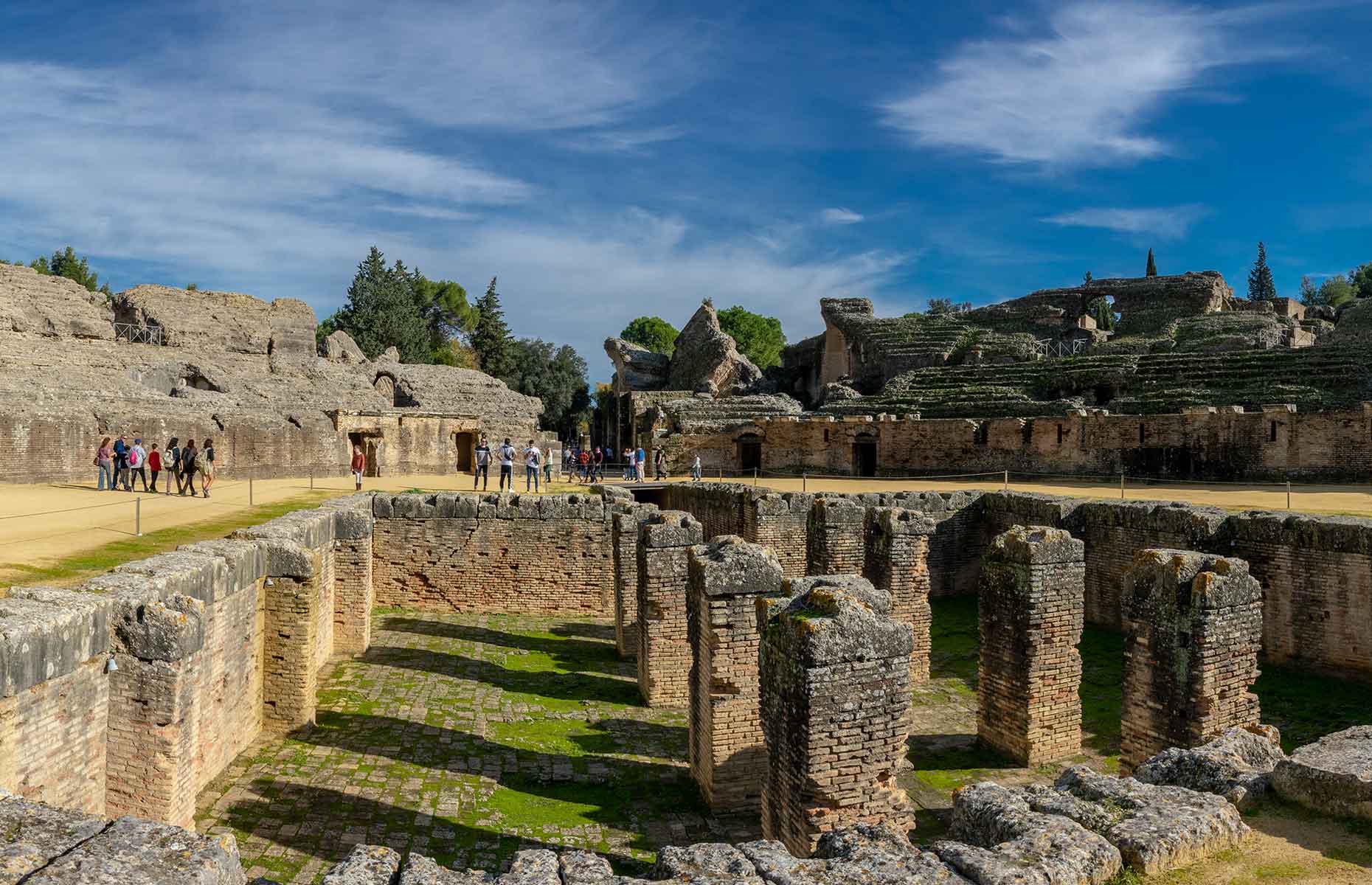 FCG/Shutterstock
This once thriving centre, founded in 206 BCE, is now the site of ongoing excavations and the remains on show make it an essential day or half day trip for anyone interested in Roman Spain. Italica has even enjoyed a more recent starring role as a backdrop in Game of Thrones. Many sizeable finds from Italica can also be seen in the Archeological Museum of Seville in Maria Luisa Park.
8. Soak up the Spanish sun
The last word has to go to Seville's wonderful weather. Summers are hot, dry and seriously sunny, with as much as 12 hours of sunshine per day and temperatures in the mid-thirties throughout July.
This can be too ferocious for some, which is why spring and autumn do so very well, offering plenty of sunshine but more manageable temperatures. Of course, these tend to be busier, something to bear in mind if you're planning a trip.
Even in winter, Seville is a delight with mild days and no fewer than five hours of sunshine on average from November to January, compared with a maximum of two hours per day in the UK at the same time - what more could you wish for when hoping for some easy-to-reach warming winter sun?
Main image: May_Lana/Shutterstock
Be the first to comment
Do you want to comment on this article? You need to be signed in for this feature