The ultimate East Coast road trip
The East Coast covers 14 states from Maine in the north to Florida in the south, and on a road trip you'll have the freedom to explore them. Here, we travel on a northeast section for revolutionary remnants, world-class waterfalls and seafood fresh from the Atlantic.
Why visit the East Coast?
This is a region that's difficult, if not impossible, to define in a few words. It's buttery lobster rolls in Boston, hallowed museums in DC and neck-cricking skyscrapers in New York, shifting to the glamorously faded mansions and southern drawls of Charleston and the gator swamps of the Everglades. And it's this variety, more than anything, that'll make you want to return.
A road trip is the ideal way to get around, not least because you can cover enormous distances and tick off key sights – whether it's the raging torrents of Niagara Falls or the Amish markets of rural Pennsylvania – as and when you please. If the idea of driving doesn't appeal, book an organised tour instead.
Top 5 places to go
Boston
Beantown, The Cradle of Liberty, The Athens of America: Boston goes by many names. It's one of the oldest cities in the United States, and it's here that the rumblings of the Revolutionary War first erupted. Today the key sights are commemorated on the Freedom Trail, and you'll find its lantern-lit cobblestone streets merging with incongruous districts of skyscrapers. Seafood is a big deal here, as are the World-Series-winning Red Sox.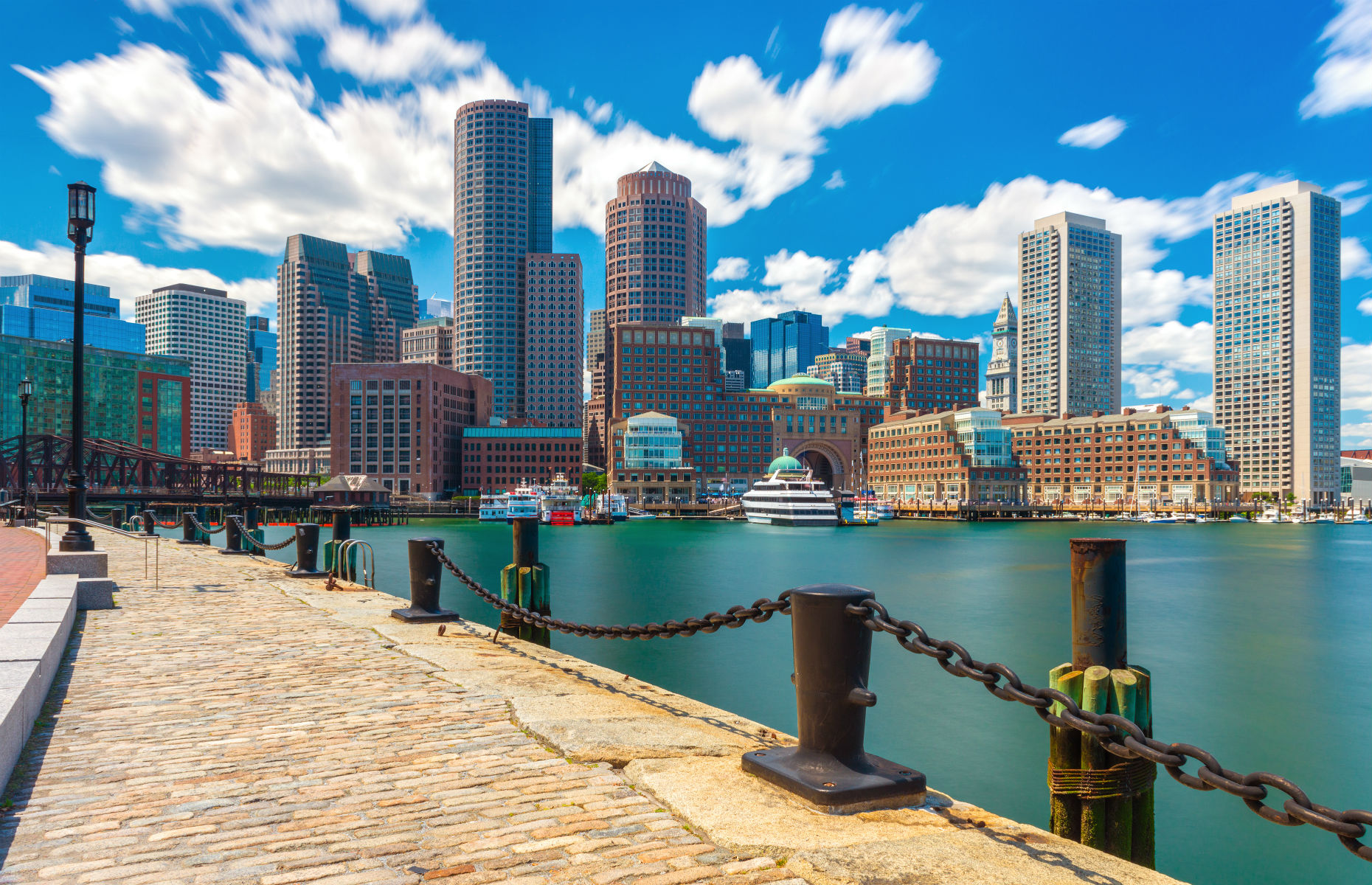 Travellaggio/Shutterstock
Washington DC
Washington DC plays its role as capital well. First, there are the monuments and memorials – Lincoln looming over the Reflecting Pool, Washington over the National Mall – as well as the White House and Capitol Building, arguably among the most iconic structures in America. And then there are the Smithsonian museums and galleries: 19 institutions packed to the rafters with artefacts – and all free of charge to visit.
Sean Pavone/Shutterstock
Charleston
The southern belle of the southeast, Charleston is the "best-mannered city in America". It's a city steeped in history, where you'll find horse-drawn carriages trotting past weathered antebellum mansions and a full rainbow of pastel-coloured homes. Much of its wealth was built by enslaved peoples, and the city is still coming to terms with its upsetting past – many of its former plantations and markets now serve as fascinating, albeit unsettling, open-air museums.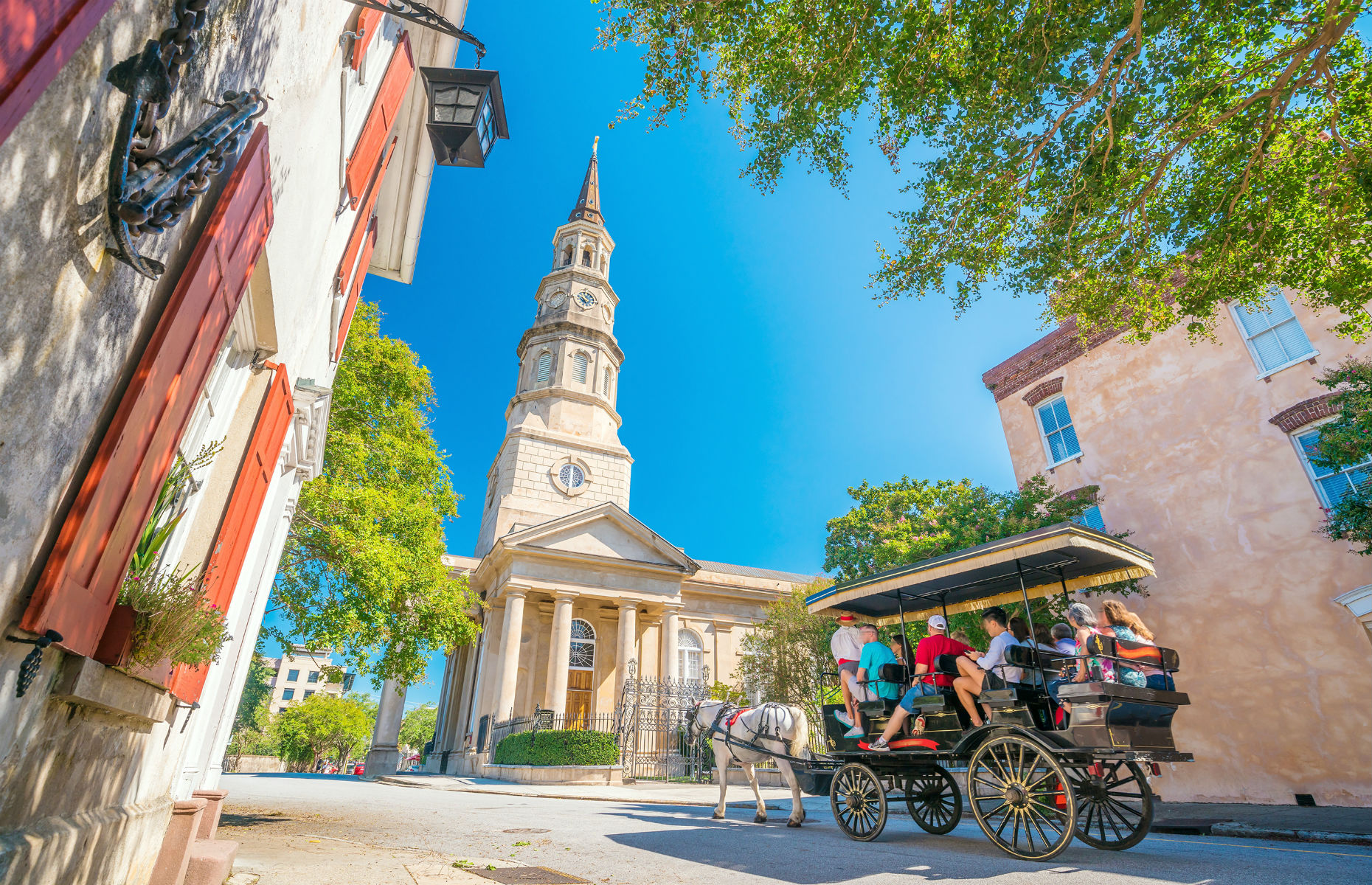 f11photo/Shutterstock
New York
New York needs no introduction: its big lights have inspired for generations. By now the Statue of Liberty, Empire State Building and Times Square have all grown into firm household names, as instantly recognisable as the yellow taxis that ply the city's streets and the neon billboards that burn coldly long into the night. A visit here is an assault on the senses – maybe that's why New Yorkers love Central Park.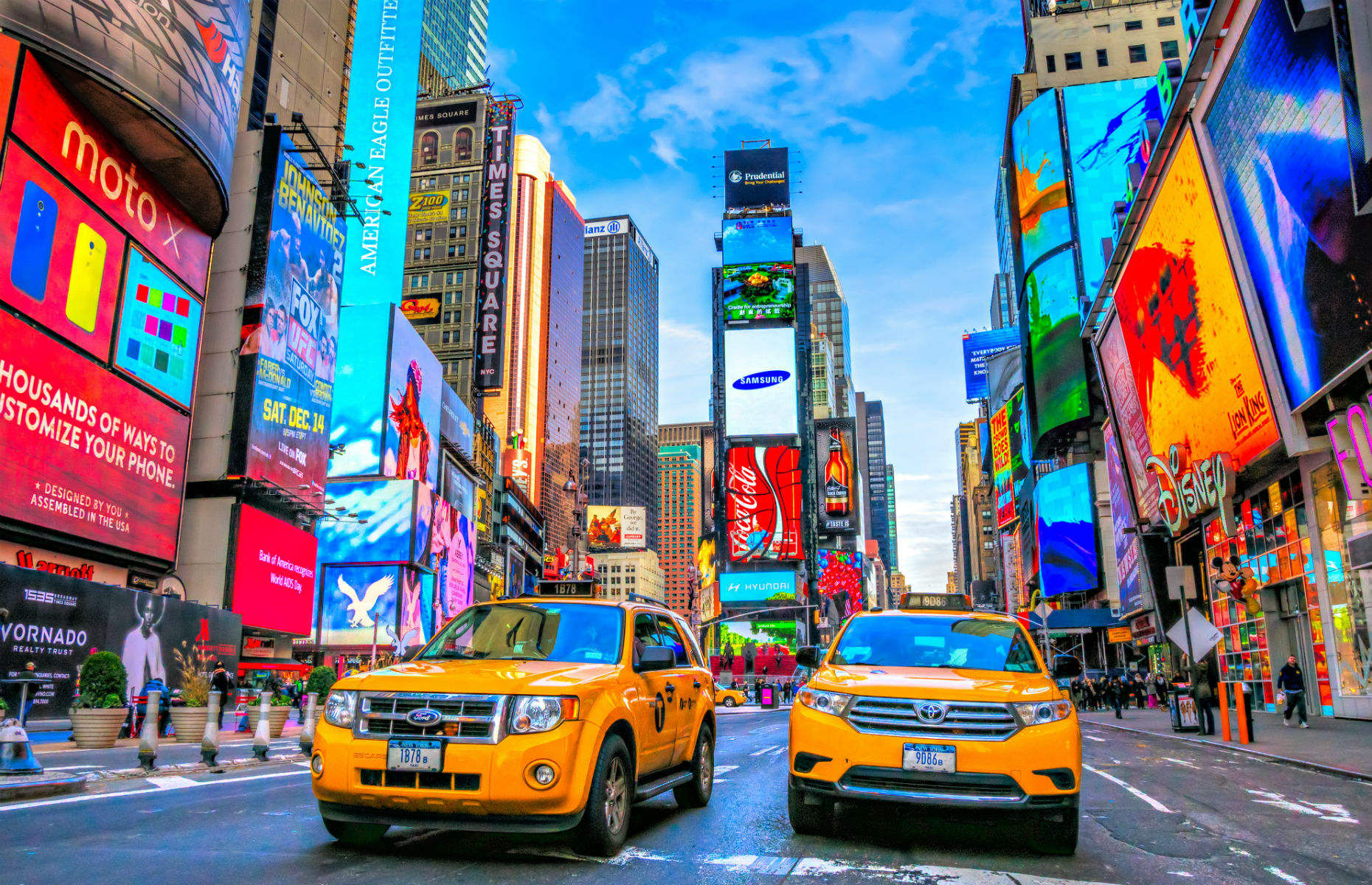 Luciano Mortula-LGM/Shutterstock
Florida Keys
A hundred-mile chain of "Floribbean" isles on the southeast coast, the Florida Keys are closer to Cuba than Miami. As barmy as they are balmy, they were once the preserve of pirates, smugglers and wreckers, but now maintain a reputation for their copious water sports and good-humoured eccentricity. Time your visit with Key West's Fantasyfest in October for pet masquerades and fancy-dress parades – previous themes include "Habitat for Insanity".
Read more: Check out what to do on a south Florida road trip here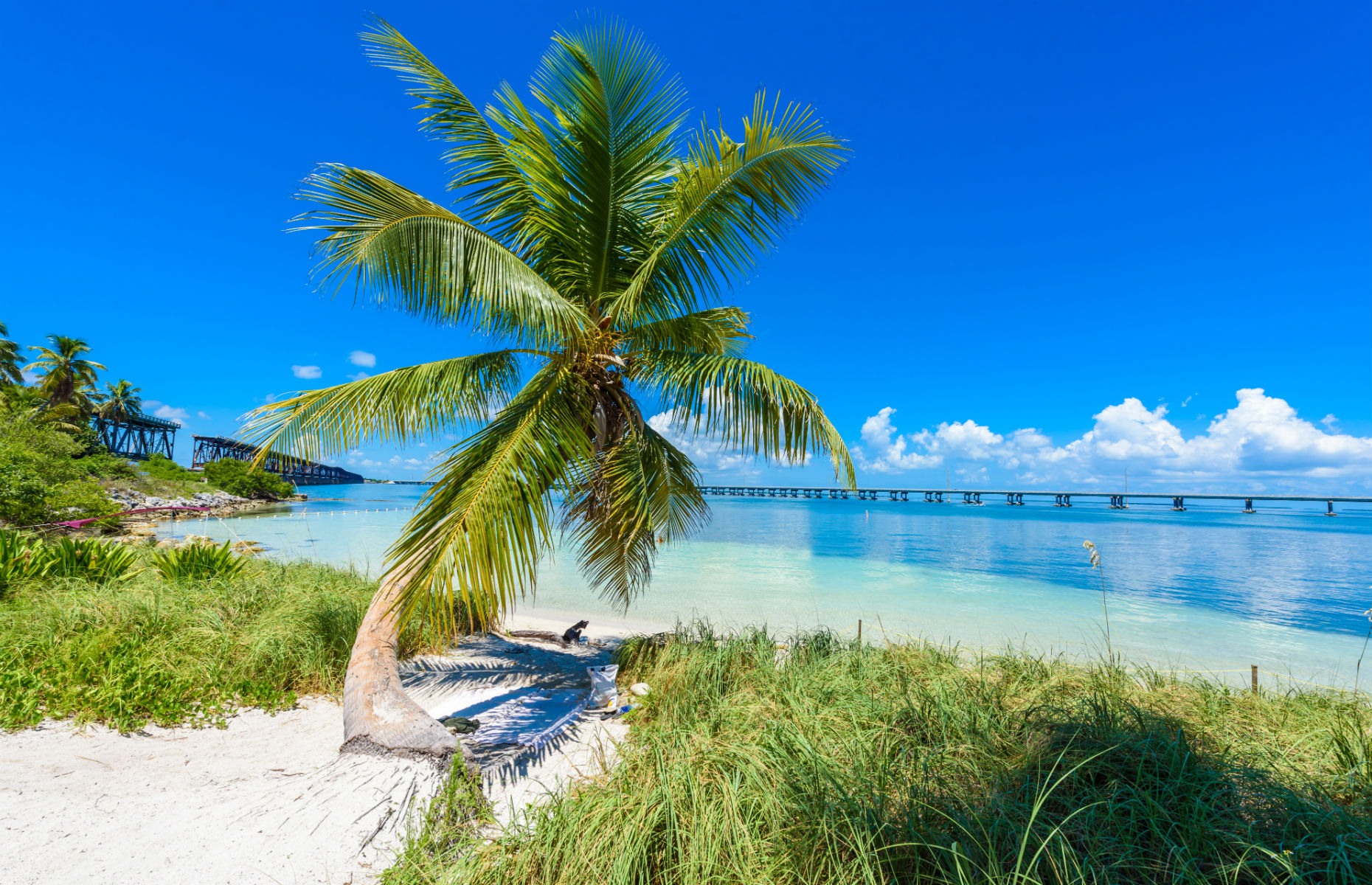 Simon Dannhauer/Shutterstock
What to eat
Lobster roll
No food is more associated with the East Coast than the lobster roll, a hot dog-style snack prepared with heaps of steamed lobster, warm drawn butter and a dash of black pepper and lemon. Variants include celery and mayonnaise, but with lobster this fresh there's really no need to dress it up.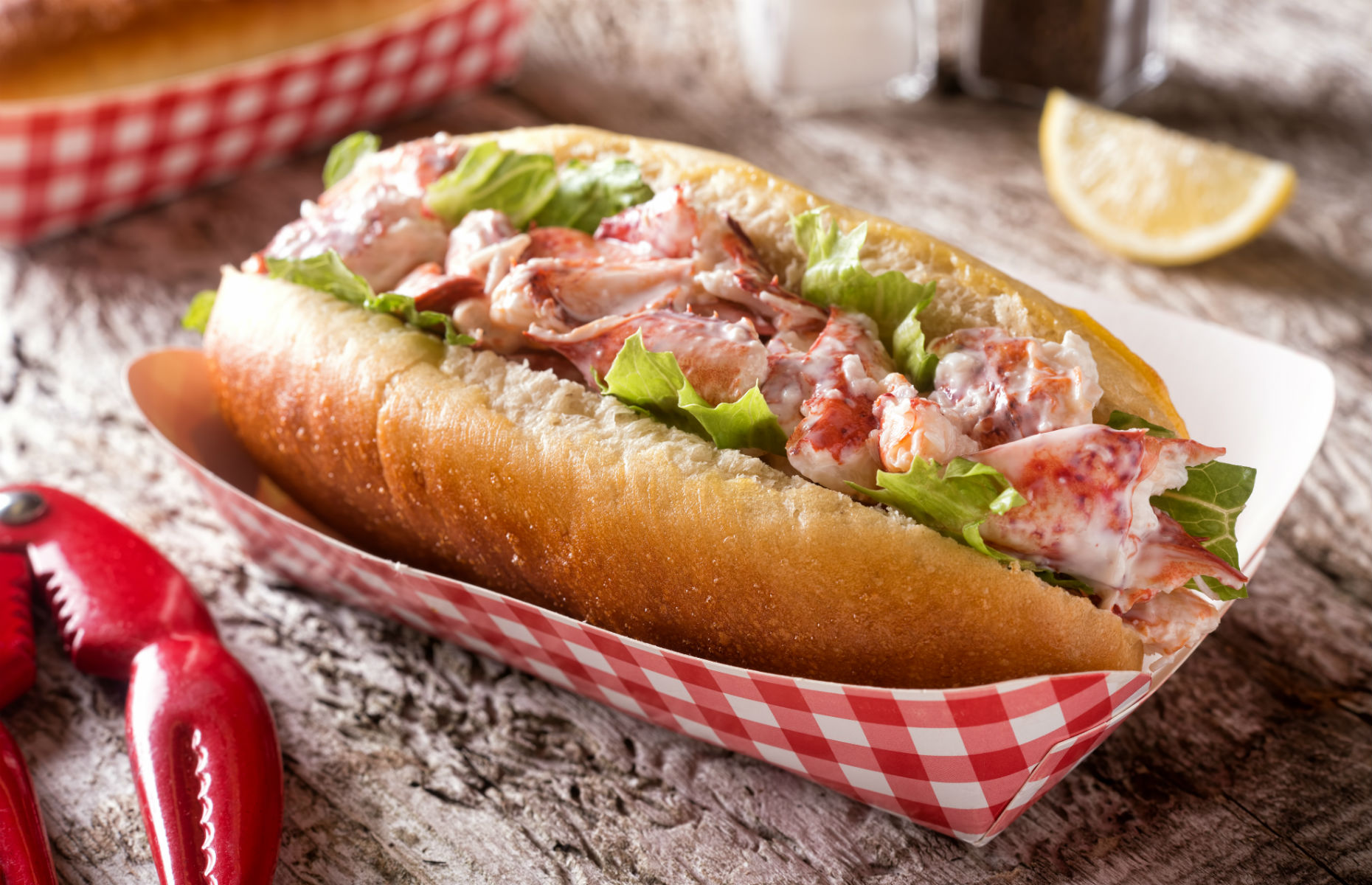 Foodio/Shutterstock
Clam chowder
Continuing the seafood theme, clam chowder is a comforting staple found on many an East Coast menu, particularly the farther north you go. This thick, creamy broth comes fully loaded with briny clams and chunks of salty bacon, and pairs well with homemade biscuits or an extravagant side of oysters.
Read more: America's most magical RV road trips
Cheesesteak
Rooted in Philadelphia, this drippy dish tops a hoagie roll with a delicious scrambled mess of steak, onions and melted cheese (usually Cheez Whiz, provolone or American). There's no elegant way to eat it, so don't bother trying.
The ultimate East Coast road trip
With over 1,600 miles between Augusta, Maine and Miami, Florida, it would be tricky to tackle the entire East Coast in a single trip. For an easier introduction try this seven-day jaunt along the northeast, which ticks off many of the big-hitting sights while keeping costs to a minimum through camping bookended with hostel stays.
Day 1 – New York City
Wake up: early at HI New York City, a well-kept hostel set within a looming Gothic building just two blocks from Central Park.
Go for a wander: across Central Park's rolling lawns for a browse of the artworks in the Guggenheim or the Metropolitan Museum of Art. The walk should take half an hour, but budget extra time to peer at the manicured flower gardens and watch the boats bobbing on the lake.
Have lunch at: Grand Central Oyster Bar, based (you guessed it) under the iconic arches of Grand Central Station. By the time you've filled up on briny morsels, the crowds will have thinned at the top of the Empire State Building and you can spend an hour absorbing one of Earth's great cityscapes.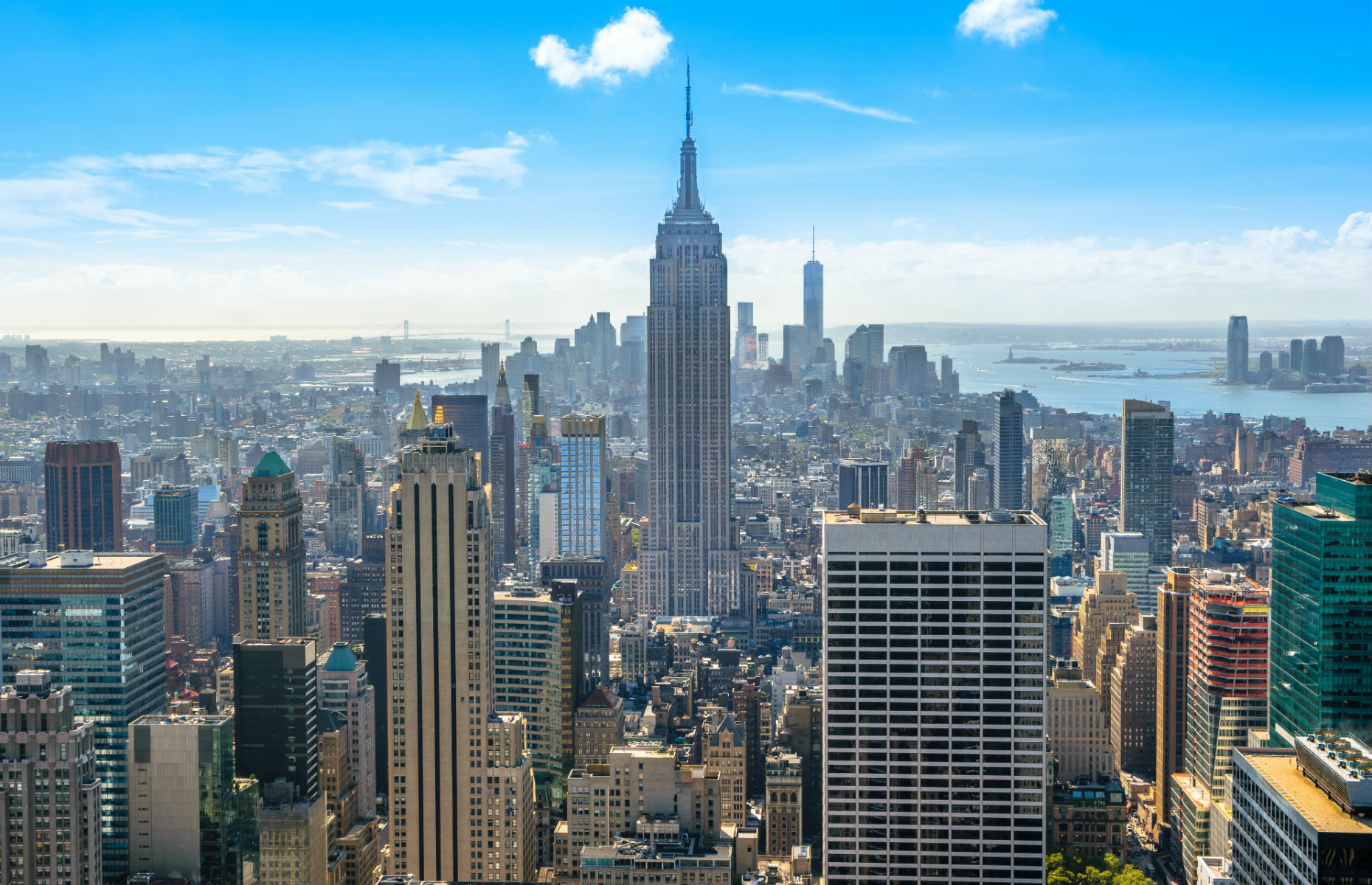 Nido Huebl/Shutterstock
Next head for: the neon-lit billboards of Times Square and the Theatre District to watch a Broadway show. Make a pit stop at Joe's Pizza for the quintessential New York slice before catching the subway back to the hostel. Tomorrow, the road trip begins.
Day 2 – Philadelphia
Drive: two hours southwest to Philadelphia, a red-bricked bastion of US history thanks to its role in the American Revolutionary War. Now it's a UNESCO World Heritage Site.
Kick off: with a trip to Independence Hall, the birthplace of the Declaration of Independence and the US Constitution. When you're finished, hop over the road to view the iconic cracked shell of the Liberty Bell, which tolled during the Declaration's first public reading.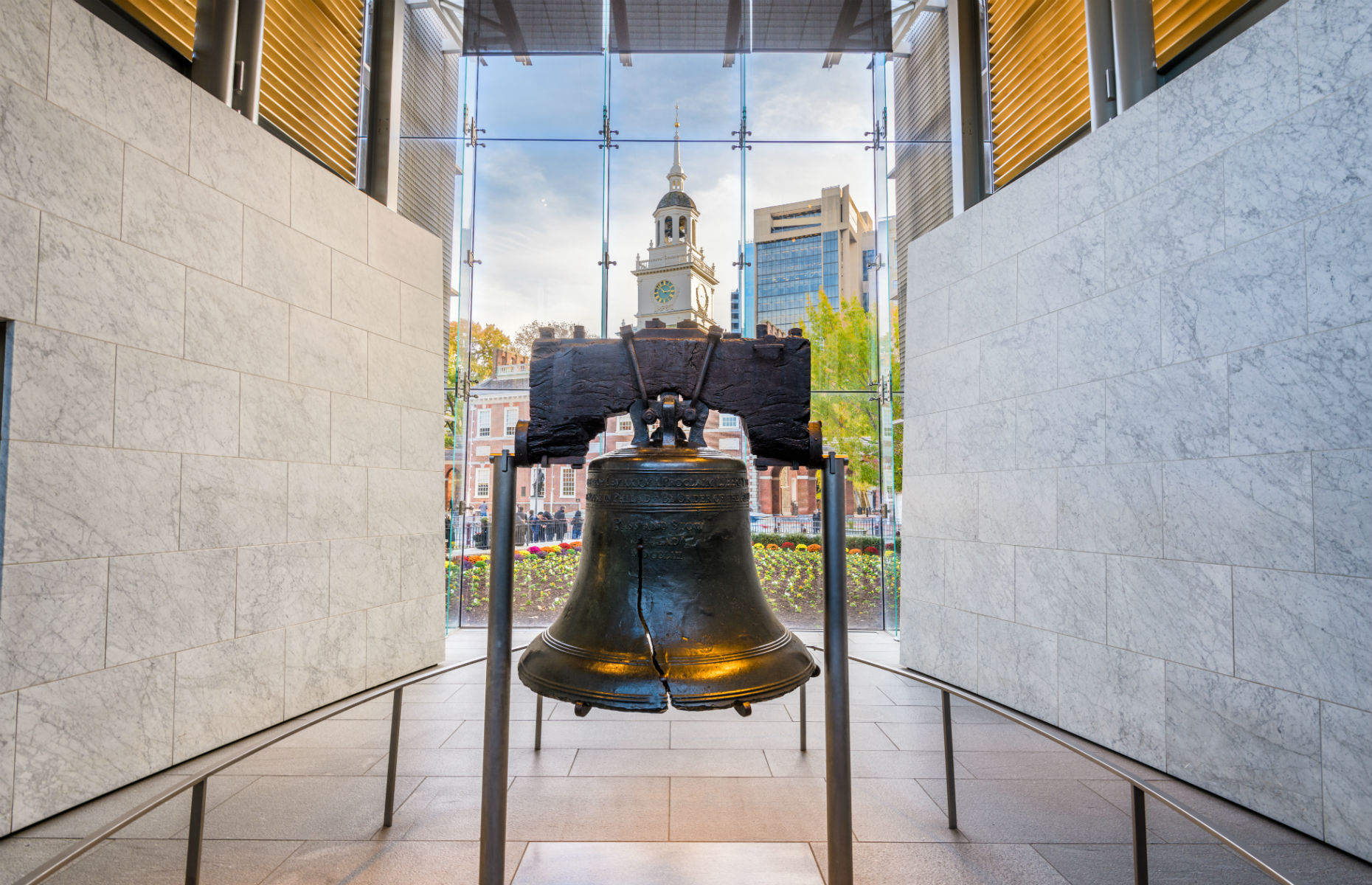 Sean Pavone/Shutterstock
Next strike a pose: on the steps fronting the Museum of Art, where fictional boxer Rocky Balboa famously lifted his arms in celebration after a vigorous training montage. Keep an eye out for the statue of him at the bottom.
For lunch: don't miss your chance for an authentic Philly cheesesteak. The best restaurants are marked out by the queues snaking beyond their doors – Jim's Steaks on South Street is a favourite.
Finish up: with the two-hour drive to pitch your tent at Cherry Hill Park, a pretty, serviced campground 12 miles outside Washington DC.
Day 3 – Washington DC
Rise early: and head for a day exploring the capital's iconic museums and monuments. While Washington is certainly walkable, distances between sights can be great and you'll have a more enjoyable time if you rent some wheels – a bike or electric scooter.
Spend the morning: ticking off the major monuments – the Lincoln Memorial, Washington Monument and Jefferson Memorial – before making a beeline for the Capitol Building and the White House.
Zack Frank/Shutterstock
When you're finished: fill up on your pick from the food trucks that trundle around town. BBQ Bus specialises in slow-smoked pork and brisket, while Puddin' has po'boys aplenty.
Next it's time for: the museums. There are 19 Smithsonian museums and galleries in all, showcasing everything from the Wright brothers' original aircraft in the Air and Space Museum to the (supposedly cursed) Hope Diamond in the Museum of Natural History. You won't have time to visit them all, but try your best to pop your head in a few – entry is free.
Kamira/Shutterstock
Day 4 – Lancaster
Welcome to: Amish Country, PA. You'll arrive after a 2.5-hour road trip from DC, which gradually transitions from towering landmarks to horse-drawn wagons via glorious views of rolling countryside.
For a taste of Amish life: stop for a buggy ride around Plain & Fancy farm. You'll trundle the backroads with an Amish guide, passing herds of horses and locals ploughing their fields, with a pit stop at a working dairy.
Continue: up the road to the town of Intercourse (really), where you can sample a practically obscene spread of local chutneys, cured meats and cheeses in the twee Kitchen Kettle Village. Visit Jam & Relish Kitchen to try habanero mango jam and snag a few jars to take home.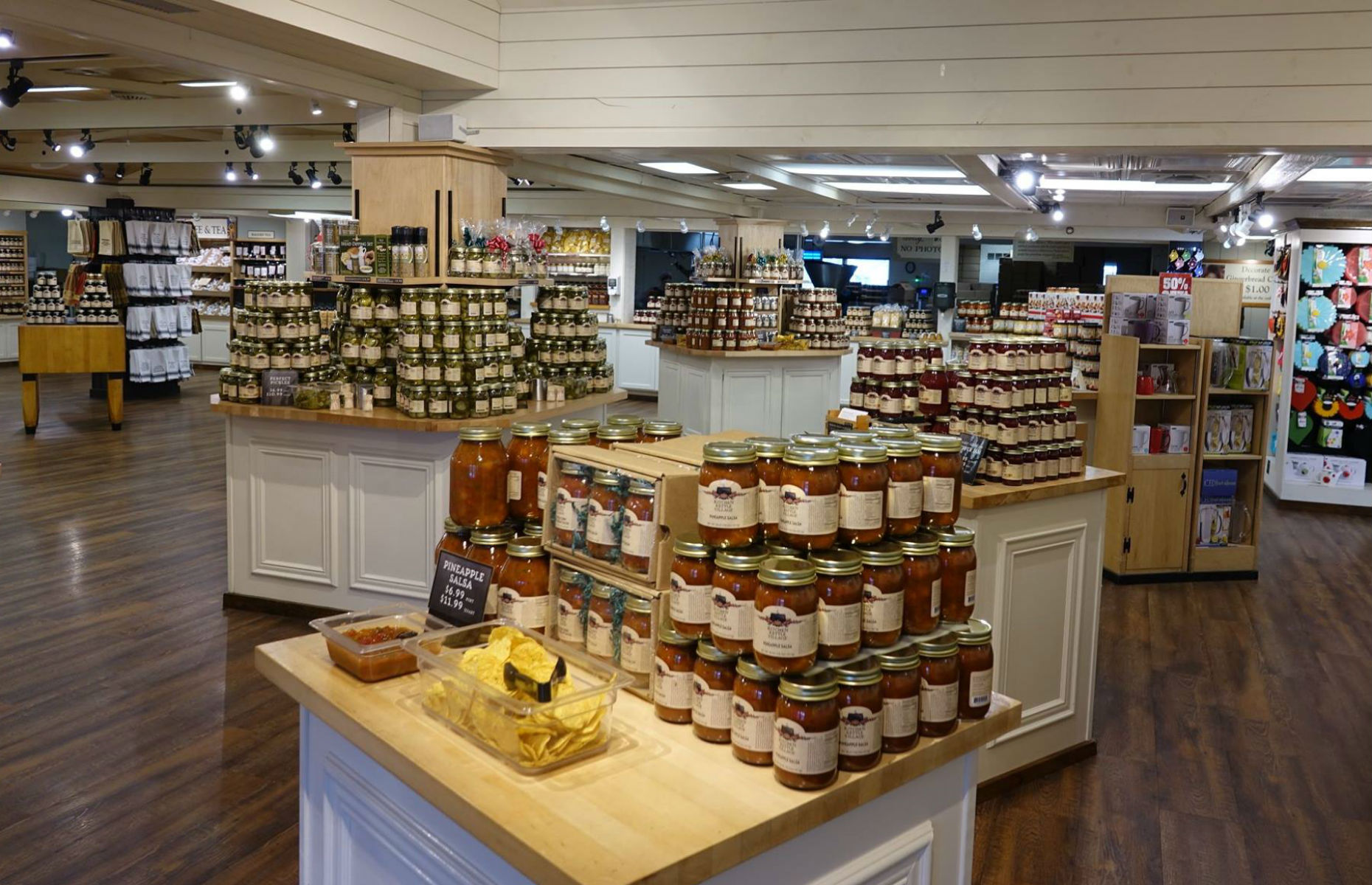 @KitchenKettleVillage/Facebook
Your home for the evening: is the wooded Koa campground, a 2.5-hour drive away in Bellefonte.
Day 5 – Niagara Falls
Onwards to: Niagara Falls, a four-hour drive north to the border between the US and Canada. You'll see great plumes of mist rising before you spot the falls themselves.
Hop on board: a fun Maid of the Mist cruise, which will float you out into the maelstrom. Make sure you wear the souvenir poncho – you'll get a good soaking close to the falls.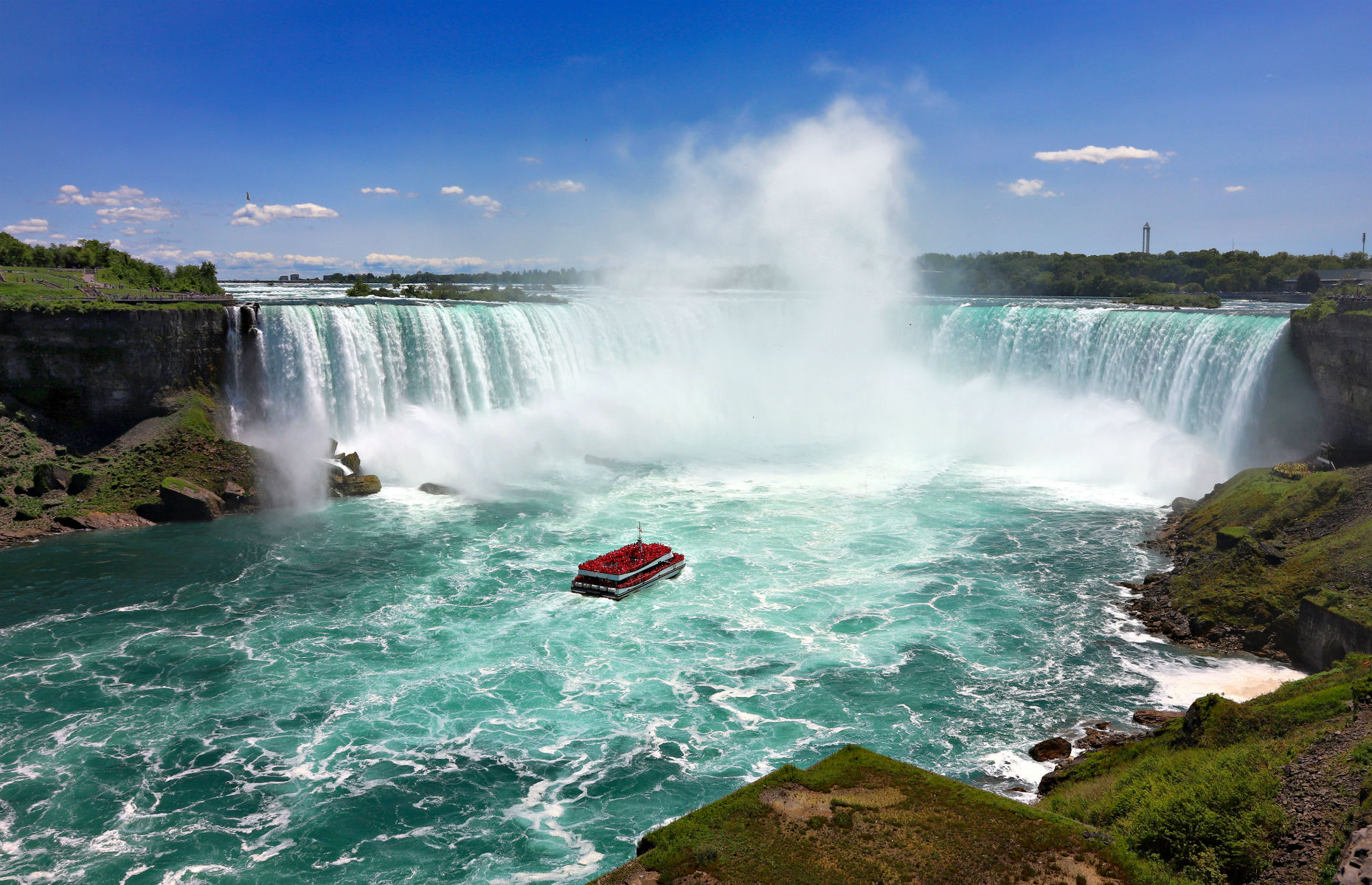 Igor Sh/Shutterstock
Your next stop: is the evocatively named Rainbow Bridge, which crosses the river (and the international border) to Ontario, Canada for a better view of the falls. You'll need to bring your passport and follow the usual visa requirements.
Pop into: Smoke's Poutinerie to try poutine, the archetypal Canadian junk food with fries smothered in squeaky cheese curds and meaty gravy.
As night falls: return to the US and drive 20 minutes to Four Mile Creek State Park where you can camp on the shore of Lake Ontario. Look out for the twinkling lights of Toronto far across the water.
Day 6 – To Boston
Buckle up: for a true American experience – an all-day road trip. Your destination is Boston, 480 miles to the east.
Arrive late: and drop your bags at HI Boston, a comfortable, clean gem of a hostel two blocks south of Boston Common. Dinner is at the Park Plaza branch of Legal Sea Foods, an upscale local institution that's worth every cent. Don't miss the New England clam chowder.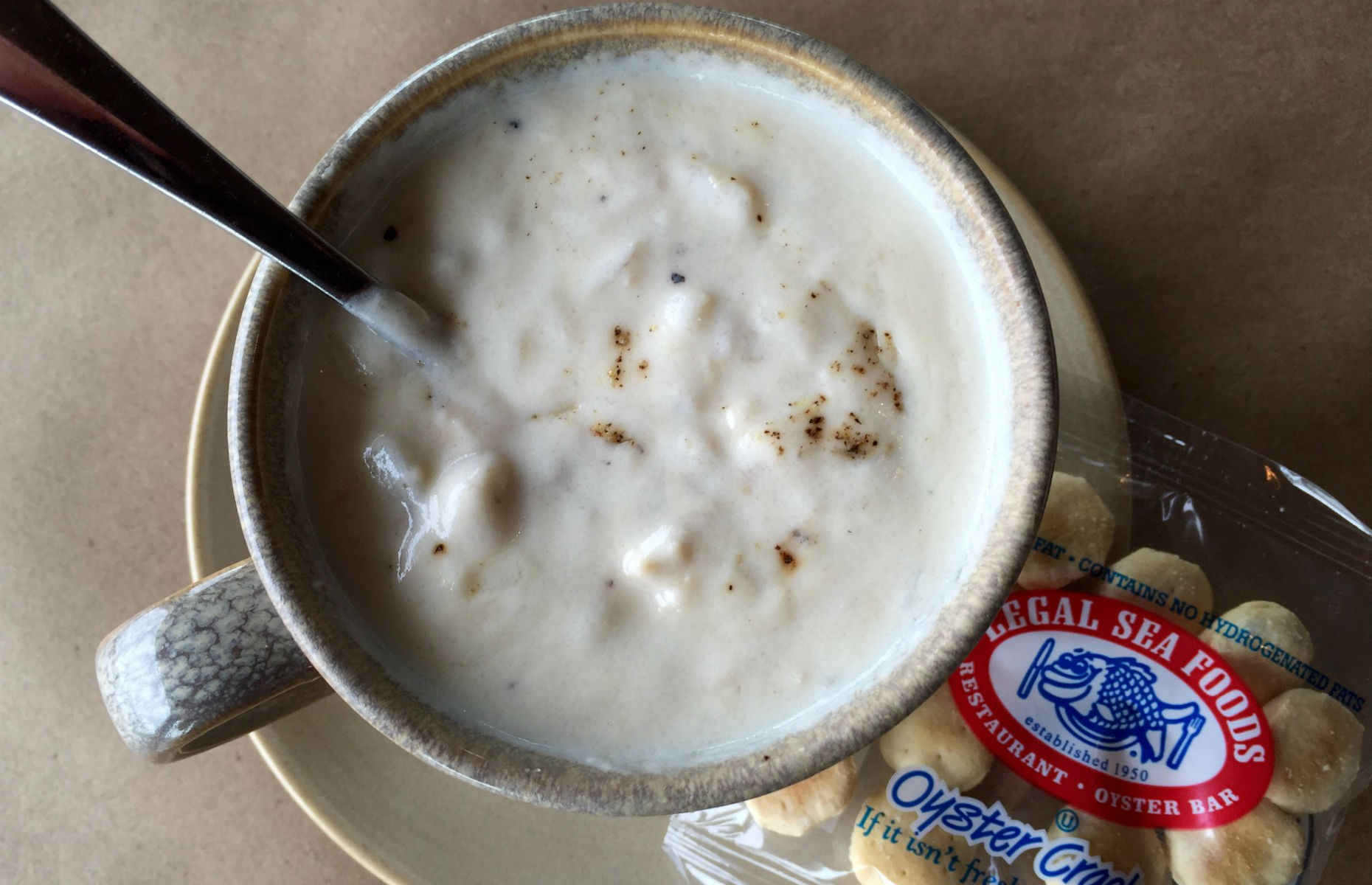 @LegalSeaFoods/Facebook
Day 7 – Boston
Today: you'll tackle the 2.5-mile Freedom Trail and explore the city in the process. Start by strolling 10 minutes to the visitor centre on Boston Common, where you can pick up a copy of the thorough self-guided tour.
Next follow: the red stripe on the sidewalk marking the way to the impressive gold dome of the Massachusetts State House, and proceed to the Granary Burial Ground (which is filled with revolutionary heroes), Old State House (the site of the Boston Massacre) and Faneuil Hall (an old favourite for rousing speeches).
f11photo/Shutterstock
For lunch: leave the trail for one of Boston's best lobster rolls. Row 34 sits in the nearby Seaport District and serves the iconic dish two ways: chilled with a creamy, celery-heavy sauce or warm and buttered – we recommend the latter.
Head back: to the trail and follow it across the Charles River. Along the way you'll pass the Old North Church (where lanterns were famously lit to warn of British troops), the spire of the Bunker Hill Monument and the USS Constitution, the world's oldest commissioned warship still afloat. Hop on board for a wander between the cannons.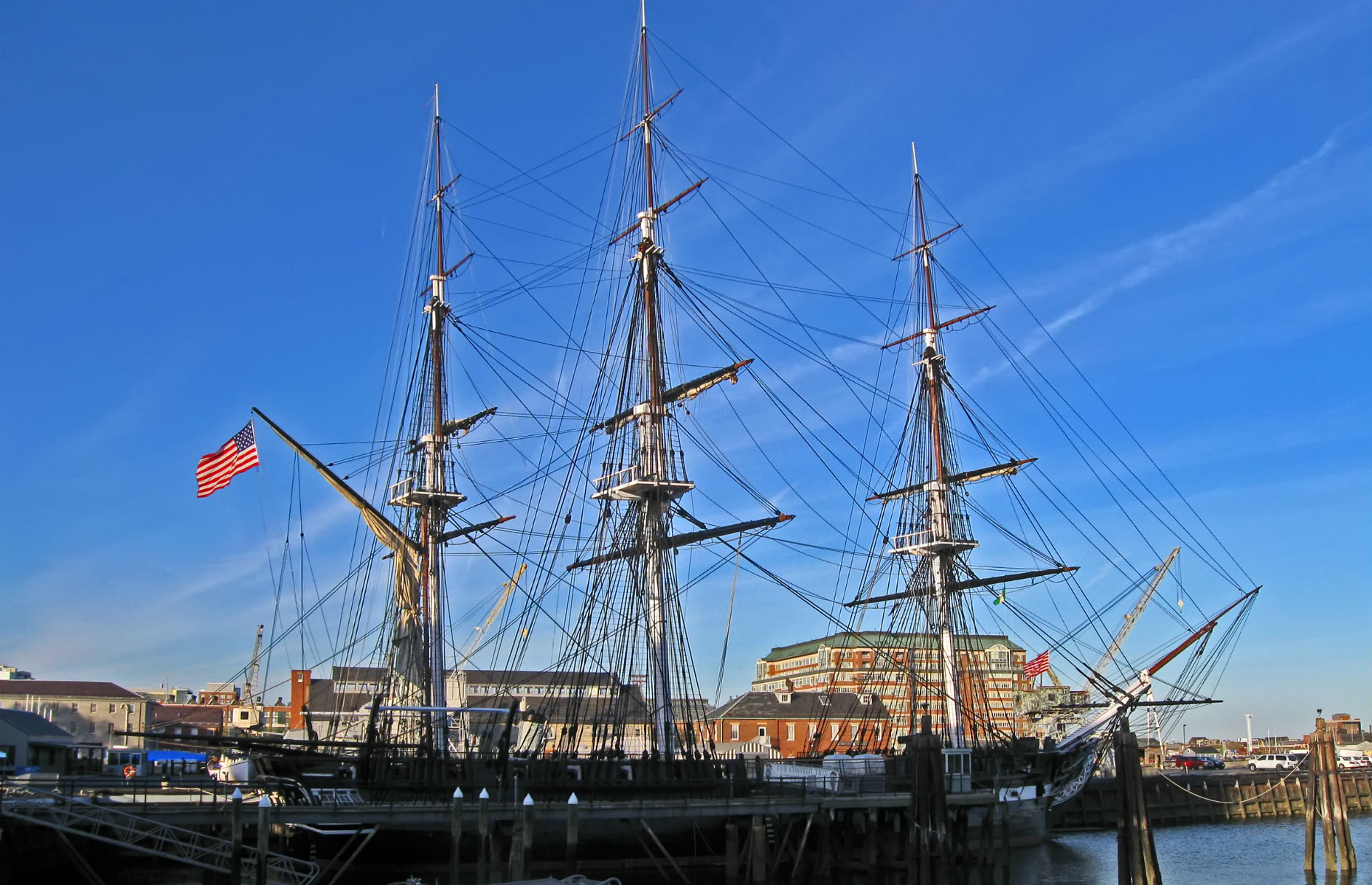 fmua/Shutterstock
Finish up: with a water taxi ride back downtown.
How to get to and around the East Coast
There are major airports right along the East Coast, but for the itinerary above it's best to book return flights to New York. Alternatively, book an open-jaw ticket and fly into New York and out of Boston.
Once you arrive, the best way to get around the East Coast is by rental car or organised tour, as distances are enormous and public transport is occasionally thin on the ground.
We travelled with road-trip specialist, TrekAmerica on the seven-day Freedom Trail tour. The tour costs from £879 per person and price includes four nights camping including camping fees and equipment (excluding sleeping bag), two nights budget lodging, services of a TrekAmerica tour leader and private transportation throughout with free WI-FI.
Got the bug for road tripping now? Next try northern Wyoming
Our handy map of the East Coast
Be the first to comment
Do you want to comment on this article? You need to be signed in for this feature