Northern Wyoming road trip: the top things to do, where to stay & what to eat
America is famous for its world-class road trips that encompass everything from spectacular landscapes to top attractions along the way. Wyoming's Black to Yellow route – aptly named due to its course from the Black Hills to the Yellowstone National Park – features buckets of both, plus warm people, charming cowboy towns and food so comforting you'll never want to leave.
Why choose Wyoming?
America's Cowboy State has many accolades to wear on its lapel – it's the country's tenth largest state yet the least populated. It was the first to give women the right to vote and also the first to elect a female governor. And, most famously, it's the home of the USA's first National Monument – Devils Tower – and the world's first National Park – Yellowstone (96% of the park lies in Wyoming, 3% in Montana and 1% in Idaho).
Although Wyoming is an underrated choice when planning an American road trip, it really should be high up on the list. Perfect stretches of road crisscross the state, leading from the state capital Cheyenne and Jackson Hole, where the rich and famous come to relax, to ultimate cowboy towns like Cody, founded by Buffalo Bill. It's also a great destination for an educational family holiday – the kids will have a chance to learn lots about American history as well as wild animals and nature.
And then there's the landscape. In summer, lush green meadows give way to rolling hills that slowly escalate and eventually grow into the Bighorn Mountains with their snow-clad peaks visible from afar. Nature here is so unbelievably beautiful and untouched, it's overwhelming and the hospitality is second to none. Wyoming is everything you'd expect from the American West and more.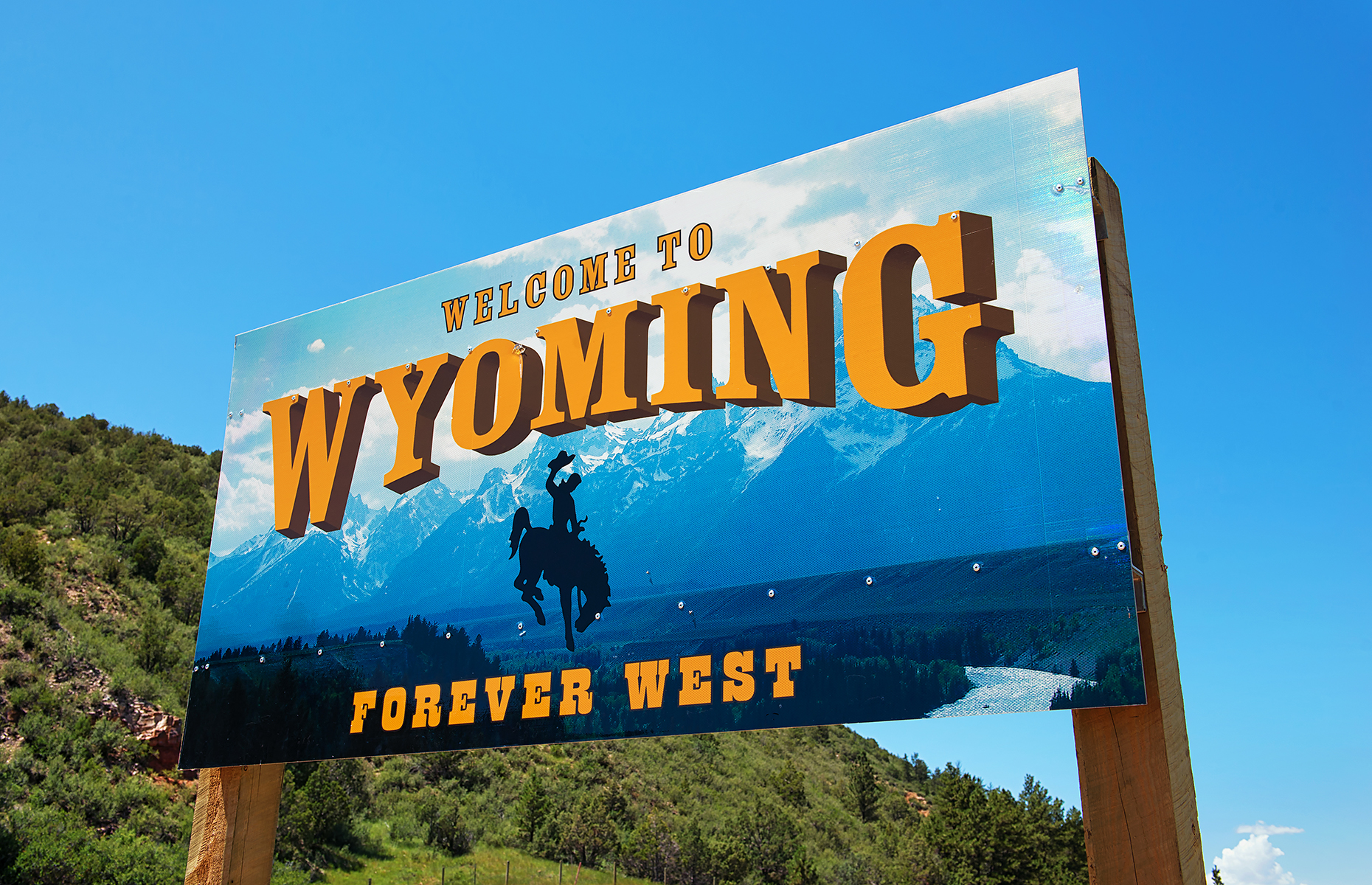 Ingo70/Shutterstock
Top 5 things to see in northern Wyoming
1. Yellowstone National Park
Wyoming's star attraction, Yellowstone National Park is filled with big-hitters like the Old Faithful geyser and Grand Prismatic hot spring but there's plenty more to see in the park's 3,500 square miles. There are about 350 waterfalls, 150 geysers and the world's largest collection of fossilised trees, the Specimen Ridge. One of Yellowstone's most popular activities is, of course, wildlife spotting. Just remember to stay at a safe distance from the animals and never feed them. It's home to the largest free-roaming population of bison and 66 other species of mammals that offer a once-in-a-lifetime encounter, as long as you treat their natural habitat and the animals themselves with respect.
2. Devils Tower
Attracting nearly 400,000 visitors every year, Devils Tower is impossible to miss – the 1,267-feet-tall rock soars high above the surrounding countryside. Made famous by Steven Spielberg's Close Encounters of the Third Kind, Devils Tower is also a sacred site to more than 25 Native American tribes. There's a path winding its way around the base of the tower, offering a chance to see it from all angles. Tip: on your way out stop at the Prairie Dog Town just off the main road and observe these friendly little animals. Don't feed them though, no matter how cute they appear, prairie dogs have a painful bite and they can also host insects that can transmit diseases to humans.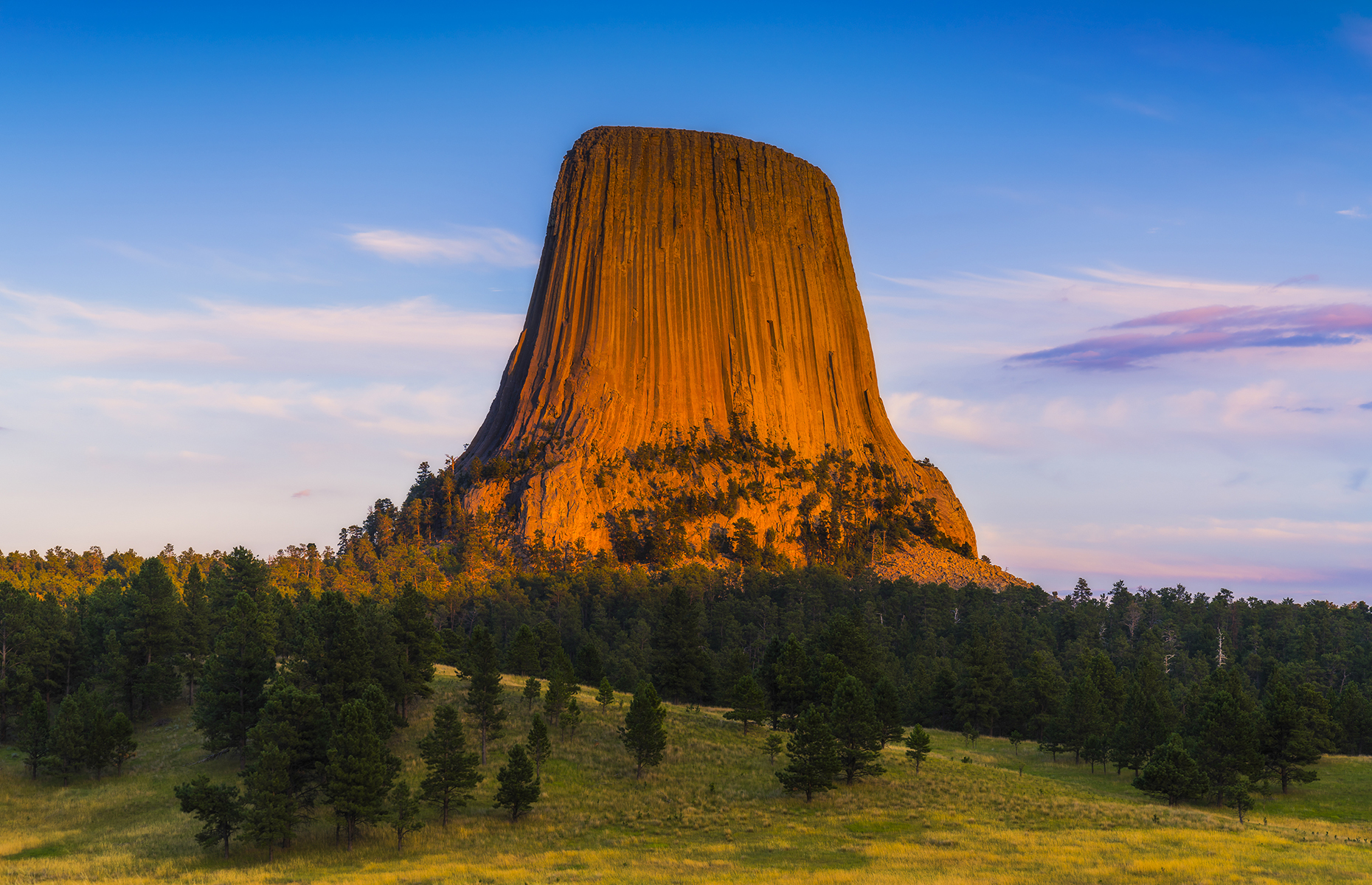 Checubus/Shutterstock
3. Buffalo Bill Center of the West
Named after the legendary showman, the Buffalo Bill Center of the West is a complex of five museums that are all part of the Smithsonian Affiliates programme. Take a step back in history and learn about Buffalo Bill's show touring the world. The Plains Indian Museum tells the story of the Plains Indian people, mainly the Northern Plains tribes like Crow, Lakota and Arapaho while the Whitney Western Art Museum features many notable paintings and sculptures by artists from the American West.
The Draper Natural History Museum has plenty of interactive displays about the Greater Yellowstone region while Cody Firearms Museum is home to a collection of historic guns. Finally, don't miss a chance to meet the museum's resident bald eagle Jade.
4. Cody Nite Rodeo
A rodeo in Cody is a must. Started in 1938, it's the world's only nightly rodeo, running from June 1 to August 31. Purchase tickets at the gate, take a picture with Mongo the bull and be ready to have to the most fun you've had in ages...
5. Bighorn Canyon
One of the state's best-kept secrets is the Bighorn Canyon National Recreation Area. First, take a guided boat tour through the canyon from the Horseshoe Bend Marina and soak in the magnificent sight of the soaring cliffs on either side. Then pop over the state border to Montana and drive up to the Devil's Canyon Overlook – the view will leave you speechless.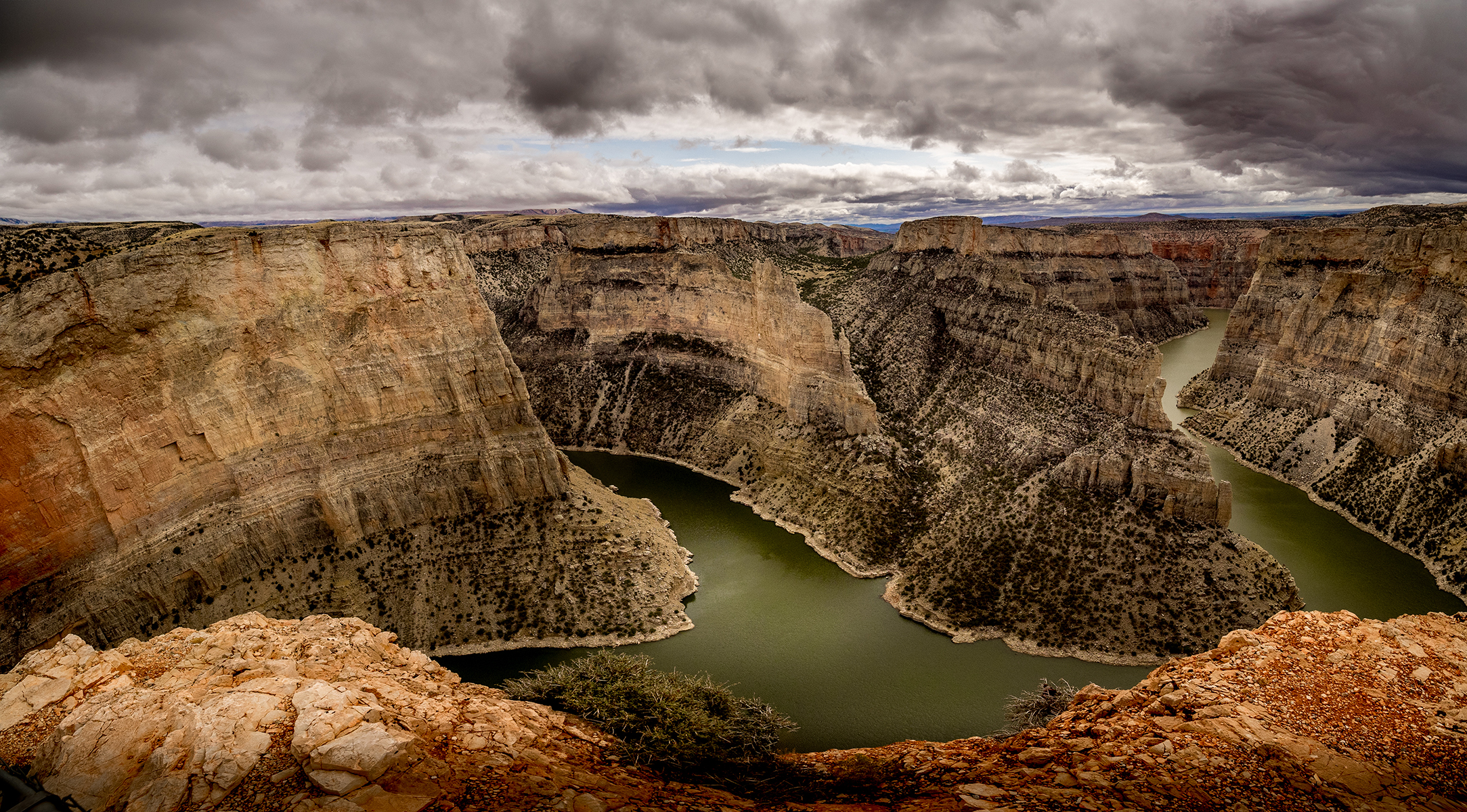 photo.eccles/Shutterstock
What to eat in Wyoming?
Wyoming is peppered with ranches that have more than 1.4 million cows between them so it's really no surprise that steak is the meal of choice. Be warned: it's served big and bloody here. When ordering steak, try sweet potato fries with honey butter on the side. There are few things as comforting as the soft sweet potato flesh slathered in sweet, slightly spiced butter. And while chicken fried steak – a pounded steak, covered in breading, fried and served smothered in American gravy – is normally associated with the southern states, it's much loved here as well.
If you're looking to try a local speciality, a bison steak or burger are good bets, as are Rocky Mountain oysters. Popular in most of the states in the West, these aren't actual oysters but cattle testicles coated in flour, salt and pepper and fried.
Wyoming's Rib & Chop House/Facebook
How to get to and around Wyoming
The easiest way to get to and from northern Wyoming is to fly from London to Gillette or Cody via Denver. When landing in Gillette, there are two rental car companies at the airport and the drive to Yellowstone is around 350 miles.
America As You Like It offer a six-night Wyoming package from £1,589pp. Price includes return flights with United Airlines into Gillette, Wyoming from London Heathrow and returning from Cody, Wyoming, six days' car hire inc all taxes, all insurances, breakdown cover and unlimited mileage, and six nights' accommodation (two nights' at the Arbuckle Lodge in Gillette, 2 nights' at the Sheridan Inn in Sheridan and 2 nights' at the Holiday Inn in Cody, all on a room only board basis). Price based on two people sharing and travelling at the beginning of October 2021. For more information about Wyoming, visit Travel Wyoming.
The ultimate northern Wyoming road trip
Day 1: Northeastern corner
Spend the night at Arbuckle Lodge. A place where old-fashioned friendliness meets western charm and hospitality, Arbuckle Lodge has everything you need to relax and drift to sleep after a long flight. In the morning, take advantage of the indoor pool to wake you up ahead of a busy day of exploring.
Fill up on bagels at:The Main Bagel. Considered the best bagels in the state, choose from cinnamon crunch, spinach parmesan and jalapeno cheddar. However, for breakfast, we suggest going with their biscuits and gravy – an all-American classic done incredibly well.
Drive to: Sundance. This tiny town in Crook County, Wyoming is where the legendary outlaw and Butch Cassidy's sidekick, the Sundance Kid, got his nickname. The historic Sip n Walk tour as well as the Crook County Museum both offer a great insight into the life in the Wild West.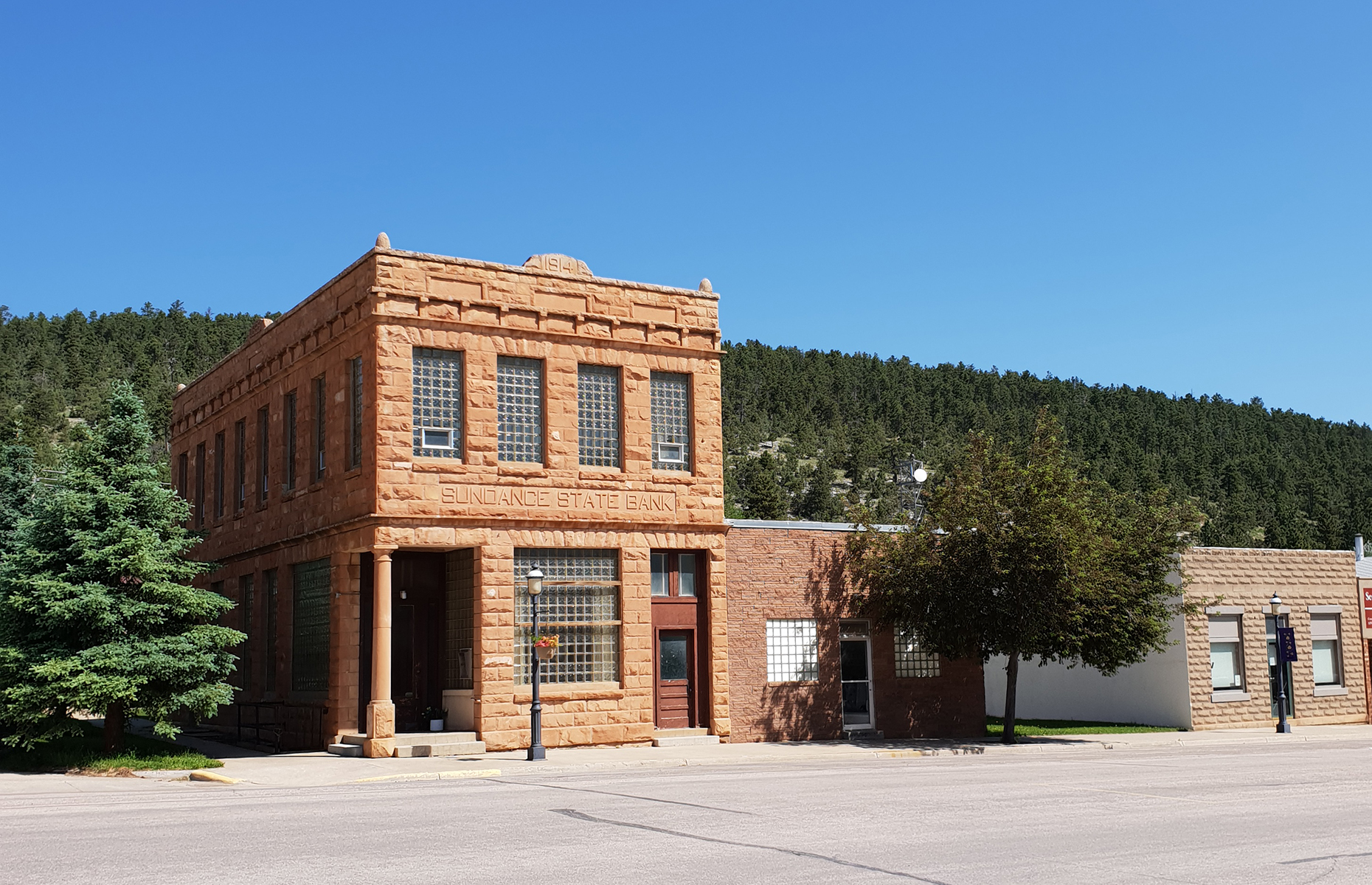 Karlina Valeiko
Lunch at: Longhorn Saloon & Grill. This family-run saloon is the perfect stop for a filling lunch. The dishes are full of flavour (and carbs), which is exactly what you'll want here. Whatever you order, get the sweet potato fries with honey butter to go with it.
Shop for vintage knick-knacks at: Aladdin General Store. Almost unchanged since 1896 when it was built, the well-preserved Aladdin General Store is an important piece of American history, telling the story of general stores that used to dominate rural America. As it happens the town of Aladdin is for sale complete with its store, 30 acres of land, post office, gas station, trailer park, house and storage shed. All yours for just $850,000 (£666,862).
Visit: Devils Tower National Monument. The 1.3-mile walk around the base of the country's first National Monument is the perfect chance to see this unique piece of magma rock. It's great for a late afternoon meander as the crowds start to thin and the early evening light is perfect for stunning photos.
Drink from horns at: the Big Lost Meadery. Wyoming's craft brewing and distilling are booming and the drinks produced are as diverse as the state's landscape. Stop by this family-run establishment to drink mead (fermented honey) from a horn or try one of their mead cocktails.
Fill up at: Pizza Carrello. Pizzas here are served thin and crispy straight from the wood-fired oven. There are amazing toppings to choose from and a ridiculously delicious fougasse (dipping bread) and artichoke dip to get your appetite going.
Day 2: Gillette to Sheridan
Brunch or lunch at: The Brinton Bistro at The Brinton Museum. Offering a spectacular view of the Bighorn Mountains, this is a great place to stop and fill up at before the hike through the canyon. After your meal, don't be too quick to leave and take a look around the exhibitions honouring the Plains Nations and the Western art. Be sure to book in advance as it gets quite busy.
Hike in: Tongue River Canyon. Be prepared to be blown away by the untamed, wild beauty of this place. The hike is suitable for beginners and you can make it as long or as short as you want, as there's always the opportunity to turn around and come back. Most importantly, watch your step and don't steer off the trail at any point.
Check-in at: the Sheridan Inn. Part-owned by Buffalo Bill at the end of the 19th century, this historic hotel is where he auditioned new members for his touring show. Each room is dedicated to a significant person in his life and the downstairs bar was commissioned and sent to America by Queen Victoria as a thank you for his touring company's performance at her Golden Jubilee.
Eat at: Big Horn Smokehouse and Saloon. If you're keen to find out what chicken fried steak is, this is the place for you. Great atmosphere, lovely staff and the most soulful food.
Go for a drink at: The Mint Bar. Serving beers since 1907, this saloon is a living, breathing legend of Wyoming. Once the meeting place for cowboys and ranchers alike, there are many tales to be heard about this bar.
Day 3: Sheridan to Cody
Have breakfast at: P.O News and Flagstaff Café. Once a tobacco shop (that's still going strong at the front of the house), it's now the ultimate breakfast joint. Take your pick between a breakfast burrito or one of their excellent breakfast plates. Or go all out and order The Monroe – a breakfast bowl with crispy hash browns, layered with onions, green peppers, topped with bacon, an egg, cheddar cheese and covered in American-style gravy.
Drive over: the Bighorn Mountains. A wonderfully scenic, soul-soothing drive up and down the winding road that carve a path over the mountains. The views are inexplicably Alpine so do take your time and stop to appreciate this landscape. Bring a jacket, because at the top, almost 9,500 feet above sea level, it gets really cold. On the Black to Yellow route, this is also your first real chance of spotting moose so keep your eyes open.
Hop on a boat: at the Horseshoe Bend Marina. The Bighorn Canyon will surprise you with another, completely different landscape. The Horseshoe Bend itself looks like something out of Star Wars, while the canyon's towering cliff edges will instantly transport you into a classic Wild West film.
Check-in at: Holiday Inn. Upon arrival to Cody, get to the hotel first and freshen up. Holiday Inn is everything you need after a day on the road – big comfy beds, quiet rooms and a delicious breakfast in the morning to kickstart your day before the big finale of the road trip at Yellowstone.
Wander around: the Buffalo Bill Center of the West. A complex of five museums that are dedicated to all things American West, it's a great chance to learn more about this part of America and the history that shaped it.
Buffalo Bill Center of the West/Facebook
Tuck into a prime rib at: the Irma Hotel. Built by Buffalo Bill himself and named after his daughter, the hotel is a must-visit in Cody, partly due to its history, partly due to its second-to-none prime rib.
Get your cowboy on at: the Cody Nite Rodeo. See real cowboys in action as they participate in saddle bronc riding and calf roping events. On every night from June to end of August, it's brilliant fun.
Day 4: Cody to Yellowstone: Lower Loop
Set out early and drive to Yellowstone's East Entrance, passing the impressive Buffalo Bill Dam, the beautiful Shoshone National Forest and the huge Yellowstone Lake. When you arrive at the Fishing Bridge, turn right and drive around the Lower Loop anti-clockwise.
Lunch at: Old Faithful Inn. First opened in 1904, this remarkable building is the creative work of architect Robert Reamer, who only used materials found in the park to build it. The lodgepole pine was cut four miles south of the site while 500 tons of rhyolite rock for the lobby chimney was quarried five miles away. The lunchtime buffet is excellent value and offers everything from salads to steaks.
Spend the night at: Lake Yellowstone Hotel. Overlooking the glistening lake water, the Lake Yellowstone Hotel offers comfortable rooms, a large dining room, a bar and a brilliant deli to pick up supplies from for the next day.
Must-see sights of the Lower Loop
Norris Geyser Basin: One of Yellowstone's hottest and most acidic areas, the Norris Geyser Basin has several colourful thermal features. Walk out to the Steamboat Geyser – it's the world's tallest active geyser although it's extremely unlikely you'll see it in action as its eruptions can't be predicted.
Midway Geyser Basin: Yellowstone's most famous hot spring, Grand Prismatic, is the main attraction here, however, the whole half a mile boardwalk loop is spectacular, featuring Turquoise and Opal Pools as well as the mesmerising Excelsior Geyser Crater. If you have time, the hike to the Grand Prismatic Spring Overlook is well worth it.

Lane V. Erickson/Shutterstock
Old Faithful and the area around it: Catch one of Old Faithful's famed on-time eruptions (you can check the prediction times inside the Old Faithful Inn – it erupts at 90-minute intervals), then walk around the boardwalks to see one of the park's richest collections of geysers, pools and hot springs.
West Thumb Geyser Basin: Perfect for stretching your legs on the half-a-mile-long outer loop boardwalk, this geyser basin offers a variety of different geothermal features, like bubbling mud springs, multi-coloured pools and steaming cones.
Continental Divide: An unusual geological feature, the Continental Divide essentially means that all the water on one side of it eventually flows into the Pacific Ocean and into the Atlantic Ocean on the other. Isa Lake at the Craig Pass between West Thumb and Old Faithful is situated right across the divide.
Day 5: Yellowstone: Upper Loop
Start the day early, driving north from the Lake Lodge to Canyon Village, stopping at the Yellowstone Canyon along the way. Turn left at and drive around the Upper Loop clockwise.
Lunch at: Mammoth Hotel Dining Room. Enjoy front views of grazing elk and bison, if you're lucky, and fill up on warming soups, delicious sandwiches and indulgent burgers and sliders.
Must-see sights of the Upper Loop
Grand Canyon of Yellowstone: Technically, a part of the Lower Loop, it's the first thing to see on day two in Yellowstone. The tumbling waters of Lower Falls can be observed from Lookout Point, Red Rock Point and Artist Point. If you can stop at all three to see different angles of the falls, you won't regret it.
Tower Falls: Another impressive waterfall, it plunges 132 feet down and the overlook is only a short hike away. While you're here, stop at the nearby Overhanging Cliff too. Its vertical basalt columns hang over the road just north of the Tower Falls.

Yellowstone National Park/Flickr
Lamar Valley: It's definitely worth taking a detour east and driving along Lamar Valley's scenic route. Cutting 40 miles through the Wyoming wilderness, it's your best chance of spotting many of the animals that live in Yellowstone, like grizzlies, wolves and, of course, bison.
Blacktail Plateau Drive: Off the main Grand Loop Road, this scenic byway is a six-mile dirt road that goes straight through Yellowstone's wilderness. Perfect for remote contemplation, incredible landscapes and spotting wildlife.
Mammoth Hot Springs: An otherwordly sight, this large complex of hot spring terraces will impressive with both its unique beauty and its scale.
Route map
Be the first to comment
Do you want to comment on this article? You need to be signed in for this feature