Of bison & bears: why Yellowstone reminds us of our place on the planet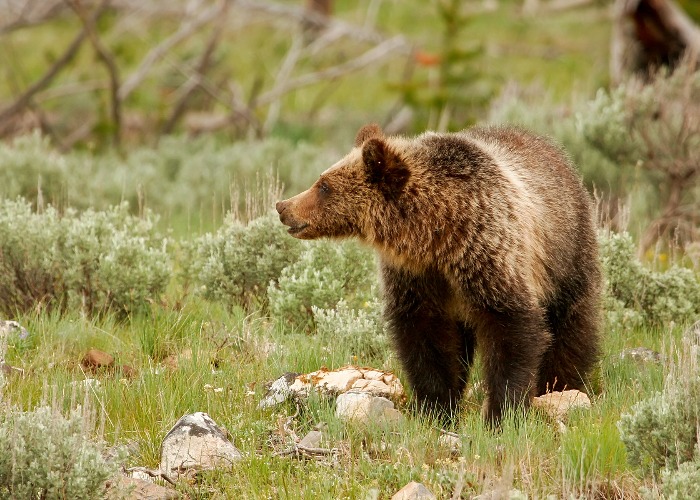 On a June drive around Yellowstone's Lower Loop, features writer Karlina Valeiko reflected on the US national park's efforts to preserve its unique ecosystem.
There he was – the first wild bison I've ever seen. A mighty beast with a wild mane and patches of last winter's dark brown fur still tangled in knots, he sauntered neatly within the two painted lines on the road without a single care in the world.
Yellowstone is the only place on Earth where bison have lived since prehistoric times. They appear to be indifferent towards the world around them, but don't be fooled by their slow and sluggish attitude – bison can be very fast and dangerous.
It was this first, early-morning encounter that shaped my experience of the national park, bringing into focus how great our responsibility is to protect the Earth's natural wonders.
Karlina Valeiko
The power of preservation
While the Old Faithful geyser and the Grand Prismatic hot spring draw in the biggest crowds, Yellowstone's vast size means its corners are brimming with untold stories.
One such narrative is the history of Yellowstone's now thriving animal population.
Despite being brutally hunted and slaughtered in the 19th century, and passionately hated by many ranchers to this day, Yellowstone's bison have bounced back, last year reaching a record 4,816. Continuous efforts, including raising bison in captivity before introducing them to the free-roaming population for over a hundred years, is one of the first examples of how a wild species can be preserved through stewardship.
And it's not only bison conservation that Yellowstone has played a crucial part in.
The park's efforts have encouraged the recovery of grizzly bears, elk, Rocky Mountain bighorn sheep, sandhill cranes and trumpeter swans, while a grey wolf reintroduction project in the 1990s helped regenerate the Greater Yellowstone Ecosystem. Grey wolves had been absent from the park for almost seven decades so this gave biologists a unique opportunity to study what happens when a native predator is reintroduced.
David Tostado/Unsplash
Elk were taking over the park, but grey wolves now act as population control. These alterations to the food chain triggered a cascade of ecological change – beaver population increased and vegetation like aspen, willow and cottonwood became much healthier. Today there are ten packs living in Yellowstone, the largest consisting of 16 wolves.
Another success story comes in the shape of the black-footed ferret. They were thought to have been extinct­­­­­­ until 1981 when a dog carried a dead ferret home in Meeteetse, Wyoming. This led to the discovery of a few dozen ferrets that survived within the Greater Yellowstone Ecosystem.
Since then a captive breeding programme has helped to repopulate the wild with more than a thousand of these lively and curious animals.
Wildfire country
As we drove further into Yellowstone, the sight of black pine trunks sticking out of the ground like burnt matchsticks was overwhelming. Remnants of whole forests burnt to a crisp is a tragic sight. What most Yellowstone visitors don't know though is wildfires are very common here and play an important part in the park's ecosystem and natural regeneration of forests. The park doesn't control wildfires here unless they threaten human life or structures.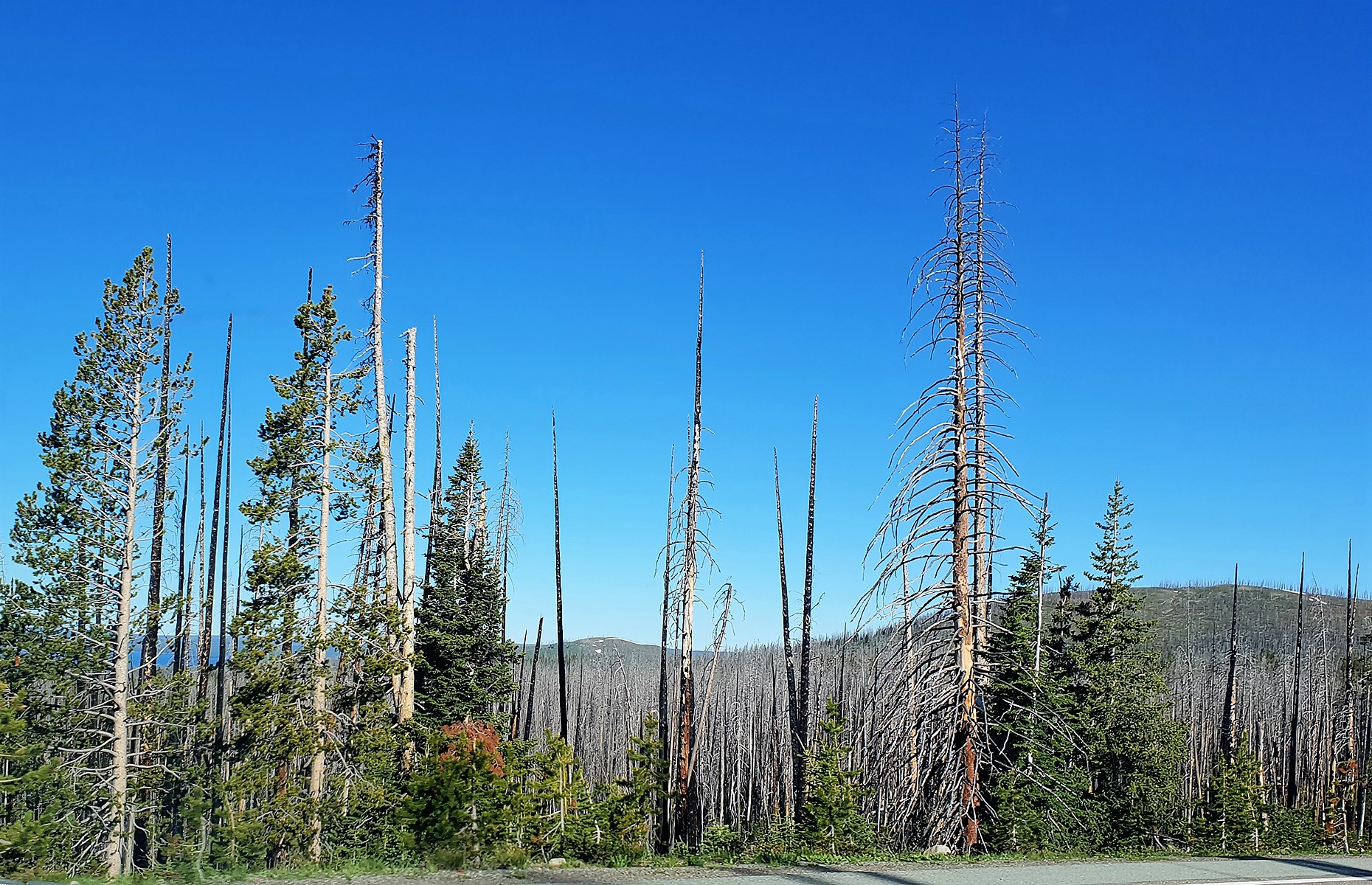 Karlina Valeiko
The lodgepole pines, which make up more than 80% of the park's forests, have developed a unique self-preserving mechanism. In every tree there's always one pine cone that only opens when subject to intense heat, like fire. The seeds embedded in the pine cone then ensure that a new, healthy forest grows while the old, decaying trees serve as fertiliser.
June is also a very special time of the year to see Yellowstone as its meadows are filled with hundreds wildflower species. The park's face is ever-changing, depending on the time of the year, and while I was lucky to see Yellowstone with its greenest, most flower-adorned coat on, it appears very different when covered in a thick layer of powdery snow. Then the freezing temperatures transform the landscape into a winter wonderland as lakes and rivers get covered with a sheet of ice and steam rises from the streams warmed by the hot springs and geysers.
Haveseen/Shutterstock
A true wilderness
When the 2.2 million acre area officially became the world's first National Park in 1872, it was treated more like a menagerie with the animals managed like captives in a zoo. It's quite staggering to realise how much of a difference almost 150 years have made.
Today almost 99% of the visitors stay within a mile of tarmac and there are more than 1,000 miles of backcountry hiking trails where you can go without meeting a soul, while the park's animals have the ability to roam completely free. Yellowstone's southwest corner is the only place in contiguous 48 states where you can be more than 20 miles away from a road.
One of Yellowstone's challenges is reminding people that it isn't a zoo or a safari park. Most animals that live in the park only encounter humans maybe a few times in their lives. While most will do their best to avoid any interaction, they're still unpredictable wild animals. The park suggests people stay at least a hundred yards away from bears and wolves and at least 25 yards away from all other animals but, unfortunately, it's a rule taken very lightly by many visitors.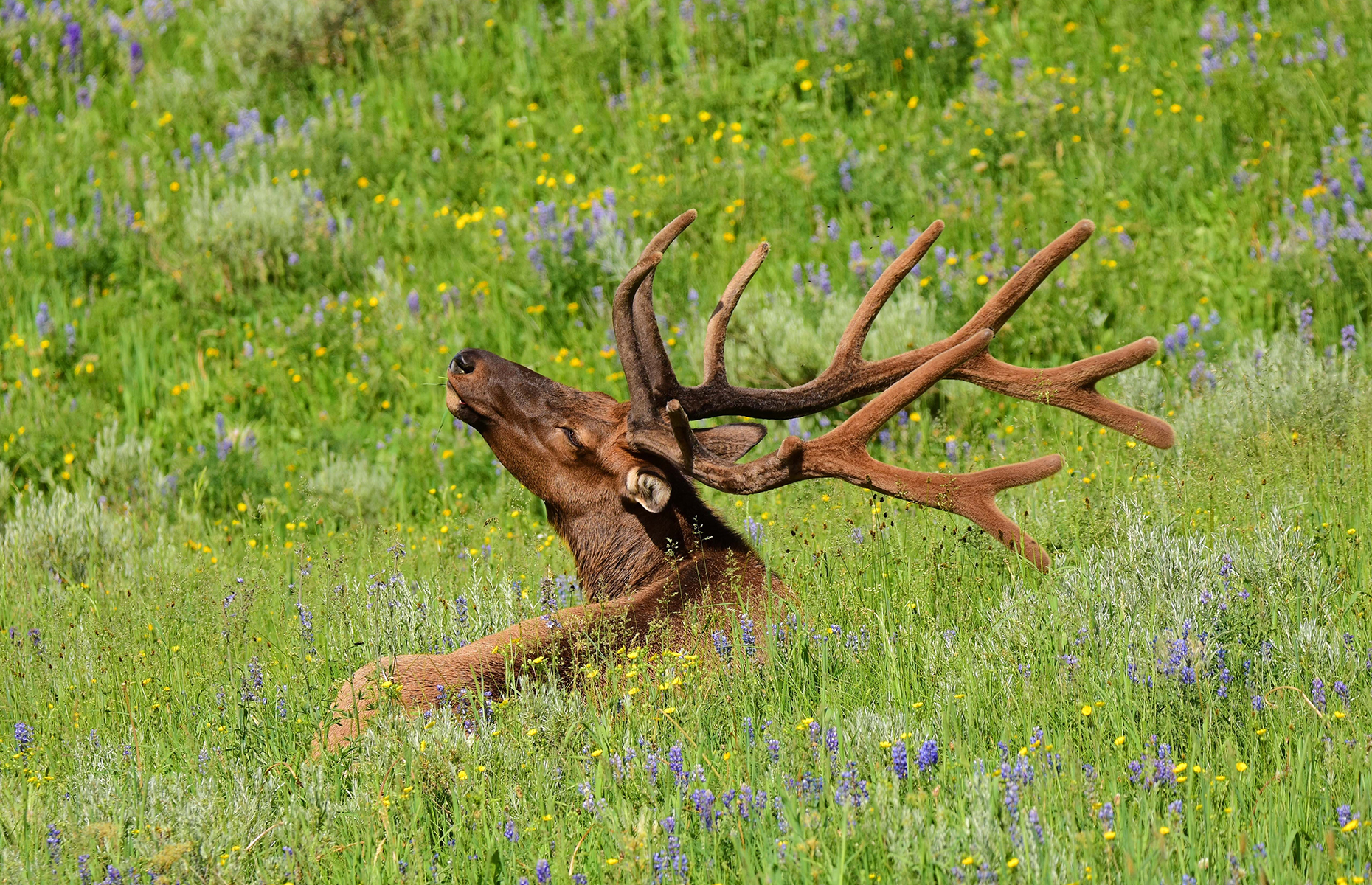 Nina B/Shutterstock
Just this year alone a woman was gored by a bison and another attacked by an elk because they both got too close to the animals.
During my day in Yellowstone I saw countless people strolling unreasonably close to bison for the perfect photo opportunity. With 67 different species of mammals living within the park territory and even more in the wider Yellowstone ecosystem, it's relatively easy to spot animals, so it's perhaps no surprise people forget they're stepping into a wild territory.
Do you need that plastic bag?
As we left the park in the late afternoon, a heavy silence had fallen over the car. Everyone had their eyes peeled out the windows, trying to etch the passing pictures of Yellowstone's effortless beauty in their minds. The world seemed to be in order as we passed a small clearing with a bison herd casually grazing. The sky was just the perfect shade of blue, the rays of the sun were dancing in the shallow mountain stream crashing into protruding rocks and every curve of the road revealed a new landscape, from wild-flower meadows to lush pine forests. It was a liberating feeling, to be a part of the wild – to be just another creature within the park.
Haveseen/Shutterstock
Even a day in Yellowstone makes you realise that there are a great many things much more important than us. Our time on Earth is just a blink of an eye when compared to thousands, even millions of years that have shaped and moulded places like Yellowstone. And there's nothing like stepping out of a packed London tube train so familiar to me and stepping into a pristine wilderness to understand that it's worth every effort preserving it.
At a time when climate change and overtourism are the talk of the town, especially when it comes to natural wonders and attractions like Yellowstone, it's encouraging to see that it's not all doom and gloom.
During the last 50 years or so Yellowstone has proved that it's our actions alone that can both destroy and preserve the Earth's unique habitats. Just one brief look at Yellowstone, its flora and fauna, is enough for me to justify every 5p bag I've refused, every takeaway coffee cup I haven't bought and every annoying paper straw that has dissolved in my half-finished drink.
For more information about Yellowstone visit the National Park Service website and Travel Wyoming.
Be the first to comment
Do you want to comment on this article? You need to be signed in for this feature