Explore New York City: what to do, places to eat and where to sleep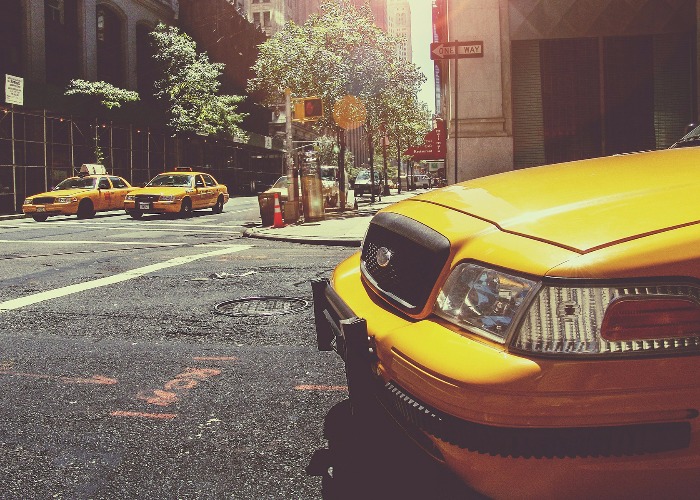 New York City is everything you expect it to be: blazing lights, stellar museums, urban parks, grand bridges, buzzy restaurants, and even buzzier nightclubs – all framed by the world's most iconic skyline. Our guide reveals the best of the city, including where to eat, sleep, and, most importantly, play.
Introducing New York City
New Yorkers often joke that their city is the centre of the universe. After a visit here, you may be inclined to agree. The largest city in the USA is known for its skyscrapers, steel, and swagger. But it also reveals a natural side, from vast parks to a breezy waterfront.
Check out skyline views from the tallest building in the Western Hemisphere, roam massive art museums, trek across the Brooklyn Bridge, take your pick of any world cuisine for dinner, toast the night at a rooftop bar – and that's just day one. Yes, one visit is rarely enough.
5 essential things to do in New York City
There's so much to see in New York City it's hard to keep up. Here's what we'd do:
1. Rise above it all at the Empire State Building
Without the Empire State Building, would all those famous cinematic love scenes – An Affair to Remember, Sleepless in Seattle – be as memorable? Probably not. Hop on one of the speedy elevators to the top of this Art Deco beauty for stunning 360-degree views – on a clear day, you can see five states: New York, New Jersey, Pennsylvania, Connecticut, and Massachusetts.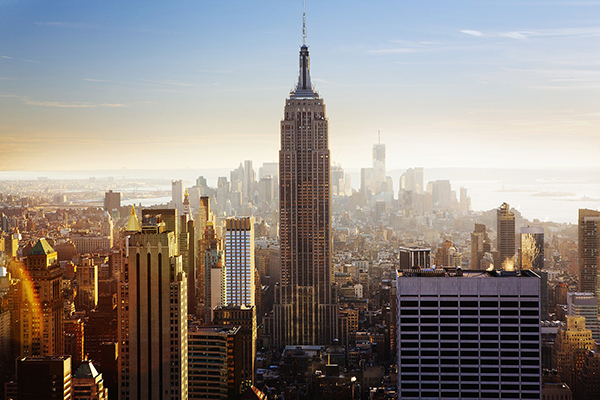 Empire State Building
2. Go green in Central Park
Suburbia has its backyards, but New York has Central Park. Spend a day wandering this enormous park, with its sloping lawns, Frisbee games, fragrant gardens, elm-shaded Mall, and beloved Strawberry Fields memorial to John Lennon, and you'll understand why this isn't just the geographical heart of Manhattan, but also its emotional one.
3. Get creative at the Metropolitan Museum of Art
If you visit one museum in New York, make it this one. The epic Met traces over 5,000 years of art history, from the Egyptian Temple of Dendur to the Astor Chinese Garden Court to paintings by Van Gogh, Manet, Monet, Picasso, Degas, Warhol, and many (many) more.
4. Marvel at the Brooklyn Bridge
The Brooklyn Bridge can claim plenty of superlatives: when it opened in 1883, it was the first steel suspension bridge in the world, and also the longest. These days, it's one of the most photographed structures in New York – and the best way to do so is by crossing it on foot. For the greatest effect, walk it from the Manhattan side, resist turning around until the midway point, and then take a look – the skyline glitters in the distance, framed by the bridge's signature cables.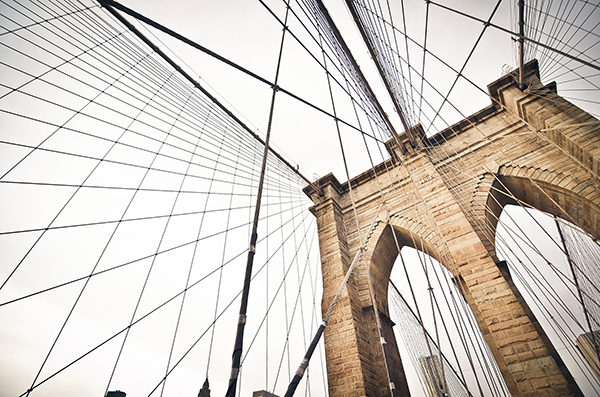 Brooklyn Bridge
5. Pay respects at the National September 11 Memorial & Museum
The collective refrain after 9/11 was "never forget." The 9/11 Memorial & Museum is ensuring just that. Built on the footprints of the original Twin Towers, this profound memorial and museum pays tribute to those who lost their lives on 9/11, while also exploring the continued global impact of the tragedy.
5 alternative New York City highlights
When you've hit the big sights, try some of these alternative New York City highlights:
1. Escape the city at The Cloisters
Unfolding on four leafy acres in Fort Tyron Park, The Cloisters Museum and Gardens offer a breezy counterpoint to the go-go-go pace of the city. Stroll impeccably reconstructed medieval cloisters, view the Flemish tapestries The Hunt of the Unicorn, and then take in views of the mighty Hudson River.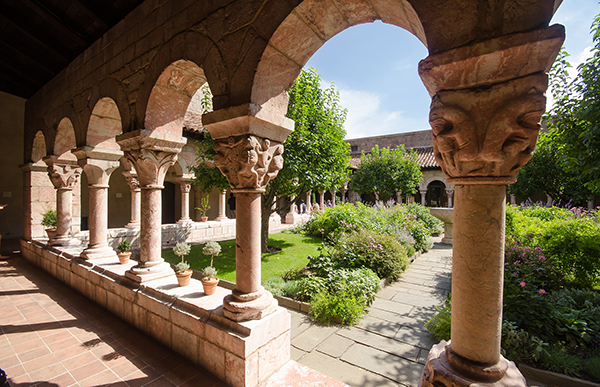 Cloisters Museum & Gardens/Manuel Hurtado/Shutterstock
2. Eat your way through Astoria, Queens
Travel the world – via the restaurants of Queens. This borough is one of the most diverse urban areas in the world, and in the neighborhood of Astoria, you can feast on everything from traditional Greek and Italian to Vietnamese, Brazilian, Ecuadorian, Balkan, Palestinian, and beyond. Top off dinner at the Bohemian Hall and Beer Garden, an al fresco Czech bar from 1910.
3. Dangle over Manhattan on the Roosevelt Island Tramway
Head to Manhattan's east side and look up: dangling high above is the Roosevelt Island Tramway, one of the only commuter aerial tramways in North America. It's also the cheapest view in town – for the price of a subway ride, you can gaze out at the East River, flanked by a forest of skyscrapers.
4. Ride the Wonder Wheel
Never underestimate the allure of nostalgia. Deno's Wonder Wheel has been twirling on Coney Island, amid the sticky smell of cotton candy, since 1920. Bigger and faster attractions have risen up all around it, but it's this creakily low-tech family-run ferris wheel that makes the memories.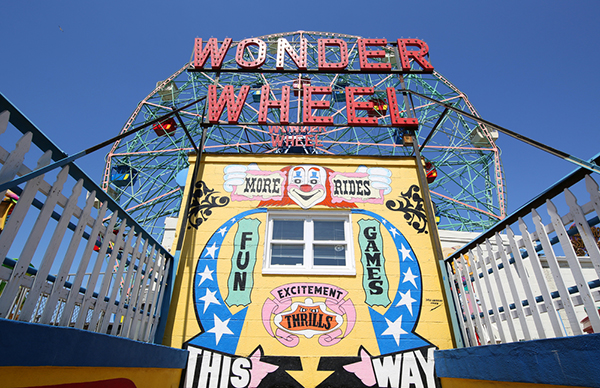 The Wonder Wheel/Leonard Zhukovsky/Shutterstock
Map of New York City
Not sure where to begin? Here are all our favourite places in New York City on one handy map:
Where to stay in New York City
Splash out
1. For cool elegance: this limestone masterpiece rises over Fifth Avenue. The spacious rooms at Langham Place – some easily eclipsing the size of an average Manhattan studio – have splendid city views, marble bathrooms, and rainfall showers. Disappear for an afternoon into the Chuan Body + Spa for an acupressure hair and scalp massage.
2. For Brooklyn cool: Brooklyn has long been a byword for cool. At the dashing new 1 Hotel Brooklyn Bridge, it's is also a byword for elegant, eco-friendly, and the finest views this side of the East River.
3. For amazing views: Nomads have never looked so stylish. The graceful Beaux-Arts NoMad Hotel opens onto a lobby filled with tasseled chairs, richly patterned carpets, and dark wood. Quirkily decorated rooms have embossed leather headboards and freestanding bathtubs, so you can bathe with a view.
On a budget
1. For something small but perfectly formed: Smaller is better at Pod 39. The rooms are snug (pod-like) but chic, with a highly effective use of space, making this one of best budget hotels in Midtown.
2. For arty sleeps: Staying at a budget hotel in New York used to mean sacrificing on design. Not so at Citizen M in Time Square. The splashy, art-filled ground-floor "living room" (don't call it a lobby) gives way to cozy, light-filled rooms with an "anti-jet lag rain shower."
3. For a boho stay: Once the bohemian domain of artists, the West Village is now one of the priciest neighborhoods in the city. The Jane gives you a chance to go back to the early days – both in ambiance and price. Built in 1908 as a sailors' home and restored a century later, The Jane has warmly decorated train cabin-style rooms. But, the best amenities are out the front door: the West Village, with its cafés, restaurants, cocktail lounges, and boutiques.
Where to eat in New York City
For New York pizza: Pizza is New York's urban fuel. For maximum enjoyment, eat a slice like a New Yorker – folded lengthways, and wolfed down while walking fast. The utilitarian façade (and name) of Joe's Pizza belies the perfect thin-crust wedges within. In Brooklyn, dine at Roberta's, where pies are topped with ingredients from the rooftop garden.
For innovative cuisine: The seasons dictate the menu at Eleven Madison Park, where chef Daniel Humm turns out exquisite dishes like the signature lavender and honey roast duck. The hyper-local menu at Blue Hill in the West Village includes "this morning's farm egg" – practically still warm, straight from their upstate farm – to venison with yeasted leeks.
For a boozy brunch: After a late night out, this item on the Balthazar menu will bring you joy: hangover drinks. Sip a Champagne Pick-Me-Up (bubbly, cognac, orange juice, grenadine) and then dive into sour cream hazelnut waffles or poached eggs and avocado on toast (or both). Brunch is taken to a high art at the Mediterranean-inspired Estela, which lives in the former Knitting Factory music venue – try the merguez with beans and yogurt.
Day trips from New York City
1. Sample Long Island wine country
Sip your way through New York's fragrant wine country at Long Island's eastern tip, which lies 87 miles east of New York City. Viniculture pioneers launched the first vineyards in the 1970s, and since then, this region has evolved into New York's mini version of Napa Valley. Sample small-batch wines at family-owned vineyards like Bedell Cellars and Coffee Pot Cellars – and then bring home a bottle or five.
2. Have an arty adventure to Beacon
On a Hudson Valley excursion, it's all about the journey and the destination. Hop aboard the train in Grand Central for the 80-minute ride north, where you'll be treated to calming views of the Hudson River. Your stop: the arty town of Beacon, which is presided over by Dia:Beacon, one of the largest spaces for contemporary art in the country, built in a former Nabisco factory.
3. Enjoy island life on Governers Island
Bright-green hills, shaded paths, a grove of swaying hammocks – and all less than ten minutes away from Manhattan by ferry. The 172-acre Governors Island, which sits in the centre of New York harbor, has become the city's favorite summer playground. Soak up the sun, go biking and hiking, and check out superb art shows and festivals, including the wildly popular summertime Jazz Age Lawn Party, complete with flapper dresses, moonshine, and Michael Arenella and his Dreamland Orchestra.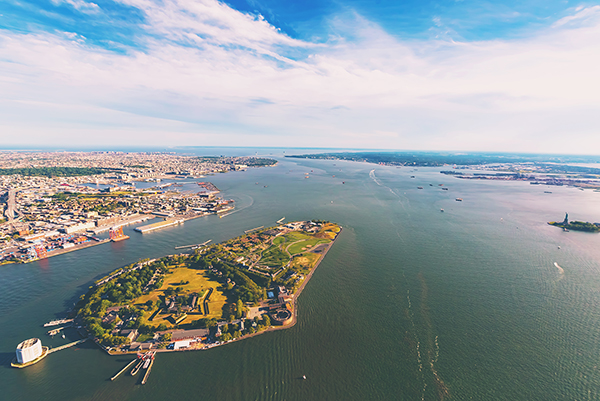 Governors Island/Melpomene/Shutterstock
Insider New York City travel tips
Be a free spirit: The daunting news: New York City is the most expensive city in the USA. The good news: it's packed with free things to do, from sights and parks, like Grand Central Terminal and the High Line, to outdoor concerts and public art. There are also free days at the museums and gardens – the Museum of Modern Art is free 4–8pm on Fridays, the Brooklyn Botanic Garden is complimentary on Tuesdays.
Don't eat in Times Square: Take a selfie amid the bright lights if you must, but when you get hungry, leave. Times Square is choked with overpriced chain restaurants, but venture to any nearby neighborhood – Chelsea, Hell's Kitchen, Theater District – and you'll find multiple top dining options at half the price. Also, when you rise and shine, skip the fast food joints and instead fill up on a New York-style breakfast sandwich – egg and cheese on roll – from the corner deli. It's better, cheaper, and far more New York.
Go underground during rush hour: NYC's famous yellow cabs are enticingly everywhere, but during rush hour traffic, you'll save money, time, and headaches if you hop on the subway instead. The NYC subway – the largest rapid transit system in the world – is fast, efficient, inexpensive, and extensive, fanning out to the furthest reaches of all five boroughs.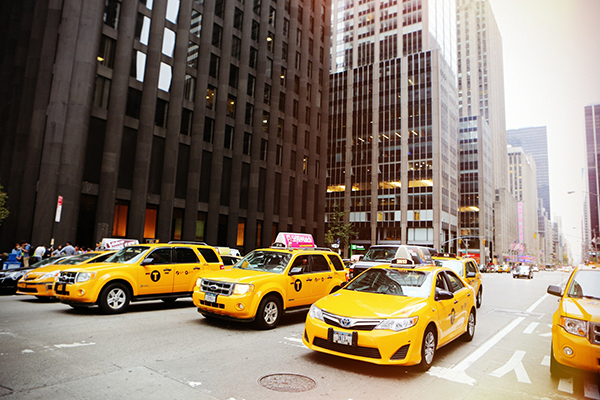 Best time to visit New York City
Spring and fall are optimal seasons to visit: the weather is comfortably balmy; the crowds thin out; and the city shows off its best colours – bright flowers and golden leaves. Summer brings forth a wonderful array of outdoor activities, but also dense humidity and throngs of visitors.
New York under the falling snow is predictably magical – but keep in mind that powerful storms do rock the region, which can cripple the city and leave travelers stranded.
How to get there
New York City is a major US hub, with three international airports: John F. Kennedy International Airport and LaGuardia Airport in Queens, and Newark Liberty International Airport in New Jersey. All three have multiple transport options into the city centre, including subway, train, bus, taxi, and ride-share services.
Be the first to comment
Do you want to comment on this article? You need to be signed in for this feature