5 of Madeira's best walks for every ability
From a walk in the park to thrilling treks above the clouds, Madeira is a walker's paradise with its network of levadas – historic irrigation channels – and mountain, valley and coastal trails. Whether you're 'all the gear and no idea' or an experienced trekker, there's a path to suit.
Why go?
When you say you're off to Madeira, chances are people will mention the wine, the cake, the (sometimes hairy) driving, but most definitely the walking.
Madeira is not just a walking destination but it is brilliant for it, from short trails leading to impressive vistas – 'minimum effort, maximum reward' – to lofty mountain treks. Official trails are labelled PR for 'pequeña ruta' or 'small routes'. Each has a number and is marked by a start/end point, with information including elevation and facilities.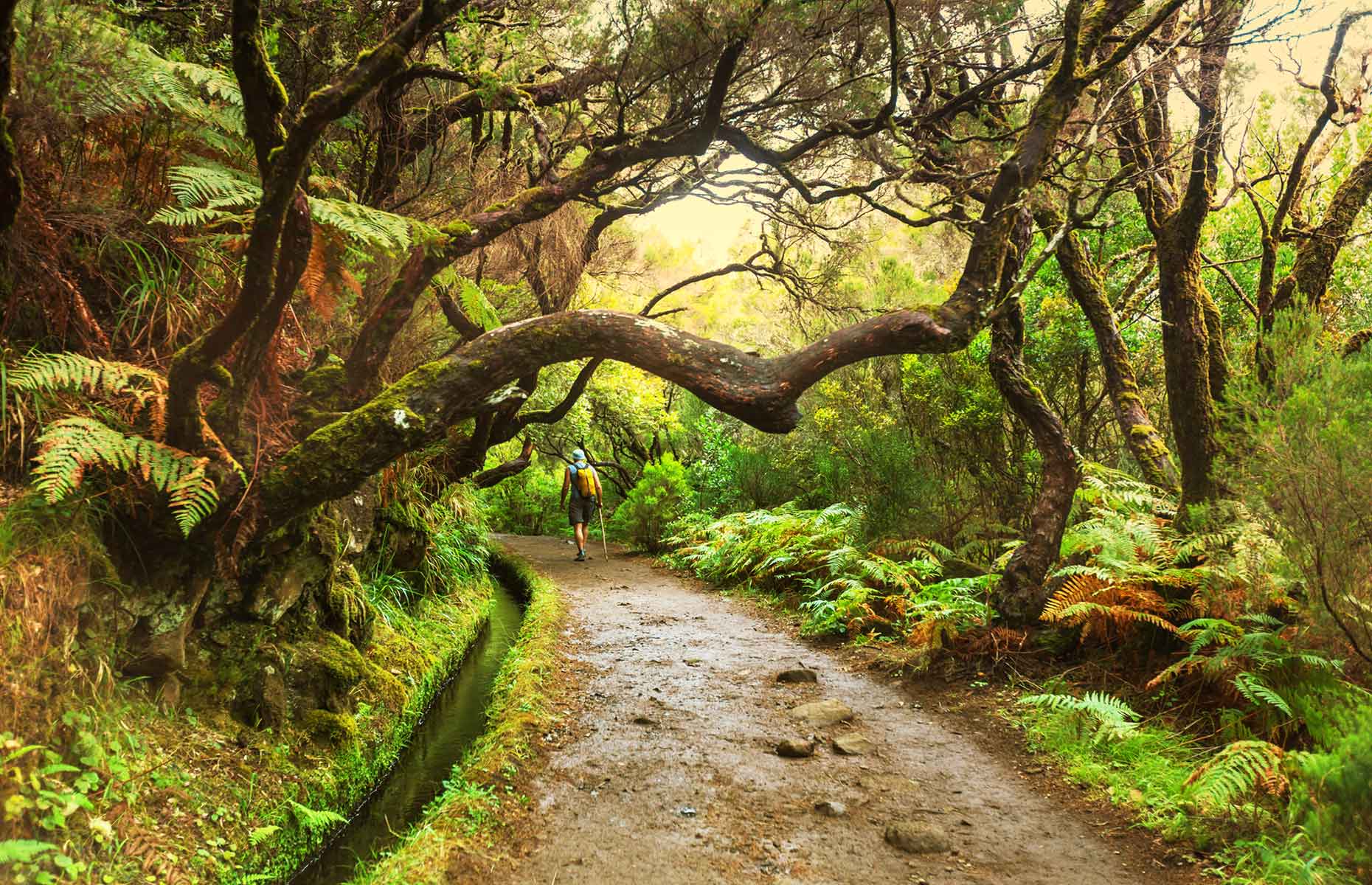 Galyna Andrushko/Shutterstock
Madeira is one of Portugal's two autonomous regions, along with the Azores and part of the Macaronesia region in the North Atlantic Ocean, and a distinct feature is its levadas: irrigation channels built from the 15th century to carry water from the mountainous north to the fields and terraces in the sub-tropical south.
But their beauty hides a darker history of the island. The earliest levadas were built by slaves from Africa and the Canary Islands (the indigenous Guanches people) who also worked in the sugar cane plantations.
Today, some still flow into hydroelectric dams and continue to irrigate the land, but many have also become walking routes.
Know before you go
Madeira's levadas and mountain trails or 'veredas' are a big attraction, but always check they're doable from a time, weather, transport and ability perspective. A car gives flexibility but many trails can be reached by bus or taxi, or via a guided tour with pick-up/drop-off.
Water, waterproofs, sweets and a fully-charged phone are recommended, as are hiking boots. Even on easy trails, rain can make the ground slippery. Be mindful of rockfall and steep sides on some paths and use the handrails and chains if unsure (no selfie is worth it). Some levadas pass through tunnels so bring a torch (a phone torch is fine for some).
READ MORE: Top things to do in Madeira
1. Peak to peak, sunrise included
Deservedly popular for non-stop views of jagged peaks, subtropical shrubs and floating clouds is the Pico do Arieiro to Pico Ruivo hike (PR1) which winds through the Central Mountain Massif of Madeira's highest peaks: Pico Ruivo (6,109 feet/1,862m), Pico das Torres (6,073 feet/1,851m) and Pico do Arieiro (5,961 feet/1817m).
Difficulty is relative, but variable ascents, descents, tunnels and changeable weather, often above the clouds, make it one of Madeira's more challenging trails. The start point is Pico Arieiro, Madeira's third-highest peak and a popular spot for sunrise, even for non-hikers – it's easy to reach by road with a great terrace café.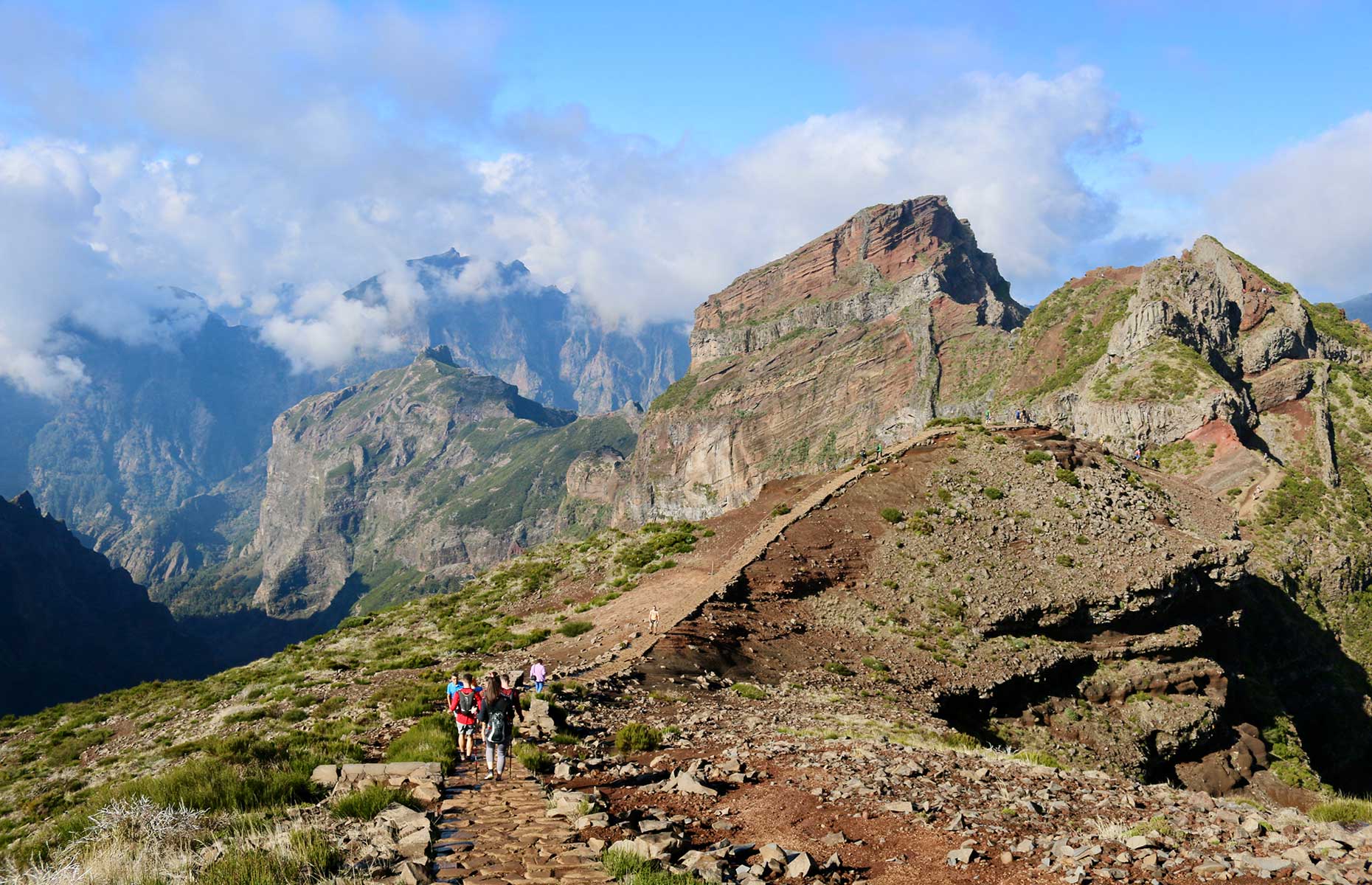 Ajay Shah
You can also walk 20 minutes each way to the first look-out, Ninho da Manta (Buzzard's Nest), and take in the magnificence of the valley of Fajã da Nogueira. You might spot a Madeira rock sparrow, chaffinch or firecrest, Madeira's smallest bird.
The five-mile (8km) hike to Madeira's highest peak, Pico Ruivo, takes around 3.5 hours (pace- and photo stop-dependent) so if returning the same way, start early. Experienced hikers will find it straightforward, otherwise a guided hike, private or group is recommended.
2. "The one with all the waterfalls"
Perhaps the best-known walk is the 5.5-mile (9km) PR6: Levada das 25 Fontes e Risco in west-central Madeira. It's a beautiful route, with much of the trail along a levada dating back to 1855, with mossy walls, misty valley views and mini lagoons.
If you're hiking independently, arrive before the tours do at around 10am. Starting in Rabaçal, on the Paúl da Serra plateau, it's not a technically difficult route, but there are many sets of steps (up and down) so it can feel arduous at times.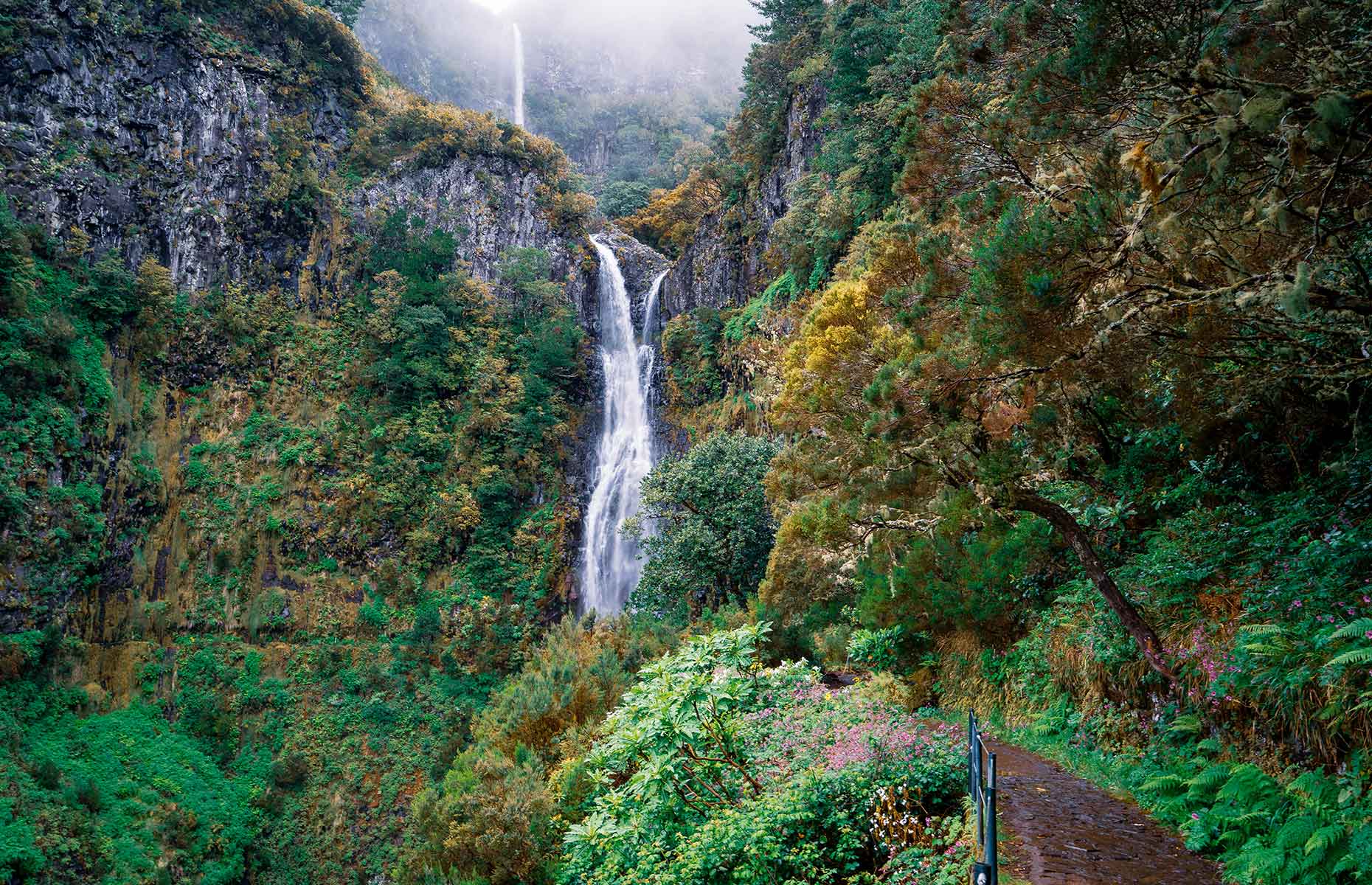 novama/Shutterstock
It's usually walked along two routes: the first fork (PR6.1) at 3,280 feet (1,000m) above sea level along Levada do Risco to the waterfall of the same name, before returning to rejoin Levada das 25 Fontes. The highlight is the tranquil lagoon (25 Fontes), fed by water from 25 springs from Paúl da Serra. You need a car or taxi to get to and from Rabaçal and a picnic lunch is recommended.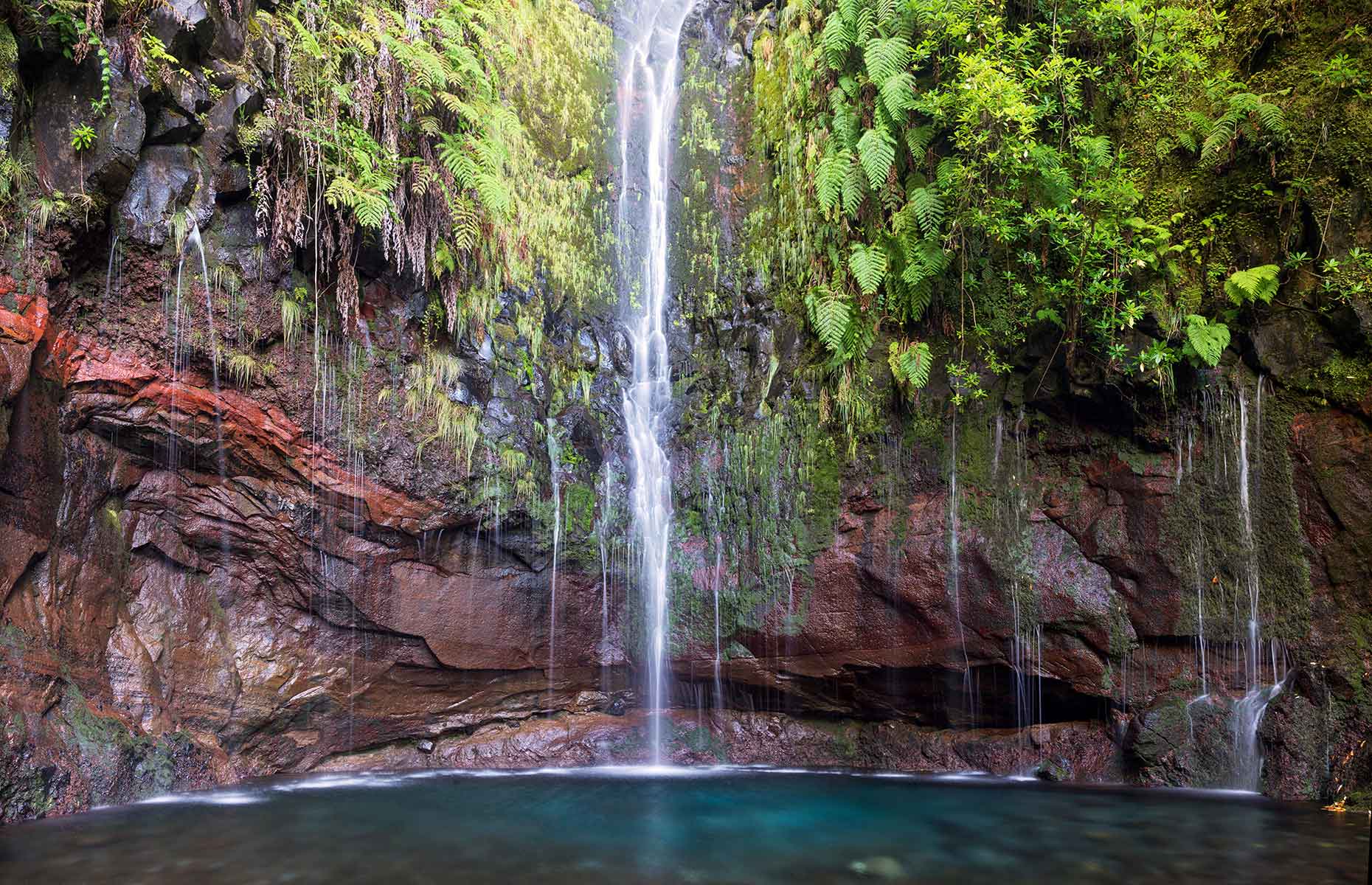 Michael Thaler/Shutterstock
3. Madeira's green, green valleys
Captivating scenes for medium effort, the 6.8-mile (11km) Ribeiro Frio to Portela (PR10) follows the Levada do Furado, connecting with the levadas of Juncal and Serra do Faial. A bus or taxi from Funchal takes 30-40 minutes.
Furado is one of the oldest state-owned water channels, bought in 1822 to irrigate the farms of Porto da Cruz. Painted in myriad, soothing shades of green, the PR10 passes through one of the most pristine sections of Madeira's UNESCO World Heritage native forest, the laurissilva, home to the laurel or bay tree.
READ MORE: The best Tenerife hiking trails
As well as lily of the valley trees, Madeiran mahogany, native orchid and foxgloves, you might spot the tiny firecrest bird, chaffinches and, if lucky, the endemic Madeira long-toed pigeon. Surrounded by the valley and fields of Ribeiro Frio, the Levada do Furado ends as you descend into the village of Portela.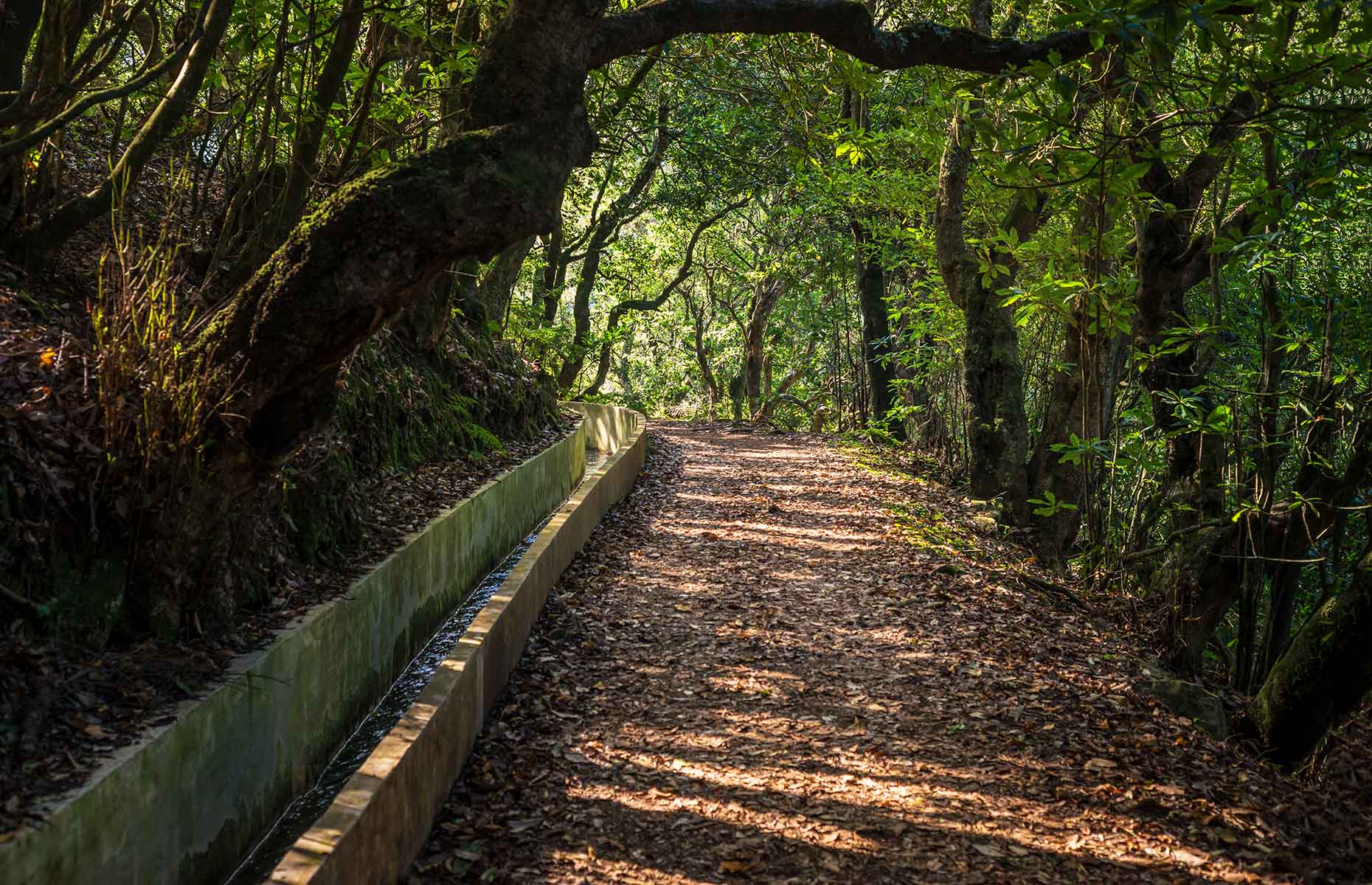 pp1/Shutterstock
4. Minimum effort, maximum reward
The terrain is flat, the view is anything but. The Vereda da Balcões (PR11) is just less than a mile (1.5km) each way and its start point is in the town of Ribeiro Frio in central-eastern Madeira (a bus or taxi from Funchal is 30-40 minutes).
Passing through the laurissilva, along the Levada da Serra do Faial, the Balcões viewpoint is a special one, looking deep into the lush valley of Ribeira da Metade. The quiet is only broken by the sound of chaffinches. Mist can descend fast, adding an ethereal feel to the scene but when clear, you'll see the Central Mountain Massif of Madeira's highest peaks.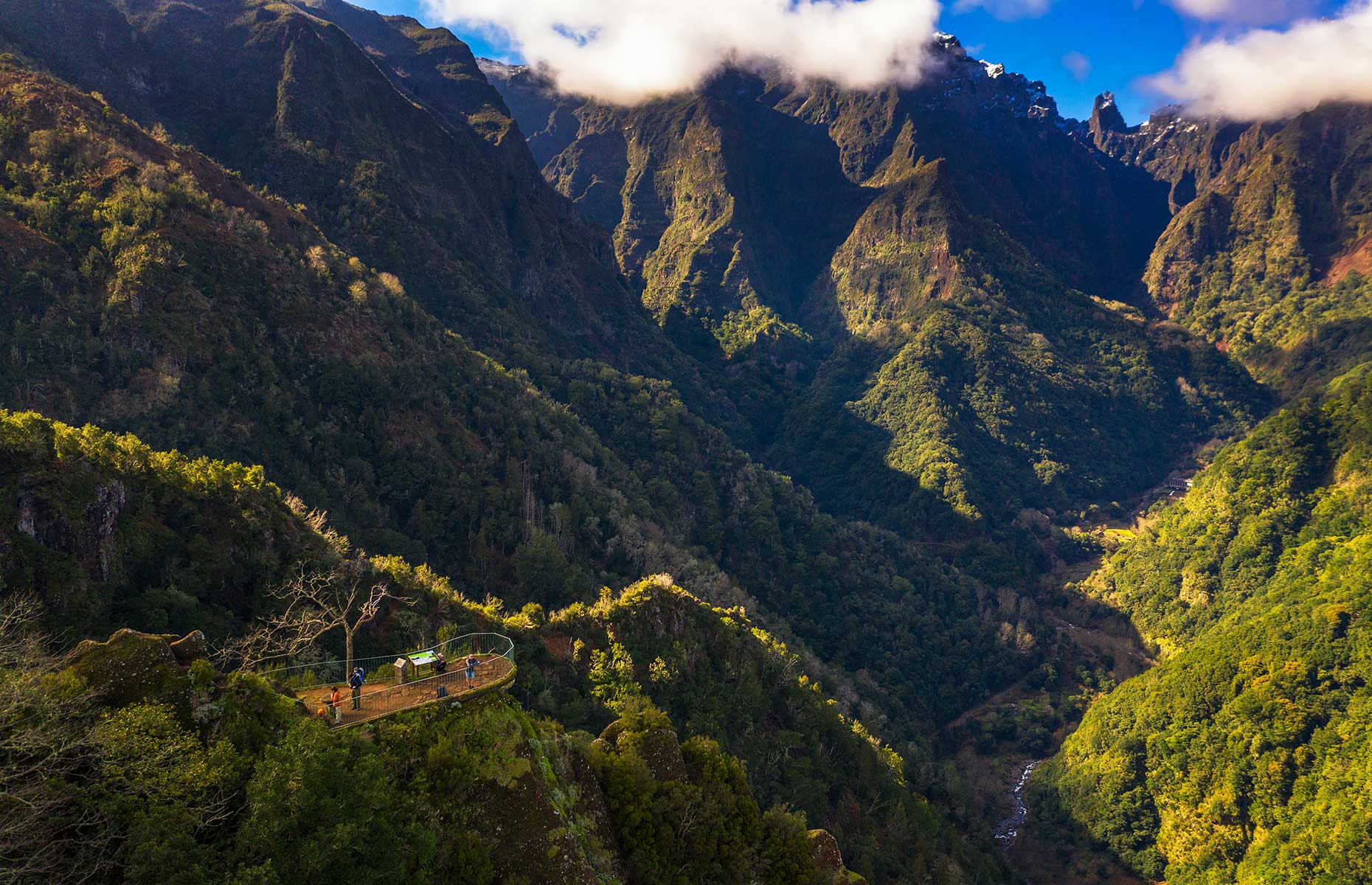 Nick Fox/Shutterstock
In high season, there's a small café en route, with tables overlooking the valley. The town of Ribeiro Frio is known for its trout-fishing so if that's your bag, it's worth factoring in lunch at one of the two main restaurants.
READ MORE: Our guide to Funchal
5. The wild and windy east
With crashing waves, multi-coloured rock layers and electric-blue sea, eastern Madeira feels like another world. Semi-arid and shrubby, the clifftop Vereda Da Ponta De São Lourenço (PR8) near Caniçal on the volcanic São Lourenço peninsula has seriously hypnotising views.
A five-mile (8km) round-trip from the car park, it's not a difficult walk, with minimal elevation, but there are many steps, up and down, and no shelter from the wind or sun. It's worth it to reach Ponta do Furado and look back to Madeira and over the islands of Porto Santo and Islas Desertas. Home to a huge seagull colony, you might spot Madeiran lizards and the rare monk seal.
READ MORE: The best places to visit in Portugal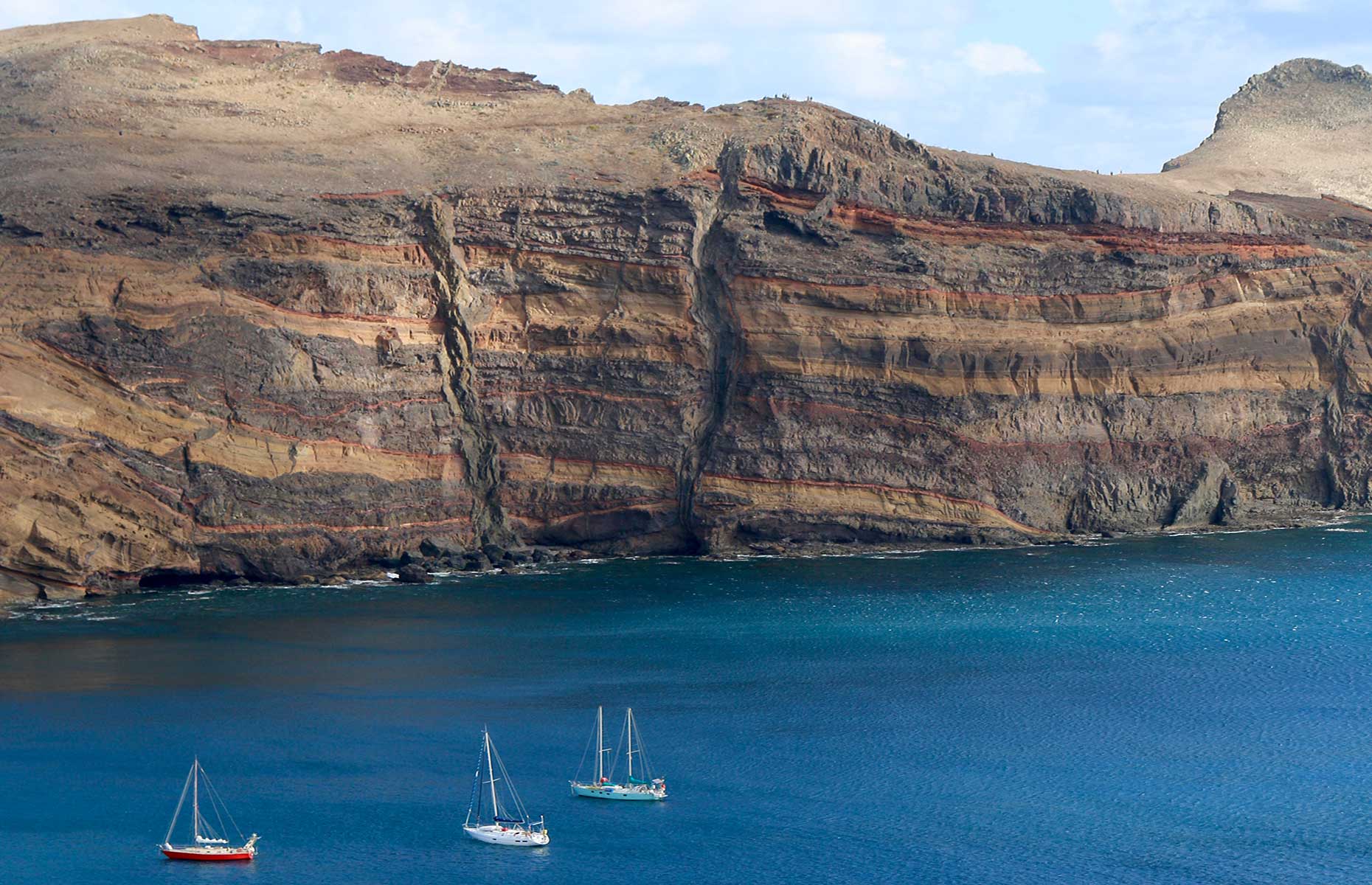 Ajay Shah
There's a tiny beach you can walk down to in the first section, so bring a packed lunch and pitch up here. Easy to reach by bus, car or taxi and only 20 minutes from the airport, this area is also a good pit stop on your last day if you have a later flight.
For more information
Check the Visit Madeira website for an update on walking routes/conditions.
MB Tours offers selected guided hikes across the island and for other trails, Visit Madeira has a list of certified mountain guides.
Lead image: Denis Kabanov/Shutterstock
Map
Use this handy map to see where each route is located around Madeira:
Be the first to comment
Do you want to comment on this article? You need to be signed in for this feature