The best Tenerife hiking trails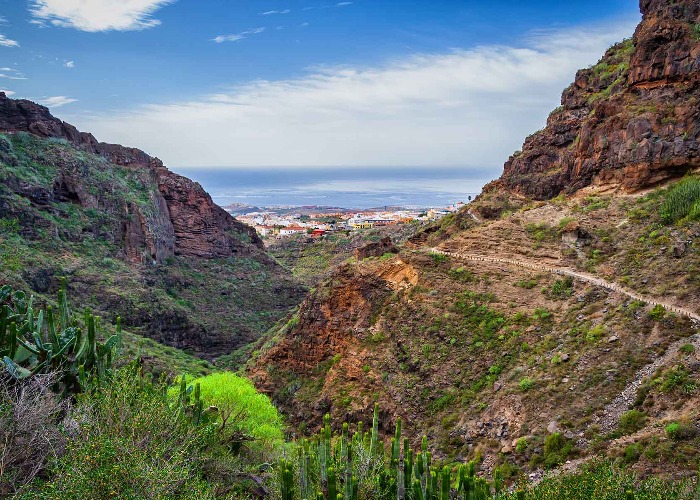 Strap your boots on as we head for Tenerife and eight mind-blowing hikes.
As a travel writer I've been lucky to hike on six continents. I've bashed down steep gorges, forged up snow-laden summits, eked through rich rainforests and strode along airy ridges. It took me years, though, to realise you can tackle all of these adventures on one single island in Europe.
Tenerife may be more famous as a beach escape, but this volcanic charmer boasts a wealth of world-class hiking experiences. Here are eight of the best.
1. Tackle the big one
Mount Teide really is. Think the UK's highest mountain (Ben Nevis), then almost triple it and you have this 12,200-foot (3,715m) high monster. Spain's greatest mountain vaults from the Atlantic, splitting the skies. When flying to the Canaries, it's usually the first thing you see, often soaring above the cloud base.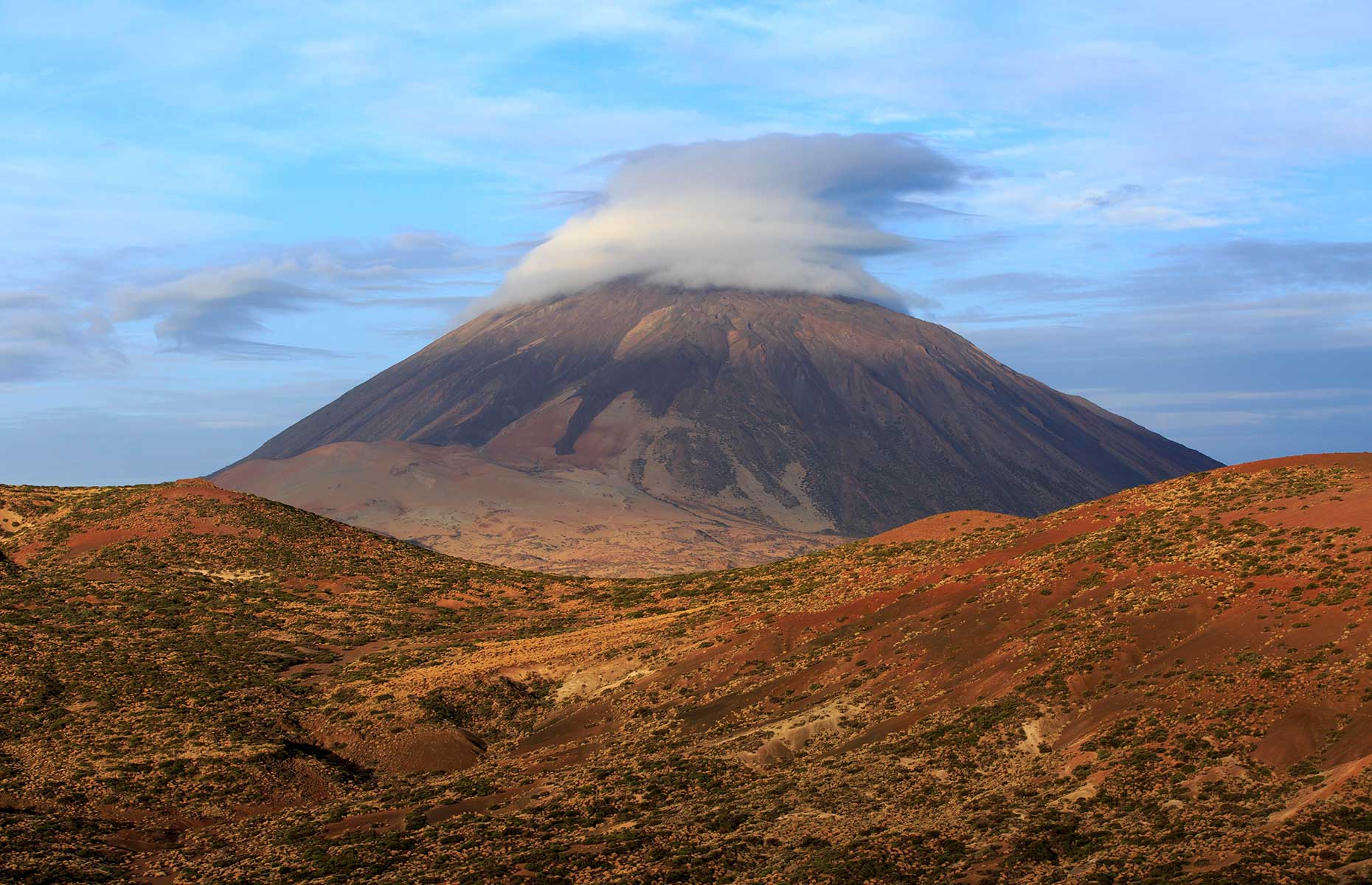 imageBROKER.com/Shutterstock
You can dabble with the lower slopes and even take a cable car up to viewing platforms on the higher reaches, but the real experience is getting to the top (note you need a permit to summit).
If you have time I thoroughly recommend spending a night at the Altavista Refuge. This hostel at 10,700 feet (3,260m) is pretty basic, but it means you get to savour the sublime Teide sunset at altitude before bed. I woke here to summit for the first time. We set off in darkness through a couple of feet of snow and made it just in time to witness one of the most spectacular wonders of my world – Teide casting a giant conical shadow across the Atlantic as the sun rose.
2. Hike Teide National Park
Don't leave after hiking Mount Teide. Stay right on the volcanic plateau for a couple of nights at Parador Canadas del Teide. The hotel is located over 6,560-feet (2,000m) high in the heart of the UNESCO-listed national park and you can just amble for a wee wander around the nearby rock formations.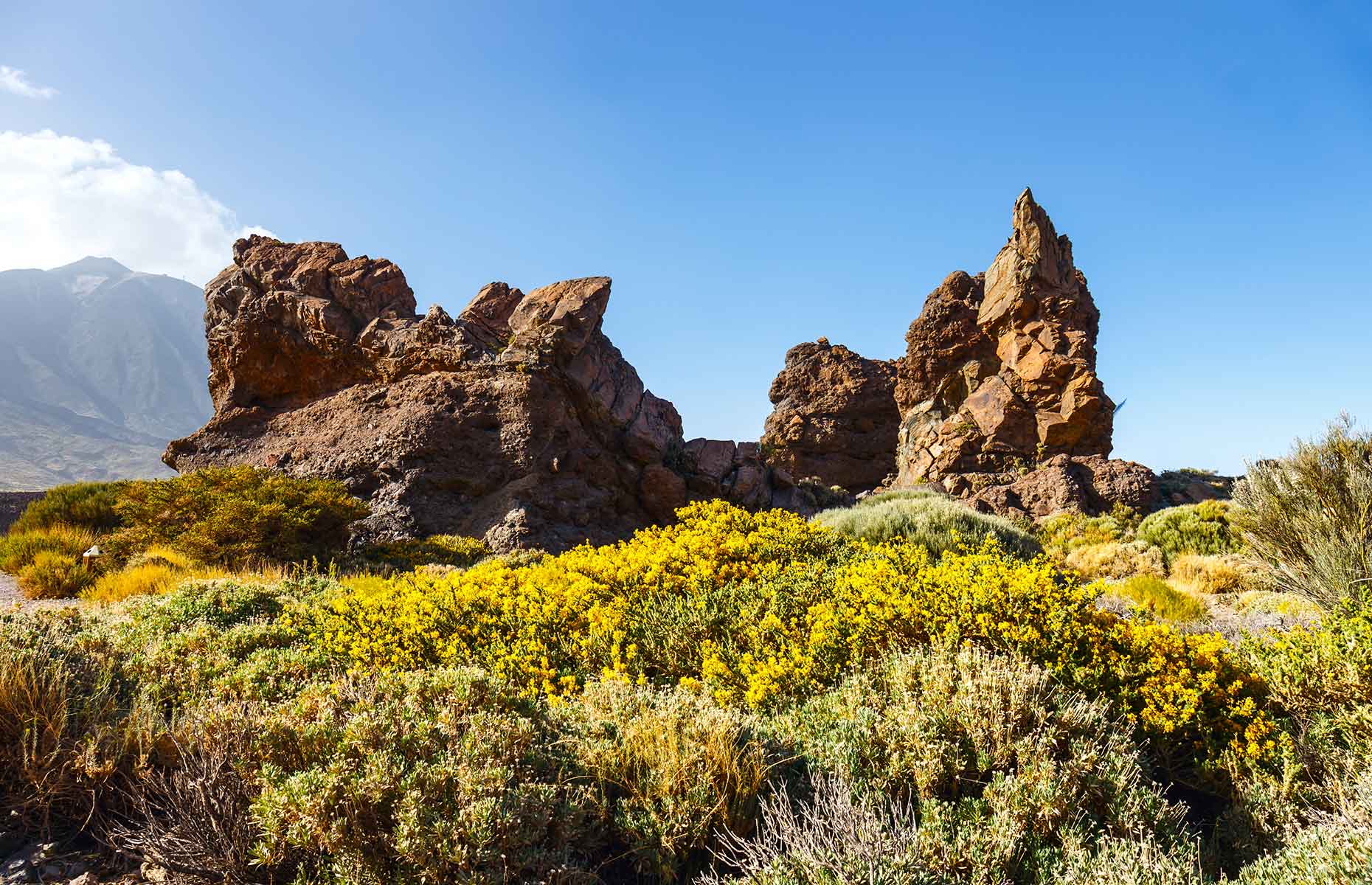 Dziewul/Shutterstock
A thrilling short walk is around the Roques de García. In under three hours this easy route snakes around some seriously otherworldly rock formations. A tougher trek is the ascent of Mount Guajara, the third-highest peak on Tenerife at 8,900 feet (2,718m). This is easily the best view of Teide you'll ever see.
READ MORE: 8 things you probably didn't know about Tenerife
3. Discover a rainforest – in Europe!
Delving deep among the gnarled trees and dense canopy of Anaga Rural Park in Tenerife's northern reaches feels like living in a fairy tale. This subtropical oasis is a sodden, verdant wonderland, more Jurassic Park than theme park – and a very different world to the scorched beaches of the south.
Its flora and fauna are so special (over 100 species are unique to the park), Anaga has been recognised by UNESCO as a Biosphere Reserve. Some of Europe's oldest tree species inhabit this land where everything seems so much bigger and more vivid than continental Europe. The visitor centre is on hand to help first-timers and there are plenty of hiking options through the ancient laurel forests and down the ravines, as the park stretches its emerald tentacles over 14,500 hectares.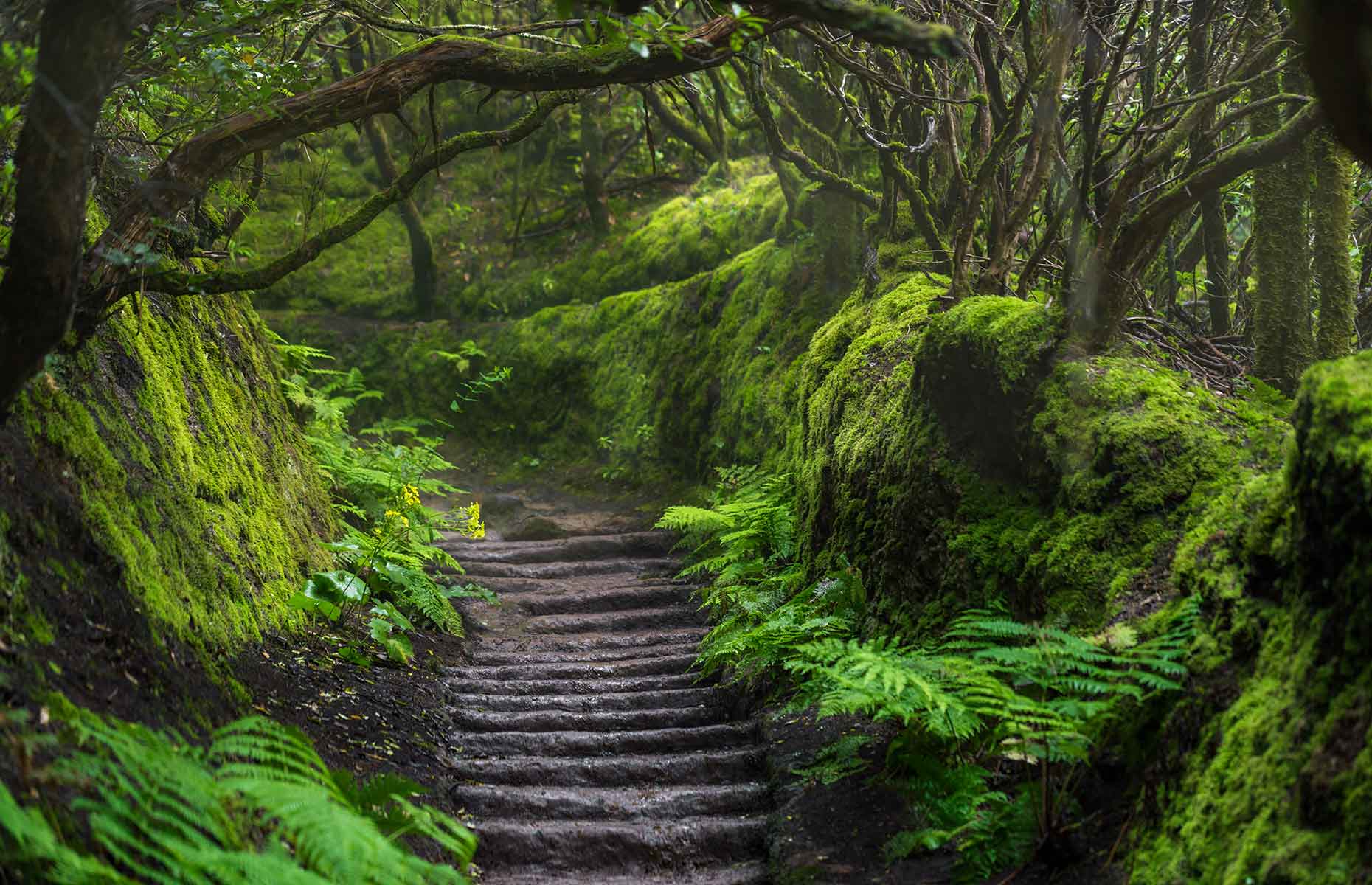 Cegli/Shutterstock
4. On the Masca Gorge trail
Masca Gorge really is gorgeous, though this a raw and wild landscape. The adventure starts innocently enough with a heart-starting coffee and something sweet in the historic village of Masca high in those hills. Then you plunge away from the world of houses, roads and mobile phone signal as you drop almost 3,280 feet (1,000m) on a three-mile (5km) hike towards the Atlantic Ocean.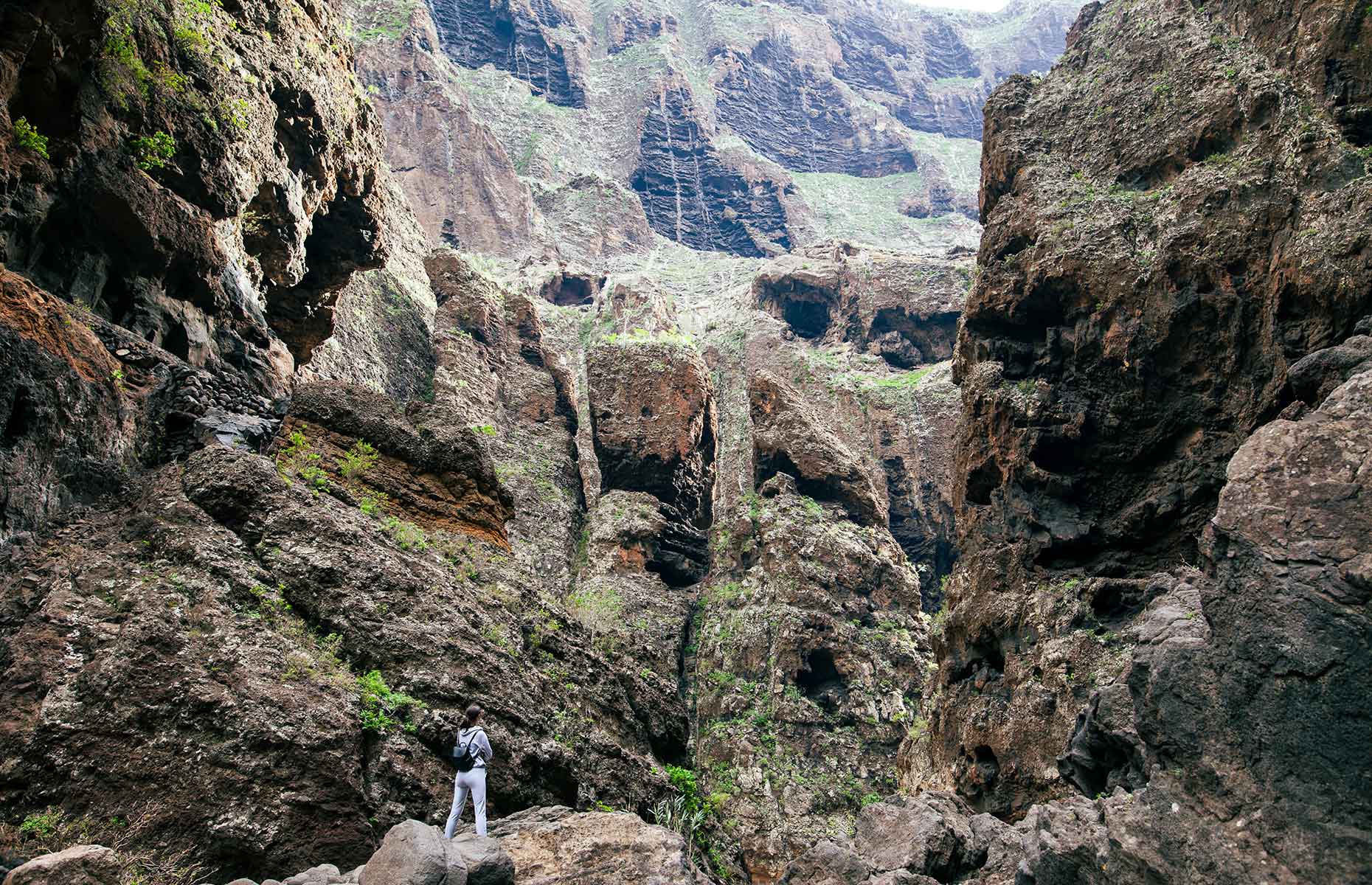 Viktor Gladkov/Shutterstock
Take care though – visitors have been injured and even killed in recent years by rockfalls, so you need to keep your wits about you and always check locally for the latest advice. If you stick to the main route – you really should – it's not hard or technical, and it's always downhill. The reward is a sandy beach where pirates once hid and – if you're smart – the boat you've booked to the resort of Los Gigantes, complete with a fish picnic lunch and cold beer.
READ MORE: 6 reasons to visit Tenerife's Costa Adeje
5. Dare to venture into the 'ravine of hell'
The Barranco del Infierno was closed for years as it was deemed too dangerous. It has now re-opened, but is still not for the fainthearted, nor vertigo sufferers. Entry is strictly controlled to protect the fragile environment so make sure to book ahead.
The four-mile (6.5km) trail is easy to follow and sections can feel quite exposed with steep drops and the danger of rockfalls. It's a gorgeous walk, though, high up above the southern resorts. You gain a decent amount of altitude and the flora and fauna is impressive, with birds of prey circling overhead and dragon trees, wild jasmine and palm trees bursting all around.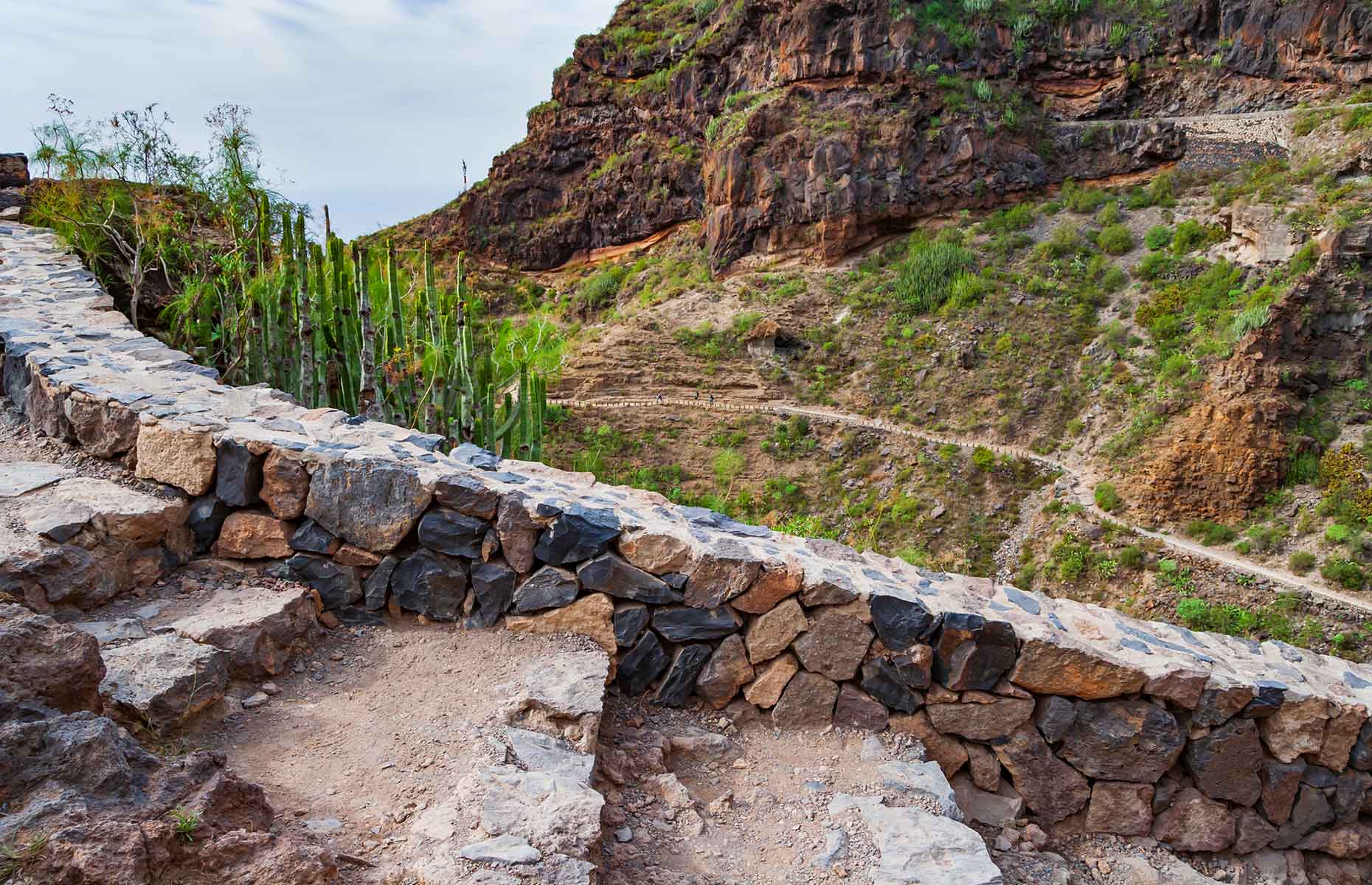 Artur Bogacki/Shutterstock
Your efforts are amply rewarded at the journey's end by a restaurant serving the best fried garlic chicken on Tenerife. Or maybe it just tastes so delicious after your brush with hell?
6. Wine walking in the Orotava Valley
The lush Orotava Valley in the northwest is a real antidote to the parched south and there are myriad routes here. One of the best is the circular 7.4-mile (12km) hike to ascend up to Los Órganos. This eye-popping series of rock formations, as the name suggests, resemble organ pipes. It's a spirit-soaring walk with all those rich pine trees giving off a fresh scent into the air as you go.
READ MORE: These are the world's most stunning canyons
The valley is famous for producing superb fruit, vegetable and wines too. Some of the island's best wines hail from the Orotava Valley, so best finish off your hike with a glass of vino.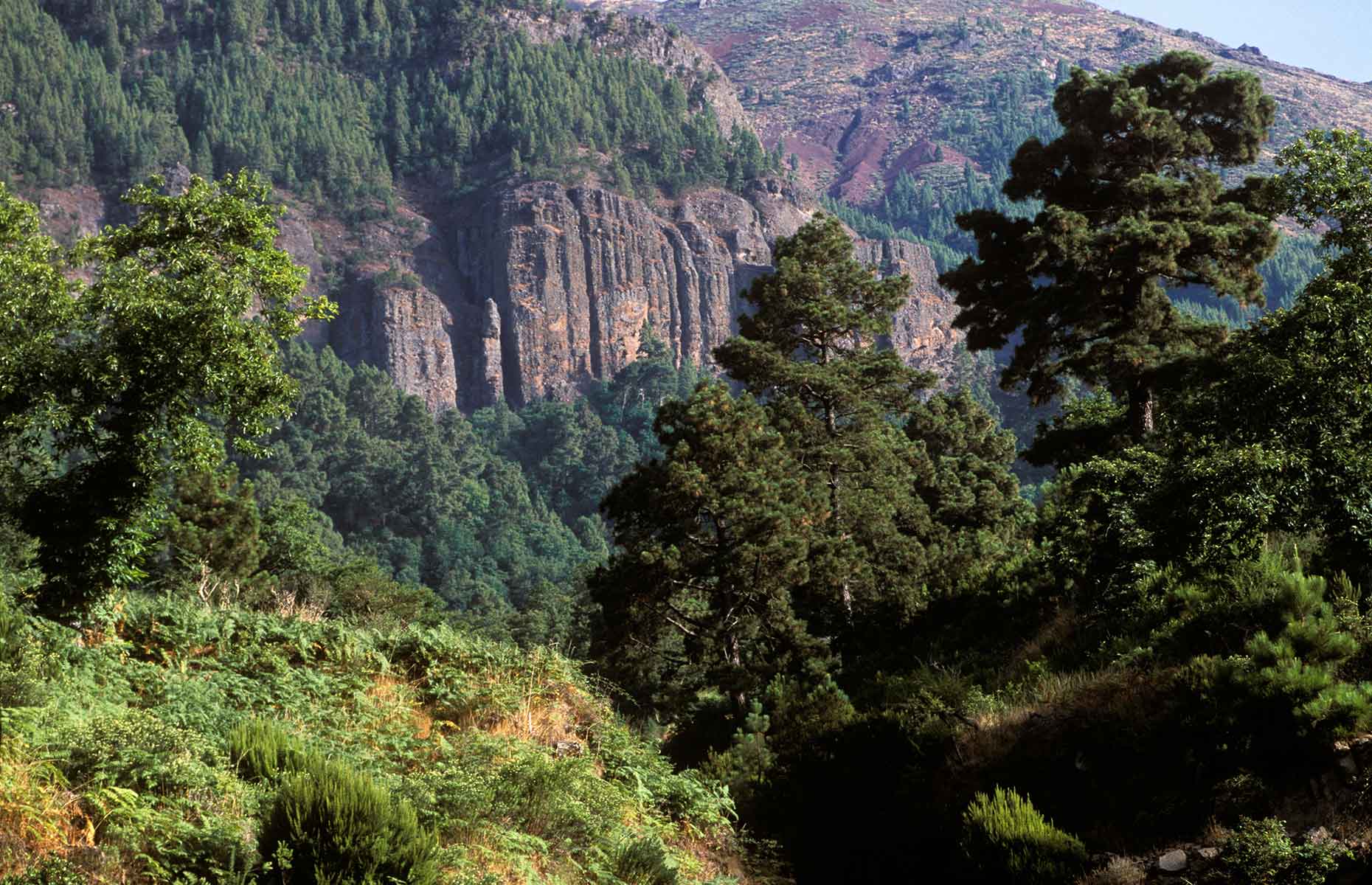 Siepmann / Alamy Stock Photo
7. Off the tourist trail
Tenerife can be a busy island, but I've never had a busy day in the Teno uplands. It's a joy walking here, enjoying the big sky views out over the ocean on one side and Teide on the other. You ease along airy ridges, stopping off at charming hamlets to pick up some of the tastebud-tingling local goats' cheese.
My favourite walk here is the loop from El Palmar to Teno Alto and back. En route you'll tackle some tricky ravines and wind your way through thick vegetation. Many more trails await in Teno Rural Park.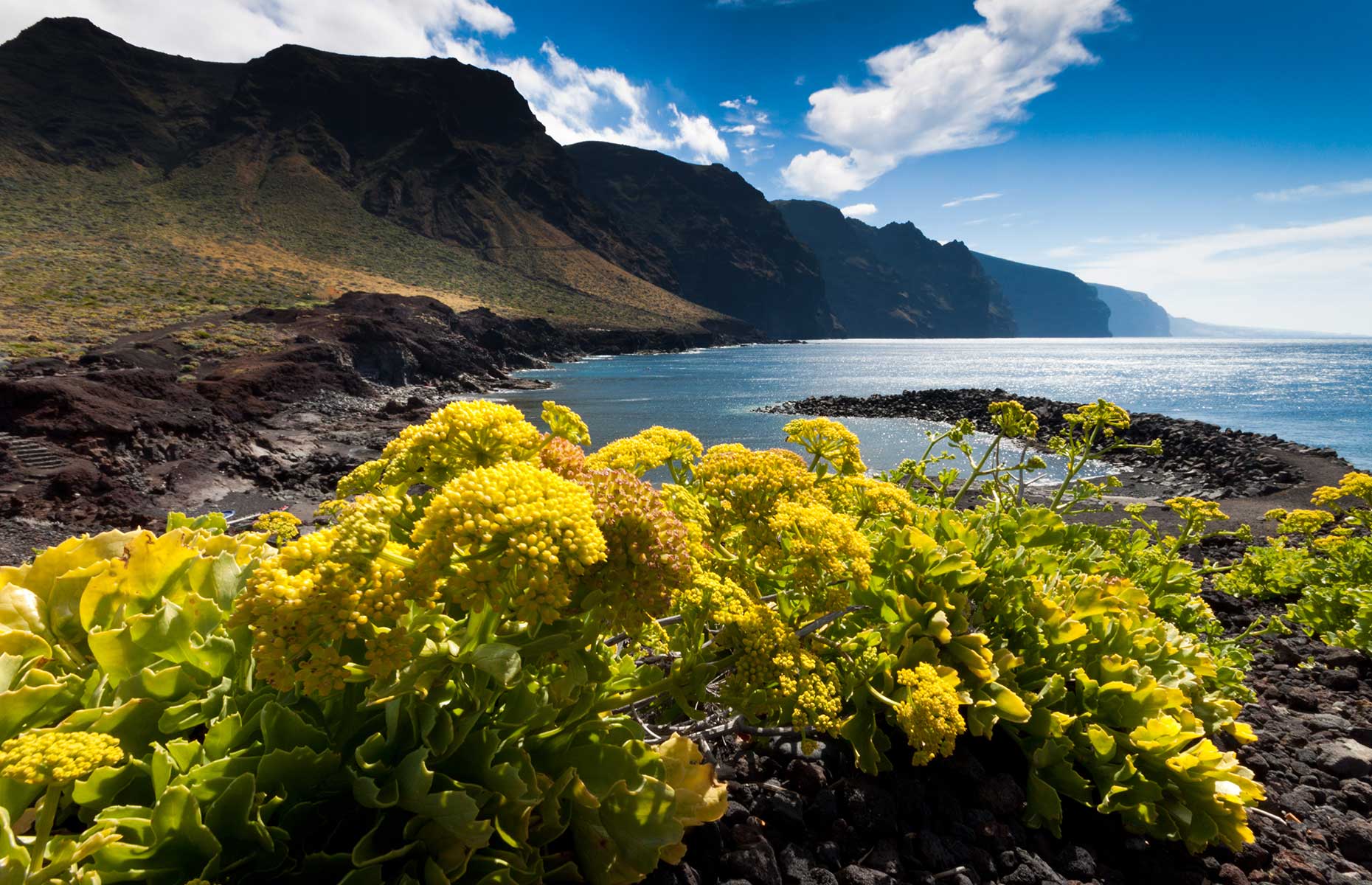 robertonencini/Shutterstock
8. A whole other island
Ok, I'm slightly cheating here, but why have one island when you can hike across two? La Gomera – the last landfall that Columbus made on his first voyage to the New World – is brilliant for walking. It's only half an hour by ferry from Tenerife and you've probably been gazing out at it anyway wondering what it is.
READ MORE: 101 of the most beautiful places on Earth
The capital of San Sebastián de la Gomera is a decent base, while more adventurous souls can choose to hike between villages high up on mountain trails rarely trammelled by man. If you want someone to transfer your bags between overnight accommodation, hook up with Macs Adventures, who offer multi-night self-guided walking trips.
Lead image: Artur Bogacki/Shutterstock
Be the first to comment
Do you want to comment on this article? You need to be signed in for this feature