6 reasons to visit Tenerife's Costa Adeje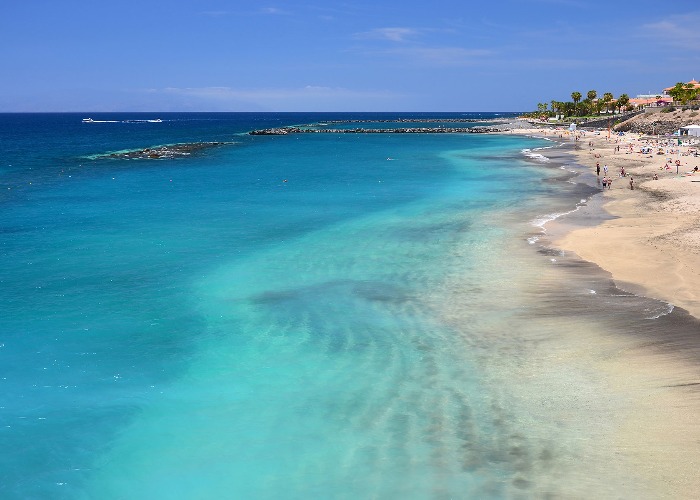 Sun, sea, sand and Michelin stars – here's why southwest Tenerife's Costa Adeje is hot right now.
When nothern Europeans started flocking en masse to the beaches of the Canary Islands back in the 1970s, developments sprang up all over Tenerife's virginal south coast. By the late 1980s it's fair to say the island had acquired a bit of a downmarket reputation.
All that has changed over the last decade or so, with the well-heeled Costa Adeje resort providing an alternative to its more bustling neighbours Playa de las Americas and Los Cristianos.
Costa Adeje is the classiest resort on Tenerife's south coast. Come here and savour the 3,000 hours a year of sunshine by all means, but push beyond your pool or beachside lounger and you can take in culture, head out on a boat in search of whales or hike to the top of Spain's highest mountain.
1. For pristine beaches
Beaches are Costa Adeje's raison d'être. Swathes of sand sweep all the way along the littoral. You will find the dramatic natural volcanic black sand often augmented with a flurry of starched white sand shipped in from the Sahara just across the water.
The locals know how important they are so beaches are cleaned and groomed nightly and come with all the handy facilities such as loungers, beach bars and watersports. And they are, of course, backed up by a sweep of shops, bars, cafés and restaurants.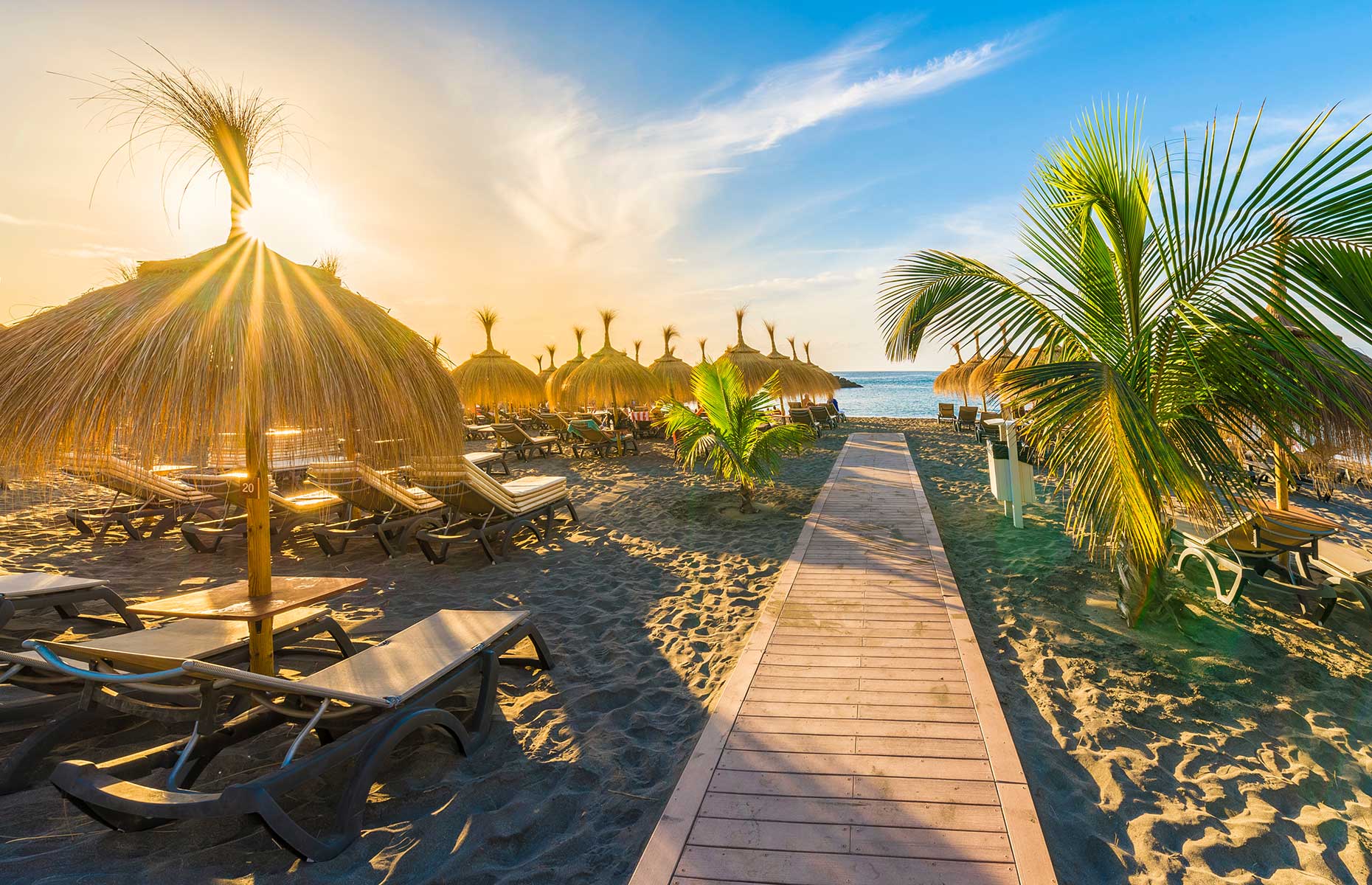 Balate Dorin/Shutterstock
Playa Fanabe is the most famous local spot. It's an impressive stretch of sand framed on one end by rugged rocks and the other by Playa de Torviscas. The cleanliness of its sands and the water quality have helped win it a Blue Flag award. Handily flags also denote whether it is safe to swim or not.
There are beach bars aplenty too. Torviscas Beach Bar is the perfect place to stop off for a sundowner. This oasis sits right on the beach so you can enjoy a cooling cocktail with Atlantic breezes ruffling your hair and a salty tang in the air.
READ MORE: 8 things you didn't know about Tenerife
2. For stunning (and family-friendly) hotels
Opened in 2018 GF Victoria is Costa Adeje's most impressive 5-star hotel. This lavish retreat offers a rooftop cocktail bar that not only sports sweeping views, but a snazzy pool with a glass bottom that stretches beyond the bar, creating dizzying views as you swim.
Refreshingly families are taken seriously here with a separate family spa area and a proper water park and adventure playground outside. The well-staffed and equipped kids club is free too.
READ MORE: Which Canary Island is for you and your family? Find out here
3. For fine dining
You might not be expecting it, but Tenerife has six Michelin stars, so dinner at M.B is worth the 20-minute taxi ride. Head chef Erlantz Gorostiza carries on the vision of Martín Berasategui at this landmark Tenerife gastronomic temple. It has the two Michelin star thing down to a fine art.
Local produce is married with the finest of ingredients from all over the world, with delicious Basque twists to the creative cooking. For the full experience the tasting menus come seriously recommended. They have one of the best collections of Canarian wine on the island too.
Looking for something more traditional? Head to Secret's Tasca, one of the more authentic tapas bars in Costa Adeje. While it's not the most spectacular location with the focus firmly on the food and the friendly service, if you're after decent jamon serrano and tortilla this hits the spot.
4. For wildlife spotting in the Atlantic
The Atlantic Ocean swirls all around Tenerife and it's staggering how few visitors head out to experience the deep ocean blue. The sea here is alive with all manner of marine mammals, thanks to being a rare spot in the Atlantic where deep water meets shallow, with food sources on hand to tempt all comers from turtles and dolphins, through to sharks and whales.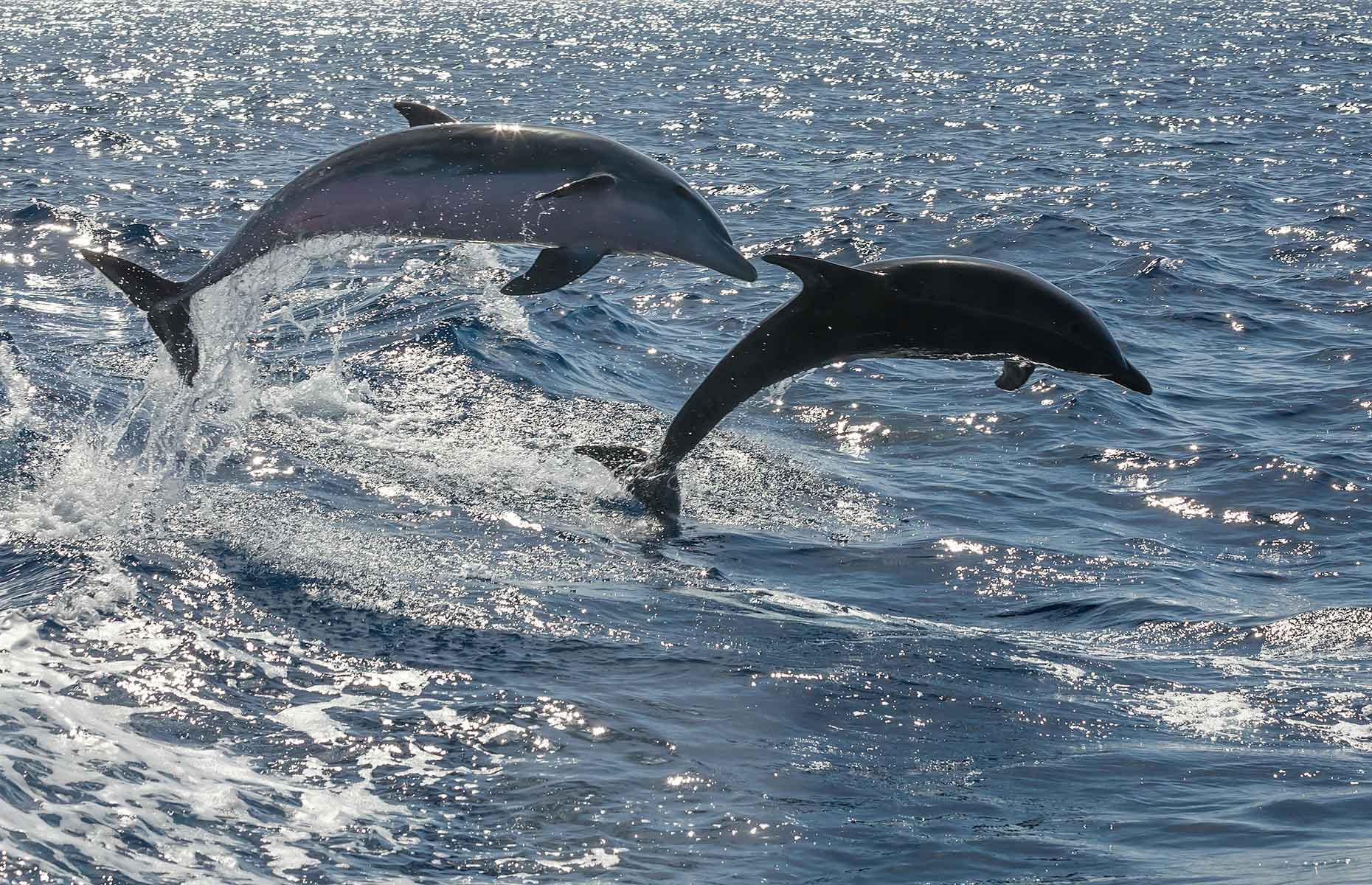 UbjsP/Shutterstock
Lina Yacht (Tel. +34-630 71 0925) is a small operator that offers the chance to head out for a half or whole day aboard your own private yacht.
Once you're clear of Puerto Colon, Costa Adeje starts to look tiny below the glowering hulk of Mount Teide. The small yacht format means you are right next to the action with flippers and fins breaking the surface right next to you and your happily clicking camera.
You can arrange to have lunch and drink aboard too.
5. For wet and wild adventures
Siam Park on the other hand is perfect if you haven't found your sea legs just yet. This is surely the finest water park in the Europe – a glittering array of awards and TripAdvisor surveys certainly agree. It really is impressive and requires a full day to really experience if you have the time. The main pool generates proper surf every hour, so good that they've held surf competitions here.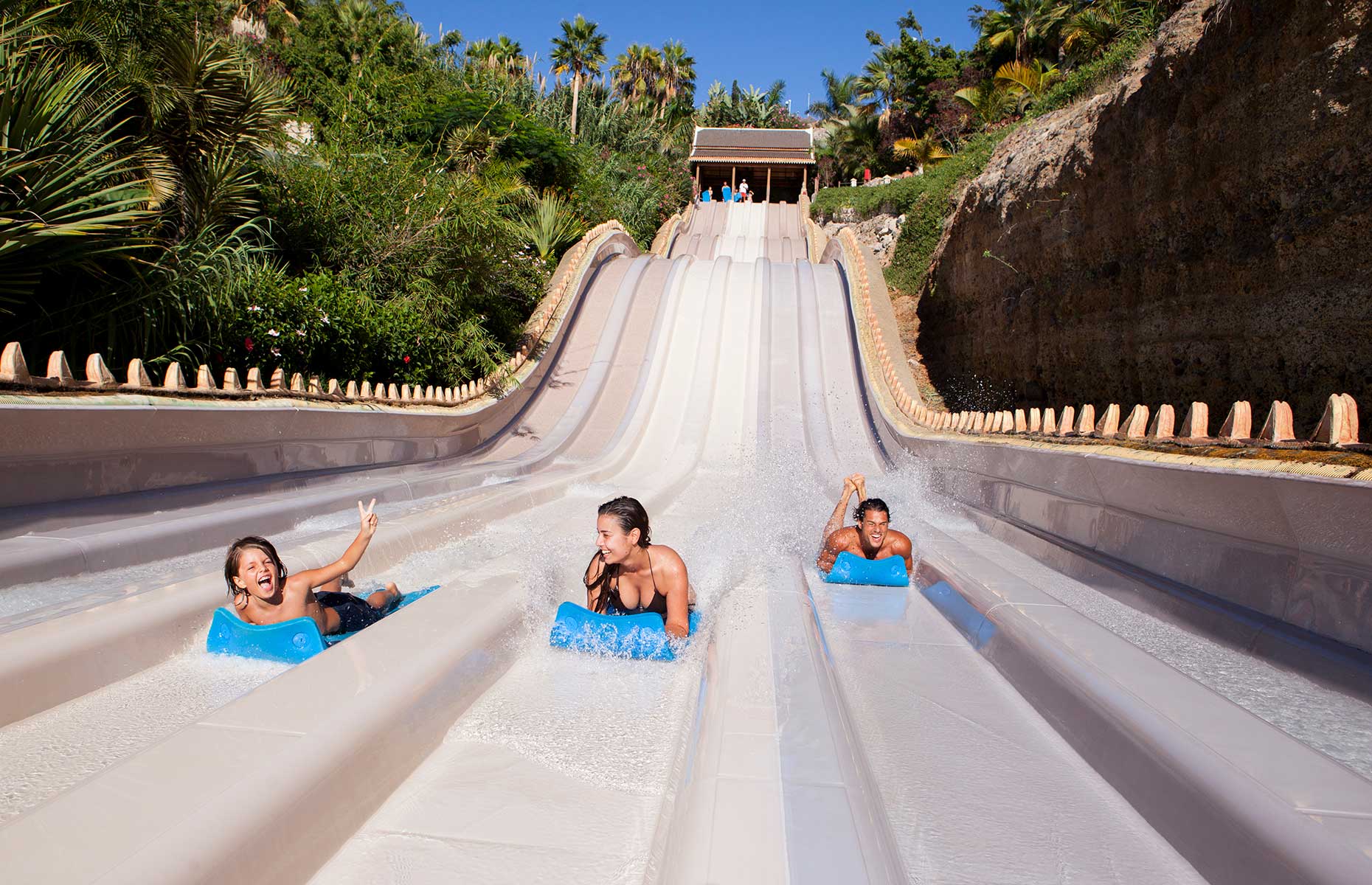 Courtesy Tenerife Turismo
Rides vary from the gently family-friendly to frankly terrifying thrill rides that are strictly only for adults.
The grounds are gorgeous too, awash with subtropical greenery and the food and drink is not bad either.
It's worth splashing out on a private cabana that comes with a free minibar, a bracelet for food and drink throughout the park and fast track passes for the rides.
6. To climb Spain's highest mountain
Tenerife's Mount Teide is a hulking volcanic monster and easily the highest mountain in Spain at 12,198 feet (3,718m). For the real deal spend a night at the Refugio enjoying the sunset on the upper slopes, before ascending for a sunrise you'll never forget at the summit, accompanied by the world's largest shadow as Teide unfurls across the shimmering Atlantic.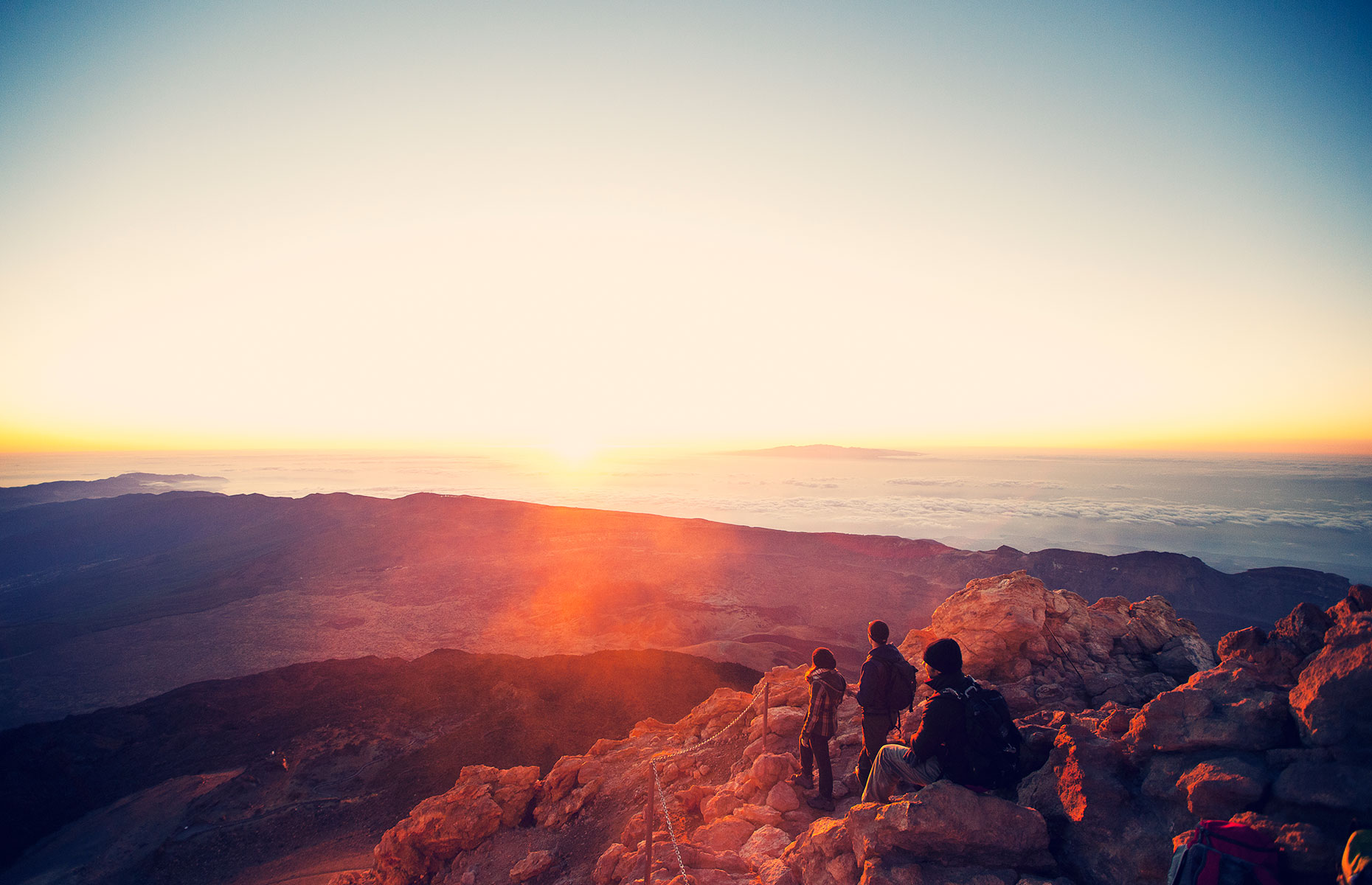 Courtesy of Tenerife Tourismo
However, a faster way to the summit is to get a permit and catch the cable car up to 11,663 feet (3,555m), before hiking the last stretch.
Alternatively just content yourself with enjoying the still epic view from the top of the cable car station.
Want to explore the island further? Check out our full island guide to Tenerife
Lead image: Pawel Kazmierczak/Shutterstock
Be the first to comment
Do you want to comment on this article? You need to be signed in for this feature