Fun in Funchal: top things to do, where to stay & what to eat
Floating in the Atlantic, more than 600 miles from mainland Portugal, you'll find the verdant, vertiginous and volcanic island of Madeira, and its flower-filled capital, Funchal. So welcoming that it feels more like a town than a city, Funchal makes a wonderful base for any trip to the island. We find out how to make the most of it now it's been added to the 'green list'.
Why go to Funchal?
Madeira was awarded the title of Best Island Destination for the fifth consecutive year at the 2019 World Travel Awards. And it's easy to see why. For a relatively small isle – it's just 35 miles (56km) long and around 13 miles (21km) wide – there's a whole lot to see and do. It's actually closer to Africa than mainland Portugal, and the beguiling mix of mountains, coast and exotic charm thoroughly earns the isle its accolade.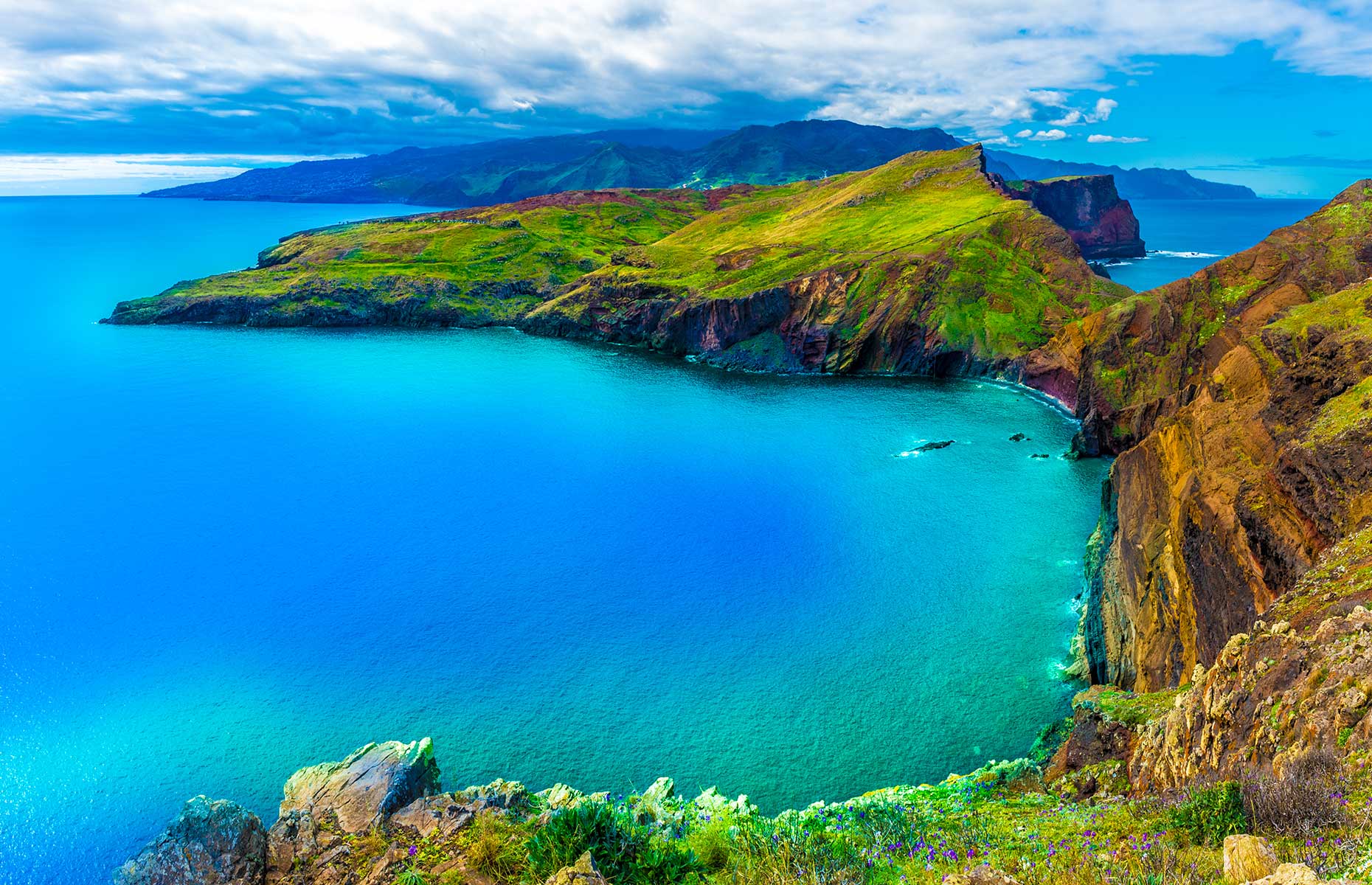 Balate Dorin/Shutterstock
To experience the best of it, make your base in Funchal. With its temperate climate, the city attracts visitors year-round, but many go for a series of annual festivals: there's Carnival in February/March, the Flower Festival in spring and the annual Wine Festival come September. Perhaps the biggest spectacle of all is New Year's Eve, where firework displays ignite the island's skies at midnight.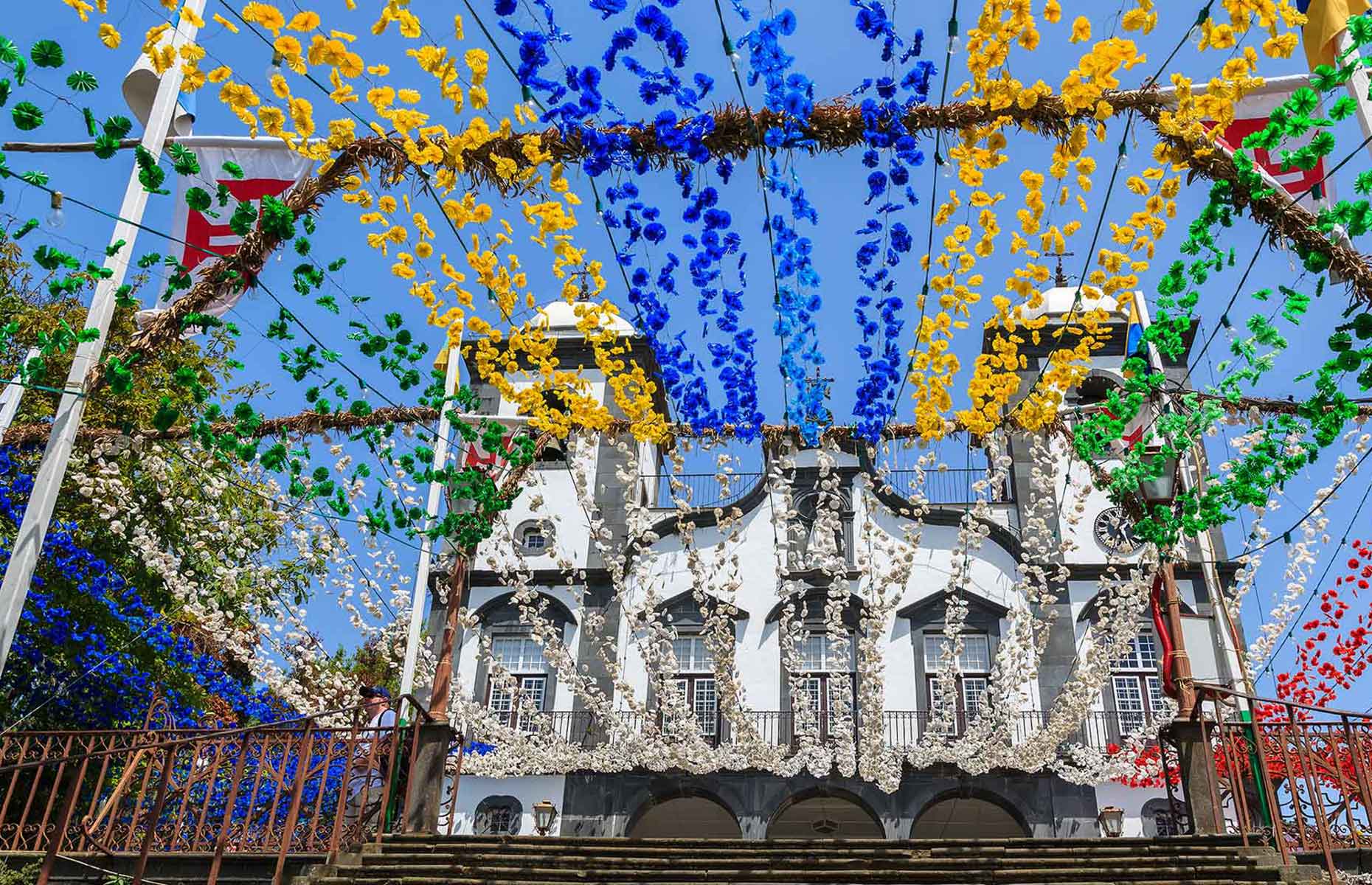 Pawel Kazmierczak/Shutterstock
Beyond the festivities, Madeira's historic capital is surrounded by myriad hiking trails and has a thriving food and drinks scene to boot. It's definitely one to add to your wish list.
Top things to do in Funchal
1. Take the cable car to Monte
For views of Funchal's white-washed houses, orange-tiled rooftops, steep hillsides, picturesque harbour and beyond, take the cable car to Monte, a hilltop town with an impressive church and gardens, set above Funchal.
READ MORE: What to see and do in Porto
Here, you can also take a thrilling toboggan ride back down to Funchal in a carros de cesto, a traditional wicker basket seat that was once used to transport goods between Monte and Funcha.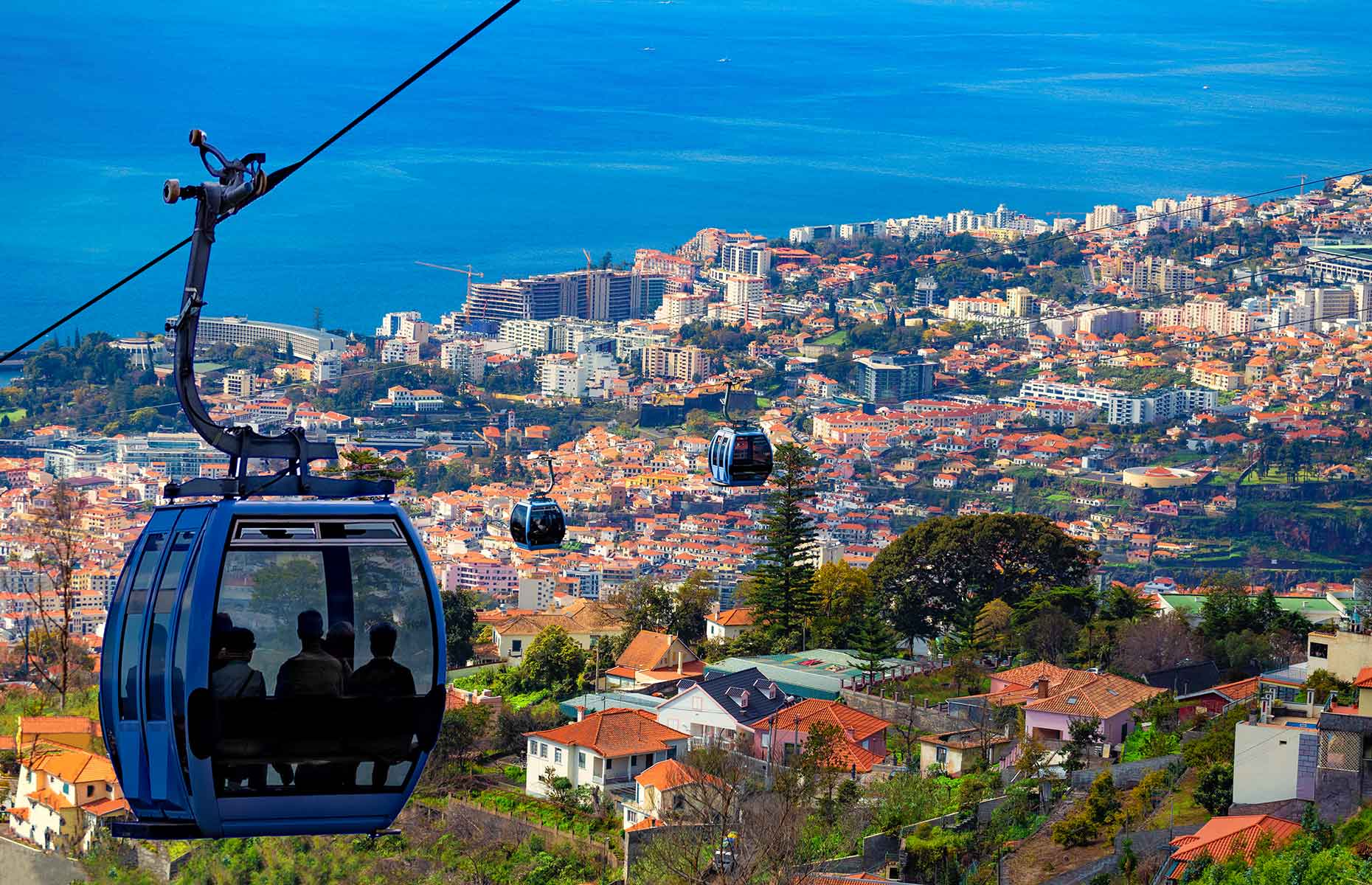 Cristian Balate/Shutterstock
2. Walk the levadas
Madeira is a haven for hikers. The isle boasts some 200 levadas (historic water channels) which today delineate miles upon miles of walking trails.
The scenic levadas will whisk you through some of Madeira's finest scenery, from mighty waterfalls to mountains to wildflower-strewn valleys.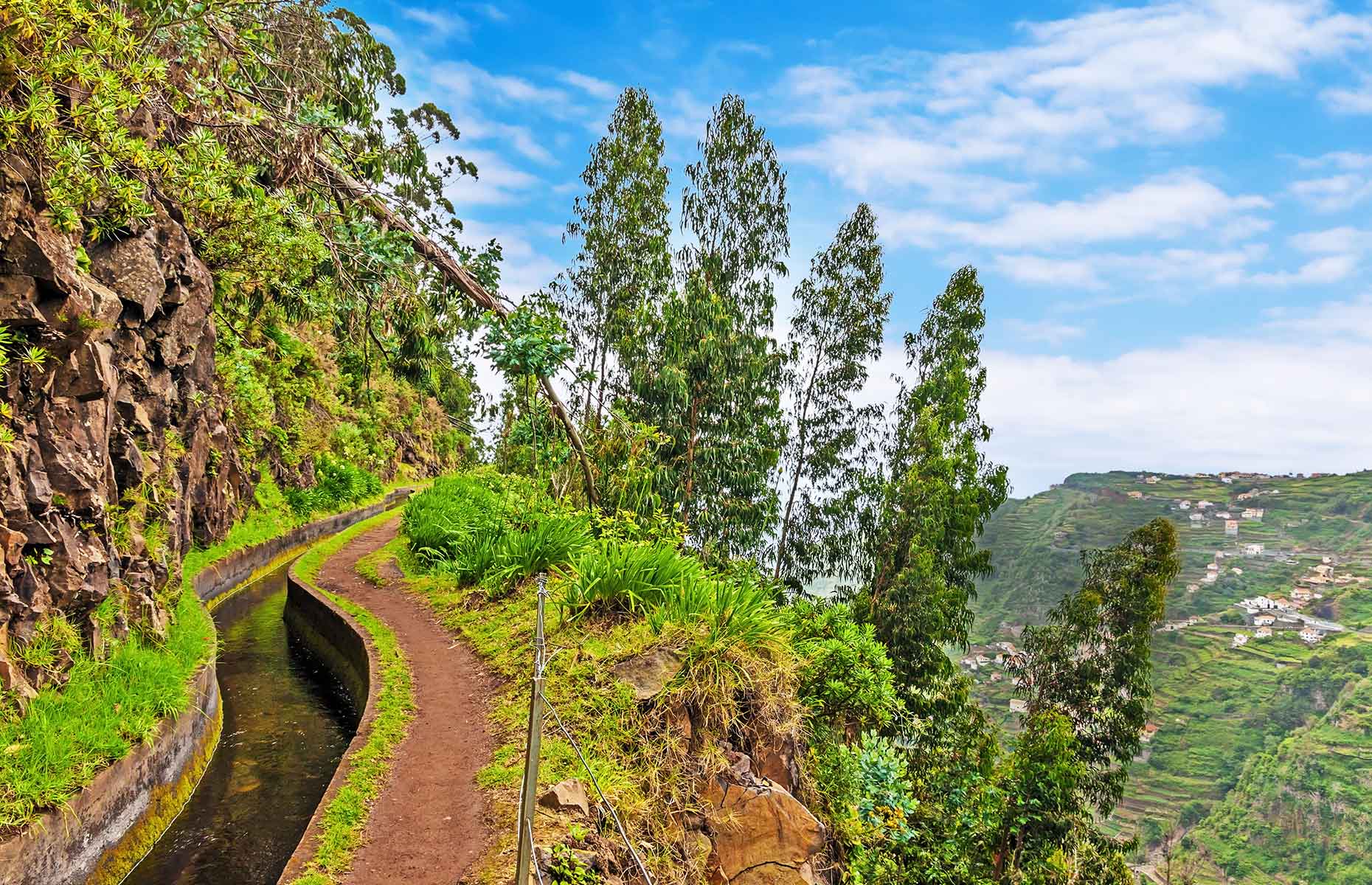 aldorado/Shutterstock
3. Explore Mercado dos Lavradores
Funchal's farmers' market is a kaleidoscopic treasure chest of indigenous fruit, vegetables and flowers.
On top of sampling the island's produce (be sure to try everything from Madeira's purple passion fruit to custard apples), it's great for finding flowers, from agapanthus bulbs to dainty orchids – and for marvelling at local fishermen deftly cutting and filleting their freshly caught spoils.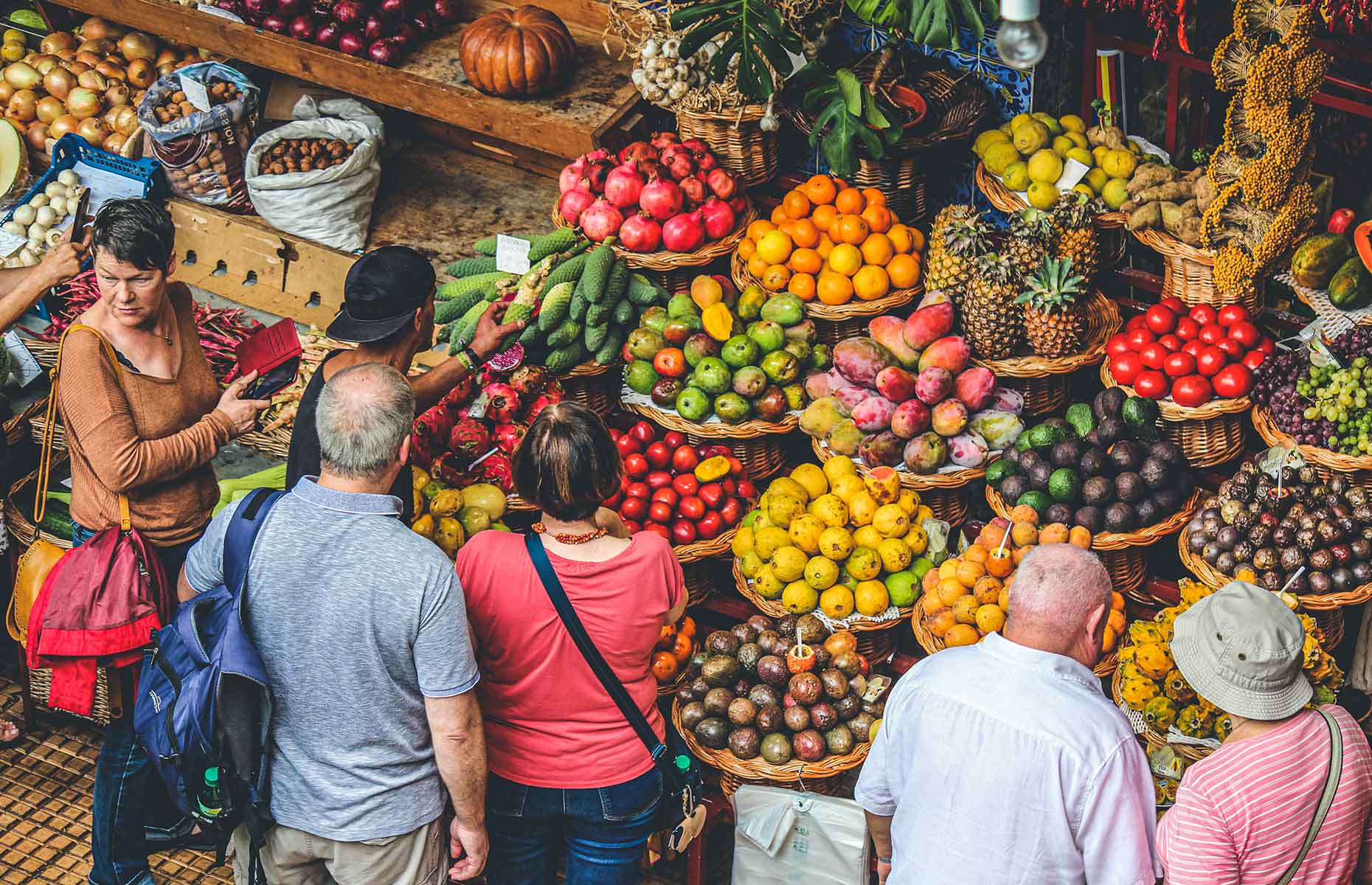 Petr Pohudka/Shutterstock
4. Listen to live music
Funchal is a city of music. It's impossible to turn a corner without hearing buskers, live performances or music pooling from speakers.
For Portuguese fado (a traditional music genre), find a table at the Saudade Madeira Arte e Café, and sip freshly-made sangria on a dainty cobbled side street which looks onto the Sé Catedral do Funchal.
5. Take the ferry to Porto Santo
In spite of being an island, Madeira isn't famed for its beaches – it's known instead for its craggy outcrops, rock pools and lidos. But if you insist on sand between your toes, hop on a two-hour ferry to the island of Porto Santo, northeast of Madeira, for 5.5 miles (9km) of golden beaches.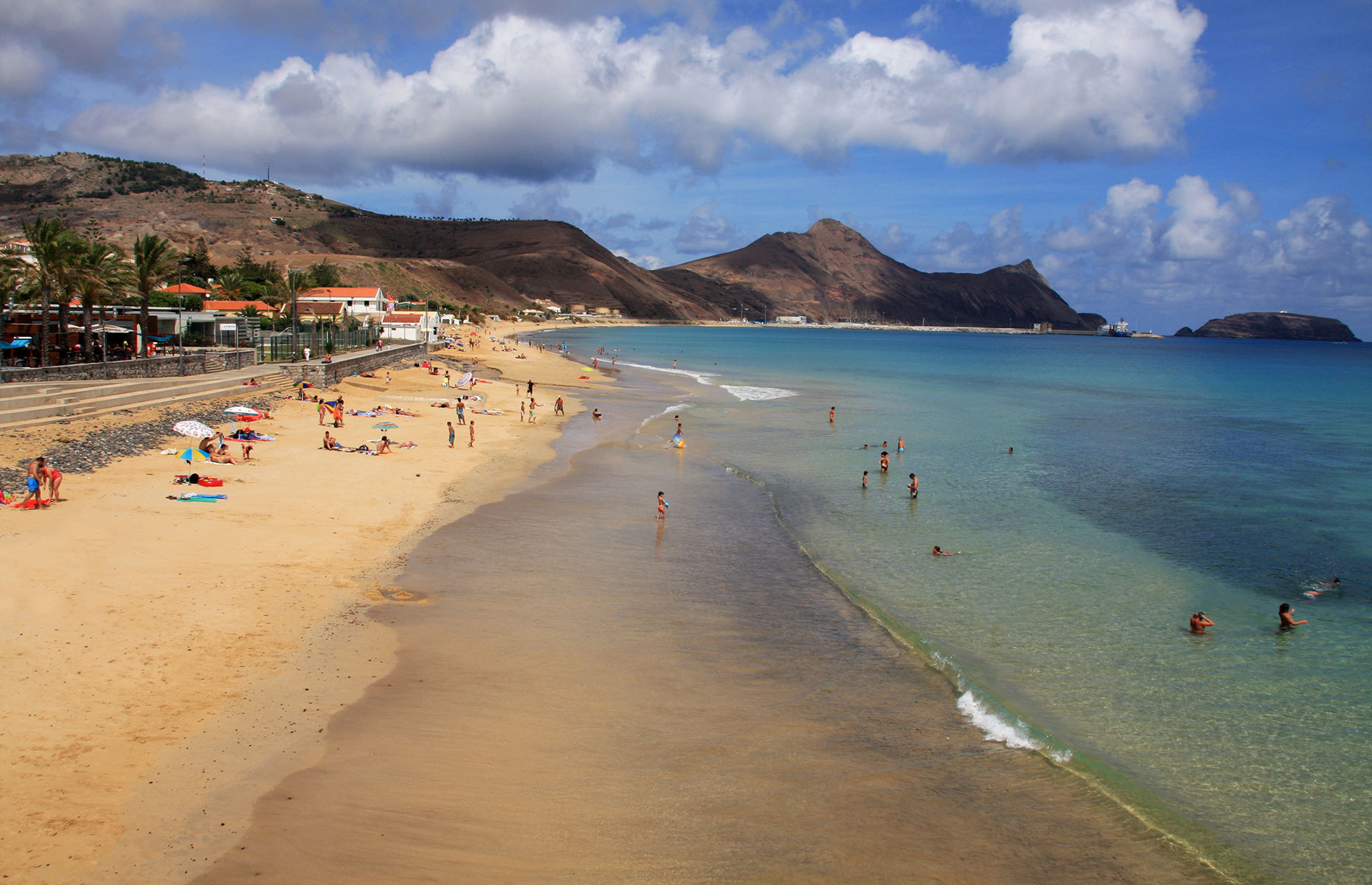 Francisco Caravana/Shutterstock
6. Book onto a dolphin and whale-watching tour
Madeira's Atlantic waters are a haven for dolphins, whales and seals, so head to Funchal's marina to book yourself onto one of the daily tours. Some boat tours will also allow stops for swimming in the ocean.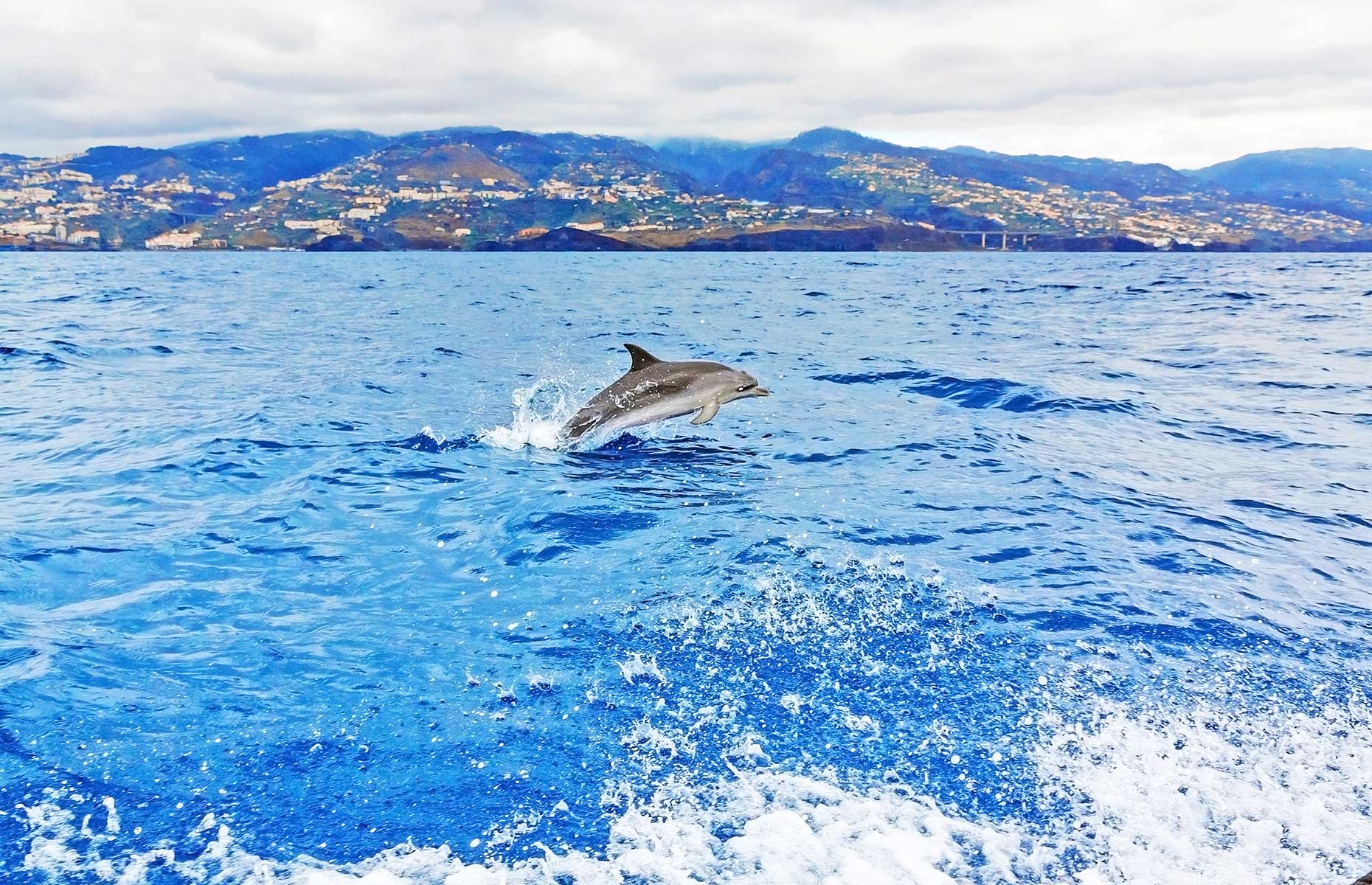 aldorado/Shutterstock
The best hotels in Funchal 
Funchal's 'Hotel Zone', which hugs the western coast of the city, is packed with accommodation options, but the iconic Belmond Reid's Palace is the place to stay for historic prestige and breathtaking views of the Atlantic.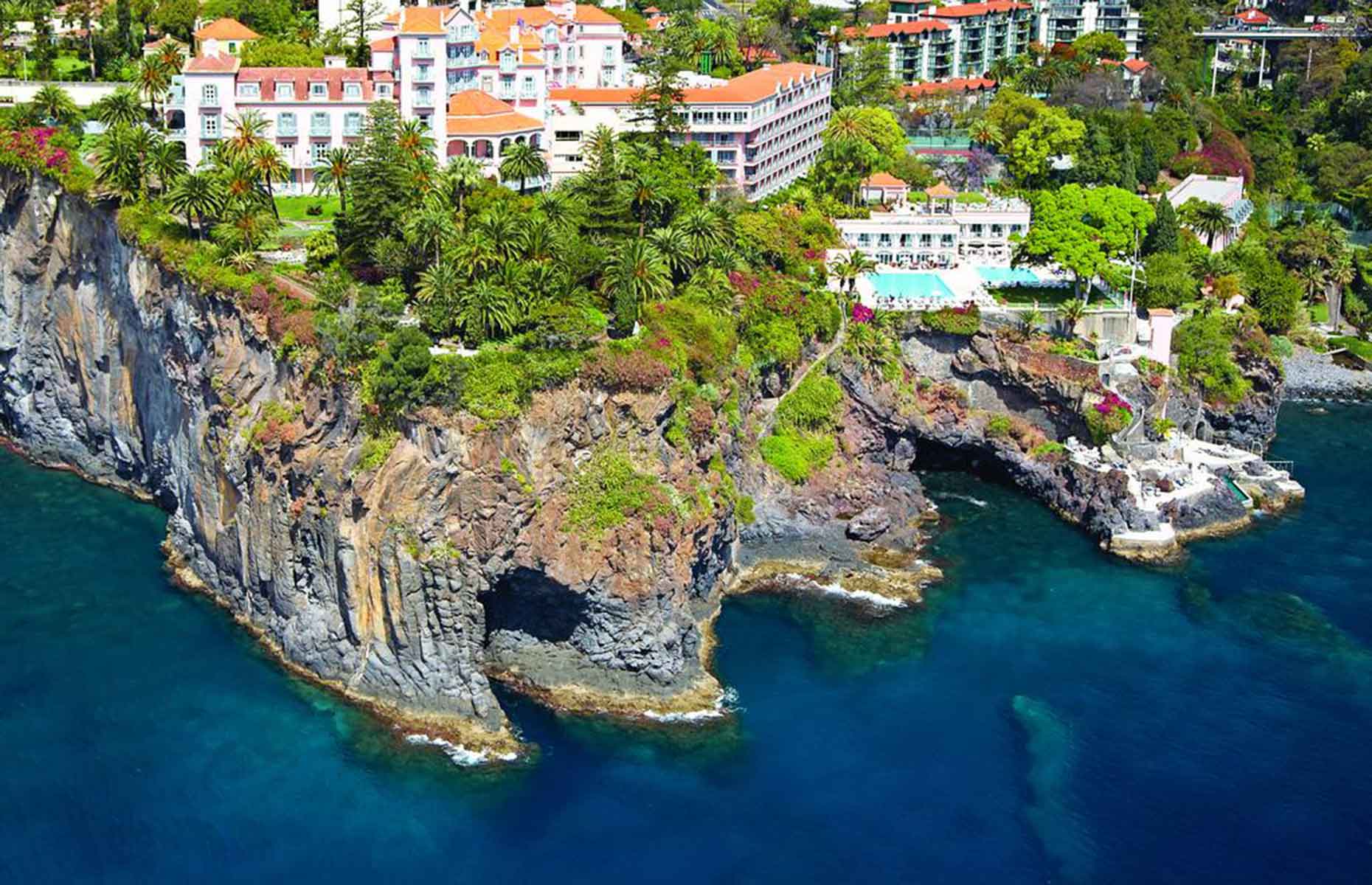 Belmond Reid's Palace/Booking.com
For a dose of the outdoors, you could alternatively stay in one of Funchal's many quintas (rural estates) such as the Quinta da Bela Vista – it's surrounded by almost five acres of botanical gardens and boasts spectacular panoramas of Funchal Bay too.
READ MORE: Explore Lisbon, Portugal's capital, with our guide
If you want to sleep in the historic heart of Funchal, Castanheiro Boutique Hotel offers 81 comfy rooms and suites, plus a heated outdoor pool. Nearby Hotel The Vine has scooped up awards for its chic, modern design.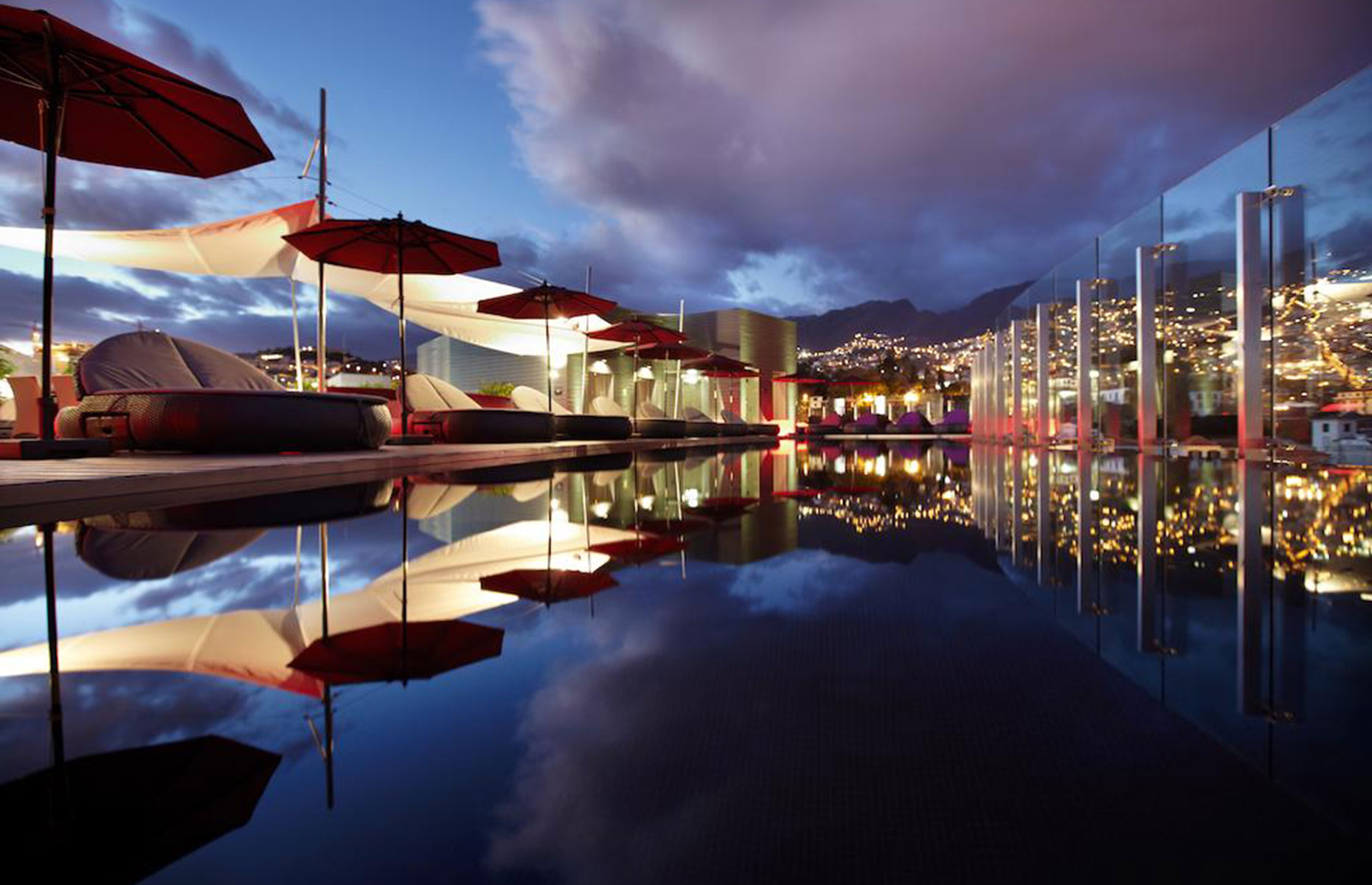 Hotel The Vine/Booking.com
Close to Funchal's Sao Tiago Fort, which dates back to 1614, is the sea-hugging Hotel Porto Santa Maria; here you'll find 4-star facilities, plus a number of brilliant restaurants a stone's throw away.
What to eat and drink in Funchal
On top of Portuguese specialities – think creamy pastéis de nata and grilled sardines – you'll want to hunt down typical Madeiran dishes, which aren't hard to find. In fact, the island and its fish-filled coast burst with fresh produce and delicious delicacies.
Veronika Kovalenko/Shutterstock
While you may be familiar with 'Madeira cake', you'll be pleased to hear that, on the island itself, it's not the pale, pallid sponge commonly found in British supermarkets. Rather, traditional Madeira cake, bolo de mel, is a honey-filled delight not dissimilar to gingerbread. Check out Saudade Madeira Arte e Café for one of the best in Funchal: a family recipe oozing with fortified wine, sugarcane, nuts and spices.
A must-have starter or side in most restaurants – or a snack from street vendors and bakeries dotted around the capital – is bolo de caco, a light, doughy bread made from flour and sweet potato. It's often served warm, alongside freshly-whipped garlic butter. Lively Restaurante Embaixador Madeirense, which offers an excellent-value set menu and gargantuan portions, is an idyllic spot for this.
As an island city, Funchal naturally serves up some delicious seafood; you'll want to try lapas grelhadas (grilled limpets), often presented in their shells, sizzling in butter and garlic.
svf74/Shutterstock
You'll notice espada on menus across Funchal, too. It's not the most attractive fish, but it tastes better than it looks, especially when served grilled or poached, alongside banana or passionfruit. Book yourself a table with a sea view at Restaurante Tapassol for this.
Any trip to Madeira should of course involve Madeira wine too, and Blandy's Wine Lodge in Funchal is one of Madeira's oldest working wine lodges. Here you can take a tour of the oak barrels, plus sample all manner of fortified wines, including vintage offerings dating from 1920.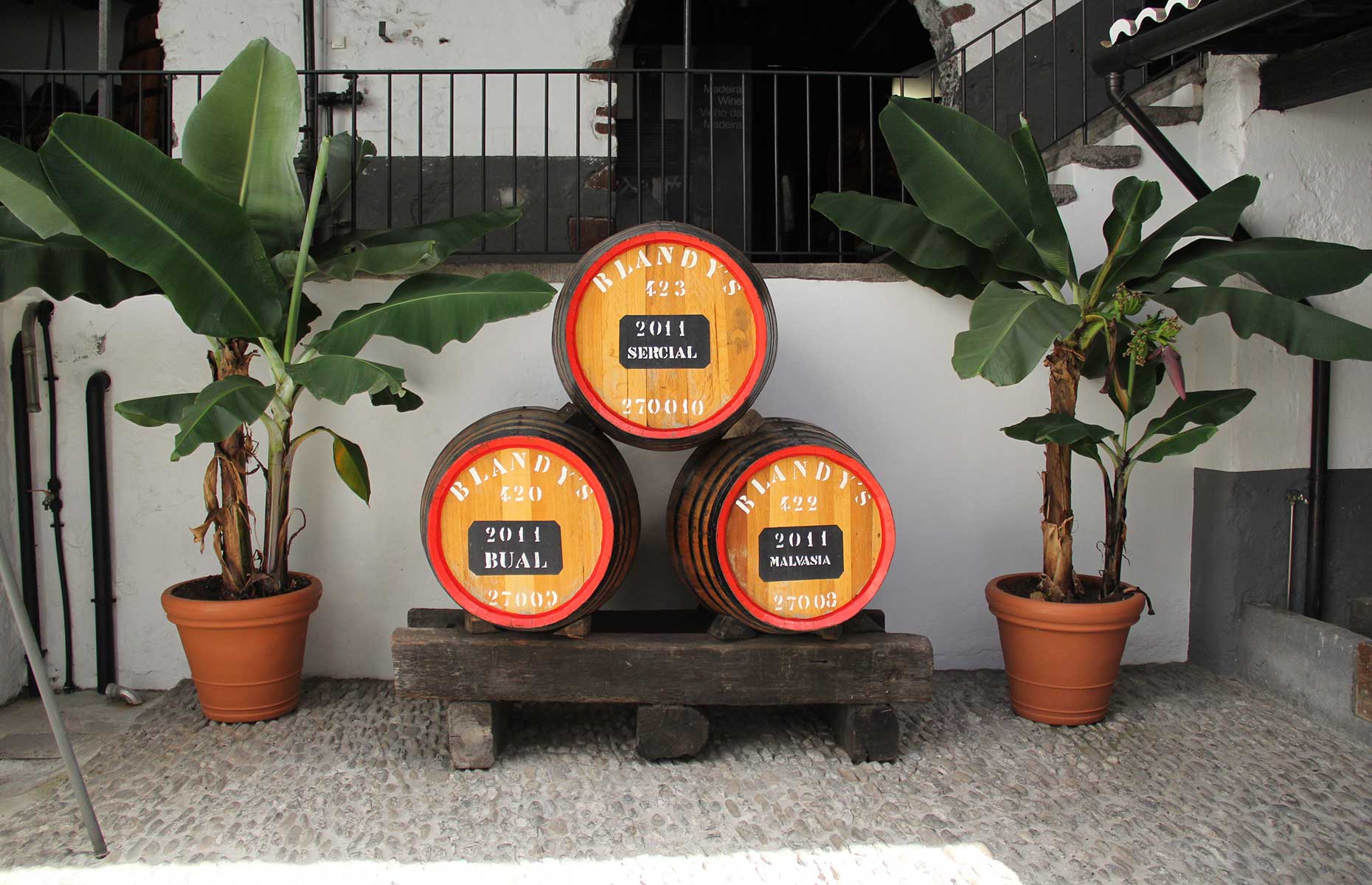 nicksmith156/Shutterstock
Poncha – a heady combination of aguardente de cana (distilled alcohol from sugarcane), fruit juice and honey – is another must-try. Bustling neighbourhood hotspot, Rei da Poncha not far from the Sé Catedral do Funchal, is a perfect people-watching location for this. Word of warning though: poncha certainly packs a punch!
The ultimate Funchal itinerary
Day 1
Check into: Castanheiro Boutique Hotel and take in the panoramic views of the city from the rooftop bar.
Get your bearings: by exploring the town, marina and promenade on foot, taking time to explore the verdant Jardim Municipal do Funchal, filled with frangipani and jacaranda trees. Stop at the gardens' Café Concerto for a refreshment.
Pawel Kazmierczak/Shutterstock
For a light lunch: swing by Rua de Carreira. Tucked a couple of streets away from Funchal's main throng of shops, this quaint street is filled with restaurants and cafés much-loved by locals. Both O. Giro Churros & Paninis and Hamburgueria do Mercado are ideal for speedy, tasty and affordable bites.
Explore: Funchal's thriving independent and artisan shops and be sure to pick up a souvenir or two. Portugal Labels on Rua de Carreira is good for handmade beauty products and bags and shoes made from Madeiran cork, while UauCacau is a must for chocolate lovers – be sure to try the poncha-infused truffles.
Fugacidade is filled with local craft beer and wine, and you'll find plenty of the former made with local Madeiran fruits such as passionfruit.
Take an evening walk: to the Zona Velha (Old Town). Stroll along cobbled Rua de Santa Maria, which dates back to 1430, and admire the colourful doorway artworks designed by local artists.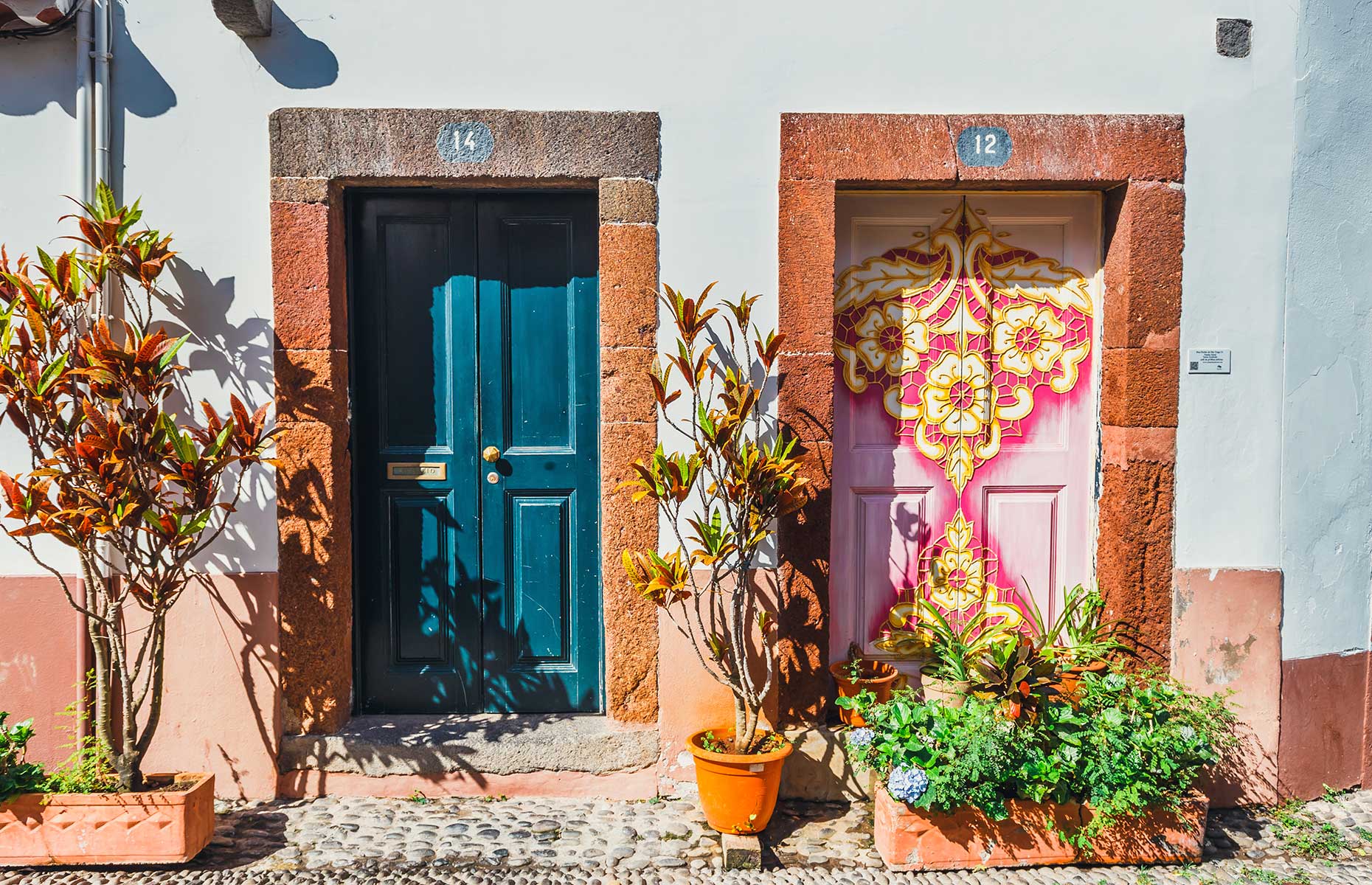 Dziewul/Shutterstock
If you're feeling peckish, stop by one of the many restaurants: Restaurante Embaixador Madeirense serves great traditional dishes at reasonable prices.
Planning on walking a little farther? Head to 17th-century Fortaleza de São Tiago, which is worth a visit for the views alone. Next to the fort on Rua Portão de São Tiago, you'll find Restaurante Cidade Velha, known for its delicious local specialities: think grilled limpets served from a hot skillet, followed by espada with passion fruit, all served with a side of fresh Atlantic sea air and often, live musical performances.
Wash it all down: with a glass of local rum at the Madeira Rum House next door, or go to Barreirinha Bar Café just around the corner, which overlooks the Atlantic. It's an ideal spot to toast the sunset with a local beer or two.
Day 2:
Take the Teleférico do Funchal (cable car) to: the tiny parish of Monte, a scenic 15-minute journey that trails 10,498 feet (3,200m) in just fifteen minutes.
Put aside: an hour or two to explore the Monte Palace Tropical Garden, often dubbed one of the most beautiful botanical gardens in the world. Explore all manner of tropical plants, plus collections of African sculptures and rare minerals.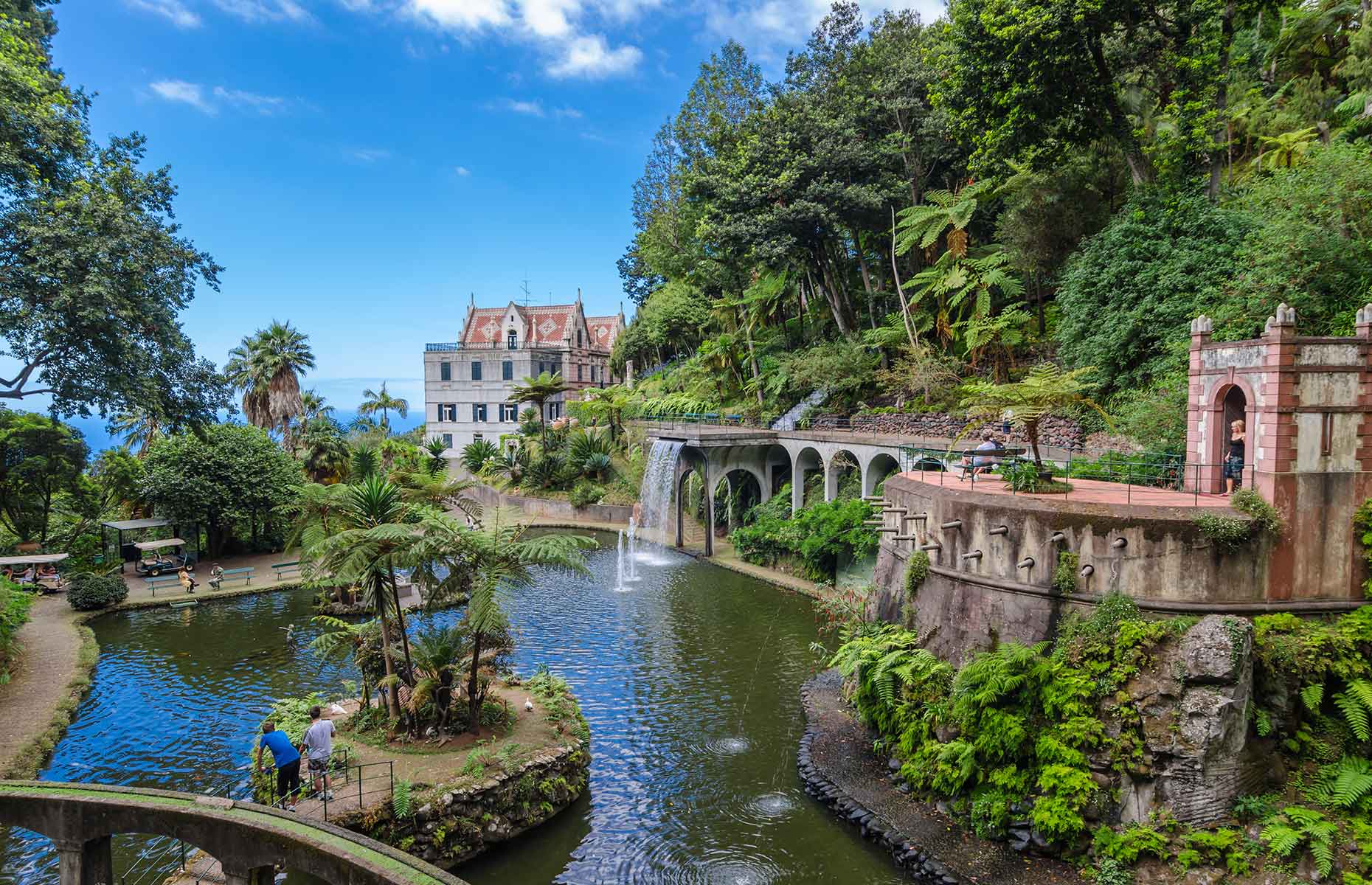 A_Mikhail/Shutterstock
Take an: exhilarating 1.2 mile (2km) wicker basket ride in a carros de cesto back down to Livramento in Funchal, then walk back to the centre.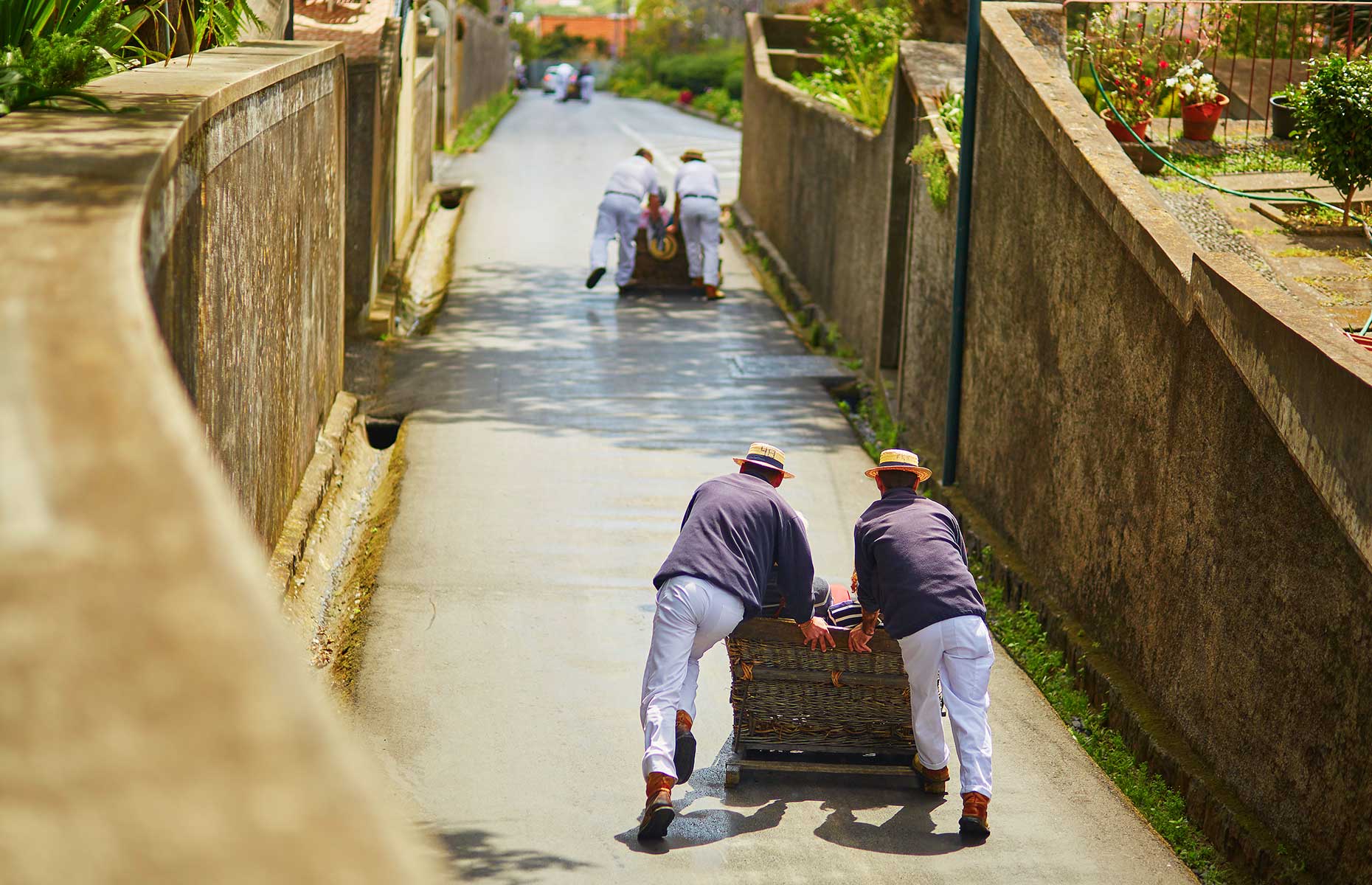 Ekaterina Pokrovsky/Shutterstock
Recalibrate with: a glass or two of poncha at Rei da Poncha – recommended flavours include passionfruit and orange.
READ MORE: Love a city break? Check out our guide to Budapest
Dine at: GRUTA Café-Restaurante. With a fabulous terrace overlooking Funchal Marina, this restaurant in a cave serves up Portuguese and Madeiran classics reimagined with a contemporary twist. Don't miss the silky-soft Madeiran sweet potatoes in balsamic vinegar.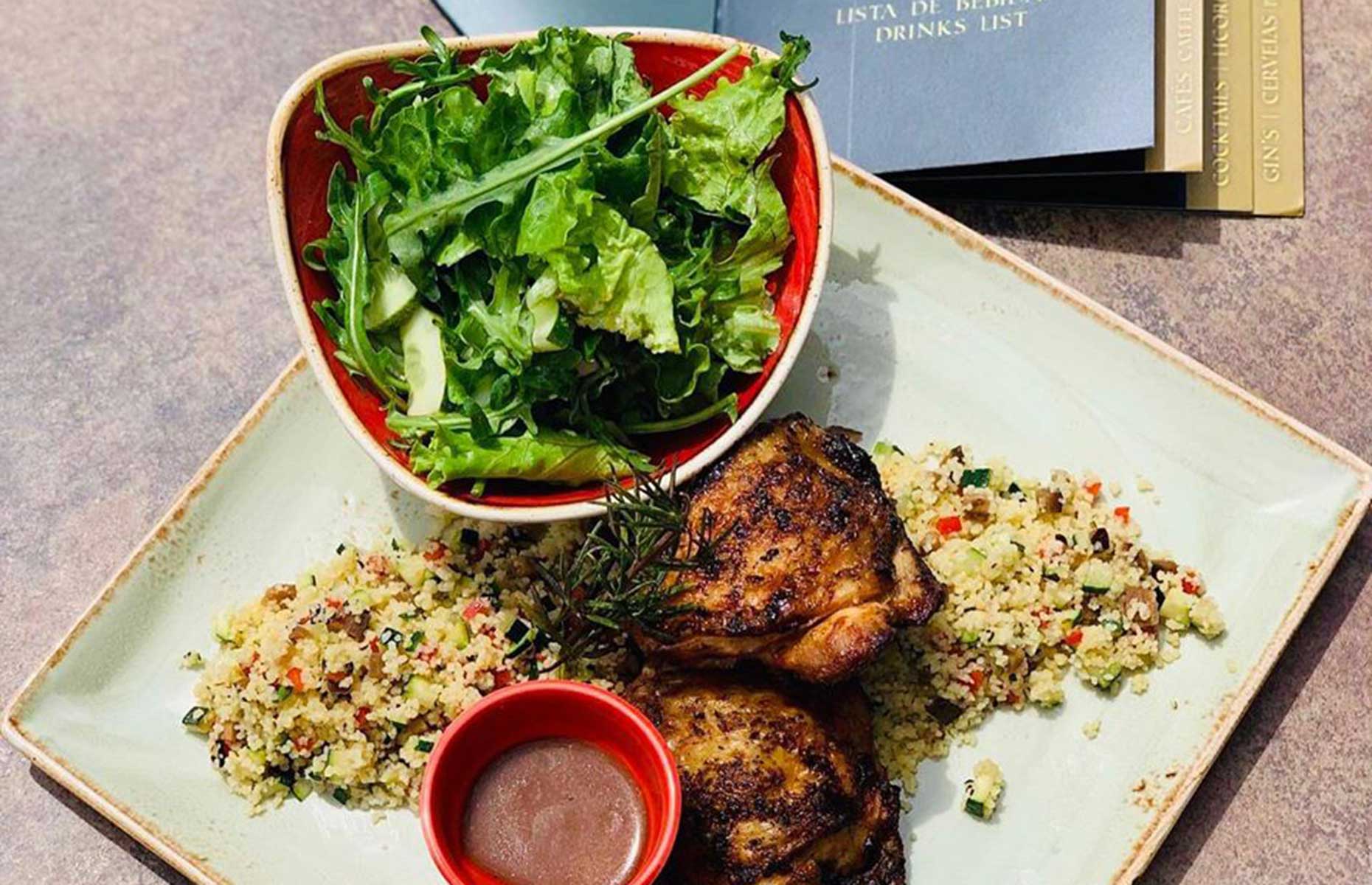 GRUTA Café-Restaurante/Facebook
Day 3
Take a day trip to: the Curral das Freiras, aka Valley of the Nuns, a tiny parish set amidst the mountains. Spend the day hiking, exploring and enjoying the views, and make time to sample the local produce, including cherries, avocados, nutty biscuits and ginja, a potent cherry liqueur, while there.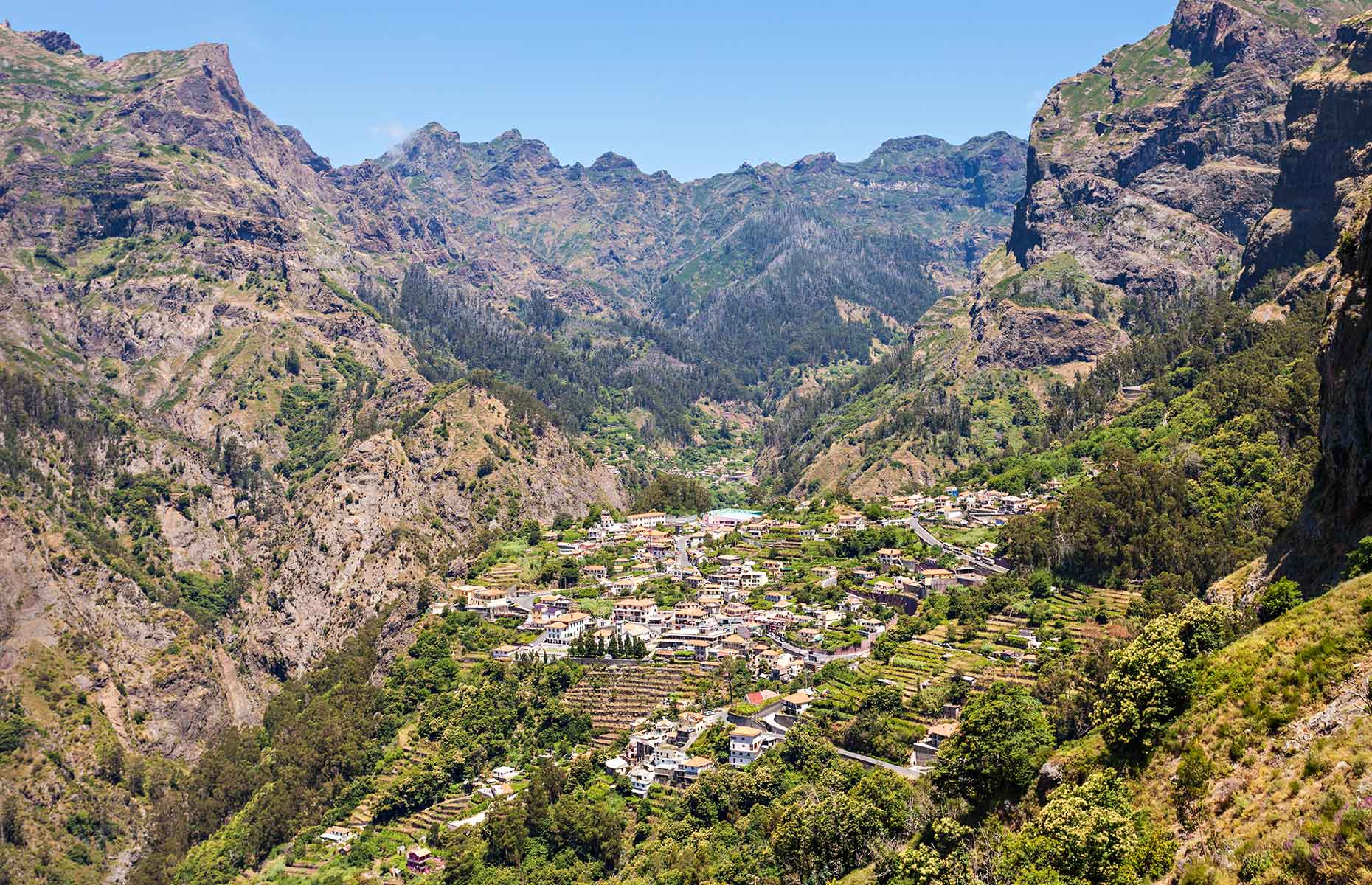 saiko3p/Shutterstock
Walk: along Funchal's hilly west coast to the natural rock pools and bathing hot spot of Doca do Cavacas. Take a dip, dry off in the sun, and fill hungry bellies with some of the finest seafood in Madeira at the eponymously named boat-shaped restaurant.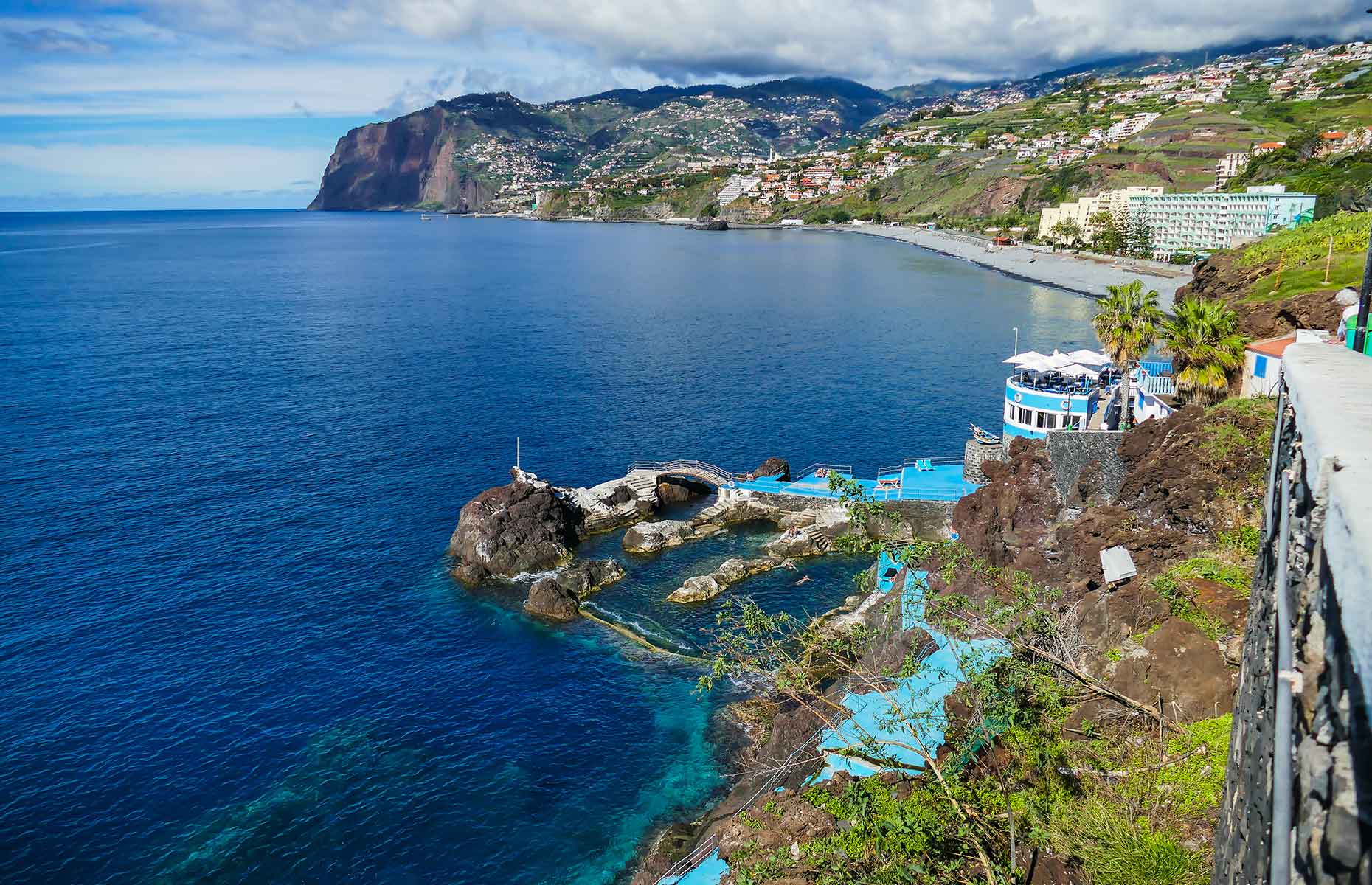 Hugo Mauricio Lopez V/Shutterstock
Getting there
For more information on the island check out Visit Madeira.
easyJet flies to Madeira from Bristol, London Gatwick and Manchester with fares from £23.99 one way, based on two travelling.
Map of Funchal
Be the first to comment
Do you want to comment on this article? You need to be signed in for this feature