The best places to visit in Portugal by region
Portugal has a lot to offer, from superb beach resorts to unspoiled inland towns and a surprisingly diverse interior of rolling countryside and wild mountains. Here's our guide to the best places to visit in Portugal.
Where to go for great beaches
Portugal has always been a mecca for beach lovers. With over a thousand miles of coastline, there's an A–Z of stunning beaches, from Afife in the far north to Praia do Zavial in the south. Here are some of the best resorts.
The Algarve
This is Portugal's tourist epicentre for good reason: the region has some of the safest and most beautiful beaches in the country. The sandbar beaches around Faro, Olhão and Tavira are the least spoiled because they're only reachable by ferry. Families may prefer the more accessible cove beaches near the big resorts such as Albufeira and Lagos. Head up the west coast of the Algarve and you'll find some good breakers with plenty of surf schools based around Sagres.
Stay at: Hotel Eva, Faro. Choose a room with a balcony facing Faro's marina and you can't go wrong at this modern 4-star with a stylish rooftop pool and bar. Calçada Guesthouse, Tavira. This beautifully renovated townhouse has a breakfast terrace with alluring views over the town. Marina Club, Lagos. Swish apartments ideal for families, most with balconies overlooking a large outdoor pool.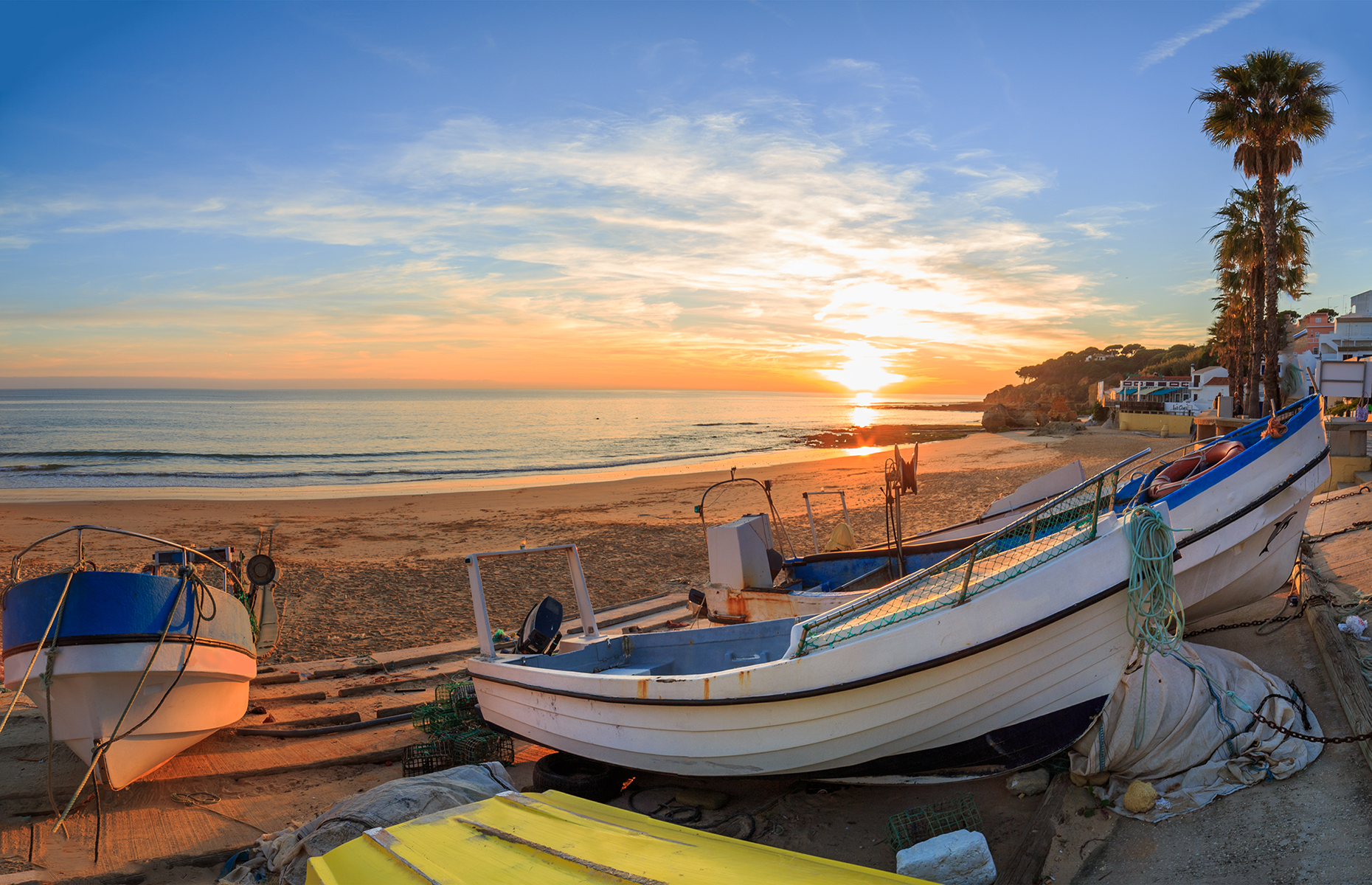 Krzyzak/Shutterstock
The Alentejo coast
The extensive coastline between Lisbon and the Algarve is still relatively undeveloped, in part because the Atlantic breakers can be wild and unforgiving. Choose carefully though and you can find some top rate small resorts. Vila Nova de Milfontes is the largest of these, a low-key resort spreading back from a fine river beach which offers safe swimming. A little to the north, pretty Porto Covo has a series of lovely – and usually sheltered – cove beaches while Lagoa de Santo André has a shallow, delightfully warm lagoon to splash around in when the Atlantic is too fierce.
Stay at: Casa do Adro, Vila Nova de Milfontes. A 17th-century townhouse in the old town, whose charming owner plies her guests with homemade cakes and cooling drinks. Porto Covo Hotel, Porto Covo. Close to Porto Covo's market, this family-friendly hotel has kitchenettes for self-catering and a pool.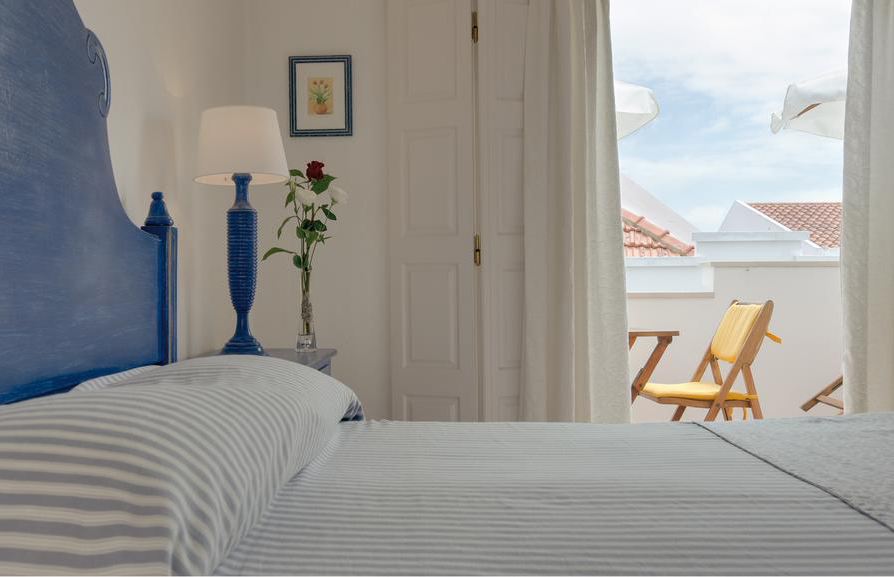 booking.com
The central coast
Portugal's central coastline boasts some of Europe's finest surf, with competitions often held on the beaches around Ericeira, Peniche and Nazaré – the latter having recorded some of the largest waves ever surfed. Ericeira is an appealing former fishing village, popular with weekenders from Lisbon, while Nazaré is hugely popular in summer thanks to its excellent fish restaurants and a huge sandy beach. Best for families is the charming resort of São Martinho do Porto, whose golden sands sit within an almost enclosed natural bay.
Stay at: Hotel Vila Galé, Ericeira. Rooms at this large hotel look right out onto the Atlantic, as does the restaurant and terrace with its own sea pools. Hotel Mar Bravo, Nazaré. Most rooms at this smart seafront hotel boast ocean views, while you only have to step downstairs for a fine fish restaurant. Hotel Palace do Capitão, São Martinho do Porto. This elegantly restored mansion overlooks the seafront promenade and has its own stylish tearoom and bar.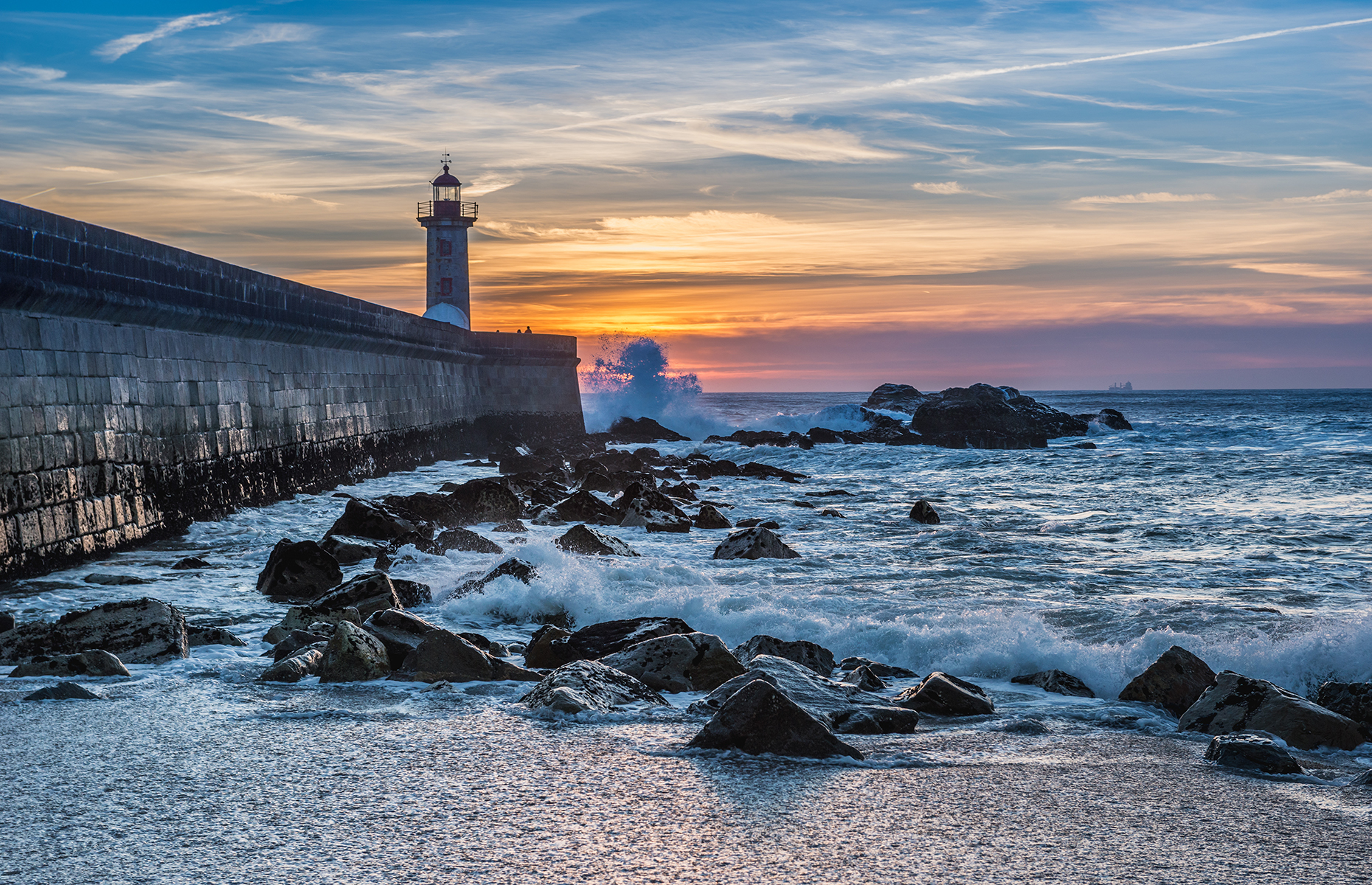 Fotokon/Shutterstock
Northern Portugal
The Atlantic is inevitably cooler as you head north, but the beaches are just as gorgeous. Don't overlook Porto's seaside Foz do Douro, an upmarket suburb with pleasant sands and an ideal base for a city break. A little north, there are excellent beaches near the historic town of Viana do Castelo, a former centre for ship building. The Monte de Santa Luzia viewpoint is one of the most striking in Portugal. North of here, the beaches are almost continuous right up to the Spanish border, where the alluring sands at Foz de Minho face Spain at the mouth of the Minho river.
Stay at: Hotel Boa-Vista, Foz do Douro. This attractive villa has a rooftop pool and terrace, and most rooms have views across the mouth of the river Douro and the ocean beyond. Casa do Ameal, Viana do Castelo. Just outside the city, this sumptuous granite mansion has eight apartments and manicured grounds, complete with a pool. Design & Wine, Caminha. A short walk from Foz de Minho, in the handsome border town of Caminha, this hotel is part old town mansion, part contemporary block. The restaurant offers local specialities and some great wine.
The best quaint towns in Portugal
Lisbon and Porto have become big-hitter city-break destinations, but there are plenty of lesser-known, easy-to-reach towns and villages that you shouldn't miss.
Évora
In the heart of the rolling Alentejo district, Évora is one of the country's most striking and historic towns. Once home to the Portuguese court, its walled old town of whitewashed houses have helped it achieve UNESCO World Heritage status. It's also a vibrant university town, so you're likely to find both students and tourists perched at the cafés outside its museums, cathedral and striking Roman temple. The bizarre Chapel of Bones (lined with around 5,000 skulls) is unlike most churches you'll ever visit.
Stay at: Albergaria do Calvario. This stylish inn inside a converted 16th-century olive press has plush rooms wrapped round an internal courtyard.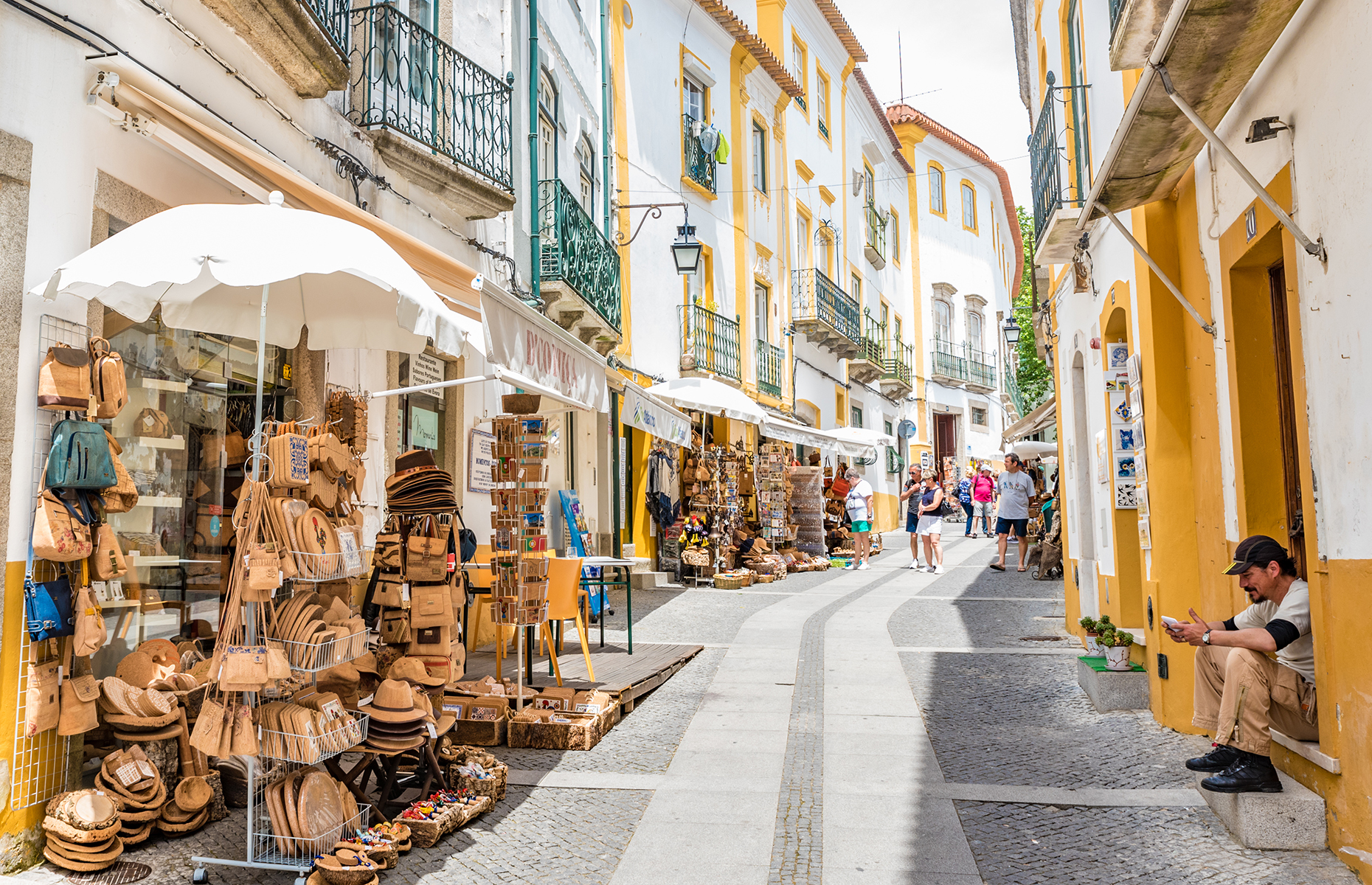 Takashi Images/Shutterstock
Valença do Minho
Portugal's relationship with neighbouring Spain hasn't always been great, hence its array of impressive fortified border towns. Right in the north of the country, Valença do Minho is a cracking one, enclosed by large 17th-century double ramparts. Walk along the top of these for spectacular views across the cobbled streets of the old town one way, and to Spain across the river Minho the other. You can easily pop over the border too, via an iron bridge designed by Gustave Eiffel.
Stay at: Pousada de Valença. Wedged next to the town's northern walls, the terrace and many of the rooms of this plush pousada (a historic inn) offer memorable views across the Minho river valley. It also has a top restaurant.
Coimbra
Coimbra is a small town which packs in an amazing array of historical buildings. It was one of the country's earliest capital cities, while its university is one of the oldest in Europe, dating back to 1290. Don't miss the amazing Baroque university library, where the shelves groan under the weight of around 250,000 ancient tomes. But Coimbra is very much a living town with some great cafés and restaurants, not to mention Portugal dos Pequenitos – a theme park complete with mini models of the country's major monuments.
Stay at: Casa Pombal. Right in the heart of the old town, this flower-strewn guesthouse has its own patio garden and fine views from some of the rooms.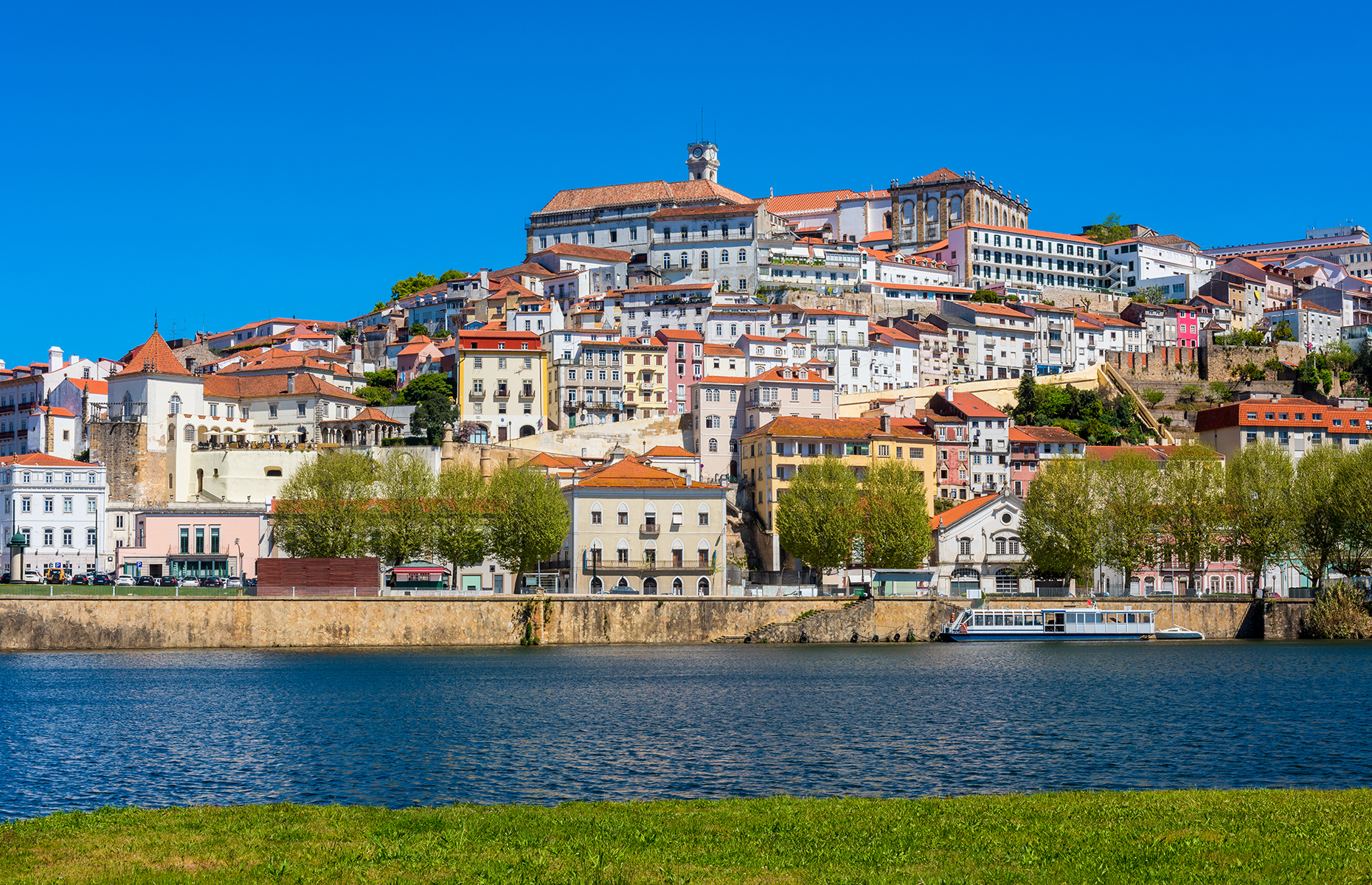 Allard One/Shutterstock
Where to go for a countryside retreat
Even in high summer, you can escape the crowds by heading into Portugal's surprisingly lush interior, where you'll find some of the country's prettiest villages and can enjoy activities including kayaking and walking.
Monsaraz
Known as the Eagle's Nest, this fortified hilltop village has its own little castle and superb views across the glittering waters of Europe's largest artificial reservoir, formed behind the giant Alqueva dam. You can go boating on the reservoir, or explore some of the region's excellent wine estates, such as the nearby Herdade do Esporão.
Stay at: Estalagem de Monsaraz. Just outside the town walls, this is a charming, higgledy-piggledy inn with a garden full of lemon trees. There's also a small pool.
Óbidos
This village of picturesque whitewashed houses is completely enclosed by high walls. It was the custom of Portuguese royalty to bequeath the village as a wedding present to their brides and it remains a romantic destination to this day.
Stay at: Casa das Senhoras Rainhas. This boutique hotel lies next to the old town walls, with its own courtyard and highly-rated restaurant.

Magdalena Paluchowska/Shutterstock
Manteigas
The Parque Natural da Serra da Estrela has Portugal's highest mountains (and even a ski resort) and is perfect for hikes among its rivers, pristine valleys and unspoilt villages. Right in the centre of the park, Manteigas is the best base – a tranquil village with a good range of restaurants and accommodation.
Stay at: Albergaria Berne. A simple but welcoming pine-furnished mountain inn that has a restaurant and an outdoor pool.
Caldas do Gerês
Portugal's only national park sits hard up against the Spanish border in the almost Alpine scenery of the north. The little spa town of Caldas do Gerês is the main centre of the Parque Nacional da Peneda-Gerês, beautifully positioned in a densely wooded valley. From here it's easy to take some of the marked trails up into the mountains, where there are waterfalls and streams to cool off in, and rivers for water sports.
Stay at: Águas do Gerês. This grand hotel has its own restaurant and outdoor pool and offers access to the town's spa, where you can pamper yourself with hot rock massages.
Be the first to comment
Do you want to comment on this article? You need to be signed in for this feature