6 no-fly travel routes for 2020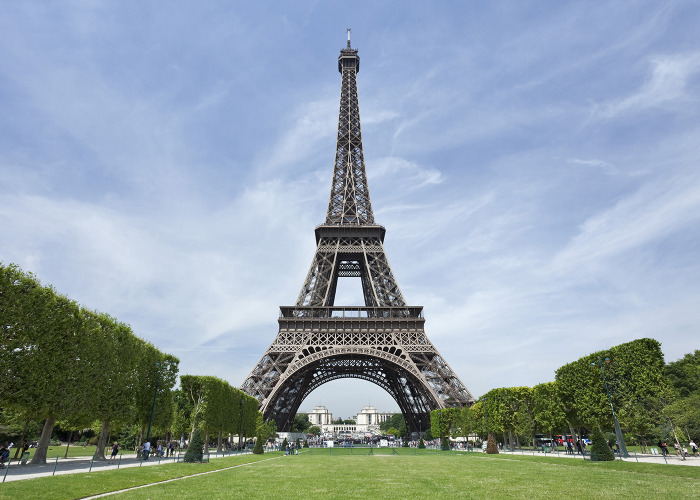 Whether you want to keep your carbon footprint low or just loathe getting on a plane, these air-free routes from the UK mean there's no need to take to the skies
If one of your new year's resolutions for 2020 is to travel with a clear conscience, then forget carbon off-setting and make the biggest commitment you can make to travel greener and take a no-fly holiday (or two).
From electric self-drive adventures, to majestic boat trips and rail holidays that reveal cinematic backdrops as though on a film reel, here are some of the best travel experiences you can have without stepping foot on a plane or having to check in luggage. We have a feeling you won't miss the airport queues either.
1. Enjoy Norway's midnight sun
Plan your summer holiday now and you can experience 24-hour sunshine amid the network of Norwegian fjords that connect to each other like secret passageways, providing you save enough holiday days to account for the travel there and back, that is.
Hurtigruten's circular trip from Bergen is more an expedition than a lounge-around-eat-all-you-can cruising holiday.
Ro_Ma_Li/Shutterstock
You'll putter along the Norwegian coast all the way to Kirkenes and back, stopping at colourful towns and villages en route, trekking mountains with baffling geographical features, and nosing into narrow fjords where it feels as though you could touch the mountain walls. And all under the perpetual glare of an Arctic summer (visit in winter or spring and you can also go whale-watching or in search of the Northern Lights).
READ MORE: Why I chose not to fly for a year
To reach Bergen you can take the Eurostar to Brussels or Hamburg and then take the train to Copenhagen and Oslo. From Oslo, the Bergen Railway – the highest mainline train route in Europe – departs four times a day and takes just over seven hours, skirting solitary lakes and crossing desolate plateaus and offering views that are simply staggering.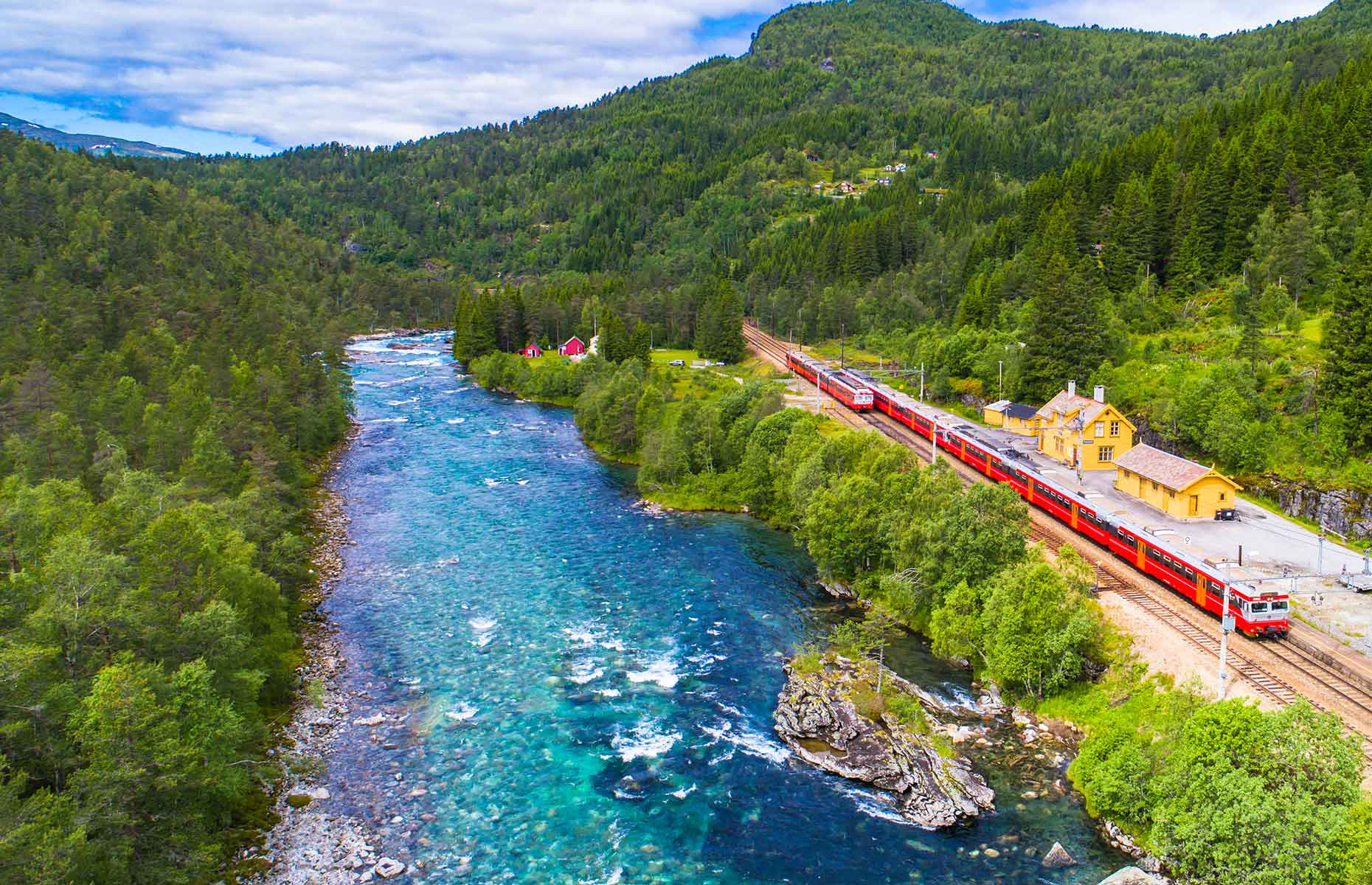 Marius Dobilas/Shutterstock
2. Fall asleep in London, wake up in the Highlands
Scotland is good for your soul. The sheer magnitude of the mountains, which drop down to glistening, eerily-still lochs, is something that puts all other things in perspective.
Board the 9.15pm Caledonian Sleeper at London Euston, and have dinner in the Club Car before tucking yourself into your snug cabin – the trains have finally been updated and now offer a good level of comfort, albeit a little short on the Poirot-style luxury of your imagination – and the next thing you know, you'll be doing your morning stretches as you pull into Fort William.
Here you will find Britain's highest mountain Ben Nevis (or as Scots prefer it, munro), which towers over the landscape some 4,400 feet (1,345m) above sea level, tempting you to lace your walking boots, equip yourself with water, map and a compass and take the strenuous climb to the top.
READ MORE: The best rewilding experiences in Scotland
For a less tiring adventure, continue by train to Mallaig on the west coast for the ferry to Skye – in spring and summer this section of the journey can be completed aboard the Jacobite Steam Train or as many people refer to it, the Harry Potter train.
3. Take a hike in Austria's Lake District
Not only will a self-guided walking holiday booked through Walks Worldwide in the Austrian Lake District transport you to one of the most incredible natural playgrounds in Europe, but for each holiday booked, the company will plant a tree, meaning you'll not only be doing your lungs the world of good, but also helping the lungs of the planet.
Discover hidden-away Alpine villages flanked by lush hillsides, breathe in sublime panoramas as you gaze across peaceful meadows, or take a boat ride across the crystal-clear waters of Lake Wolfgangsee, where you can ramp up the excitement with water-skiing, wakeboarding or kite-surfing.
READ MORE: Discover what to see in Zürich
Trips depart from Bad Ischi, which you can get to by train from Frankfurt, Cologne or Zürich, all of which can be reached by Eurostar and onward rail journeys.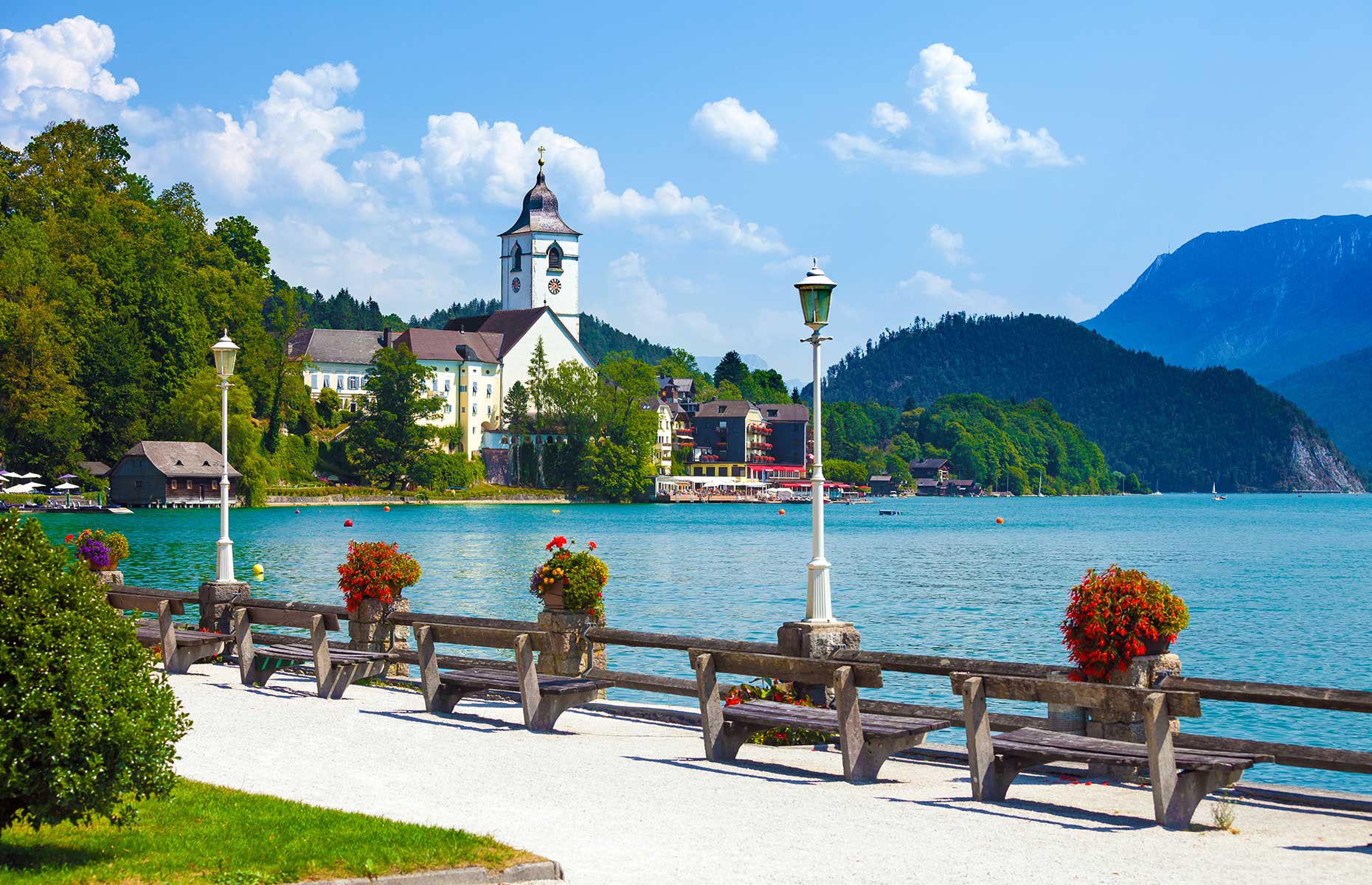 Pixachi/Shutterstock
4. Go eco-friendly on a voyage to Orne
Think ferries are little better than planes? Well, with Brittany Ferries' ship Honfleur things are greener than you might think. In 2020 its crossings from Portsmouth to Caen will run on LNG gas – with emissions containing around 25% less carbon dioxide than other fossil fuels.
And, with just an hour's drive the other side to the Normandy department of Orne, you could even take an electric car with you without the need to top up (depending on your departure point).
Once here it's a wonderful place for some pared down adventure. With almost 250,000 acres of forest to explore, it's almost unthinkable not to indulge in stargazing, forest bathing or swimming in its pristine lakes and rivers.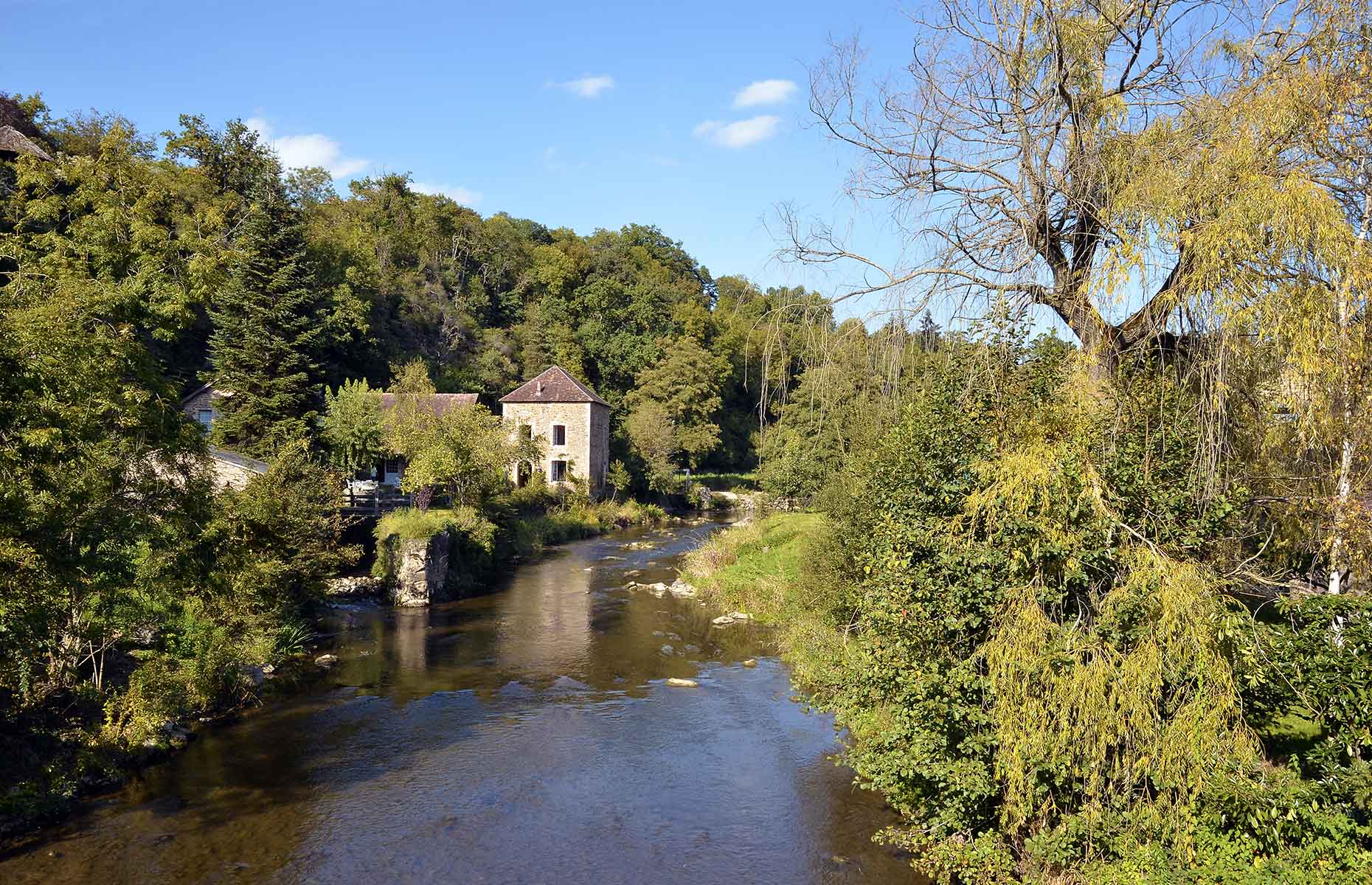 Christian Musat/Shutterstock
Continue the back-to-nature theme with a stay in an eco hilltop house set amid 600 hectares of land, which sleeps six and is insulated with locally grown hemp and a wood burning stove. The perfect place to slow down and do little more than listen to the birdsong or cook up some of the local produce you've gathered at one of the many nearby markets.
5. Take an artistic city break
If you want to squeeze a city break or two into your holiday plans, then jump aboard one of Planet Rail's first-class trains to Europe, which from January will be carbon neutral.
READ MORE: 5 ways to cut your carbon footprint
There are a few routes ripe for 2020, including the return from London to Paris, which includes three nights in each city so you can visit key locations of Dickens' A Tale of Two Cities, 150 years after the writer's death.
Alternatively, you could use the 250th birthday of Beethoven as an excuse to visit the cities of Bonn and Vienna – the composer's home city and the city where he lived and wrote some of his most celebrated symphonies, respectively.
trabantos/Shutterstock
6. Slow travel to Scilly
If you want a no-fly holiday but can't quite imagine going away without spending at least a day or two lounging on the beach, then the Isles of Scilly with their subtropical microclimate may hold the answer.
Come summer, there's a good chance it will be warm enough to swim in the sea, and its beaches, such as Pentle Bay on Tresco or Great Bay on St. Martin's, with their soft pale white sands and turquoise waters, are often empty.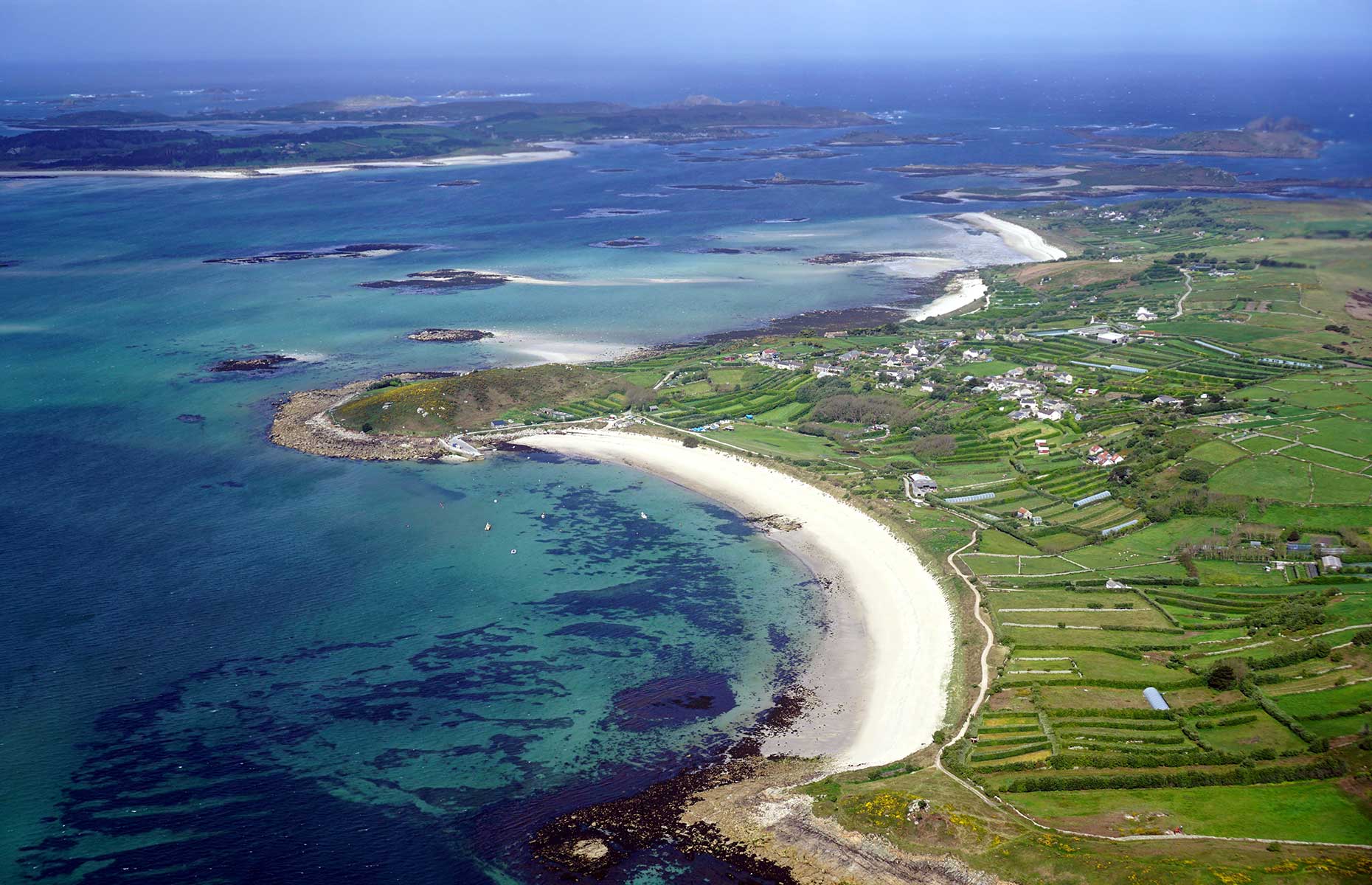 Timothy Dry/Shutterstock
While reaching this archipelago scattered off the southwest coast of England may take a little patience, the journey is all part of the fun.
Take the train from London Paddington to Penzance, which will whizz you through the counties of Dorset, Devon and Cornwall, (the Night Riviera train is a good option, though you'll miss out on the views).
Once in Penzance, the Scillonian ferry takes under three hours to reach the main island of St Mary's and there's even an onboard marine ranger to explain the wildlife you might see en route, including seabirds, dolphins, seals – even the occasional minke whale.
Plus, to keep costs low, you can take advantage of the train and ferry package.
Main photo: Walks Worldwide
Be the first to comment
Do you want to comment on this article? You need to be signed in for this feature