Explore Zürich: the top things to do, where to stay & what to eat
Zürich defies the stereotype that Switzerland is a bit, well, boring. The towers and spires of the city's churches splinter the otherwise low-lying skyline of the Old Town, but get out of the historic centre and you'll find Zürich surprisingly modern and pleasingly walkable. At the southern end you'll find sprawling Lake Zürich, framed by The Alps, while Zürich West is the place to go for post-industrial architecture and innovative food and drink.
Key neighbourhoods in Zürich
Old Town
Zürich's charismatic Old Town is scattered either side of the river Limmat, which runs through the heart of the city. Drinks at the riverside bars come with best-in-class views of the elegant churches which define the area, namely Grossmünster (the 'great minster') and Fraumünster. Allow an afternoon to wander the cobbled streets of Old Town, which are punctuated by artisanal shops, traditional restaurants and boutique hotels.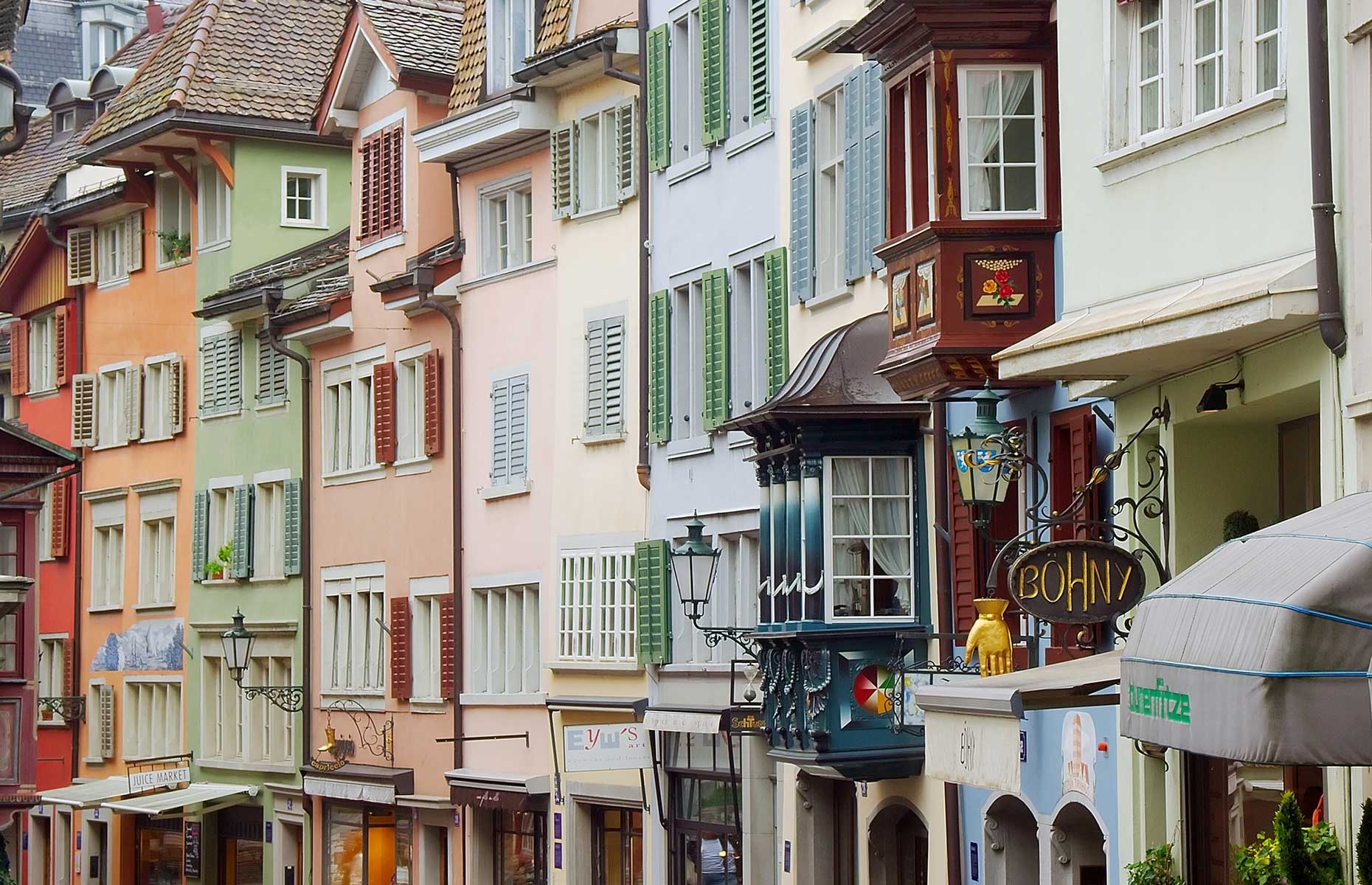 Ales Liska/Shutterstock
Langstrasse
Langstrasse connects the southern and northern stretches of the city, and is home to the city's most diverse food options and its best nightlife. Independent cinemas like Riff Raff rub shoulders with minimalist cocktail bars, scuzzy dive bars and Berlin-inspired techno clubs. The area is certainly less glamorous to look at than the Old Town, but it's a veritable feast of local culture.
Zürich West
The heart of Zürich's expanding hipster scene is Zürich West, where the city's disused industrial buildings are being repurposed. The natural starting point for an exploration of the area is Geroldstrasse area, whose tower of shipping containers is a handy navigational tool. From here, head to the arches of the IM Viaduct, where you'll find boutique shops, bars and innovative restaurants. Theatre productions and art exhibitions populate Zurich West's other unmissable post-industrial spaces.
Lake Zürich & Seefeld
The most affluent neighbourhood in the city centre, Seefeld is home to Zürich's Opera House and borders the pristine Lake Zürich. Other than the lake there aren't too many sights in the area, which functions more for locals, but that alone is reason to go. In the good weather, you'll catch Zurichers at their most laid-back here, sprawled on benches on the fringes of the mammoth lake, which stretches further than the naked eye can see on a clear day. Walking around the perimeter is easy, and leads to a number of comfortable rest stops, from restaurants to grassy knolls and picnic benches. Best are the cruises, a steal at only £7 (CHF 8.80) for a two-hour trip from the Zürich Public Transport Association.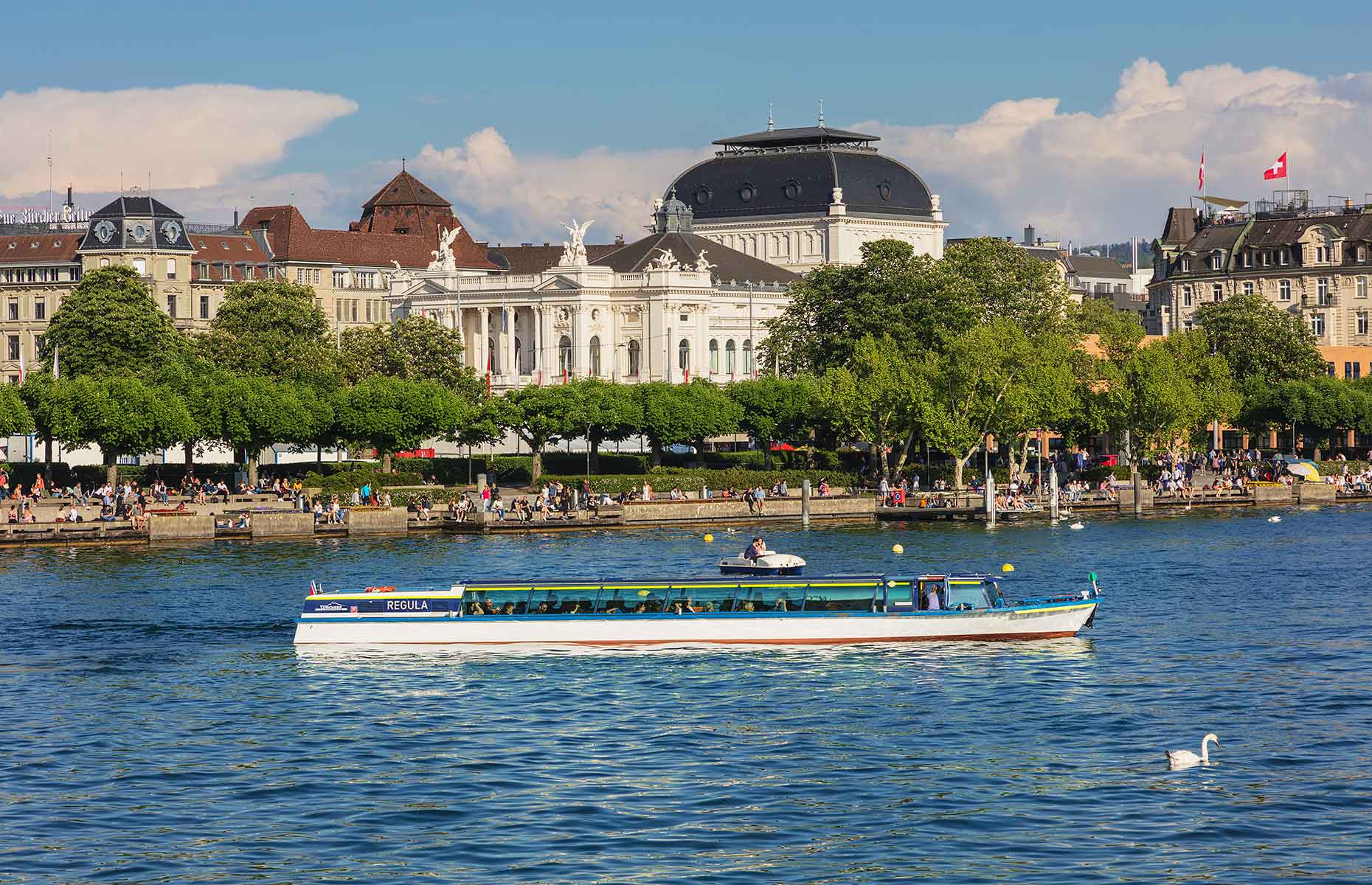 Denis Linine/Shutterstock
The top things to do in Zurich
1. Explore Zürich's history at the Landesmuseum
Follow the Limmat river's left bank north from the Old Town, and you'll soon hit the Landesmuseum (Swiss National Museum). Other than the building's intriguing architecture, which blends a mock-medieval castle with a modern brutalist design, the focus is on Zürich's cultural past. A few smartly curated exhibitions will get you up to speed on the steep history behind the city's monuments, as well as the cultural revolution of 1968.
2. Get into modern art at Kunsthaus Zürich and MuDA
Kunsthaus Zürich is the obvious stop for fans of modern art, featuring the work of greats from Van Gogh to Mondrian, and it doesn't disappoint. That said, the relatively new Museum of Digital Art (MuDA) is well worth adding to your itinerary: it exhibits only digital art, much of which began life on the internet, and most of its exhibitions are interactive.
3. Shop the boutiques of Bahnhofstrasse and Rennweg
Naturally, Zürich has fine shopping opportunities in abundance, but the best places for big-name brands and boutiques are the streets west of the Limmat. Swiss visitors flock to Bahnhofstrasse and Rennweg, in particular, for their concentration of high-end stores.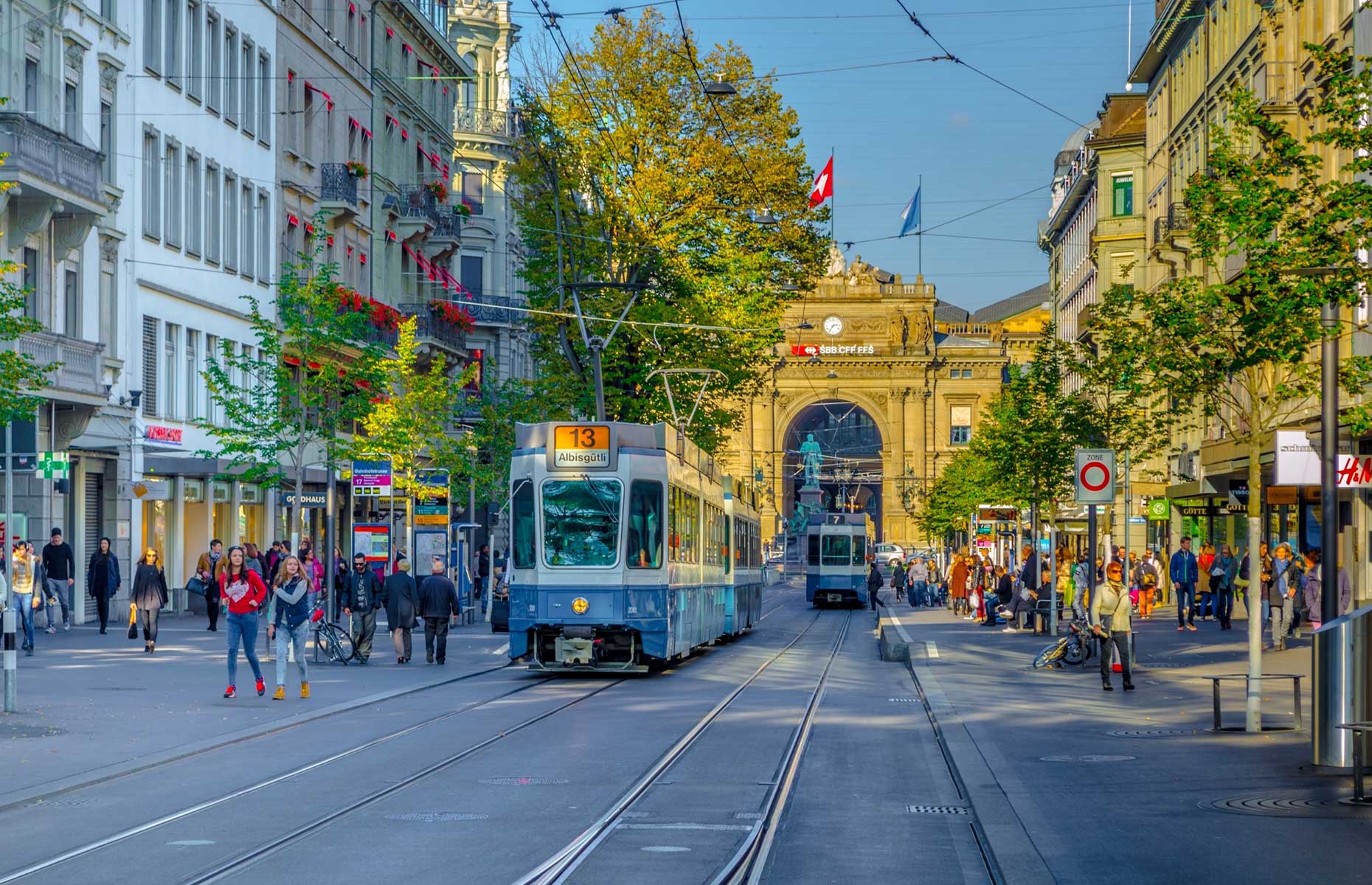 trabantos/Shutterstock
4. See industrial buildings repurposed in Zürich West
Former shipbuilding factory Schauspielhaus Zürich: Schiffbau is a true jewel of Zürich West, a post-industrial chasm for theatre and performance. Most works are shown in German, but there's the occasional production in English, and a separate jazz club.
The Löwenbräu Complex, which reimages a former brewery, is Zürich's seminal and most interesting creative hub. It comprises art galleries and museums with a preference for contemporary work; see also for screenings, talks and the city's most competitive cultural events calendar.
5. Take a novel trip to Fluntern
Fans of literature and hiking are in luck. A forty-minute schlep from the Limmat, up a steep hill through an affluent suburban district, is the Fluntern Cemetery. Here you'll find the grave of Irish novelist James Joyce (and his wife and muse, Nora Barnacle). The author spent much time in Zürich with his family, where he wrote parts of his epic modernist novel, Ulysses.
6. See Zürich from above
There are two essential Zürich viewing platforms. The most easily reached is Lindenhof, the historical site of a Roman castle in the centre of Old Town, now an open space where locals play chess on life-size boards against stirring views of the city. Another great spot is the terrace at the ETH Zürich university campus, where you'll find amazing views over the city and to the mountains beyond.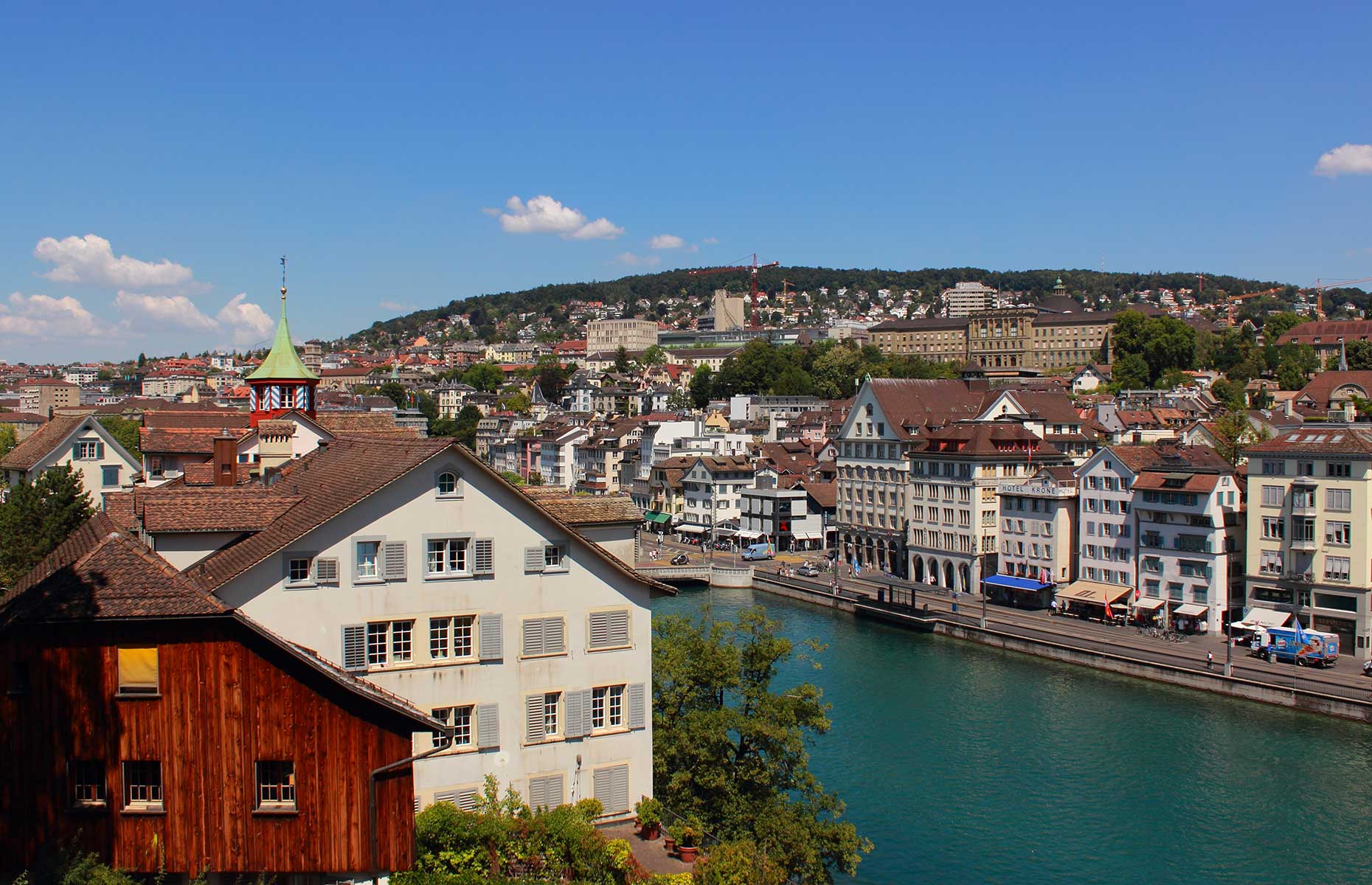 View_Point/Shutterstock
Where to stay in Zürich
Hotel rooms in Zürich can be pricey, but Langstrasse does have some options for a more affordable stay. Try Dakini's Bed & Breakfast, a friendly and comfortable spot only a 15-minute amble from Old Town's historic attractions.
If you've got more room in your budget, try one of the city's many boutique hotels. Hotel Helvetia, between Langstrasse and the river, and Marktgasse Hotel, in Old Town, are among the best. Both have only a few dozen rooms and offer incredibly personalised service, luxurious bed linens and modern rooms with a design-heavy approach. The Hotel Helvetia is known as a destination for local artists, with the rooms often integrated into art exhibitions, so don't be surprised if there's a priceless piece hanging on your wall.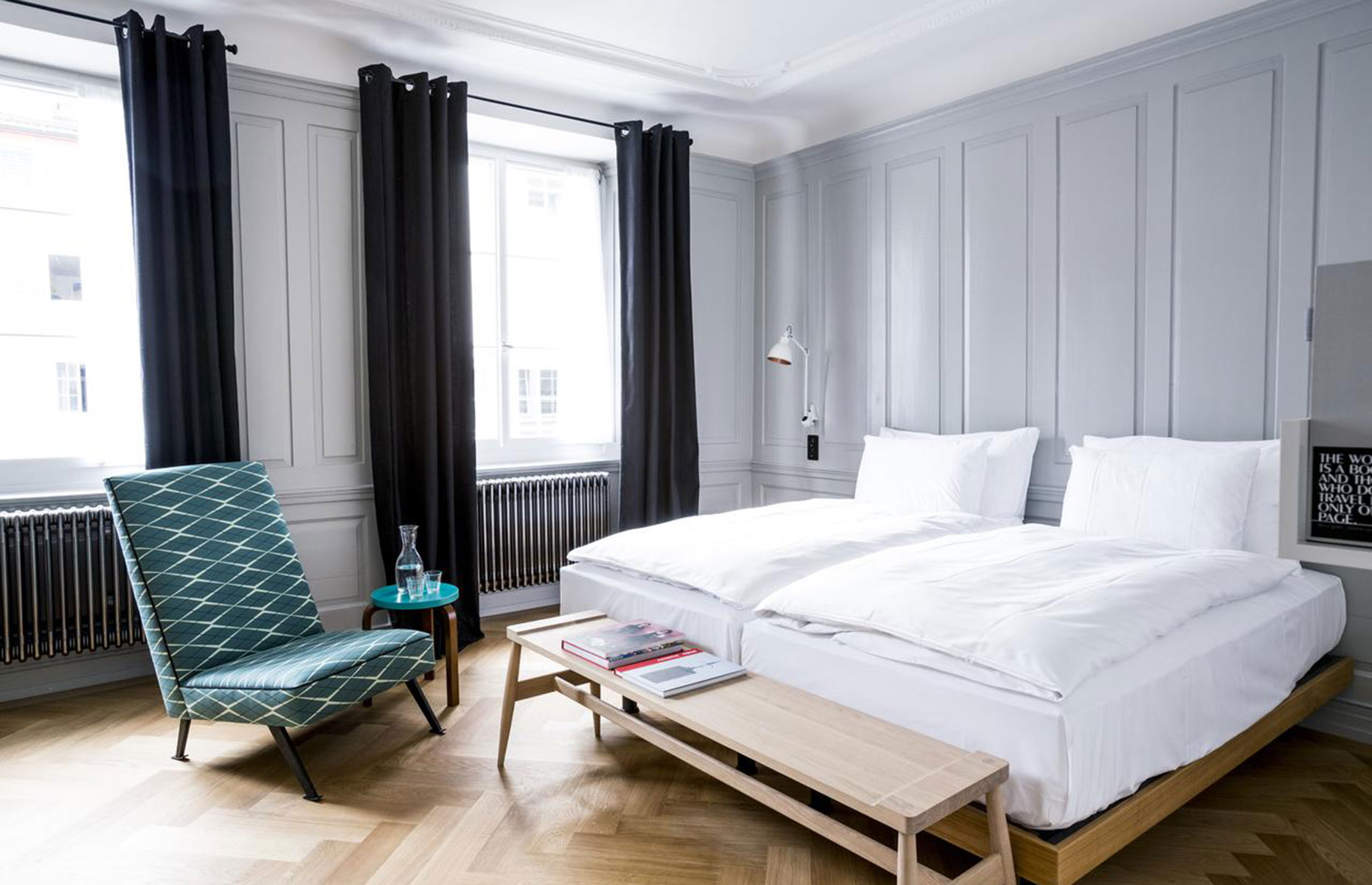 Marktgasse Hotel/Booking.com
Where to eat & drink in Zürich
Get stuck in (not literally) to Zürich's abundant fondue scene. It's the humble foodstuff that defines Switzerland, age-old yet ever popular, because how can a pot of melted cheese go out of fashion? Fondue restaurants tend to serve about five variants of fondue, but you can't go wrong with a mix of Freiburger Vacherin and Gruyère.
Frau Gerolds Garten in Zürich West is a great choice for fondue. The restaurant changes with the seasons, with cosy interiors for winter and a sprawling outdoor area which uses upcycled items as furniture for summer.
When it comes to fine dining, obviously, Zürich also delivers. For exceptional seasonal cooking in a triumphant dining room emblazoned with local art, the restaurant at the Hotel Helvetia is a locals' favourite and serves late.
Vegetarian restaurant Hiltl, which now has several destinations throughout Zürich, is the oldest of its kind in the world. With the coveted oldest veggie restaurant title, their internationally inspired buffet celebrates comfort food, and the dishes are diverse and unexpected. Check out the original venue on Sihlstrasse, the newest one on Langstrasse, or the intriguing Europaallee offshoot: in an old post office building, it makes the most of the building's original features, serving cocktails from the original post counters.
The Langstrasse area is your best bet if you're looking for international options, with street-food stalls popping up alongside established restaurants – be sure to pick up a German-style bratwurst or currywurst while you're there. Wiedikon, a district just south of Langstrasse, is bursting with innovative modern restaurants; try Kin or Miki Ramen if you're craving Asian food, or Rosi for contemporary Bavarian food.
The ultimate Zürich itinerary
Day 1
Check in at: Hotel Helvetia. This design-led boutique hotel is a prime example of Zürich's arty side, with changing exhibitions and a long history of attracting local artists and thinkers.
Get your bearings on Langstrasse: A few minutes' walk from the hotel, Langstrasse ('long street') is at the heart of a diverse and dynamic area, with some of Zürich's best food and drink options. If you're a fan of digital art – or just curious about what it is – venture further out to the MuDA gallery, about twenty minutes' walk northwest.
Get a pre-dinner drink at: Kasheme. Newly opened Kasheme looks set to be a northern Langstrasse staple. The record shop is well worth a browse, or you can just sit in a squishy armchair in the bar area, sipping a cocktail and enjoying the music.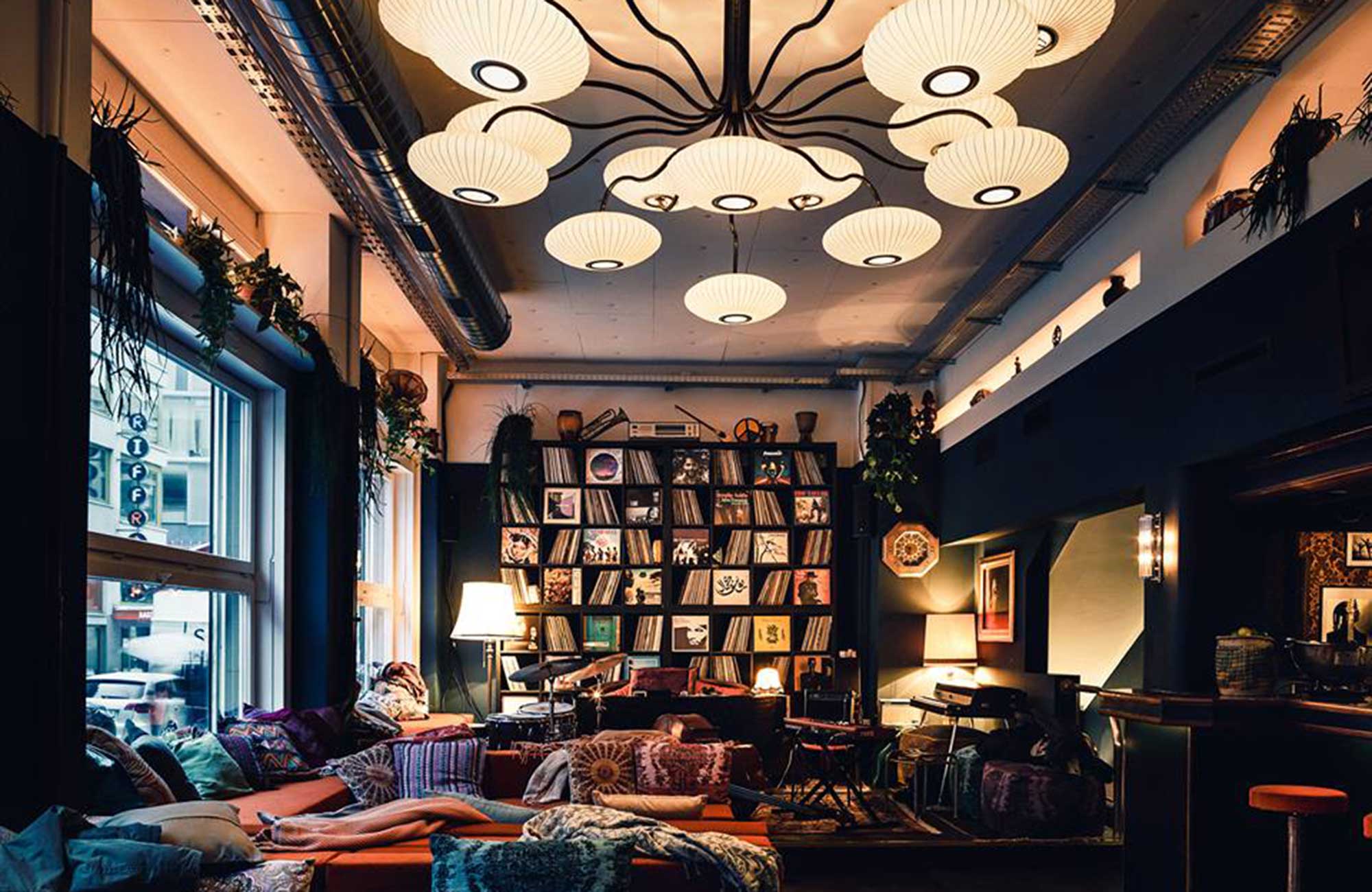 Kasheme/Facebook
Dine at: Hiltl. A branch of the world's oldest continuously operating vegetarian restaurant, Hiltl doesn't have the hippie vibe you might expect. Instead, it's an urban-chic space with a deliciously varied buffet, plenty of concrete and – the ultimate sign of hipsterdom – a bike drive-through.
Day 2
Breakfast at: Franzos, with its artistic feel and paired-back aesthetic, is an incredibly cute way to start your Zürich day. A short walk from the funicular, this café and pastry shop is a local's pit stop – don't miss the buttery croissants and fine coffee.
Enjoy the view at: ETH Zürich terrace. Begin your day with a bracing walk, or a ride on the Polybahn funicular, to the university viewing platform. From here you can get a wide view of the city and surrounding area (as well as taking the ultimate selfie). Then plug in the Fluntern Cemetery to Google Maps and begin the 40-minute walk up to where James Joyce was laid to rest. You'll enjoy more superb views of the city on the way up and down.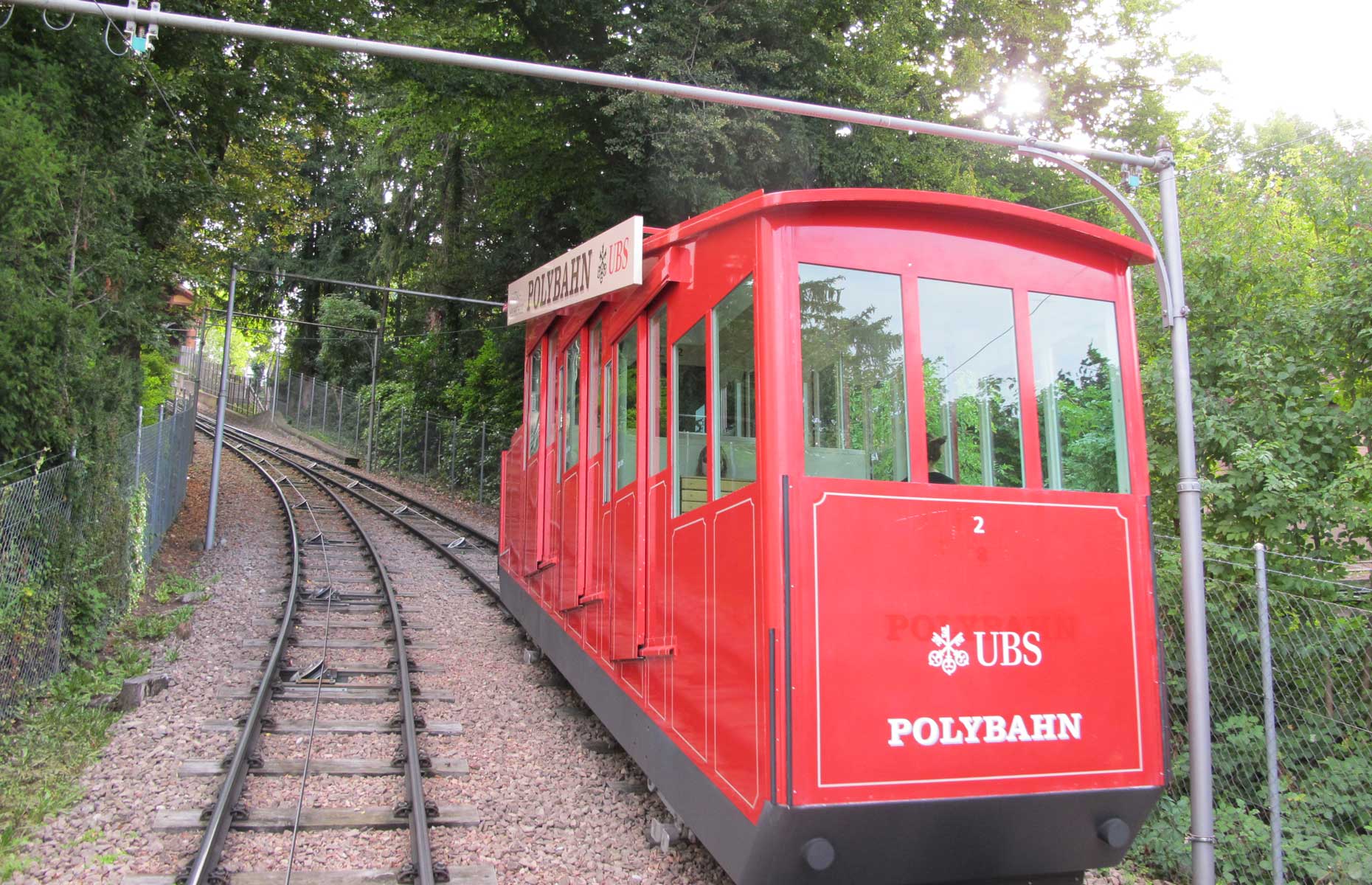 Rain Rabbit/CC BY-NC 2.0/Flickr
Grab a bite at: Sternen Grill. Head down towards Lake Zürich, and grab a cheap and cheerful bratwurst (or veggie alternative) from Sternen Grill. You can eat in the relaxing restaurant area, but it's a perfect takeaway food – get it to go, and find a scenic lakeside spot for lunch, perhaps near the grand Opera House.
Get some fresh air at: Lake Zürich. After lunch, hop on a two-hour boat tour from Bürkliplatz. As you cruise gently around the glittering lake, you'll get panoramic views of the Alps and, in the foreground, traditional Swiss lakeside houses and towns. Afterwards, you can wander around the lake for a closer look, heading back to the northwestern end of the lake once you've worked up an appetite again.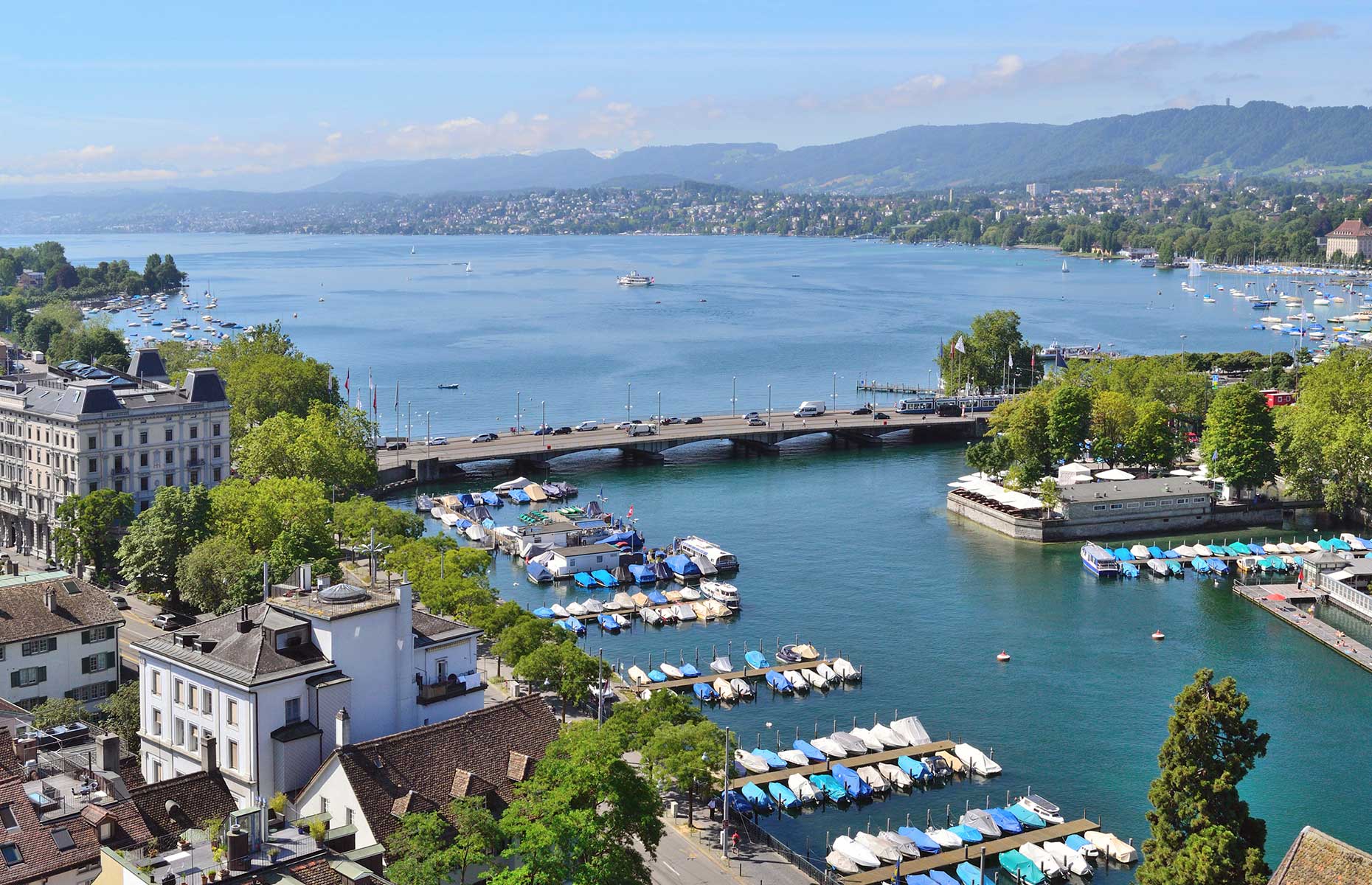 Estea/Shutterstock
Dine at: the restaurant at Hotel Helveita. Think veal ravioli with dried tomatoes and sage butter
Party at: Zukunft. Back in Langstrasse, head to Berlin-inspired Zukunft club for enthusiastic crowds, sweaty dancing and zeitgeist-driven dance music 'til the wee hours.
Day 3
Wake up for: Lindenhof. This Old Town square gets busy during the day, so come early for a quieter view of the morning light playing on the waters or River Limmat, and the city slowly waking up.
Stop for brunch: at characterful Milchbar supposedly whips up the best hot chocolate in town. But they do a killer brunch too and a glass of champagne is, in our minds, an utter necessity – you'll understand why when you see the opulent interiors which include a plush mosaic tiled floor and statement light fixtures.
See the sights in: The Old Town. Explore this prestigious district which spills across the river, especially the venerable Grossmünster and Fraumünster churches. Allow enough time to take in the captivating stained glass windows at the latter, installed in 1970 by Marc Chagall – once described by Picasso as "the only painter left who understands what colour really is".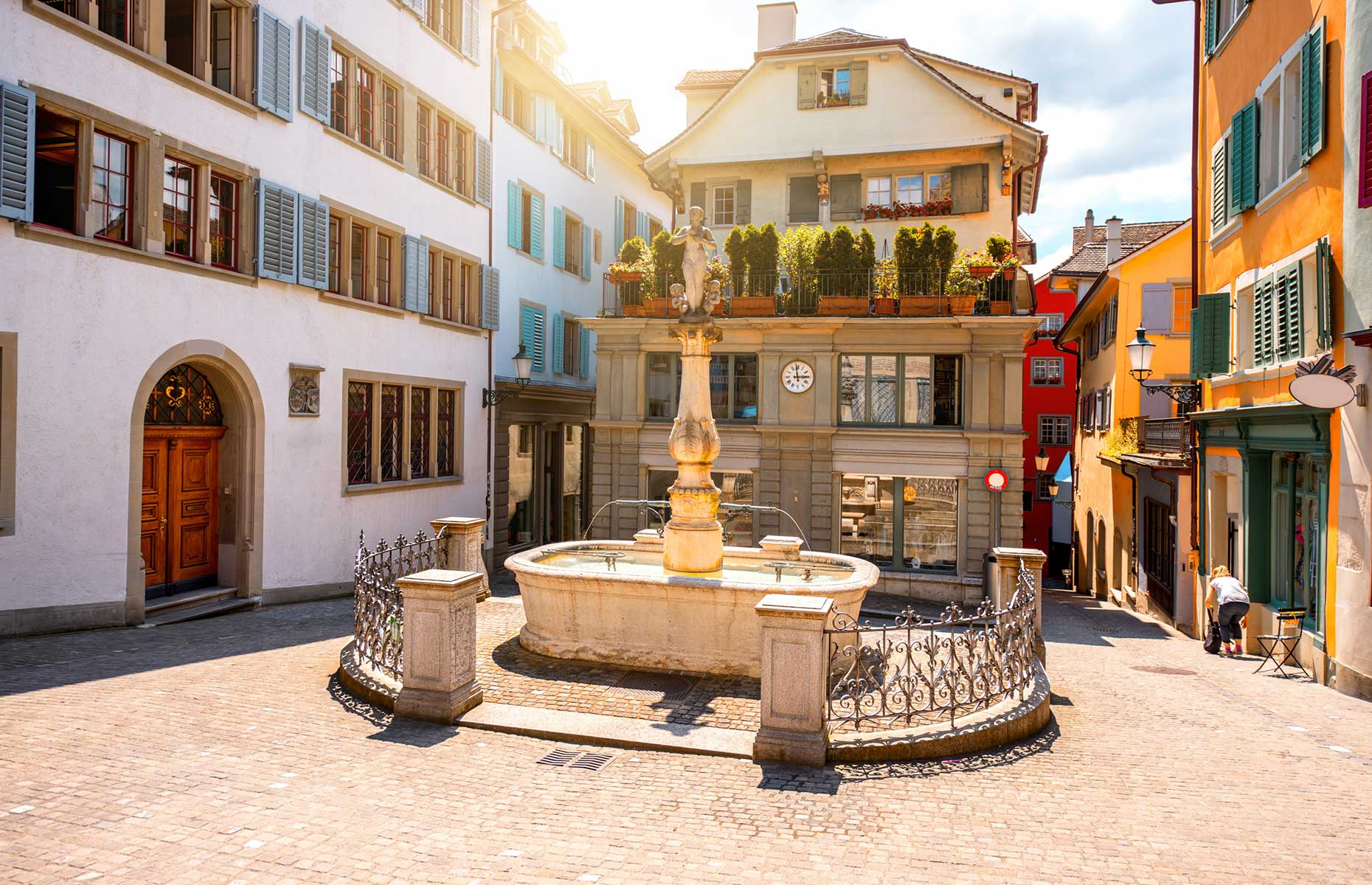 RossHelen/Shutterstock
A short walk up the Limmat, on the left bank, is the Landesmuseum. You'll want to spend a good couple of hours there, exploring the museum's cultural exhibitions and architecture.
Grab lunch at: Spitz. The restaurant at the Landesmuseum serves up well-prepared modern European meals in an airy dining room, balancing period features with playful design touches.
Find unusual souvenirs in: Zürich West. This thriving district is a great place for quirky gifts, plus great cafés to step into when you need a break. Most of them are in the arches under the IM Viaduct, but the whole area is worth exploring.
Get dinner at: Nietturm and Frau Gerolds Garten. If your flight time allows it, enjoy a pre-dinner drink at Nietturm, a striking modern space with great views, before heading to Frau Gerolds Garten for hearty comfort food (go for the fondue if you've any sense). It's right by main station, so a perfect option if you need to head to the airport after.
Map
Use our map to help you navigate around our favourite places in Zürich.
Be the first to comment
Do you want to comment on this article? You need to be signed in for this feature