Jerusalem: an ancient city with a modern heart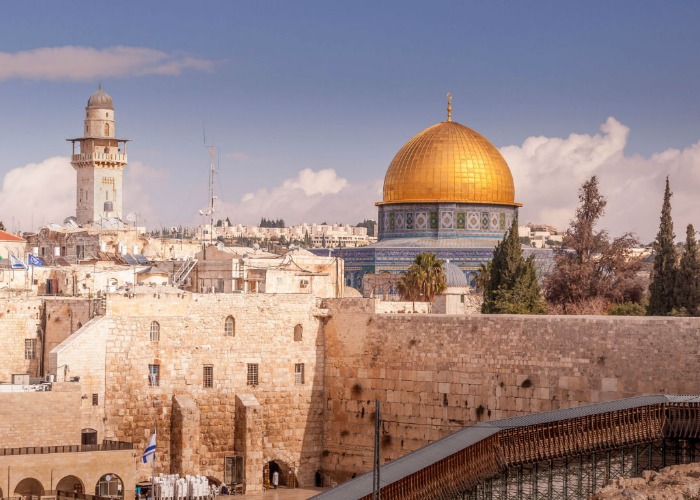 It's impossible not to be enthralled by Jerusalem. This ancient city is a treasure trove of historical architecture, religious culture and tradition, and yet it's still very much living in the 21st century and has all the cool coffee shops and nightlife scene to prove it.
'The city everybody wanted' is how the locals describe Jerusalem. It's true: so many world powers have tried, failed and succeeded in taking control of this city. The Greeks, the Romans, the Ottomans and the British have all had a hand in its history, and their influences are still visible today. Much of it is being unearthed right now through live archaeological excavations or as developers dig foundations for new buildings, but most of Jerusalem's history still lies beneath the Old City undiscovered.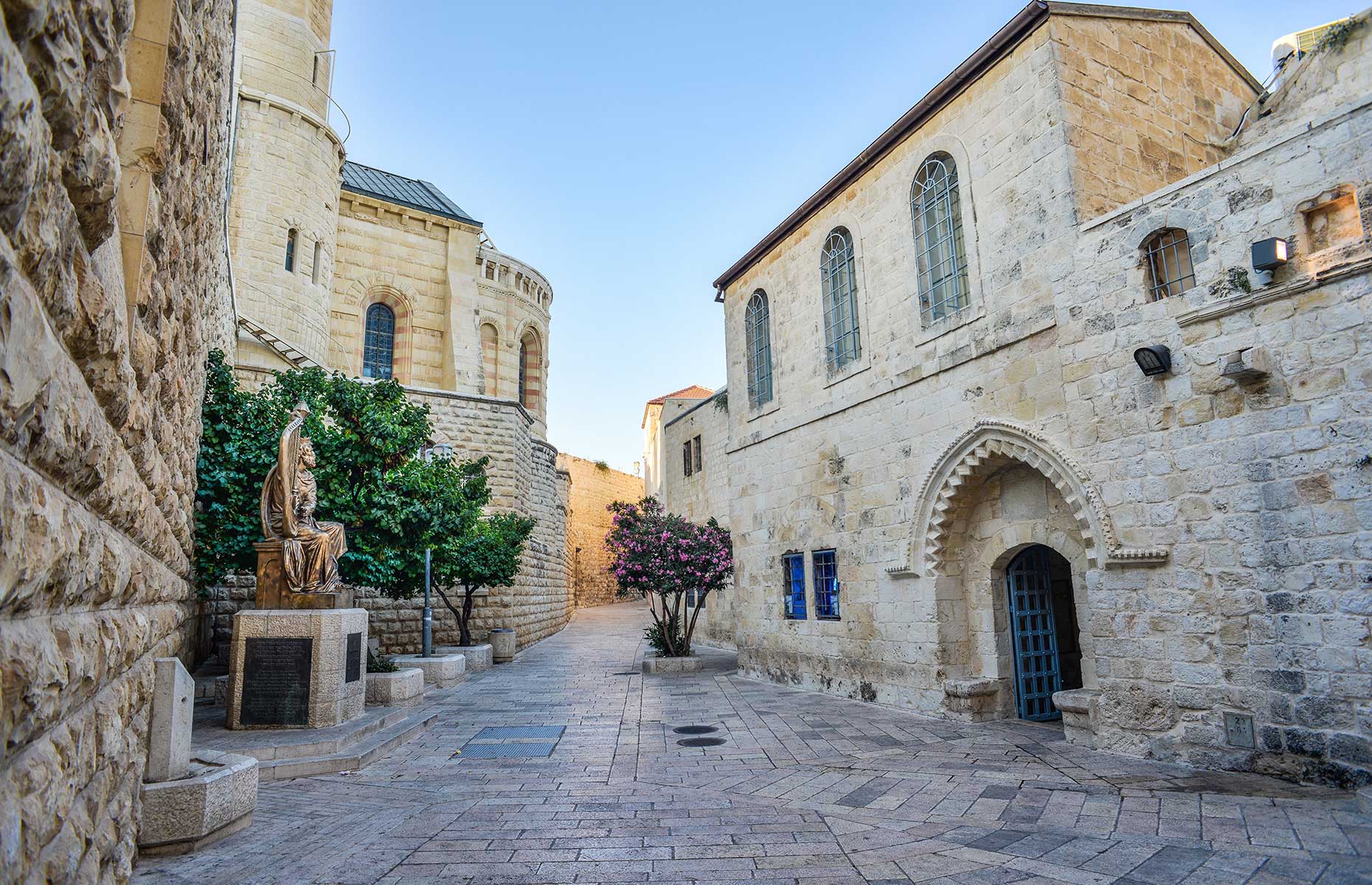 Ran Zisovitch/Shutterstock
It's partly this that makes it such an exciting destination: religious or not, it's undoubtedly astonishing to stand among the remains of what's thought to be the palace of King David (of Bible fame), now around 3,000 years old. It's also amazing to see archaeologists still digging away at what used to be a car park but is now the remnants of a grand Roman villa. Even those without a penchant for history will swoon at the story of the intern who discovered more than 260 Roman coins beneath the Givati Parking Lot.
But while its historical, religious and cultural importance is undeniable, there's a modern-day revolution taking place among the city's youth. Outside of the Old City is the First Station, where artist galleries, shops, independent restaurants, bars and cafés bustle with business, even on Shabbat. The Downtown Triangle is the city's commercial centre, and the nearby Machane Yehuda Market is part typical Middle Eastern shuk, part hipster hangout.
Take in both sides of this fascinating city with this itinerary. These are the best things to do in Jerusalem:
Day one
Get there: via Tel Aviv. There's no airport in Jerusalem itself, so hop on Wizz Air's daily flight from London Luton to Tel Aviv, arriving at around 9pm. The 485 from the airport will take you to the main bus station in Jerusalem, where you can get the light rail line to Yafo Center, just a five-minute walk from the hotel.
Check-in to: Villa Brown. This 24-room boutique hotel is a gorgeous retreat from the heat of the day. It's set inside a 19th-century villa, built by a prominent local Jewish doctor, and still has its original sandstone walls intact.
The breakfast is a feast of Middle Eastern and Mediterranean meze followed by a dish of your choice – the shakshuka is divine. Don't forget to make use of the 24-hour hot tub on the roof terrace on chilly evenings.
Day two
Top tip: get a Jerusalem City Pass for free entrance to up to three museums, free transport to and from the airport, use of public transport throughout the city and discounts on more attractions.
Take a tour of: the City of David. Not to be confused with the tower of the same name, which you'll see later, the City of David is actually south of Jerusalem's Old City walls. It might not look like much on the surface, but the ruins of this archaeological complex are profoundly important discoveries.
Latn Black
Set on a hill between two valleys, you'll see what's thought to be the ruins King David's Palace, the remnants of the home of a wealthy resident (complete with the world's oldest toilet) and the remains of a Roman villa from 2,000 years ago. Don't miss the opportunity to take the 2,000-year-old sewer tunnel up to the Western Wall. Take a tour with one of the official guides for the best overview.
Lottie Gross
Have lunch at: Tala Hummus & Falafel, for – you guessed it – hummus and falafel. They also serve shawarma and shakshuka.
Take a stroll: around the Old City. The golden hued Old City is an atmospheric place for an afternoon stroll. Head to the Daniel Street Arab Market to browse the curios in its many shops, then make your way to the Church of the Holy Sepulchre, whose labyrinthine interiors will wow.
Explore: the Tower of David Museum. Set inside the Tower of David – which is something of a misnomer as David was never actually here – this museum charts 4,000 years of Jerusalem's history through its small but fascinating exhibits. The building is an important historical site, dating from the medieval period and containing a number of archaeological finds now on display in its courtyard.
Lottie Gross
Late afternoon is the best time to visit here, as there's possibly no better view of the Holy City than from its ramparts while the sun is setting in the sky.
Dine with a view at: Mamilla Hotel. The best spot in the city for a view of Jerusalem, this luxury hotel's rooftop restaurant is the place for a memorable meal. See away the sunlight over Mediterranean or Middle Eastern cuisine and a glass or two of Israeli wine.
Latn Black
Stay up for: the sound and light show at Tower of David. Head back to the Tower of David to see it in a completely different light. This 25-minute light show can be difficult to follow if you're not totally familiar with Bible stories, but there's no denying its spectacle is worth watching nonetheless.
Lottie Gross
Day three
Eat your way around: Machane Yehuda Market. First opened as an official market in the late 1800s after traders travelling to the Old City along Jaffa Street (which connects with Jaffa Port in Tel Aviv) would stop to sell some of their wares, Machane Yehuda is still a thriving place today.
Latn Black
Tour company Yalla Basta have devised a genius way to explore the market: pick up one of their Bite Cards and you'll get a taster from six different vendors, as well as access to their audio guide on your smartphone, which explains a little about each place you stop at.
You'll find traditional spice stalls, mountains of olives, fresh produce and a tahini-making store all side-by-side with hipster coffee shops, bars and Asian restaurants. This market is a true representation of the many cultures that have come together in Jerusalem over the years, from Argentina to Iraq to Ethiopia.
Latn Black
Work off all that food at: the Israel Museum. Hop on the free bikes from the hotel and make your way to this mammoth museum, where an impressive model shows what the Old City around Temple Mount once looked like according to Jewish sources.
Don't miss the Shrine of the Book Complex where the Dead Sea Scrolls are on display, then get up-to-date on modern Israeli culture at the many changing modern art exhibitions.
Stop for a drink in: First Station. This complex – once the city's main rail station – is a cultural hub with performances, exhibitions and concerts going on daily. Head here for an afternoon of browsing shops and galleries, and stop for an aperitif in one of its many bars.
Dine at: Hachatzer for Mediterranean meets Israeli cuisine. Just beyond the car park for First Station, this curious round building houses one of the city's finest restaurants. It's kosher, so they're not open on Saturdays, but on any other day of the week this place is worth a pilgrimage for its exceptional meat dishes. Don't miss the perfectly cooked veal asado.
For more information about Jerusalem visit itraveljerusalem.com. Wizz Air flies from London Luton to Tel Aviv daily from £135 each way.
Looking to get to the heart of more cities? We've got you covered...
Explore Sharjah: where to stay, what to eat & the top things to do
5 reasons why San Antonio should be your next US trip
Explore Atlanta: the top things to do, where to stay & what to eat
Be the first to comment
Do you want to comment on this article? You need to be signed in for this feature