Explore Sharjah: where to stay, what to eat & the top things to do
For many, the United Arab Emirates is synonymous with oil, but next door to the glitz and glam of Dubai is Sharjah, an exciting destination in its own right that has embraced its cultural heritage and offers a distinctive blend of east and west. Here's our guide to exploring Sharjah.
Why go to Sharjah
Sharjah is a two-in-one destination: soak up the sun in one of the many Persian Gulf beach resorts in the morning and, when the midday sun gets too hot, seek shelter in one of the city's many museums or shop for dates, honey and spices in a bustling souk.
The third largest emirate in the UAE might be losing the popularity contest to Abu Dhabi and Dubai, but in many ways it's a more rewarding holiday destination. Just 11-miles from Dubai Airport, Sharjah might seem like an extension of its sprawling neighbour, but it's a city and a self-governing emirate in its own right, comfortably mixing modernity with a rich cultural heritage.
What to see and do in Sharjah
Explore the Al Majaz Waterfront
In the heart of the city, Khalid Lagoon's waterfront has undergone a massive redevelopment in recent years, transforming it into a destination in itself. You can play a round of mini golf, take to the lake in an electric water kart or enjoy the beautiful gardens and some excellent restaurants.
Start with a visit to the Al Noor Mosque. It's the one of only three in the country open to non-Muslim visitors, and you can book a tour to learn more about Islam and admire the building's domes, arches and pillars, decorated with Arabic calligraphy.
Next to the mosque a walkway on the water leads to Al Noor Island. Here a butterfly house sits within a tranquil landscape of 70,000 indigenous and endangered trees and plants, offering a serene escape from the city.
When the sun sets, a sound and light show at the Sharjah Fountain attracts large crowds, while the open-air amphitheatre hosts a range of concerts, plays and comedy shows.

Talal Berkdar/Shutterstock
Relax in Al Qasba
With an almost Venetian vibe, this canal-side development has restaurants, cafés, shops and even a Ferris wheel. Come here for a relaxed Lebanese-inspired lunch in Shababeek, then step aboard The Eye of the Emirates wheel to see the Gulf coast stretching as far as Dubai. Afterwards, board one of the traditional abra boats for a tour of the lagoons and soak in views of Sharjah.
Go shopping in Al Jubail
Caught in the deep sea waters of the Arabian Gulf, more than 10 tonnes of fish arrive in the Souq Al Jubail every day. Come to the fish market before to marvel at the sight of giant prawns, blue crabs and tuna the size of a calf, and at 4pm make your way to the central entrance where fishermen auction off the catch of the day to the buyers.
Cross over to the fruit and vegetable market to admire stalls groaning under the weight of fresh produce, including more than 120 different varieties of dates. Buy a fresh coconut for five dirhams (roughly £1) and take in all the sights and smells of the souk.

Karlina Valeiko
Dive into history in the Heritage Area
Next door to Al Jubail is the Heart of Sharjah, a unique development that's transforming the historic Sharjah's oldest area into a major cultural attraction. Due to be completed in 2025, an exact replica of the old city that once stood here will be rebuilt.
Right now you can visit the traditional Arab markets, known as souks, where each stall is brimming with everything from antiques to jewellery. A variety of museums are also open, including the impressive Al Hisn Fort. Built in the 19th century from coral stone, the fort now houses a museum with countless artefacts from the time when it was both the residence of the ruling Al Qawasim family and the government's headquarters.
A 15-minute walk from the Heart of Sharjah, the Sharjah Museum of Islamic Civilization is a must-visit. The museum shines a light on the Islamic world's contribution to sciences such as astronomy, medicine and maths through interactive displays and artefacts. Don't miss the celestial dome, depicting the stars and the signs of the zodiac in the night sky, and Kishwah – a silk cloth that covers the Kaaba in the Muslim Holy City of Mecca in Saudi Arabia. When a new Kishwah for the Kaaba is hand-woven and embroidered every year, the old one is donated to a museum in a Muslim country.

Visit Sharjah
Get up close to wildlife in Wasit Nature Reserve
This peaceful nature reserve within the city is a tranquil escape from the main roads that surround it. Start with a visit to the Wetland Centre and get to know a diverse range of coastal bird species in large aviaries, then rent a buggy and take a drive around the reserve. Have your camera ready as there's a good chance you'll spot ibis, heron and oryx. Stop at the northeastern bank of the Wasit Lake for a beautiful sunset.
See the desert in Maleha
A 40-minute drive out of the city towards the Hajar Mountains, the Mleiha Archaeological Centre in Maleha is well worth the trip. The Martian desert landscapes are simply breathtaking and the tours inside ancient tombs, ruins and caves offer a rare glimpse into the lives of prehistoric humans. It isn't just for history buffs though, there are plenty of outdoor activities. Take a drive around the desert and stop at Jebel Mleiha, also known as Fossil Rock, or experience the beauty of Mleiha on horseback.
Where to stay in Sharjah
Combine a beach escape with a city break at the Sheraton Sharjah Beach Resort. A short drive away from the city centre, the hotel has seven restaurants and bars, an excellent spa and a private, palm-fringed beach as well as an outdoor pool. In Al Majaz stay at the Golden Tulip – a 4-star hotel with a private beach and an indoor pool. The best rooms overlook the Al Majaz Waterfront and all the attractions are nearby.
If you're looking to get away from it all, the newly-opened Kingfisher Lodge sits on the eastern coast in Sharjah's exclave Kalba. Overlooking the Gulf of Oman, it's the first eco-lodge in the region with 20 luxury tents that are all made from natural and biodegradable materials. You'll have a private paddling pool and lounging area. There are lots of outdoor activities available, like kayaking in the Khor Kalba Mangrove Reserve and wildlife spotting. The lodge also offers free transfers to and from Dubai Airport.
booking.com
What to eat in Sharjah
You'll find Moroccan, Tunisian and Lebanese influences in Emirati cooking, so dishes like falafel, hummus, tabouleh and shawarma are common on restaurant menus. Order kibbeh, a deep-fried mix of lamb mince, pine nuts and bulgur, and don't pass on mandi – a lamb or chicken dish, roasted in a tandoor and served on a bed of spiced rice.
Dates are another staple food in the region. They're usually served alongside a cup of Arabic coffee (gahwa) as a traditional welcome. Thanks to the abundance of this palm fruit, there are many indulgent desserts on offer in the Emirates. Try khanfaroush, deep-fried Emirati doughnuts with date syrup and araroot, an Emirati custard flavoured with saffron. The latter tastes incredible with bathith – an Emirati take on a crumble topping made from dates, roasted flour and butter. Head to Al Fanar on the Al Majaz Waterfront to try these UAE favourites.
Karlina Valeiko
What you should know before visiting Sharjah
Be respectful
Sharjah is a deeply religious and conservative destination, so cover your knees and shoulders in public and keep displays of affection to a minimum. The Visit Sharjah website has plenty of useful information on how to adhere to local customs.
No alcohol is allowed
Sharjah is a dry state so alcohol isn't allowed, even in hotels and restaurants, though you might find a couple of small wines and beers in the mini-bar to enjoy in your room.
During the holy month of Ramadan (usually from around mid-May to mid-June), Muslims fast from sunrise to sunset so restaurants stay closed during the day. Non-Muslims can find designated food and drink zones in hotels and shopping centres. Note that it's not allowed to consume any food or drink outside these areas during the holy month.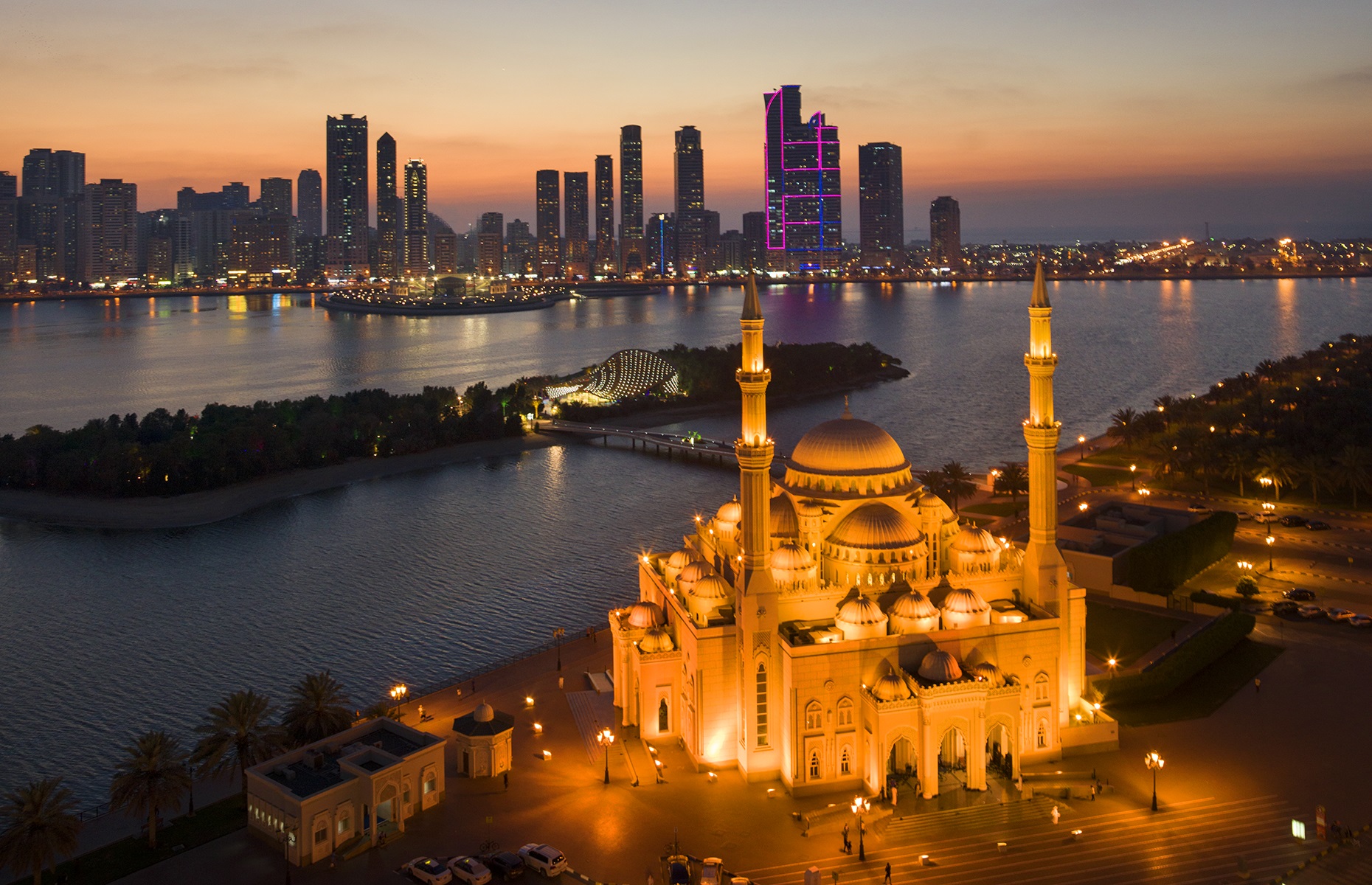 Visit Sharjah
It's going to get hot
Sharjah has a hot desert climate with sweltering, humid summers. The average temperatures from June to August can hit around 42°C. If you decide to visit Sharjah between November and March, when temperatures range between 25°C to 30°C, it's still important to wear plenty of sunscreen and stay hydrated.
Getting to and around Sharjah
There are plenty of flights from across the UK to Dubai Airport, including airlines like Emirates, British Airways and Virgin Atlantic. There are currently no directs flights to Sharjah Airport from the UK.
From Dubai Airport, a taxi to the city should cost around £20, or you can hop on the red metro line and then catch a bus from Deira City Centre (around £2). Taxis are the quickest and easiest way to get around Sharjah itself, but the freedom of having a hire car is ideal for exploring more of the emirate and its surrounds.
Be the first to comment
Do you want to comment on this article? You need to be signed in for this feature