Explore Atlanta: the top things to do, where to stay & what to eat
After being defined for years by little more than its sprawling suburbs – rather than its revolutionary civil rights history – Atlanta's image is finally starting to change. It's rightly being celebrated as a centre of black American culture and its laid-back big-city vibe is drawing in tech start-ups and tourists alike. Redevelopment projects have transformed run-down urban neighbourhoods and the food and drink scene now rivals that of America's biggest cities.
Key neighbourhoods in Atlanta
Downtown and Midtown
Despite its impressive skyline, Downtown can feel a little soulless. This is where you'll find the city's top attractions, including the World of Coca-Cola, CNN Center and Center for Civil and Human Rights, but little in the way of atmosphere. Move north into Midtown for cool hotels, the excellent High Museum of Art and good shopping around Atlantic Station, one of Atlanta's landmark retail-meets-residential developments.
Sweet Auburn
Historic Sweet Auburn, southeast of Downtown, was the birthplace of Martin Luther King Jr and designated a National Historic Site in 1976. It still has a neighbourhood feel, the streets lined with clapboard houses and local business thriving in Sweet Auburn Curb Market. There are numerous places to pay your respects to the leading lights of the civil rights movement like the King Birth Home where Martin Luther King Jr was born and the International Civil Rights Walk of Fame which honours many others who fought for equality.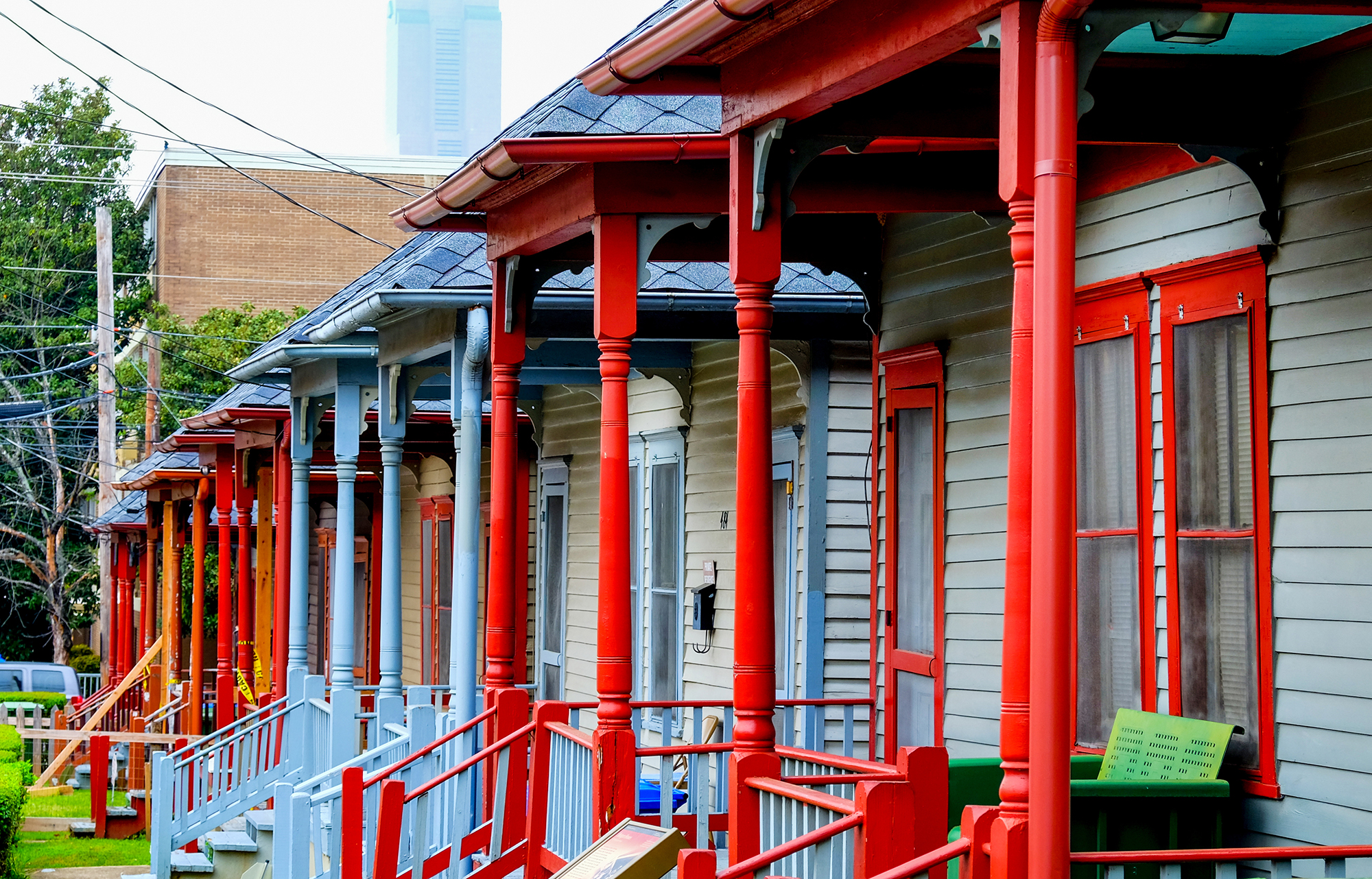 Gill Copeland/Shutterstock
The Eastside
Neighbourhoods on Atlanta's Eastside range from long-established communities like punky Little Five Points to the Old Fourth Ward, one of the areas most transformed by the city's ambitious redevelopment projects. The BeltLine – an urban trail inspired by New York's High Line – has made this side of the city much easier to explore, connecting the street food stalls of Ponce City Market and Krog Street Market to skate parks and sprawling Piedmont Park. If you've fallen in love with Netflix smash hit Queer Eye, this is also where you should go hunting for the Fab Five's loft.
The Westside
Atlanta's Westside was once industrial but its red brick buildings have been taken over by galleries and bars, with trendy apartment complexes cropping up each year. These days, it can be hard to keep up with the latest spot for craft beer or cocktails. The Westside Provisions District, a meat-packing plant turned slick shopping and dining destination, is a fail-safe choice.
Buckhead
Far north of the centre, Buckhead is Atlanta's most pretentious neighbourhood – so much so that its residents once petitioned to stop Justin Bieber buying a mansion here. It's almost another Downtown, with glittering 5-star high-rise hotels and upscale malls Lenox Square and Phipps Plaza. What it lacks in proximity to the rest of the city, it makes up for in luxury.
The best hotels in Atlanta
Almost every luxury brand has a presence in Atlanta, from Four Seasons to Ritz-Carlton. For super-high end, head for the Buckhead neighbourhood. The St. Regis Atlanta goes all out, with everything from a butler service to a bar that claims to serve the city's best Bloody Mary. At the nearby 42-storey Mandarin Oriental, their spin on Southern hospitality even extends to peaches and cream treatments in the spa.
Midtown is more convenient for exploring the city and it's easier to find a good deal here. The Beaux-Arts-style Georgian Terrace has played host to the likes of F. Scott Fitzgerald and Elvis Presley, and the views from its rooftop pool are hard to beat. The W Midtown couldn't be more different, all neon lighting, graffiti-scrawled walls and black furniture, but they also have a rooftop 'WET Deck'. Downtown, The Ellis Hotel is a rare find. The only boutique hotel in this part of town, it's pet friendly too.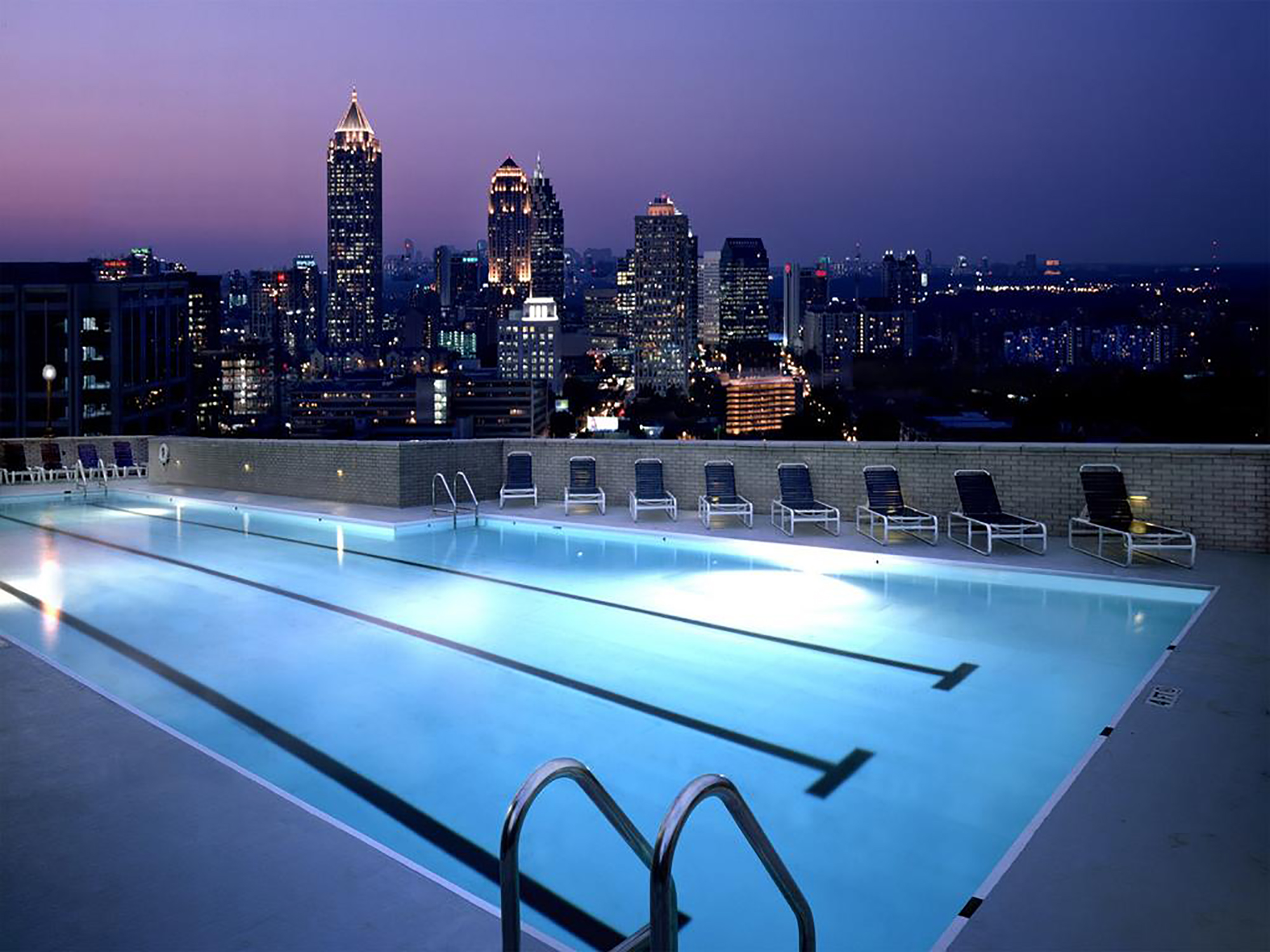 Georgian Terrace/booking.com
Looking for something different? Atlanta's Eastside has plenty of quirky Airbnb options like treehouses, tepees, tiny houses and eco-friendly converted shipping containers.
Where to eat & drink in Atlanta
You can't visit Atlanta without trying some classic Southern dishes, whether that's old-school fried chicken and collards at The Colonnade (a spot championed by the late and great Anthony Bourdain) or uber-Instagrammable biscuits at Callie's Hot Little Biscuit, a family-run company founded in Charleston. The other newcomer soon to open is cult Nashville chicken joint Hattie B's, whose 'shut the cluck up' spicing should be approached with supreme caution and plenty of sweet tea.
The city isn't renowned for its barbecue but there are some good spots. Try Texas-style Fox Bros Bar-B-Q or experimental Sweet Auburn Barbecue in the Curb Market, where you'll find pimento cheese wontons and barbecue-rubbed tofu. Don't leave without at least one meal in either the landmark Ponce City Market, a smart food hall serving everything from take-out burgers to a sit-down oyster bar, or the more relaxed Krog Street Market nearby.
Fine-dining is spread across the city but some of the best modern American kitchens are on the Westside. Bacchanalia has been stacking up 5-star reviews since the 1990s, while more recent additions include the excellent Miller Union, famed for its cocktails and seasonal ingredient-led cooking. Over on the Eastside, Double Zero will fulfil your every pasta fantasy – try radiatori with lamb merguez and mint pesto, or orecchiette with salsiccia and marcona almonds.
For drinks, it's all about craft beers and cocktails. There are low-key brewery bars like the Wrecking Bar Brew Pub and New Realm Brewing Company, or hip lounges like Paper Crane, where the cocktails complement the tasting menu at sister restaurant Staplehouse downstairs.
The top things to do in Atlanta
Firstly, there are the city's neighbourhoods themselves, which thanks to initiatives like the BeltLine are now much easier to explore. You could spend at least a day walking or cycling this trail on the Eastside, starting in the north and following it all the way to the Martin Luther King Jr. National Historical Park.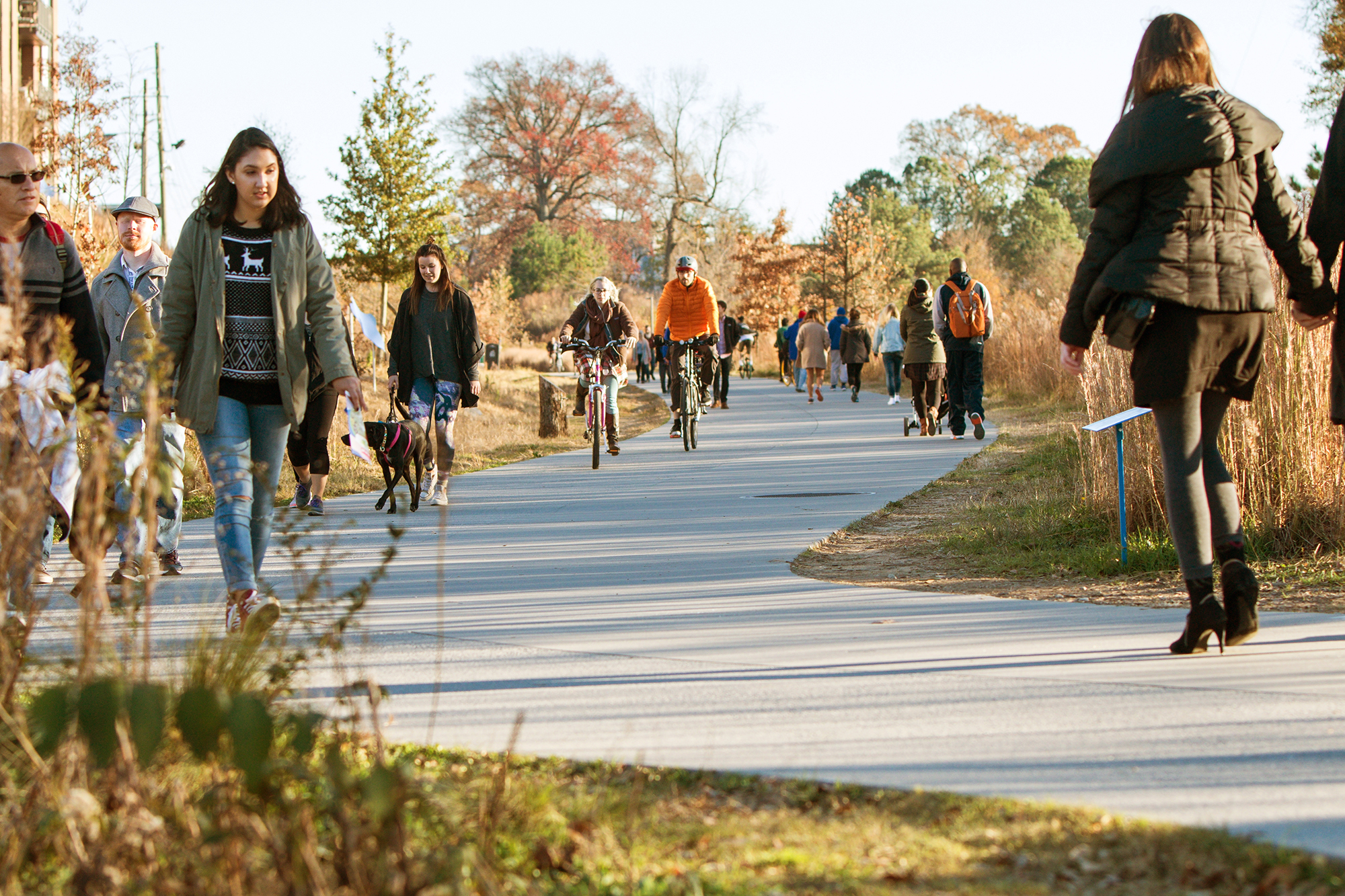 Blulz60/Shutterstock
Downtown, the outstanding and insightful National Center for Civil and Human Rights connects the city's role in the civil rights movement to global contemporary struggles. It's slightly at odds with the gimmicky World of Coca-Cola next door, which traces the history of the brand and its drinks. Studio tours at the CNN Center are slightly more high brow, with behind-the-scenes access to the newsrooms.
In Midtown, the High Museum of Art is a must-visit, both for its sculptural Richard Meier-designed architecture and extensive permanent collections. Nearby, the Atlanta Botanical Garden is more family-friendly: there's a children's garden and summer splash pad. Alternatively, look out for their adults-only cocktail nights when the gardens stay open late.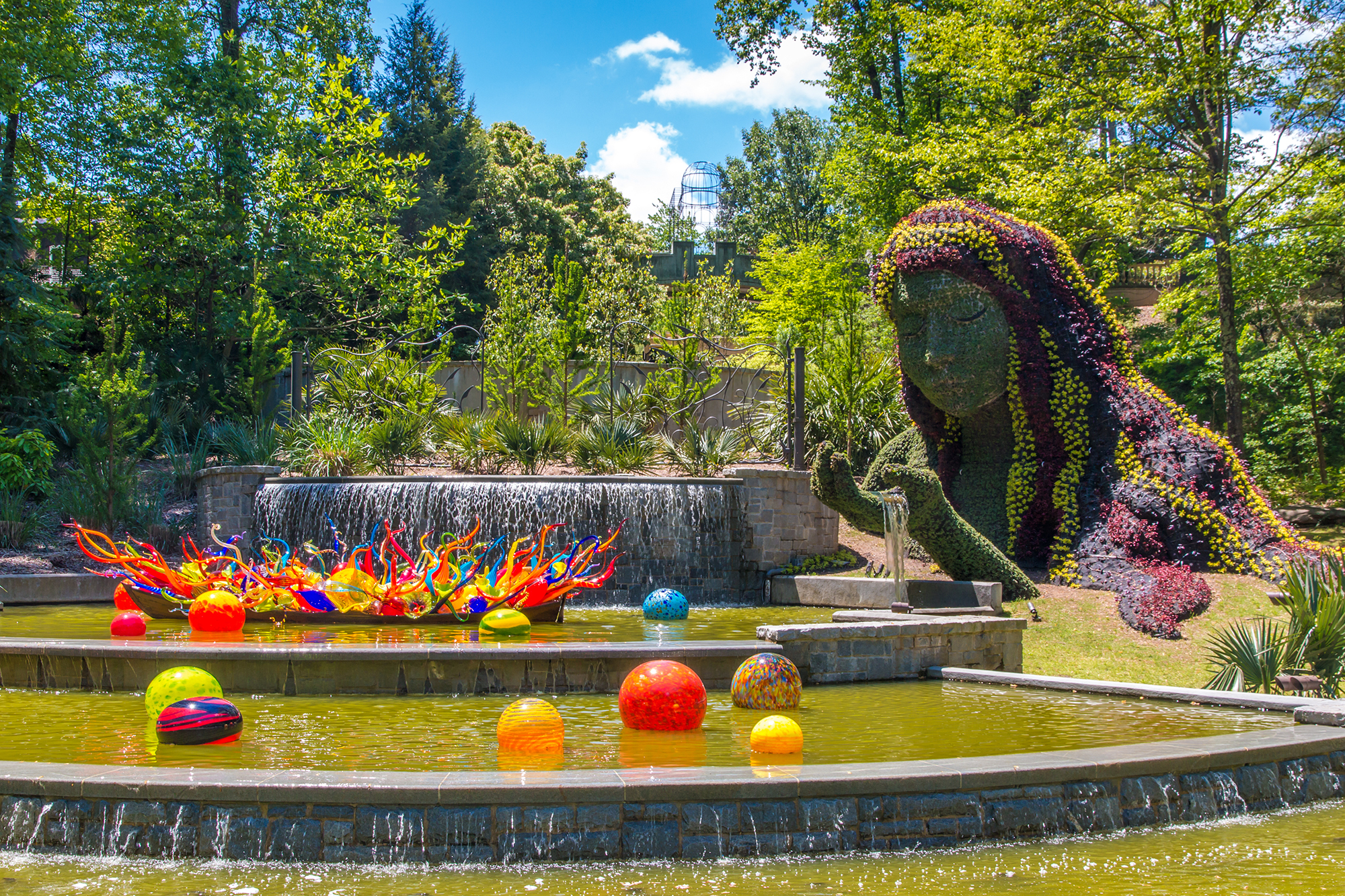 Irina Mos/Shutterstock
Getting around
While Atlanta is making big strides towards becoming more pedestrian friendly, you ideally need a car to get around – or at least a healthy Uber budget. Most people drive and not all areas are safe to explore on foot so you may feel uncomfortable walking on near-empty pavements after dark. On the plus side, parking lots are plentiful and most restaurants offer a valet service.
There's also MARTA, the city's perhaps unfairly maligned rapid transit rail system, which offers a useful connection to the airport, if somewhat limited links between neighbourhoods.
Where should you go next?
Atlanta is home to the world's busiest airport and the de facto capital of the South, so it's no surprise that the city is a fantastic base for a longer trip. The most obvious weekend road trips are Nashville and Savannah.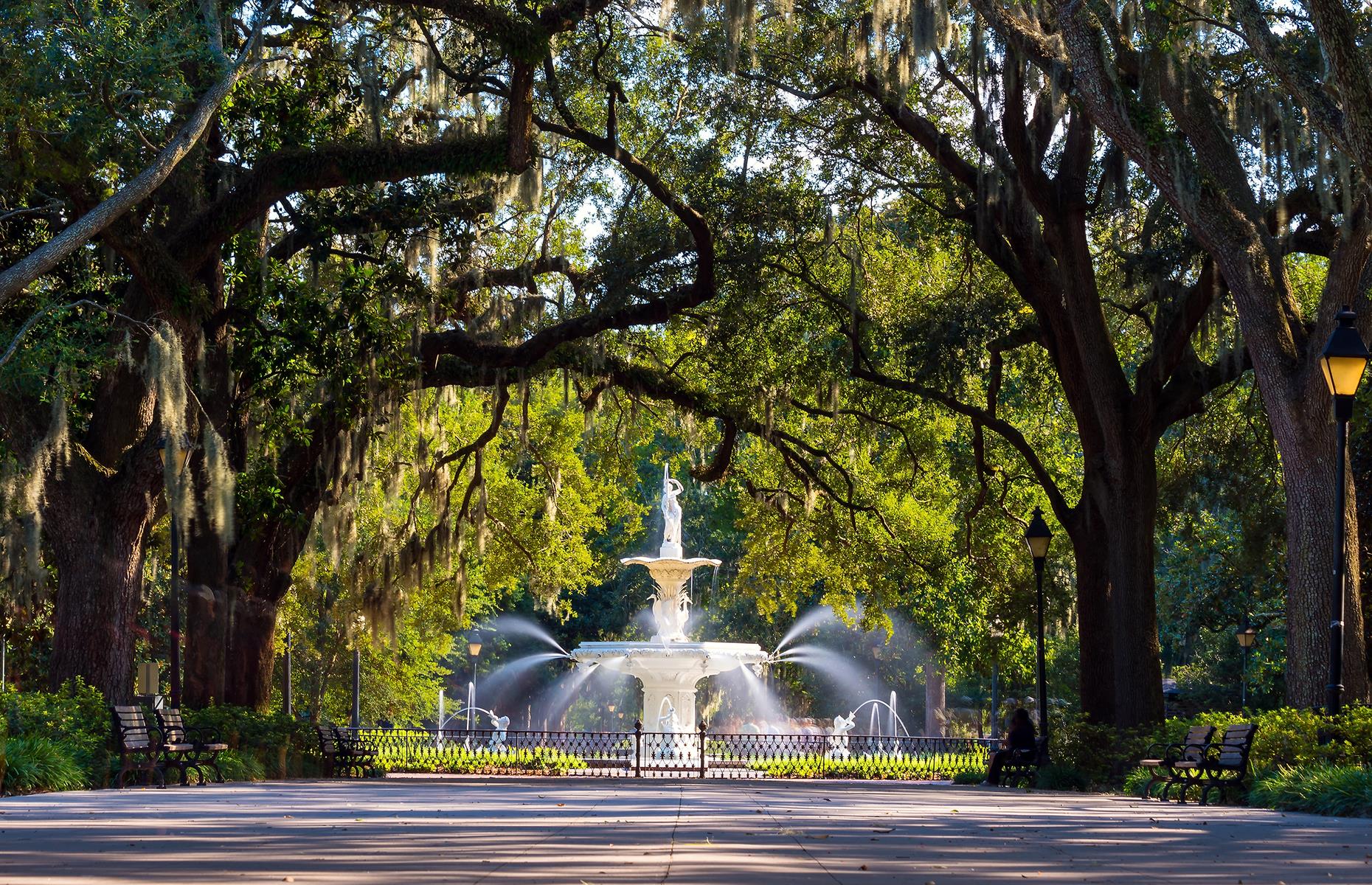 f11photo/Shutterstock
The former's honky-tonk bars and music scene are the big draws, and you can stop off at the Jack Daniel's Distillery for refreshment on the way. Savannah has a slower pace of life, its moss-draped mansions ideal for lazy exploration before days spent on Tybee Island's beaches nearby. With more time, you could go as far as genteel Charleston in South Carolina, or work your way to the Crescent City over two days, stopping in Montgomery, Alabama, on the way.
The ultimate Atlanta itinerary
Day 1
Check-in to: the W Midtown and start your trip with a dip in the rooftop pool as you admire the Atlanta skyline.
Sip cocktails at: JCT. Kitchen & Bar in the Westside Provisions District. Try the transatlantic tango, a delicious mix of fino sherry and mezcal.
Dine at: Miller Union, the perfect introduction to the Atlanta restaurant scene. You could find anything from grits fritters with country ham to quail and cornmeal spoonbread.
Day 2
Explore: the Atlanta Botanical Garden before the day gets too warm. Atlanta can swelter in the summer.
Lunch at: The Colonnade and go big on sides: coleslaw, collards, mac 'n' cheese, pickled beets and Waldorf salad.
Tour: the Martin Luther King Jr. National Historical Park. You could easily spend a day here so make a plan of what you want to see. You can only visit The King Birth Home on guided tours but you can explore the educational King Center at your own pace.

alisafarov/Shutterstock
Stop by: the National Center for Civil and Human Rights for a contemporary perspective on the work still needed to fight inequality and injustice.
Go big on beer at: the New Realm Brewing Company. There's a bar and restaurant here, and they offer brewery tours. It's the perfect spot to settle in for a relaxed evening.
Day 3
Hire a bike: to cycle the BeltLine, keeping an eye out for cool graffiti and art installations along the way.
Lunch at: Ponce City Market, leaving plenty of time to browse the shops.
Treat yourself to: a massage at the Mandarin Oriental Spa. You don't have to stay there to take advantage of the terrace, pool and treatments.
Feast on: pizza and pasta at Double Zero. It's right next to Emory university and offers a glimpse into a different side of the city.
Map of Atlanta
Use this handy map of Atlanta to help plan your trip.
Be the first to comment
Do you want to comment on this article? You need to be signed in for this feature