6 things you must do in Beverly Hills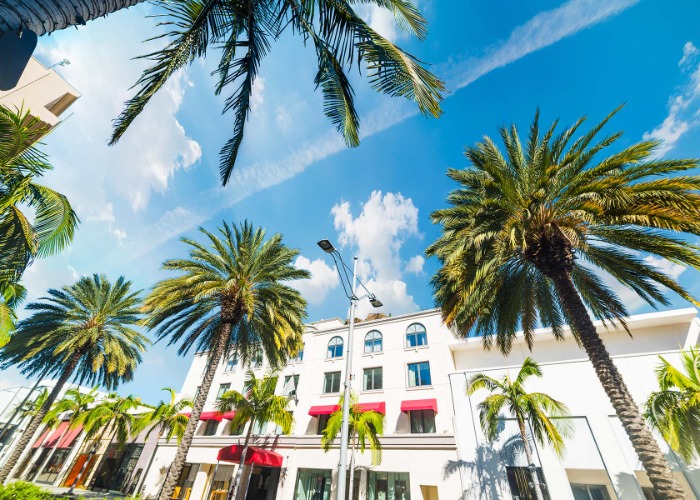 Leave Rodeo Drive behind and explore a different side to Beverly Hills, from hiking in Franklin Canyon Park to joining self-guided art tours.
Mention Beverly Hills and images of super-rich celebrities posing in their sprawling multimillion-dollar hillside mansions most likely spring to mind. Most visitors to this world-famous celebrity enclave come with the hopes of spotting a famous face, taking a Hollywood bus tour, shopping on world-famous Rodeo Drive and taking a selfie at the famous Beverly Hills sign in Beverly Hills Park.
But amid these obvious clichés is a side to Beverly Hills most people overlook. From hiking in the hills and snooping around historic homes to self-guided public art trails and exciting new standout restaurants, this is a side of Beverly Hills many leave uncovered.
READ MORE: A guide to Los Angeles' neighbourhoods
1. Follow a public art trail around the city
It's a huge surprise to most that Beverly Hills is overflowing with public art. In fact, there are more than 70 public art sculptures and installations dotted around the city, which you can discover on a self-guided walking tour.
Notable works include a 14-foot-high (4.3m) piece called Torso by Mexican-American sculptor Robert Graham, which marks the start of the Rodeo Drive Walk of Style, honouring style icons with plaques embedded in the pavement of Rodeo Drive. In Beverly Gardens you'll find Hymn of Life: Tulips by Japanese contemporary artist Yayoi Kusama and Electric Fountain by American sculptor Robert Merrell Gage as well as Twins by Richard Serra in front of Beverly Hills City Hall.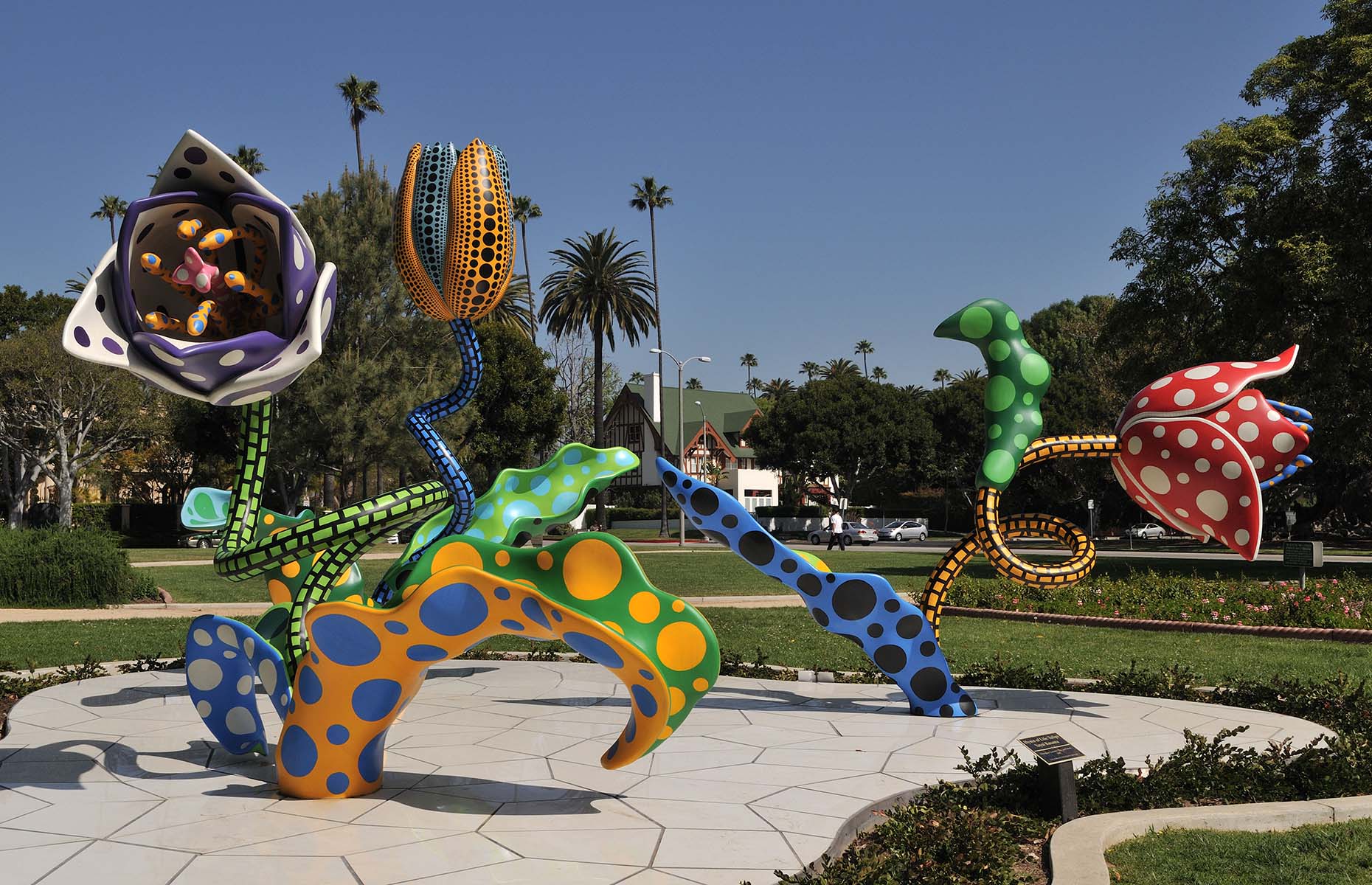 EuroStyle Graphics/Alamy Stock Photo
2. You can ride around the city centre in a historic trolley car
Beverly Hills city centre is walkable but travelling on The Beverly Hills Trolley is a fun alternative way to get your bearings. It's not a tour but rather a novel and free way to get from A to B at the weekend. You can hop on and off as you wish or sit back for the whole loop and enjoy the view.
The route runs between Civic Center and Rodeo Drive every weekend throughout the year from 11am-5pm. It also operates a 40-minute curated route on the first Thursday of each month when shops and restaurants offer discounts to encourage local dining and shopping.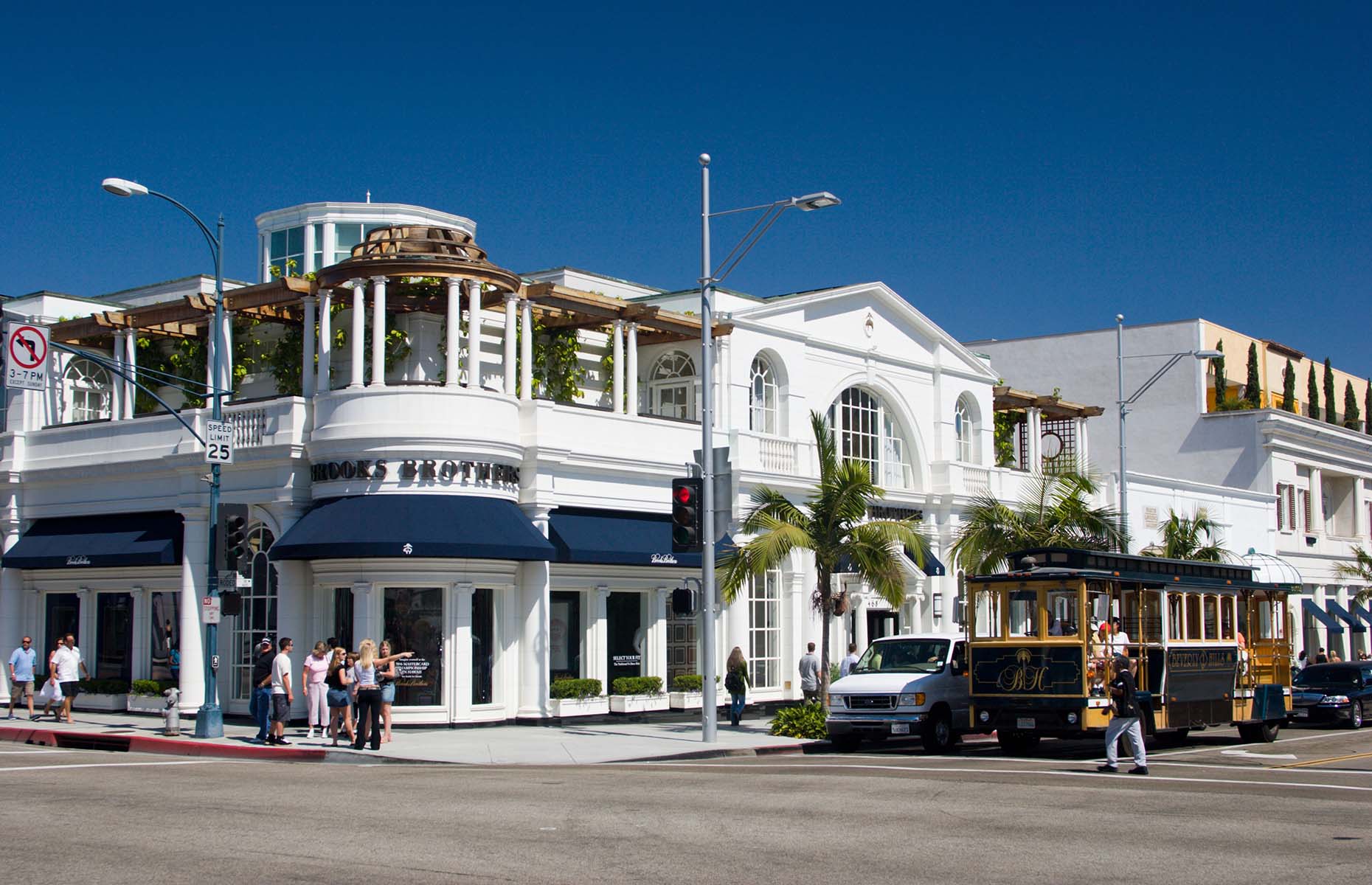 LE Robshaw/Alamy Stock Photo
3. Take in the view from Greystone Mansion and Park
Set along a winding road in the Hollywood Hills is the Greystone Mansion, a 55-room Tudor-style home built in 1928 by an oil tycoon called Edward L Doheny Jr. It cost over £3.5 million ($4m) to build – the equivalent of around £60 million ($69m) in 2022 – and was the most expensive home in California.
Today, it belongs to the city of Beverly Hills and is a registered historical landmark. Although the house isn't open to the public, its surrounding 18 acres of lush parkland are free for visitors to explore. They offer a peaceful spot for contemplation and taking in the view across to the city centre.
Jamie Pham/Alamy Stock Photo
READ MORE: An easy guide to LA's best beach areas
4. Feast on modern Bajan food
Beverly Hills is packed with fancy high-end restaurants, but Mirame – opened in 2021 – stands out as a fun, less formal option. Not only because it serves contemporary Mexican cuisine with a Californian twist – rare in Beverly Hills – but also because it's decked out in a fancy Bajan beach shack style. Think breezy high ceilings, scatter cushions on bench seats, walls hung with dried flowers and folk art, potted cacti on the terrace, rattan light shades.
It offers three simple, slightly different menus for brunch, lunch and dinner. For lunch don't miss out on ordering the green chilli buttermilk fried chicken tacos. At dinner, sip Es Fabuloso margarita and order the Dungeness crab tostadas and the cauliflower ceviche.
5. Tour a chocolate factory with a claim to fame
If it's sweet souvenirs you're after, Edelweiss Chocolates is the perfect place to stock up. This family-run business has been concocting chocolatey magic in the same downtown shop since 1942, during Hollywood's Golden Age when Frank Sinatra and Katharine Hepburn were regular customers. He loved the maple creams while she apparently had a penchant for the dark chocolate turtles.
Each irresistible sweet treat, from marshmallows and truffles to chocolate-dipped cherries and honeycomb, is made by hand from scratch in the little factory out the back, which you can tour. Fans of Lucille Ball might recognise the conveyor belt as the inspiration for a scene in the 1950s TV show I Love Lucy in which characters Lucy and Ethel get a job in a chocolate factory.
6. Walk it all off with a hike around Franklin Canyon Park
It would be a missed opportunity to spend a weekend in Beverly Hills without getting out and about for a hike in the 605-acre Franklin Canyon Park. It's located north of the city, between the San Fernando Valley and Beverly Hills city centre, and offers several fairly easy hiking trails for a flavour of the local landscape.
For example, the Discovery Trail is a quick and easy loop through the black walnut woodland along the bottom of the canyon; the 2.3-mile (3.7km) Hastain Trail offers views of the Pacific Ocean on a clear day; the one-mile (1.6km) Berman Trail takes you through the Santa Monica Mountains. With any luck, you might also spot one of the birds that live in the canyon, such as a California towee or even a mandarin duck.
READ MORE: Road trip along California's Central Coast
For more ideas and inspiration on things to do in the city of Beverly Hills, visit lovebeverlyhills.com
Lead image: Gabriele Maltinti/Shutterstock
Be the first to comment
Do you want to comment on this article? You need to be signed in for this feature