California's Central Coast road trip: the top things to do, where to stay & what to eat
If you're dreaming of the ultimate California road trip, look no further than the Central Coast. This fabled slice of California has natural beauty in spades, plus award-winning wine regions, sandy beaches, and little cities packed to the gills with arts and culture. The best way to see it all is to hit the road, so buckle up and follow our complete guide to California's Central Coast.
Why choose California's Central Coast?
The Central Coast begins just north of Los Angeles, unfolding for more than 300 miles and encompassing four smaller regions: Ventura, Santa Barbara, San Luis Obispo (SLO Cal) and Monterey. It ends a little shy of San Francisco.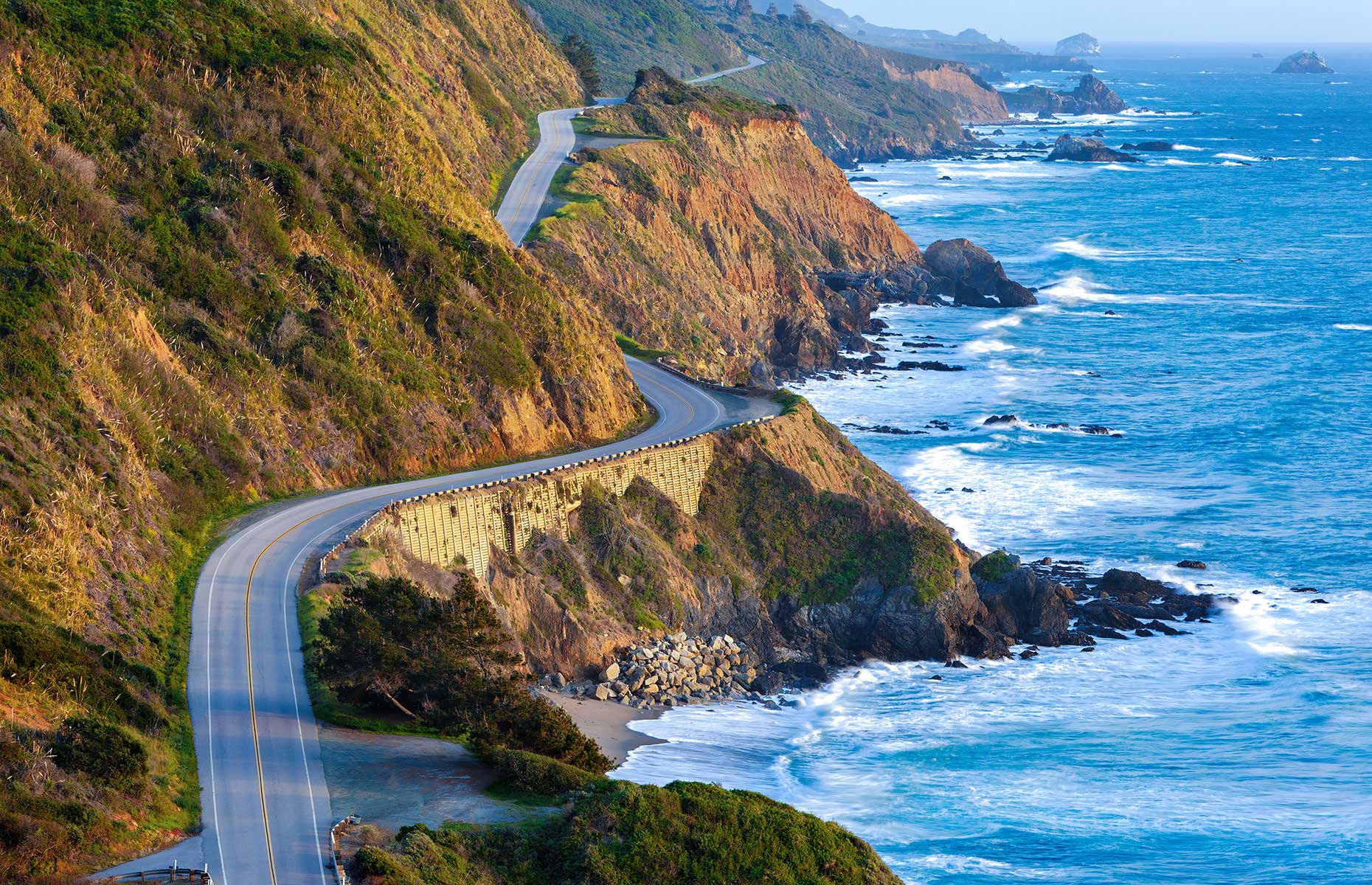 Doug Meek/Shutterstock
Here the beaches are rugged or powdery white, the wineries are plentiful and, given the easy access to fresh produce, the food scene is second to none. The region's urban pockets move at a deliciously slow pace too. Cities such as San Luis Obispo muster a certain small-town charm, worlds away from the likes of LA at the region's tail end. Lovers of history will also be satisfied: highlights such as the Old Mission Santa Barbara and Hearst Castle act as windows into the past.
READ MORE: 50 Californian attractions you mustn't miss
While travelling through the region (you might choose to strike north from LA or south from San Francisco), most road-trippers stick to Highway 1, or the Pacific Coast Highway. This storied route clings to the shore, granting postcard views and plenty of pit-stop-worthy spots along the way.
In spring 2017, a landslide damaged parts of the famed highway, leading to extended route closures. Now, though, the affected portions have been rebuilt and reopened once more, and a classic California road trip is the perfect way to celebrate.
Top 5 things to do along the Central Coast
1. Sip your way around the Central Coast's wine country
Dozens of AVAs (American Viticultural Areas) and hundreds upon hundreds of wineries can be found along California's Central Coast. There are tipples to suit all tastes here, be it a zinfandel in SLO Cal's Paso Robles or a chardonnay in Santa Barbara's Santa Ynez Valley. And wherever you sup a glass or two, you're guaranteed knock-out views, from hazy mountain-hugged horizons to vine-streaked hills.
Carolin Sunshine/Shutterstock
READ MORE: An area-by-area guide to California's wine regions
2. Bask on the beach
No Highway 1 road trip would be complete without some time on the beach – this is the Golden Coast, after all. Whether you're after a secluded sweep of sand or a watery adventure, you can bet this glorious chunk of the coast will deliver. It's near impossible to pick favourites, but Carmel Beach, with its cypress trees and sugar-white sand is certainly a strong contender. Rincon Point, meanwhile, is held up as one of the country's top surf spots.
3. Take a tour of Hearst Castle
The Roman Pool, with its sapphire and gold tiles and its statues of Roman deities, is the highlight of this dazzling estate perched on a San Simeon hilltop. Casa Grande (the main building) is a trove of tapestries and paintings, while the grounds boast marble statues, sun-drenched terraces and the ornate Neptune Pool.
Abbie Warnock-Matthews/Shutterstock
4. Cruise through Big Sur
Big Sur is the rugged thread of coastline spooling out between San Simeon and Carmel-by-the-Sea. Surrounded by redwood forests and kissed by the Pacific, it's the most talked-about stretch along Highway 1. A top sight is Bixby Creek Bridge, a camera-loving arch spanning the eponymous Bixby Creek – but the real joy is in cruising along, pausing to drink in the ocean vistas.
5. Kayak around Morro Bay
There's no better way to see Morro Bay than from the water. Book a group or private kayak tour with Central Coast Outdoors and look out for sea otters frolicking in the water as you glide around the bay. The Sunset Paddle includes a jaunt out to the dunes of the sandspit, plus a drink and some nibbles as you watch the sunset.
Sandra Foyt/Shutterstock
What to eat along California's Central Coast 
This is a journey for the taste buds too. The Central Coast benefits from a year-round growing season (around a third of all veggies in the US are grown in Monterey's Salinas Valley) and restaurateurs have a fierce "locavore" ethos.
READ MORE: Check out our full guide to Palm Springs
Farm-to-fork isn't just marketingese here – it's a reality, and you'll find menus crammed full of seasonal ingredients, from strawberries to avocados. There are farmers' markets aplenty too, where you can buy veggies as they are or have street-food vendors whip them up into mouth-watering meals.
Unsurprising, a bounty of seafood is also on offer, from salmon to sea bass to Dungeness crab. One of the most prolific dishes is clam chowder – most associated with New England, but beloved here too, this creamy, seafood-rich soup is dished up everywhere from pint-sized beach shacks to swanky fine-dining restaurants. Oysters are a favoured meal as well: have them raw, fried or Rockefeller style with butter, breadcrumbs and herbs.
How to get to and around California's Central Coast 
Central Coast road-trippers generally fly into Los Angeles International Airport (LAX) or San Francisco International Airport (SFO). From here, travellers can make their way northward or southward along the coast. There are plenty of car rental companies stationed at both airports, including big names such as Hertz and Alamo.
For more information, head to Visit California.
The ultimate Central Coast road trip
Day 1: Ventura County, Ventura and the Channel Islands National Park
Begin your adventures in: Ventura. Around 70 miles north of LAX, Ventura is a jumping-off point for Channel Islands National Park and a charming little beach city in its own right. The wooden pier and lively harbour area draw the most visitors.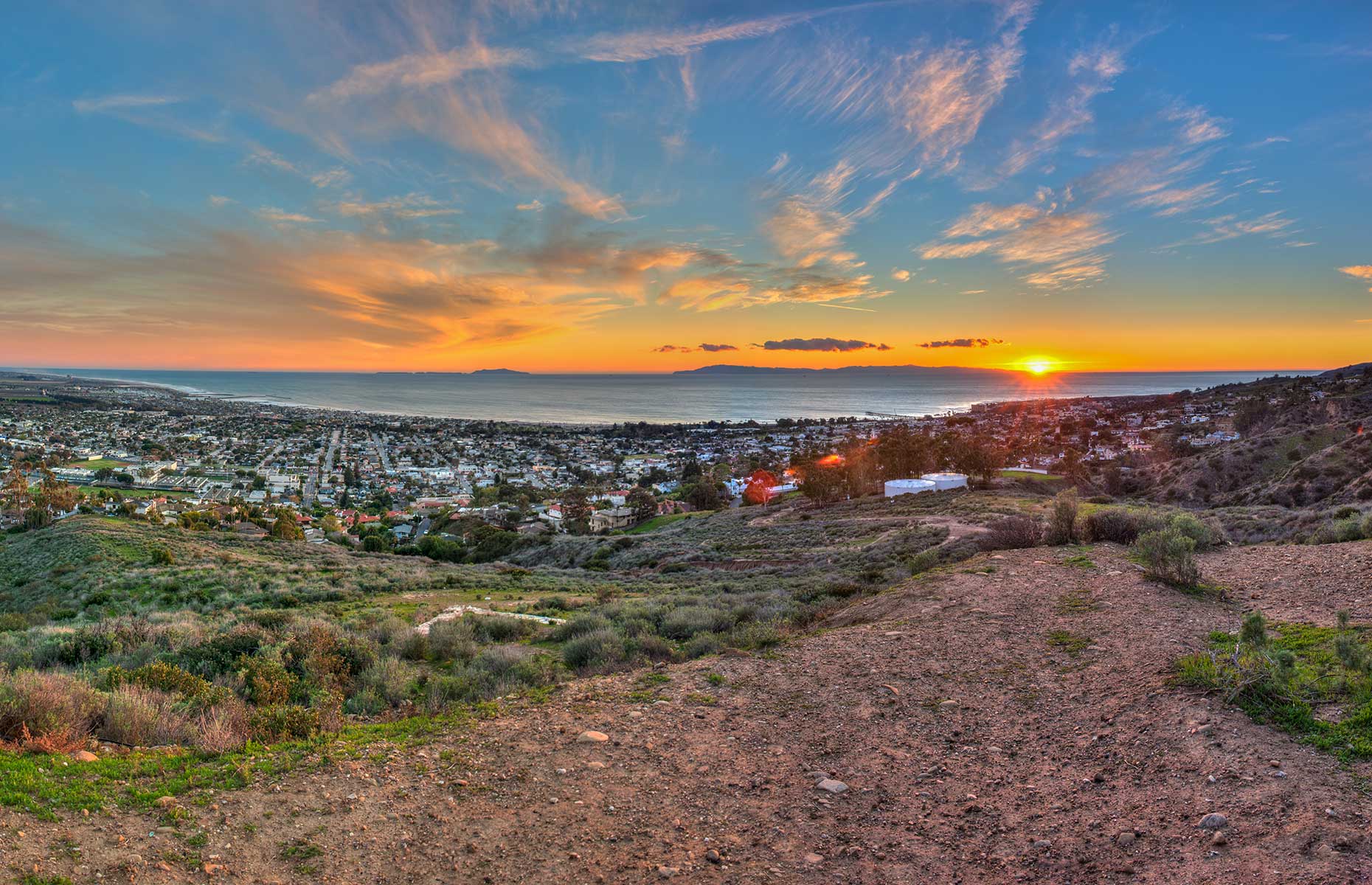 Jon Osumi/Shutterstock
Base yourself at: Waypoint Ventura. Dubbing itself a vintage trailer hotel, this sleek airstream park is stationed a stone's throw from the beach. The restored trailers come complete with private decks, and there are communal fire pits, barbecues and lawn games.
READ MORE: An easy guide to Los Angeles' best beaches
Find adventure in: the Channel Islands National Park. This national park is made up of five distinct isles, but Santa Cruz Island is the best bet for first timers. Often described as a microcosm of California, the island is characterised by rugged bluffs, sea caves and beaches – it's also a great place for sightings of the native island fox. Scorpion Beach is a favoured spot for kayaking, snorkelling and picnicking too.
Bram Reusen/Shutterstock
Dine in: Ventura's Taco District. Fourteen Mexican joints collect on Ventura Avenue, with each one proudly dishing up its own speciality. Chomp on fish tacos at Taqueria Ventura Doña Raquel or plump for the chile relleno burrito at Ortiz Taco Time.
Day 2: Santa Barbara County to Santa Barbara
Breakfast at: Café Nouveau. Housed in a Spanish-style bungalow dating to the 1920s, Café Nouveau is a solid breakfast choice. Pull up a chair on the pretty patio and gorge on maple bacon beignets, syrup-doused pancakes or veggie-filled omelettes.
Drive to: Santa Barbara. Journey 30 minutes north up Highway 1 and you'll come to the city of Santa Barbara, with its fine collection of museums and its Spanish colonial landmarks.
Take a tour of: Old Mission Santa Barbara. Discover why this Santa Barbara landmark is dubbed the "Queen of Missions" on a self-guided or docent-led tour chronicling more than 200 years of history. Drink in the building itself, with its burnt-orange tiles and dome-topped towers, and leave time to explore the elegant grounds too.
Jon Bilous/Shutterstock
Lunch at: Brophy Bros. Enjoy views on the Santa Barbara Harbour while slurping their signature Bloody Mary and grazing on the freshest ocean produce at this seafood-focused spot. Devour bar snacks such as garlic baked clams and crisp calamari or opt for larger plates such as the grilled fish sandwich or seafood pasta.
Alternatively, swing by Lilly's Taqueria where tacos go for as little as $2.
Explore Summerland Beach: on horseback. Enjoy a late-afternoon ride on an untrammelled slice of the coast with Santa Barbara Beach Horseback Rides. Excursions last 90 minutes and are dependent on the weather and tides.
Eat the globe at: The Black Sheep. Creativity and local produce reign supreme at this hip restaurant, which takes its influences from all over the world. Menu items run the gamut from duck confit to ramen to a chef's risotto that changes by the night. (The Black Sheep is currently closed with plans to reopen in December 2022)
Overnight at: Hideaway Santa Barbara. A teensy boutique hotel a couple of blocks from the beach, the Hideaway has a fitting coastal vibe – think white-washed walls and sea-blue accents. There are only nine rooms here, so don't delay your booking.
Hideaway Santa Barbara/Booking.com
Day 3: San Luis Obispo County to Pismo Beach and Edna Valley
Breakfast: Scarlett Begonia. Make for the Historic Theatre District and the pretty courtyard at Scarlett Begonia, a farm-to-fork spot whose menu changes by the week. Expect to see classics such as pancakes, shrimp and grits, and smoked salmon and cream cheese on house-made bread.
Drive a dune buggy at: Oceano Dunes Natural Preserve. Pick up your ride at Sun Buggy outfitters, then take to the site's sandy peaks for an off-road adventure. Hemmed in by the Pacific Ocean, these wind-whipped dunes can reach up to 100 feet (30m), so this is the perfect pastime for adrenaline junkies.
Lunch at: Splash Café. This no-frills café in Pismo Beach (a 10-minute drive from Oceano) proudly doles out more than 30,000 gallons of clam chowder per year. Slurp yours from a crusty bread bowl and don't skimp on toppers such as seafood and bacon.
Check into and overnight at: SeaVenture Beach Hotel at Pismo Beach. This coastal bolthole sits moments from the sand and the "Full Ocean View" rooms really milk the first-rate location. Rooms have a beachy vibe with white wood, teal soft furnishings and ornamental shells.
SeaVenture Beach Hotel/Booking.com
Go wine tasting in: Edna Valley. One of a trio of acclaimed wine areas in SLO, Edna Valley is best known for its chardonnay and pinot noir, and there are plenty of tasting rooms to swill a glass or two. Recommended pit-stops are Edna Valley Vineyard, with its pinch-me views and sleek tasting room, as well as rustic-chic Biddle Ranch Vineyard, with its dreamy patio.
Grab dinner at: Oyster Loft. Artfully prepared seafood plates are the order of the day at this top-notch spot in Pismo Beach. Menu items include fresh oysters delivered daily and the local sablefish, finished with a white-miso glaze. Alternatively, there are plenty of meat dishes and a winning wild mushroom and asparagus risotto too.
Watch the sunset at: Pismo Beach Pier. The Golden State has no shortage of spots for epic sunset views, and Pismo Beach is up there with the rest. Sink your toes into the sand and watch as the sun sinks, making a silhouette of the wooden pier.
Marquess Kilian Beck/Shutterstock
Day 4: San Luis Obispo County – Morro Bay and Downtown San Luis Obispo
Breakfast: in the comfort of your room at SeaVenture Hotel. SeaVenture offers an in-room breakfast delivery service, so you can fill up on coffee, muffins or warming breakfast sandwiches before you even set foot out the door.
Explore: Morro Bay. After a half-hour drive up the coast you'll come to Morro Bay, a dinky fishing town that punches above its weight when it comes to attractions. Morro Rock, a 576-foot crag watching over the shores, is the town's defining landmark, and is sacred to the Salinan Tribe. Be sure to kayak around the bay, too. If you're lucky you might even catch a glimpse of the adorable sea otters found in the bay.
Julie Vader/Shutterstock
Lunch at: Tognazzini's Dockside Restaurant. Taking pride of place on Morro Bay's embarcadero, Tognazzini's treats lunchtime diners to a bounty of fresh seafood dishes. Go for the Captain's Combo and you'll get Pacific cod, clam strips, calamari and more. Or if you want to dine alfresco, there's also the more laid-back Tognazzini's Too, directly behind the restaurant's original outpost.
Get a dose of history in: Downtown San Luis Obispo, around 15 minutes south-east of Morro Bay. The city's star sight is Mission San Luis Obispo de Tolosa, one of the 21 Spanish missions founded in California throughout the late 18th and early 19th centuries. Take an afternoon tour of the mission, then seek out other photo-worthy landmarks such as the 1940s Art Deco Fremont Theatre.
meunierd/Shutterstock
Discover SLO's stickiest sight at: Bubblegum Alley. Yes, it's exactly what it sounds like – an alley off SLO's Higuera Street has been turned into a motley mosaic of chewed gum. Thought to have been started by college students as early as the 1950s, the alley now harbours some two million pieces of the sweet stuff – and while it might not appeal to germaphobes, chomping your own wodge and adding it to the wall is a SLO Cal rite of passage.
Dine alfresco at: the SLO Farmers' Market. If you're in town on Thursday evening, there's no better place to grab a bite than at SLO's evening farmers' market. Choose between belly-busting pizza slices, barbecue ribs and burgers, and feast to the tune of local jazz bands, gospel singers, harpists and more.
Overnight at: The Kinney SLO. A relatively new kid on the block, this boutique hotel screams California cool, with surf prints on the walls and motivational quotes on the pillows. Swing by Leroy's for a game of Skee-Ball and a sundowner.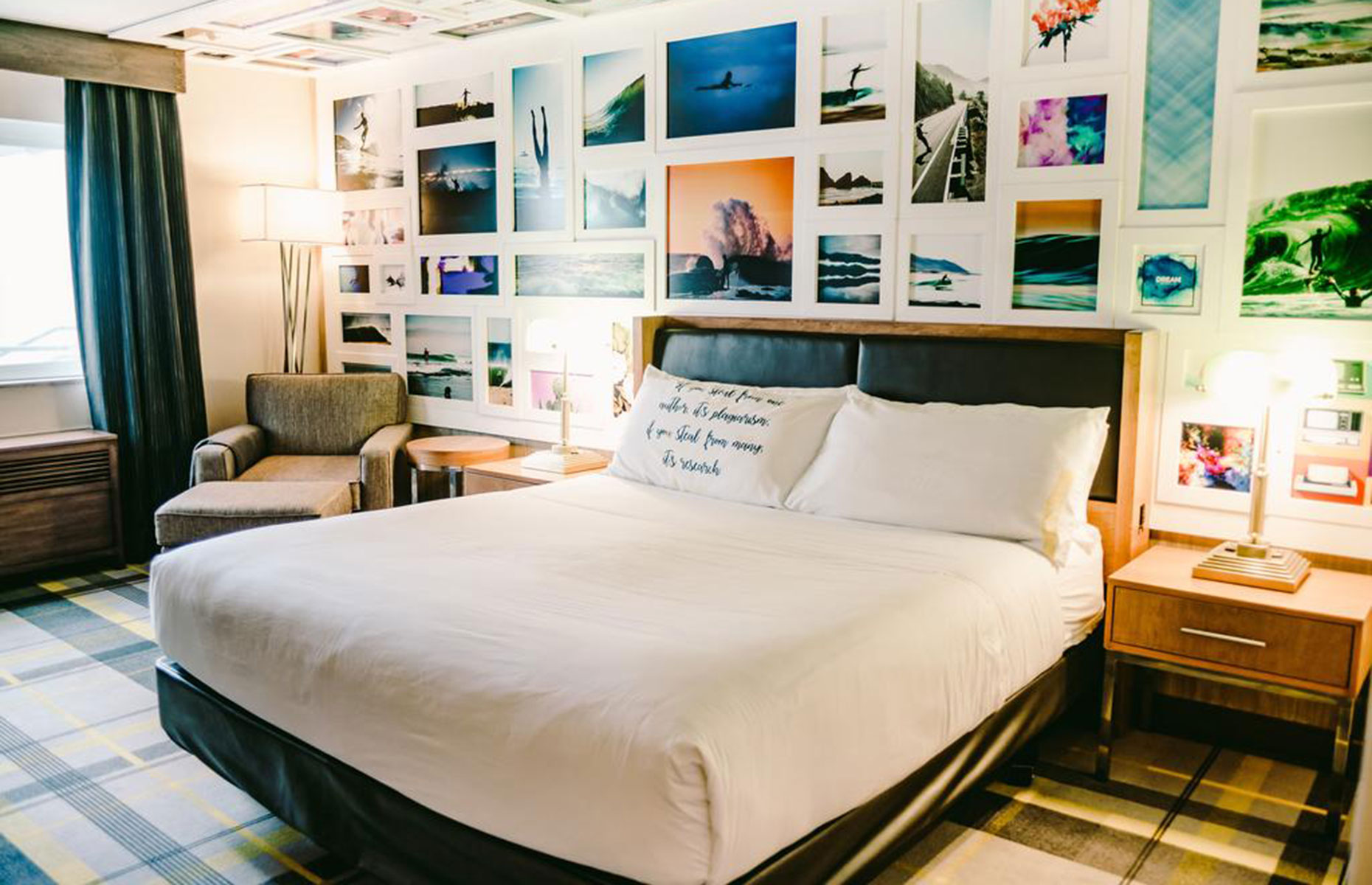 The Kinney SLO/Booking.com
Day 5: San Luis Obispo County – San Simeon and Paso Robles
Breakfast at: Sally Loo's Wholesome Cafe. For a nourishing start to the day, head to this cheerful café in Downtown SLO. The folks at Sally Loo's champion local produce, and pride themselves on picking up ingredients from the weekly farmers' market. Breakfast classics are served with a twist, from the whole-wheat waffles to the avocado toast with garlic olive oil.
Go back in time at: Hearst Castle. Push north up Highway 1 to San Simeon and William Randolph Hearst's opulent hill-top estate, built from 1919. A tour of the main residence, Casa Grande, takes visitors through art-filled rooms from the tapestried Assembly Room to the Medieval-style refectory.
dshumny/Shutterstock
Drive: east to Paso Robles, another of SLO Cal's award-winning wine regions. Expect to be on the road for about 45 minutes.
Lunch at: Firestone Walker Brewing Company. While Paso Robles is revered for its wine, it's no slouch when it comes to beer either. Sip some suds at Firestone Walker's taproom restaurant, where you can pair your blonde ale or hazy IPA with Neapolitan-style pizzas and rib-sticking burgers and sandwiches.
Check in to: Allegretto Vineyard Resort. This Mediterranean-style hideaway prides itself on its bucolic surrounds, enveloped as it is by orchards and vineyards. Choose between a sumptuous suite or a plush king or queen room, and make time for a visit to the spa.
Go wine-tasting at: Tooth & Nail Winery. Paso Robles has almost 200 tasting rooms, but there are none quite like this turreted confection. Castle-like Tooth & Nail comes complete with its own turquoise moat, plus a rooftop patio and Gothic-style interiors. Book onto a tasting and sample varietals from Pinot Gris to Petite Sirah.
Dine in awe at: Field of Light at Sensorio. Dreamed up by English artist Bruce Munro, Field of Light is a solar-powered light installation in Paso Robles' countryside. After the sun sets, some 60,000 "stems" light up in rainbow colours, appearing like a field of wildflowers. A rotating menu serves up light bites and small plates, such as tacos and salads.
Day 6: San Luis Obispo and Monterey County – Big Sur and Carmel-by-the-Sea
Kickstart your day at: Red Scooter Deli. The perfect spot for a fuss-free breakfast, Red Scooter Deli dishes up bagels, sticky buns and brekkie sandwiches, plus egg scrambles on buttery croissants. Order a fruit smoothie for an extra wake-up call.
Drive through: Big Sur. Reroute west once more and join the most famous stretch of Highway 1. Don't rush this fragment of your journey – the winding roads of Big Sur are known to be some of California's most scenic, and there are plenty of points to pull over and soak in the views.
Lunch at: The Village Corner. Less than a 30-minute drive north of Bixby Creek Bridge is the artsy town of Carmel-by-the-Sea. Before you explore, relax at this chilled-out California bistro whose sizable menu includes cobb salad, fried chicken and Belgian waffles, and a tasty vegan burger.
Get creative with: a Carmel Art Tour. This pocket-sized city has beaches and boutiques aplenty, but what really sets Carmel-by-the-Sea apart is its top-class art scene. Almost 100 galleries are bundled into the Downtown area, and a Carmel Art Tour takes creative types to the best exhibits of the moment. While en route, look out for some of the city's more unusual architecture: architect Hugh Comstock designed a series of whimsical cottages that could be plucked straight from a fairy tale.
EQRoy/Shutterstock
Enjoy dinner at: Vesuvio. This joint deals in hearty Italian plates from chicken piccata to wild-boar Bolognese, and has even featured on Diners, Drive Ins and Dives. The buzzy rooftop patio is a favourite with locals.
Overnight at: Cypress Inn. Dating right back to 1929, this beloved boutique hotel was co-owned by showbiz superstar Doris Day. Rooms and suites are elegant with Mediterranean-inspired touches (think beams, dark wood and patterned cushions) and pets receive a royal welcome too.
Cyprus Inn/Booking.com
Day 7: Monterey County – Carmel-by-the-Sea and Monterey
Breakfast at: Carmel Bakery. Proud to be the oldest business in Carmel-by-the-Sea, this cute-as-a-button bakery brims with pastries, pretzels, scones and biscotti. If you're after something savoury, made-to-order sandwiches are served from 7am.
Cruise along 17-mile Drive: in a classic car. Hire a classic ride with Monterey Touring Vehicles (options range from a 1968 Chevy Camaro SS to a 1971 Cadillac Eldorado), then travel down the coast top down and radio up. The breathtaking 17-mile Drive route will whisk you past rock-fringed beaches, forests and uber-luxe mansions.
Grab a light lunch at: Tidal Coffee. Coffee fiends will love this modern café and lunch spot, which prides itself on its artisan brews. Pair your cup of joe with a sandwich, wrap or salad, or graze on a charcuterie plate.
Make a splash at: Monterey Bay Aquarium. An institution committed to the conservation of the ocean, this aquarium is home to all manner of marine creatures, from kelp to jellyfish to playful sea otters. Stick around for feeding times, when staff will share nuggets of info as they go about their work.
photocritical/Shutterstock
Dinner at: Montrio Bistro. Classic European and American-style dishes have been given novel twists at this upscale restaurant located in Monterey's old firehouse. The green-certified venue uses local and sustainable produce, and menu highlights include the organic mushroom-truffle ravioli.
Overnight at: Intercontinental The Clement Monterey. For the ultimate in contemporary luxury, bed down at this waterfront hotel on Monterey's Cannery Row. Expect plush, modern rooms, a top-class spa and easy access to the area's shops and restaurants.
Map
Be the first to comment
Do you want to comment on this article? You need to be signed in for this feature