How to spend 48 hours in Miami, Florida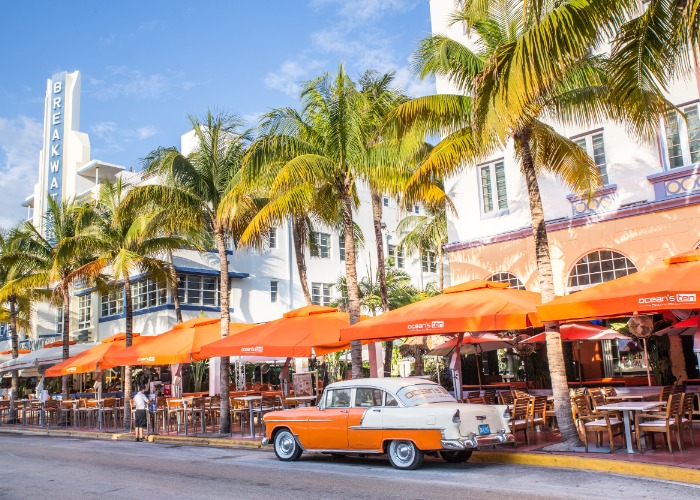 With hip 'n' happening neighbourhoods, some of America's most stylish hotels just minutes from the Atlantic Ocean and more than a dash of Latino spirit, there's no better choice for an exciting US mini-escape.
Summer vibes seem to rise up from every sidewalk and swirl around every candy-coloured hotel front in Miami. Florida's coastal city has a unique style all of its own, shaped by the largest collection of surviving Art Deco architecture in the United States, which dazzles under year-round azure skies and sun. Miles of golden beaches beckon the buff and beautiful to their shores, while rooftop bars sizzle at sunset, and the world's best club DJs and Latin lounges keep feet dancing until dawn.
If you have stress to shake, blues to beat and a weekend to spare, the city's buzzy neighbourhoods, arty enclaves and infectious lust for life will soon see your battery recharged, your mojo restored and have you salsaing back to your happy place. Here's how to enjoy 48 hours of Miami magic.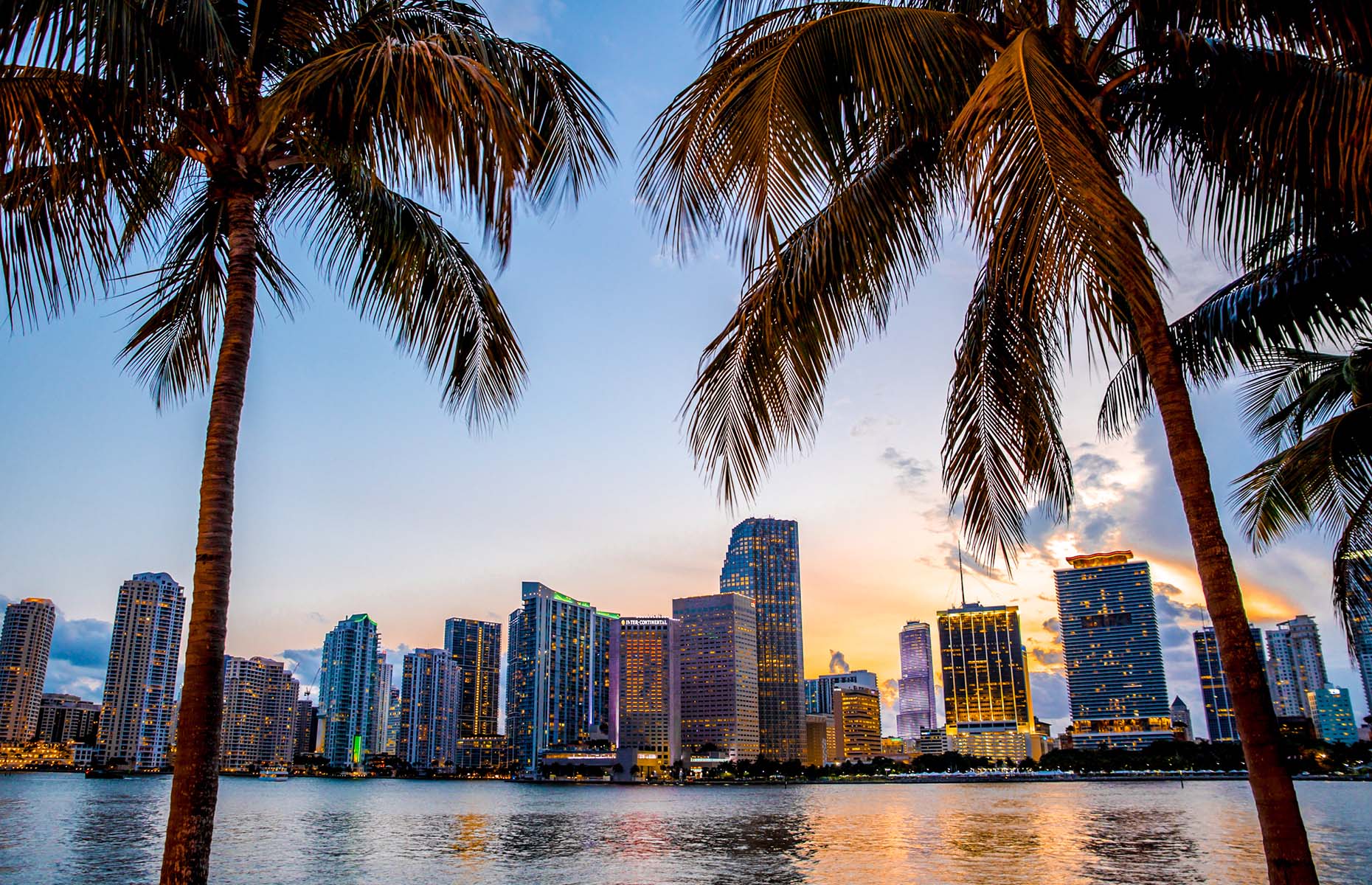 littlenySTOCK/Shutterstock
READ MORE: Plan a South Florida road trip with our guide
Friday
Check into: The Gabriel South Beach, Curio Collection by Hilton. If you're in town for a whirlwind 48 hours, there's only one place to stay: South Beach, baby! Step outside the door of this stylish pastel-hued hotel and you're in the heart of the action, while the palm trees of iconic Ocean Drive sway outside your bedroom window. One of the world's most famous strips of sand lies just a skip away, and the bright and airy interiors bring the outside in, with lightwood floors, subtle tropical wallcoverings and white plantation blinds adding to the chic beach vibe.
Designed by architect Henry Hohauser, this Art Deco marvel has maintained much of its original style from its opening in the 1930s as the Park Central Hotel, while an extensive renovation has introduced contemporary touches, including multi-storey murals and art. Two restaurants serve European-inspired cuisine, while The Gabriel's garden courtyard and pool offer secluded swimming and a gasp-inducing glass-bottomed rooftop pool offers views over the Atlantic Ocean.
Courtesy of The Dana Agency
Explore: the cool arts district of Wynwood. Described as the 'Silicon Valley of the South', this Miami neighbourhood is seeing an influx of tech-forward companies moving into offices that nudge up to coffee shops, art galleries and restaurants, overlooked by spectacular muraled walls.
On the day of my visit, I pass a rapper shooting a video against a warehouse creatively reimagined as a boombox, before I dip into the world's first Museum of Graffiti to explore the history of the art form, and head to the open-air Wynwood Walls to wander its collection of works by leading international and American street artists.
The new Arlo Wynwood lands in October 2022: the first major hotel opening in the area, aiming to channel the district's creative spirit, with a rooftop bar, destination restaurant, fitness centre, live music and bikes.
Photo courtesy of the GMCVB
Grab an iced coffee at: Walt Grace Vintage. Ever popped out for a flat white and come home with a Fender Telecaster or a Ferrari? It could happen in Wynwood, with a visit to quite possibly the coolest coffee shop on the planet. While Walt Grace does boast some great baristas (and cake), it's primarily a gallery, honouring the craftsmanship and beauty of vintage automobiles and guitars. It also sells new instruments, accessories and merchandise, and offers a range of guitar and car services. But more importantly, it's a place to dawdle around and dream about your Stingray-driving rock-star life, while you sip on your macchiato.
Eat your greens at: Michelin-starred restaurant Le Jardinier in the creative Miami Design District. With Miami recently included in the first-ever Michelin Guide to Florida, alongside fellow foodie hotspots Orlando and Tampa Bay, there's never been a better time to eat your way around the city.
As a long-time vegetarian, America's monster meat addiction can make dining out a challenge, but at Le Jardinier, vegetables are the main event, starring in innovative dishes imagined by Michelin-starred chef Alain Verzeroli, served on an equally verdant terrace. Sustainably sourced fish, meat and seafood are fair game here too, but with a vegetarian Summer Discovery Tasting Menu which includes five courses of unique, plant-based deliciousness, what's to miss?
READ MORE: Top things to do in Key West
Saturday
Go on a foodie foray: in Little Havana. Need reviving after your Friday-night shenanigans? Little Havana is the place. This vivacious Latino neighbourhood west of downtown Miami has energy to spare, with a breezy carnival atmosphere centred around the bars, restaurants and music venues of Calle Ocho (Southwest Eighth Street).
Here, you'll find traditional Cuban treats amidst the murals and mosaics, and locals gathering in Máximo Gómez or Domino Park, drinking Cuban coffee and putting the world to rights over heated games of dominoes.
Kamira/Shutterstock
Take a wander: around the Art Deco Historic District. Ready to walk off the churros? A stroll around the Art Deco design marvels of Miami Beach, along Ocean Drive, Washington Avenue and Collins Avenue, will whisk you back to the Golden Age of the 1920s and 1930s.
The Art Deco Museum & Welcome Center offers a great introduction to the district's architectural styles, plus walking tours of the neighbourhood, or hit some of the historic hotels' glamorous lounge bars and raise a glass to Sinatra, Taylor, et al.
travelview/Shutterstock
Hit the roof: at The Moxy Miami South Beach. Start your Saturday night in true Miami style, with drinks on a tropical open-air terrace, watching the sunset over South Beach.
The Moxy has six different drinking and dining spaces, but my favourite is the second-floor Serena, a Oaxaca-inspired restaurant with swinging bar stools, Latin and Mexican menu, zingy cocktails and a DJ until midnight.
Don't forget to have a horoscope reading from the Zoltar-inspired, future-telling machine in the lobby before you leave to see what the rest of your night/weekend/life has in store.
David Cowan
Bust some moves at: LIV. It's where the Rat Pack crooned and Elvis swivelled his hips, and now Miami's most famous nightspot, housed in the legendary Fontainebleau Miami Beach hotel, is waiting for you to make your own mark on its mahoosive dancefloor (if you can navigate the equally mahoosive list of tedious dress-code regulations and actually make it inside). Open from Thursday to Sunday, LIV has four bars, six private skyboxes and music from top DJs, while the hotel's BleauLive series rocks live events from artists as interstellar as Lady Gaga and David Guetta.
Sunday
Bend it: on South Beach with a free morning yoga class (donations welcome). The time that you crawl home from LIV and the number of margaritas you sink at Serena will determine whether a 7am yoga session by the 3rd Street lifeguard tower on South Beach sounds like your idea of heaven or hell. No pressure. Your call.
Go for brunch at: Nikki Beach. A prime location on South Beach, the coolest DJs and live acts, an overflowing buffet, a kickin' cocktail list and palm trees reaching up to the blue. Brunch at Nikki Beach Restaurant & Beach Club ticks a lot of boxes. But you know one of the best things about this much-loved Miami institution? The staff. Our server, Felix, gave us the warmest greeting and lots of friendy chat – and all in the full-on, noon-time heat of the day.
The food here is great and in true USA style, there's plenty of it. Whether you're an omelette-station aficionado, a sucker for sushi, a mixed-grill master, or a waffle wizard, the Nikki Beach brunch will have you loosening your belt so you can pop back to the buffet bar just one more time.
Nikki Beach Global
Spend a lazy Sunday afternoon: at Hillsboro Beach. Offering some beachside downtime away from downtown, Hillsboro Beach is a quiet, pristine stretch of sand heading north towards Fort Lauderdale. If you're after a low-key, lovely spot to read a book or go for a swim, Hillsboro is the place. Between March and October, it's a sanctuary for nesting turtles too, with loggerhead, leatherback and green sea turtles coming ashore to lay their eggs in the sand.
Hillsboro Beach Resort on the exclusive Hillsboro Mile offers ocean-view rooms and suites if you decide to stay a while, with ocean-view dining at contemporary restaurant Roi, a pool, kayaks, bicycles and telescopes to scan the vast Atlantic skies and look back at the distant, dazzling stars of Miami.
READ MORE: Relax in Florida's Palm Beaches
Getting there
America As You Like It offers a seven-night Florida fly-drive from £1,595 per person based on two sharing, including return flights from London to Miami with Virgin Atlantic, seven days fully inclusive car hire, two nights at the Gabriel Miami South Beach, two nights at the Hillsboro Beach Resort and three nights at the Hyatt Centric Las Olas Fort Lauderdale.
Discover more information on the Official Travel and Tourism Site of Greater Miami & Miami Beach.
Lead image: littlenySTOCK/Shutterstock
Be the first to comment
Do you want to comment on this article? You need to be signed in for this feature