Uncovering Key West: 6 things to do in Florida's quirkiest city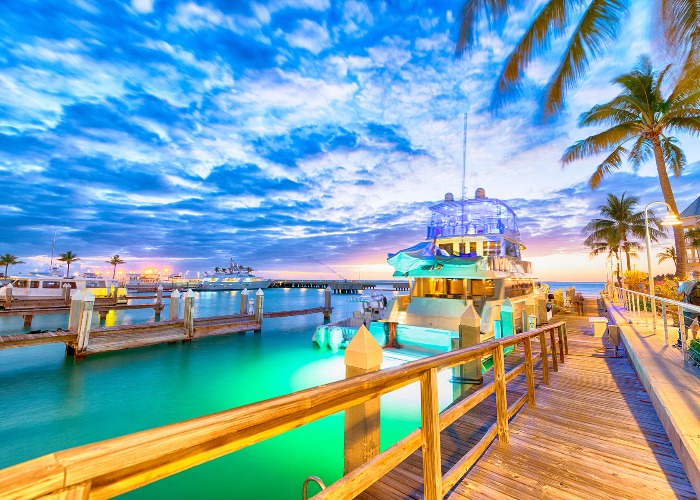 There's something about this freewheeling island city that lifts the spirits. It's the climax of the Florida Keys, a candy-coloured jewel at the archipelago's very southern tip, and its energy is infectious.
Long the chosen home of artists and eccentrics, Key West still attracts creative souls, who stuff galleries with kaleidoscopic paintings and play music in Duval Street's legendary dive bars. It's also a place of history, with the ghosts of figures like Ernest Hemingway and Harry S. Truman lurking along the city's palm-studded streets.
Then there's the location. Key West is at the convergence of the Gulf of Mexico and the Atlantic, so it's the ideal springboard for watery adventures like dolphin watching and snorkelling. Here are six ways to make the most of your time in the city.
1. Tour the Ernest Hemingway Home and Museum
Few authors' homes are as full of life as this one – not least because of the resident polydactyl cats. Legend has it that a ship captain once gifted Hemingway a six-toed tomcat named Snow White and today's live-in felines are his descendants. They spread out on antique wooden dressers and languish on four-poster beds, brushing against the legs of visiting Hemingway fans.
But the home has other draws too, of course. Having arrived in Key West in 1928, the fabled American fiction writer spent the best part of a decade in this Spanish Colonial-style house (along with his second wife, Pauline Pfeiffer, and their two sons) and there are echoes of him everywhere.
Luiz Barrionuevo/Shutterstock
A tour guide will lead you through a hodge-podge of rooms fit to burst with curios, from books and artwork to the simple wooden table where he wrote some of his most acclaimed works. From the garden you'll also spot the crown of the Key West Lighthouse – it's said that a half-cut Hemingway used the beacon to find his way home after many liquor-soaked nights on Duval Street.
2. Hang out in Mallory Square
If you're wondering where to begin your Key West adventure, set your sights on Mallory Square. Spreading out beside the harbour, the buzzing plaza is flanked by seafood restaurants and family-friendly attractions, including the fascinating Key West Shipwreck Museum.
Don't miss The Shops at Mallory Square. The former US Navy Coal Depot and Storehouse (known simply as Building 1) is now stuffed with independent art galleries and stores selling Key West-themed trinkets and jewellery.
It's also worth ducking into the Key West Historic Memorial Sculpture Garden, which is packed with the bronze busts of folks who've had an impact on the city. You can snap your photo with the likes of writer Tennessee Williams, president Harry S. Truman and railroad magnate Henry Flagler.
Sherry V Smith/Shutterstock
The square takes on extra life at sunset. Each night, street performers, food vendors, musicians and revellers come to drink in the view as the sun vanishes into the Gulf of Mexico, the sky a vision in taffy pink and gold.
READ MORE: Florida's most beautiful small towns and cities
3. Ride in Harry S Truman's presidential limo
Touring Key West's Little White House – the winter retreat of Harry S Truman and several other US presidents – was always a joy. But it's extra special now that you can take a spin in one of Truman's presidential limos.
Visitors should book onto the VIP White Glove Tour, a deep-dive into Truman's home and legacy, which culminates in a drive through town in a gleaming 1950 Lincoln Cosmopolitan, one of Truman's nine-strong fleet.
When you're not on the road, you'll wander about the 1890 house with a guide, hearing stories about Truman's life and presidential terms. Truman is remembered for landmark orders that accelerated the Civil Rights movement and also for authorising atomic bomb attacks on Japan's Hiroshima and Nagasaki, killing thousands and effectively ending the Second World War. You'll sneak behind the president's custom-made bar, pose for a photo at his desk and pull on a pair of white gloves to handle relics from Truman's era, including Christmas decorations and playing cards.
The gardens are lovely too, fit to burst with avocado, mango and coconut palm trees.
4. Sample some key lime pie
You can't leave this city without sampling the zingy pie that the Keys are famous for. The filling is made with condensed milk, spiked with juice from small and ultra-tart Key limes, and layered onto a Graham Cracker crust. Whether the finished product should be enjoyed with meringue or cream is a hotly debated topic.
Locals also butt heads over the best place in town to get your fix. Favourites include Kermit's Key West Key Lime Shoppe, which serves the delicacy frozen on a stick and doused in chocolate. Blue Heaven is another failsafe spot – eat in the sun-dappled courtyard, which is complete with roaming chickens, bright umbrellas and palms.
Kermit's Key West Key Lime Shoppe/Facebook
5. Bar-hop in Duval Street
This is one of Florida's most famous streets for good reason. It's a cocktail of dive bars, chilled-out cafés and stores hawking clothing with tropical prints.
It's a treat to wander by day – its pastel-washed buildings winking in the sun – but it really fizzes after dark. Sloppy Joe's is a favoured stop. Punters dance along to live bands until the wee hours and the bar slings heady cocktails like the Sloppy Rita – tequila, brandy-based orange liqueur, orange juice and club soda. For a slightly more chilled-out vibe, head to the Rum Bar, known for its shady patio and excellent daiquiris.
Daniel Korzeniewski/Shutterstock
Just off Duval Street, Capt Tony's Saloon (formerly named Sloppy Joe's) is an institution, famously frequented by Ernest Hemingway back in the day. It's laidback and low-lit, with walls decorated by signed dollar bills, registration plates and newspaper cuttings, and a collection of customer-donated bras slung above the bar. A giant fish hangs above the sign outside – legend has it, if you can land a quarter in it's gaping mouth, you'll have good luck.
READ MORE: South Florida road trip: the top things to do, where to stay and what to eat
6. See dolphins in the wild
If you can tear yourself from the city, it's well worth spending some time on the water. Biologist-founded Honest Eco Tours are a great option for low-impact dolphin-watching expeditions. You'll strike out from the harbour on SQUID, a scratch-built hybrid boat powered by a lithium-ion battery. SQUID has been built with ethical wildlife-watching in mind, with features including a raised deck that ensures you'll get a good view of these majestic marine creatures from a suitable distance. An onboard expert will offer insights into dolphin behaviour and the Keys' unique ecosystem and there's the chance to snorkel too.
Honest Eco/Facebook
READ MORE: Explore the Florida Keys with our in-depth guide
For more information, visit fla-keys.co.uk
Lead image: GagliardiPhotography/Shutterstock
Be the first to comment
Do you want to comment on this article? You need to be signed in for this feature