What to do in the Elan Valley, Wales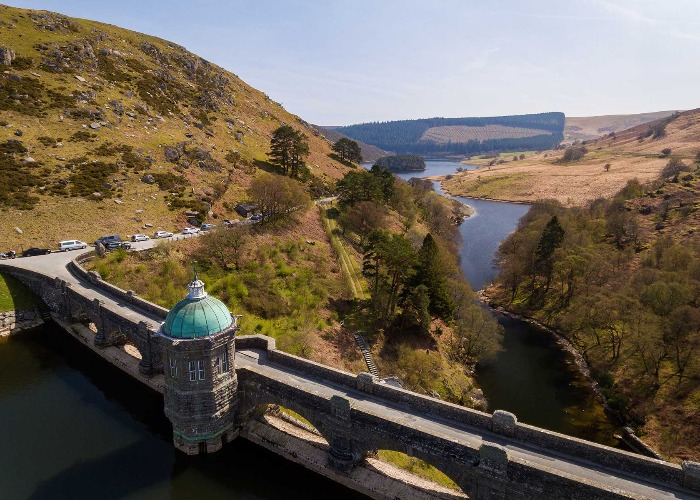 Charming Elan Valley might not quite have the pull of the popular Welsh national parks of Snowdonia and the Brecon Beacons, but this unique landscape has much to offer adventure-seekers.
With more than 70 square miles (181sq km) of peaceful, dammed reservoirs and an abundance of cycle routes and hiking trails, Elan Valley in central Wales is an ideal spot for scenic solace and adventures away from the crowds.
The Elan Estate is owned by Dŵr Cymru Welsh Water, although a greater part of it is vested in the Elan Valley Trust. While the estate's principal function is the provision of a clean water supply, it also serves as a carefully-managed beauty spot for visitors. Over 80% of the valley is designated as Sites of Special Scientific Interest (SSSI) and is rich with wildlife and remarkable landscapes.
Despite its rather remote feel, there are plenty of things to do from stargazing to mountain biking and boutique shopping. These are some of the highlights.
1. Take a scenic drive around Victorian dams
Among the undulating green hills are the estate's Victorian dams, where functionality meets scenic beauty. Built over 100 years ago to supply water to a heavily urbanised and thirsty Birmingham, these distinctive, gravity dams are a huge draw for photographers who come to snap the cascading waters.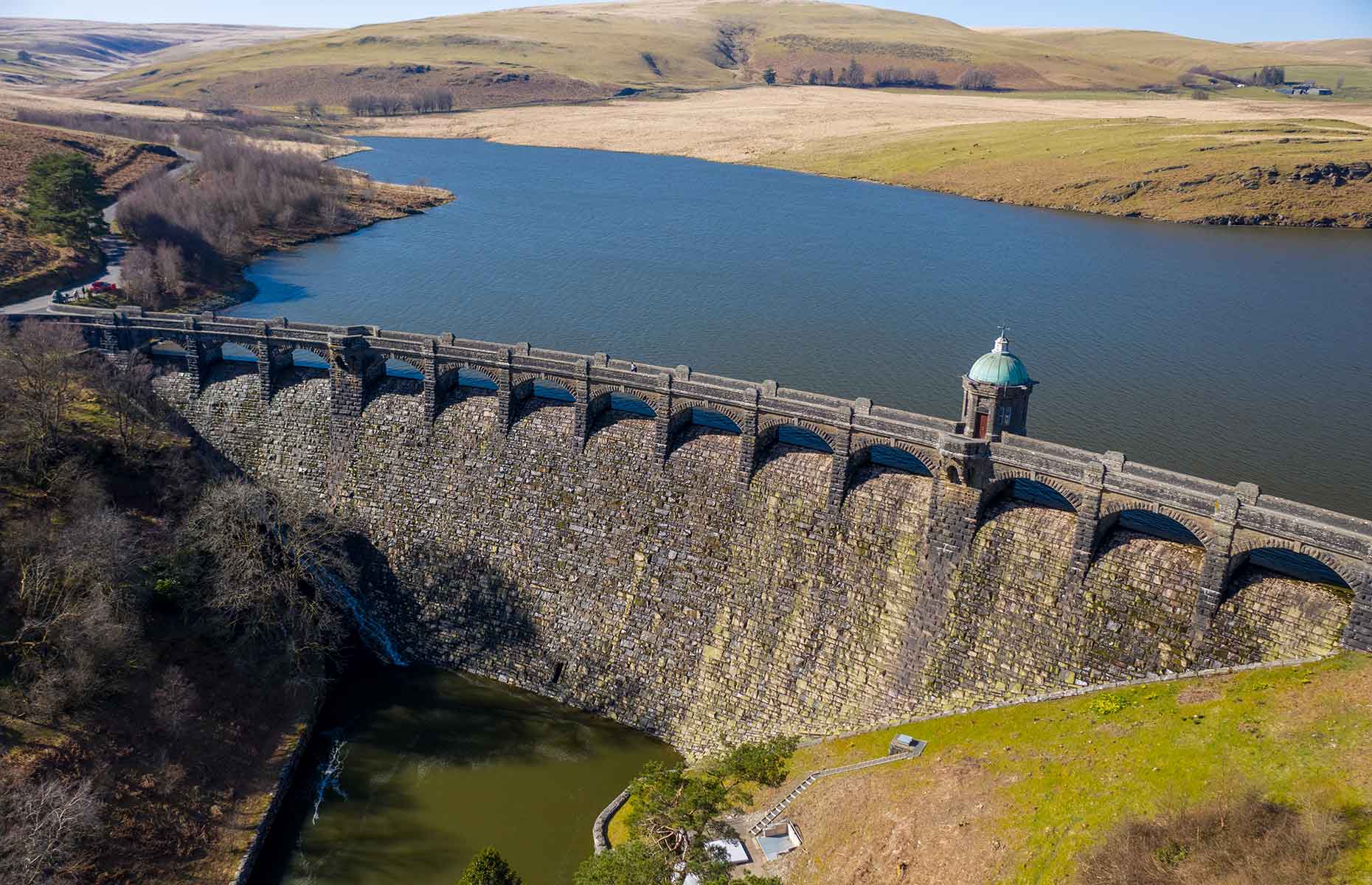 gazadavies93/Shutterstock
Five main dams in the Elan Valley are accessible by car, which include Caban Coch, Claerwen, Craig Goch, Pen y Garreg and Garreg Ddu. A map of the estate can be procured from the Elan Valley Visitor Centre and staff are also happy to advise on scenic routes to see the dams.
The best time to take a slow drive around the estate is after heavy rainfall (not exactly a difficult feat in Wales) when reservoir water spills over the steep, 'Birmingham Baroque'-style structures. Want to be guided by a local expert? You can book a bespoke tour of the Elan Valley and join a ranger on patrol to discover hidden features.
READ MORE: Reasons to love Wales
2. Seek out the stars
With stargazing becoming an increasingly-popular holiday activity, the Elan Valley is in a perfect position to capitalise on star-seeking, with one of the darkest, clearest and most unpolluted skies in the world.
The Elan Valley Estate achieved International Dark Sky Park status in 2015 and became the first privately-owned but publicly-accessible park in the world to do so.
This is no easy feat as one of the toughest designations for aspiring dark sky sites is the coveted 'dark sky reserve'. It's an elite dark sky status reserved only for destinations that offer an exceptional or distinguished quality of starry nights.
Elan Valley/Facebook
There are several optimal stargazing spots in the estate where visitors can take a quiet moment to connect with the cosmos, or even attempt a spot of astrophotography that combines historic dams with big skies.
READ MORE: 7 things to do in Southern Snowdonia
Claerwen car park, Craig Goch, Teifi Pools and Pont Ar Elan are among the sites in and around the Elan Valley that are easily accessed. If you're new to stargazing and are keen to learn the basics, there are several dark sky events run by organisations such as the Elan Valley Trust and Dark Sky Wales.
3. Have an off-road biking adventure
The Elan Valley has an excellent reputation for epic mountain biking, with Red Bull naming the area as one of Wales' top mountain-biking destinations.
While there are plenty of established trails within the valley, off-road adventures can be found along rocky bridleways and wilder landscapes where you're unlikely to happen upon another soul.
Guided biking adventures are available with companies like Mountain Bike Wales, where experts can lead you through gnarly single tracks, frothing river crossings and down sweeping, green valley descents. This is biking for adventurous souls who want to explore more challenging rides on uneven terrains, away from the crowds and signposted trails.
Want to stick to the beaten track? Take advantage of the bike hire service at the visitor centre and hit the Elan Valley Trail. It's a family-friendly route with surfaced paths that largely follow the line of the old Birmingham Corporation Railway.
4. Go boutique shopping in Rhayader
Rhayader has long been a mid-Wales hub for weary travellers and was used as a staging post for drovers and those travelling the long London to Aberystwyth route. Today, the market town is known as the gateway to the Elan Valley and can be found just outside of the estate. It's a convenient base and has several independent shops, cafés and pubs.
You'll find a compact shopping area where you can browse a selection of antiques, local crafts, prints, pottery, upcycled clothing and local souvenirs. One of the more novel shopping offers here is Hafod Hardware, a retro family-run hardware store that has been open since 1895. Alongside typical DIY items and kitchenware, you can also pick up vintage-style tourism prints of Wales, as well as specially-made Elan Valley mugs and chocolate bars.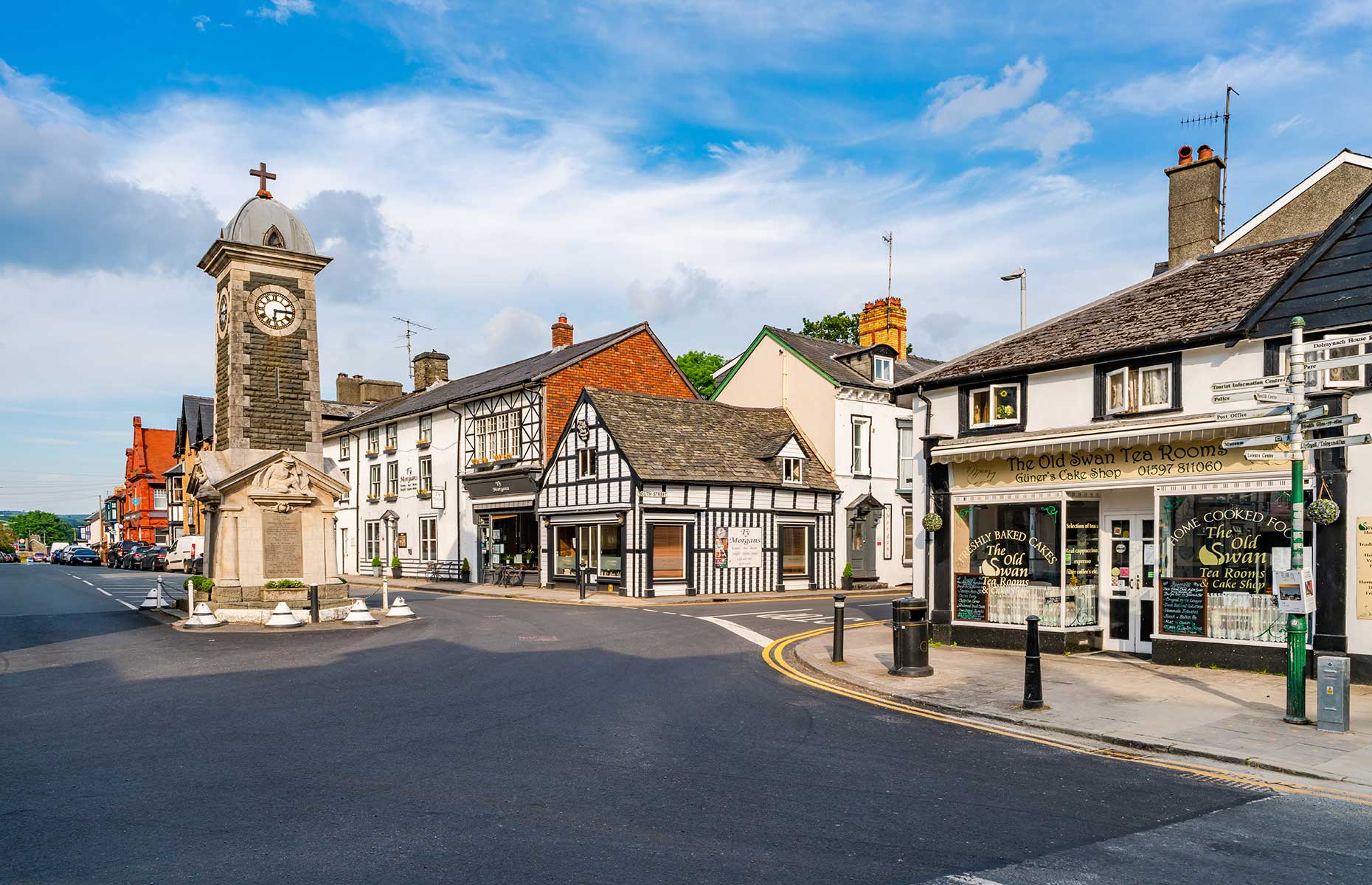 BBA Photography/Shutterstock
Swing by The Lost ARC for a post-shop lunch and coffee in this kooky community café. Be sure to order the Welsh rarebit – toasted bread smothered in warm, mature Cheddar, Welsh ale and a smidge of laverbread and mustard. Perfection.
READ MORE: How to explore the Wales Coast Path
5. Watch red kites soar above
Red kites have been brought back from near extinction in mid-Wales and are now thriving in the Elan Valley and surrounding area. Birdwatchers can observe these reddish-chestnut birds of prey across the valley or watch them being fed at Gigrin Farm.
Since the early 1990s, Gigrin Farm visitors have been able to watch the forked tail kites dramatically swoop down to grab hunks of meat in their sharp talons. This Official Red Kite Feeding Station attracts around 600 red kites a day as they circle above alongside buzzards, awaiting their daily feed.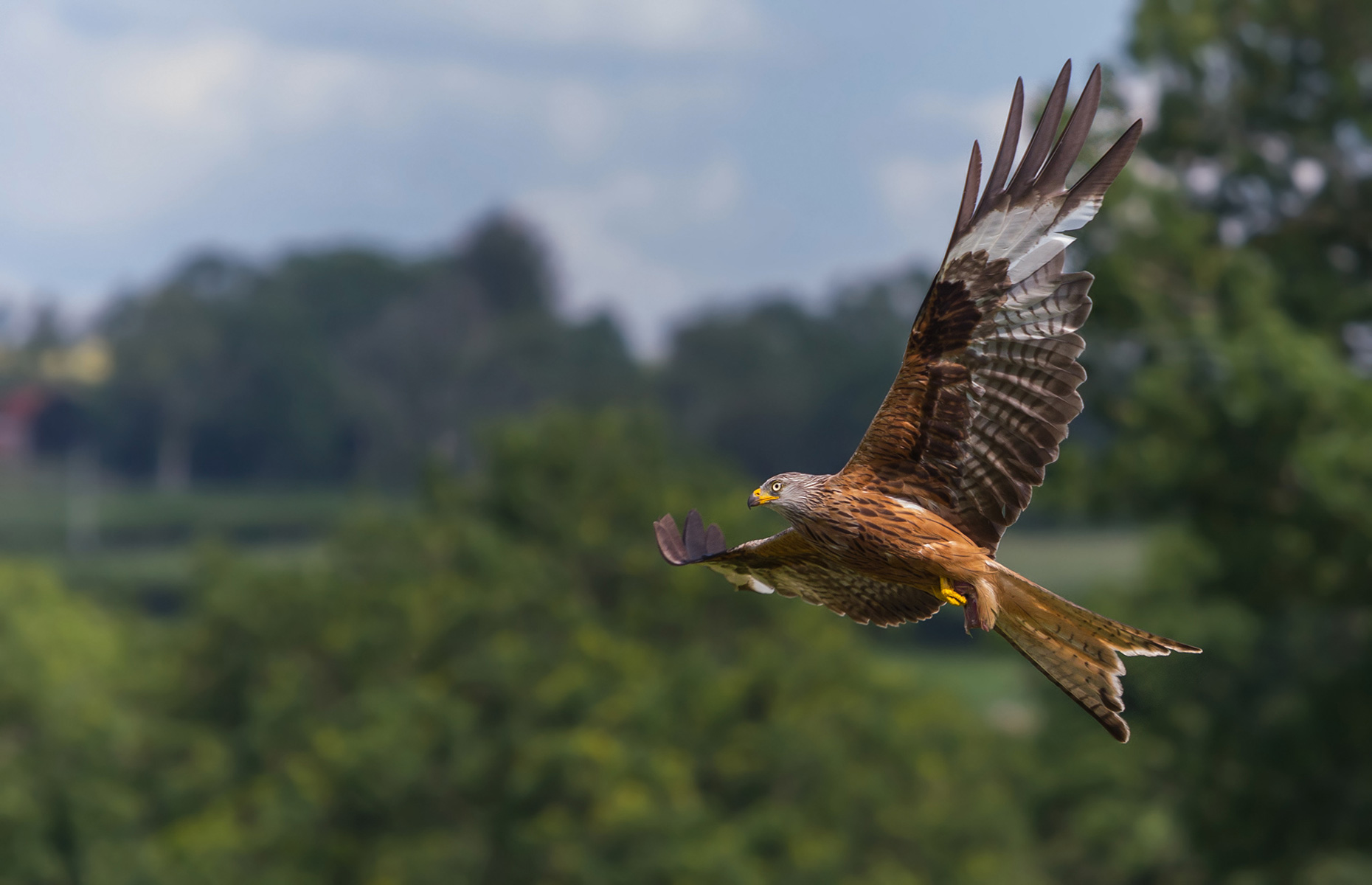 Joe Turner/Shutterstock
Wildlife snappers can also make use of the farm's specialist and bookable photographic hides that have been custom-made for photographers with lenses of 300mm and upwards.
6. Take a stroll through the countryside
Alongside biking routes, there are numerous walking trails in the valley to suit a variety of abilities. Explore silent sheep tracks and mossy green terrains when you venture over the craggy hills. If you're going off-trail, navigation skills and hiking experience are highly recommended.
The most popular established route is the Elan Valley Trail that's shared with bikers and joggers, and is fairly easy to navigate. This linear trail begins at Cwmdauddwr near Rhayader and finishes at the spectacular Craig Goch Dam.
READ MORE: 6 reasons to visit Tenby
Short, wooded trails can also be found at Penbont Woods that take walkers past Pen y Garreg Dam and Penbont House and tearoom, where homemade cakes and warm beverages make for a welcome pit stop.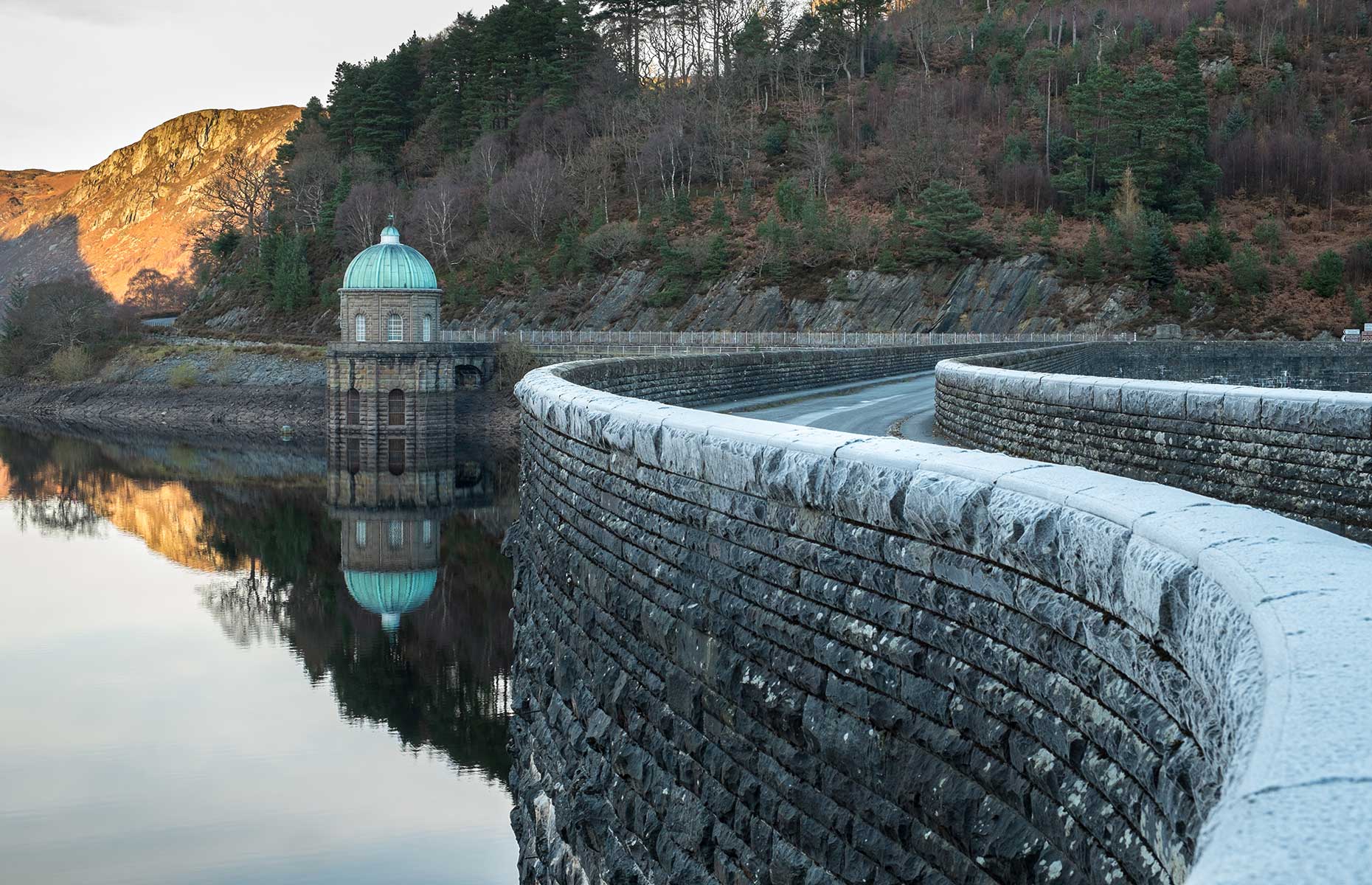 D K Grove/Shutterstock
Lead image: steved_np3/Shutterstock
Be the first to comment
Do you want to comment on this article? You need to be signed in for this feature