Exploring the Wales Coast Path: where to stay, where to eat & the ultimate itinerary
Equal parts wild and wonderful, the Wales Coast Path is a walker's paradise. And with a new festival launching this month there's never been a better time to see it for yourself. Here, writer Georgia Stephens pulls on her walking boots to discover what the southern section offers.
Why go?
The Wales Coast Path, all 870 miles of it, is a world first. Nowhere else can you wander undisturbed along a nation's shore, past flower-speckled meadows, soaring cliffs and emerald headlands, and the tumbling stacked walls of fishing villages seemingly frozen in time.
iammattdoran/Shutterstock
Views can be wild, drizzly and desolate, in that shade of rugged beauty that Wales is renowned for, and sprinkled with a generous helping of crumbling castles, coastal pubs and twee cottages with mossy slate roofs. In all, the route passes through seven coastal regions, from the city of Chester to the market town of Chepstow, linked by the Path's blue waymarker of a white dragon-tailed seashell.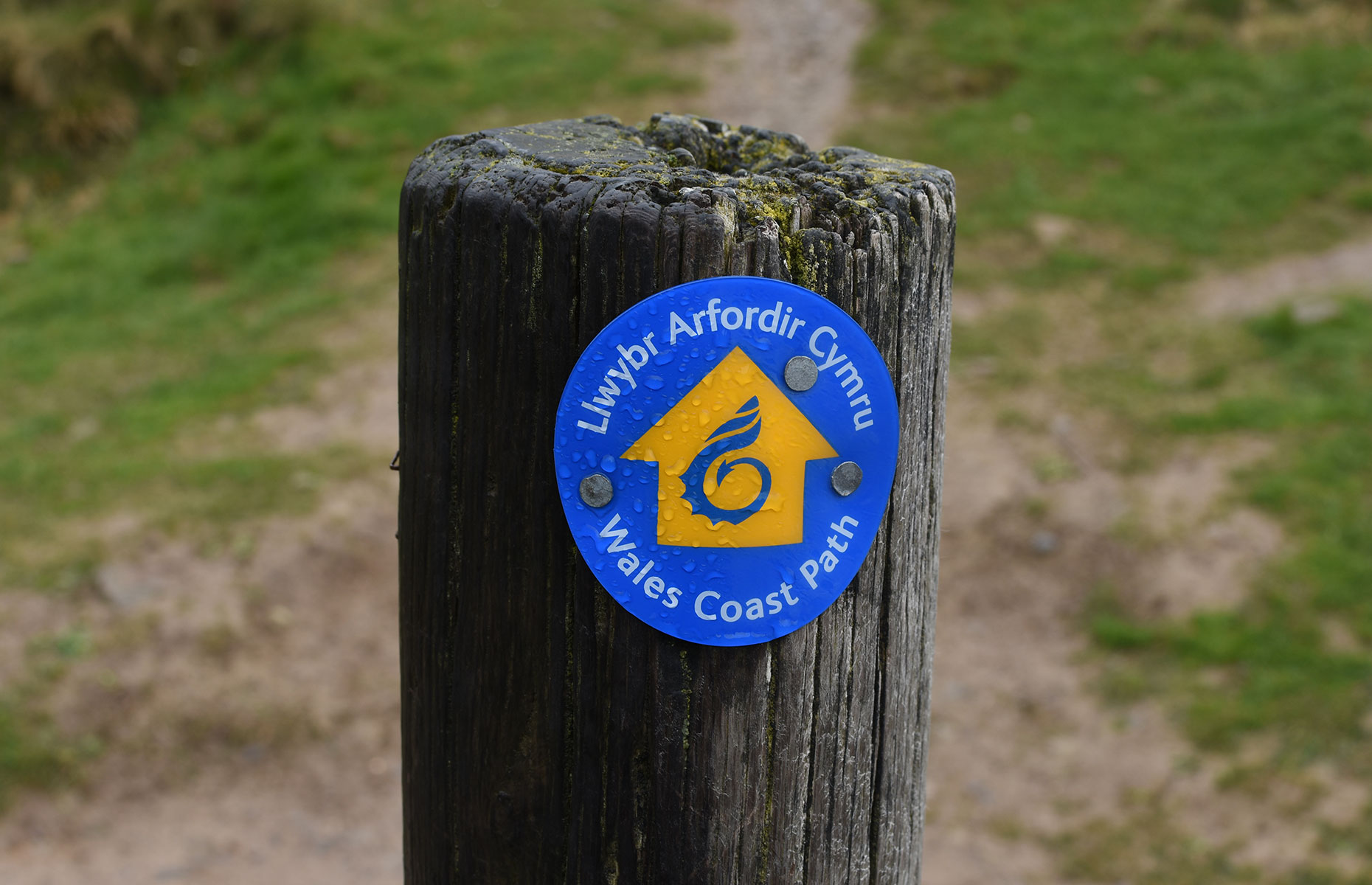 Georgia Stephens
From 4 to 19 May this year, the country will be commemorating seven years of uninterrupted seaside strolls with another world first: the Wales Coast Path Walking Festival. Like the path, it will trace the length of the shoreline with over 40 new expert-led walks created by Ramblers Cymru, the majority of which are free to join.
Highlights along the Wales Coast Path
Pembrokeshire
The Pembrokeshire path was Wales's first national trail and is still as good an introduction as ever to the wonders of the Welsh coast. Here wild, windswept headlands shelter glorious sandy beaches, colonies of puffins nest on wildflower-strewn isles and otherworldly rock formations rise from the ocean, sculpted by the perpetual waves. The full route is serious hiker territory – travelling the length of Pembrokeshire's undulating coast is said to be equivalent to climbing Everest – but it's fine to conquer it in sections.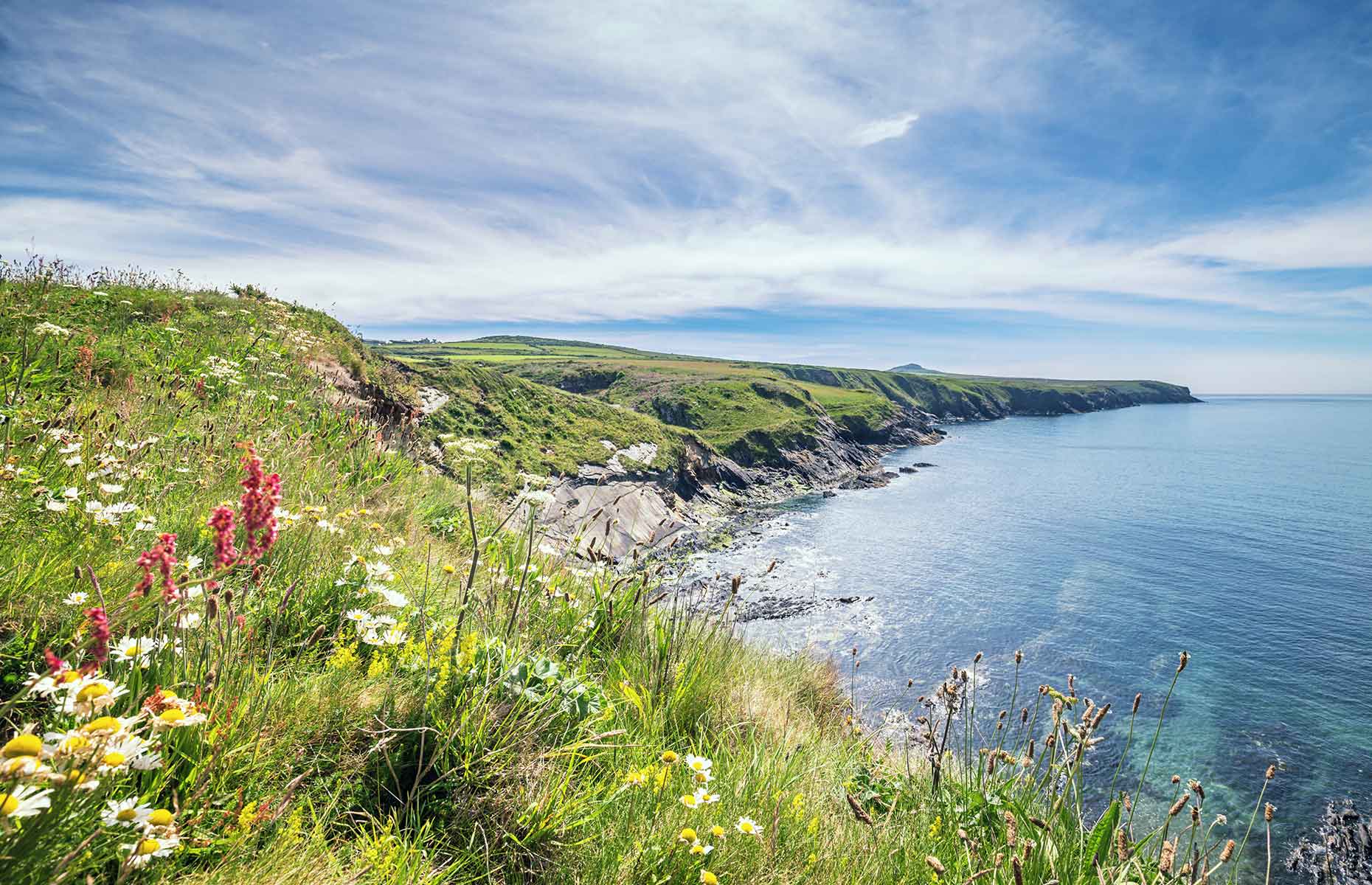 EddieCloud/Shutterstock
Anglesey
Teetering out on Wales's rugged northwestern tip, the Isle of Anglesey is ringed by the Coast Path, much of which has been designated an Area of Outstanding Natural Beauty. You'll travel between wild salt flats and coarse patches of coastal heathland, up and over tussocked dunes and through an RSPB reserve, where you'll have the chance to spot puffins and guillemots. At a relaxed pace, you'll likely need around two weeks to see it all.
The Gower
It doesn't get much prettier than the Gower, a fifteen-mile-long finger of land pocked with ruined castles, bracken heaths and salt marshes that gradually slips into sweeping bays. It should come as no surprise that this was the UK's first official Area of Outstanding Natural Beauty. On the west coast, magnificent Rhossili Bay's three miles of unspoiled golden sand make it one of the UK's best beaches, while nearby Three Cliffs' trio of jagged peaks feature among Wales's most photographed landmarks.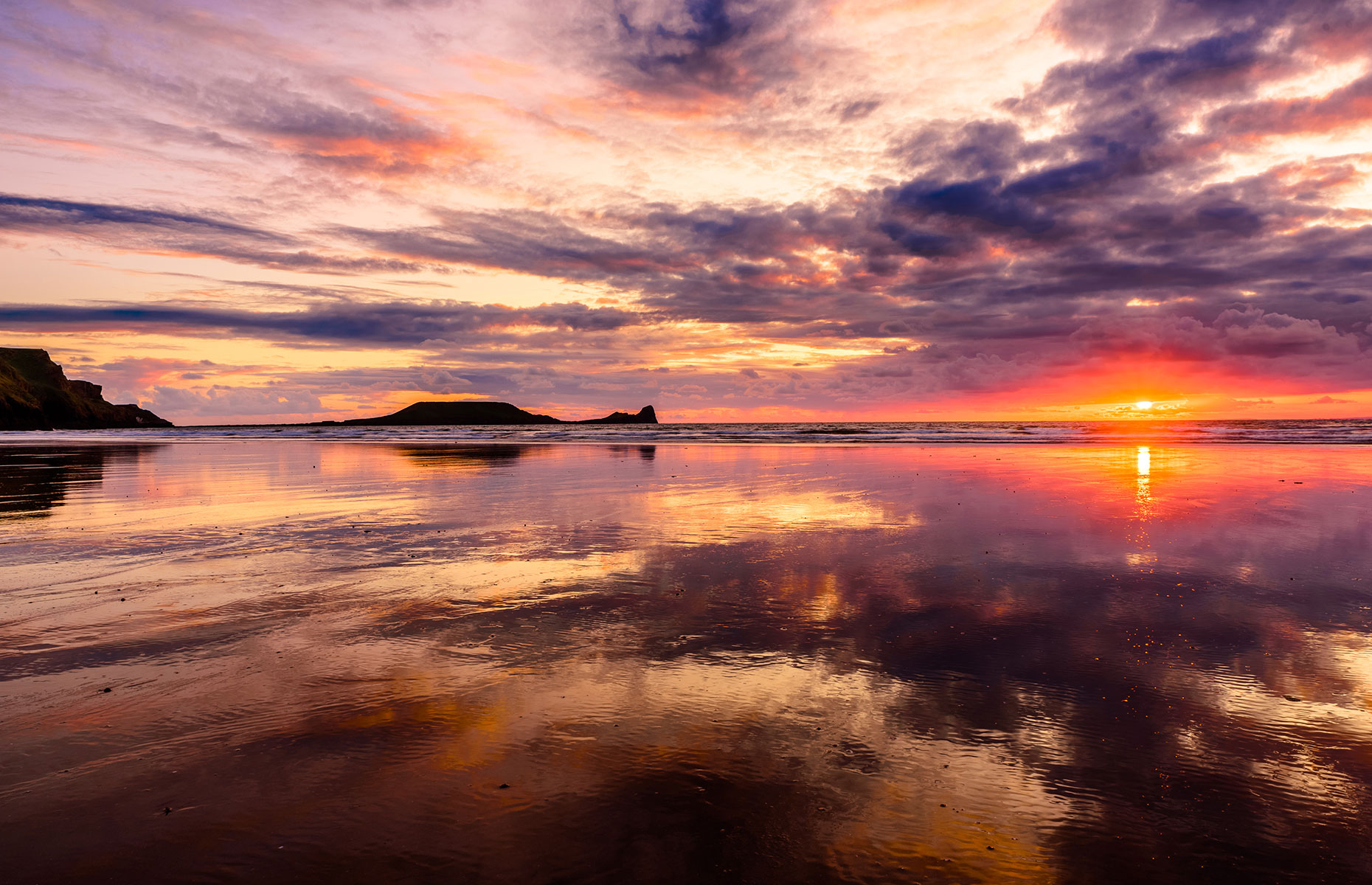 Christopher Willans/Shutterstock
Where to stay in South Wales
Embodying "cwtch" (the Welsh term for an affectionate hug), the Hide at St Donats sets a snug shepherd's hut, three traditional "cabans" and a four-person lodge within 7.5 acres of woodland overlooking the craggy Heritage Coast. Electric blankets and wood-burning stoves keep things delightfully cosy.
Set in the bucolic heart of the Vale, the Bear dates back to medieval times and was once an impromptu prison for Napoleonic troops. The oldest rooms feature four-poster beds and, if rumours are to be believed, a host of resident ghosts.
Bear Hotel, Cowbridge/Booking.com
Where to eat in South Wales
Quite possibly the only post office with a licensed bar, Pryd o Fwyd offers a fine dining experience at a fraction of the price, within a decidedly no-frills setting. Its passionate chef trained at Claridges and focuses his seasonal menu around local produce – don't pass up the Salt Marsh lamb.
Set within Dylan Thomas's favourite pub, this restaurant is a great choice for a posh dinner, serving some of the best food in Laugharne in a moody, candle-lit setting. Its signature duck breast starter is infused with Penderyn's own whisky, distilled in the foothills of the Brecon Beacons.
Itinerary: the perfect South Wales weekend
While it's possible to conquer the Wales Coast Path in its entirety, keep in mind that you'd need a minimum of six weeks to complete it – and that's only if you averaged a whopping twenty miles per day. For an easier introduction, try this section between the Vale of Glamorgan and Carmarthenshire.
Friday evening
Check into: the shepherd's hut at The Hide, tucked between the trees of Tresilian Wood on the outskirts of the tiny hamlet of St Donats. Settle down on the terrace for a barbecue supper and listen out for hooting owls, before heading inside to drift off beneath woven blankets in the glow of the crackling log stove.
Saturday
Make a beeline for: the tiny town of Llancarfan, where you'll discover the even tinier church of St Cadoc's beside a babbling brook. Back in 2007, an extraordinary set of wall paintings was unearthed here beneath centuries-old limewash, depicting graphic images of the mischievous devils behind the seven deadly sins and St George slaying a cowering dragon. Estimated to date back to the 1480s, they're among the best-preserved medieval paintings ever found in a British church.
Georgia Stephens
Grab a quick lunch at: the Heritage Coast Café, where you can fill up on mushy peas and fresh-caught cod in a crisp, bubbly batter in preparation for your first hike.
Go for a wander along: Monknash Beach. This four-mile stretch is the Heritage Coast at its finest, sculpted by some of the world's highest tides.
BerndBrueggemann/Shutterstock
It's a moonscape of smooth boulders and slick rock pools encrusted with fossilised ammonites, framed by looming cliffs seemingly constructed in layer upon layer of limestone LEGO. At the end, climb up the narrow path for a stroll between the ghostly gardens of ruined Dunraven Castle.
Make a pit stop at: Slade Farm. After all that walking, you'll need some coffee and cake. Beyond the farmhouse, cockleshell paths whisk you beneath delicately woven willow arches, through ancient woodland and wildflower-filled glens, in what can only be described as the Vale's very own Secret Garden. Don't miss the guided tour – the owner's passion is infectious.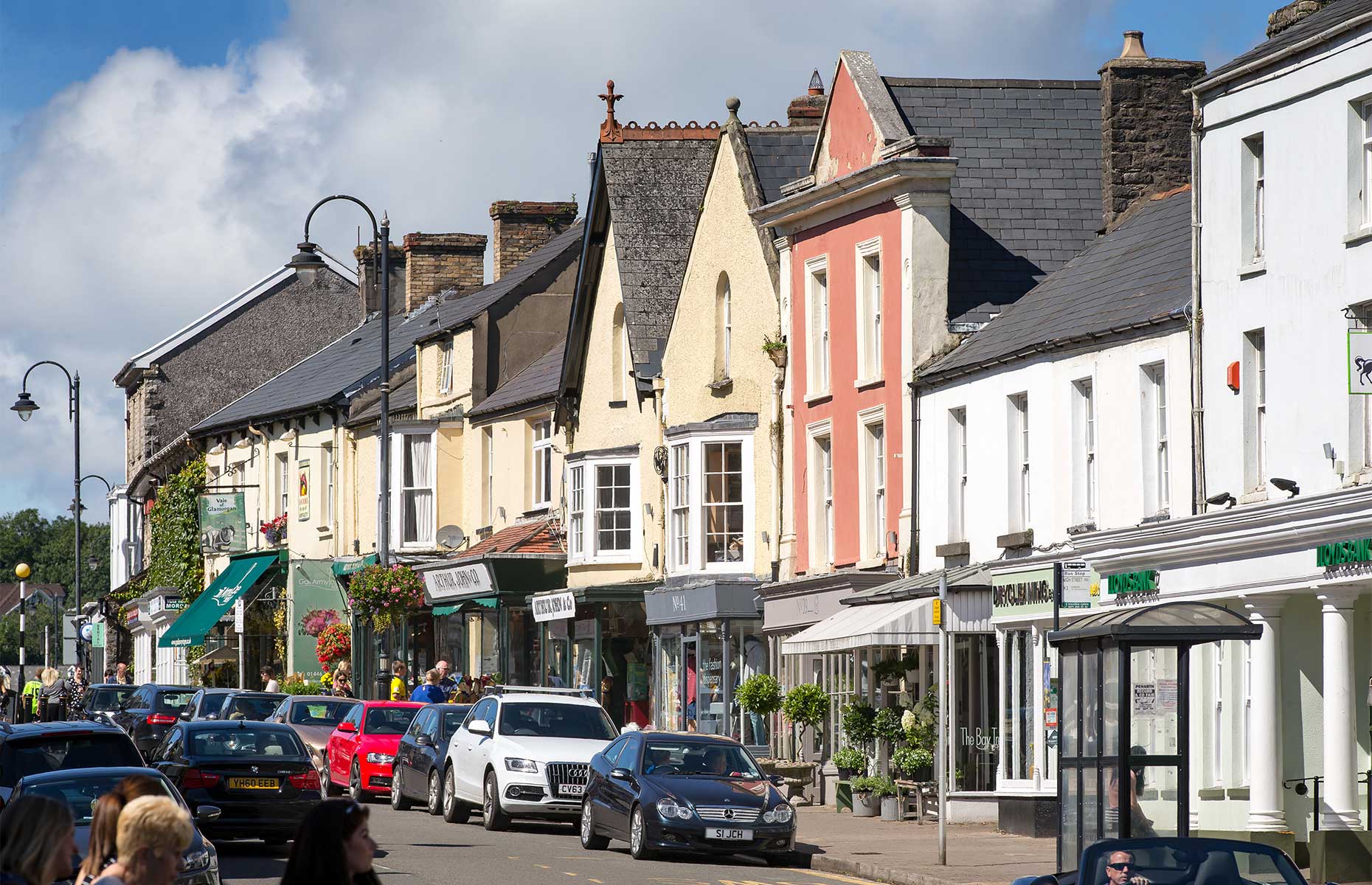 Courtesy of Vale of Glamorgan
Finish up in: Cowbridge (pictured above), a market town lined with independent shops. Pop into Oscars when you've finished browsing for a late supper of caramelised shallot risotto, before sleepwalking next door and falling into bed at coaching-inn-turned-hotel The Bear.
Sunday
Wake up: early and explore the remnants of Ogmore Castle, where crumbling gatehouses frame postcard-worthy views of Welsh cottages and the rolling countryside. Keep an eye out for the horses of Ogmore Farm trotting along the riverbank.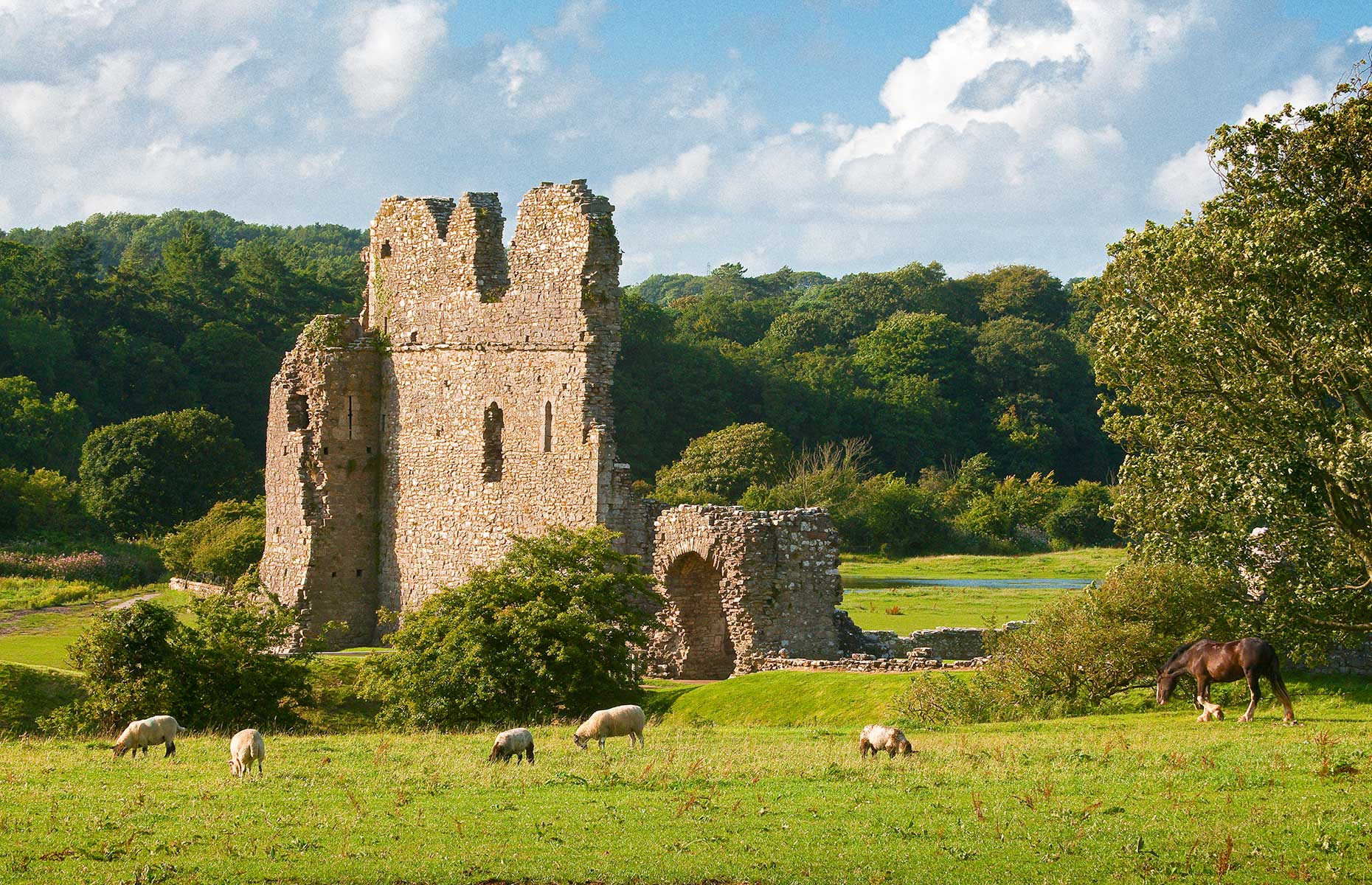 Courtesy of Vale of Glamorgan
Next it's on to: Carmarthenshire and Pembrey Country Park, where you can use the red-brick tunnels of a former First and Second World War munitions factory to burrow into the hillsides and learn about the area's explosive history. When you're finished, join the weekenders making a beeline for the park's dry ski slope and toboggan track.
Have lunch at: Pwyd o Fwyd, an inventive combination of fine-dining restaurant and local post office. Head chef Guy Lamble is rejuvenating the fishing village of Ferryside with his menu of local favourites, and if you feel like writing home about it you'll be in the right place.
Go for a wander in: Laugharne, a pretty port town nestled around the Taf estuary. Peer up at the castle, a 13th-century ruin now the sole preserve of jackdaws, before following local farmer and guide Bob Stevens along the two-mile Dylan Thomas Birthday Walk up into the woods. The renowned Welsh poet spent a great deal of his time in Laugharne (mostly, it's said, in the local pub), where he composed many of his works in a writing shed beside the water. The walk traces the route Thomas took on his thirtieth birthday and immortalised in "Poem in October".
Courtesy of Georgia Stephens
For dinner: head for a final hurrah in Penderyn before returning home. It's the best restaurant in town, with butter-poached brill, wild mushroom tagliatelle and Welsh lamb noisette all on the menu. Make sure you save room for the tooth-achingly sweet sticky toffee pudding, washed down with Penderyn whisky from the restaurant's award-winning sister distillery.
Getting around
Great Western Rail runs services into Cardiff, and once there it's possible to get around by bus and train. But as Welsh weather, mobile phone coverage and Sunday services can all be unpredictable, you'll have a much easier time if you travel by car or book a tour with a local operator. Kyle Rendall at Discovery Wales is a good bet for bespoke tours.
Map
Main image, Dunraven Bay, looking west: Courtesy Vale of Glamorgan
Be the first to comment
Do you want to comment on this article? You need to be signed in for this feature