48 hours in Eastbourne, East Sussex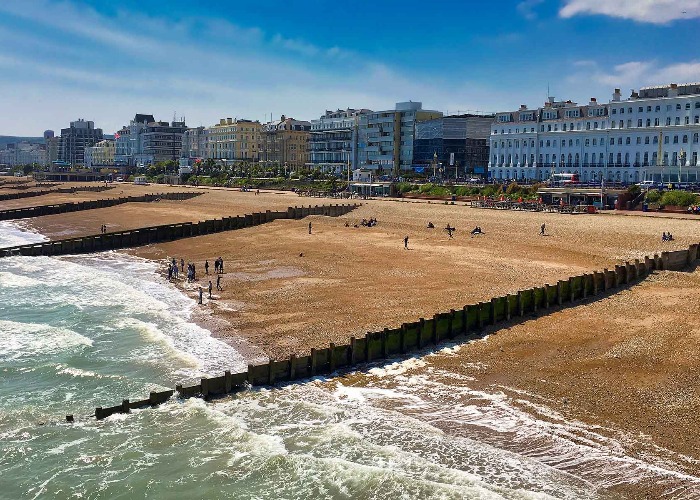 Discover the top things to do in Eastbourne, from strolling down its stunning Victorian pier and eating your way around excellent restaurants to exploring the rugged South Downs
With a reputation as a sleepy retirement town, Eastbourne has often been overlooked as a weekend seaside destination in favour of its south coast neighbours: hipper Brighton, edgier St Leonards or quainter Hastings.
But with the opening of Eastbourne's newest boutique hotel and restaurant, Port, the town is carving out its own niche as a food lover's haven. And it's no wonder when the town's cafés and restaurants have a plethora of gorgeous local produce from the surrounding landscape. With both the rolling hills of the South Downs and the High Weald on the doorstep, it's a hot bed of small, artisan producers.
It's not just about food either. Many of England's best winemakers are found in Sussex and they're now winning top global awards for their sparkling wines. You can amble between wine tastings on foot, soaking up the wild spaces in between.
READ MORE: A beginner's guide to English wine
There's no shortage of opportunities to get out into the rugged side of nature too – whether working up an appetite or working off a feast. Beachy Head is a mere two (admittedly very uphill) miles (3.2km) from the town centre and the Cuckmere Valley is just an e-bike ride away.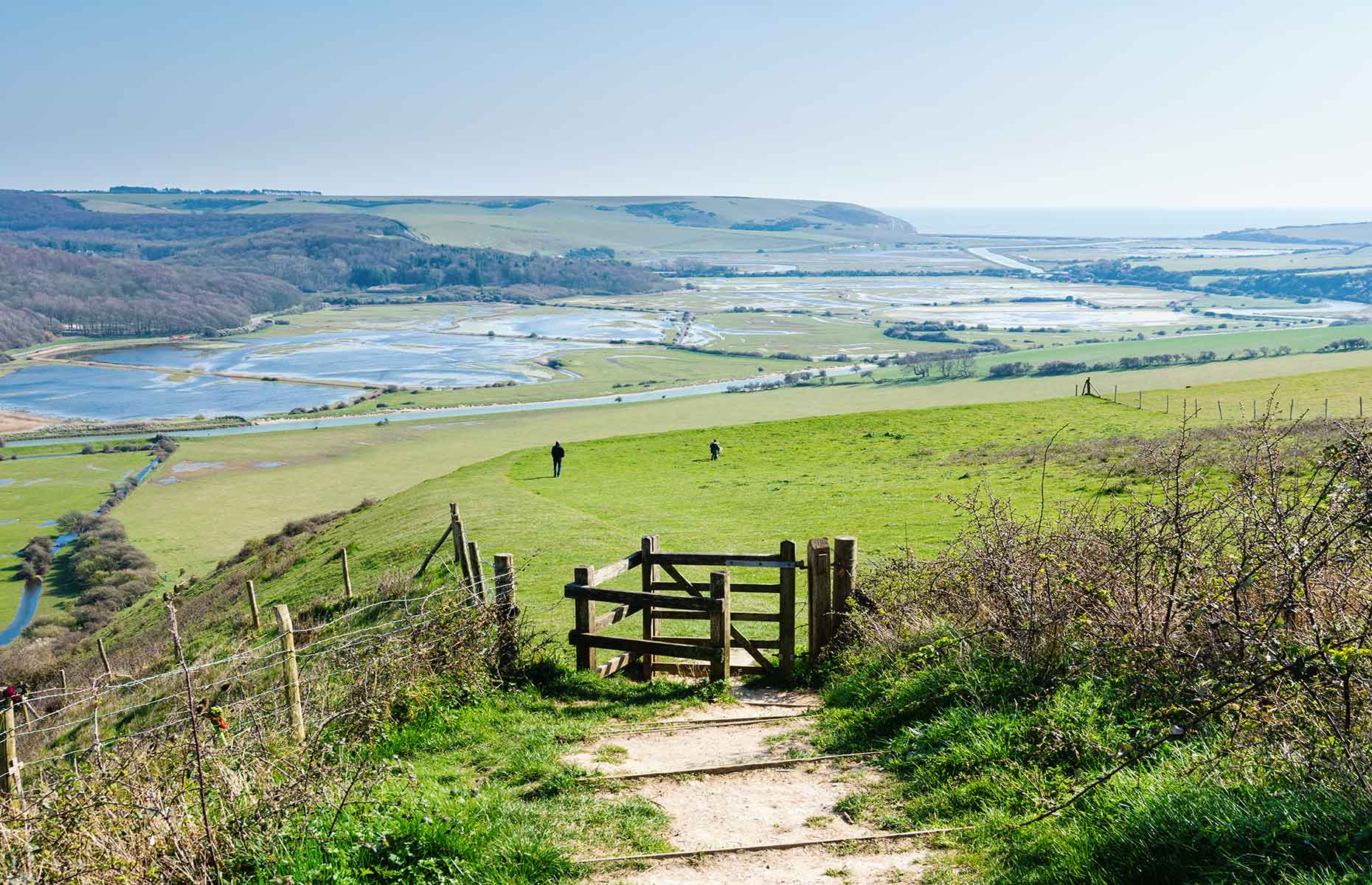 Lilly Trott/Shutterstock
Friday
Check-in to: Port Hotel. With its edgy black-painted exterior, Port, Eastbourne's newest boutique hotel, is unmistakeable among the more subdued hues of its seafront neighbours.
Each of the 19 rooms, six with sea views, are decked out in calming muted tones, taking inspiration from the surrounding landscapes of the rolling hills of the South Downs and the ever-changing palette of the pebbly beach. The Scandi-inspired design incorporates oak-panelled headboards and cork floors with elegant terrazzo tiles in the bathrooms.
The choice of toiletries reflects the hotel's commitment to sustainability with Faith in Nature shampoo and conditioner, Haeckels soap and Who Gives a Crap loo roll.
Take a stroll down the pier: With elegant Victorian iron work on the underside and buildings topped with golden turrets that catch the eye even on the greyest of days, the pier at Eastbourne is the focal point of the seaside promenade. No trip to the town would be complete without a saunter down it at sunset.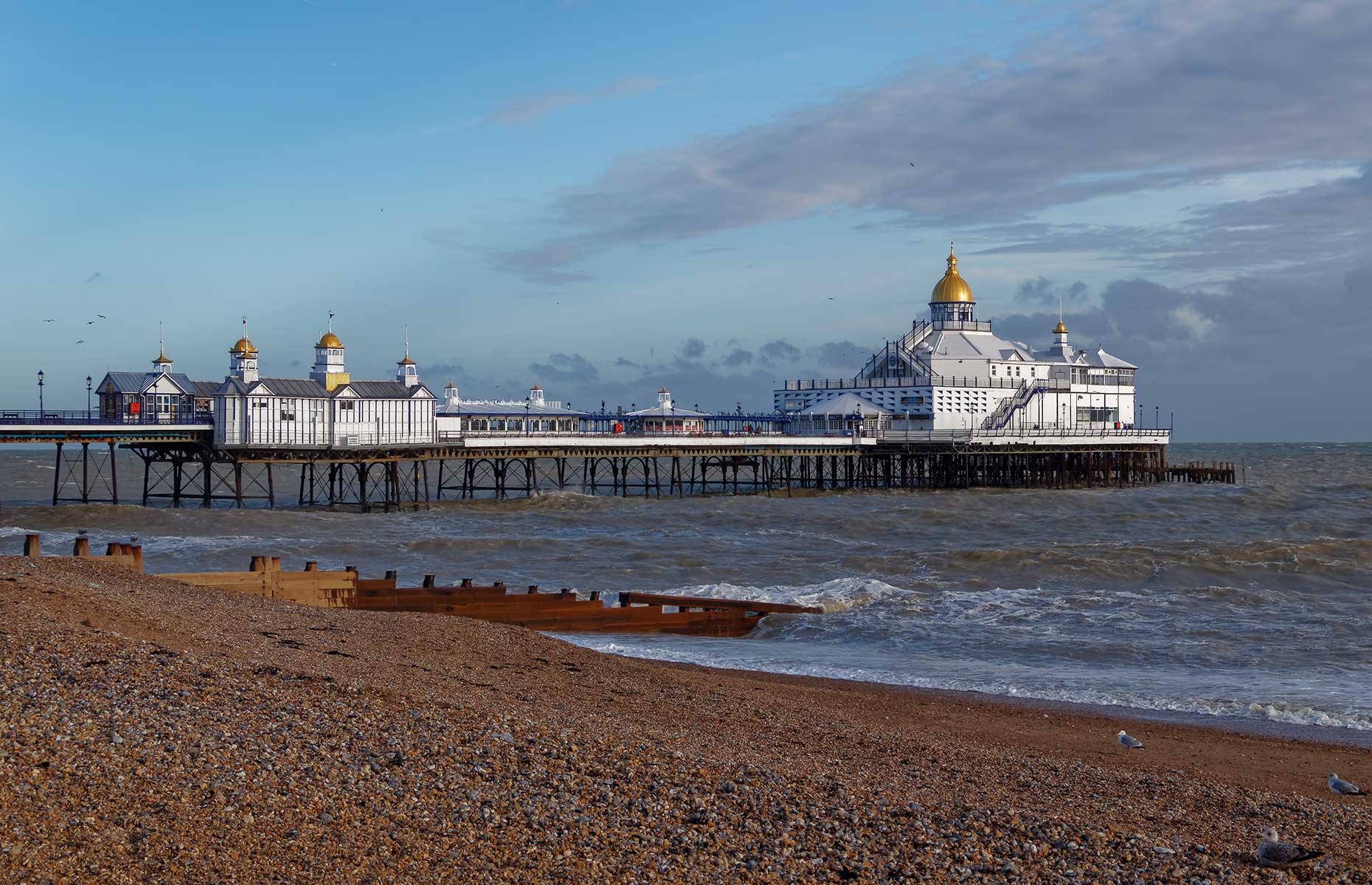 Philip Bird LRPS CPAGB/Shutterstock
The pier has hosted a whole manner of amusements since its completion in 1872 including a theatre, camera obscura and arcades. But now it has everything you'd expect from a classy modern-day pier: fish and chips, tearooms, an assortment of gift shops and unrivalled views of the ever-calming sea.
READ MORE: 48 hours in Margate
There's also a wide walkway which was built as a result of a fire in 2014 by its current owner, local hotelier Sheikh Abid Gulzar. It's why you'll see a sign as you leave that declares it 'Sheik's pier'.
Sample beer at: Bottle Grove. Beer and ale fans will love the opportunity to try a vast array of locally-brewed beers and ciders at Bottle Grove which is both a small bar and a shop. It turns out Sussex is a hot bed of brewing and many nearby craft producers are represented including Lost Pier Brewing from Burgess Hill and Gun Brewery in nearby Heathfield. You can even bring your own bottles for refilling with whatever's on tap that week.
Dine at: Cru. This cosy spot is run by self-confessed 'wine geeks' Hardy and Jordan who are passionate about wine – both local and global – as well as the food to accompany it. The wine list alone runs to 24 pages.
On the food front, fish is the speciality and the menu features small tapas-style plates incorporating local flavours (like Seven Sisters Gin-cured salmon with crab mayonnaise and locally-caught clams in garlic chilli sauce) as well as larger plates (think sparkling wine-battered local fish of the day). The other signature is dry-aged beef, hung for 30-40 days. There are a range of options including tacos for those who just want a taster to a full one-kilo (2.2lb) tomahawk steak.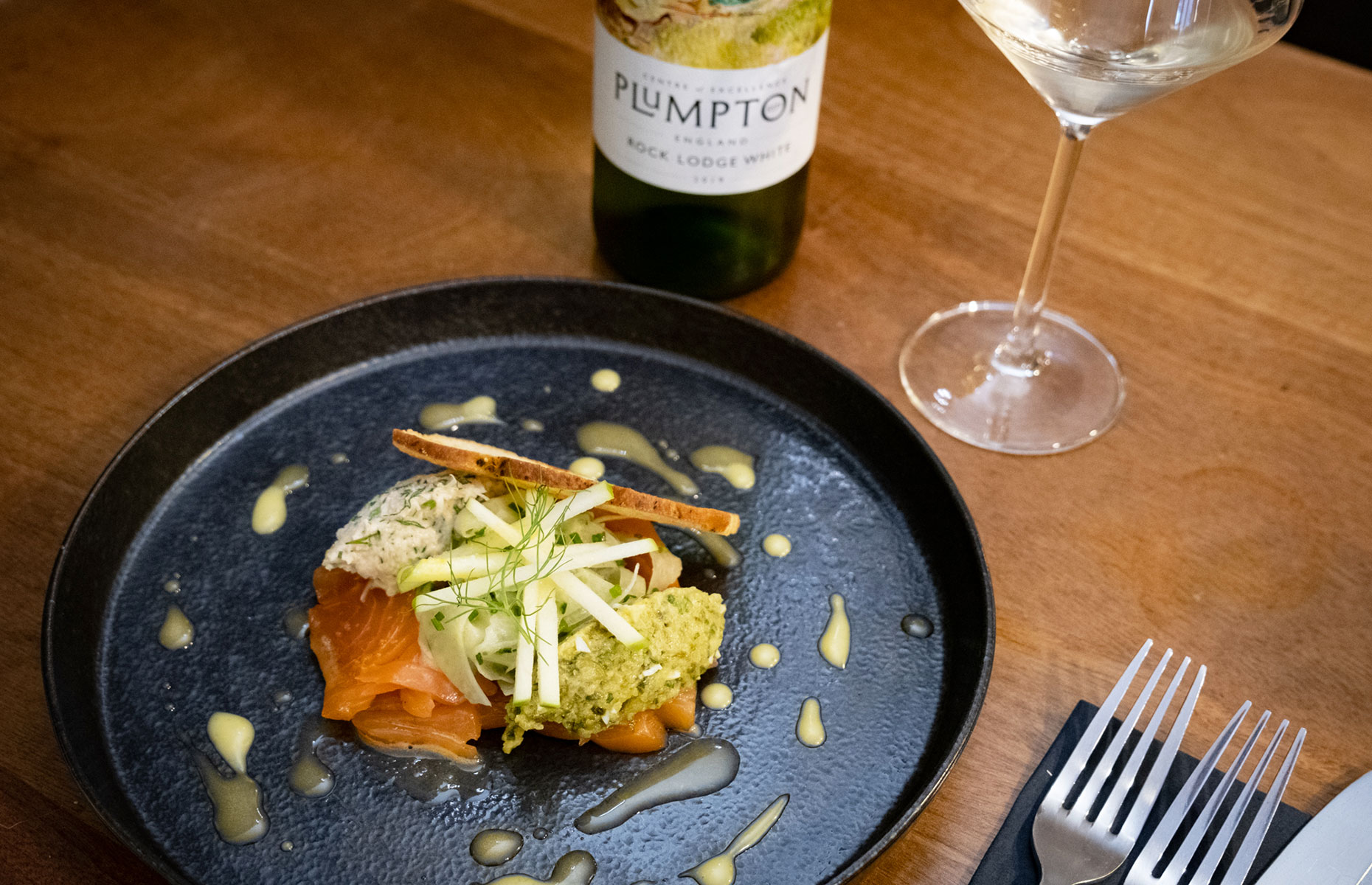 Photo by Diana Jarvis
Its sister business Levels operates as more of a wine bar and shop, but you can order sharing platters to accompany a similarly vast choice of wines.
Saturday
Brunch at: Port. As well as boutique seafront rooms, Port Hotel also has a delectable menu – open not just to those staying – and ingredients are sourced primarily within a 30-mile radius. The brunch options range from healthy overnight oats with toasted almonds and blackberry compote, to the downright decadent duck royale made from shredded confit duck, a fried duck egg, sriracha and smoked hollandaise on a homemade waffle.
READ MORE: Your complete guide to Suffolk
Check out the art at: Towner gallery in the Devonshire Quarter. It's the largest dedicated art gallery in the South East and has a growing reputation nationally. You can't miss the purpose-built space with its striking multicoloured exterior that brings a smile even on a dull day.
It's free to visit the exhibition spaces that comprise two upstairs galleries with revolving solo shows by international artists – usually with some connection between the two of them – and a selection from the vast collection on the floor below.
Artists represented include Dineo Seshee Bopape, John Akomfrah, Lawrence Abu Hamdan, Tacita Dean, Grayson Perry and Wolfgang Tillmans, along with local artists who have explored the rolling hills of the South Downs in their works. The Towner also owns the largest collection of works by pastoral painter Eric Ravilious, some of which are permanently on display.
To find out what's going on in the contemporary art scene, head to commercial gallery Newart where you'll find a treasure trove of paintings, sculptures and ceramics selected by owner Peter Patterson.
Indulge in some retail therapy: For a spot of shopping, wander along Eastbourne's Little Chelsea district of South Street and Grove Road. You'll find a number of retro and antiques shops including Chelsea Antiques Emporium ('Time wasters welcome' declares the sign) and secondhand-book shoppers' paradise Camilla's Bookshop which is piled high from floor to ceiling with every title imaginable.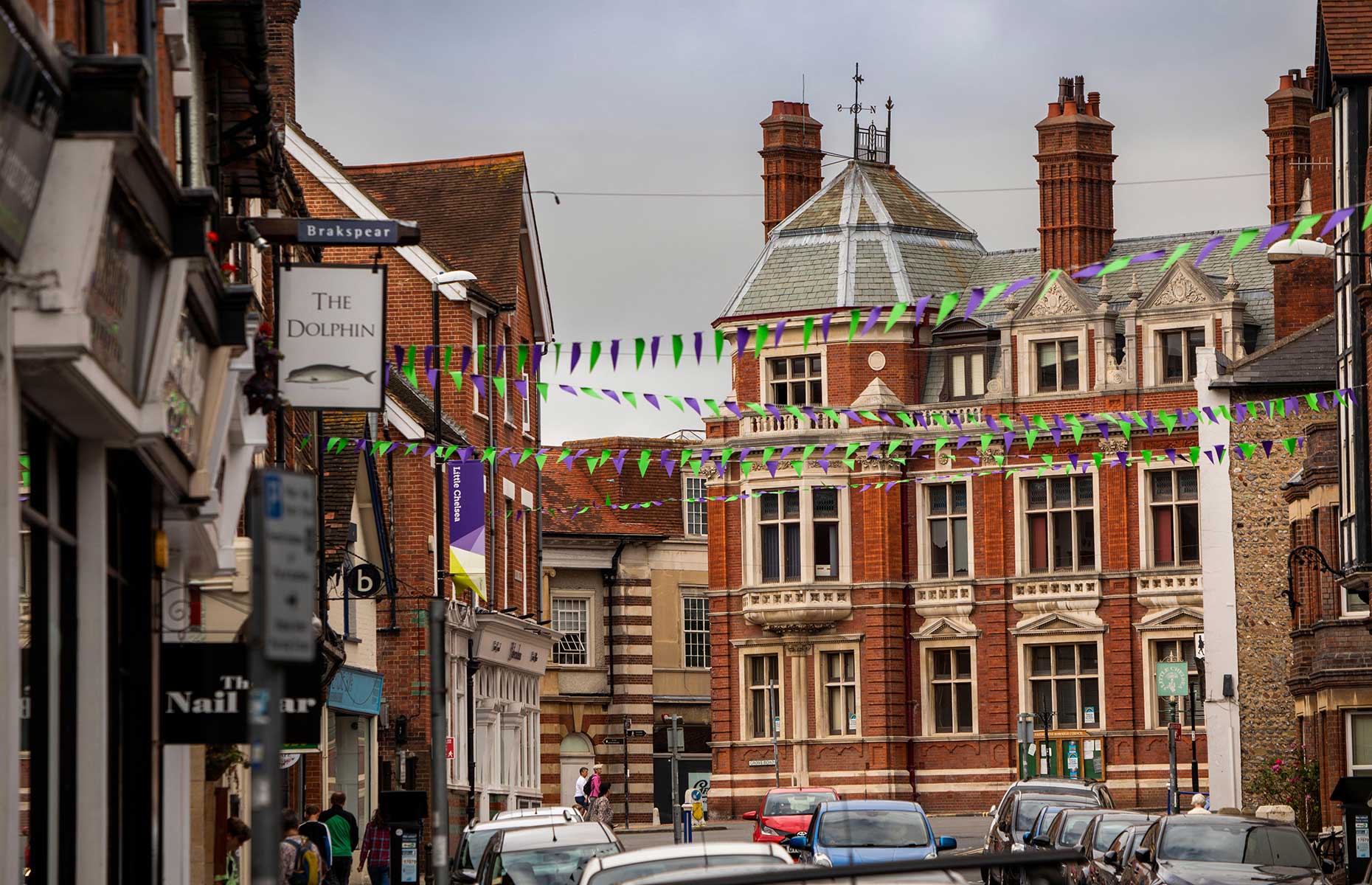 Neil McAllister / Alamy Stock Photo
Lunch at: Little Elephant Thai Restaurant whose menu comprises a range of dishes like crispy duck in lemongrass and tamarind sauce and chu chee seabass (deep-fried seabass topped with thick curry sauce). There's also a great range of vegan options including curries and plant-based pad Thai.
Walk the vine at: award-winning wineries in the Sussex Weald and the South Downs on a bespoke walking tour from Fizz on Foot. There is no better way to explore Eastbourne's surrounding countryside than with an expert guide who knows the history and ecology of the area, plus where to find the best locally-produced wines.
READ MORE: How to spend a corking weekend in Kent's wine country
The region's soil is composed of the same mix of chalk as the Champagne region of France, but with a slightly better climate for growing the three main grapes found in sparkling wine (Pinot Noir, Chardonnay and Pinot Meunier). So it's no surprise that Sussex wines are now beating the French ones in international competitions.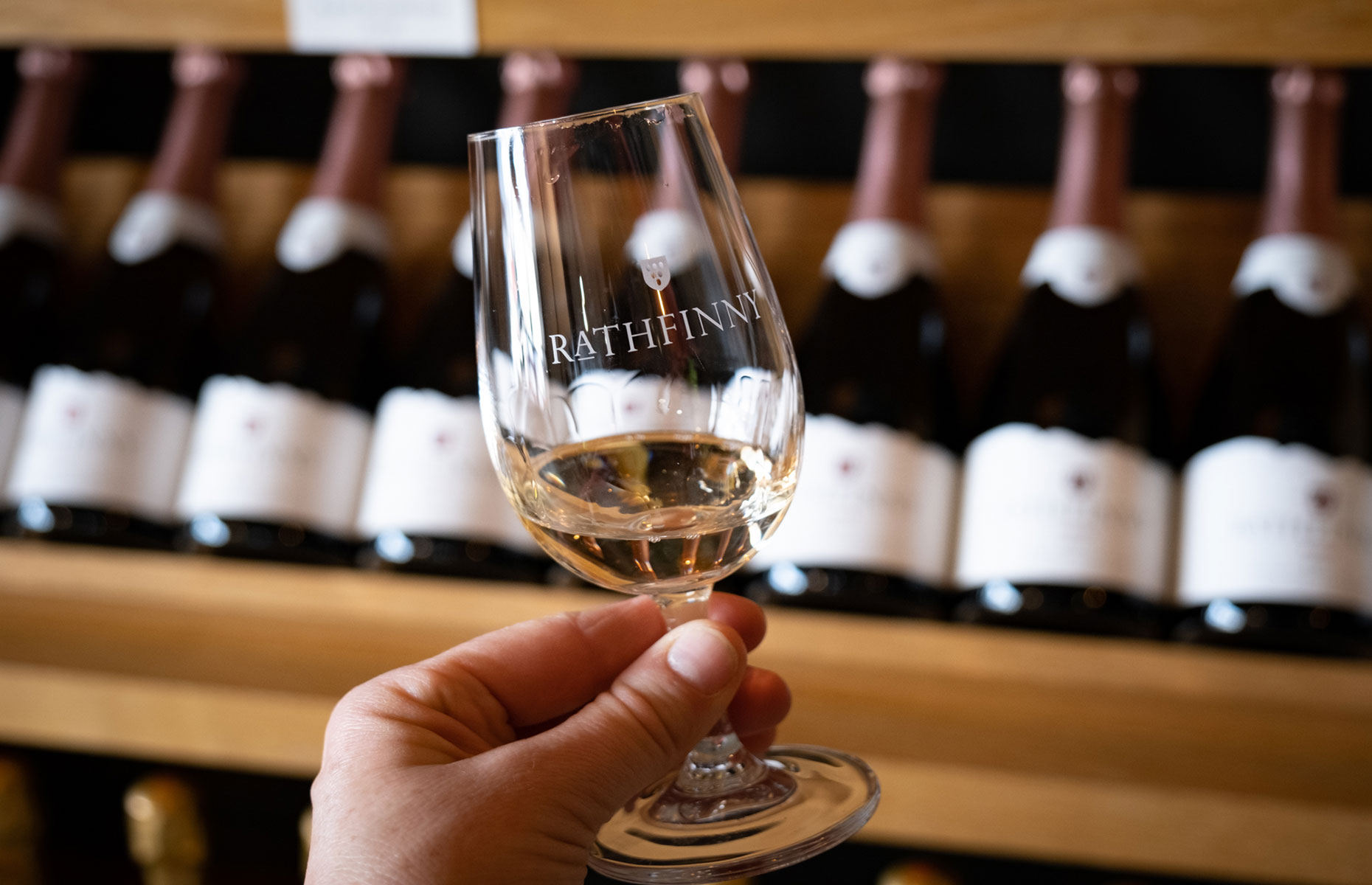 Photo by Diana Jarvis
Wineries include Hidden Spring, where you can sample sparkling wines as well as Bacchus, a little-known white grape that grows exceptionally well in southern England, Court Garden and Rathfinny Estate. Tours also take in the incredibly picturesque village of Alfriston where you can stop for a bite to eat in the Star Inn or peruse the shelves in Much Ado Books. From here you can also head up to Herstmonceux's Observatory Science Centre, with hands-on exhibits and giant telescopes for use on selected dark nights.
Dine at: Skylark. At this welcome new addition to the dining scene in Eastbourne, the menu is small and locally-sourced, wherever possible, and there's something for everyone. From braised Sussex beef and curried cauliflower tempura to pan-seared pheasant and wild mushroom pappardelle. Don't miss the cocktails with a local spin either, like the Seven Sisters martini made from nearby Rathfinny Estate's gin and vermouth.
Sunday
Brunch at: Nelson Coffee House. Located opposite the station, this is the place to head for coffee in town. The single-origin, ethically-sourced coffees are roasted on site and they accompany a delicious selection of breakfasts, including the full English with house-made smoky baked beans and perfectly-poached Clarence Court eggs. The pastry and cake choice is pretty tempting too – we challenge you not to leave without a macaron for the road.
Visit: The Beachy Head Story, a museum at the top of the much-maligned rocky outcrop. It's possible to walk the 2 miles (3.2km) or so on a rather steep trajectory from the town and the views at the top are spectacular. On a clear day you can see all the way to Dungeness in the east and to the Isle of Wight in the west, plus it's a gorgeous sunrise or sunset spot year-round.
READ MORE: The world's most stunning rock formations
There are a variety of paths that criss cross the headland and there's plenty of unusual bird species that visit including wheatears and stonechats. The museum itself has one of the most delightfully written narratives that immerses you in the history of the land and its people while simultaneously making a strong connection with our modern-day lives.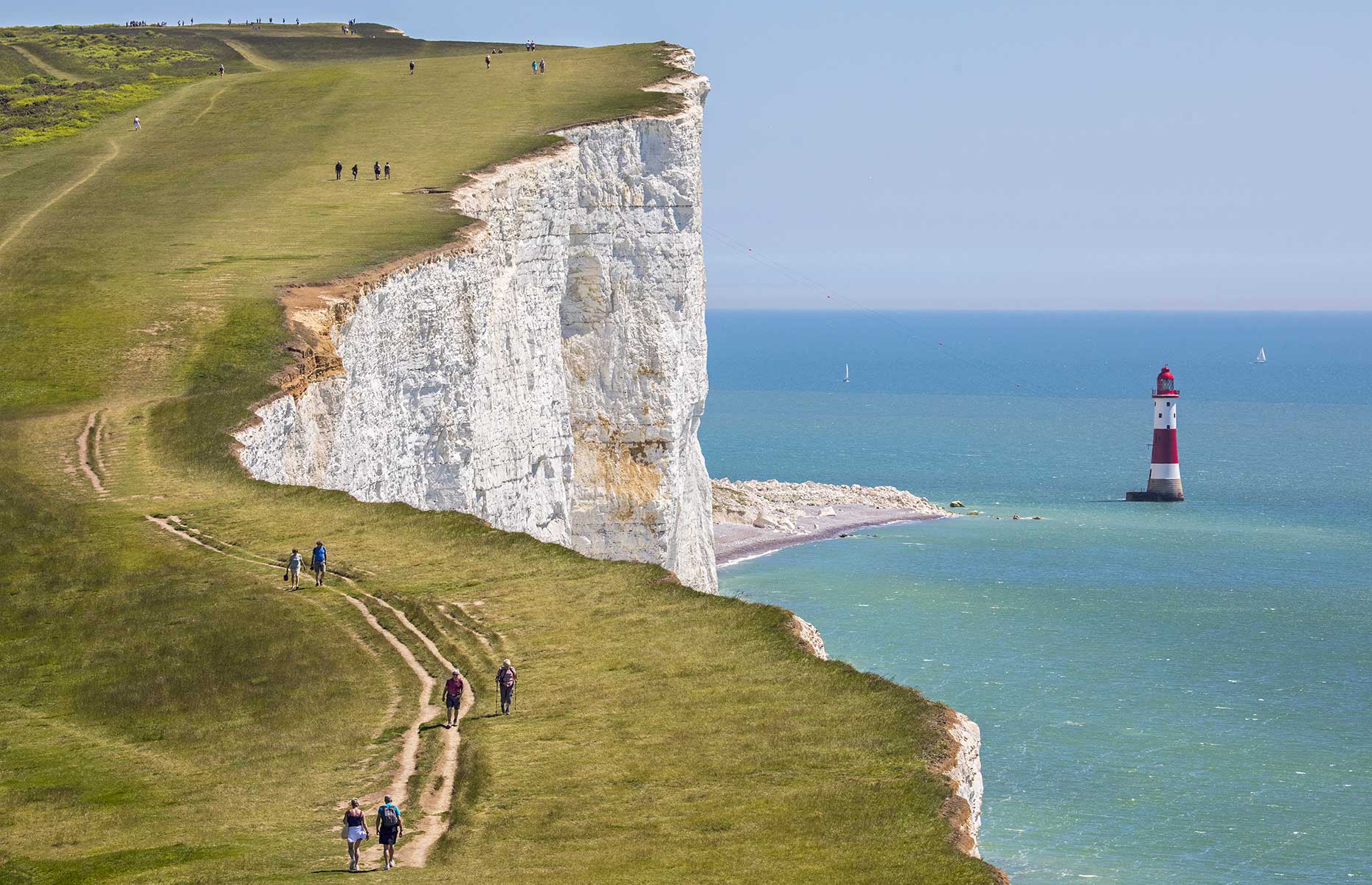 chrisdorney/Shutterstock
Lunch at: Cadence Cycle Hub, in front of the Towner gallery, which is one of a growing number of cycle hubs at which you can refuel with a decadent cheese toastie before picking up an e-bike to explore the town or surrounding countryside. (Make sure to check out the ethically-sourced coffee supplied by local roaster Liquid Spirit too.)
Cadence offers a range of guided tours around the South Downs as well as bespoke options. They can transport you to the other main hub in nearby Litlington which makes for an ideal starting spot for a tour around the Cuckmere Valley. While you still need a reasonable level of fitness to ride an e-mountain bike, the motor certainly takes out a fair amount of the effort required. It's a great leveller and ideal for multigenerational groups and families.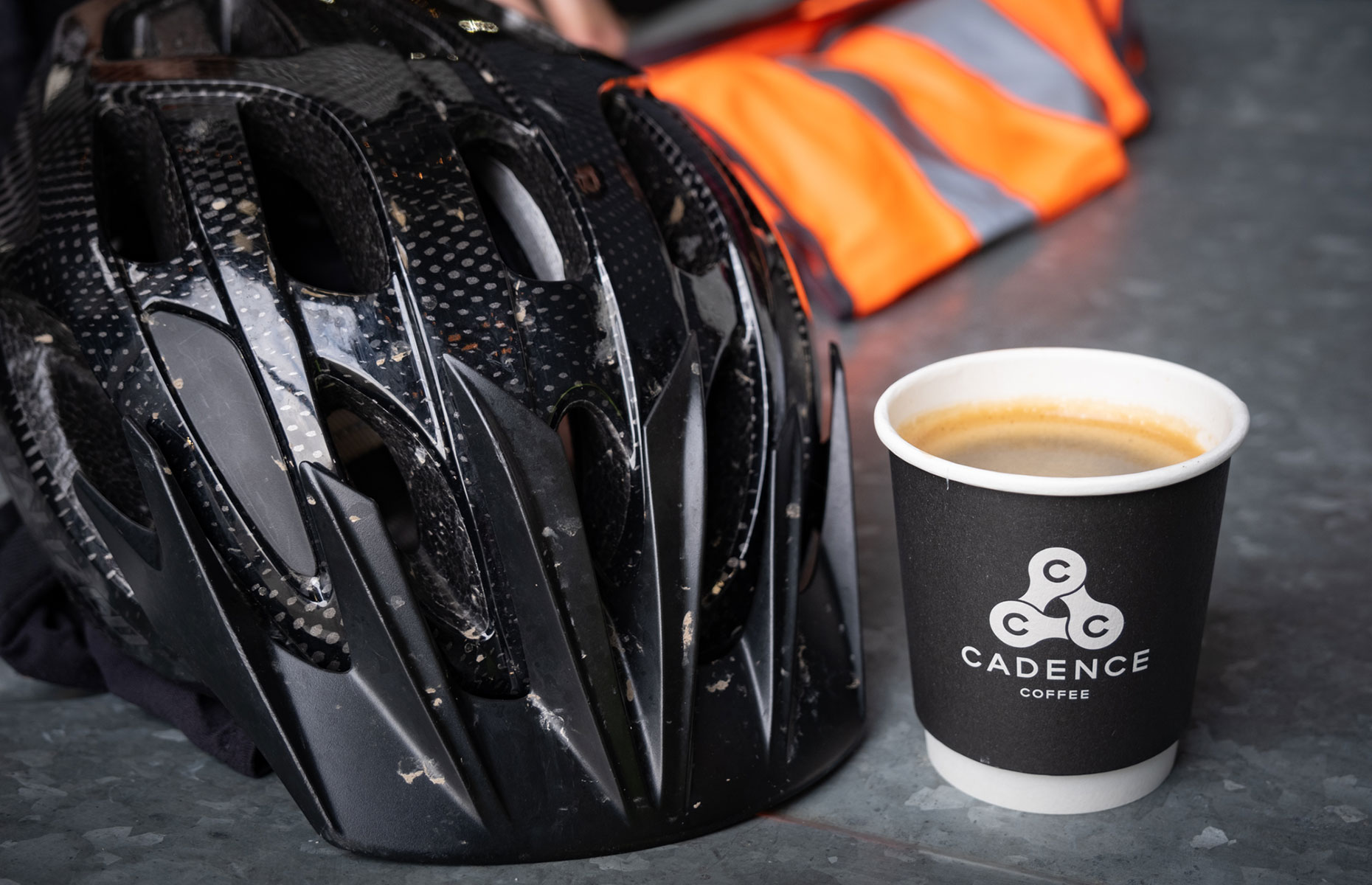 Photo by Diana Jarvis
READ MORE: 6 ways to explore magical Mersea
Pamper yourself: After all that energy expenditure, book into the spa at The Grand Hotel. The treatment list includes facials with exfoliating peels and rejuvenating botanicals, as well as the signature 'Ocean of Dreams' massage which starts with a full body exfoliation, followed by a lavender massage and topped off with hot stone therapy.
For more information, head to www.visiteastbourne.com.
Lead image: Graeme Dawes/Shutterstock
Be the first to comment
Do you want to comment on this article? You need to be signed in for this feature