Magical Mersea: 6 ways to explore Essex's laid-back island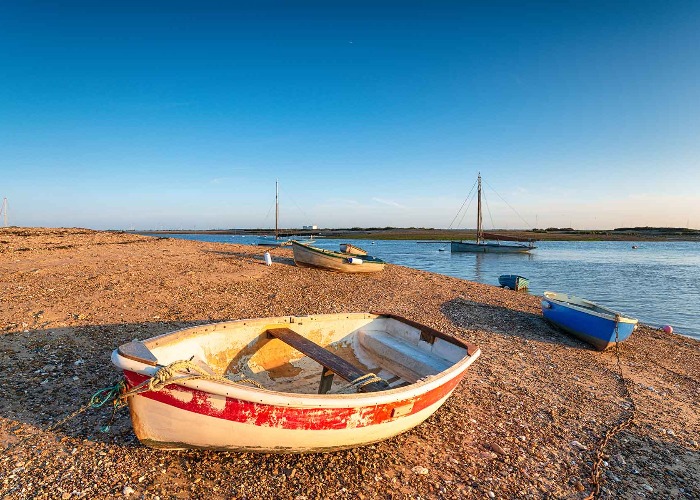 The most easterly inhabited island in the UK is a low-key beach destination for 'seafoodies' and nature lovers. Mersea's patchwork of meadows, creeks, and oyster and fossil-strewn mudflats gives it a once visited, never forgotten appeal.
Your first glimpse of Mersea will be as you cross the Strood, an ancient causeway surrounded by salt marshes. Dominated by huge skies, the poker-straight road trails a well-worn Roman route where legends of ghostly soldiers abound – it's only 10 miles from Colchester, Britain's first Roman capital, after all. Arriving on the island, the road forks as you choose between the town of West Mersea or quieter East Mersea. Although barely half a mile from mainland Essex, high tides can make the Strood impassable for around an hour (so be sure to check timings).
The character of the island changes with the tides and seasons. Sometimes it's bright and saturated in colour, at other times windswept and haunting, and occasionally a cool mist rolls in from the sea charging the island with an ethereal energy. Mersea's unique beauty recently provided the backdrop for the (yet to be released) period drama The Essex Serpent starring Claire Danes and Tom Hiddleston. Fortunately, you don't need to be an artist or filmmaker to appreciate Mersea's charm.
1. Eat and drink like a Roman
The Romans loved Colchester native oysters, which 2,000 years later are still farmed in Mersea's shallow creeks. These prized oysters are part of the Slow Food movement and exported to the flashiest restaurants in the country. Unlike the hardy year-round rock oysters, you can only enjoy the firm texture and rich, salty taste of Colchester natives from September to April.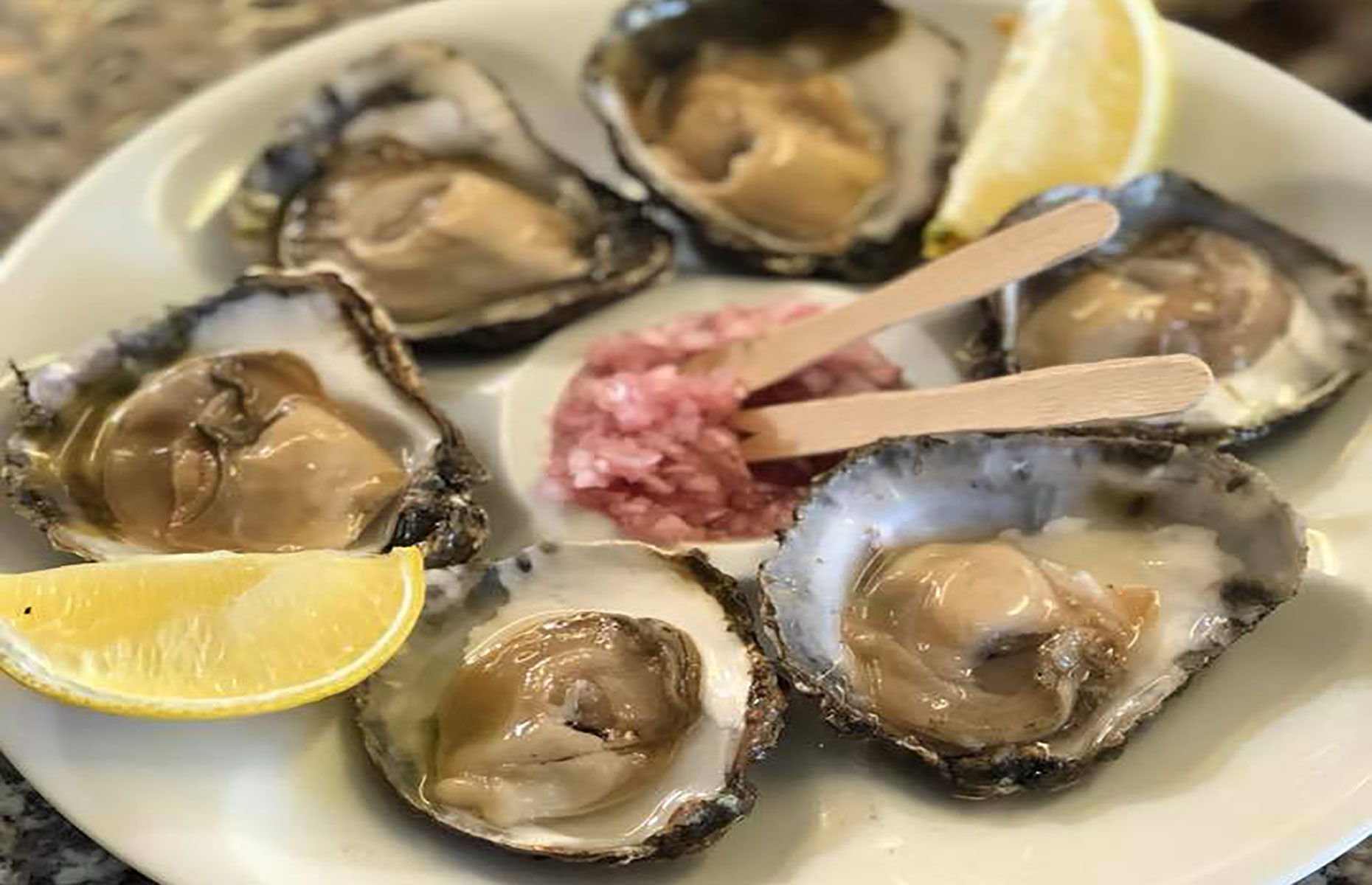 West Mersea Oyster Bar/Facebook
Nothing beats eating them right by the sea they came from – and they're cheaper too. The West Mersea Oyster Bar has plenty of outside seating and serves all types of fresh seafood specialities. Further along Coast Road, The Company Shed is a local institution. But the no-frills weatherboarded restaurant has also earned national fame thanks to glowing reviews from food critics and chefs. A bottle of wine or an award-winning oyster stout from the island's vineyard/microbrewery is the perfect accompaniment to a seafood platter.
READ MORE: 6 of the best days out in Kent
2. Stroll the streets and beaches of West Mersea
Proving that good things come in small packages, Mersea covers seven square miles (18sq km) and is surrounded by two estuaries and the North Sea. A circuit of the whole island will take around five hours on foot, but there are much shorter walking trails. You can walk vast stretches of sand and shingle beaches in West Mersea with wide open views across the Blackwater estuary, where yachts, fishing boats and the occasional Thames barge dot the horizon.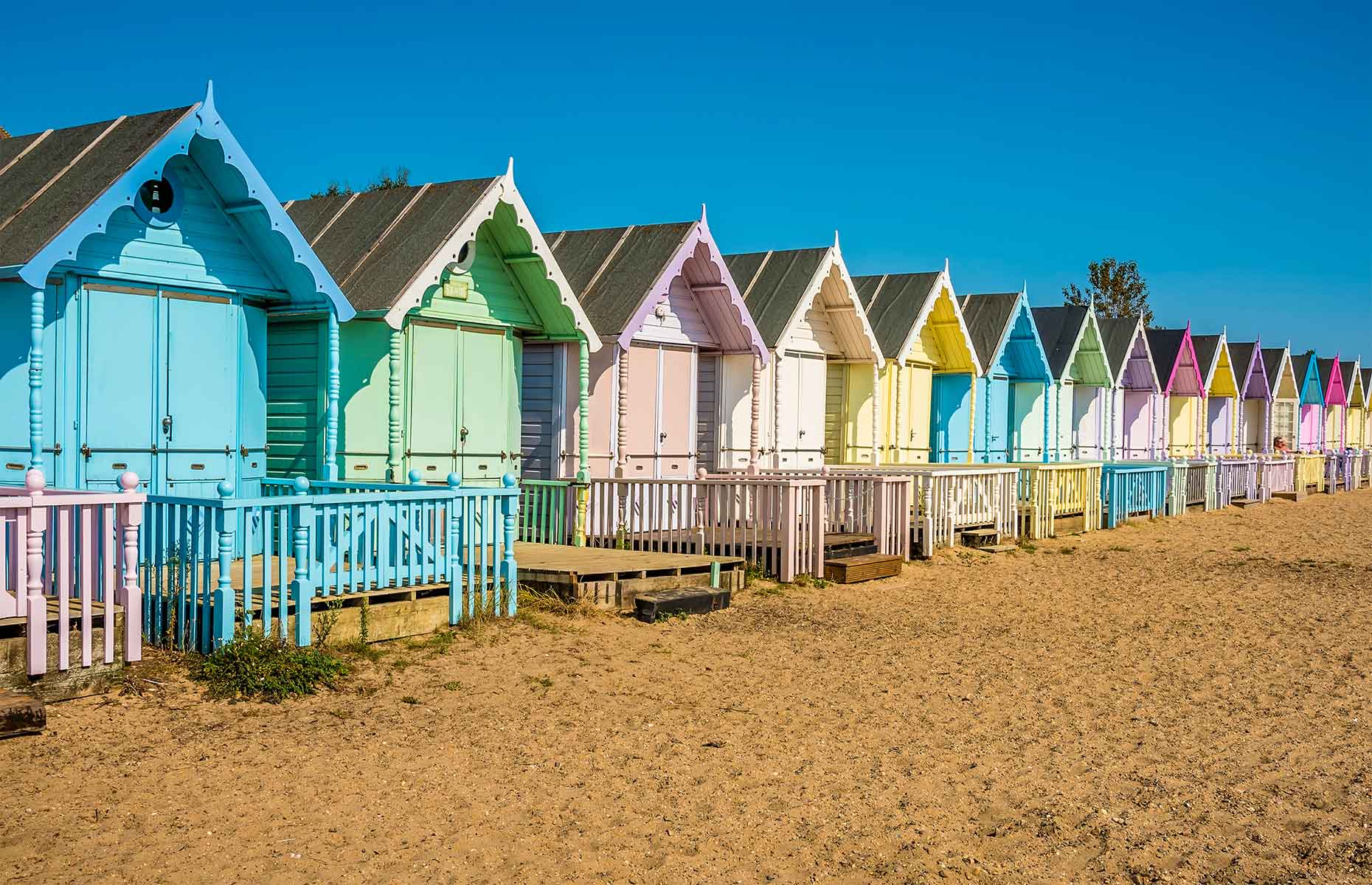 Nicola Pulham/Shutterstock
Hundreds of colourful beach huts line this coastline and were recently voted the fifth 'most Instagrammable' huts in the country – but we think they're much more stunning in real life. You can rent them for around £50–90 per day depending on the choice of hut and time of year.
It's also worth strolling the seafront roads and lanes of West Mersea to take in the island architecture and distinctive weatherboard cottages. Stop off for a drink at the Coast Inn or The Victory, which both have outside seating and are child-friendly.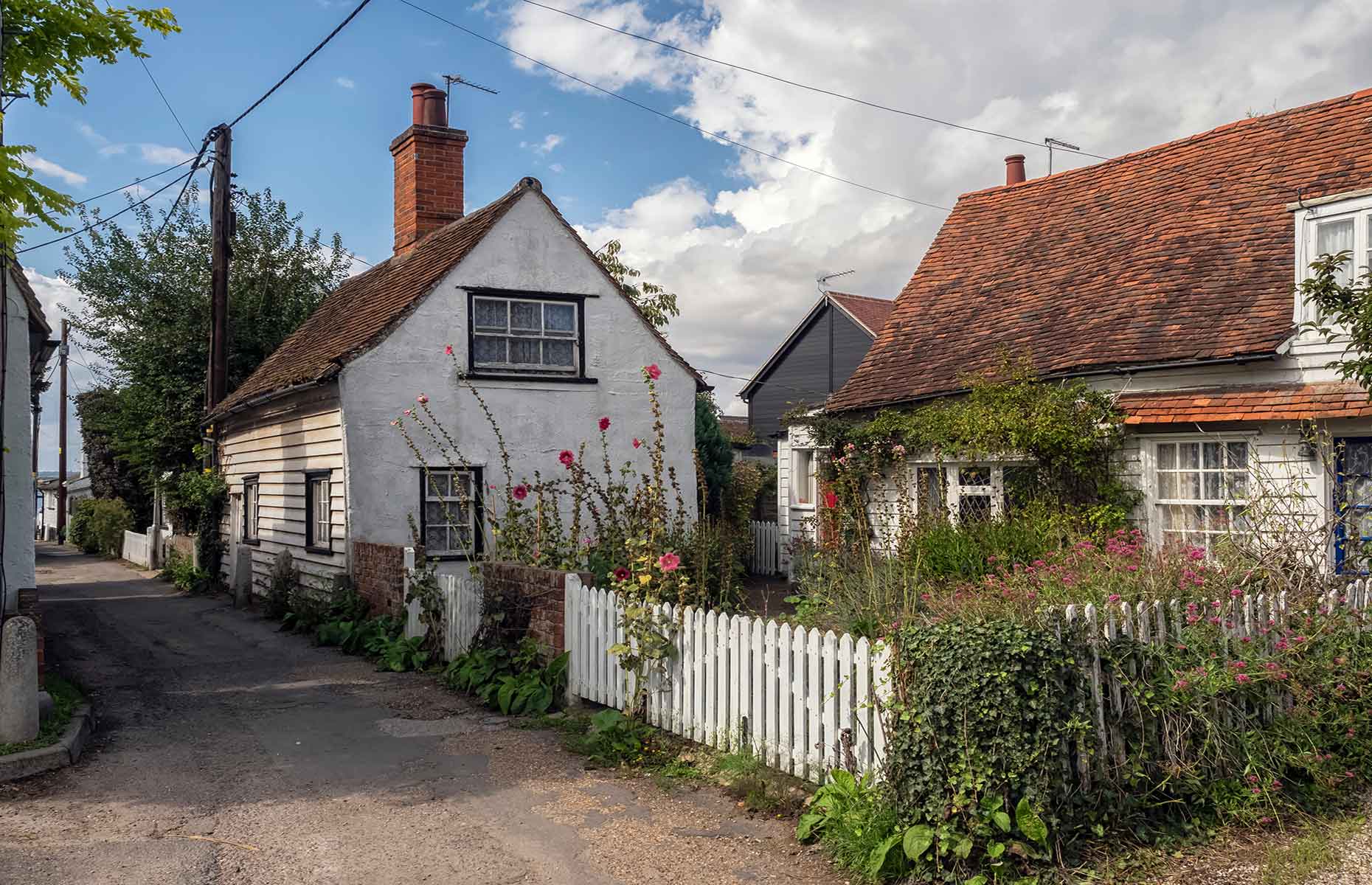 Chris Lawrence Travel/Shutterstock
3. Go back in time beachcombing at a nature reserve
A day out in Mersea isn't complete without a trip to Cudmore Grove Country Park on the rural eastern edge of the island. Ramble the meadows past Second World War pillboxes and the remains of a Tudor fort that once guarded the river entrance to Colchester. Keep an eye out for muntjac deer, foxes, rabbits, lizards, 15 types of butterflies, birds of prey and waders.
READ MORE: 9 of the UK's Areas of Outstanding Natural Beauty
The low clifftops overlook the region's distinctive mudflats. They contain fossils dating back 300,000 years, including monkey, bear, straight-tusked elephant and bison bones. On winter days or summer evenings, the beaches are almost deserted and perfect for beachcombing, with sharks' teeth among the most common treasures.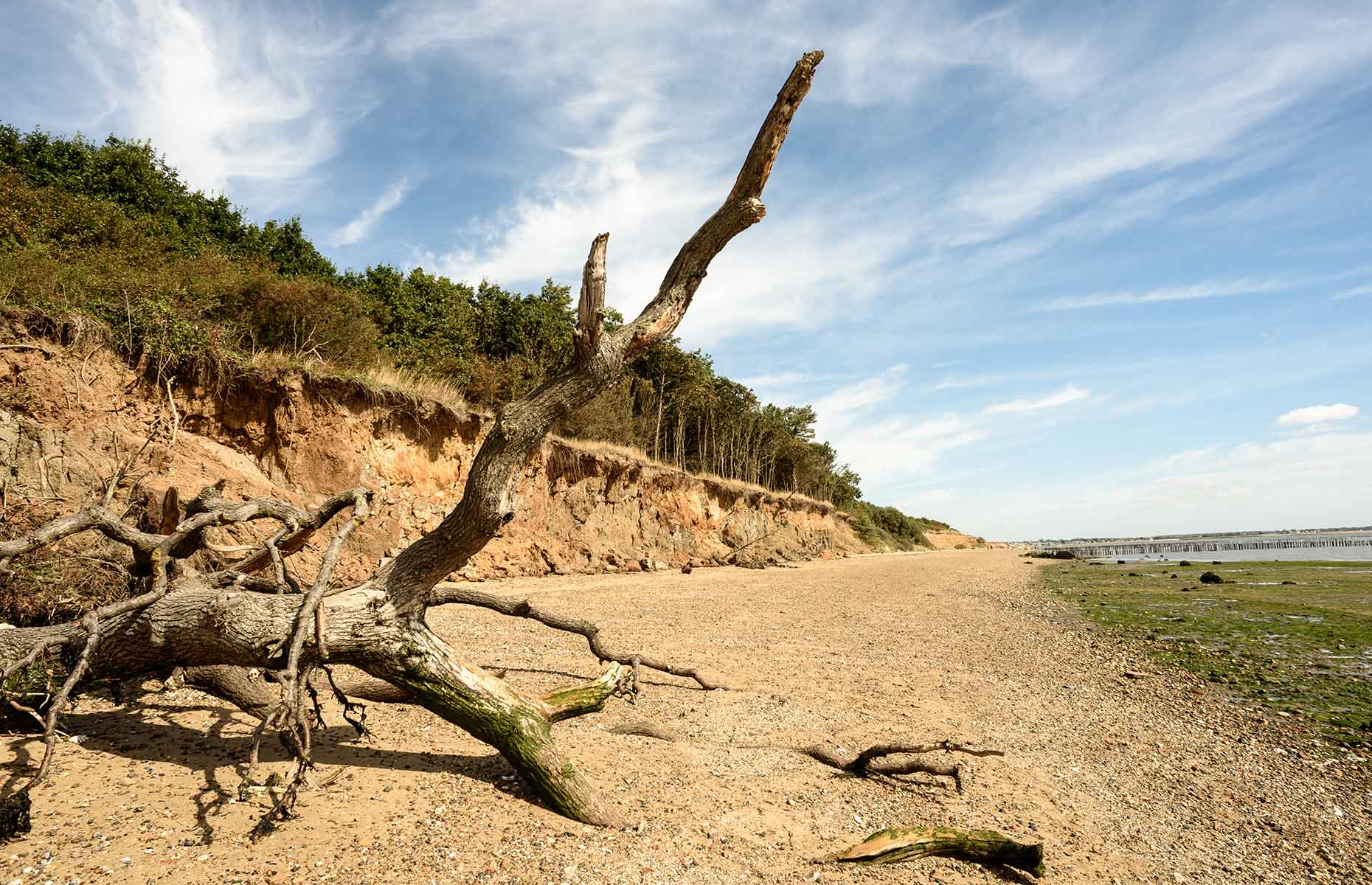 John Williams RUS/Shutterstock
Entry to the park is free, but you'll have to pay for parking. There's a kiosk and public toilets in the car park, and beachside trailer Seafood at Dawn sells hot and cold seafood takeaways at the weekend. If you want to explore further afield, you can catch a foot ferry to Brightlingsea, saving you a 40-minute car journey.
4. Take to the water
If you want to do more than paddle and swim, Mersea has plenty of water-based activities on offer. The sheltered position of the Blackwater estuary makes it ideal for kayaking, windsurfing and paddleboarding. There's also a newly-opened man-made five-foot (1.5m) deep Boating Lake for more sedate sailing with pedalos and dinghies, as well as water sports lessons.
For a fresh perspective of the island, why not take a boat trip? Lady Grace Boat Trips offers a range of tours of varying duration – you'll sail past Mersea's oyster beds and historic Packing Shed to the creeks of neighbouring villages. Each boat trip is unique because the time of day and tide influences the landscape and wildlife you will see. Alternatively, you can go on an invigorating Estuary RIB Tour and pass by the legendary (and still broadcasting) Radio Caroline boat on the River Blackwater.
READ MORE: The best places to visit on the Kent coast
5. Spot diverse wildlife
Mersea's habitats are governed by the tides, which create unique ecosystems. In winter, thousands of migratory birds, such as brent geese and peregrine falcons, enjoy its fertile feeding grounds. But year-round you can see all types of birds soaring in the sky above, seeking sanctuary in the cliffs and feasting among the mudflats. Look out for kestrels, marsh harriers, skylarks, turnstones, sand martins, mute swans, kingfishers, grebes and oystercatchers (pictured below).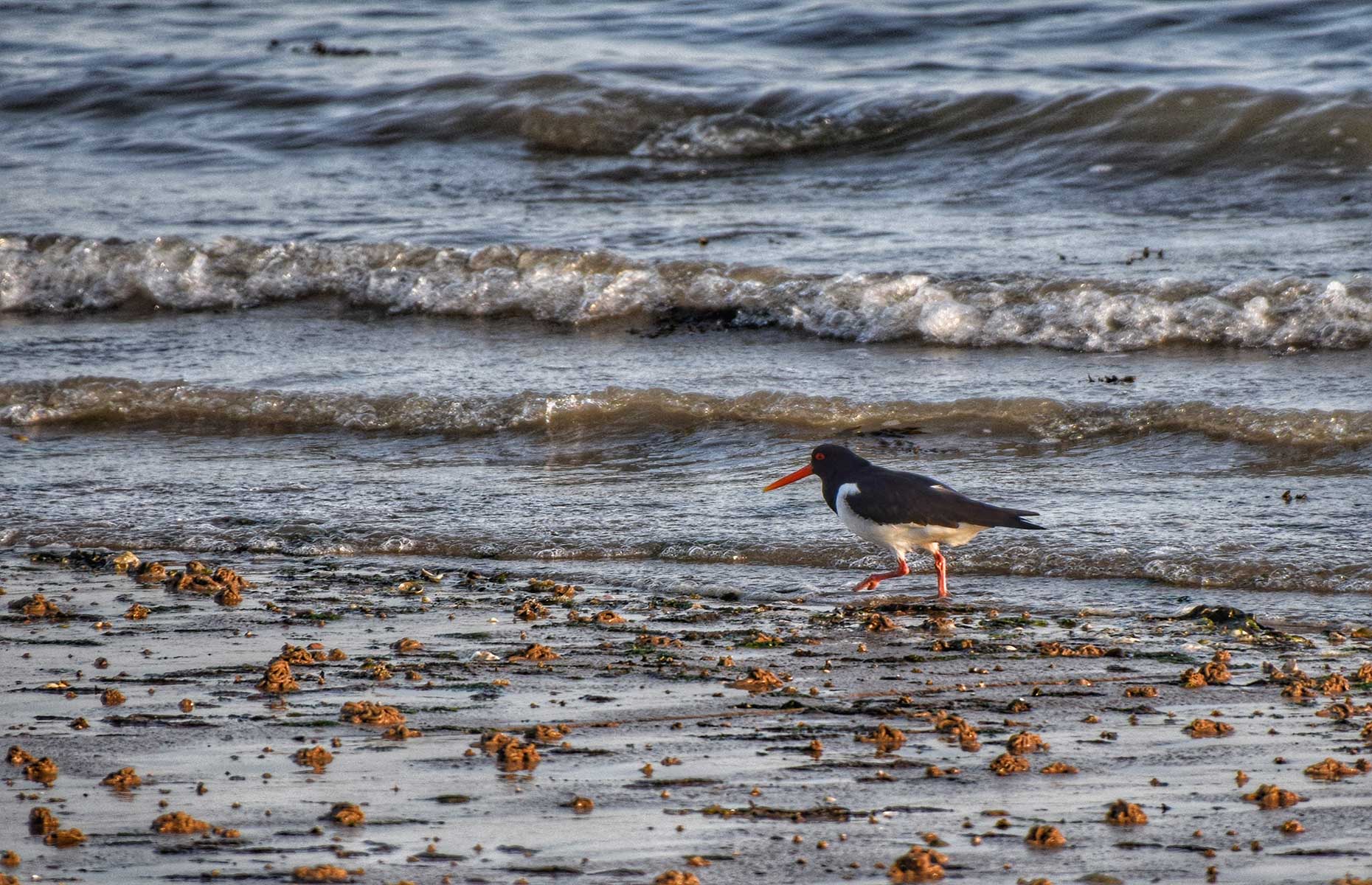 Vaughan Knight/Shutterstock
The floating pontoon in West Mersea is great for crabbing, and you might catch a glimpse of Sammy, the local celebrity seal. The other most-loved animals on Mersea, the shy and super cute red squirrels, are harder to spot. In 2012, a small colony of red squirrels were introduced to the island and their numbers have been growing steadily ever since.
6. Attend a historic regatta
Since 1838, Mersea Week has become a popular annual event. Taking place in August, it culminates in the Town Regatta, which attracts sailing enthusiasts from across the country. But you don't have to be a sailor to enjoy the celebratory atmosphere, waterside stalls, entertainment, live music and fireworks display. There's usually a long-running greasy pole competition where participants attempt to reach the end of a slippery pole to grab a flag. Spoiler alert: most end up falling in the water.
READ MORE: The UK's prettiest small towns and villages
You can find out more about the regatta at Mersea Museum. The small but informative museum covers everything you need to know about Mersea's fascinating social, geological and marine history. It also features interactive exhibits designed for kids.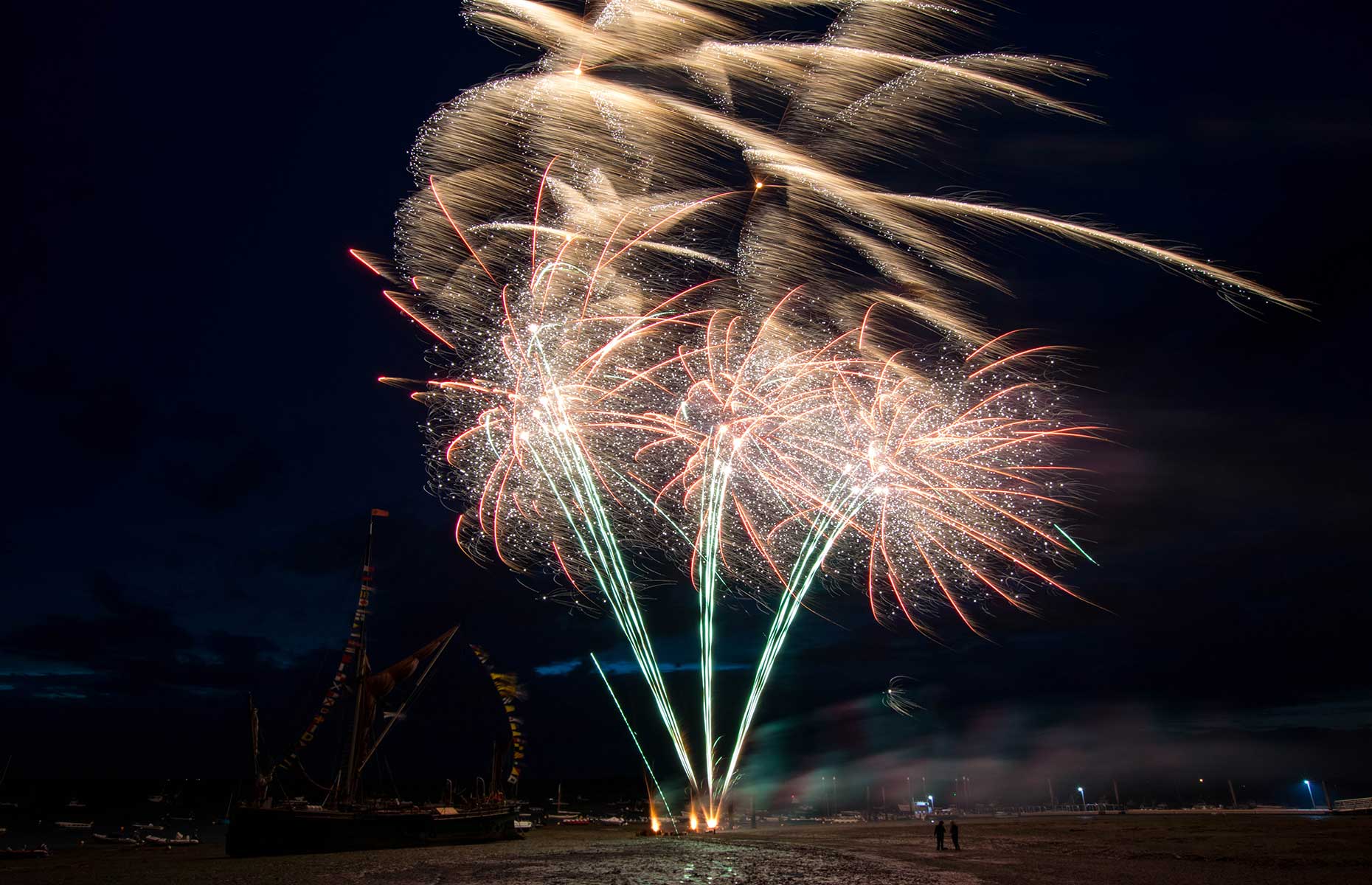 Joshua London/Shutterstock
Lead image: Helen Hotson/Shutterstock
Be the first to comment
Do you want to comment on this article? You need to be signed in for this feature