9 of the UK's most spectacular Areas of Outstanding Natural Beauty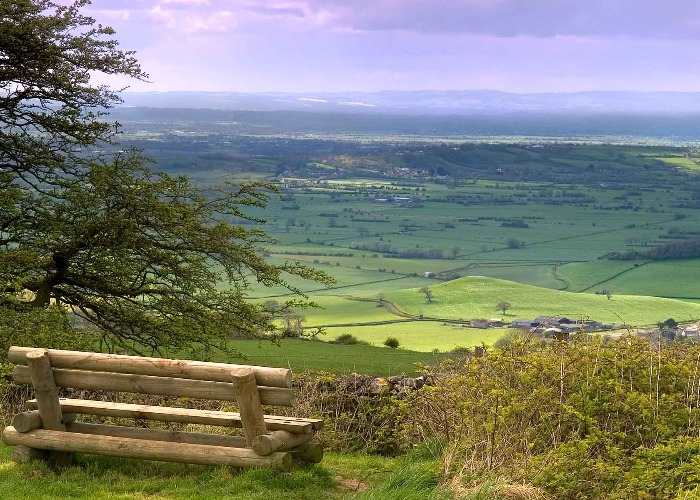 There's never been a better time to explore our home turf's finest landscapes, but if you're not sure which bit of our green and pleasant land to head to first, checking out one of the UK's AONBs (Areas of Outstanding Natural Beauty) might just be the perfect place to start.
Sprawling the length and breadth of the UK, Areas of Outstanding Natural Beauty (AONBs) protect rolling hills, rugged heaths, lush valleys and stunning seaside.
There are 46 of these areas all in all, and between them they cover 18% of the UK's countryside and over a fifth of the English coastline, and include 12,000 miles (19,300km) of footpaths and bridleways. Here are the ones which should be on your hit list.
1. North Pennines AONB
An AONB designation wasn't enough for the North Pennines, which has UNESCO Global Geopark designation too. An untamed wilderness filled with Roman ruins, ancient forests, roaring waterfalls and fragrant, heather-blanketed moors, it's one of the UK's most important wildlife habitats. Birds like the red grouse, curlew, golden plover, merlin, peregrine and short-eared owl all thrive here, while otters, voles and amphibians can be found in the wetter areas.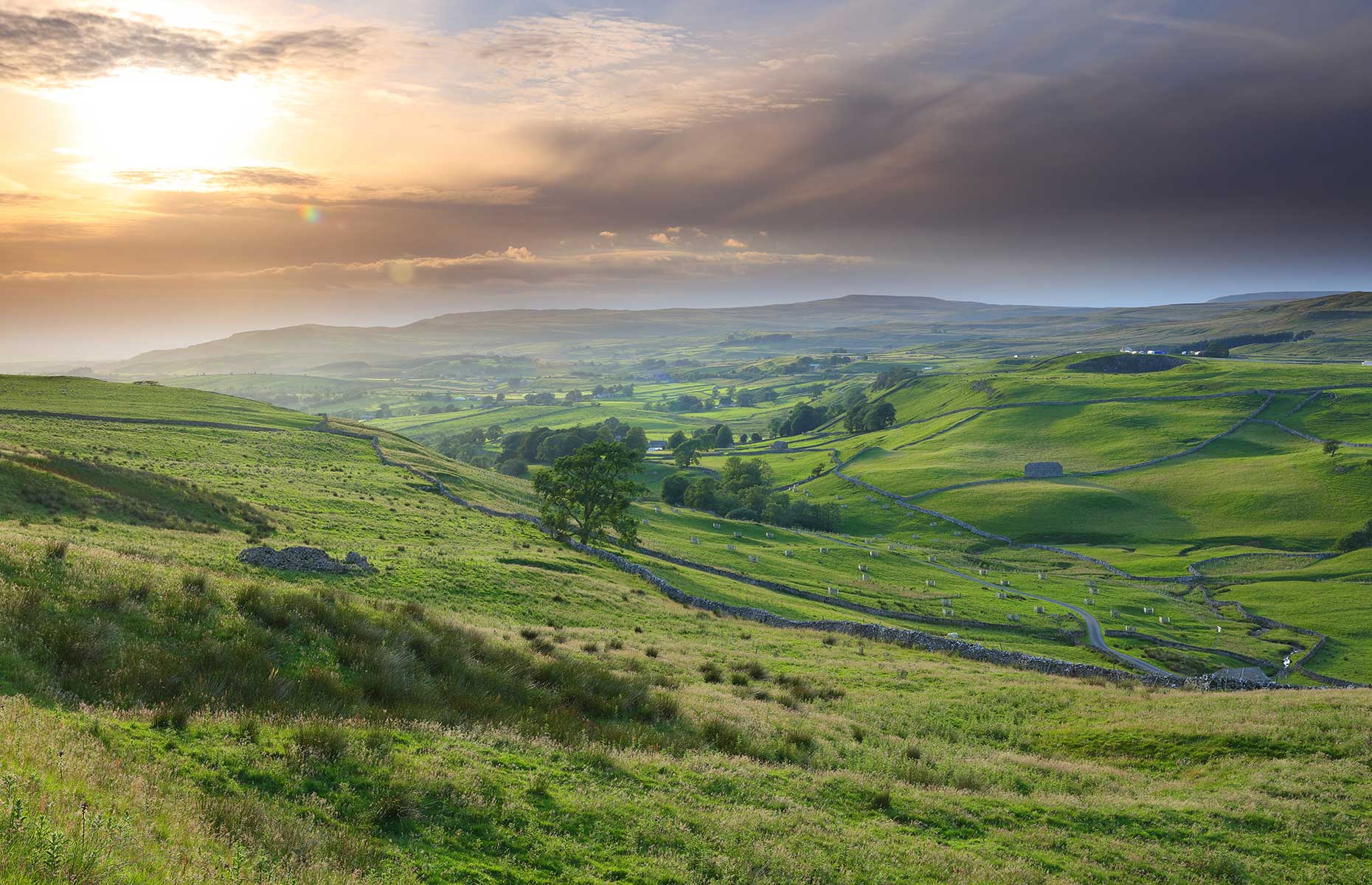 Colin Ward/Shutterstock
For fantastic views and a brilliant insight into the area's past, consider hiking the Ashes Quarry Geotrail, which starts from Weardale. This circular route follows the footpath once used by the quarrymen tasked with extracting the limestone from the fells. It's a great example of how nature has reclaimed a former industrial site, 70 years after its heyday.
2. Solway Coast AONB
The beauty of this AONB, which forms the English part of the Solway Firth separating England from Scotland, is its diversity. Famous for its wildlife (especially seabirds), the rugged chunk of Cumbrian coastline also has a rich history.
READ MORE: The best places to visit on the Yorkshire coast
It's dotted with ancient hamlets such as Newton Arlosh (built in the 1300s after the breaching of a sea dyke left dozens of locals homeless) and has been shaped by its previous inhabitants, such as the Cistercian monks who lived at Holme Cultram Abbey and who built dykes, drained marshes and farmed the land.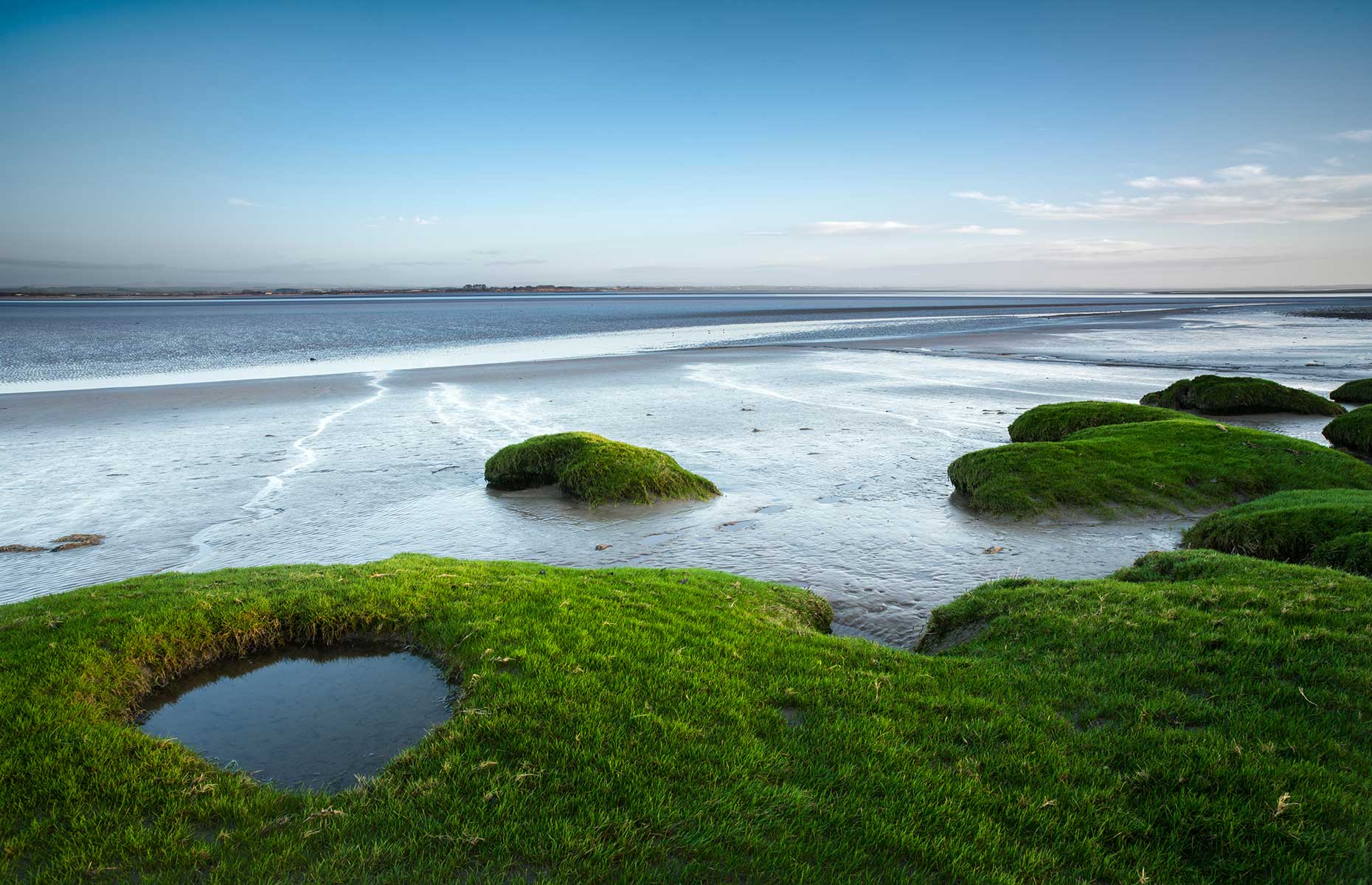 Nigel Eve/Shutterstock
It's a fantastic destination for cyclists, who should check out the Cardurnock Peninsula route, a 16-mile (26km) trail which takes in some of Cumbria's prettiest beaches and saltmarshes.
3. Causeway Coast AONB
Don't get us wrong, the Giant's Causeway, a UNESCO-listed cluster of 40,000 black basalt columns, certainly puts your bog-standard rockpool to shame, but the other stunners which line this stretch of North Antrim coastline shouldn't be underestimated.
Take its biodiversity. During spring and summer, rare pastel-hued plants such as blue spring squill, pink thrift and white sea campion add spectacular bursts of colour. Plus oyster plants, harebell and eyebright can be found amongst the dunes.
READ MORE: Ireland's most beautiful hidden treasures
We also love the coastline's geology – you'll find rocks dating back to the Jurassic period and limestone cliffs formed during the Cretaceous period. In many spots, huge slabs of black volcanic stone provide a wonderful contrast to the white cliffs above.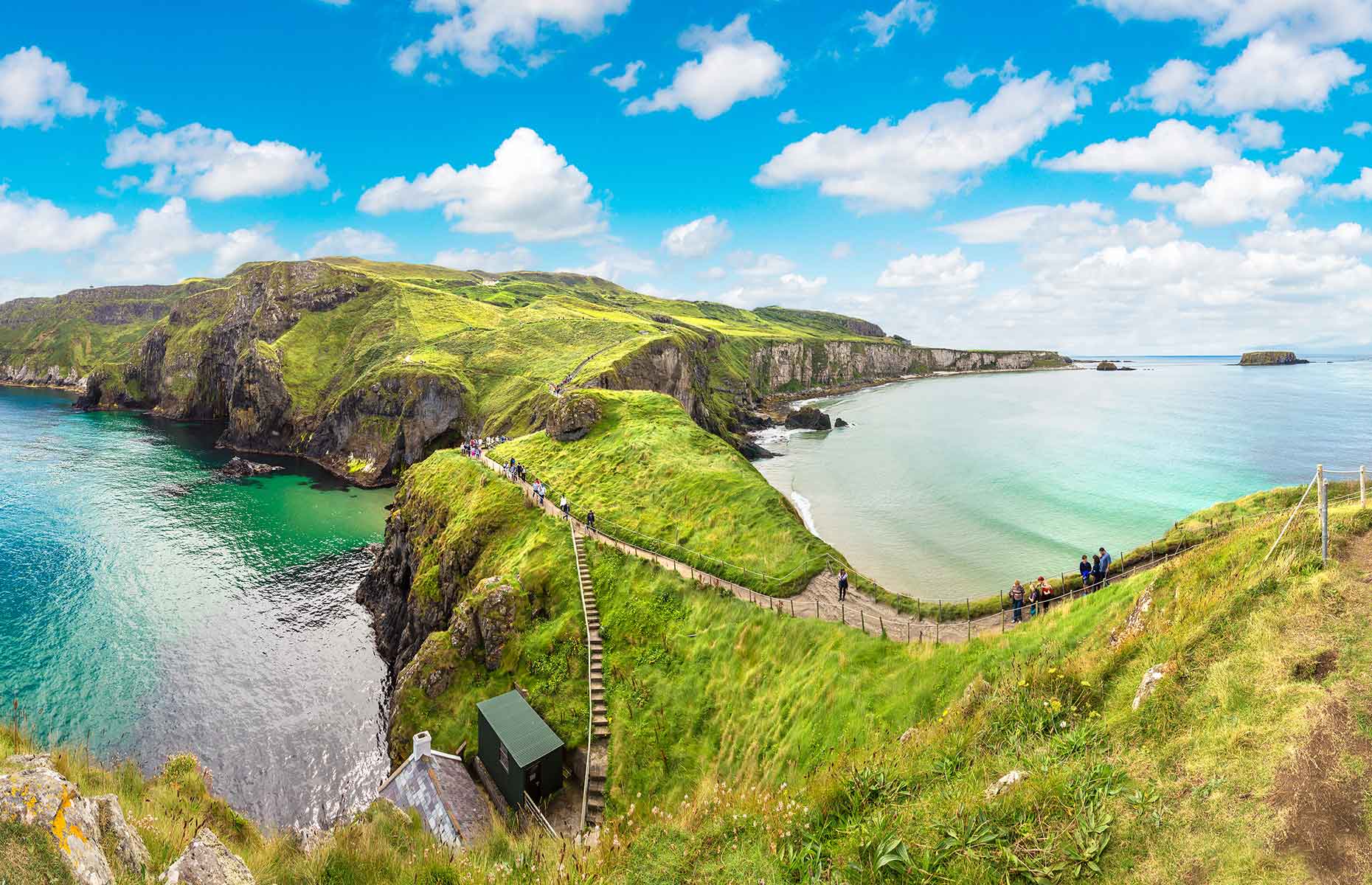 S-F/Shutterstock
4. Forest of Bowland AONB
Thought the New Forest was spectacular? Some of the UK's most popular wooded areas look positively boring compared to the Forest of Bowland, an area which straddles Lancashire and Yorkshire and is dominated by sky-scraping 1,500-foot (450m) summits and endless expanses of moorland.
You'll need a good pair of hiking boots to explore this region, which is famous for its steep-sided valleys such as the Ribble, Hodder, Wyre and Lune Valleys. Its sparse population has allowed wildlife to thrive, and Sites of Special Scientific Interest cover 13% of this remote AONB, part of which has also been made a Special Protection Area under the European Birds Directive.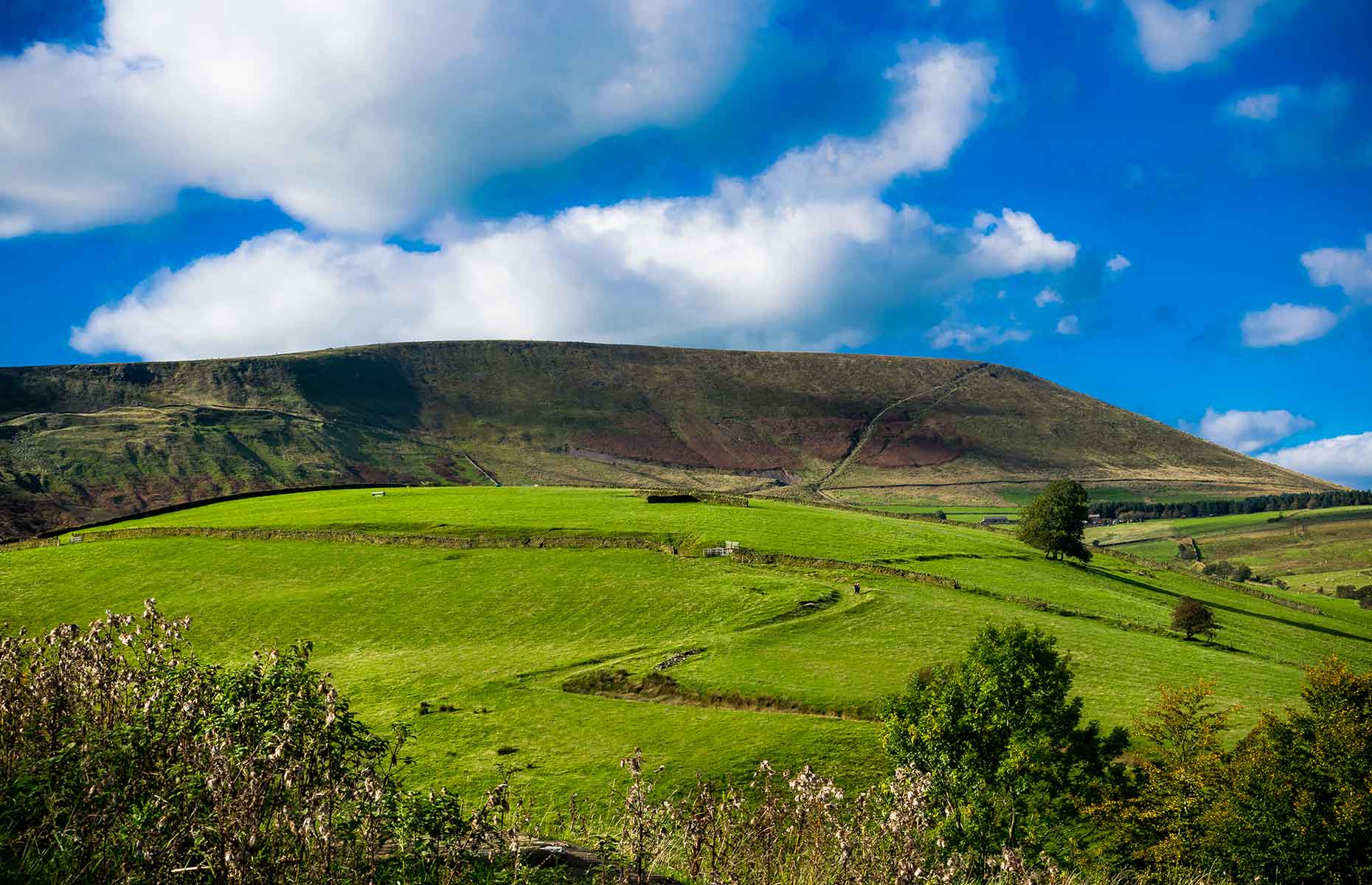 Lukasz Puch/Shutterstock
Our favourite species? The stonechat, which has a bright orange chest and is known for its unusual birdsong, often described as the sound of two stones being knocked together.
5. Mendip Hills AONB
Dominated by an undulating ridge of limestone peaks, the Mendip Hills area is a wonderfully wild windswept plateau to the south of Bristol. The landscape is eye-wateringly diverse, with everything from sheep-splattered valleys and rocky outcroppings to thundering gorges and Britain's highest inland limestone cliffs.
READ MORE: These are the UK's most stunning natural wonders
It's an area rich in history – one example of which is the 10,000-year-old remains of a man which were found in a Cheddar Gorge cave. There are more than 200 protected historic sites here, ranging from prehistoric burial mounds to Black Down (the highest hill in the Mendips). During the Second World War, a so-called decoy town was built here in an effort to divert German night bombers from their intended targets.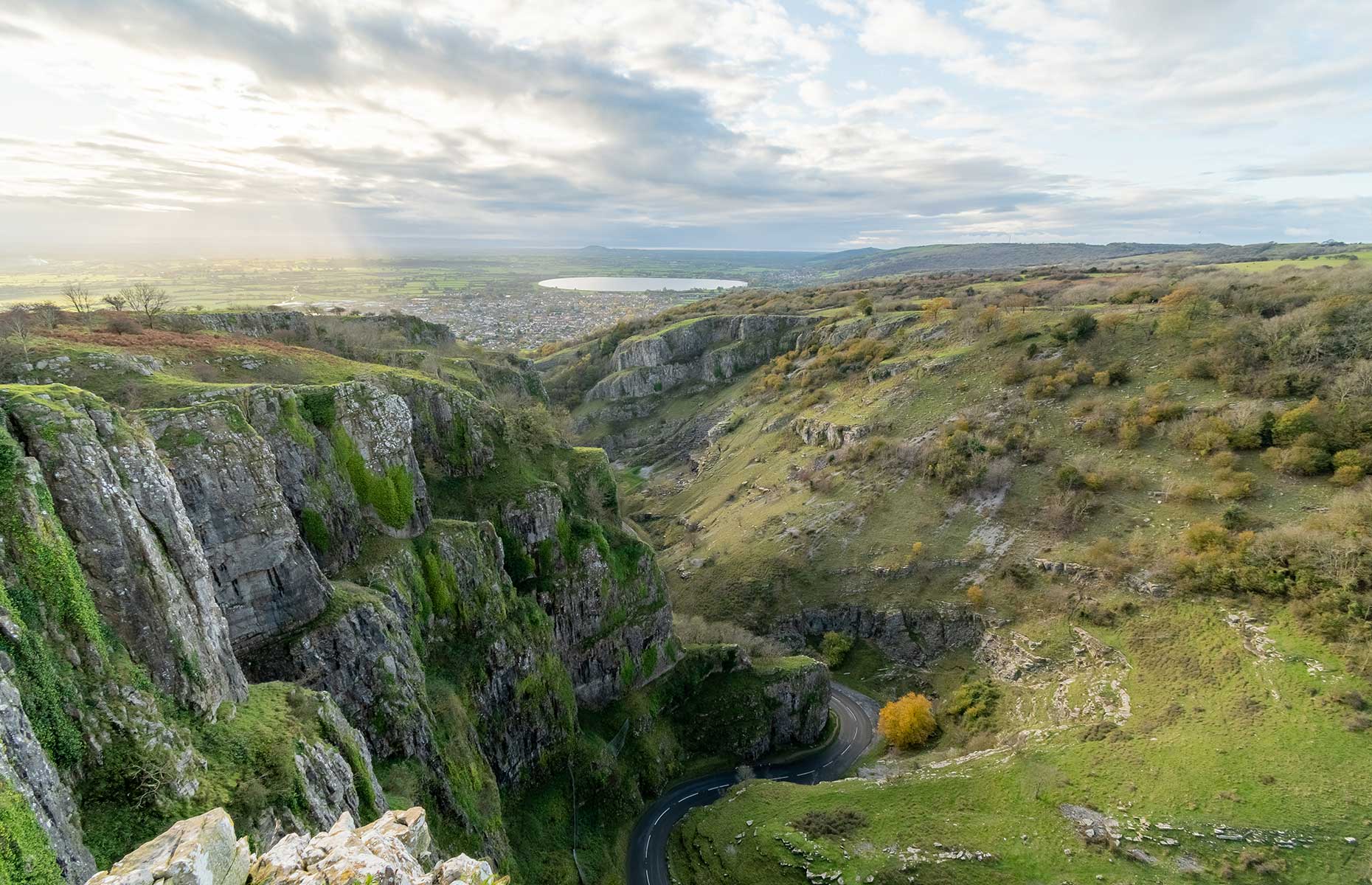 Tom Meaker/Shutterstock
6. Shropshire Hills AONB
This supersized AONB covers almost a third of Shropshire, making it one of the largest. A jagged landscape dominated by hills, scrags and steep valleys, it's a region carved out during the Ice Age – reminders of which are the area's moraines, large areas of rock pushed along by shifting glaciers.
Its most dramatic formations include the moorland plateau at Long Mynd, the Stiperstones hills and Wenlock Edge limestone escarpment (why can't all geological formations have such funky names?). Plus the entire area is a paradise for twitchers who flock (excuse the pun) here to spot species such as curlews, dippers, snipes and lapwings. Wooded areas such as the Clun Valley, which has a network of walking paths, are your best bet when it comes to spotting these feathered friends.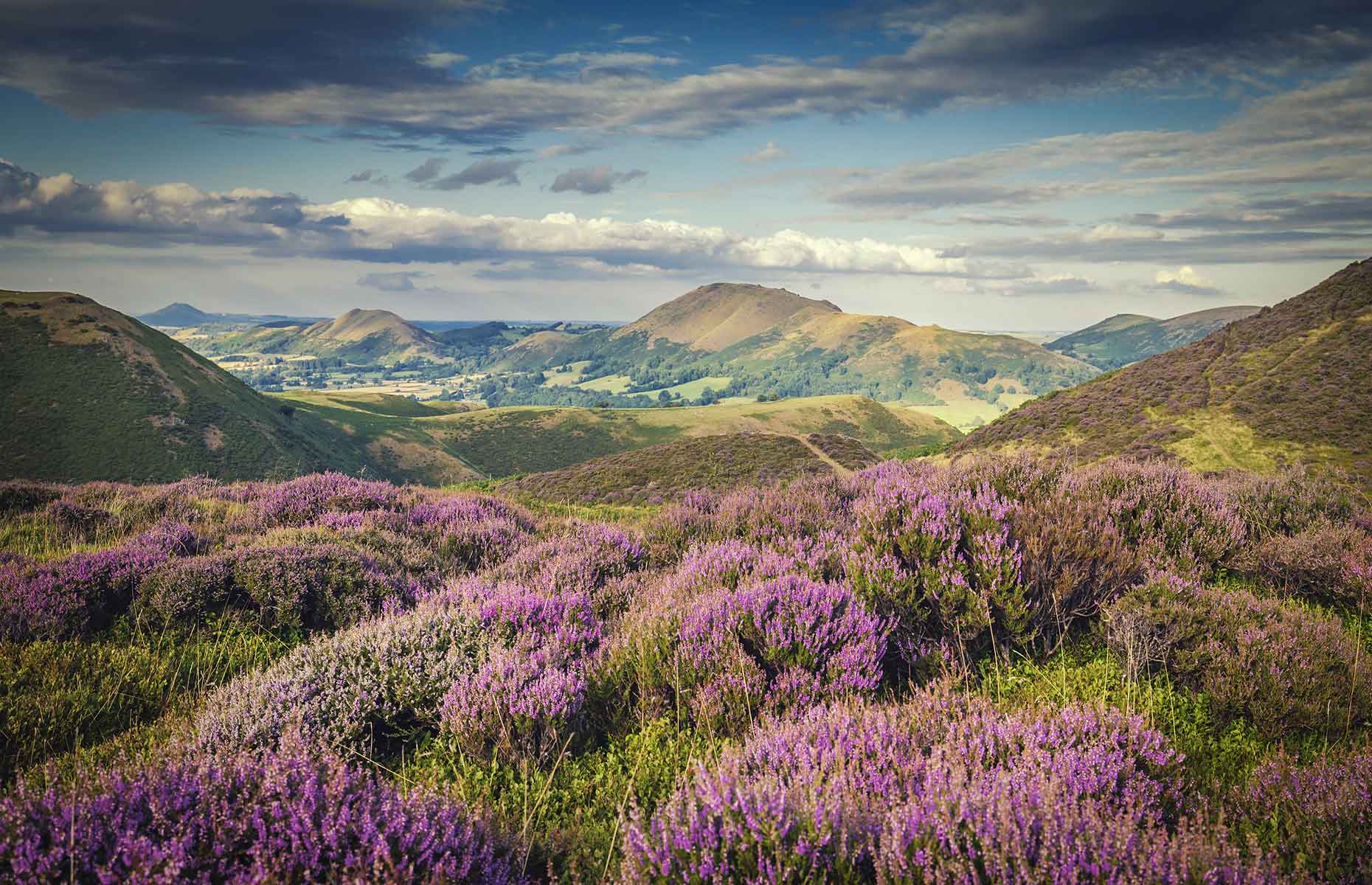 EddieCloud/Shutterstock
7. Wye Valley AONB
The beauty of the Wye Valley, which straddles the Welsh/English border, is the many ways it can be explored. Whether it's with a paddle along the stretch of the Wye river near Symonds Yat, once topped with an Iron Age fort, or a wander through the ruins of Tintern Abbey, which dates back to 1131 (fun fact: the Cistercian monks who built the first version used wood, not stone).
READ MORE: The best English Heritage sites to visit in 2021
There's plenty of wildlife to spot too – the Wye river has the world's third-highest tidal rise where it nears the Severn Estuary, and in 2017 a porpoise was spotted here. Less camera-shy residents include otters, beavers and salmon (visit in summer to see them jumping over the weirs), and our favourite wildlife habitat to explore is the ancient woodland.
Stretching from Chepstow to Ross-on-Wye, it's home to lesser Horseshoe bats, woodland birds, dormice and several rare species of fungi, as well as the tangle of abandoned millstone quarry workings which you'll find near Prisk Wood.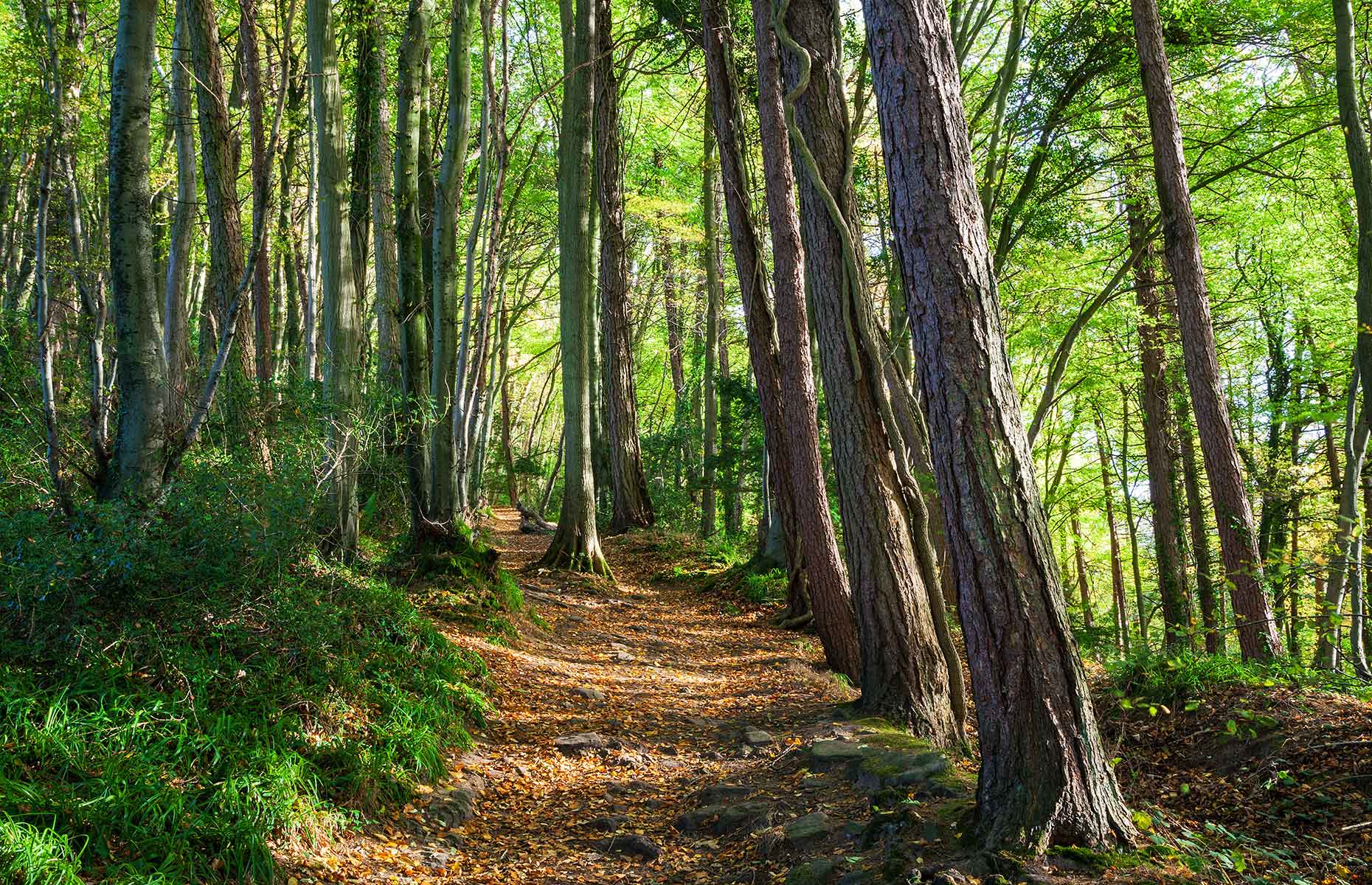 Billy Stock/Shutterstock
8. Dorset AONB
A vast area which extends from the vales in Dorset's west to Poole Harbour in the east, Dorset AONB covers 40% of the entire county. Its pièce de résistance is the fossil-threaded Jurassic Coast, although there are plenty of fascinating inland areas to explore too.
The Stour Valley's grassland, woodland and river habitats make it a great bird-watching spot, while the hills around the pretty village of Cerne Abbas are brilliant for thigh-burning hikes. Don't worry about getting lost – simply use the 177-foot high (54m) ancient chalk figure known as the Cerne Giant as your way marker.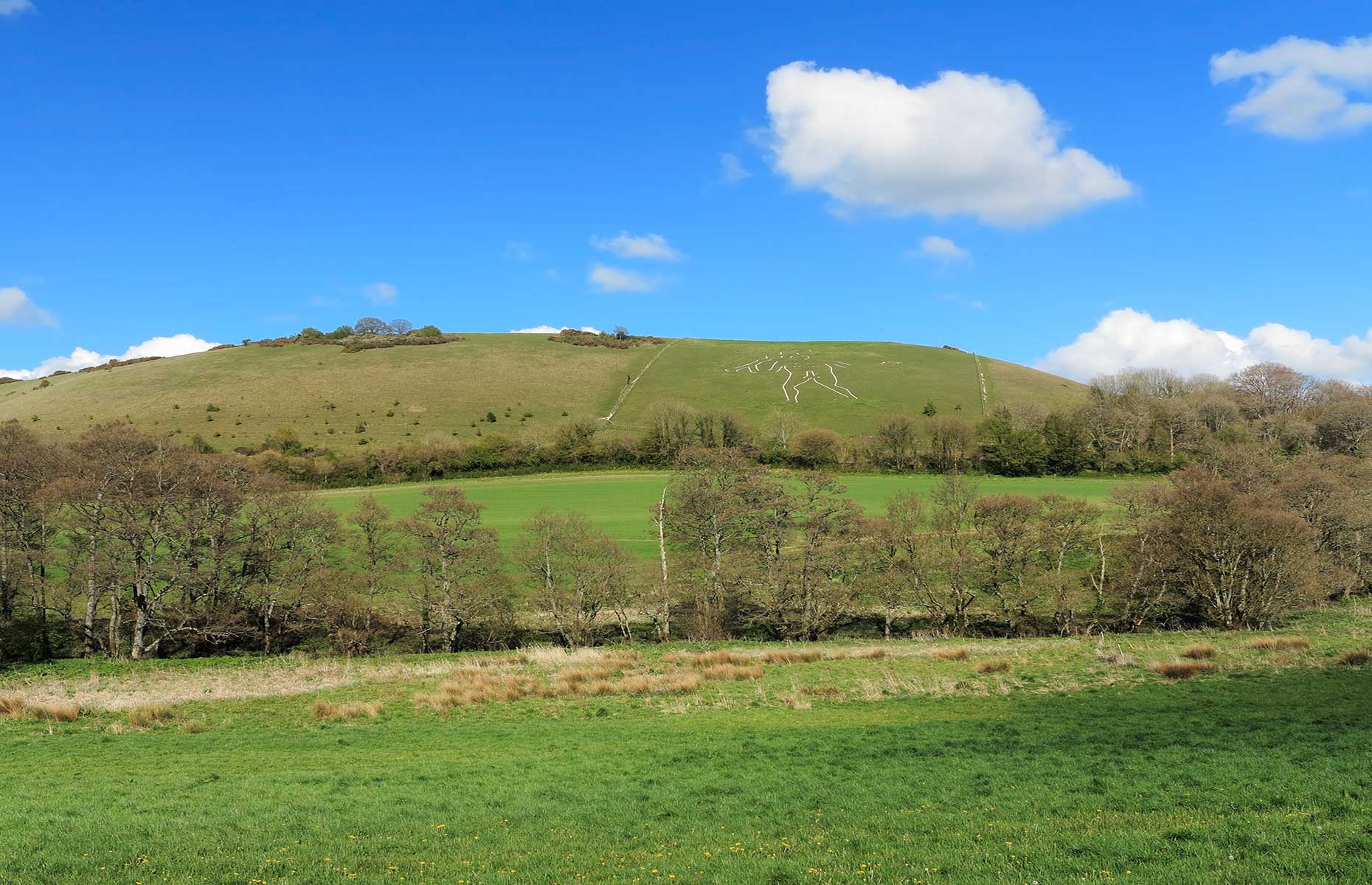 Chrislofotos/Shutterstock
Keep an eye out for the wildlife too – over 80% of the UK's bird, butterfly and mammal species can be found here. Bonus points if you spot a lizard – six reptile species live in Dorset.
READ MORE: The UK's prettiest towns and villages
9. Gower AONB
South Wales' Gower Peninsula was one of the first areas to be given AONB designation. It's another incredibly diverse landscape, with a huge number of historic sites (it was first settled in prehistoric times) and some of the UK's most important natural landscapes. The Gower AONB has five Special Areas of Conservation, three National Nature Reserves, two Local Nature Reserves and numerous Sites of Special Scientific Interest.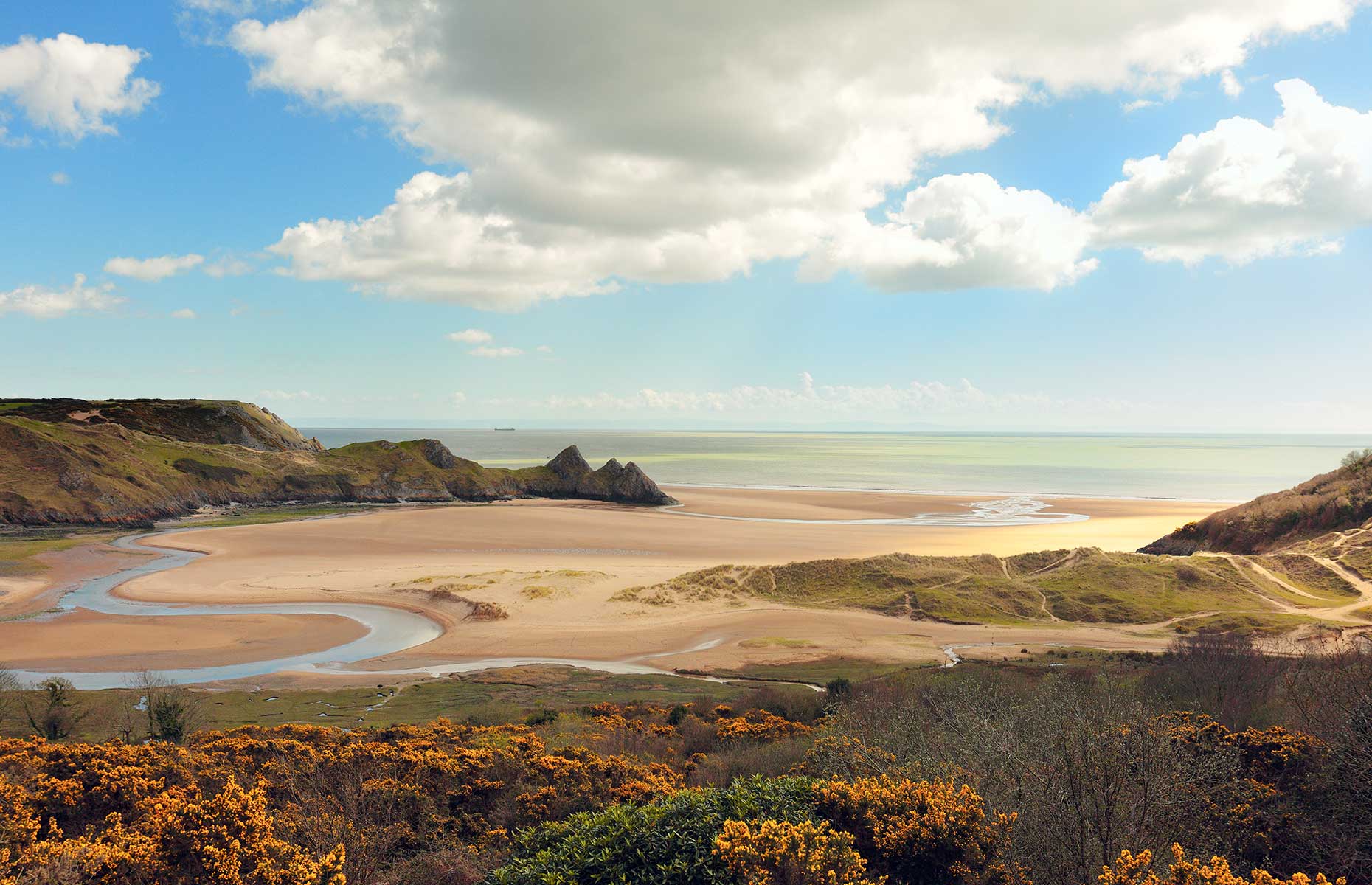 Paul Cowan/Shutterstock
If you fancy exploring the area for yourself, a great place to start is Cefn Bryn, a limestone ridge often referred to as Gower's backbone. Famous for its fantastic ocean views and a Neolithic monument known as Arthur's Stone, it's a popular hiking spot, and there are plenty of pubs to visit when energy levels dip. We recommend Reynoldston's ridiculously cosy King Arthur pub for the delicious Sunday roasts.
Lead image: Matthew Collingwood/Shutterstock
Be the first to comment
Do you want to comment on this article? You need to be signed in for this feature