How to spend a corking weekend in Kent's wine country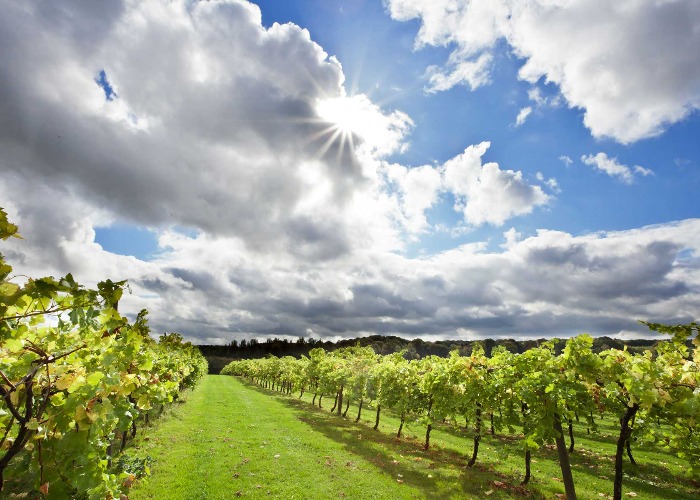 Our writer Tamara Hinson toasts the UK's burgeoning wine scene with a grape-themed weekend in Kent
After endless lockdowns and some failed attempts to travel further afield, a weekend in Kent's wine region sounded like the perfect tonic. Perhaps not for my liver, which is why I decided cleverly (or so I thought) to offset any excesses by cycling from the station in Tunbridge Wells to the village of Hawkhurst, where I'd be staying in Bokes Barn.
This lovingly converted farm building on the edge of one of Chapel Down's sprawling vineyards is used by Wine Tours of Kent as a base for those joining their tours and tastings at local vineyards.
Halfway up the third hill, I wonder why I hadn't cottoned on that a region known as the High Weald (the High Weald Area of Outstanding Natural Beauty, to give it its full name) would feature some serious inclines, but I clutch steadfastly onto the inevitable reality that every uphill must have a down.
READ MORE: The UK's most spectacular Areas of Outstanding Natural Beauty
Oasts with the most
And there's plenty of scenery to distract me from my throbbing limbs; I fly past 15th-century oast houses (Kent has more than any other county) and gorgeous villages with names like Appledore and Stone in Ebony, many of which proudly display signs declaring various accolades in the RHS's Britain in Bloom competition.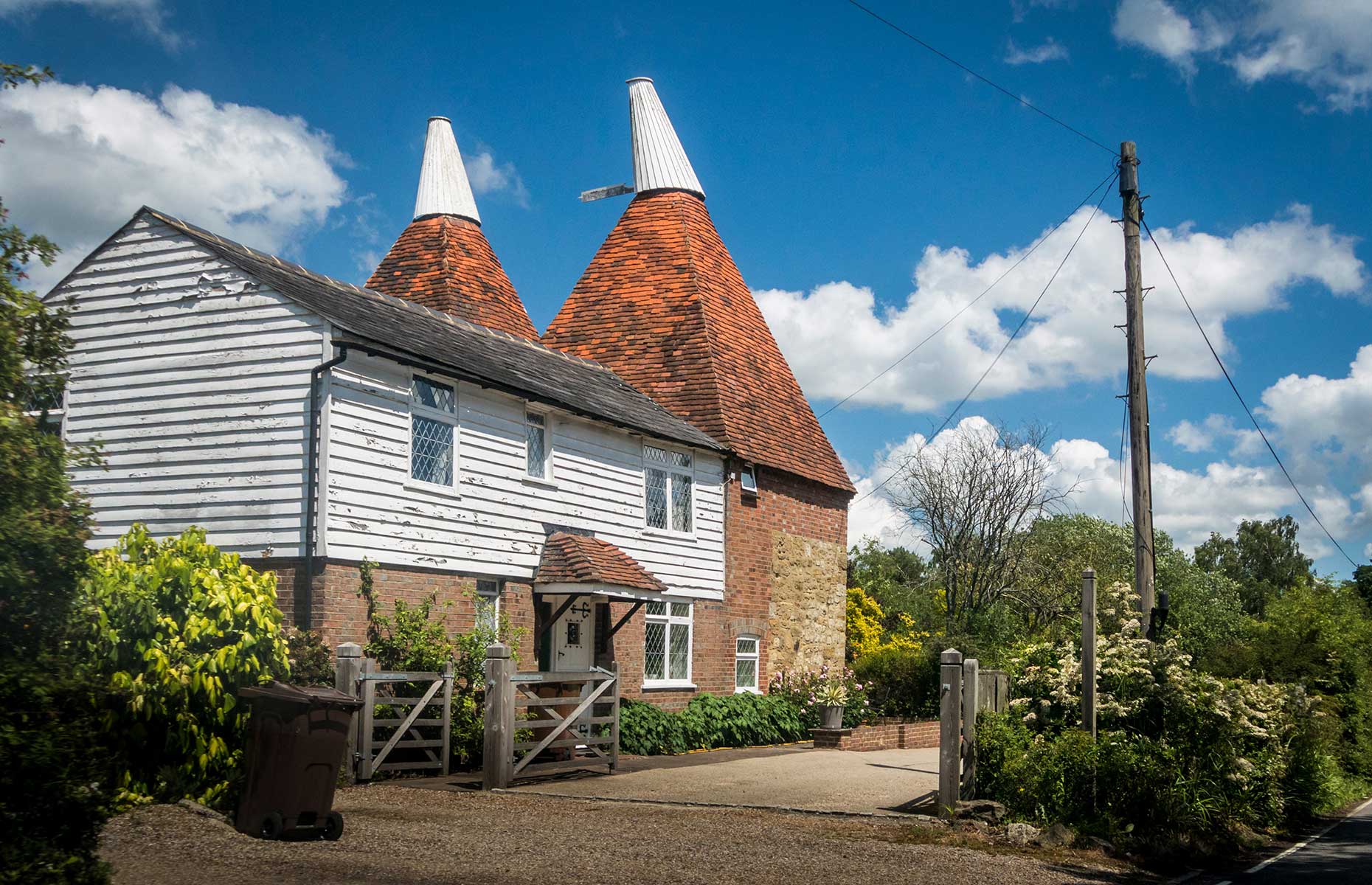 Sue Martin/Shutterstock
As I near Hawkhurst, fields filled with sheep and corn are replaced by endless expanses of neatly planted vines.
Taking root
Kent's wine region looks slightly different to French or Italian ones. At one point, I spot a sheep nibbling his way along a row of recently planted vines, suggesting the woolly wonder's owner has only lately decided to branch out into the world of winemaking. I doubt it's something I'd see in the Loire or Champagne regions, but that's what sets it apart.
The UK is still a relative newcomer to the world of wine – Kent's oldest vineyard is Biddenden, which was planted in the 1960s. To put that into perspective, in France, where the first vineyards were laid down by the Romans in the 3rd century AD, the vineyards owned by legendary Champagne houses such as Ruinart and Veuve Clicquot date back hundreds of years.
But it appears Kent's vineyard owners are keen to make up for lost time. The county's sunny, south-facing slopes – in the same seam of chalky limestone soil shared with the Champagne region – have produced wines that have beaten those from New Zealand, France and Italy in international competitions.
Kent is especially well known for its sparkling wines, famous for their crisp acidity and typified by notes such as elderflower and green apple.
READ MORE: Our full guide to Kent, the garden of England
Historic yet hi-tech stay
Inside the six-bedroom Bokes Barn, there's a tangle of timbers alongside strangely beautiful cement struts, intended, no doubt, to remind visitors of the building's heritage.
At the same time, it's incredibly modern – the ground floor is open plan and filled with tech, such as a Quooker kettle tap and an incredibly hi-tech wine fridge.
Even the art is wine-themed. My favourite is the framed selection of sculpture-like corkscrews, including one which appears to have been whittled from an enormous shark's tooth.
I spend most of my time in the lounge area, where there's a log-burning fire and stacks of books to browse. I find a pair of binoculars on the bookshelf, and pass a happy hour watching red kites soar above the vineyards which border the 100-acre property.
Sam Cornish/Bokes Barns
That night, I feast on a delicious meal of herb-dusted grilled chicken, prepared by a local chef and left on my doorstep with heating instructions (it's one of several added extras which guests can request).
There's no garden as such but a beautiful butterfly and bunny-filled wildflower meadow, split in two by a wide, cleared path that leads from the barn's patio to a bench overlooking the vineyard.
READ MORE: The UK's most unusual places to stay
Touring the vines
While admiring the grapes from Bokes is stunning, there's nothing like getting out among the vines themselves.
I sign up for Wine Tours of Kent's full-day tour taking in three different vineyards. The best bit is your guide drives between the sites, meaning my trusty bike can stay behind.
My tour includes Chapel Down's vineyard at Tenterden, famous for supplying the fizz for the Duke and Duchess of Cambridge's wedding, but also two smaller and newer producers: Wayfarer and Woodchurch wines.
I bundle into WTOK's luxury minibus with guide Betty, and we started our tour at Wayfarer.
Family-owned, they only make still wines and no fizz, something that's unusual in Kent. We sample five wines here, two rosé and three whites.
The standout is the Bacchus, a zingy white made with the German-origin grape often compared to sauvignon blanc. It might only be 11.45am but I could have stayed all day sitting under the wooden arbour.
Fortunately, a leisurely lunch is included to mop up the morning's drinking and we stop at the Chequers on the Green pub in High Halton, where I've pre-ordered a wood-fired oven pizza and a sparkling water.
Then it's on to Woodchurch Wine, just on the edge of Woodchurch Village. Run by Graham Barbour and his wife, the 10-year old vineyard has just started serving local charcuterie at their tasting rooms.
>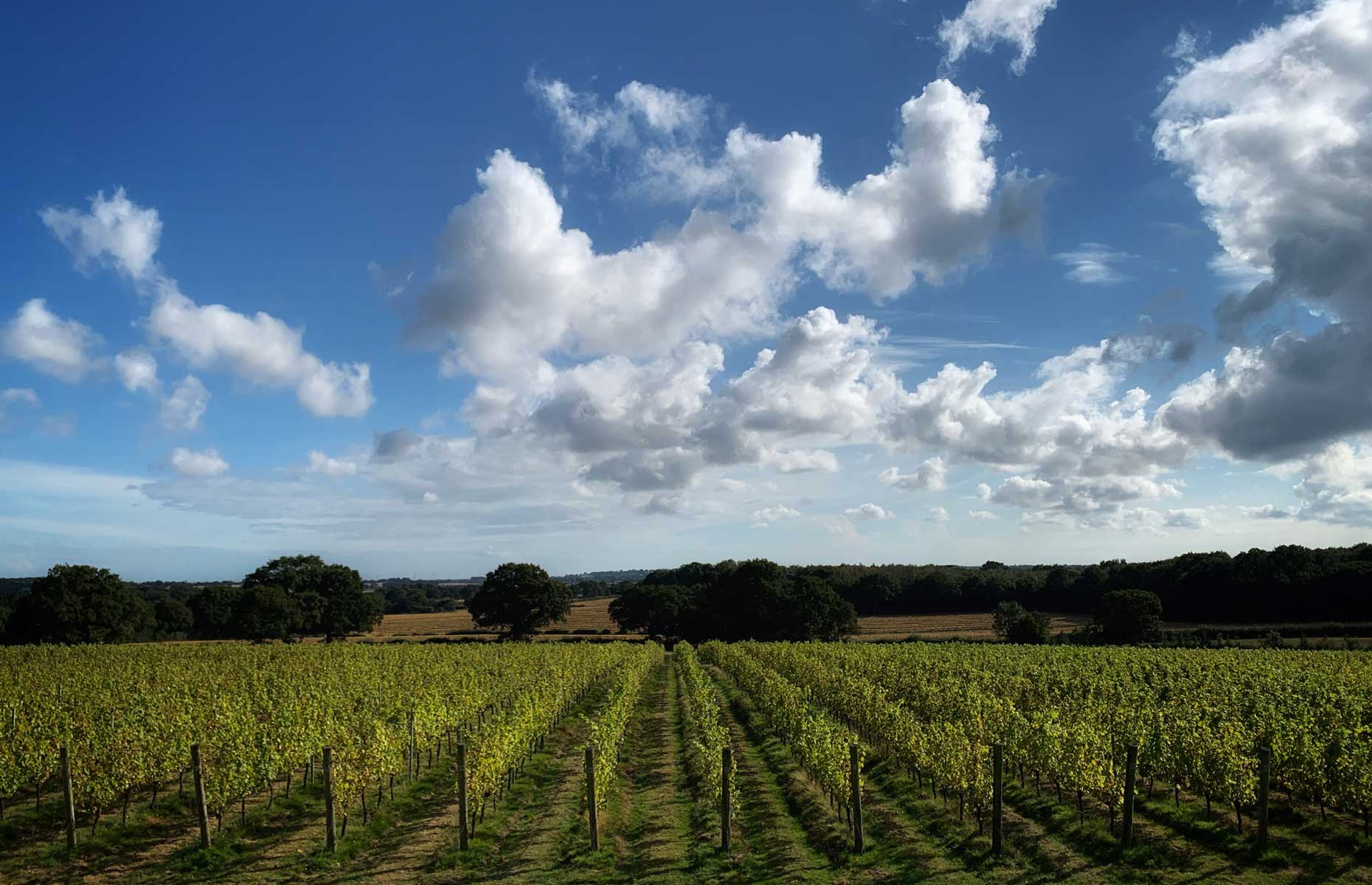 loveEXPLORING.com
Sitting out on the balcony looking down towards Romney Marsh with a glass of 2020 rosé, it's impossible not to fall in love with this beautiful spot.
But as Graham points out it's not always this idyllic. Harsh frosts, rain and unpredictable sun mean winemaking in Kent is a bit of a lottery. While 2018 was a vintage year, 2021 will see a lower volume of wine produced because of the weather conditions in spring.
Plus it's down to the climate crisis that we can grow grapes here at all. "We couldn't have done it 30 years ago," Graham explains. "Winemaking is like farming, you have to constantly be asking 'what could I have done differently?' and that makes you even more aware of the environment. It's one reason we avoid chemical sprays and human intervention where possible".
Praise-worthy wines
Our last stop is Chapel Down, which offers a more bustling experience than the small vineyards. The winery shop is buzzing with visitors and there are several tours taking place at the same time as ours.
Happily, our guide Betty has reserved a quiet undercover corner of the herb garden where we try five different wines.
I'm particularly taken with Chapel Down's signature sparking, the 2016 Three Graces. Made with a mix of Chardonnay, pinot meunier and pinot noir and it's a delicious combination of apples and berry flavours.
Besides the wines, the joy of this guided tour are the titbits of knowledge you take away. "Never take the cage off the top of a sparkling wine as you open it," advises Betty, as she cracks open a bottle of Chapel Down 2020 white made with 100% Bacchus. "Behind the cork is a pressure of 136 PSI, compare that with car tyre pressure which is about 46 PSI, and you understand why people end up injuring themselves."
It's something to put in action when I open the bottles I buy in the shop at the end of the tour, using the 10% off guests of Wine Tours of Kent receive.
Jeff Gilbert/Alamy Stock Photo
In just 48-hours I've fallen in love with both Kent and its delicious wines.
The Champagne and Loire regions might have century-old vineyards and crumbling chateaux but I'd take the oast houses, abundance of bunnies and vineyards trimmed by grape-munching sheep, every time.
More information
Wine Tours of Kent offers stays at Bokes Barn which include a full-day private wine tour. Prices start from £290 per person per night for 12 guests sharing.
To book a stay at Bokes Barn through Wine Tours of Kent, please visit www.winetoursofkent.co.uk, email info@winetoursofkent.co.uk, or call 07930 357173.
Main image: Loop Images Ltd/Alamy Stock Photo
Be the first to comment
Do you want to comment on this article? You need to be signed in for this feature