Escape to the country: an idyllic Cotswolds break at Burleigh Court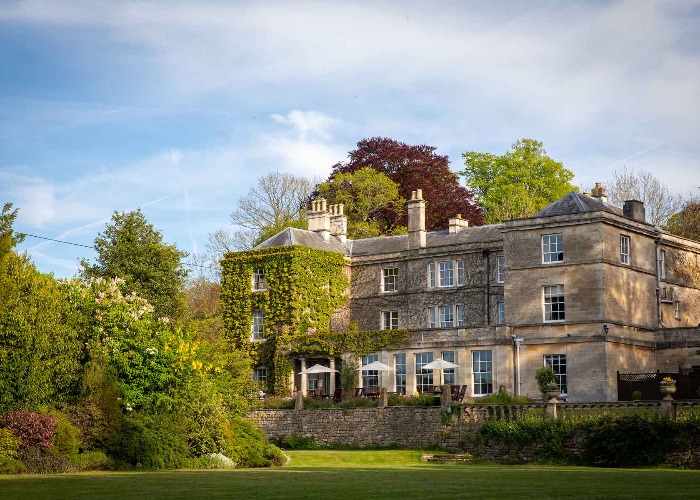 loveEXPLORING's Daisy Meager leaves city life behind for a breath of fresh air at a historic country house hotel.
Arriving at Burleigh Court, weary after a three-hour drive from London, the first thing I notice is the view. My eye is drawn from the sleeping stone lions on the chic terrace, down to the lawn which stretches out below, and finally up to the lush rolling hills that unfurl beyond.
I could be in the Tuscan countryside if it wasn't for the threatening rain cloud overhead and decidedly British, chilly summertime temperature. But, turning to face the sprawling Cotswolds country house hotel, my shoulders relax and it doesn't matter about the weather. Just a few minutes after arriving at Burleigh Court and I'm already more chilled out.
A home away from home
When Corinna and James Rae took over Burleigh Court, located just outside the small town of Minchinhampton near Stroud, in 2019, they wanted to create an idyllic, boutique retreat. A place where old-world charm meets contemporary design and touches of luxury. Over coffee, Corinna tells me, "We want it to feel authentic and for people to feel like coming here is a home away from home."
Those little touches are evident throughout the hotel. A basket of blankets by the front door in case guests catch a chill while sitting outside. The friendly and welcoming staff who put you at ease. The plumped pillows scattered over sofas in the cosy lounge, and the resplendent gramophone with an enticing stack of records. An Art Deco-esque plunge pool awaits outside (beware though, it's unheated).
READ MORE: Highlights of the south Cotswolds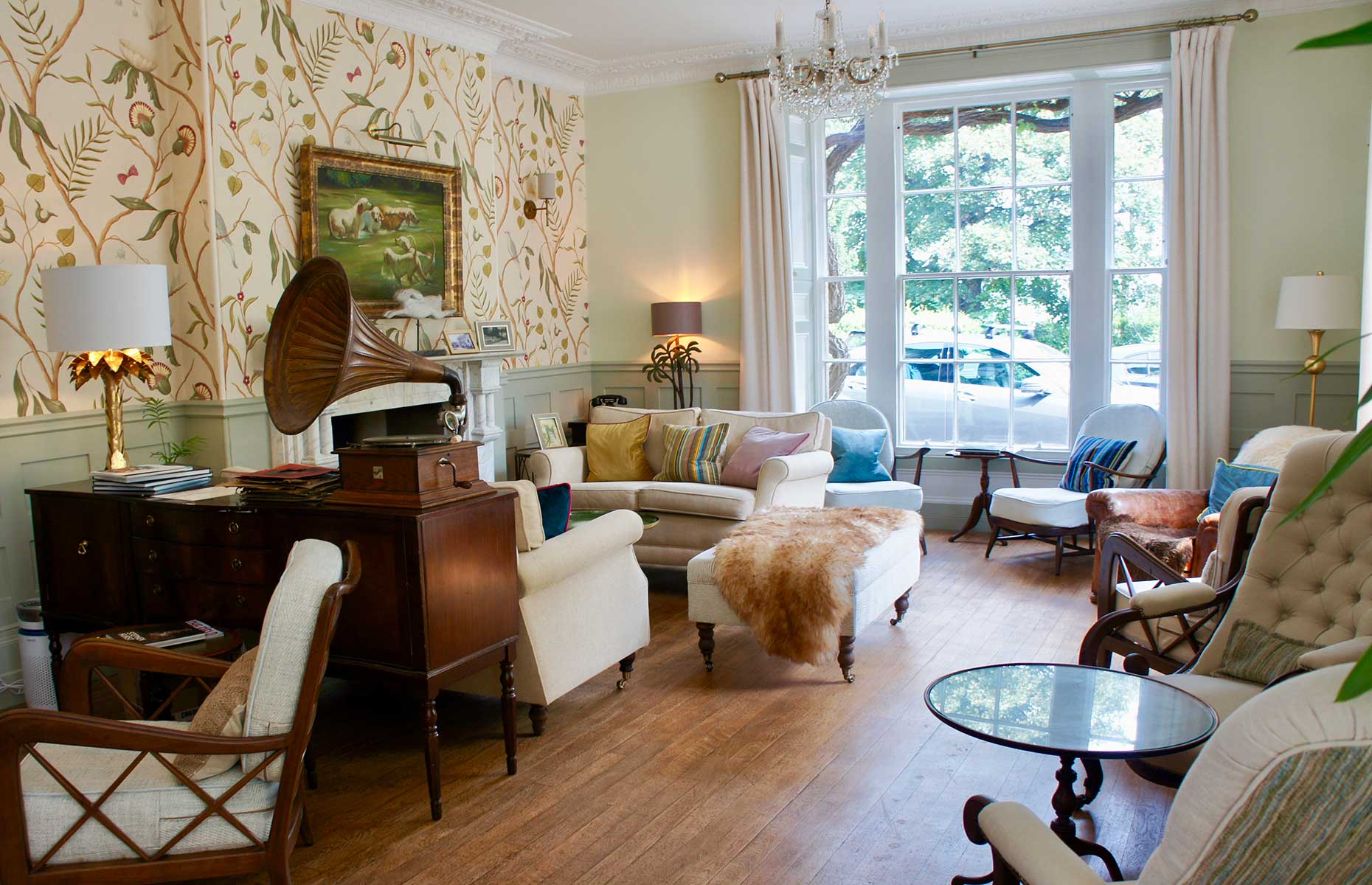 Boutique bedroom
It's a good job I manage to drag myself away from those stunning views over the Golden Valley, because my bedroom is equally as charming. One of 18 rooms at Burleigh Court, which include dog-friendly options, it makes gorgeous use of original features with quirky modern updates.
The beautiful wood floor (which was previously hidden by carpet, according to Corinna) is flanked by fluffy sheepskin rugs and the walls are adorned with illustrated, hand-printed wallpaper. A cute bay window seat which overlooks the back garden beckons. The spa bath with water jets is eyed up for later.
READ MORE: Your guide to the north Cotswolds
I perch on the edge of the grand four-poster bed and do the obligatory test of the mattress (spoiler: I slept through my alarm on both mornings so it's safe to say it's more than comfy).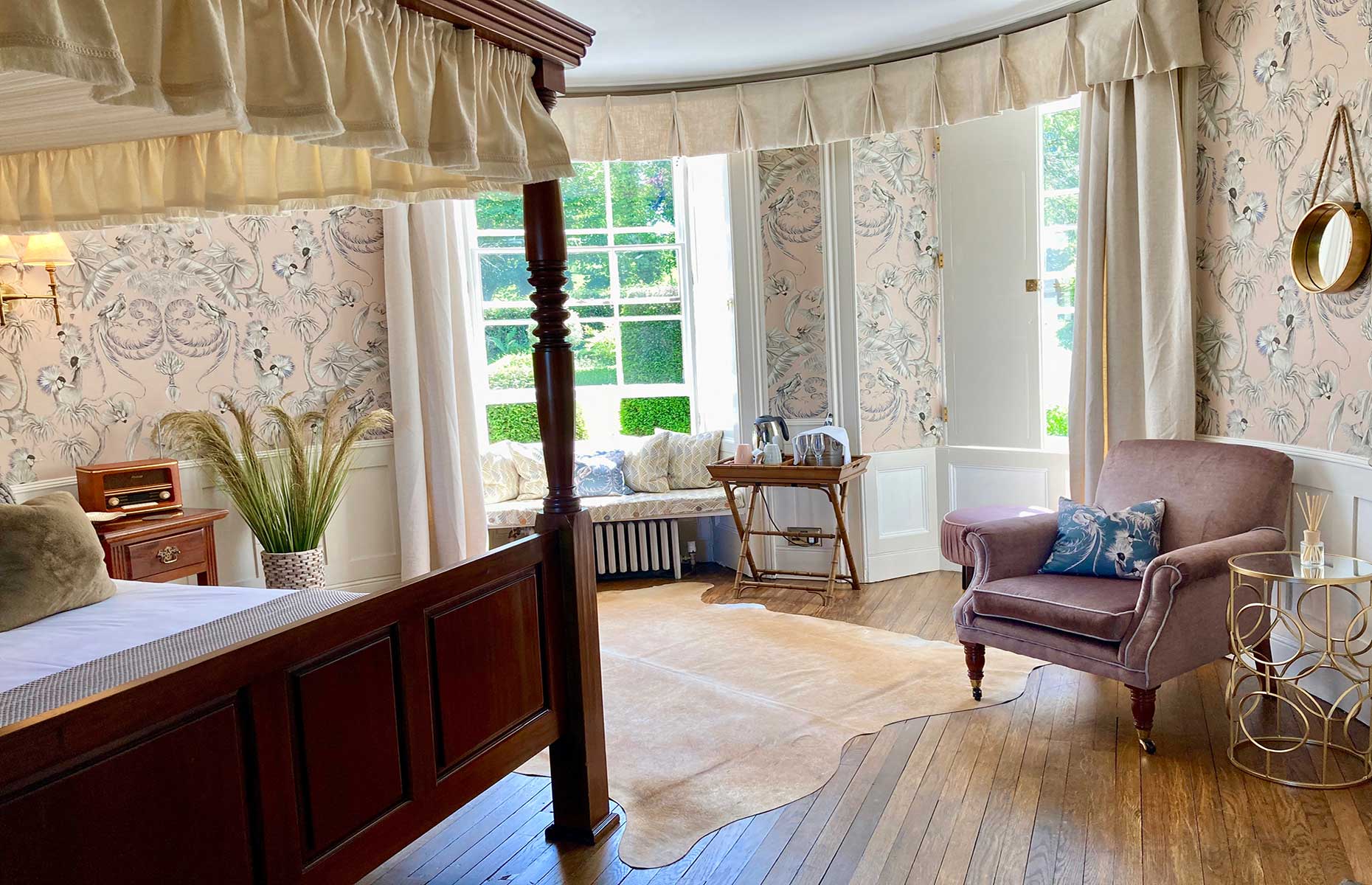 It might not be an exact home away from home (after all, I've come from a pokey flat in London) but this town mouse would stay at this country house any day.
A thoroughly Cotswolds feast
It's always a luxury to be able to roll upstairs to a hotel room after dinner. And at Burleigh Court's two AA-Rosette restaurant, it's even more of a treat. Open to guests and non-residents, the restaurant serves refined, modern British dishes and prides itself on using locally-sourced ingredients. The kitchen is also supplemented with produce grown on the hotel's grounds, in greenhouses and veg patches at the end of the sprawling lawn.
Given the focus on sourcing locally, the menu changes with the seasons. On my visit, the tempting list of starters was shaped around summer vegetables: heritage tomatoes with candied walnuts, fresh kohlrabi with a burnt lemon purée, hand-picked crab salad with tomato consommé.
READ MORE: The UK's prettiest towns and villages
The main course is a tough decision: wild mushroom pithivier or pork belly with bitter orange and apple purée? But the fish of the day – stonebass with seaweed resting on top of long-stemmed broccoli and crushed potatoes – wins me over. Dark chocolate mousse with tooth-sticking honeycomb calls for dessert – alongside a glass of rich Cotswolds Cream Liqueur, of course.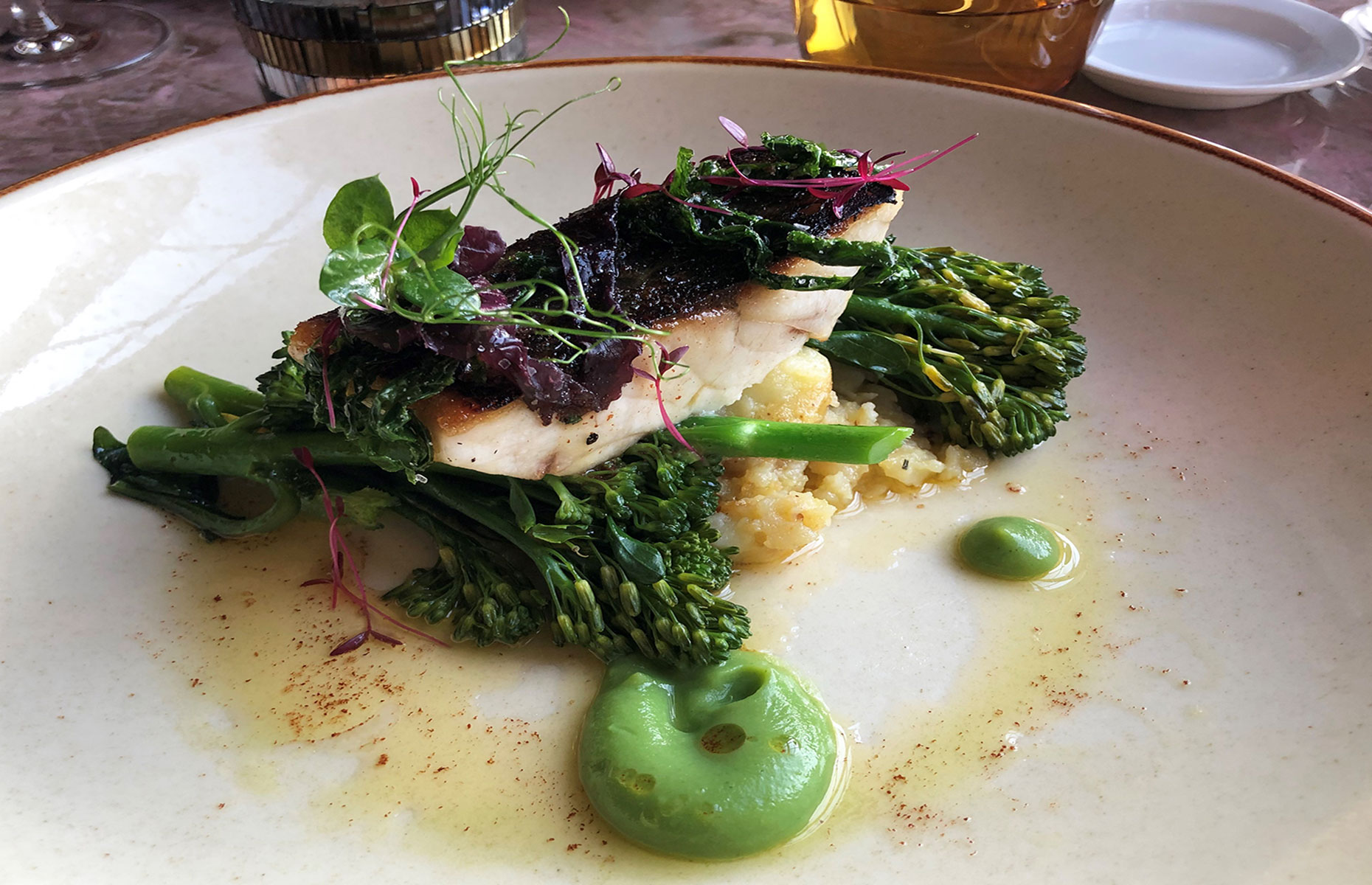 Photo by Daisy Meager
Foray into foraging
You're spoiled for choice when it comes to scenic walks around the Burleigh Court estate and surrounding countryside. To see the area in a different way, after a hearty full English breakfast, I meet Emanuelle, part of the kitchen garden team at Burleigh who's also heading up the hotel's foraging experience.
"There are so many plants growing wild that people don't realise you can eat and use in your food," says Emanuelle, who also regularly forages for her own cooking as well as working with Burleigh's chefs to add bits to the menu.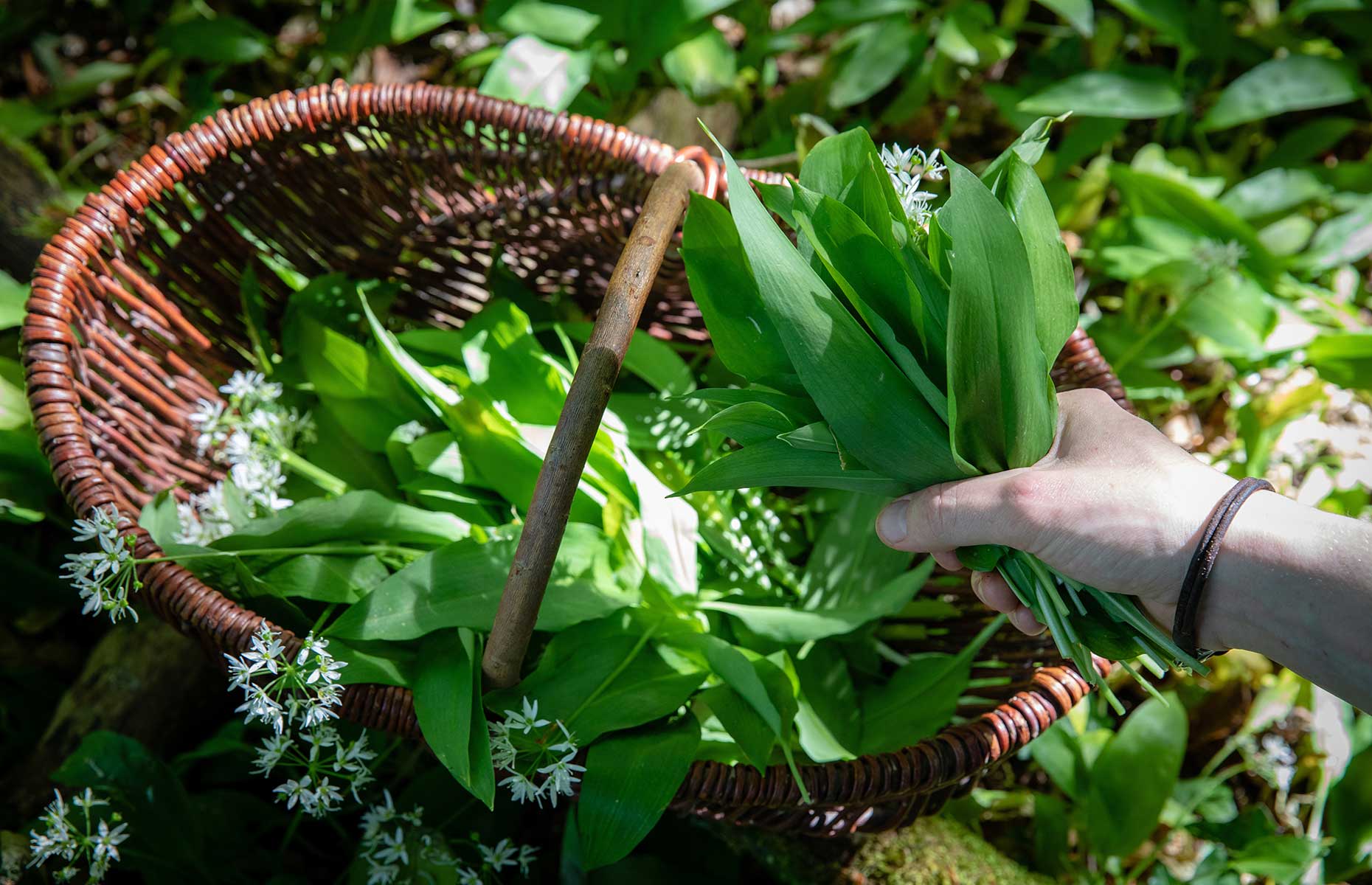 First up is an essential safety lesson: "Don't munch on a hunch." Emanuelle stresses the importance of correctly identifying a plant first, and leaving it be if you're not sure. "Check the flowers, the leaves, the stem. Does it smell as it should and is it growing in a place you'd expect it to? And remember to only take a little, a few petals rather than the whole flower head – 'leave no trace' applies to foraging too."
READ MORE: 9 of the UK's most spectacular Areas of Outstanding Natural Beauty
Luckily, I'm with an expert and over the course of a couple of hours, we spot and taste several gems lining the lanes and across nearby Minchinhampton common. There's cucumber-y salad burnet (pictured below), several members of the nettle family and even a nibble on a rose petal. Emanuelle is a fountain of knowledge and imparts her culinary advice too. Top tip: add a few rose petals when cooking rice to infuse it with subtle fragrance.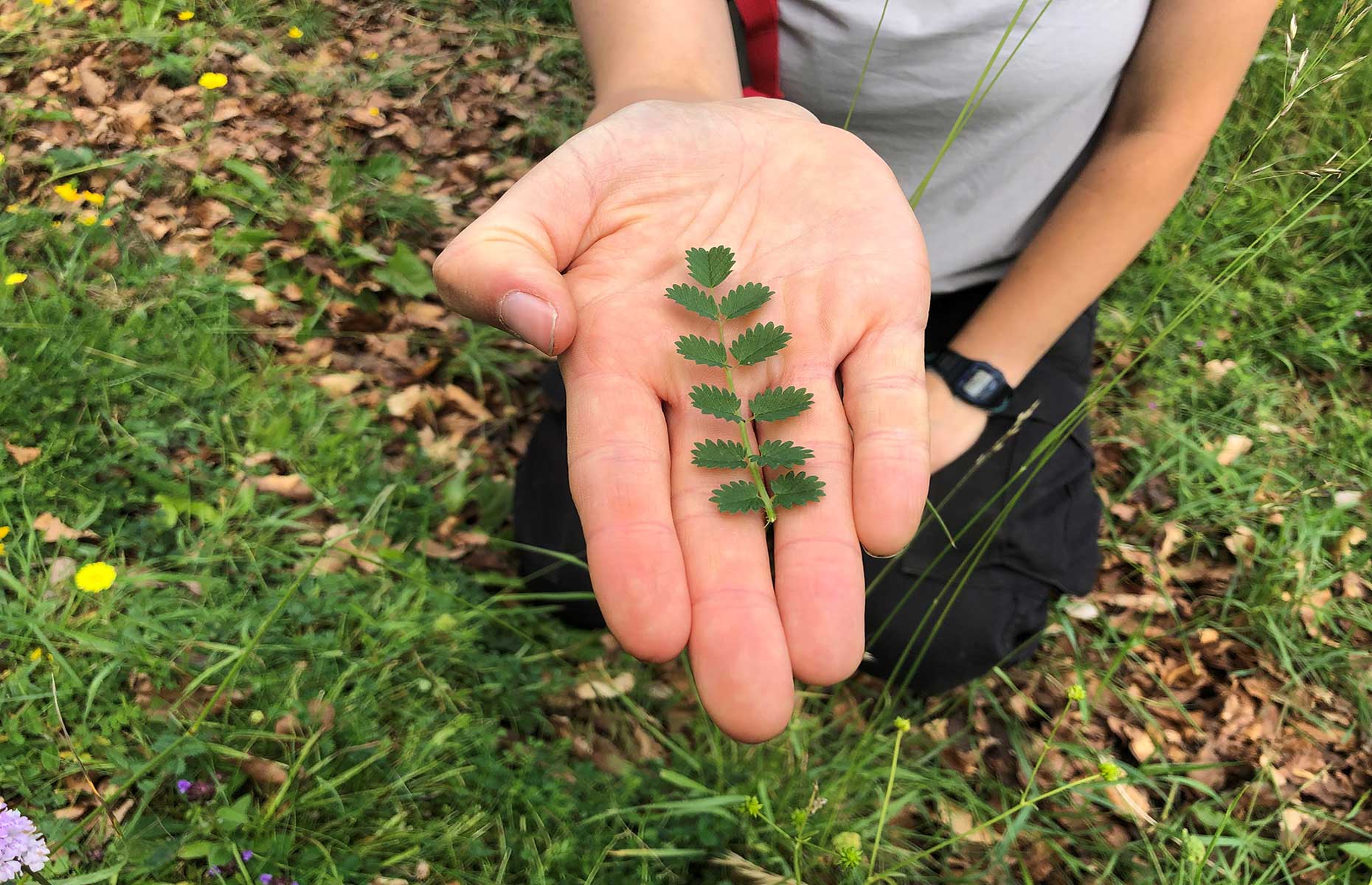 Photo by Daisy Meager
On leaving Burleigh Court, I might have sloughed off the stresses of city life but I've unexpectedly gained some ideas to bring a bit of country living back with me.
loveEXPLORING.com was a guest of Burleigh Court, a boutique hideaway hotel with a 2 AA Rosette restaurant in The Cotswolds. Weekday B&B stays are priced from £119 per night. New for 2021, Burleigh has launched a Wild Foodie Foraging Experience available on select dates July-October. Priced from £60 per person, this includes a guided foraging walk and wild food lunch. To book a stay at Burleigh Court, please call 01453 883 804 or visit www.burleighcourtcotswolds.co.uk.
All images by Burleigh Court Photography unless otherwise stated.
Be the first to comment
Do you want to comment on this article? You need to be signed in for this feature