6 of the best hotels in San Francisco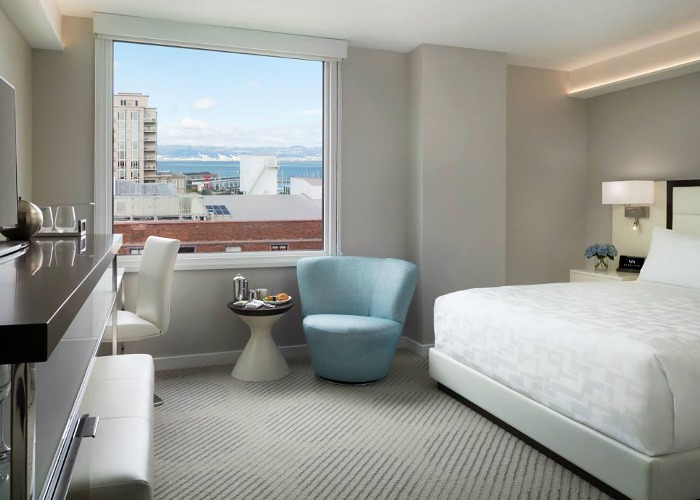 These are some of the hippest places to stay, from bayside beauties to high-tech sleeps and renovated, funky motels. Read on for the best hotels in San Francisco.
Choosing where to stay in the City by the Bay can be a tricky business. Is a rooftop bar – with views across the rippling streets and soaring skyscrapers – a top priority? Maybe you want to stay somewhere steeped in history, or simply find a stylish place to sleep between exploring San Francisco's endless attractions and intriguing neighbourhoods.
Perhaps it's all of the above. Whatever you're looking for, we've selected a handful of the coolest places to make your stay that little bit easier.
1. Best for park life: Lodge at the Presidio
You can't stay closer to the Golden Gate Bridge than at Lodge at the Presidio. The rust-red arches provide a grand backdrop to this elegant lodge in the heart of the country's biggest urban park. The hotel occupies a former US Army barracks and, while it's within easy reach of San Francisco's highlights, it's a refreshing antidote to the city's busy streets and lofty hotels.
LodgeatthePresidio/Facebook
The three-storey building, lounge areas and deep porch imbue it with a homely feel that continues into the rooms. Although, if you're lucky enough to live somewhere with plush king beds, views of the world's most famous bridge and miles of forested biking and hiking trails on your doorstep, you probably don't need a hotel.
Guests can use the complimentary bikes to explore those trails, pedal around salt marshes and Crissy Field – a former airstrip that's now a grassy park with beaches – and even cross the Golden Gate. There's also a shuttle bus that takes guests around the city.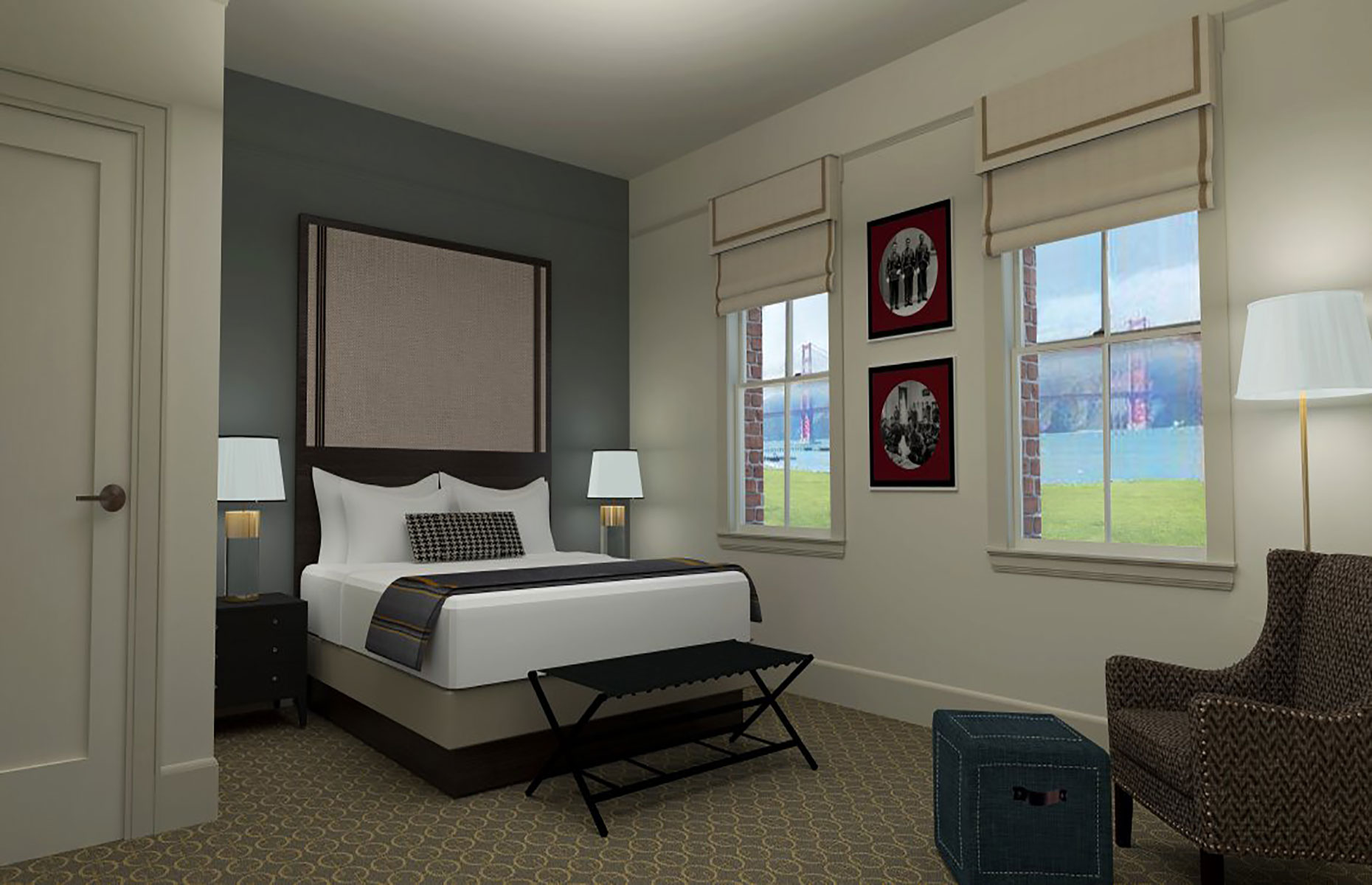 LodgeatthePresidio/Facebook
Just make sure you're back for the daily wine and cheese reception. Usually, a sideboard in the lounge area heaves under platters of cheese and charcuterie, which you can help yourself to along with regional vintages. It's so generous, you could easily skip dinner. Fill your glass, pile your plate high and grab a seat around the outdoor fire pit, with more views of that magnificent bridge.
READ MORE: A guide to San Francisco's neighbourhoods
2. Best for waterfront wanderings: Hotel VIA
Slick, stylish Hotel VIA is right in the heart of South Beach, a former industrial shipping area whose old warehouses have been taken over by art galleries, bars and restaurants (check out Rooh, which uses seasonal local produce in its contemporary Indian dishes).
Some of the subtle, soothingly decorated rooms gaze directly upon Oracle Park baseball stadium, home of the San Francisco Giants; some peek at the bay; and others still look over old brick warehouses. Courtyard rooms get closer still, with plant-filled patios enclosed by the area's historic brick walls.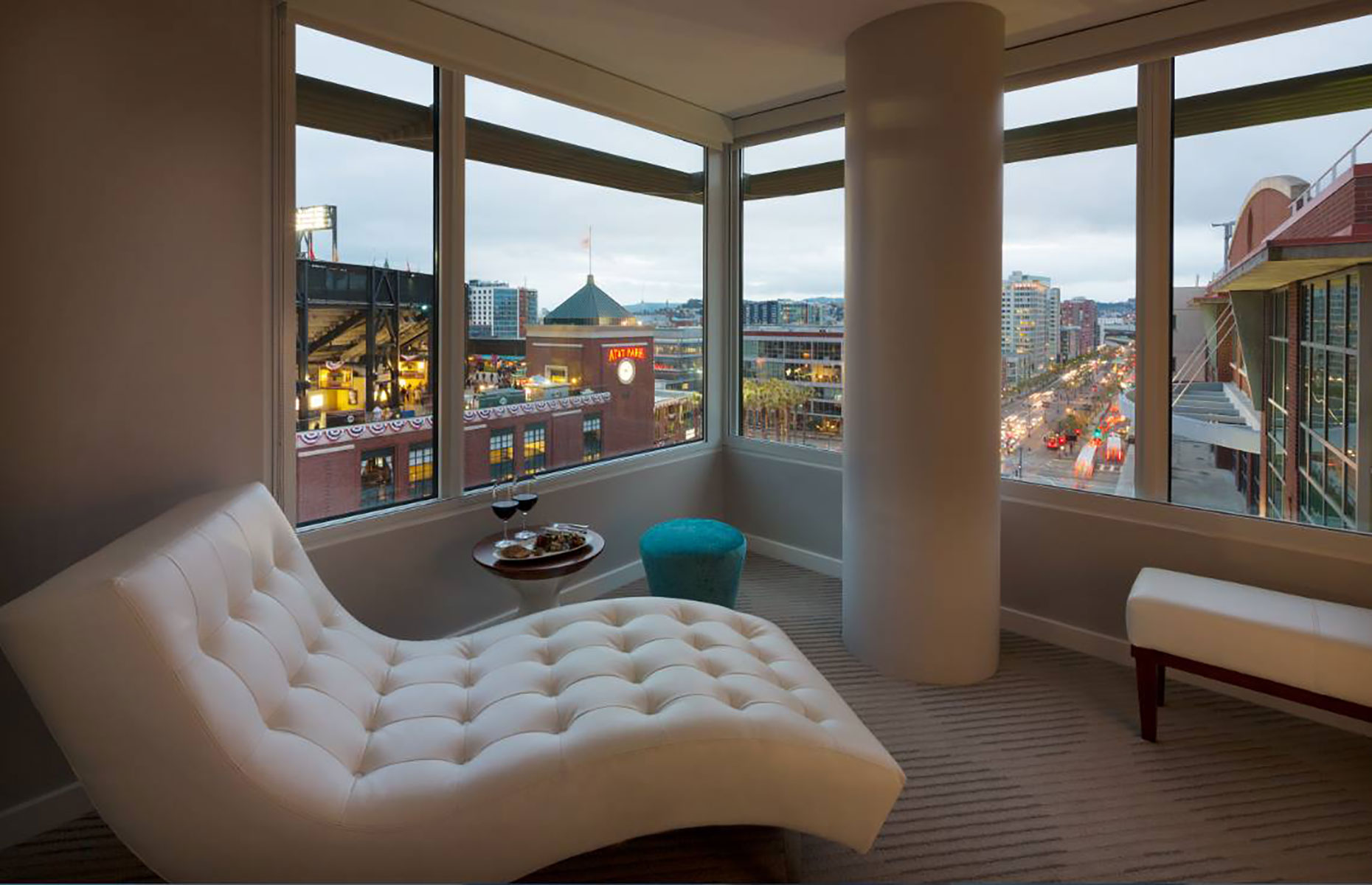 hotelviasf/Facebook
Head to the rooftop bar and you can see it all: views of the water, stadium, bayside parks and the steep streets that rise and dip across the city. Cosy chairs and sofas are arranged around fire pits, while other seating is tucked away in curtained cabanas.
The best thing is that, unlike many bars in the city, you've a good chance at nabbing one of the more coveted seats as the rooftop is exclusively for guests' use.
READ MORE: 5 easy day trips from San Francisco
3. Best for tech lovers: YOTEL San Francisco
The brand's first West Coast hotel, opened in February 2019, is a real meeting of old and new. Its tech-forward rooms and shared spaces occupy the Grant Building, one of just three structures to have survived the 1906 and 1989 earthquakes.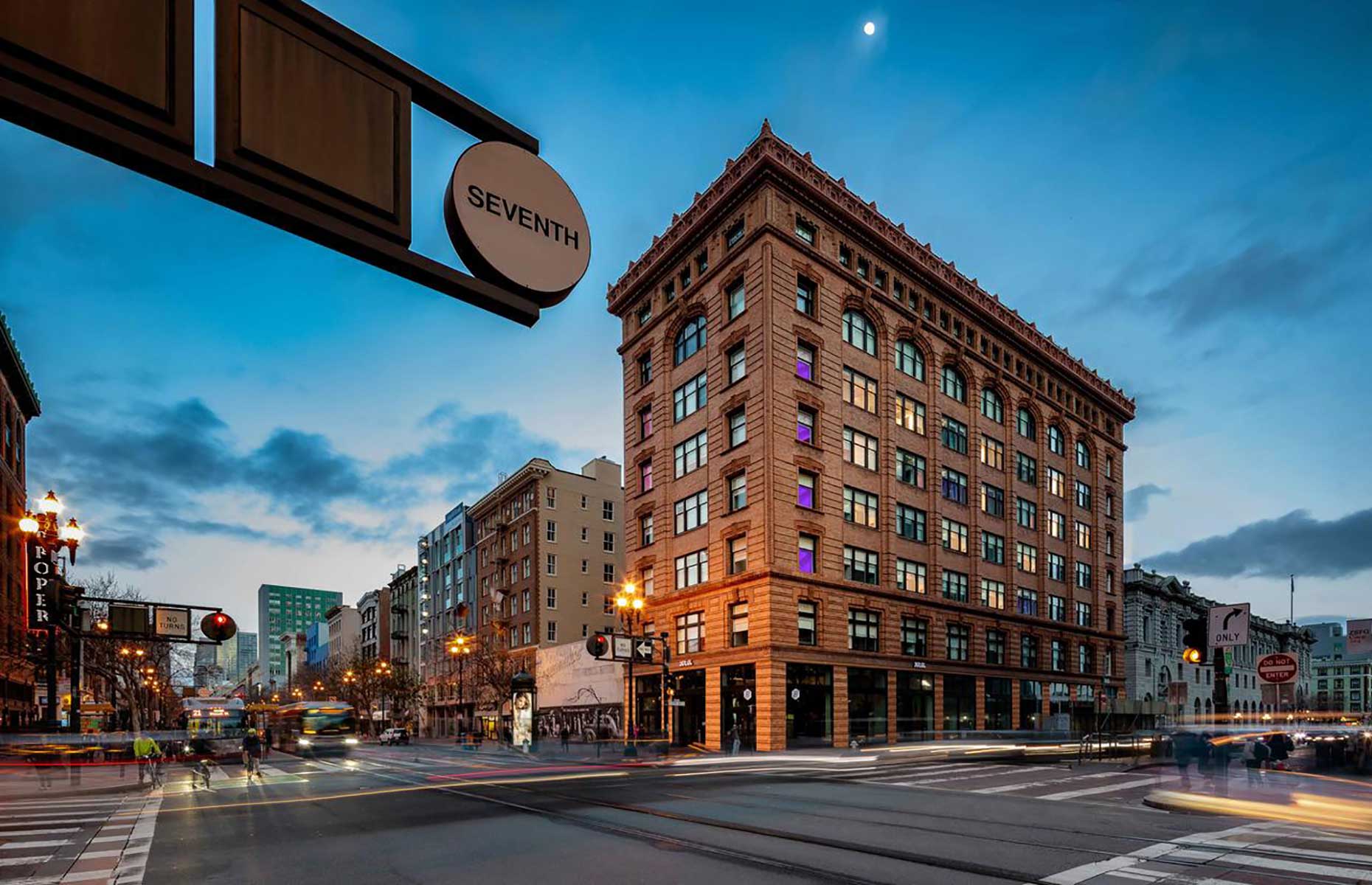 Yotel San Francisco/booking.com
Its red brick, Renaissance Revival-style shell stands in striking contrast to the sleek, modern interior yet, somehow, it works. High-tech touches begin in the lobby, where guests can use self check-in kiosks, while the bright, white rooms – called cabins – have colour-changing mood lighting, an adjustable bed (so you can feel like you're on the most luxurious flight) and rain showers.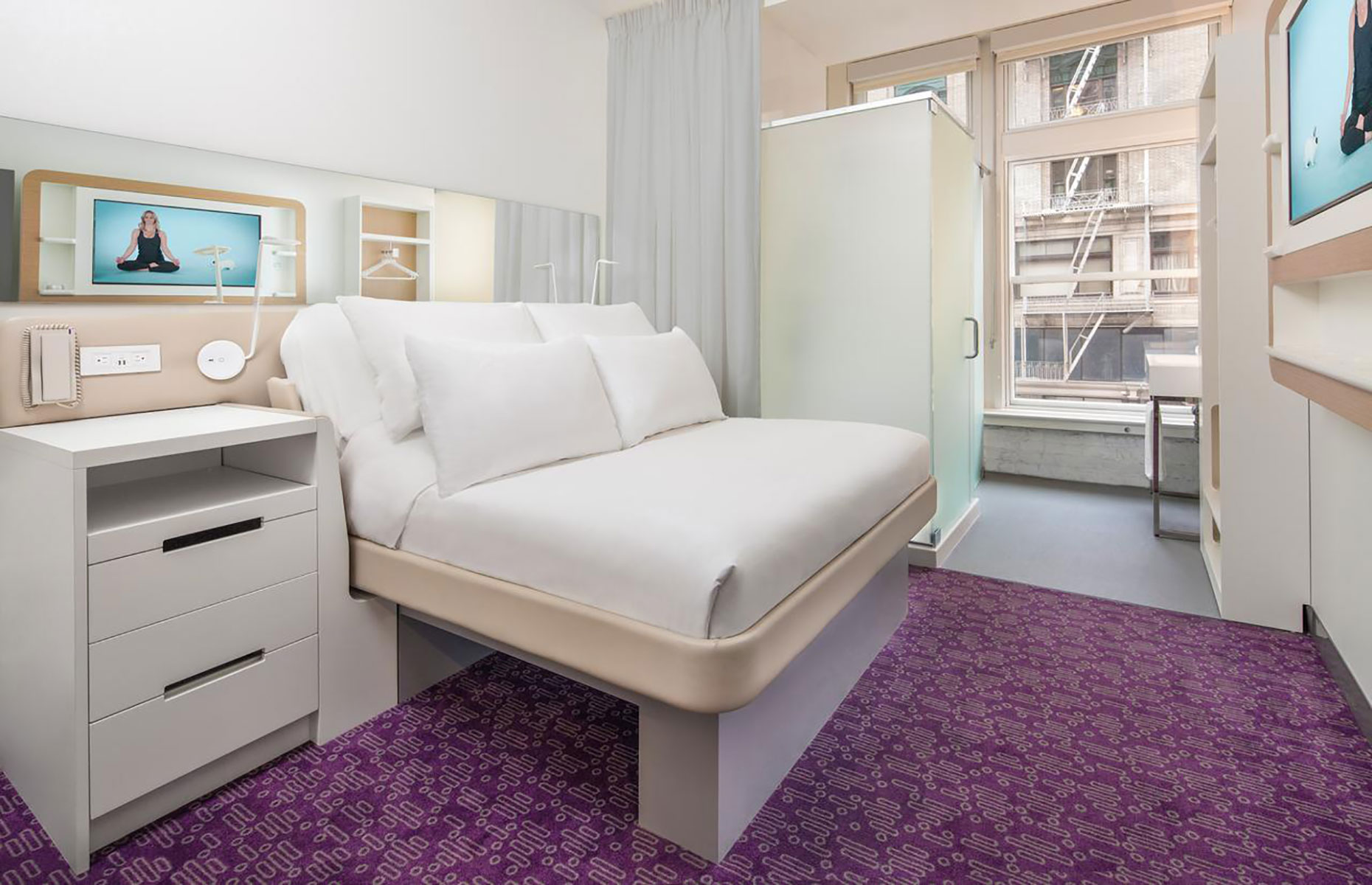 Yotel San Francisco/booking.com
The public areas, from chill-out lounges to shared work spaces, are a highlight. From Komyuniti, a co-working space with coffee machine and cosy nooks, to old-school phone rooms behind glass doors, it almost makes you want to do some work.
READ MORE: Discover California's Central Coast road trip: the top things to do and where to stay
You couldn't find a better-connected location, either. The financial district, Union Square's designer shops and department stores, and trendy SoMa neighbourhood are an easy stroll away, while the streetcar trundles to the Embarcadero and Fisherman's Wharf from right outside.
4. Best for local atmosphere: Kimpton Buchanan
Right in the heart of the country's oldest Japantown, the chic Kimpton Buchanan pays subtle homage to its locale. There are navy and white tie-dyed robes with kimono-style sleeves, pieces of art inspired by Japan's landscapes and bursts of exotic blooms in rooms and corridors.
The décor follows the Kimpton brand's sleek, minimalist lines and muted tones, with nods to Japanese style – think walnut furniture, sprigs of cherry blossom, deep-soaking bathtubs. The daily wine hour includes sake among the complimentary libations.
All this means the boutique hotel melds seamlessly with its neighbourhood, from the kitsch shops and ramen restaurants that fill the Japan Center to tucked-away karaoke bars and upscale sushi restaurants like Hinata.
5. Best for boho chic: Hotel Bohème
Once you discover the delights (and deliciousness) of Little Italy, or North Beach, you'll want to spend a night or two there. If you do, choose a hotel with a suitably bohemian, Beatnik vibe. In other words, choose Hotel Bohème, with a past as storied as the neighbourhood and its old-school delis and jazz joints.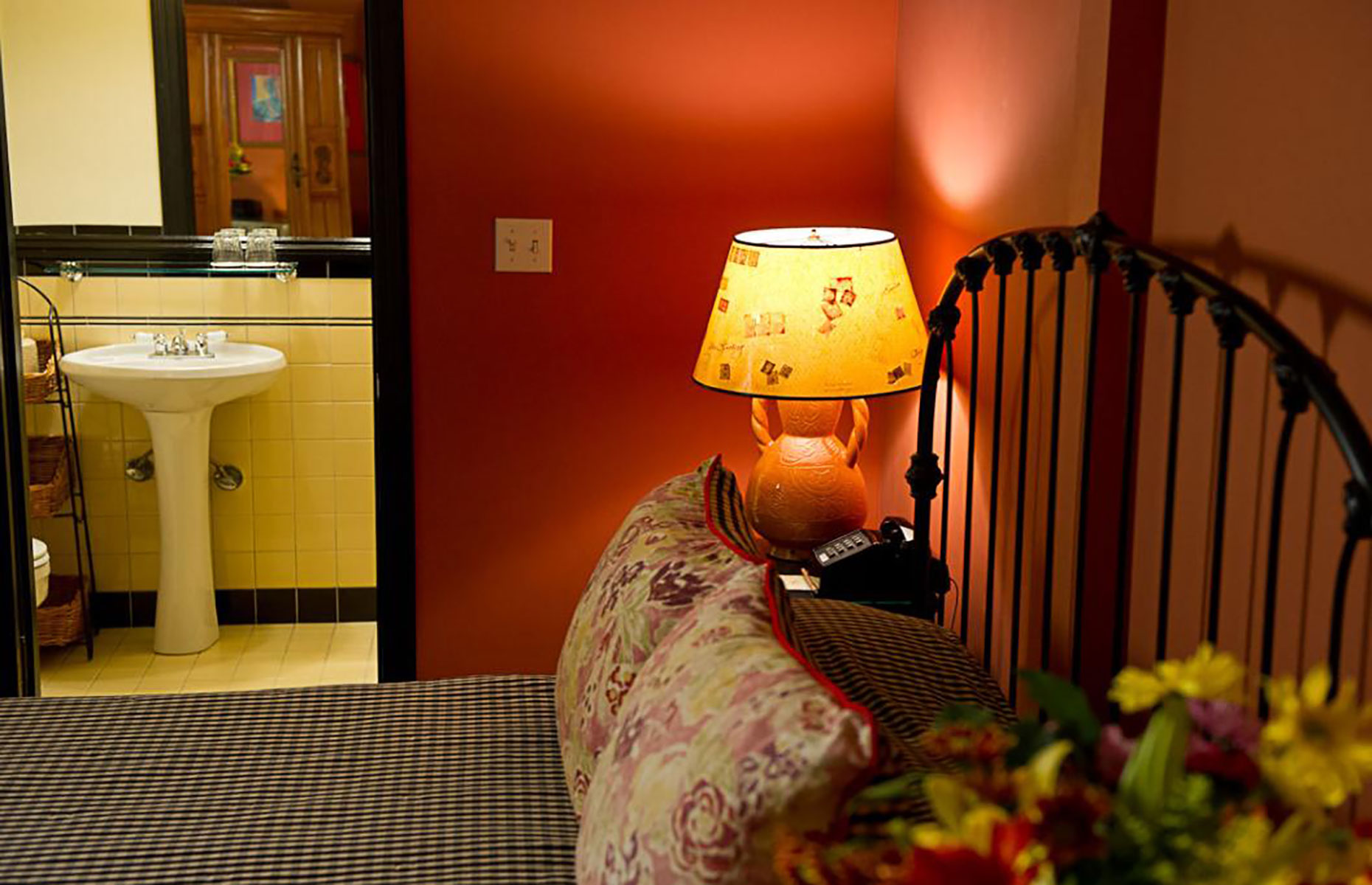 Hotel Bohème/booking.com
The original hotel, built by Italian immigrants in the 1880s, was destroyed after the 1906 earthquake in an attempt to stop the spread of fires. The owner had it rebuilt from the ground up and it's been a North Beach icon ever since.
READ MORE: America's best hotels
Now the rooms have burnt orange walls, lampshades made with sheet music and black-and-white checked bedcovers. The corridors are lined with black-and-white photographs from the Beat Generation of the Fifties and Sixties. It's hip in the louche, effortless way of a Beatnik babe wearing smudged black eyeliner.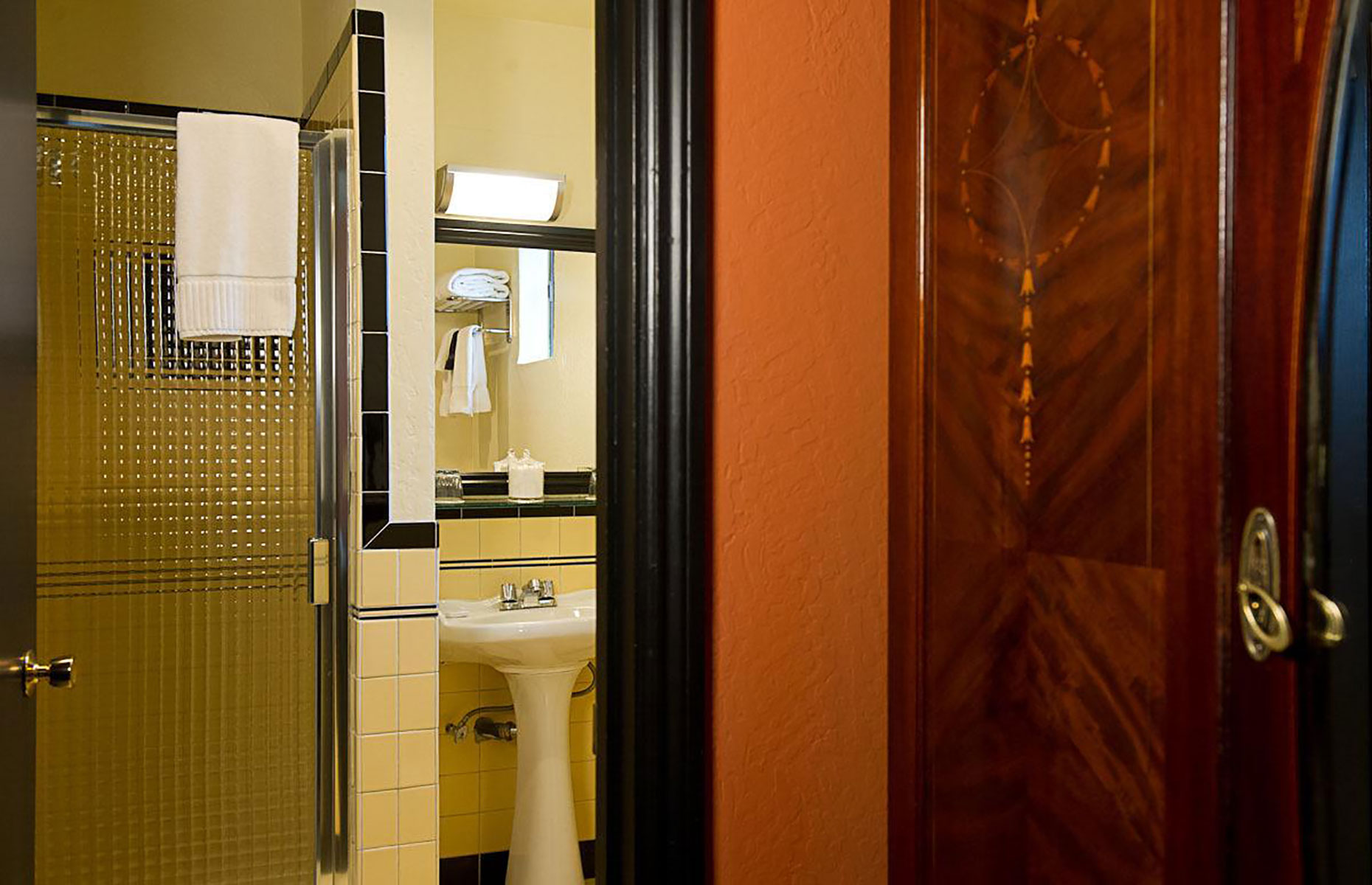 Hotel Bohème/booking.com
6. Best for funky fun: Beck's Motor Lodge
Stay right in the heart of the Castro District at Beck's Motor Lodge, a revamped motel with comfy, stylish rooms and a relaxed, funky vibe. The area became the city's main LGBTQ+ hub in the Seventies, when Harvey Milk became California's first openly gay elected official. Milk had a camera store on Castro Street and was dubbed "the Mayor of Castro" for his tireless campaigning for gay rights.
The area still has flair, especially during SF Pride and other festivals, and Beck's fits in with its spirit seamlessly. It's been here since the Fifties, and has been recently revamped with fresh décor and furniture.
READ MORE: The most unique hotel in every US state
Rooms are simple but stylish with soothing colours and rich textures of walnut and wool, and there's a sun deck for those non-foggy days. There's even free parking – which, in this city, is rare as hens' teeth.
Due to COVID-19, be sure to check national and local travel restrictions, including state travel advisories, and individual hotels before booking and visiting. Please note that some hotels may be temporarily closed and some amenities suspended.
Main image: hotelviasf/Facebook
Be the first to comment
Do you want to comment on this article? You need to be signed in for this feature