9 reasons to weekend in bite-sized Bilbao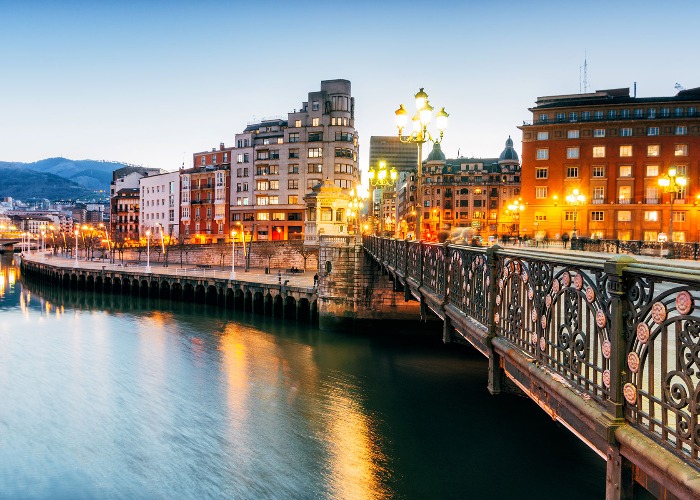 This sunny, salty port city in northern Spain offers platefuls of easy eats, leading art museums, jaw-dropping bridges and even a giant dog...
Fly fewer than two hours from the UK and you'll find a manageable morsel of the Basque Country in Bilbao. This compact and fiercely proud city, wedged into a valley on the curve of the Estuary of Bilbao, has culture and pintxos by the bucketload but is small enough to get to know intimately over a few days. Here, we look at just some of the reasons to add it to your weekend 'wanderlist' when it's safe to travel again.
1. It has an identity all of its own
It's no exaggeration to say that Bilbao is unlike anywhere else in Spain. It's the Basque's largest city and, sitting just 6.8 miles (11 km) from the Bay of Biscay, remains home to one of the country's most vital ports.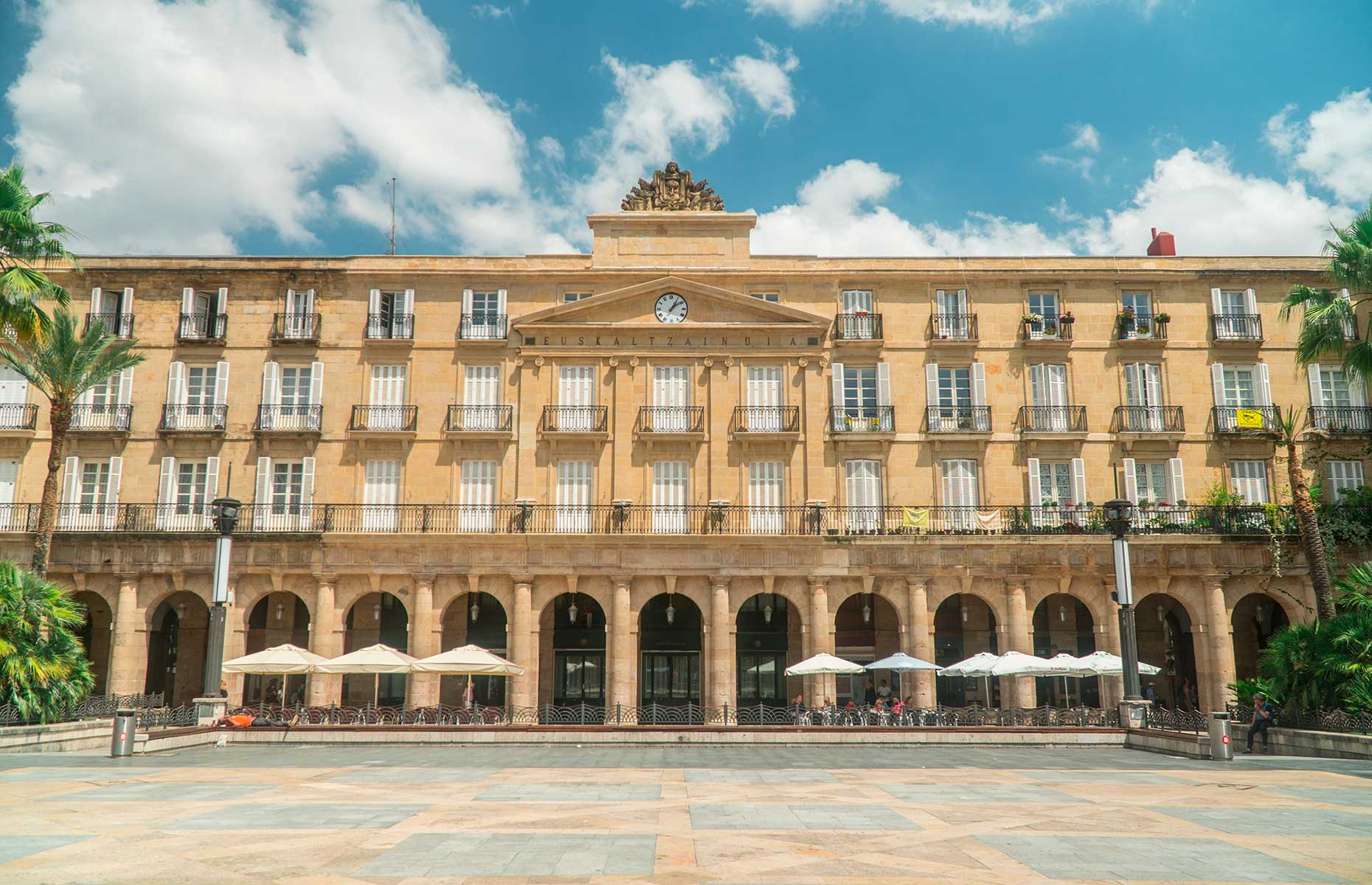 Jam Travels/Shutterstock
It has a gritty, industrial heritage with the mining of iron ore, exporting of wool and shipbuilding embedded in its past.
Add to this the strong cultural identity of the Basque region, including its own language, traditions and attire – look out for the signature black beret – and you'll experience an altogether different side of Spain.
READ MORE: 6 reasons to visit Asturias
2. It's easy to navigate
Bilbao was made for exploring on foot or, if you prefer, two wheels. Whether you're strolling the tree-lined boulevards or hiring a bike for a leisurely pedal along the waterfront, you'll soon get your bearings.
Plus, the public transport network is excellent and easy to decode with the Norman Foster-designed metro system, tram and bus links offering clear routes in and around Bilbao.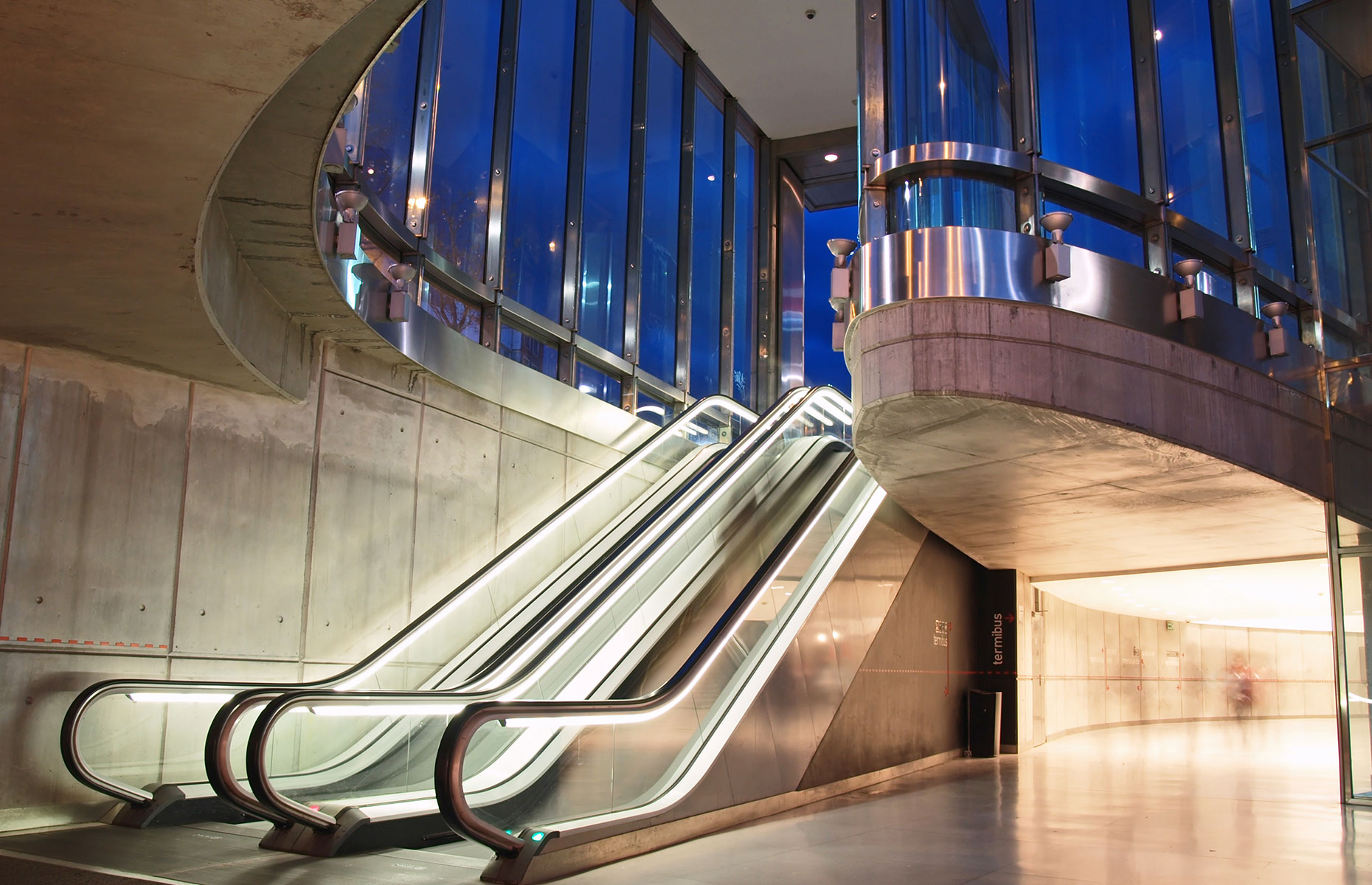 Jarno Gonzalez Zarraonandia/Shutterstock
Top tip: grab a great value Bilbao Bizkaia Card with options for 1, 2 or 3 days including entry to numerous museums and attractions in addition to use of the public transport network
3. It's home to some mighty fine art
The Guggenheim Museum Bilbao needs very little introduction. When the tall glass doors of this Frank Gehry-designed marvel swung open in 1997, it ushered in not only curious art lovers but a new era for the city of Bilbao as a whole.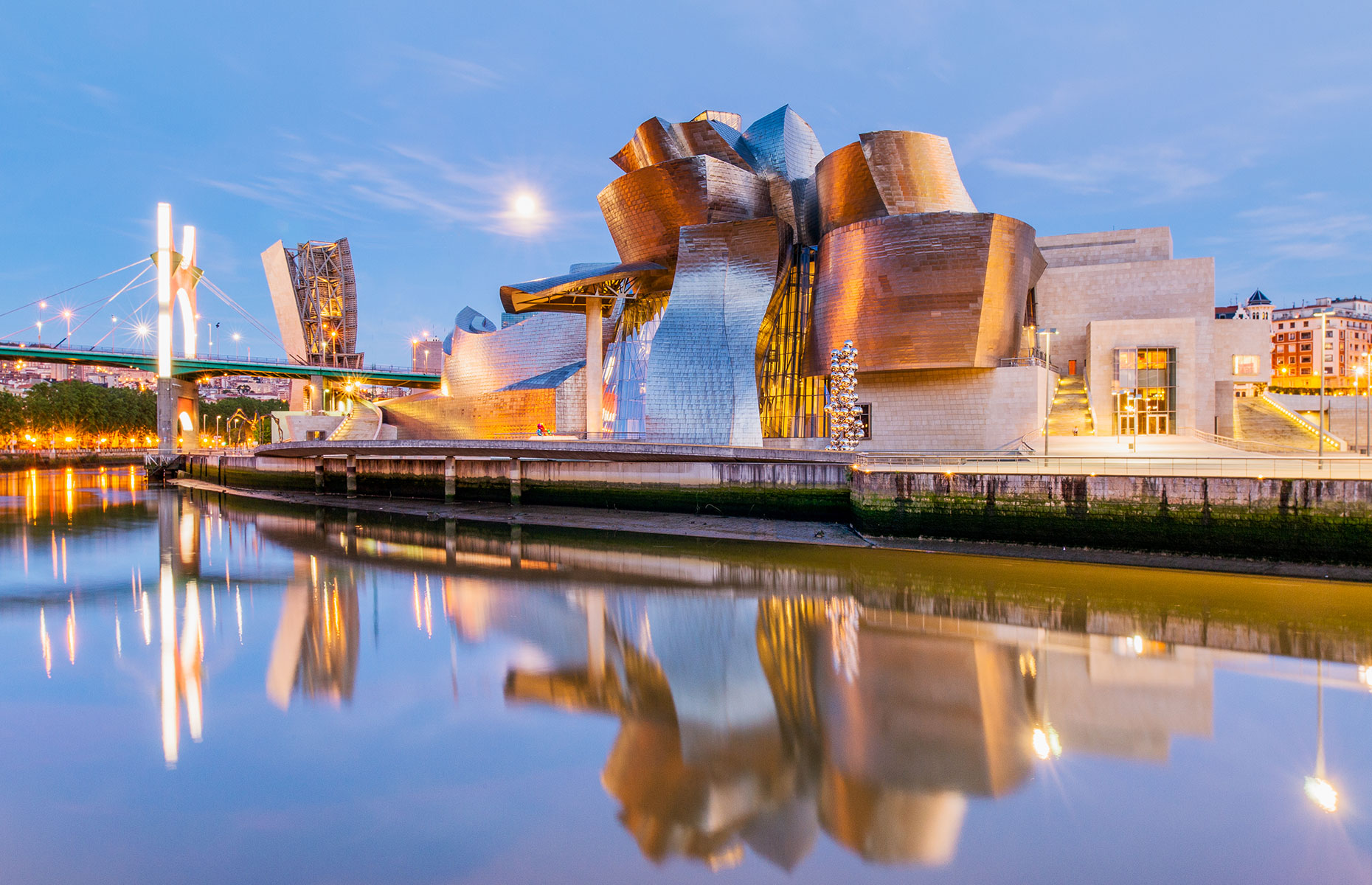 Rudy Mareel/Shutterstock
Exhibits are contemporary with works from turn-of-the-last-century artists such as Vincent van Gogh and Paul Cézanne to more modern masters like Andy Warhol, Anish Kapoor and Gilbert & George.
You'll also spy outdoor installations including Jeff Koons' giant flower-decked West Highland terrier, 'Puppy' (1997) and Louis Bourgeois' 'Maman' spider (1999). Of course, the iridescent building is itself an exhibit with smooth curves, nooks and crannies all playing a part in its now-timeless appeal.
Pixachi/Shutterstock
Meanwhile, over at the Bilbao Fine Arts Museum in the Doña Casilda Park, you can follow the evolution of artistic styles chronologically from 12th-century classical paintings right up to modern sculptures.
This museum is revered for its exceptional collection with thousands of pieces from the likes of Paul Gauguin, Francisco de Goya, Anthony van Dyck and Francis Bacon, among others.
READ MORE: The world's most incredible statues and sculptures
4. It's grazing heaven
Foodies have long been drawn to Bilbao, no doubt in part because it fully embraces the northern Spanish tradition of pintxos (pronounced 'pin-chos') – finger food typically served on a slice of baguette (and charged per piece).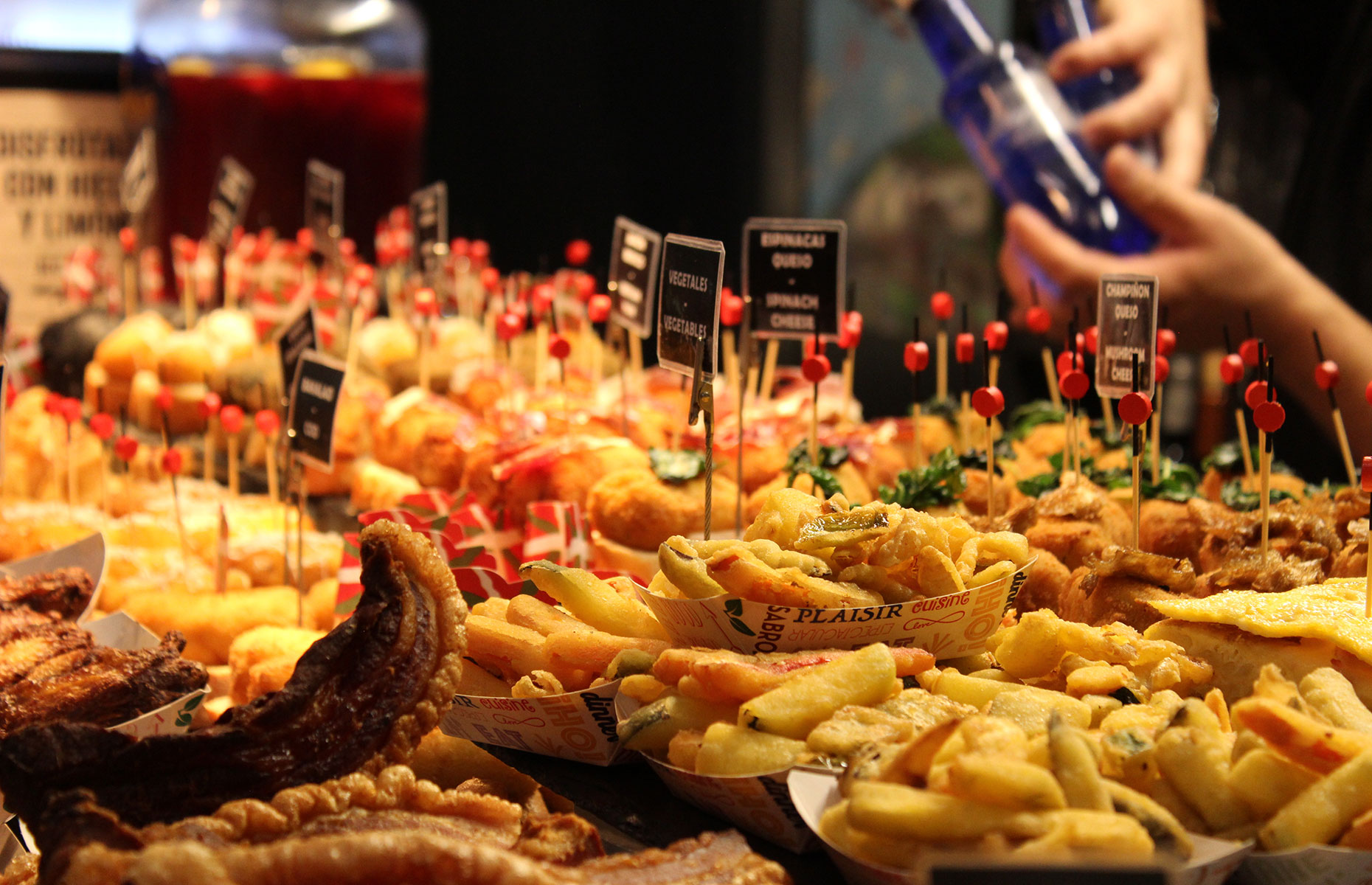 Ana.R.C/Shutterstock
Toppings vary from your basic cheese and dry-cured ham to imaginative creations with seafood, egg, chicken and vegetables. Bread-free options usually include tortilla (Spanish omelette) or cocktail sticks embedded in olives, veggies, ham and cheese.
Pintxos-sampling also makes for a most enjoyable evening bar-hopping and grazing as you go.
READ MORE: 5 of the best pintxos bars in Bilbao
5. It's rightly proud of its maritime heritage
The Guggenheim is likely to be your first museum stop but the Bilbao Maritime Museum should be your second port of call. Located in the outbuildings of what was the Euskalduna Shipyard, it sits tucked under the Euskalduna Bridge on the left bank of the estuary, divided into indoor and outdoor exhibits.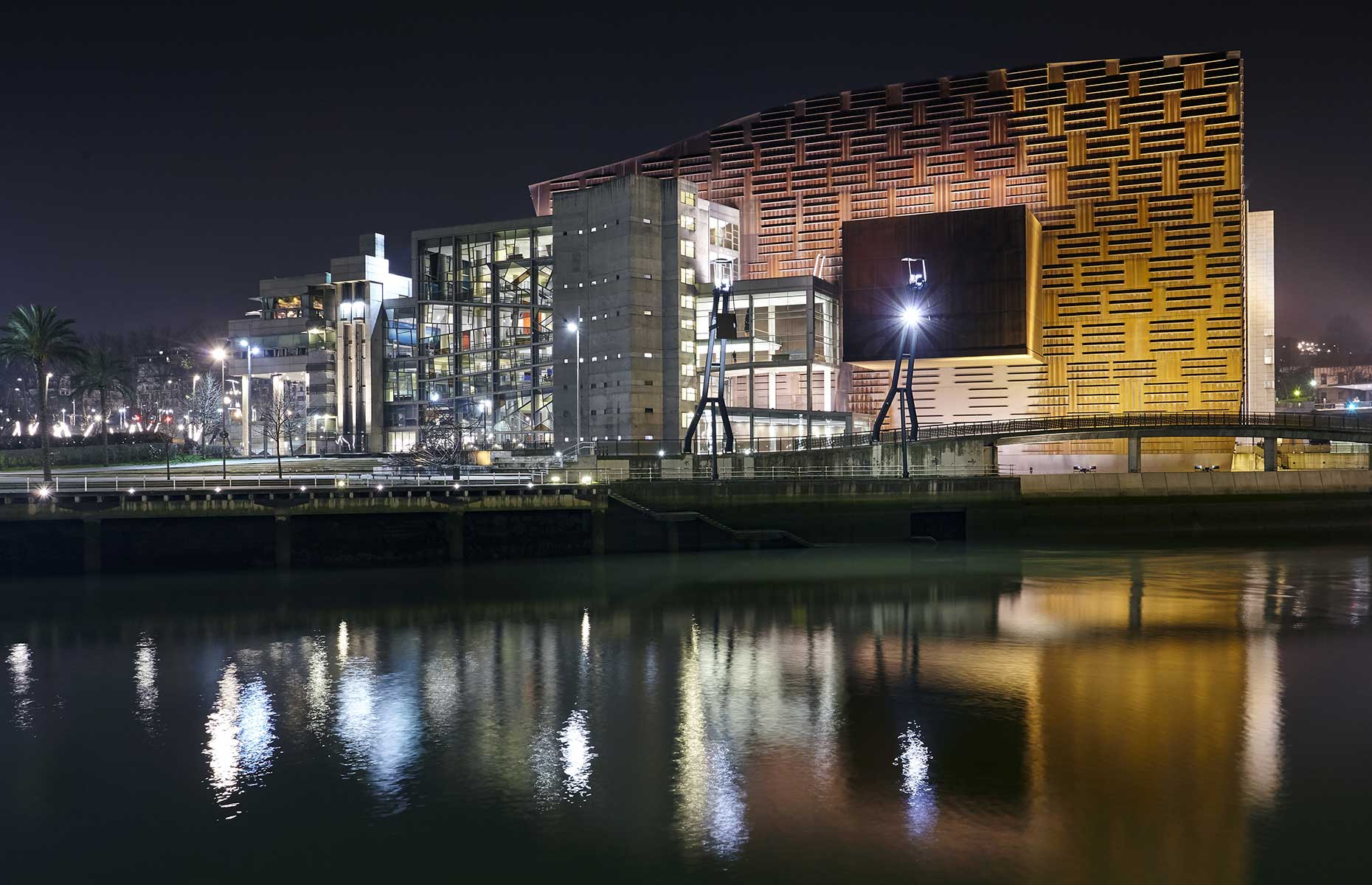 A G Baxter/Shutterstock
Inside, it's all about history and context with a concise look at Bilbao's maritime history, emphasising the heritage of the city's seafaring ways, the transformation of the dock area and the continued significance of the port today. Meanwhile, out on the docks, there are select vessels plus the wet and dry slips and the original pump house from 1903.
Once you've fed your mind, quench your thirst at the museum's edgy dock-front café. A brilliant sun trap, you can sip anything from strong coffee to a local ale at the foot of the bright berry-red Carola Crane. Around 196-feet (60m) high, Carola was operational from 1957 until the closure of the shipyard in 1984. It's the last remaining example in the city and stands as a monument to Bilbao's shipbuilding days.
6. The medieval maze of the Old Town
Bilbao was born in the pretty paved streets of the Casco Viejo, or Old Town. Site of the original port, it's one of the city's most scenic areas. The low-lying maze of 'Seven Streets', as they're known locally, makes for an excellent afternoon wander. Look up to see traditional townhouses whose wrought-iron balconies overflow with flowering window boxes.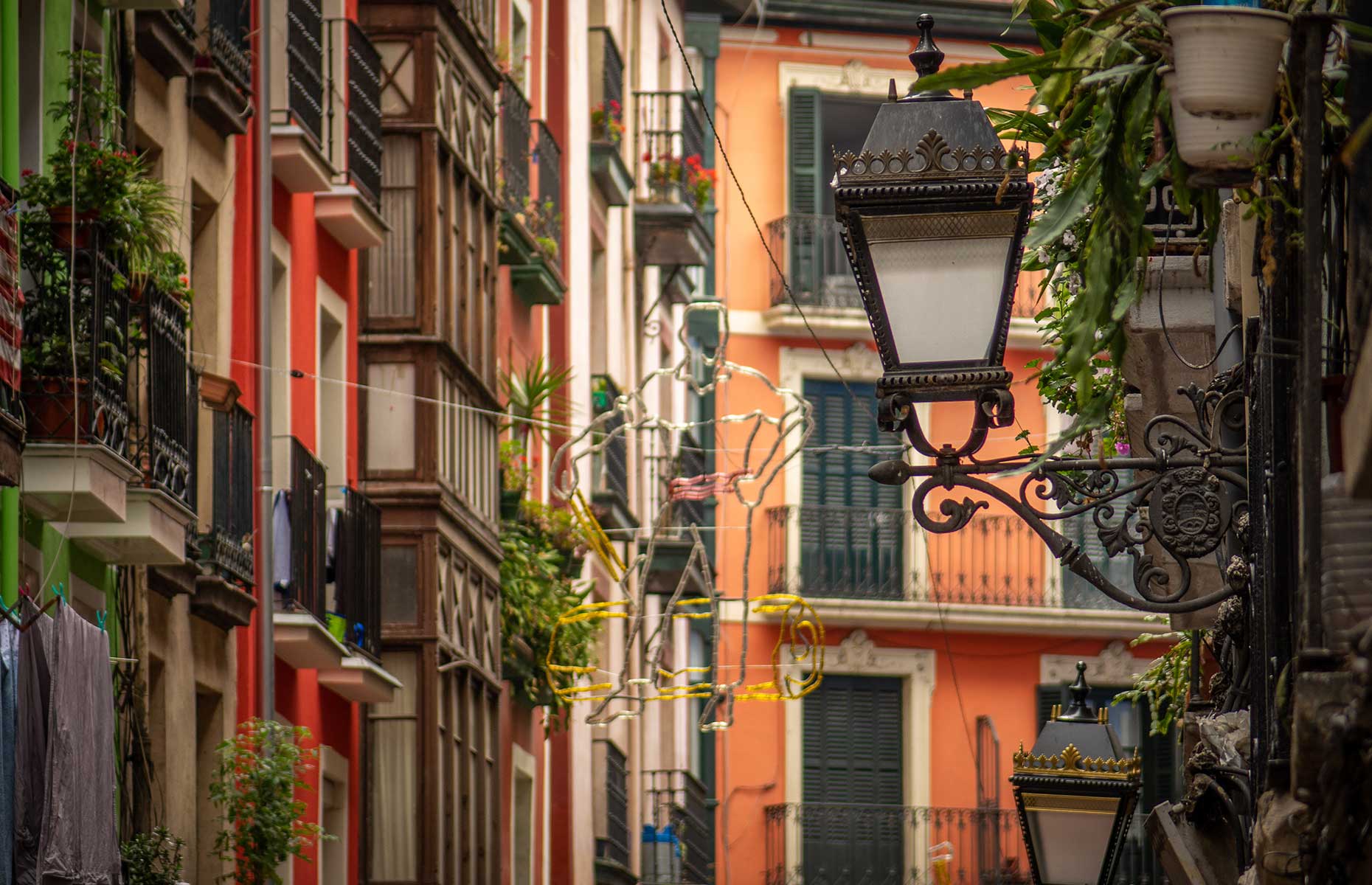 Stefan Lenz/Shutterstock
You'll also find the Archaeological Museum, Basque Museum and Gothic 14th-century Santiago Cathedral here, as well as what was once Europe's largest covered food market, The Ribera.
There's no shortage of places willing to help you part with your cash either, from dinky delis selling all manner of cheeses and olive oils to boutique Spanish clothes and shoe shops.
Meanwhile, lively Plaza Nueva is the square for a sit down with something ice cold to hand.
7. Ride the 'funi' funicular
Surrounded by mountains and sprawled over a valley, Bilbao was destined to have a funicular, and this quaint old workhorse is still going strong more than 100 years after its first crawl up Mount Artxanda in 1915.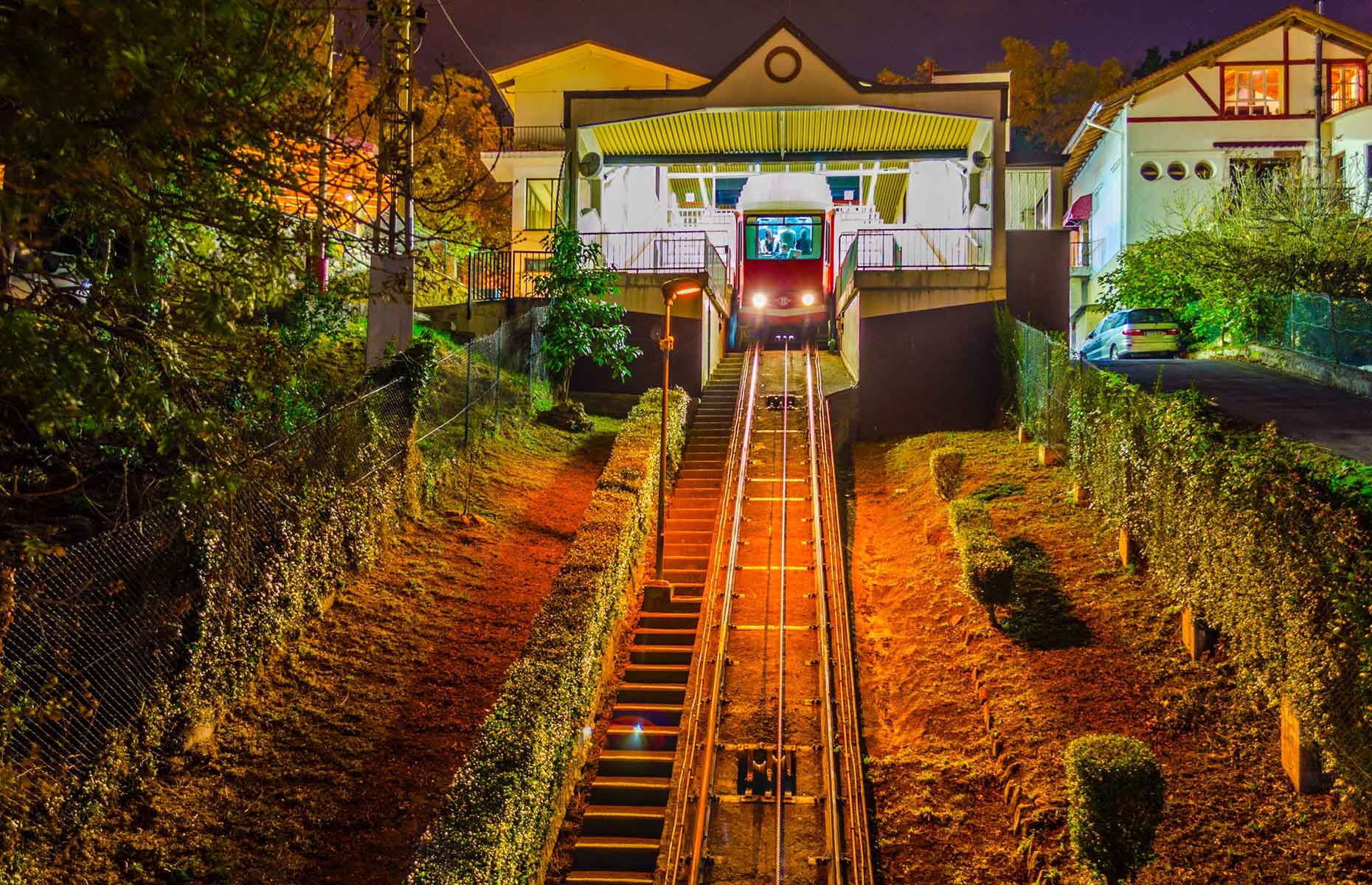 trabantos/Shutterstock
Affectionately known as 'The Funi', this cable railway sidles to the top in around three minutes. The ride may be short but thanks to the splendid views over the terracotta tops of the Old Town and the thrill of what, at times, feels like an almost vertical ascent, they're three minutes well spent.
There's a park with ample viewpoints as well as a number of cafés but you can't beat just taking a picnic or a few beers for a sunset to remember.
8. To scale Spain's only 'Industrial Heritage' UNESCO site
Of Spain's 47 UNESCO World Heritage sites, the Vizcaya Bridge, which lies at the mouth of the Nervión River around 6.2 miles (10km) from the centre of Bilbao, is the only one in the 'industrial heritage' category.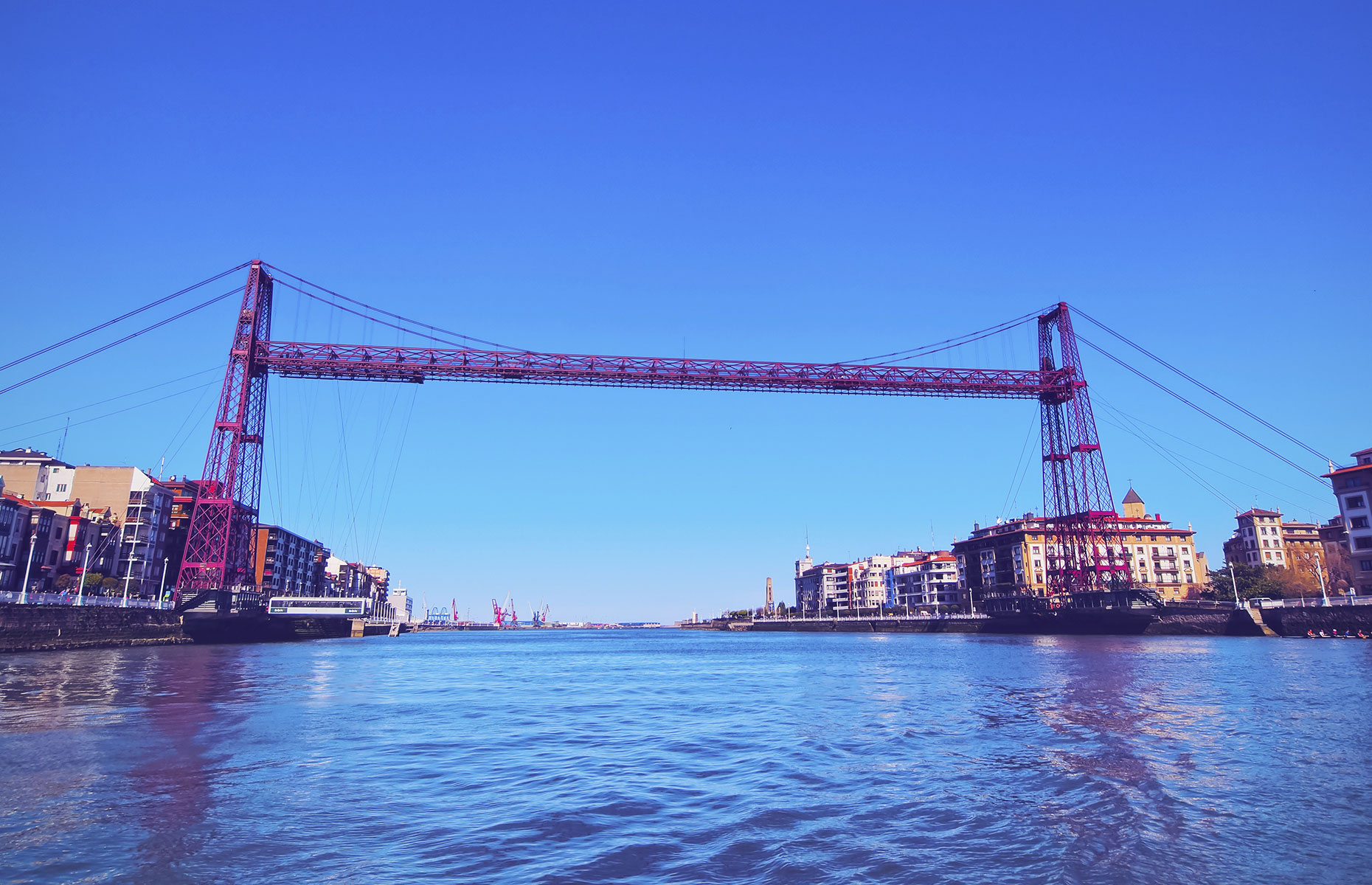 Karol Kozlowski/Shutterstock
Constructed in 1893, it's the world's last transporter bridge still in action. A magnificent piece of engineering, it peaks at 148 feet (45m) high and spans just over 524 feet (160m). A suspended gondola takes a handful of cars and many more foot passengers between the left and right banks of the river in around 90 seconds, every eight minutes during the day.
What's more, it's easy to get to on the metro, take L1 to Areeta or the L2 to Portugalete for an even more interesting approach to the bridge. Make time to walk on the upper platform for some big port, beach and Bay of Biscay views.
READ MORE: Discover more of Spain with our guide to Menorca
9. To hear the lions roar
Footy fan? Even if the answer's no, if there's a match on, don't pass up a chance to experience the buzzing atmosphere of a full-to-the-brim San Mamés Stadium. Opened in 2013, this multi-award-winning venue is a thing of architectural beauty with every detail thoughtfully designed from the entry gates and seating to lighting and acoustics.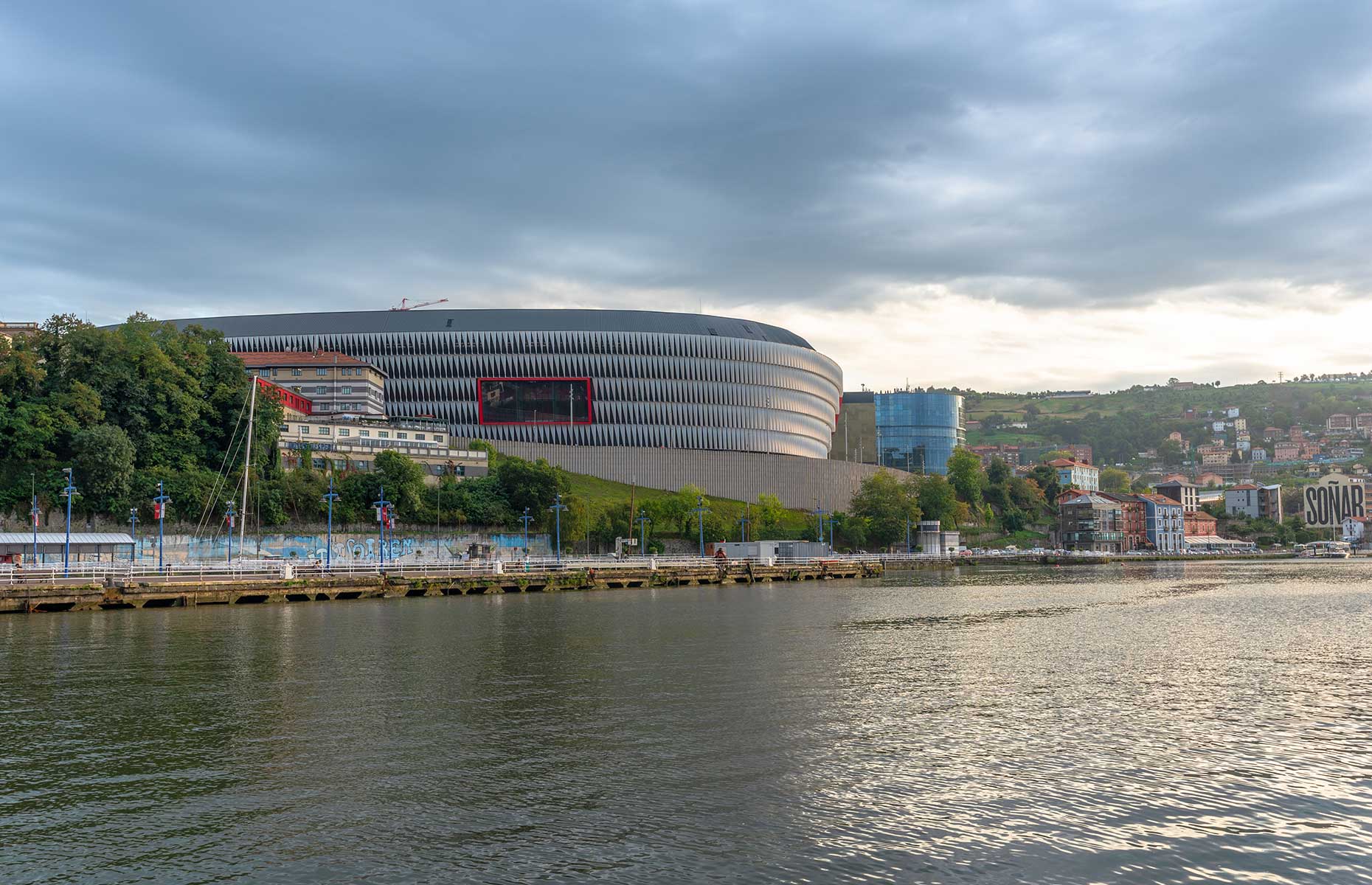 Forsberg/Shutterstock
Home team Athletic Bilbao – aka 'Los Leones' or 'The Lions' – has a base of passionate, football-mad fans.
Matches are good-natured fun and a hearty Basque affair, in part down to the fact that Athletic Bilbao has a policy of only signing players from the Basque region. Just remember to pick up a bocadillo (Spanish sandwich) from any of the surrounding bars so you can take part in the prerequisite halftime mass-munch.
Main image: Jon Chica/Shutterstock
Be the first to comment
Do you want to comment on this article? You need to be signed in for this feature