Where to eat in Bilbao: 5 of the best pintxos bars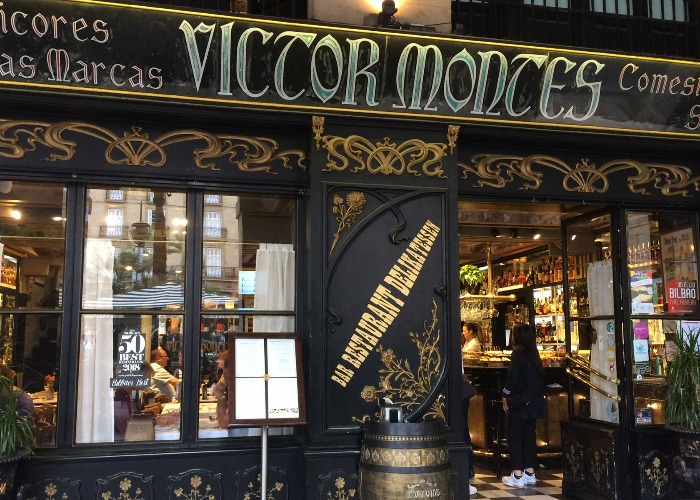 Never heard of pintxos? These Basque-style bite-sized snacks are a must-try in the northeastern Spanish city of Bilbao.
The first thing you need to know about tapas in Bilbao, is that it's not called tapas. Pintxos (pronounced 'pin-chos') are the Bilbaino equivalent: more substantial than tapas they feature delicious flavour combinations on top of a slice of bread.
Pintxos make the perfect pit-stop snack as you tour around this arty city's cultural spots, such as the Guggenheim Museum (pictured below) and Euskal Museoa.
spain.info
There are four key areas for pintxos bars in Bilbao: the old town, Plaza Nueva and the streets around both calle Ledesma and calle Maestro García Rivero, further west. That said, pretty much every bar you pass will have a selection of pintxos on display. Each place has its own speciality, while also riffing off the classics.
READ MORE: How to eat pintxos like a local – a total guide
You can start quite happily with a pintxo and coffee for breakfast, then cruise through the day grazing from lunch until late into the night. We'd recommend picking one bar or area, and then popping into other pintxo bars nearby to create your own spontaneous mini-pintxos crawl.
Order a glass of Bilbao's famous Txakoli, slightly sparkling white wine, and you can't go wrong.

Here are the best 5 places to eat pintxos in Bilbao:
What's the vibe? No trip around the pintxo bars of Plaza Nueva is complete without a visit to Victor Montes (main picture). Glorious gold-leaf detail makes the exterior of the bar glimmer like a just-fried croquette, and laid out across the bar you'll find an impressive, ever-changing array of tapas. It's popular with tourists, but locals still perch at the bar too.
What to order: Our favourites are white asparagus with black truffle oil, hake with red piquillo peppers, cheese stuffed blinis, and an oxtail puff-pastry mini-tart. If you're sticking around here, we also like Café Bar Bilbao and La Olla pintxo bars around the edge of Plaza Nueva.
Lisa Harris
What's the vibe? You'll spend most of your time in this Moorish-inspired bar with your jaw dropped on the floor. Not just because you're stuffing yourself with delicious pintxos, but the vintage tiled decor, mural-covered walls, stain glass windows and the impressive circular bar are magnificent.
What to order: The smell of grilled meat grabs you as you walk through the door: look to the left and you'll see locals crowded around the grill as spiced pintxos morunos lamb kebabs are cooked to order over hot coals. (Order and pay for kebabs directly from the grill, but order other pintxos from the bar.) We loved the squid with potatoes, and bacalao toasts with pil pil sauce. It's open until 1 or 2am most days, too.
What's the vibe? Many guidebooks recommend Huevo Frito a few doors down, but we love the old fashioned Asador Indusi with wooden interiors and charming old-school service.
What to order: Strictly speaking this is a grill restaurant, so you can get a substantial grilled meat plato del dia or eat a la carte – but if you're passing, stand at the bar and nibble on homemade croquettes, chargrilled squid, morcilla blood sausage, and green peppers instead. Like all the best traditional bars in Bilbao, they've only got five or six wines available by the glass for about €2.50. There's a cute little oyster bar, El Puertito, a few doors up, too.
Lisa Harris
What's the vibe? Calle Ledesma is a great place to start a pintxo crawl; it's away from the old town, so you get fewer tourists and there are tonnes of great bars around. It's also right near the Abando metro stop.
What to order: Start in Cafetería el Molinillo for grilled scallops, spider crab stuffed red peppers, or their signature sea urchin pintxo. Artajo is another more traditional bar on the same street, or try Antomar Iberian ham specialists, Bar Ledesma, or Taberna Taurina Dos for creamy crab-filled tortilla.
What's the vibe? With heavy wooden interiors, hams hanging around the counter and old postcards on the wall, this is a proper pintxo institution. There's a covered terrace if you can't squeeze onto one of the ornate wooden tables inside.
What to order: We love eating the deep-fried asparagus, platters of Joselito Ibérico ham, and the famous Basque gildas pintxo of olives, anchovies and sweet green chillies on a stick. El Globo next door is also popular, but we found the English translations stuck into each pintxo off-putting.
Be the first to comment
Do you want to comment on this article? You need to be signed in for this feature