Majestic Menorca: an isle of contrasts
Leave the party islands to the youngsters and embrace this tranquil Balearics beauty instead for charm, culture and coastlines to die for... you won't want to leave
Key places in Menorca
Blue skies, crystal-clear waters and beaches – 197 of them to be precise. You'd think we were taking about a Caribbean island not the mini Mediterranean gem that is Menorca. What it lacks in size and noisy nightclubs, Menorca (or Minorca, as the locals call it) more than makes up for in unique experiences and exceptional scenery.
A lot smaller than its Balearic neighbours Majorca and Ibiza, but bigger than tiny Formentera, Menorca covers an area of around 270 square miles, of which 42% is protected and was declared a Biosphere reserve more than two decades ago. While it boasts stunning coastlines all around, the island's countryside is diverse: wild and rugged (in a good way) in the north and lush woodland groves with sheltered ravines in the south.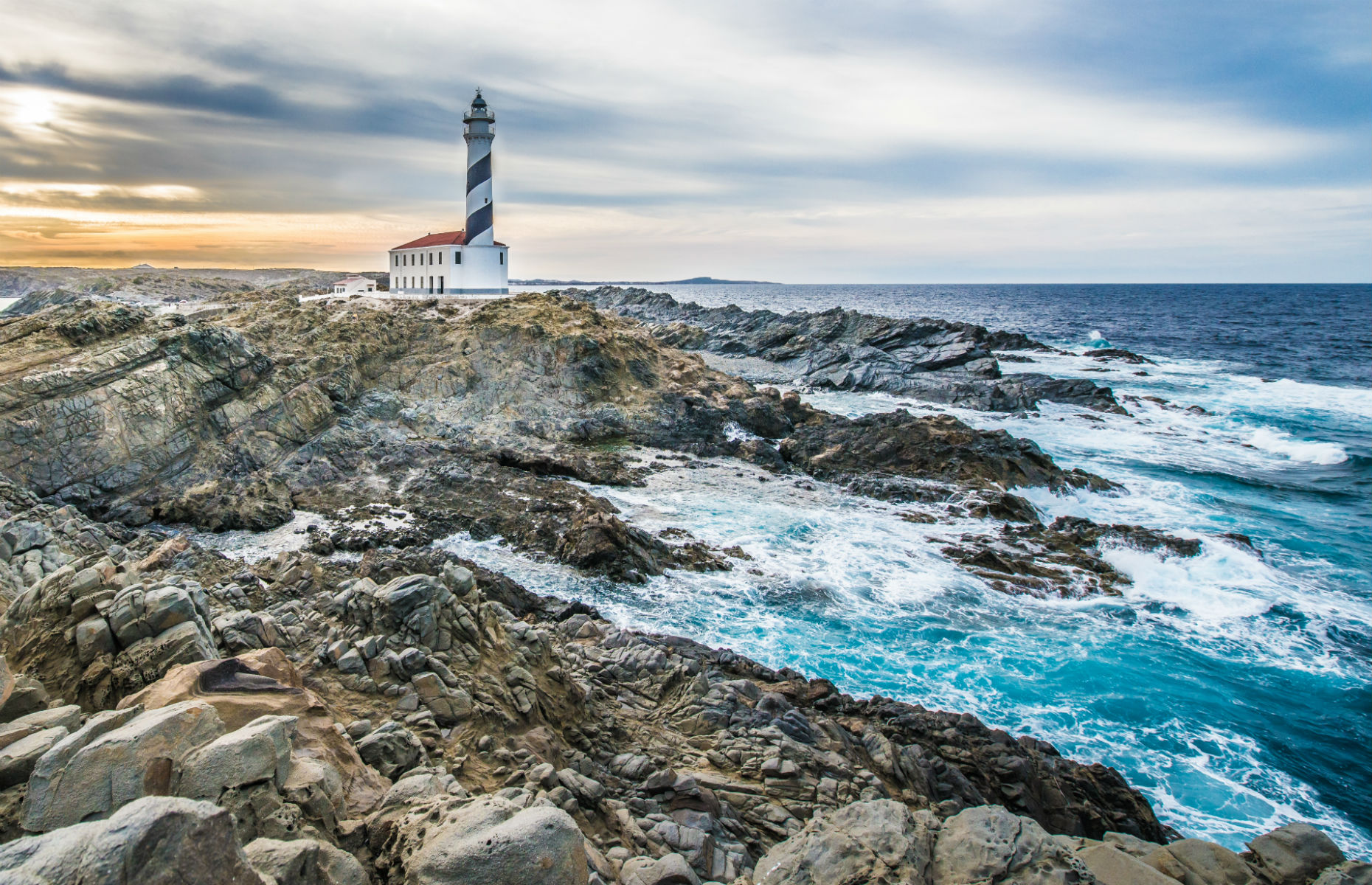 Anibal Trejo/Shutterstock
Wherever you choose to venture, one thing is a constant – the hospitality of the locals. Eager to please in their Catalan dialect, the welcome is as warm as the balmy temperatures (it reaches 29°C in peak summer and no lower than 8°C in winter). Here are our highlights of this small but perfectly formed idyll...
Mahon
Kicking off in the south with the capital, Mahon (or Mao) should be high on your list of places to visit. Sitting on a ridge overlooking a bustling harbour, the stylish yet laid-back town still has remnants of British influence from the 18th century. One of the first things you'll notice is the red brick façades of many buildings and their typical bow windows protruding out over the pavement.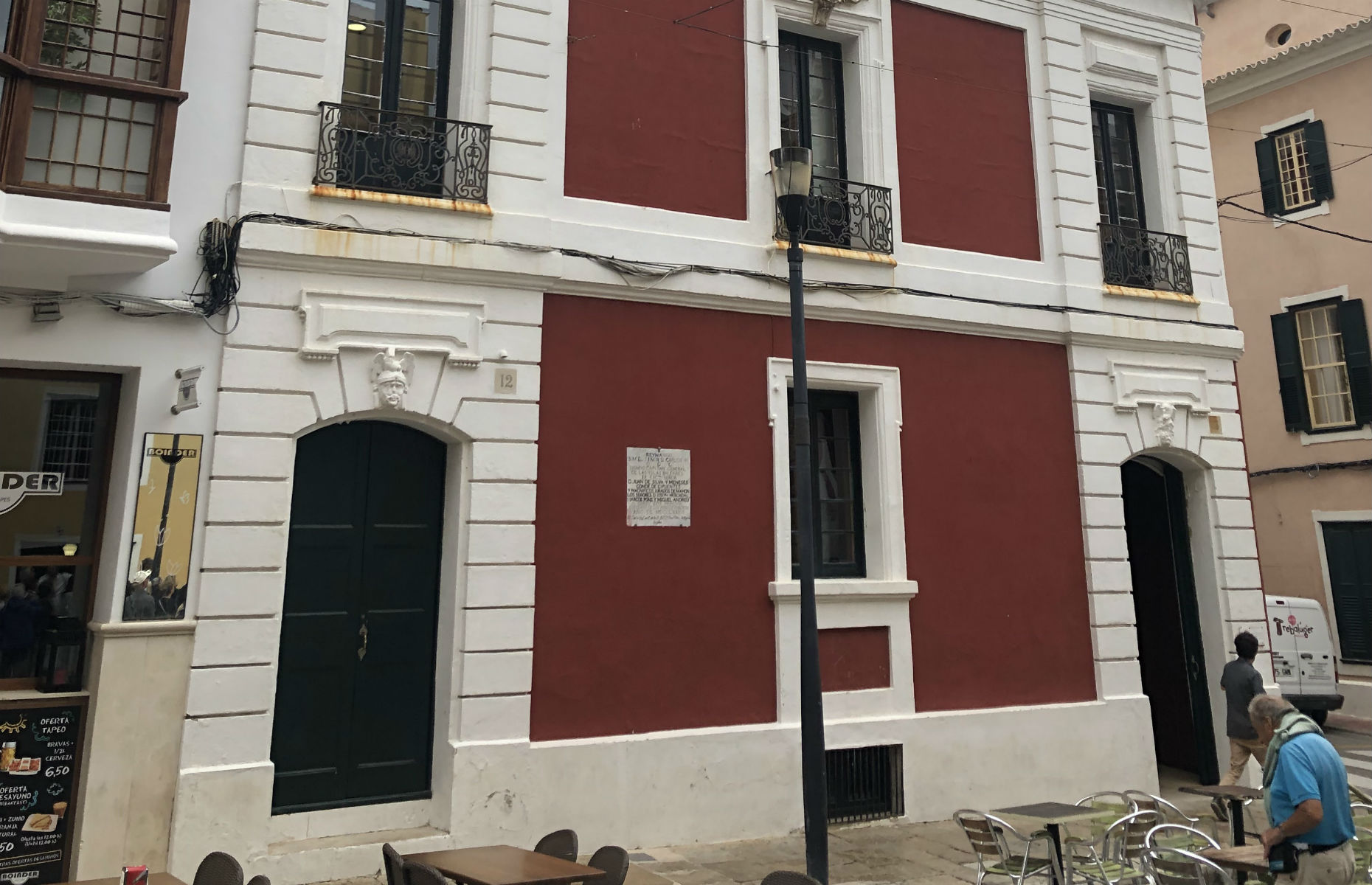 Lynne Maxwell
These days the port is a hive of activity with restaurants and bars, boutique shops and nautical stalls – some permanent and some that pop up for the market in the main square (Placa de' sEplanada) on Tuesdays and Saturdays. The surrounding narrow streets offer an insight into the capital's past, including the Pont de Sant Roc, the only vestige that remains of the old medieval wall that was built to protect the town in the 14th century.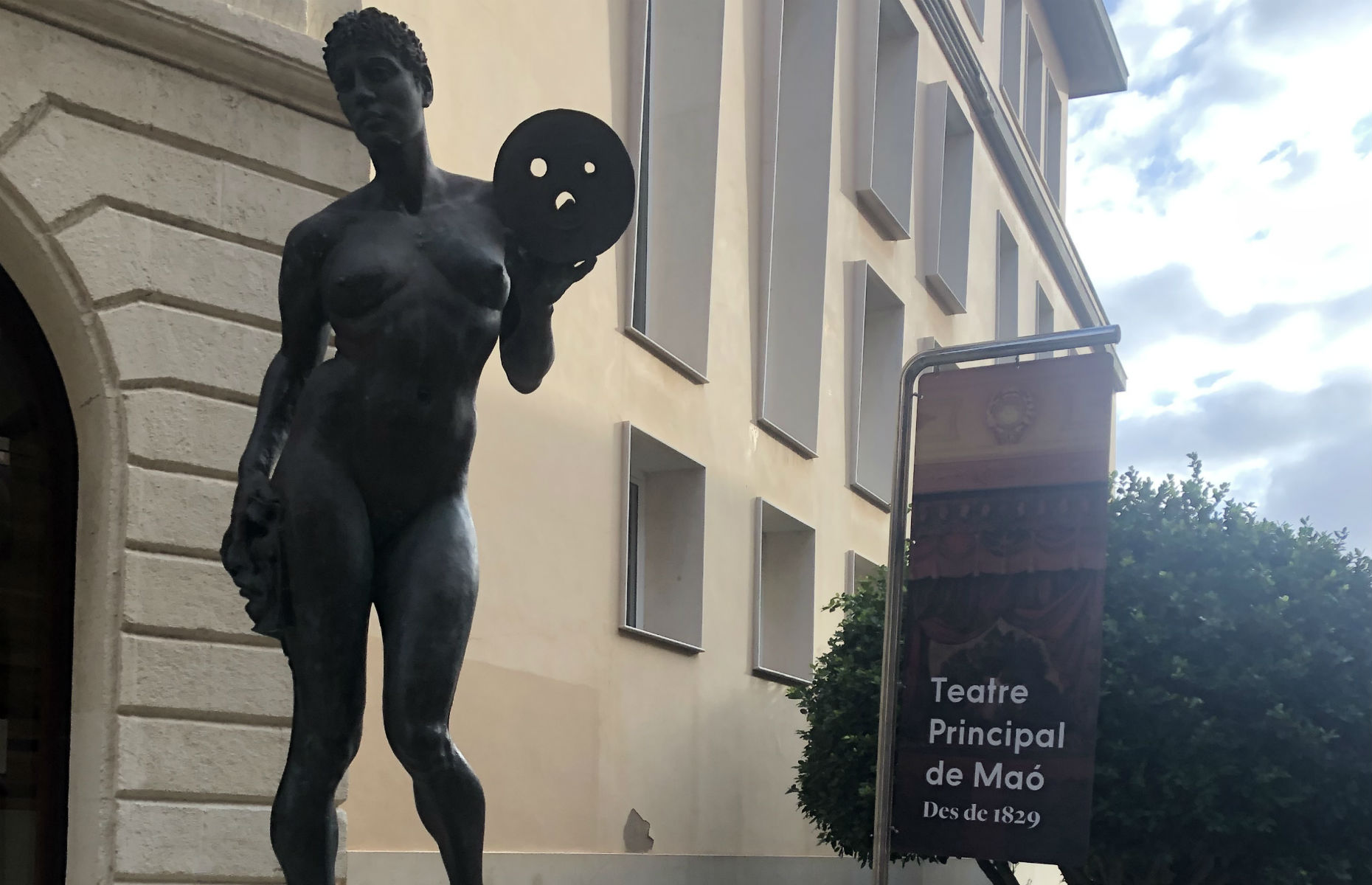 Lynne Maxwell
Mahon is also home to the oldest working theatre in Spain. Built in 1829, Teatre Principal holds 800 and its horseshoe-shaped structure allows for fantastic acoustics. If you follow the road down a few yards, on your right you'll come across the Parc D'es Freginal, the biggest public park in Mahon, hidden away behind an arched entrance.
Ciutadella
Despite being Menorca's former capital, Ciutadella in the west of the island is completely different to Mahon. Not just in pace of life but the character and historic past too. It's almost traffic free, for a start, and the palatial buildings are a photographer's dream. One of the prettiest squares is Placa d'es Born, where an obelisk now stands to commemorate the Turkish invasion in the 16th century. If you can, head up to the top of the grand Gothic town hall that sits opposite the obelisk, for fantastic views across the harbour.
READ MORE: 6 reasons to visit Menorca in winter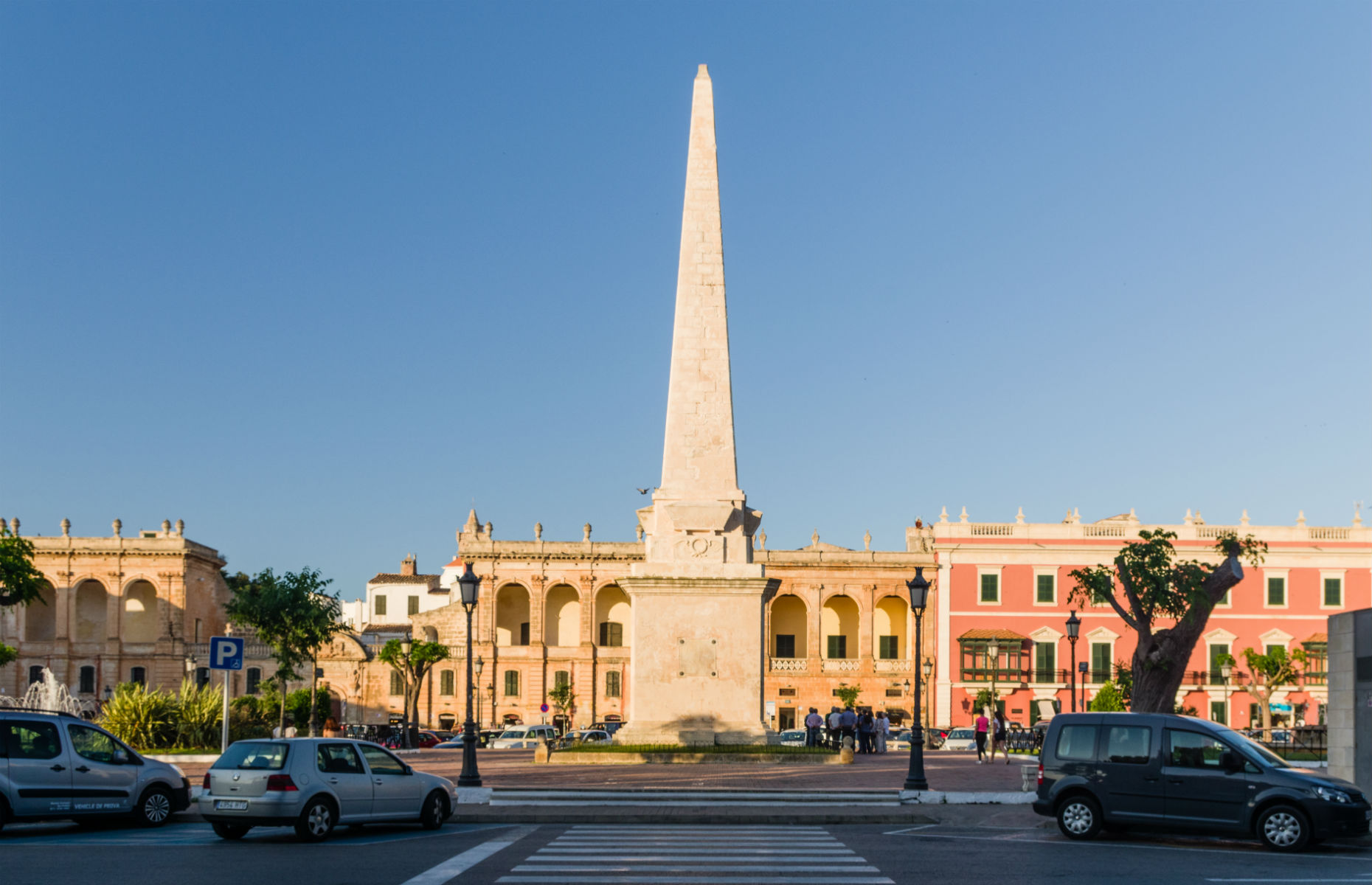 sosn-a/Shutterstock
Sant Lluis
For a taste of rural Menorcan life, Sant Lluis, on the southeast tip just below Mahon, will take your breath away. White-washed buildings are home to locals and holiday makers alike, and the jewel in the crown here is the 'artificial' village of Binibèquer. Reminiscent of Santorini in Greece, the picturesque spot is an ideal base to explore the rest of the island thanks to its close proximity to Mahon and resorts of Es Castell and Alcaufar.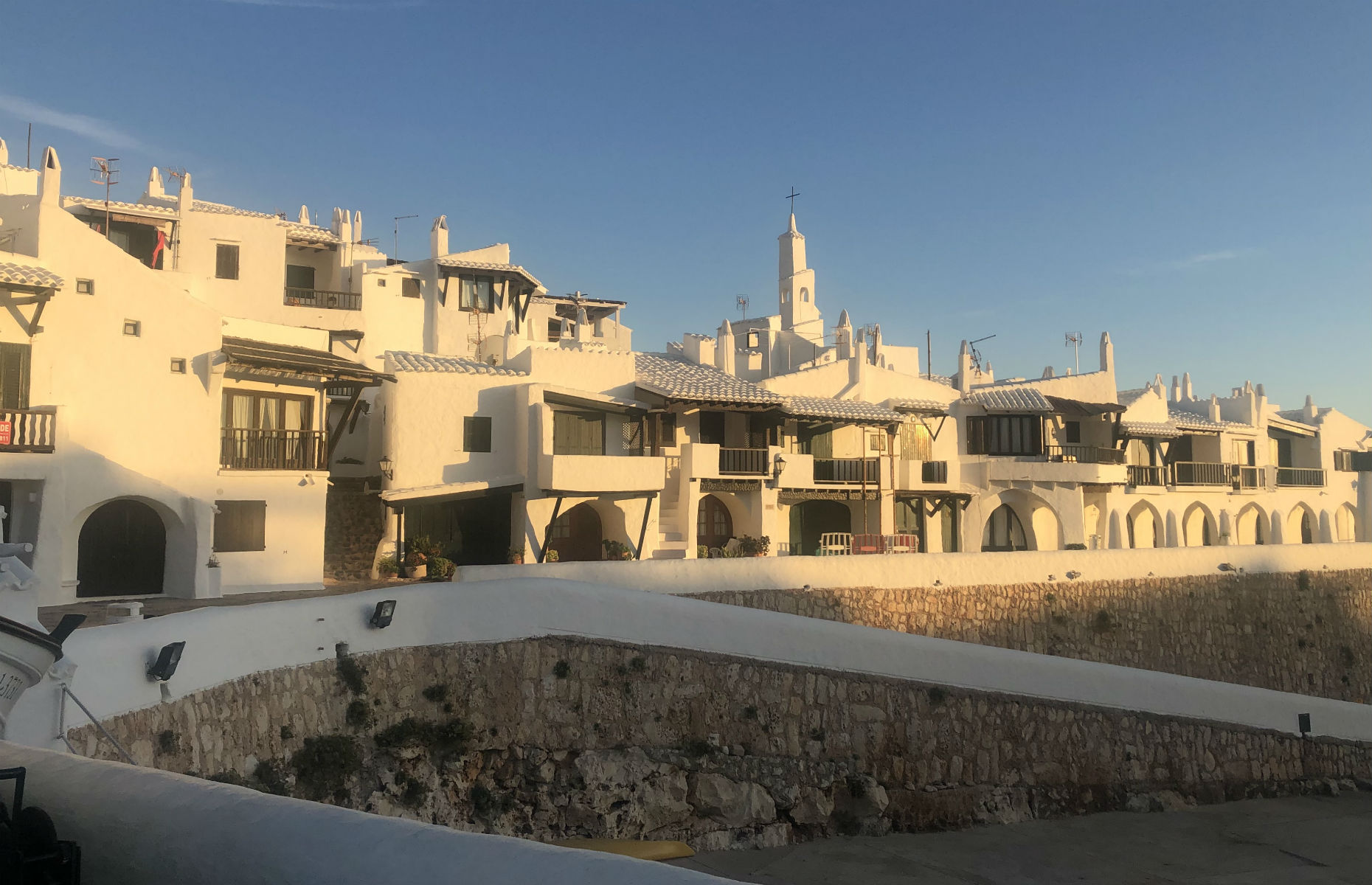 Lynne Maxwell
Where and what to eat in Menorca
Menorcans pride themselves of their array of produce available. Think meats, cheeses, seafood and, of course, gin.
Alcaufar Vell, Sant Lluís
There's something mysterious about the drive up to Alcaufar Vell. Located in serene manicured gardens, the former medieval fortress is now a chic rural hotel and the kitchen serves up some absolute treats. This is traditional Menorcan cooking at its best. While you may be tempted by the seafood options, go for the suckling pig on a bed of cabbage. Sweet yet savoury and sticky, you won't be sorry.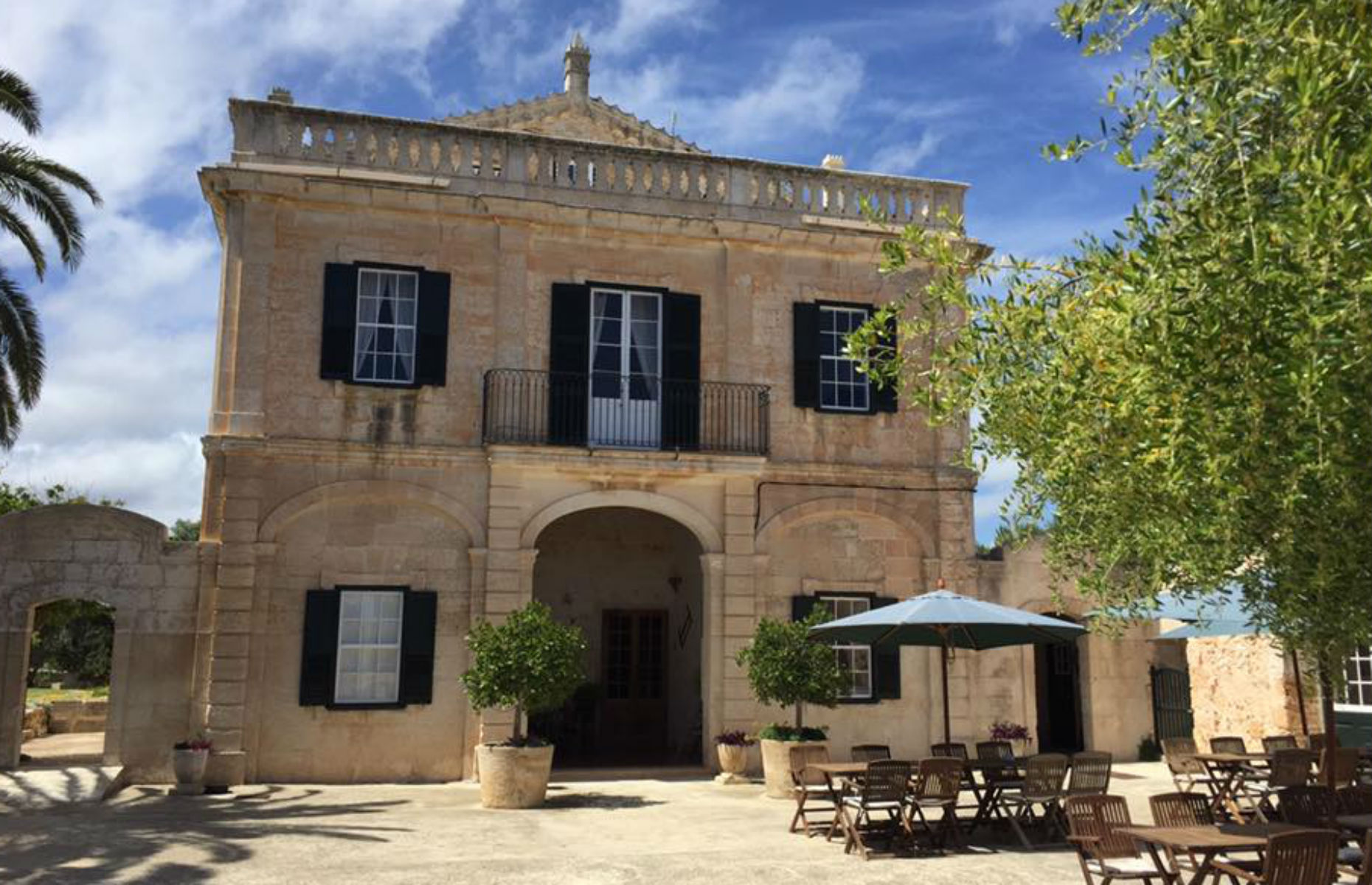 @AlcaufarVell/Facebook
Torralbenc, Alaior
Sure, we'd all love to stay at this absolutely stunning boutique hotel, set on rolling farmlands and vineyards, but if your budget doesn't stretch that far, stop by for lunch instead. Sit outside among the lush vegetation and white-washed former farm buildings and you'll spot the sea bobbing on the horizon. And with the coast only four miles away, it would be rude not to sample the fresh seafood on offer. Scarlet shrimp ceviche with pickled veg is exceptional and for the non-seafood fans, steak tartare with toasted hazelnuts. Torralbenc makes its own wine too, so you can't leave without a glass or three of the rosé. It's spectacular.
Passio Mediterrania, Mahon
For a relaxed dinner right on the capital's promenade, this restaurant serves some cracking rice dishes. Paella with pork jowel and red prawns from 'La Llotja' (fishers of Mahon) is delicious, and leave room for Mahon cheesecake made with figs fresh from Es Mercadal.
READ MORE: Which Canary Island holiday is for you?
Pins46, Ciutadella
Specialising in local cuisine with a fancy flair, this smart manor house-style restaurant is utterly opulent. But outside in the neat courtyard is just as enjoyable, especially on a sunny day. Recommending just one standout dish in this place is impossible. It's a toss-up between the pulled lamb parcel, the steaming heap of mussels or the veggie pad Thai. Try all three if you can!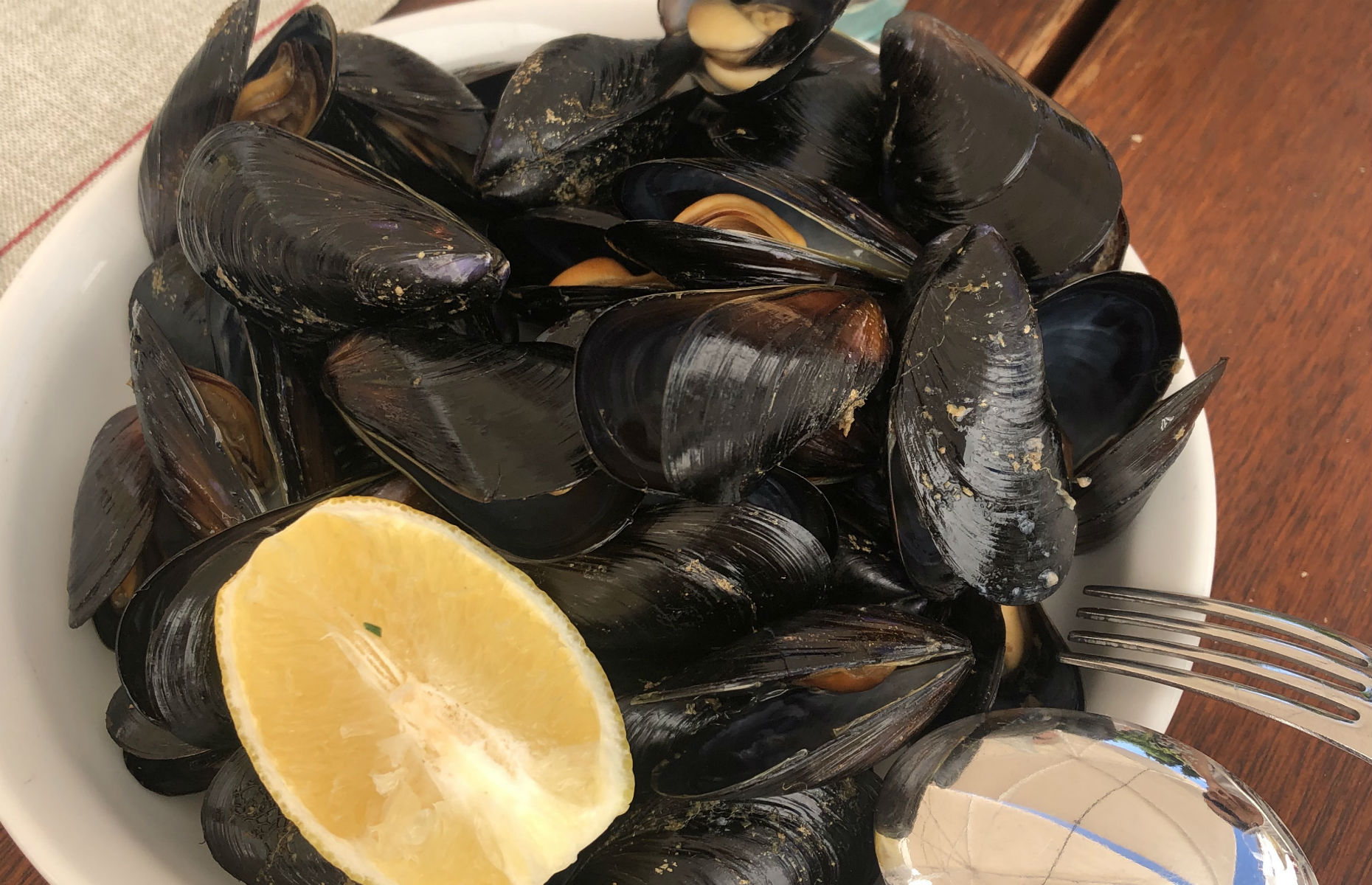 Lynne Maxwell
Bodegas Binifadet, Sant Lluis
It's always novel to sit underneath a vast display of vines while drinking the wine they've produced. With a charming setting, the food is just as good. Mussels are order of the day again, but try the duck confit with yam purée, orange glaze shallots and gravy, washed down with a Binifadet red, naturally.
Son Vives, Ferreries
Breakfast with a view? What's not to like. Set way up on a secluded hilltop, albeit just a couple of miles from one of Menorca's main roads, this agroturisme (farmhouse hotel) is a working farm with plenty to offer. Local jams, cheeses (including sheeps' cheese – an acquired taste) and meats make up the continental breakfast. Don't forget about the fruit and sweet baked goods though, they'll set you up for the day, all while taking in the panoramic views of Menorca's tallest peak Monte Toro and surrounding countryside.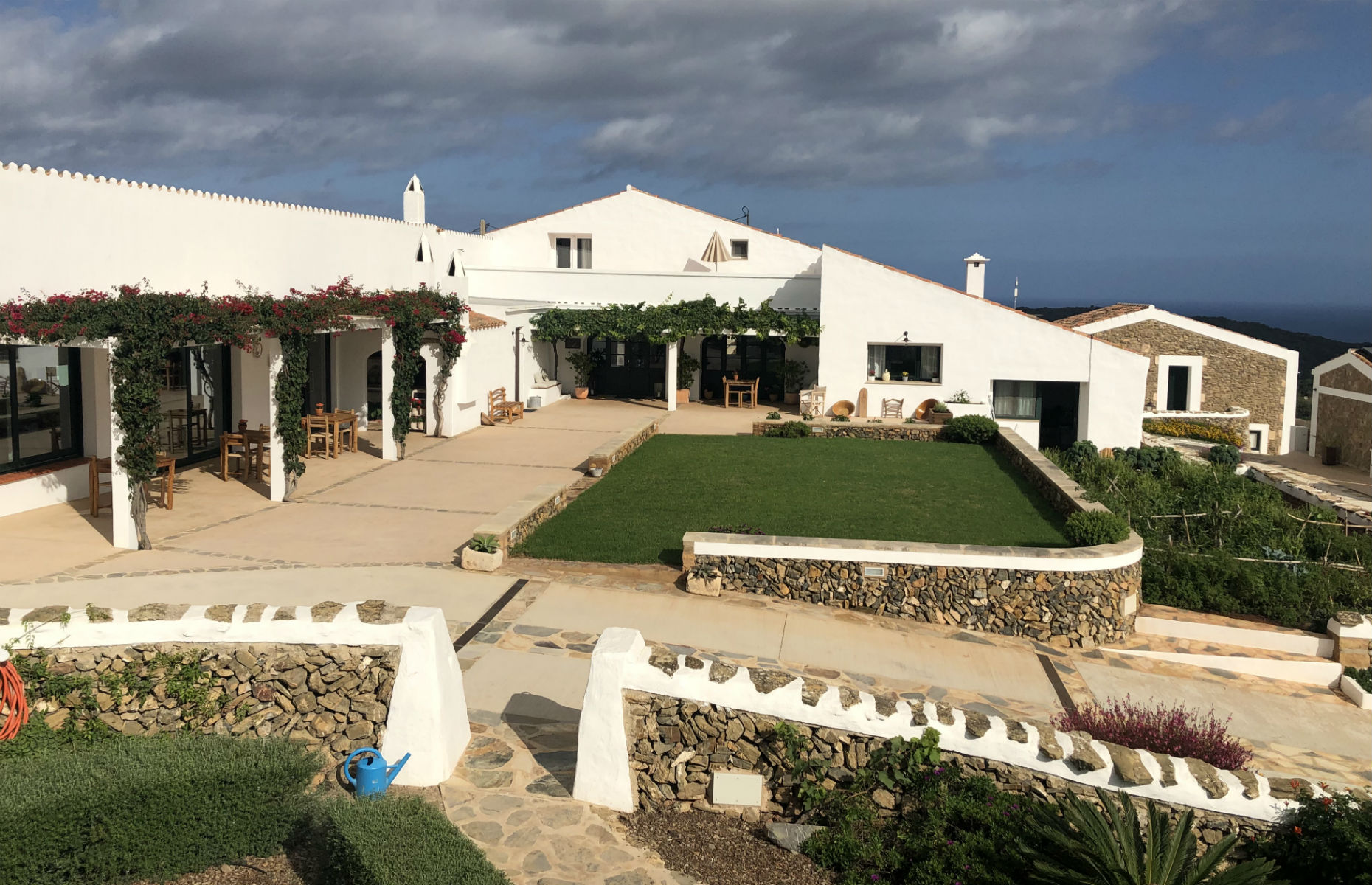 Lynne Maxwell
Top things to do in Menorca
Walk along Camí de Cavalls
If you're an outdoorsy type, Menorca's for you, and to see the magnificent landscape in all its glory, join this 115-mile (185km) trail. Don't be alarmed at the distance, you don't trek it all in one go – simply join it where you can. Used for many centuries as a link between defence towers built to keep a lookout for potential attacks or invasions, the well-trodden path was restored and eventually opened to the public in 2010.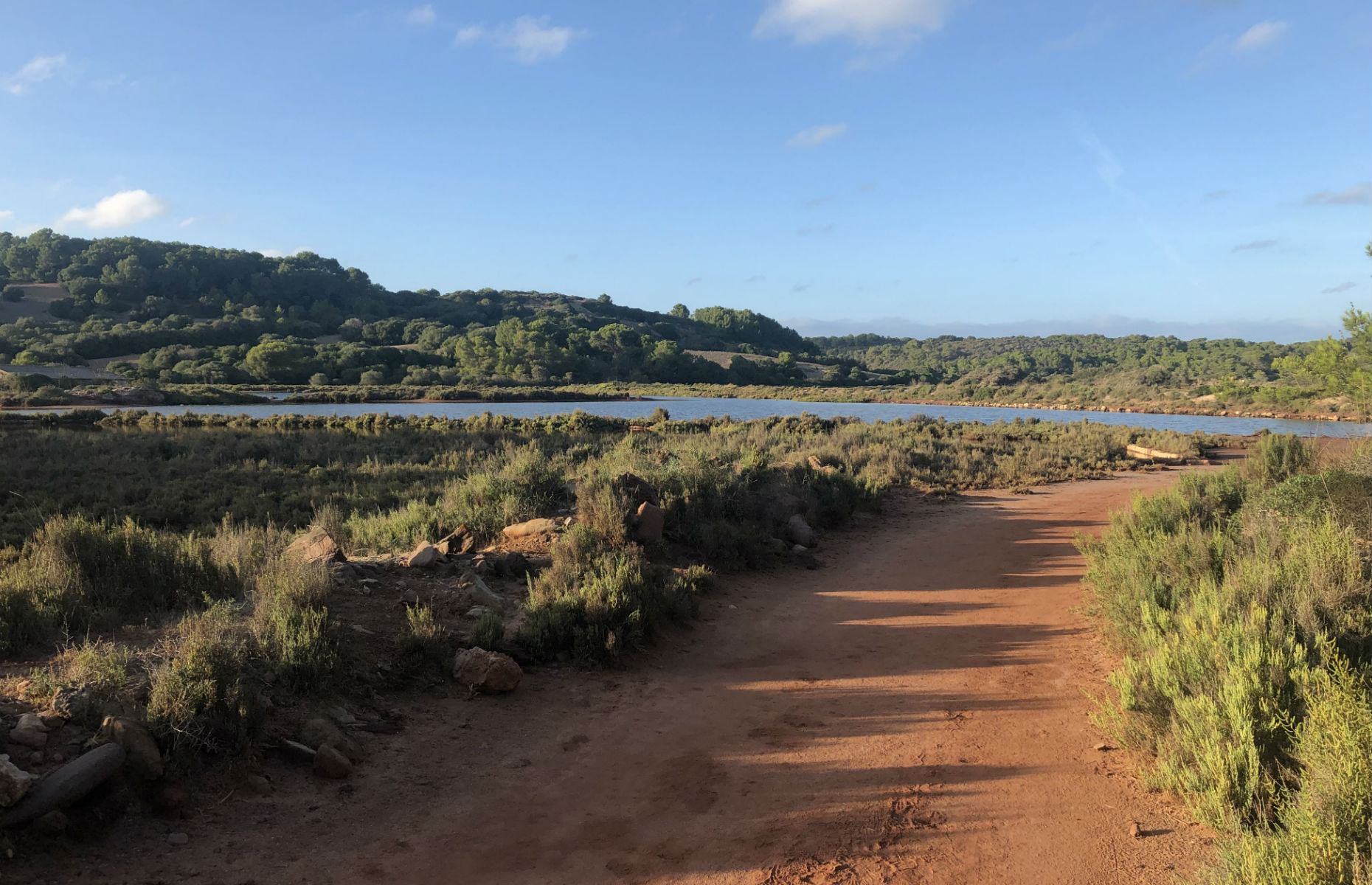 Lynne Maxwell
You can explore the trail on bike, horse or your own two feet and there are plenty of options for those wanting a gentle stroll or a sporting challenge. Split into 20 sections, all clearly marked, you'll need plenty of water (especially in summer) and camera memory storage ready to capture those breathtaking vistas.
READ MORE: A Balearic stunner: what to see and do in Palma, Mallorca
Visit Naveta d'Es Tudons
This is a history lesson with a difference. On approach to the 3,000-year-old emblematic monument of, put simply, an upside-down boat made from large stones, you'll be amazed at the conservation of a structure found nowhere else on earth. Built without any mortar but with the utmost precision, the pre-Talaiotic building was used as a burial chamber (over 100 skulls and remains have been found within the site) and has two levels with access through a passageway. However, you can no longer go inside the naveta (meaning 'little boat' in Catalan) due to safety and conservation reasons. Around a five-minute drive from Ciutadella, it's still defnitely worth a visit.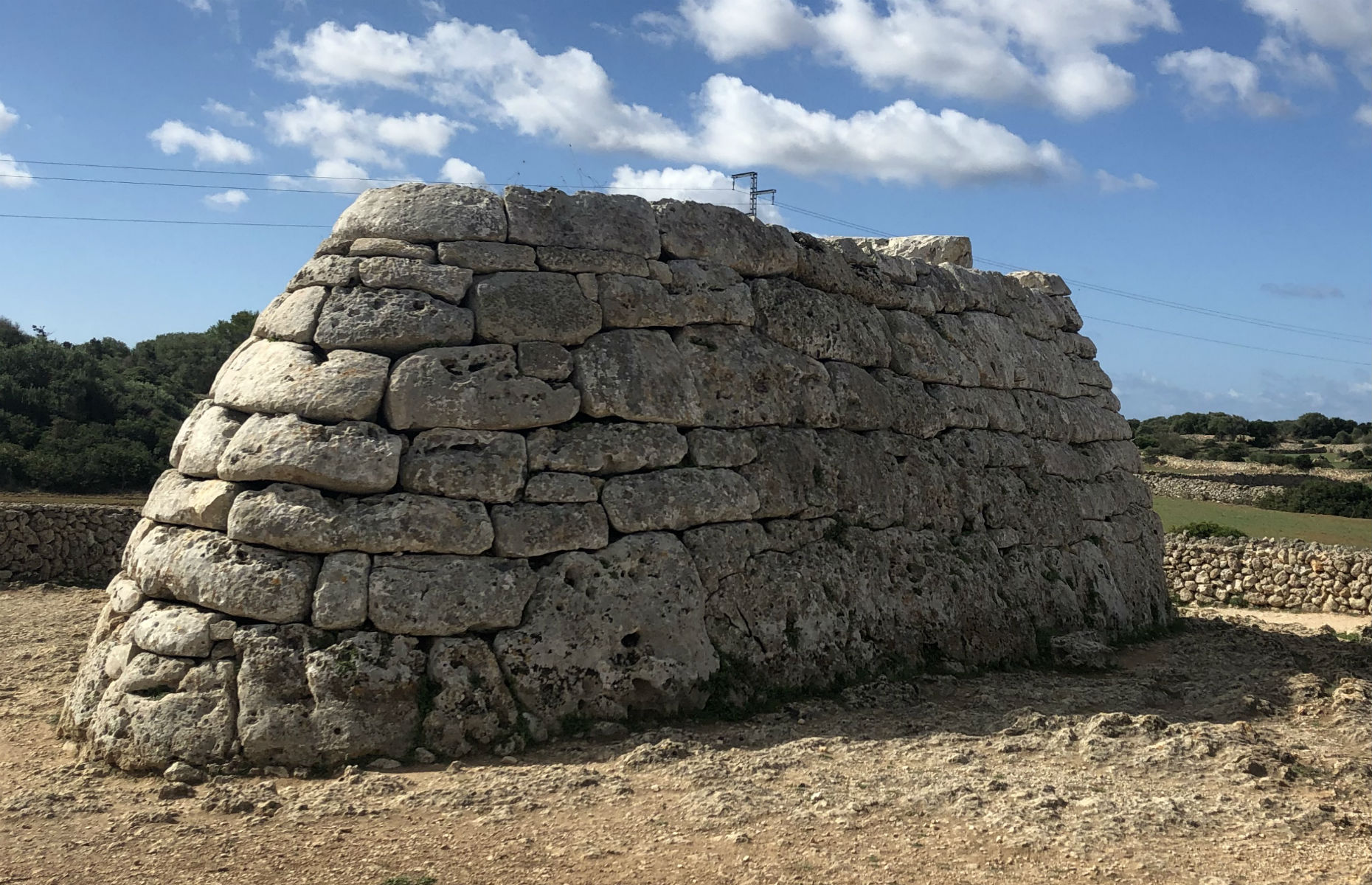 Lynne Maxwell
Explore Lithica, Pedreres De' S'hostal
The massive scale of this medieval marès stone quarry will blow your mind. Join an organised tour and you'll see the oldest quarries excavated by hand and as well as mechanical extraction methods among endless walls. Peer down and spot the fun labyrinth – it's harder to escape than it looks! Beyond the maze you'll see the vast space which holds the annual summer Pedra Viva Festival – a music and performing arts concert that attracts locals and visitors alike. Just imagine the acoustics...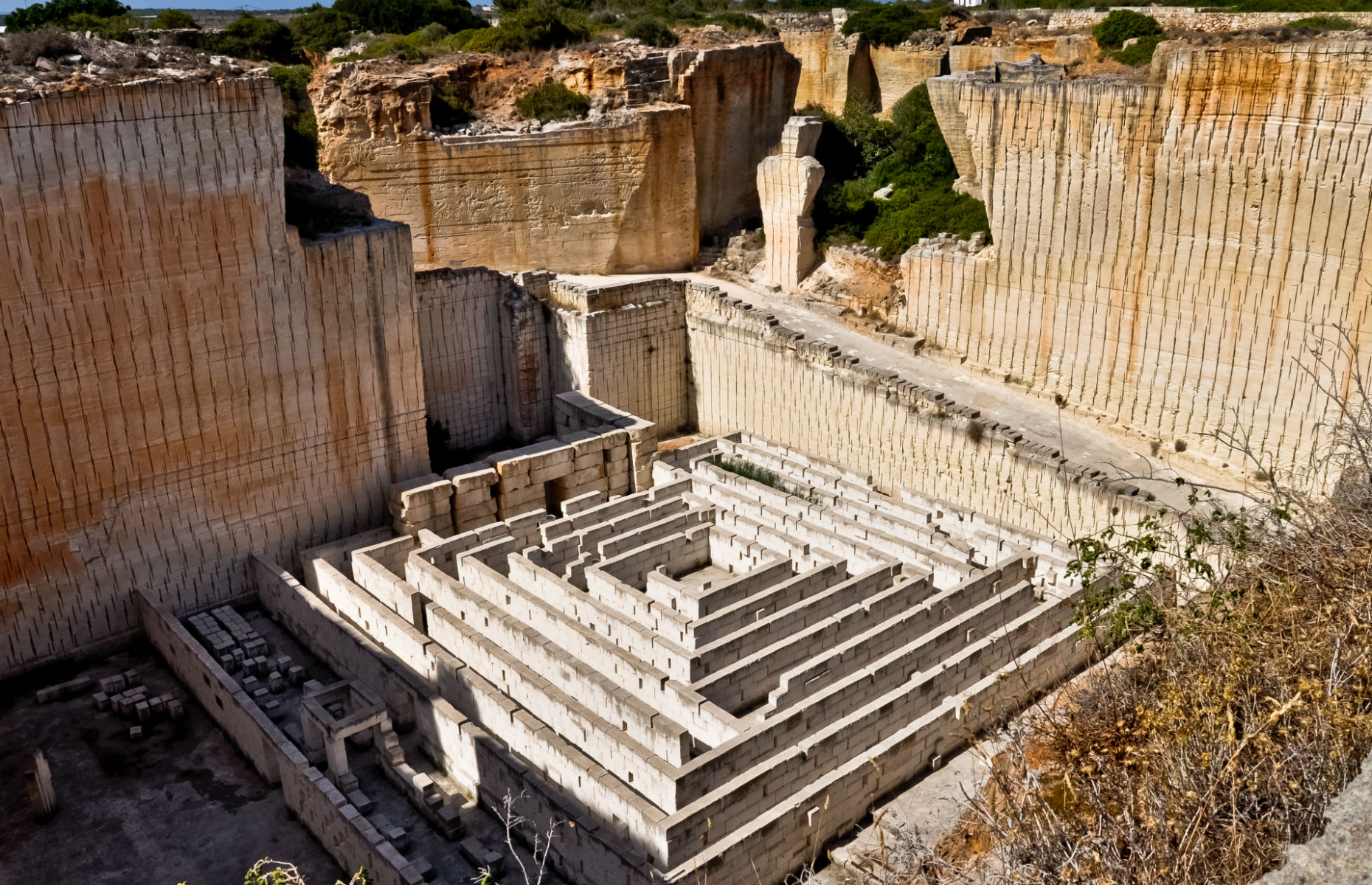 mangojuicy/Shutterstock
Back up at the top, join a trail to explore deeper parts of the quarry site, including a secret garden, pointed out by clever little graphics painted on stones. There's a helpful code too such as blue eyes for when to get your camera out, or red hands for 'stop, danger'.
Sample liqueur at Musul.la estate in Sant Climent
Witness the dedication that goes into Menorca's liqueurs with the clever people at Farmers & Co. They'll talk you through each ingredient, herb by herb, of what's in Biniarbolla (made with 17 different plants including eucalyptus, camomile, coffee – yes really – mint and more), Biniarbolla Camomile and Innat Gin (a strong juniper, raspberry, blueberry, cranberry and pine concoction). Then there's the Menorcan specialty: Pomada. A refreshing, ready mixed gin and lemonade, you'll be hooked after one sip. Don't ask for it by name outside of Ciutadella though, it's frowned upon. Go back to basics and call it 'gin con lemonada' instead.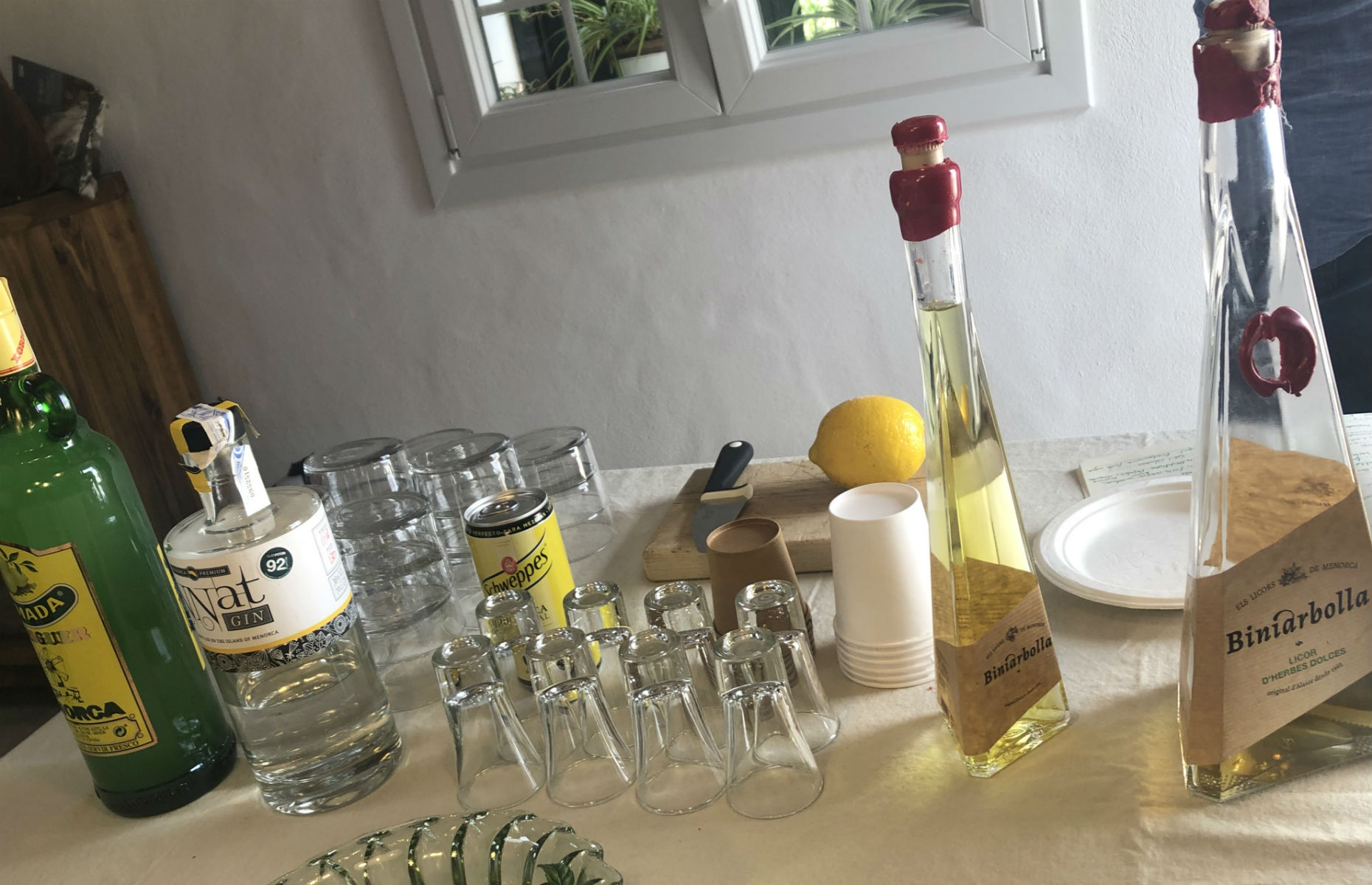 Lynne Maxwell
Learn how to make mayonnaise the Menorcan way
The ongoing debate about where mayonnaise was invented is quickly shot down here, as the locals claim it was in Mahon – Mahon-naise, you see. Take part in a demonstration with Farmers & Co and Cométe Menorca to see exactly what makes this different to the supermarket efforts back home. You'll never buy it again.
The ultimate Menorca itinerary
Day 1
Check-in to: Artiem Carlos in Es Castell. Not far from Mahon, and flanking the same port, Es Castell is a peaceful seaside town full of colonial architecture and postcard-perfect views. The smart eco-conscious hotel has comfortable double rooms – all with sea views – and Restaurant Medi serving an array of local and modern cuisines overlooking the harbour. Relax in the spa which has indoor and outdoor zones featuring a hot tub, Turkish bath and sauna. There's also a pool and gym.
Drink sundowners at: Cova d'en Xoroi. This unique bar, built into a natural cave, is a spectacular setting for watching a sunset to remember. Order a Pomada (local mix of gin and lemonade) and drink in the last of the rays before the sun disappears into the Med.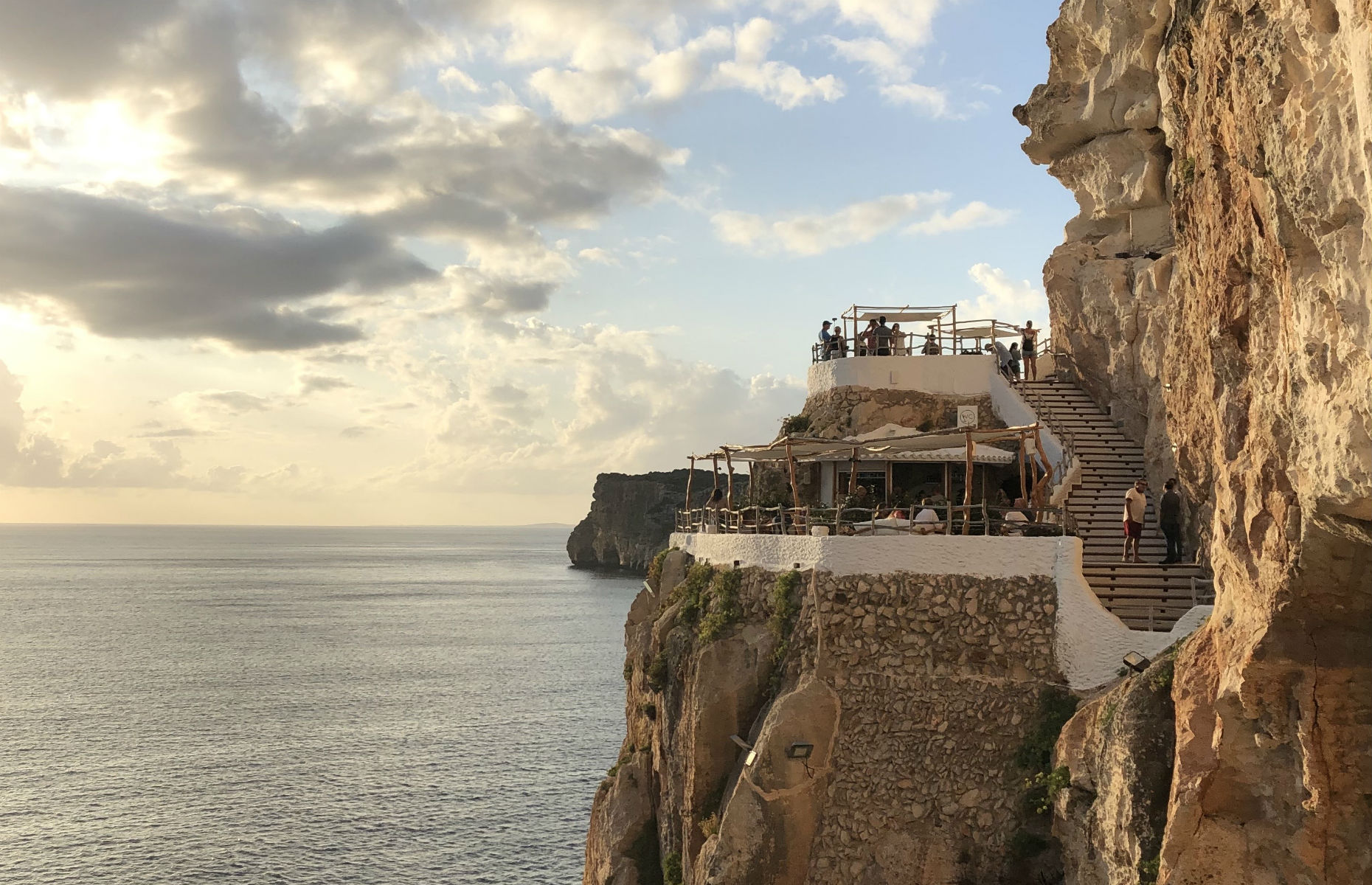 Lynne Maxwell
Eat dinner at: Alcaufar Vell. Order the egg yolks with sweet potato and mushroom to start, followed by the suckling pig and cabbage (pictured), or the stewed Menorcan veal shoulder if you want something a little more hearty. Leave room for a simple yet tasty dessert of strawberries with balsamic vinegar.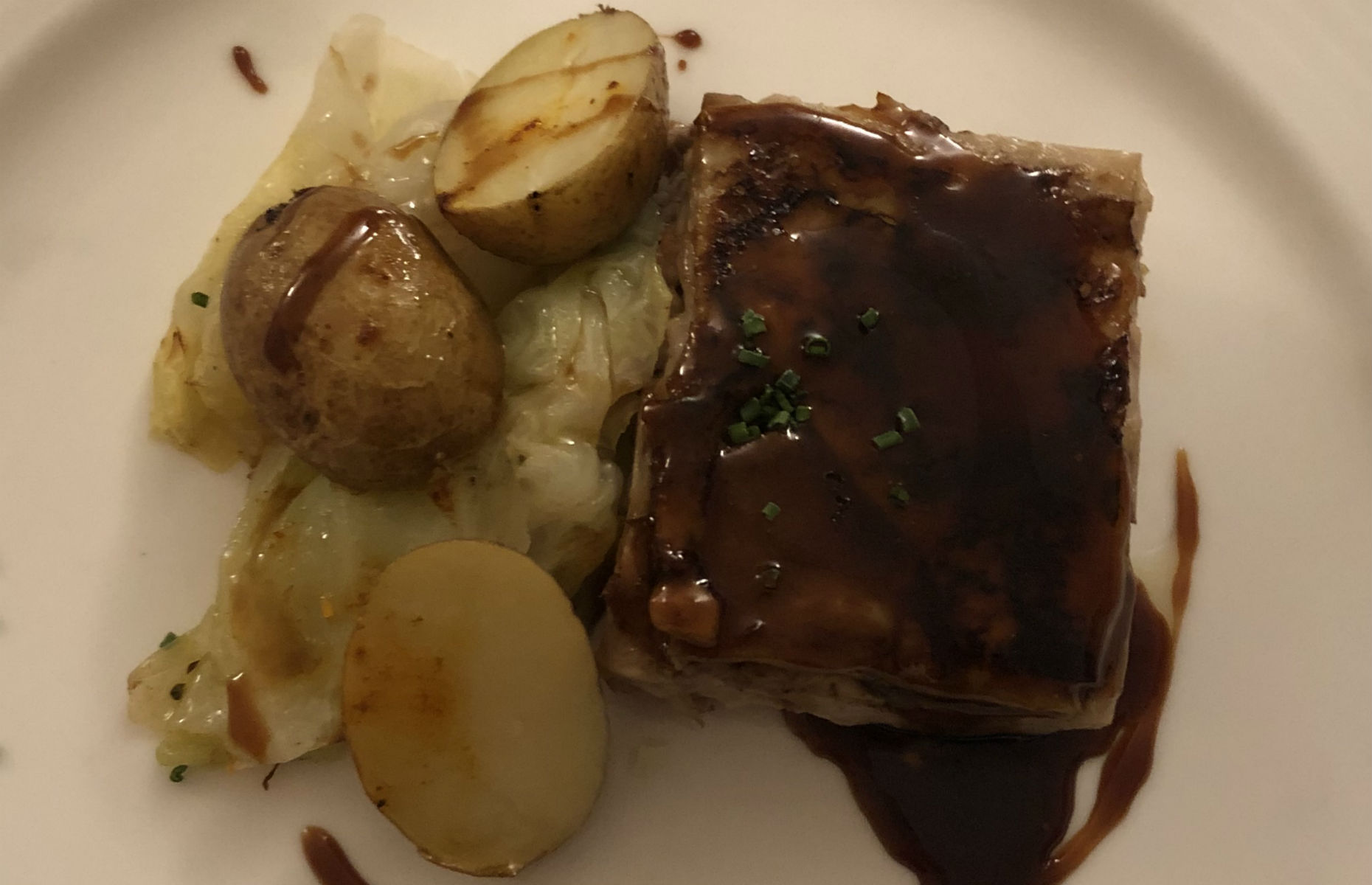 Lynne Maxwell
Day 2
Explore Mahon: Even if the market isn't on, the capital's boutique shops and historic streets offer a full-on morning. Don't forget to buy a pair of abarcas (authentic Menorcan shoes) as a souvenir. Head towards the Pont de Sant Roc, the 14th-century gateway behind the neat sculpted tree, where the old wall was built to protect the city. You'll also spot a statue of King Alfonso III who conquered the island in 1287.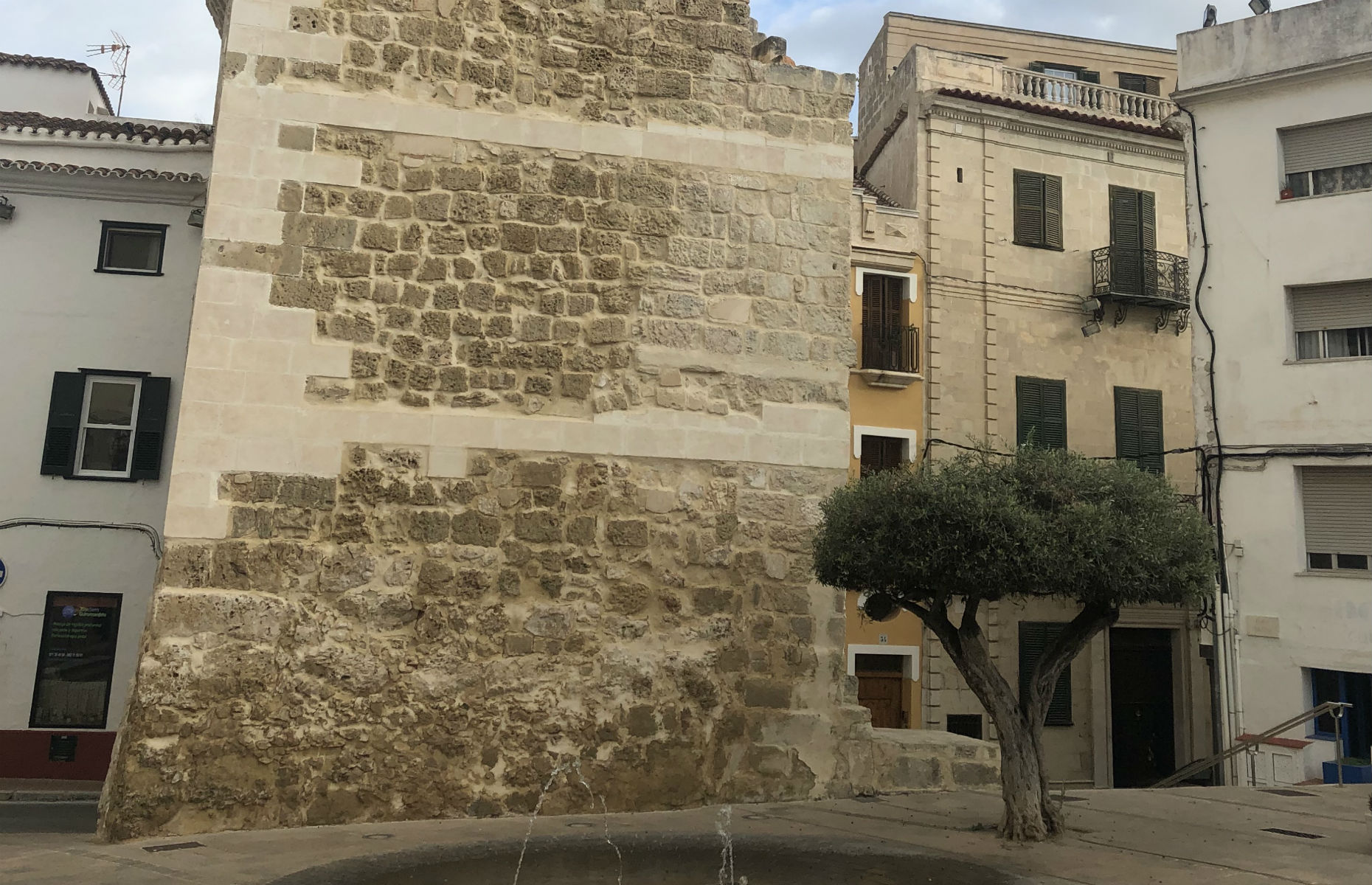 Lynne Maxwell
If you're visiting in early September, you'll find yourself part of the fascinating Mare de Déu de Gràcia, a festival that dates back to 1890. Majestic black horses are paraded around the main streets in the city centre, performing elaborate acts to the masses who watch on in awe.
READ MORE: The best places to visit in Spain
Set sail on: a glass-bottomed catamaran around Mahon Harbour. You'll see plenty of fish through the crystal clear water, but make sure you're back up on the sun deck to see the Illa de Llatzeret, or Quarantine Island as it's known. The island was the first stop for any ship entering Mahon Harbour back in the 19th century as trading opened up around the world and the spread of disease was a big concern.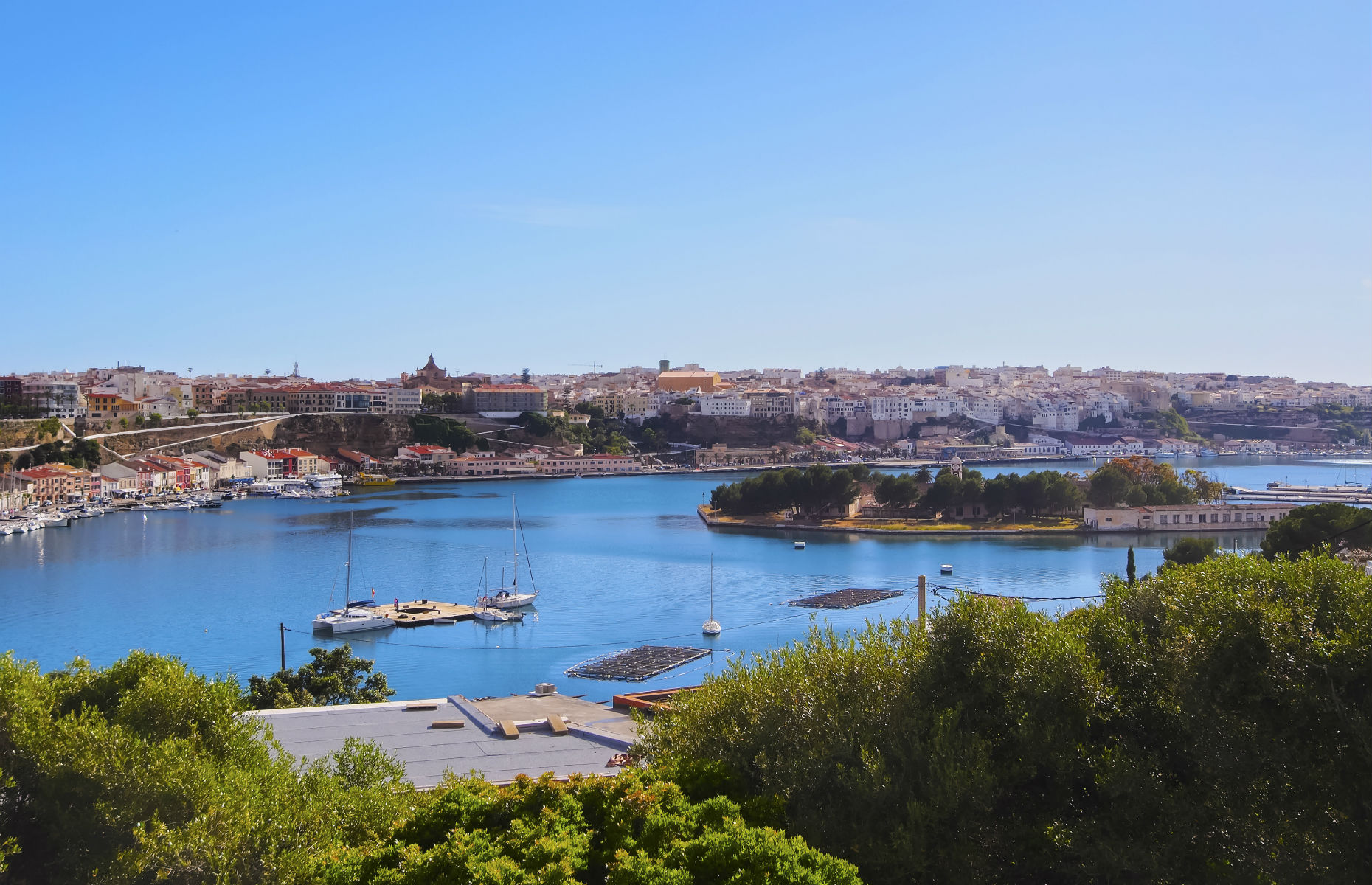 Lynne Maxwell
Taste the local liqueur: at Musul-la Estate in Sant Climent. Pomada is first up, although you'll no doubt be familiar with the local tipple by now. Learn about the ingredients and the history of other local herbal liqueurs by the knowledgeable Farmers & Co.
Satisfy your hunger: at the astonishingly beautiful 4-star Torralbenc hotel. Staff have thought of everything here and the scent of rosemary is abundant (you'll find a sprig on your table setting). It's perfect for a relaxing (and long, you're on Spanish time remember) lunch of octopus with romesco sauce followed by cream of red fruits and orange granita (pictured).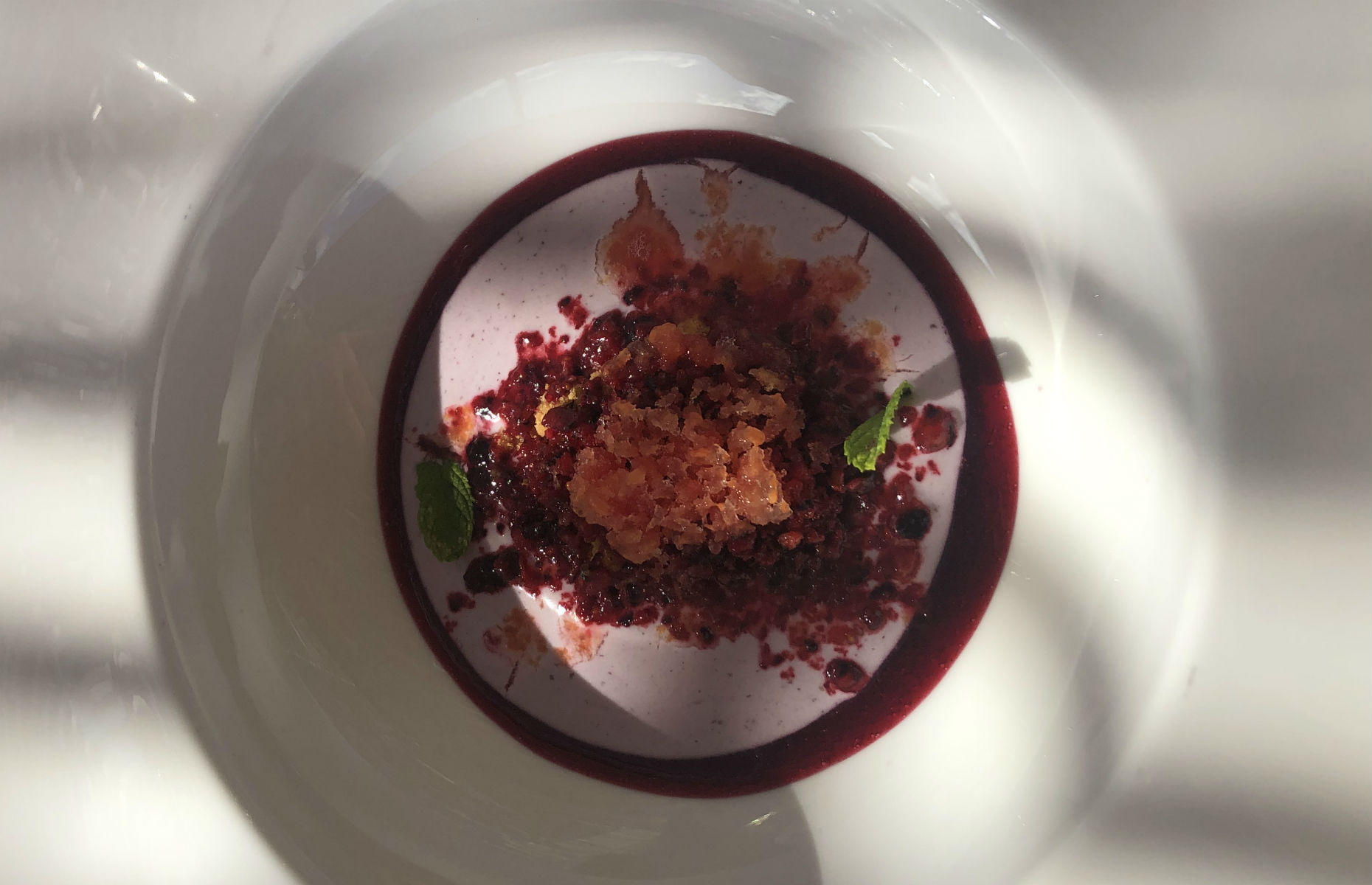 Lynne Maxwell
Walk off lunch: by joining the Camí de Cavalls. Head 2.5 miles (4km) to the north side of the island and spot the Favaritx Lighthouse, standing majestically while waves crash against the rocks below. The sea tends to be a lot rougher in the north compared to the south, but this all adds to the spectacle. Just don't swim here!
Head back to Mahon harbour: for dinner at Passio Mediterrània. Feast on mussels fresh from the port opposite to where you're sitting, and cooked in Creole soup.
Day 3
After breakfast: head to Cala Galdana on the south coast, one of the island's most beautiful locations popular with holidaymakers. Here you can rejoin the Camí de Cavalls for a steeper and rockier hike than the day before, so wear sensible shoes, but the result will be worth it. Set at the bottom of (a lot!) of steps, is the pretty alcove Cala Macarelleta. Time it right (early morning) and you'll have the white sands to yourself. There are toilets and shower facilities for after a refreshing dip, and a café-bar too.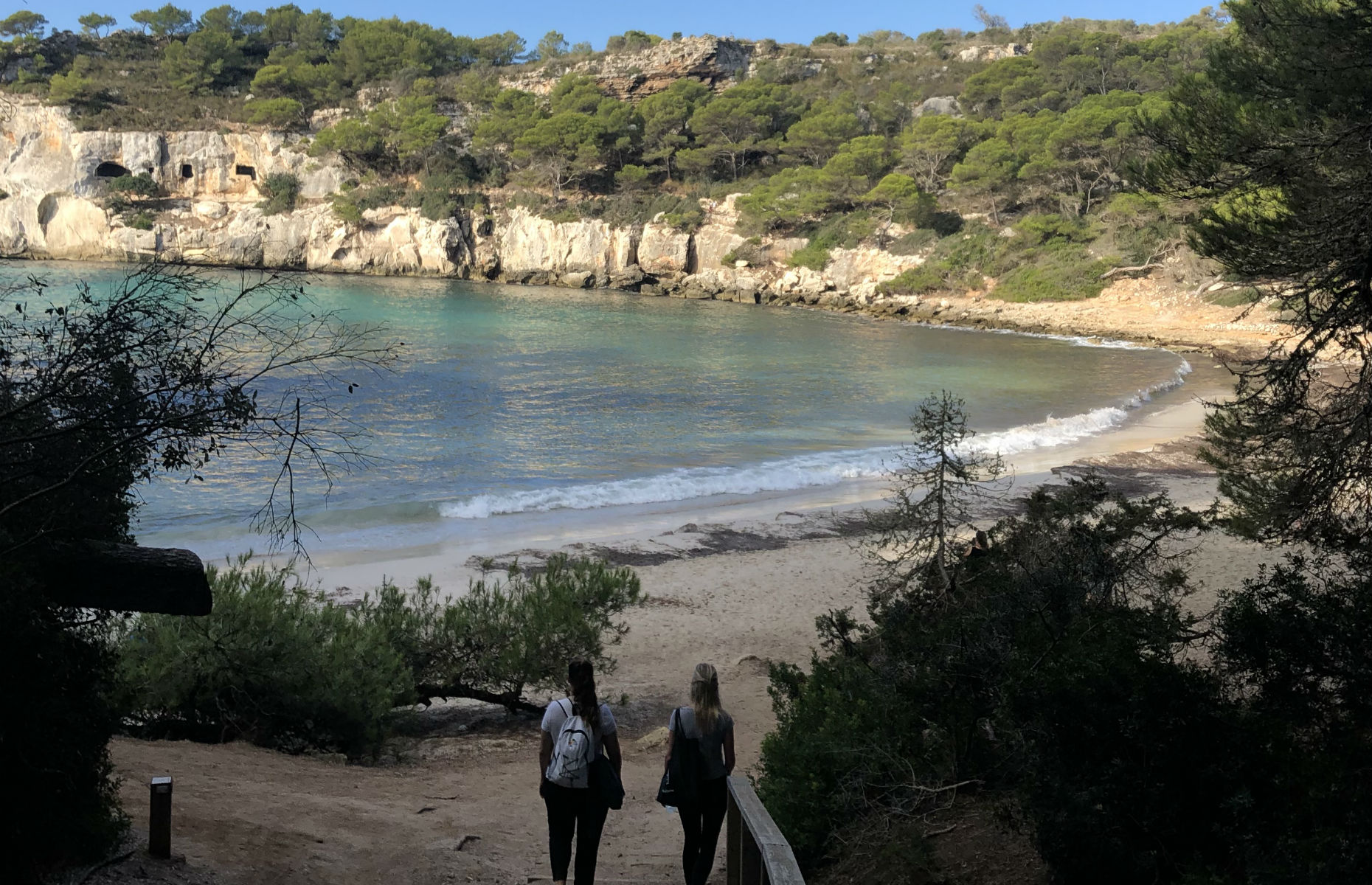 Lynne Maxwell
Get your culture on: at Naveta d'Es Tudons (upside-down boat), three miles outside of Ciutadella, and admire the 3,000-year-old burial chamber. Then head to the nearby medieval quarry Lithica and try your luck in the stone labyrinth – it's harder than it looks!
Head to the centre of Ciutadella: for a super-tasty lunch in a pretty setting at Pins46. The chefs have an agreement with local fishermen who bring their catch fresh from the sea daily. Grilled local prawns will definitely tempt you, but try the pulled lamb parcel (pictured) – it'll melt in your mouth.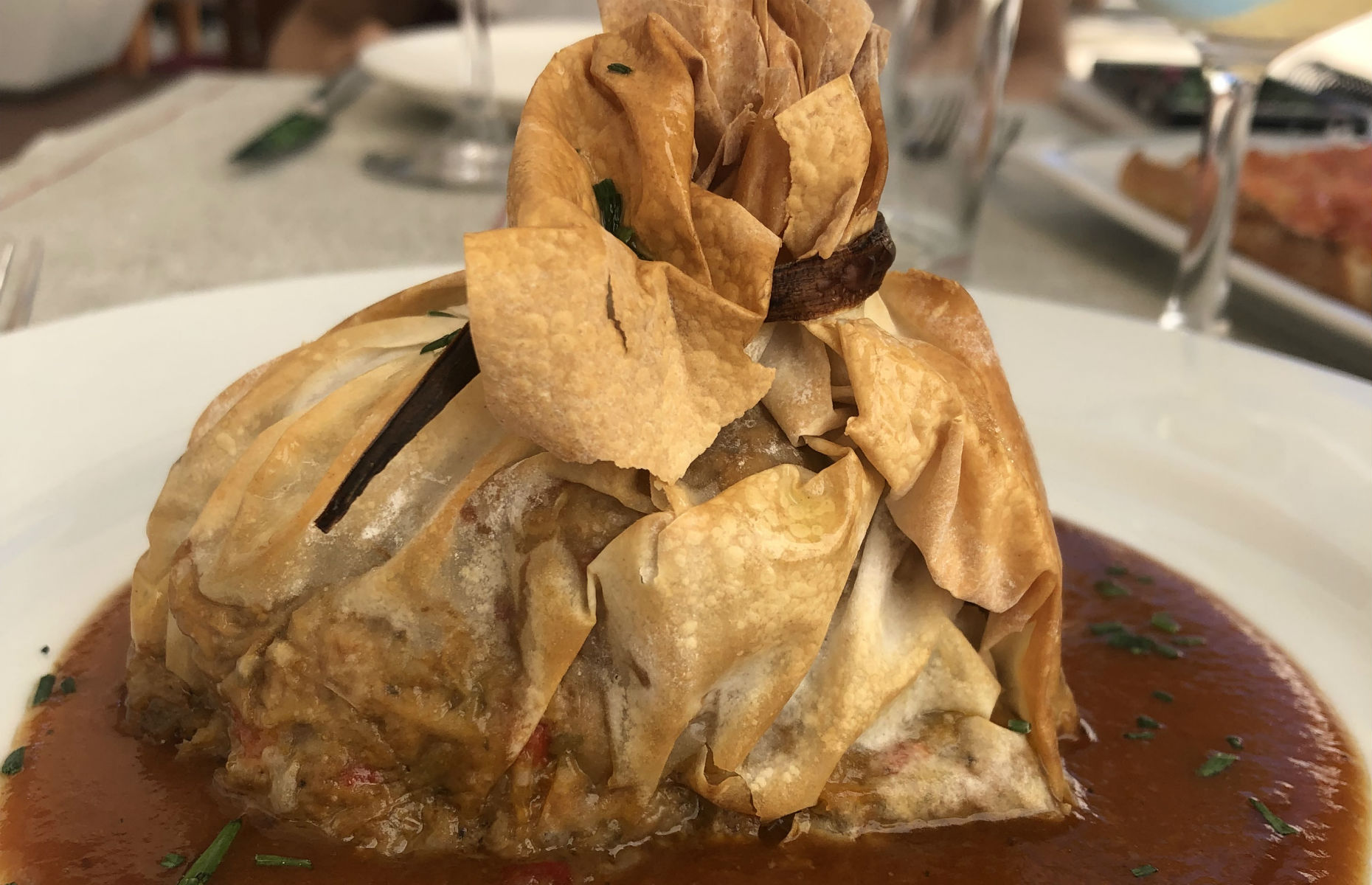 Lynne Maxwell
Make time for a stroll: around Ciutadella old town. The quaint, peaceful streets, where houses look like palaces, are much quieter than in Mahon. Take in the beautiful Town Hall and obelisk opposite, a great point of interest and meeting place in the Placa d'es Born (the main square). Just up from there, get your cameras ready to capture the Gothic 14th-century cathedral – look carefully and you'll spot gargoyles and lions expertly crafted into the stone exterior.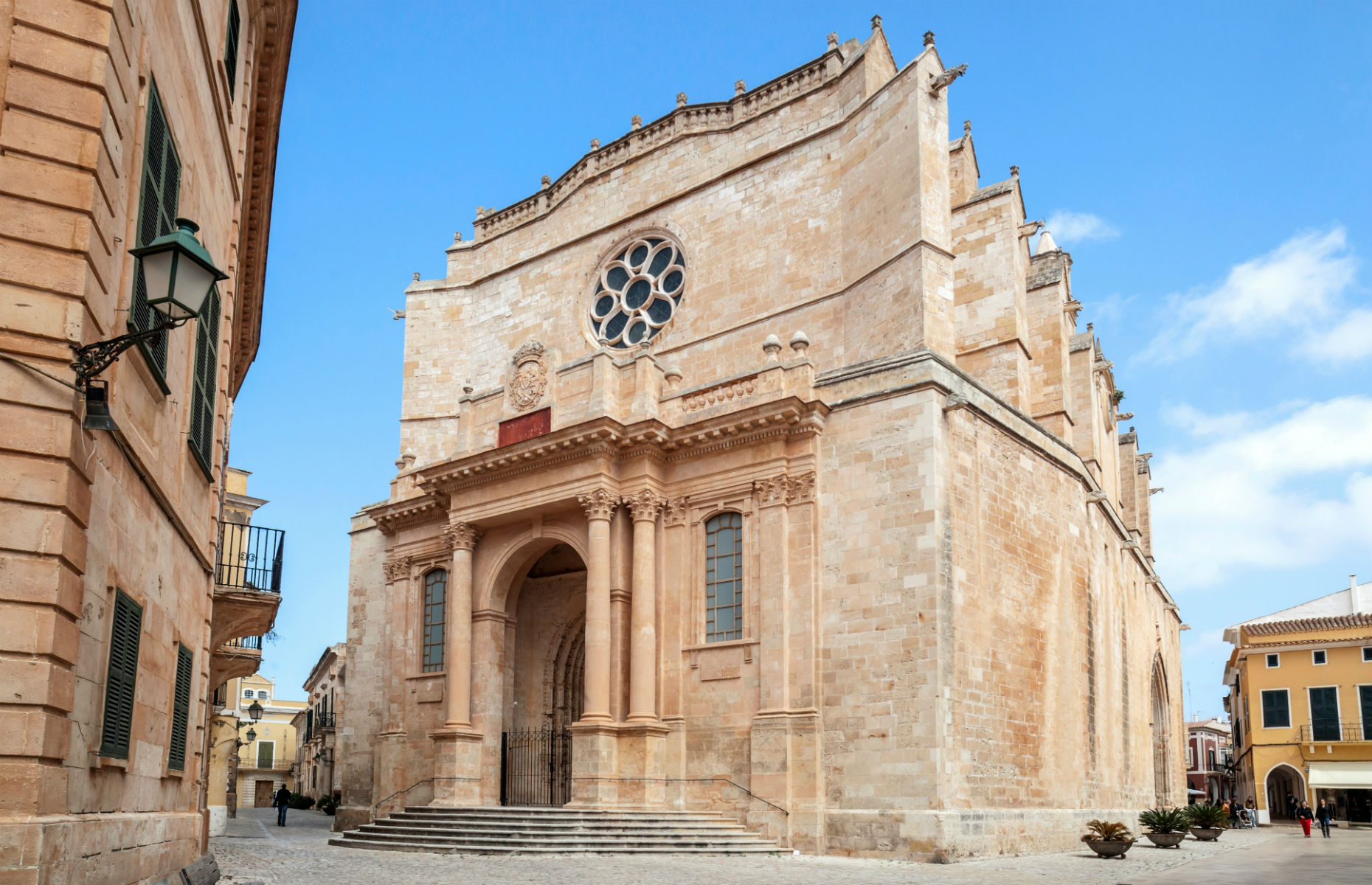 joan_bautista/Shutterstock
Take a pit stop: in Binibèquer, the cute little white village in front of the sea. Built in the 1970s, the narrow alleys and sugar cube houses are modelled on a fishing village. Some people dub it as 'fake' but you can't deny its charm whichever way you look at it. There are plenty of dinky café-bars and restaurants set back from the main 'village' selling, you guessed it, delicious fresh seafood.
READ MORE: The ultimate guide to Tenerife
Spend the evening at: Bodegas Binifadet back in Sant Lluis. Walk past the huge vats of wine and take a seat outside. Subtle fairy lights and vines hang above your head while you deliberate over whether to choose the mussels, duck confit (pictured) or slow-cooked beef cheeks in red wine sauce. Whatever you opt for, the accompanying Binifadet white, rosé or red – all divine, all worth taking a bottle home with you – will ensure your last night in Menorca will be one to remember.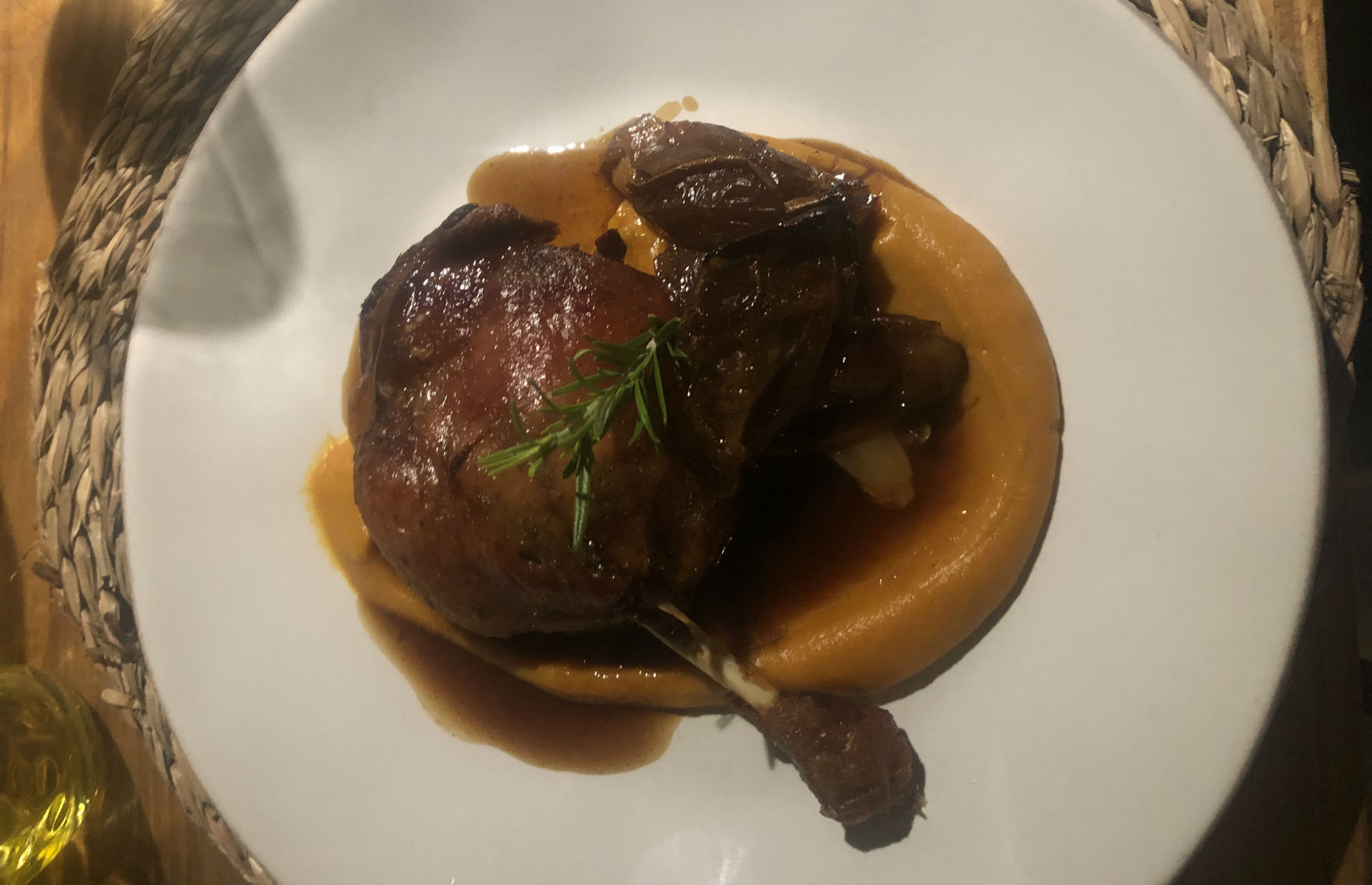 Lynne Maxwell
Day 4
Skip breakfast at your hotel: in favour of having it among the clouds up at Agroturismo Son Vives in Ferreries, just shy of 10 miles away from Ciutadella. The spread on offer here is made all the more impressive when you discover everything is produced on site. From a full English (or Menorcan) to fig jam, breads, cheeses and meats, you'll leave full.
Learn how to make mayonnaise: at Son Vives. The trick is to choose a high quality olive oil, then add egg yolks, lemon and a bit of salt at the end. Cométe Menorca, the company that offers a range of gastronomy experiences, are the experts and will show you how to use a maza de mortero, which is a bit like a pestle and mortar. The finished result was probably the best mayonnaise I've ever tasted.
For more information on Menorca, visit www.menorca.es.
How to get to Menorca
easyJet offers direct flights from London Gatwick to Mahón, visit easyjet.com for times and fares.
Map of Menorca
Be the first to comment
Do you want to comment on this article? You need to be signed in for this feature