A Balearic stunner: what to see and do in Palma, Mallorca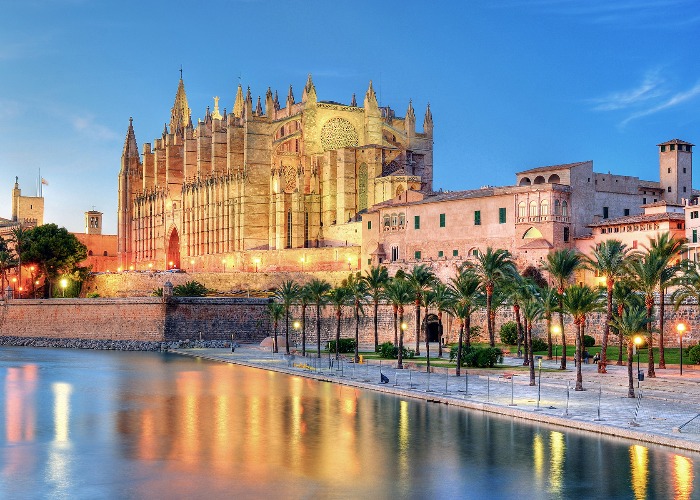 With the Med on its doorstep and buckets of sunshine even in winter, Palma is an ideal getaway. Here's what to see and do on a weekend break in this thrilling city.
To many, the Spanish island of Mallorca is synonymous with cheap beach holidays and wild parties. But look past the endless rows of sun loungers and you'll find Palma de Mallorca: an exhuberant, exciting city. Here, you'll eat the freshest seafood, see world-class art and have the chance to join a neverending fiesta.
Wandering the labyrinthine streets lined by honey-coloured buildings, Middle Eastern, North African and European influence is evident. And just around the corner from the alcázar-like palace of La Almudaina is Passeig del Born – an avenue that could easily be mistaken for one in Paris or Brussels.
This city is bursting at seams with restaurants, galleries, craft studios, shops and bars, so here's how to sample the best of Palma in just a few days.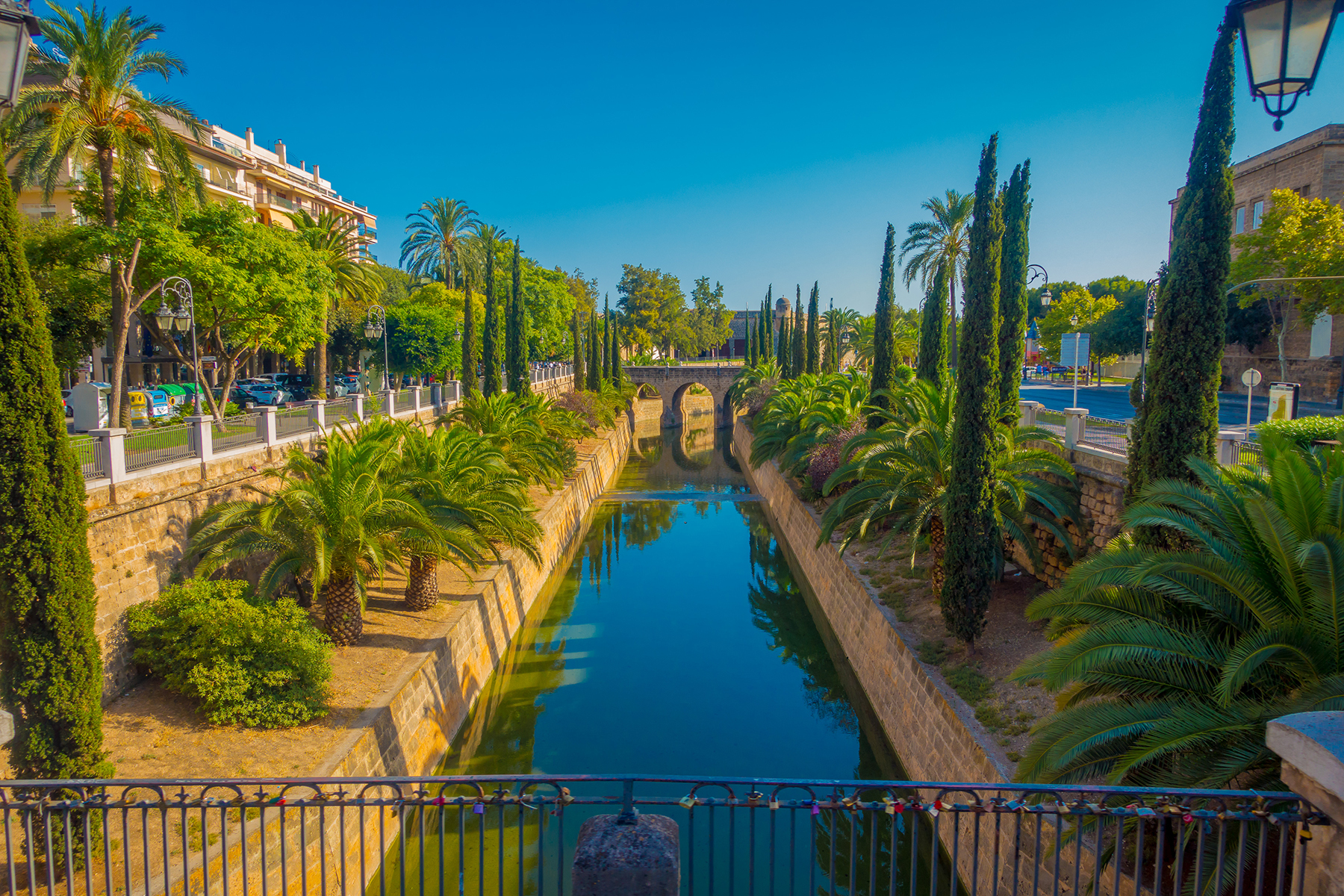 Fotos593/Shutterstock
Friday
Get there: Conveniently, Palma Airport is located just five miles east of the city. Either hop on the Palma metro, take the airport bus or grab a taxi (around €10) to get to the city centre.
Check into: Summum Prime Boutique Hotel. Situated just a few minutes walk from the major attractions, this luxurious hotel has found a place in a restored 15th-century stately home. With just 18 rooms, Summum offers an exclusive and personalised service. A private spa, compact rooftop terrace and a charming courtyard dining area makes this hotel the perfect retreat after a day of sightseeing.
Marvel at: Catedral de Mallorca. Monumental in size, the Palma Cathedral is full of wonder and demands exclamations of oh-s and ah-s wherever you look. A total of 61 stained-glass windows shine light onto its central nave, the highest of all Gothic cathedrals, while the High Altar designed by Antoni Gaudí is more reminiscent of a bedouin tent than a Christian sanctuary. Perhaps the most interesting feature is the Chapel of the Blessed Sacrament: reformed in 2007 by the renowned Mallorcan artist Miquel Barceló, it's unusually experimental and expressive for a conservative cathedral.
Delve into history at: La Almudaina. The Royal Palace of Almudaina has stood next door to the cathedral since the 14th century. Originally built by Arab conquerors, the alcázar was converted into a Gothic-style palace after Christian crusaders seized power, but some of the original Moorish elements, like the seafront arches, still remain. The palace courtyard, with its slender palm trees and the cathedral spires towering over it, is one of Palma's most beautiful sights.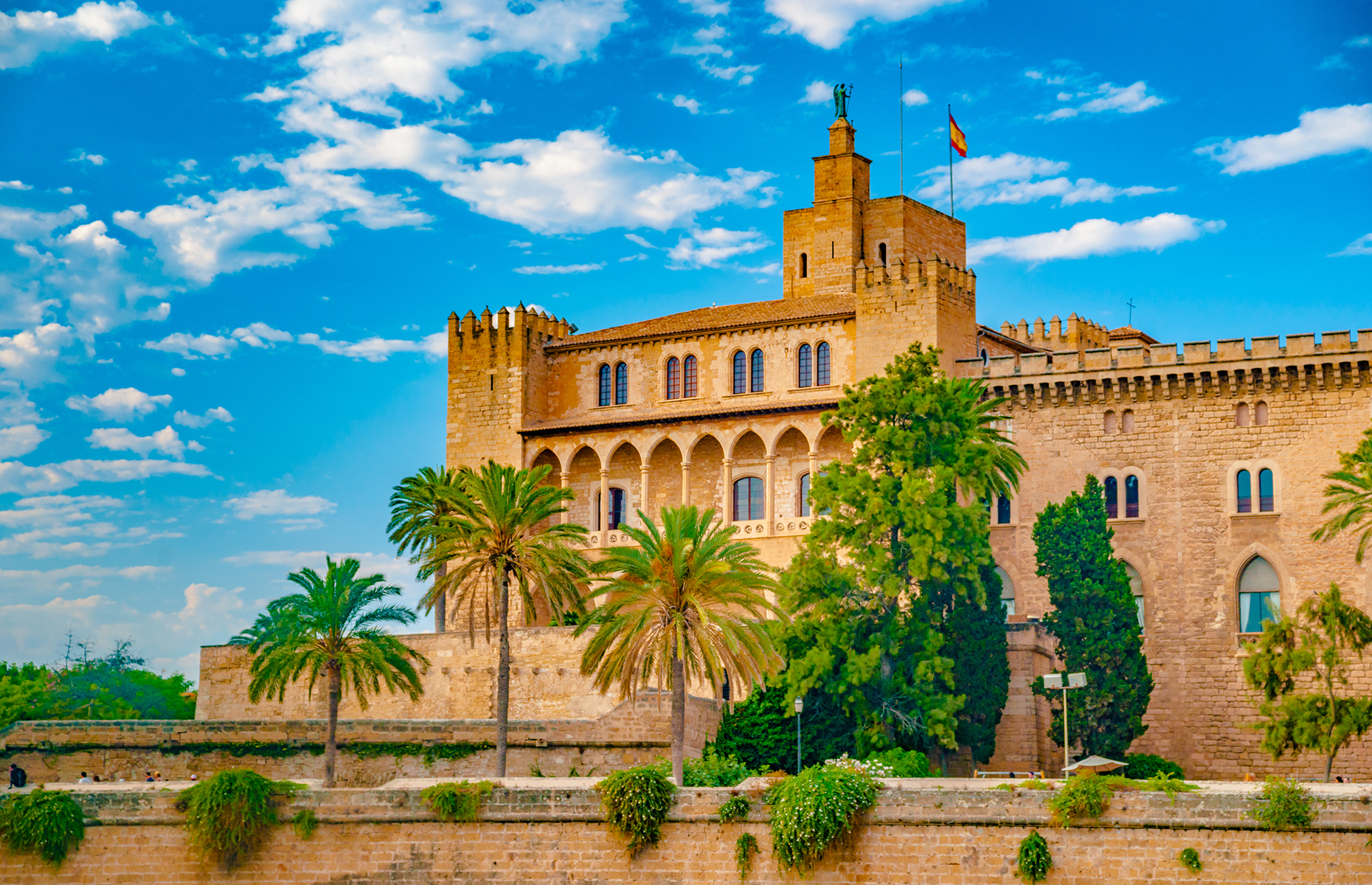 Romas_Photo/Shutterstock
See art at: Fundación Bartolomé March. Founded by one of the richest families in Spain, the foundation has an eclectic collection of sculptures, Josep M. Sert's murals and well-preserved navigation charts from the 14th and 15th centuries on display. The museum's crown jewel is the Belén Napolitano – a group of almost 2,000 figurines from the 18th century.
Indulge on pintxos at: Mercat 1930. After seeing Palma's most famous sights, make your way along the seafront down Avinguda de Gabriel Roca to this newly-opened gastromarket. It's a simple yet effective concept – quench your thirst and fuel up from one of the three drinks counters and 13 food stalls then find a table to while away the evening. The perfect order? A cold pint of San Miguel or Mallorcan vermouth on the rocks, Mahón cheeses from De Cabo A Rabo and glazed, deboned chicken wings and patatas bravas from Eat The Bones.
Saturday
Visit: Fundació Pilar i Joan Miró a Mallorca. The final residence, workshop and studio of the legendary Spanish artist Joan Miró offers a touching insight into the life of a genius. While The Moneo Building has some of the best Miró pieces on display, it's The Sert Studio that offers a unique opportunity to see how Miró worked. With unfinished canvases still on multiple easels, paint stains on every surface and sketches littered across the tables, it's an intimate insight into the great artist's creative process.

Miró Mallorca Fundació
Travel back in time at: Bellver Castle. Built during the 14th century, this castle is unique due to its perfectly round shape. It's now home to the city's History Museum and is one of Mallorca's most-visited attractions. Take time to explore the castle itself but don't miss the viewing spot just opposite the steps leading to the entrance – the views are breathtaking.
Eat your weight in oysters at: Mercat d'Olivar. Take in the sights and smells of the main hall where the traders' tables are groaning beneath an abundance of ripe fruit and veg, cured meat and fresh fish. Seek out the Daniel Sorlut Ostras stall and order a selection of fresh oysters, spicy prawns and grilled paprika octopus with a bottle of bubbly to recharge.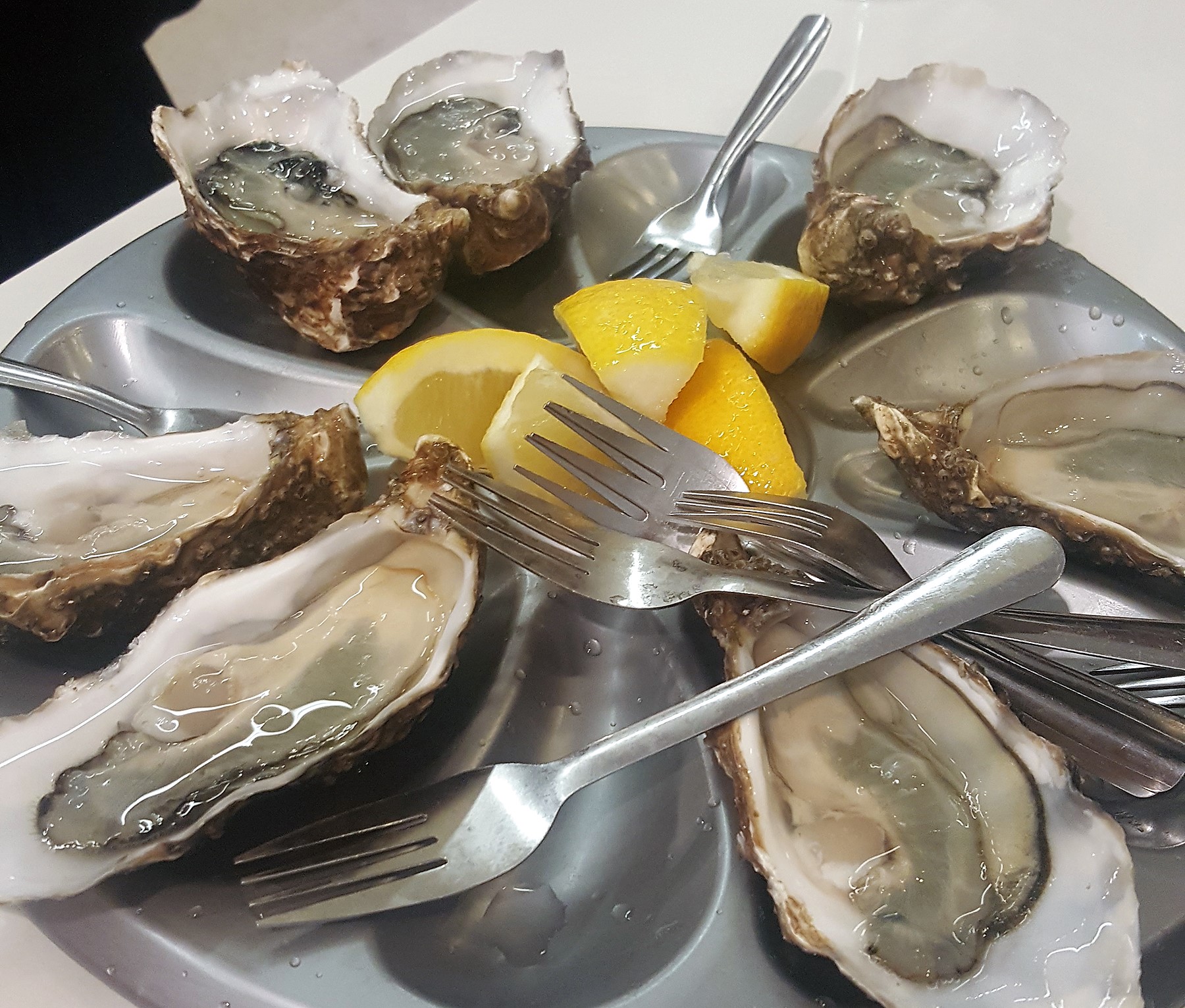 Karlina Valeiko
Stroll along: Parc de la Mar. With the Mediterranean on one side and the cathedral and La Almudaina on the other, it's the perfect spot for a leisurely walk in the sunshine. It'll make for the perfect holiday photos and the charming palm tree alley leading to the cathedral will make anyone a bit weak at the knees.
Enjoy a Mallorquín apéritif at: La Rosa Vermuteriá. A snug place with dried chillies and cured jamón legs hanging from the ceiling, this small bar has buckets of character. Ask your server to advise you on the vermouths available and order the pimientos stuffed with hake and prawns to whet your appetite before dinner.
Eat at: CUIT restaurant at the NAKAR Hotel. Minimalist interior in soft shades of white and beige contrast the bold and decadent flavours at this renowned restaurant. There's a zingy stingray salad, a mind-bending spicy banana mayonnaise with squid-ink rice, a melt-in-your-mouth veal and a traditional Mallorcan tart called coca. But nothing beats another Mallorcan classic reinvented – the potatoes 'poor man'. This soft stack of thin potato slices, smothered in lusciously thick egg yolk and generous shavings of truffle is spectacular.
Go for drinks at: Hotel Almudaina. The lounge bar and terrace on the top floor of this hotel offer excellent views of Palma's rooftops with the cathedral dominating the skyline. Come here to enjoy refreshing cocktails and sunsets worthy of the most famous impressionist brush strokes.
Sunday
Tuck into an ensaïmada: The history of this spiral-shaped pastry can be traced as far back as the 17th century. Today, it's enjoyed plain with lashings of icing sugar or filled with cabell d'angel – an extremely sweet jam-like strands of pumpkin. Savoury ensaïmadas are filled with sobrasada, a soft, spreadable sausage made from pork. Try one at Ca'n Joan De S'aigo alongside their legendary hot chocolate.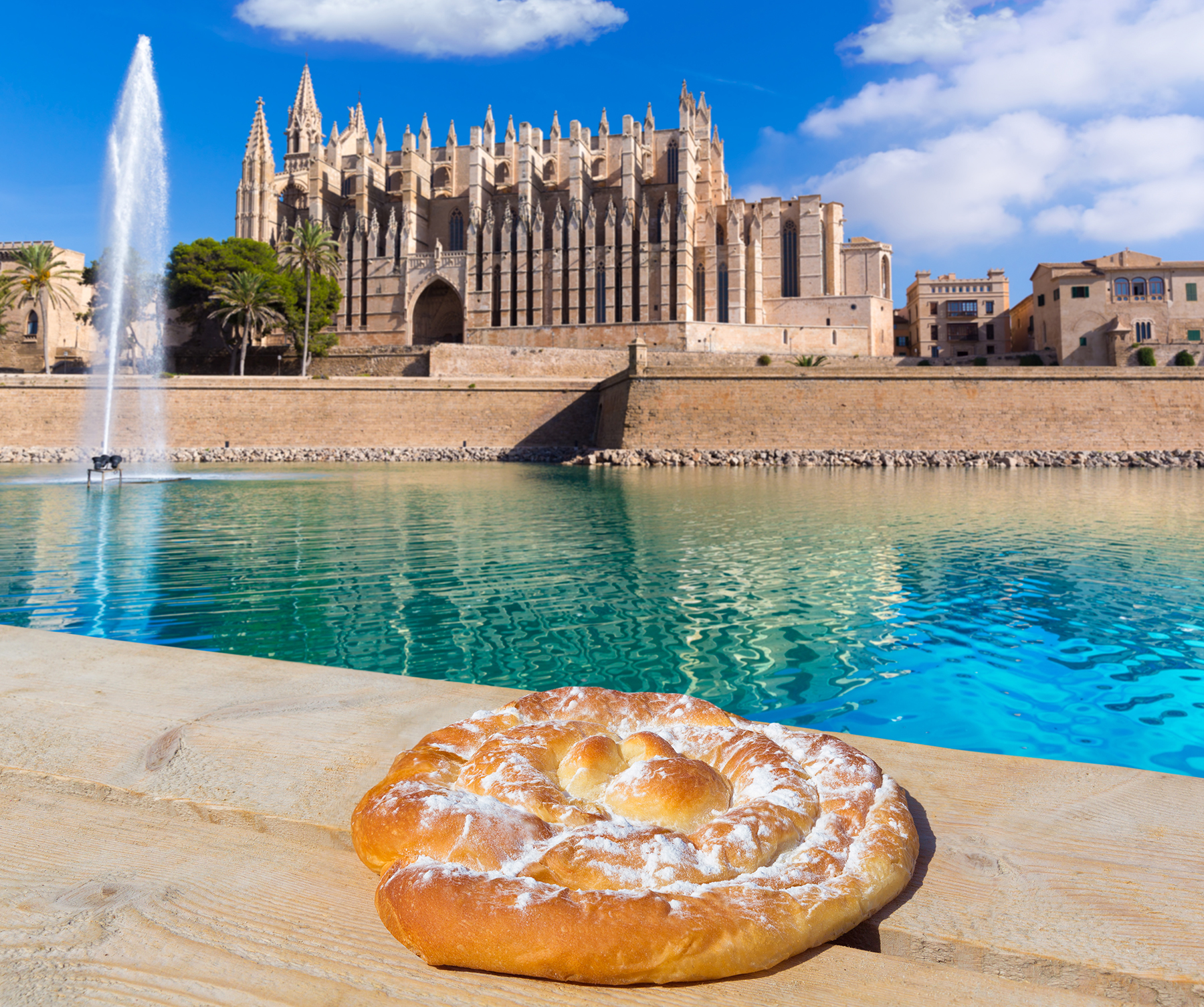 Tono Balaguer/Shutterstock
Shop at: Rialto Living and El Corte Inglés. These popular department stores are conveniently located within easy access to Avenida de Jaume III and Passeig del Born, where you'll find everything from high-end brands and best Spanish designers to well-known high-street shops.
Have lunch at: Aromata. Middle Eastern and North African influences in Mallorca don't end at architecture. Ingredients like raisins and aubergines, alongside spices such as saffron and cardamom, have found their way into Mallorcan kitchens too. It's this unique mix of flavours that is on display at Aromata, run by the Michelin-starred chef Andreu Genestra. The restaurant offers weekly-changing lunch and dinner set menus at wallet-friendly prices and a relaxed courtyard seating, perfect for wrapping up your Mallorcan escape.
Be the first to comment
Do you want to comment on this article? You need to be signed in for this feature