What to see in Scotland in 2020 and beyond
Scotland is the ideal destination for a socially distanced holiday. Here the beaches are numerous, the swimming spots plentiful and the walking opportunities practically endless. It's not difficult to get away from people in the remote glens and towering mountains of the Highlands – you'll often see more deer, more golden eagles even, than other people – and even in the tourist hot spots your own slice of sand or patch of grass is rarely hard to find. From white-sand beaches to crumbling castles, sky-scraping mountains to atmospheric stone circles, there's so much to see in Scotland. Start plotting your ideal itinerary here.
Scotland's top five must-sees
Dunottar Castle
Forget Edinburgh, far more atmospheric (and less crowded) is this ruined medieval fortress atop a rocky headland pounded by the North Sea (main picture). Walk along the coast from Stonehaven then romp around the ramparts in the footsteps of Mary Queen of Scots and William Wallace – a 13th-century knight and one of Scotland's greatest national heroes.
Calanais Standing Stones, Lewis
If the Calanais Standing Stones were on the mainland, they'd be overrun with visitors. Fortunately, these imposing monoliths – dozens of them, laid out in a roughly Celtic cross-shaped pattern – stand on Lewis in the Outer Hebrides, so there's a good chance you'll get them to yourself. You can touch them too, feeling the warmth of the sun and the weight of their five-thousand-year-long history.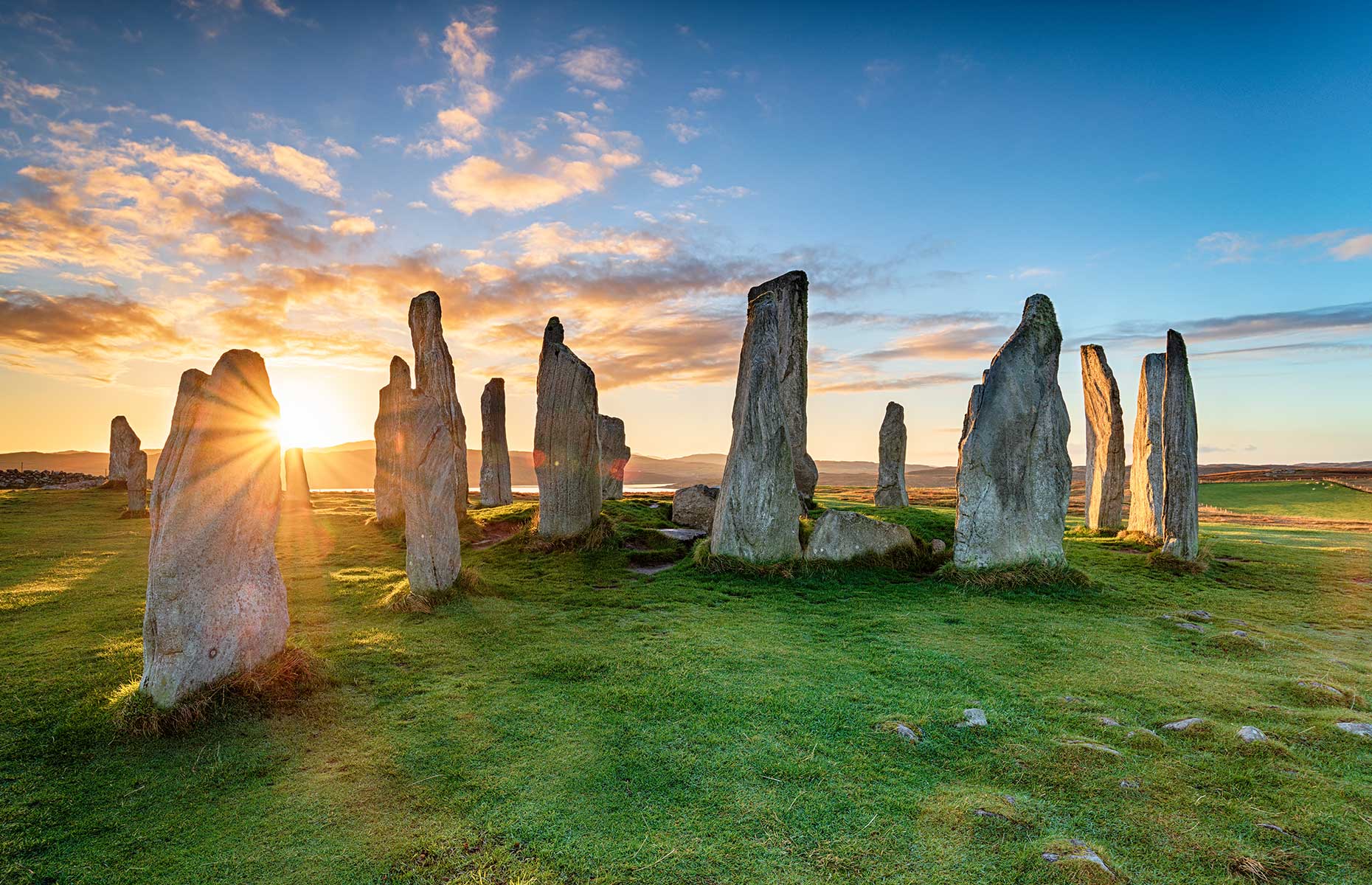 Helen Hotson/Shutterstock
Schiehallion, Perthshire
Want to bag a munro? Of all Scotland's mountains over 3,000 feet (914m) – also known as munros – Schiehallion is one of the easiest to climb and hikers with some experience, moderate fitness and the right gear can be up and back in around five hours. Park at the Braes of Foss car park and head up the track before picking your way through the boulder field and emerging at the summit for views across central Scotland and west across Rannoch Moor to Glen Coe.
The Black Cuillin, Skye
The Black Cuillin mountain range is known as the UK's most challenging walking and climbing territory and contains 11 munros within its 11 kilometres (eight miles) – only the very experienced should head up these peaks. For the rest of us, the boat trip to Loch Coruisk is the ideal way to get up close to them, landing at the eponymous loch for a straightforward walk in a natural amphitheatre.
David Hughes/Shutterstock
Fingal's Cave, Staffa
There's nowhere quite like Fingal's Cave, a volcanic beauty so uniform it's hard to believe it's entirely natural. Hexagonal columns line its edges, carved in deep black basalt and bouncing the Atlantic back on itself almost musically. No surprise, then, that it inspired Mendelssohn's popular "Hebrides Overture (Fingal's Cave)". Sail out here from Mull with Staffa Tours and you'll get a few hours on nearby Iona too.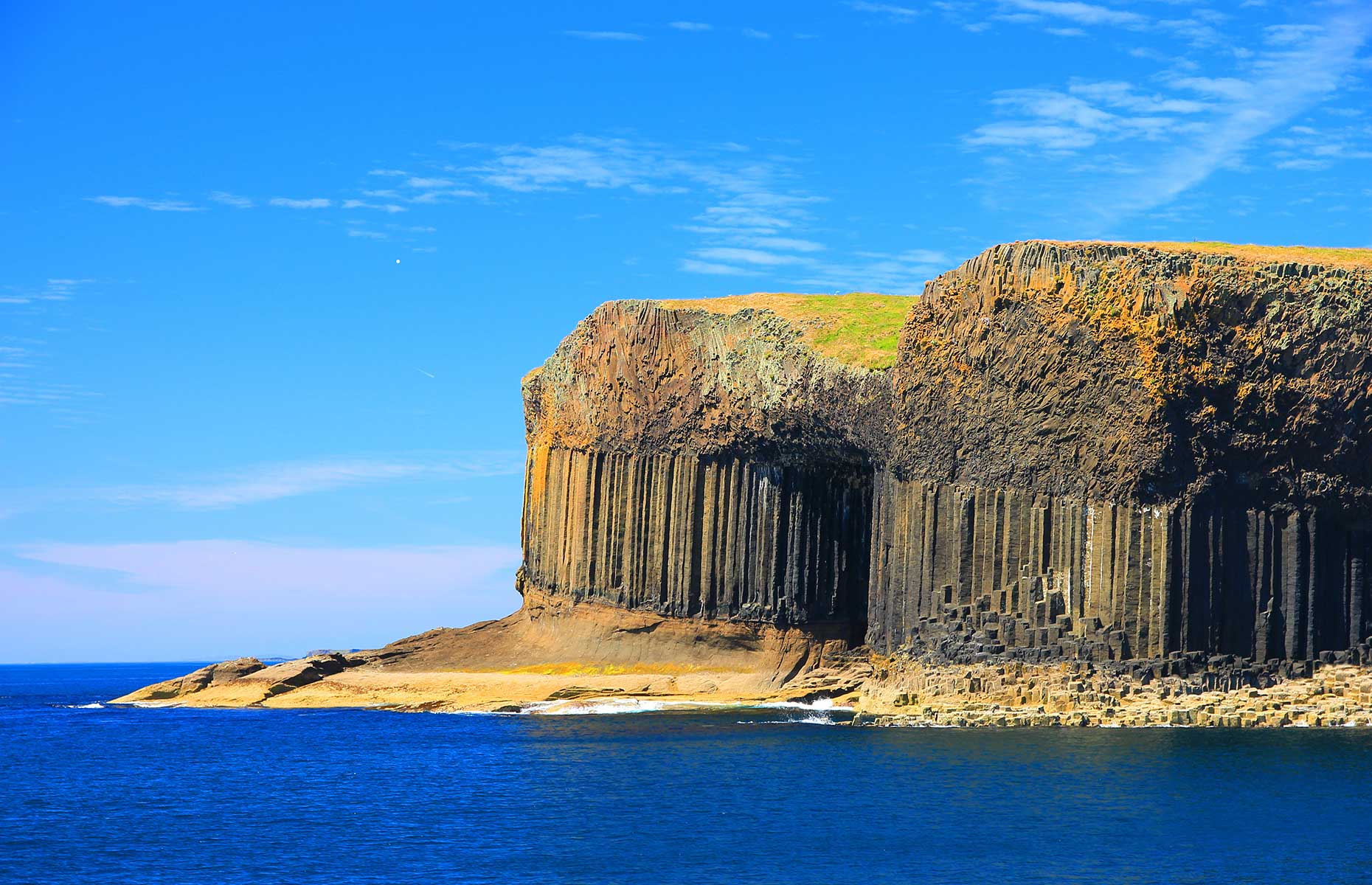 totajla/Shutterstock
Scotland's best beaches
Scotland has some 10,000 miles (16,000km) of coastline, and that means beaches in abundance. Most are sand – some golden, some talcum powder white – and few are ever crowded.
In the east, Fife is home to glorious Cambo Sands (aka Kingsbarns Beach and pictured below), a golden stretch of gently shelving sands, as well as Elie Earlsferry Beach, which links the two villages and is large enough to host cricket matches in summer.
Scott Jessiman Photo/Shutterstock
In the west, Southerness beach in Dumfries and Galloway is wide and sandy, with rock pools to explore, while Barassie beach in Ayrshire is backed by grassland and has cracking views across to Arran.
READ MORE: These are the UK's best beaches from above
Scotland's north has its emptiest, wildest beaches. There are plenty around Durness, including white-sand crescent Balnakeil (pictured below), west-facing for spectacular sunsets, and remote Sandwood Bay, where a four-mile (6.4km) walk is necessary to access the vast dunes and pink-tinged sands.
rphstock/Shutterstock
Luskentyre on Harris may get the bigger press, its swirls of creamy sands reminiscent of Australia's Whitehaven Beach, but quieter Uig Sands – on neighbouring Lewis – is a beach that dreams are made of. Few people venture out here, meaning its seemingly endless rippling sands feel like they've been sculpted just for you.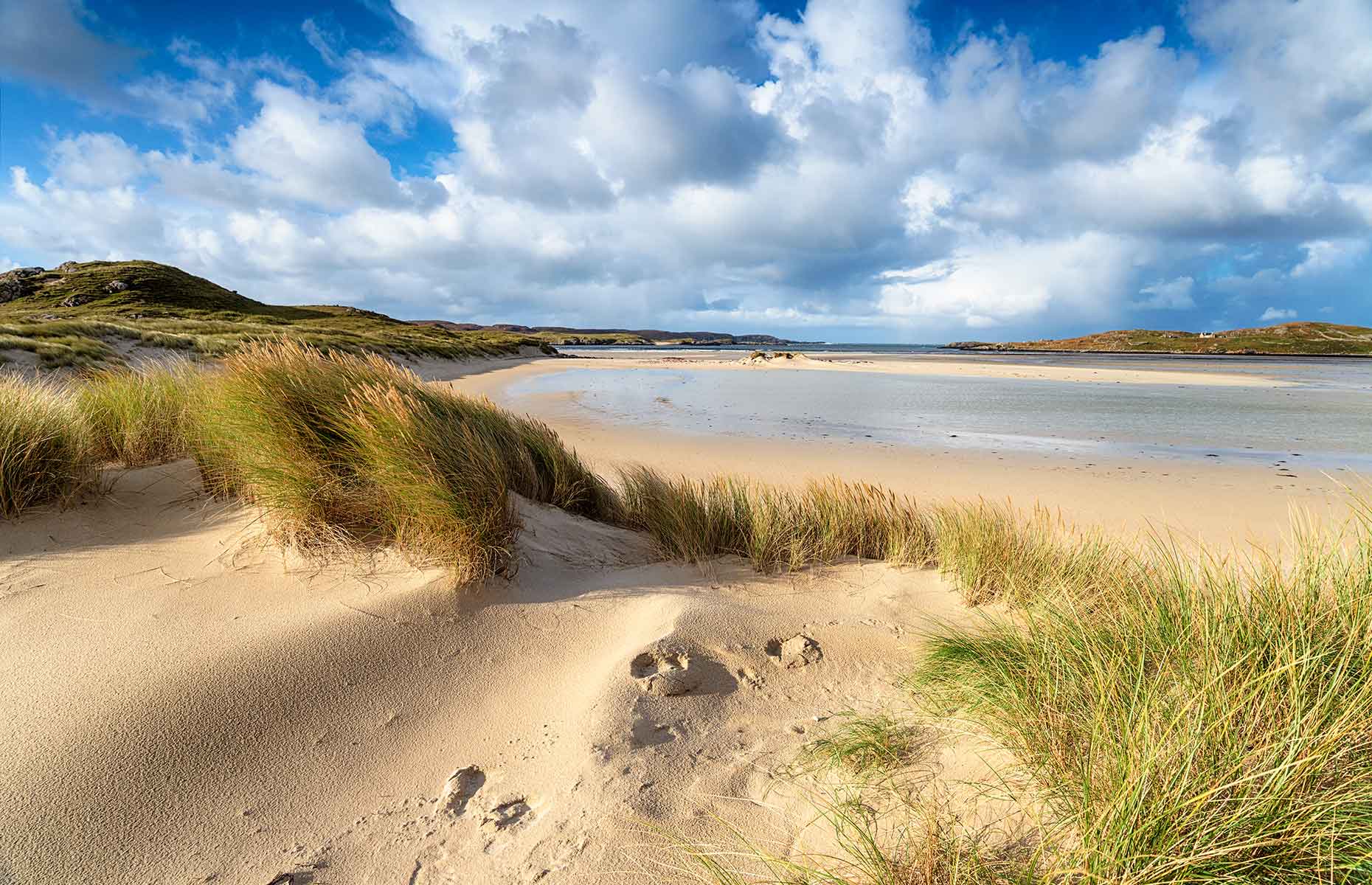 Helen Hotson/Shutterstock
Barra is home to perhaps Scotland's most memorable beach. Traigh Mhor doubles as the island's airport and flying in here, the white sands rushing up to meet you, is unforgettable. The fact it's large enough for planes to land tells you all you need to know about its size and when flights aren't scheduled it's a wonderful place for a stroll.
Finally, in Shetland, St Ninian's is one of Scotland's best photo ops. Here a smooth sand tombolo links the eponymous islet with Mainland, offering 150 feet (500m) of unspoiled sands and a sheltered spot for a paddle.
Scotland's amazing islands
No visit to Scotland is truly complete without at least some time in the isles. With more than 800 islands scattered offshore it's tricky to pick, but some simply stand out. Literally, in Skye's case, where you'll find a dozen of the country's registered 282 munros piercing the clouds. You'll also find dramatic volcanic scenery, super-fresh seafood and one of Scotland's most famous whisky distilleries, Talisker.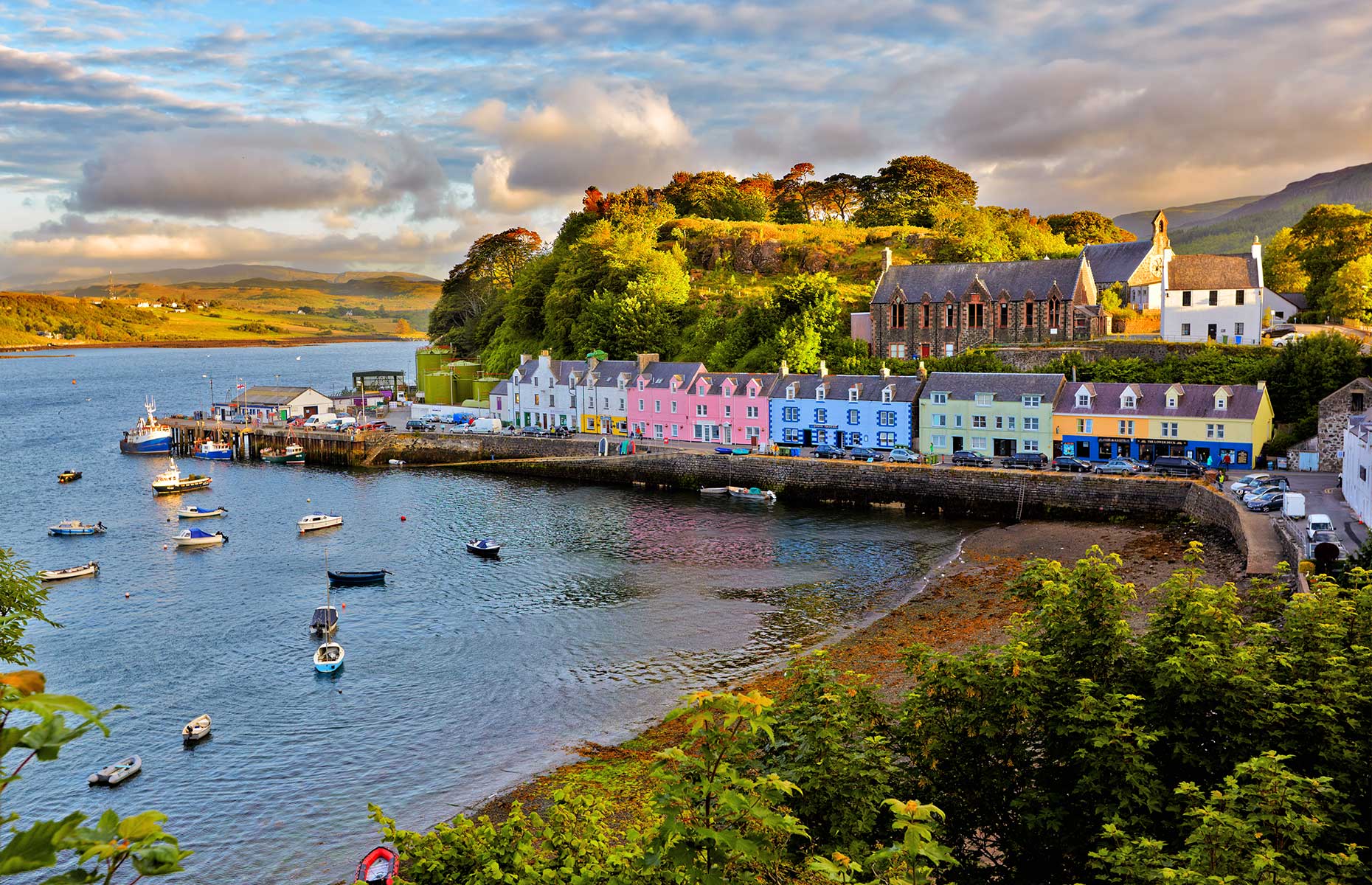 Nataliya Hora/Shutterstock
Whisky the main draw for you? In that case head to Islay, where you'll find nine working distilleries (plus two more in the works). This was also once the seat of the ultra-powerful Lord of the Isles and remains of their stronghold can be seen at Finlaggan.
In the Outer Hebrides, Harris is the star of the show, thanks to its Caribbean-esque beaches and turquoise waters. Low-key seafood restaurants abound here, and there are several boutique-style shops selling clothing made from the island's world-famous tweed.
Further south, and within easy reach of Glasgow, Arran is the island you'd create if you took a pinch of each of Scotland's best ingredients – a sprinkling of beaches, a smattering of stags, a splash of whisky. This is where Highland meets Lowland too, so you'll get brooding peaks at one end of the island, rolling meadows at the other. If you've only got time for one Scottish island, make it this one.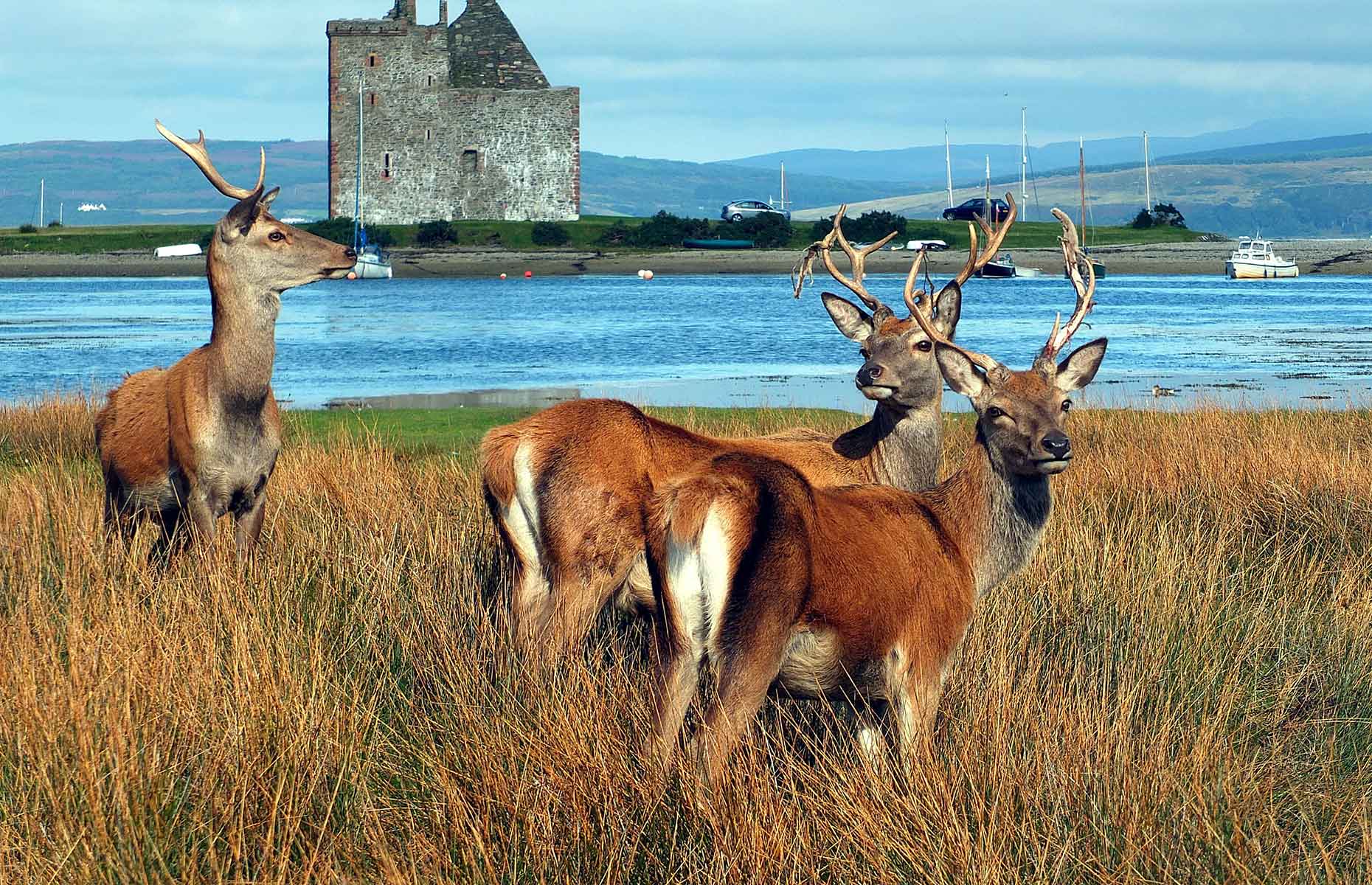 Allan Napier/Shutterstock
Or maybe not… St Kilda beats Arran for end of the world atmosphere and can certainly match it for scenery and wildlife. You won't find whisky here (unless you bring your own) but you will find seabirds in their thousands, towering peaks and an abandoned village of stone cottages now shot through with grass. Sail out here on a day trip from Skye with Go To St Kilda or take a little longer and join a 10-day cruise with Hebrides Cruises from Oban.
Scotland's most exciting cities
Scotland's capital, Edinburgh, is a stunner, laid out across a volcanic landscape – the world-famous castle stands atop one extinct volcano, while Arthur's Seat is an easy climb up another – and the entire city centre is a UNESCO World Heritage Site. Its grand buildings aren't just celebrated for their architecture though, many house world-leading museums and Michelin-starred restaurants.
JeniFoto/Shutterstock
More stately architecture is on display in Glasgow, once the second city of the British Empire and still flaunting the wealth that status brought. Less about specific sights and more about local culture, a city break in Glasgow is likely to be most memorable for the people you'll meet – it's not for nothing that Glaswegians are often said to be the friendliest people in the UK.
You'll also get a warm welcome in Dundee, for many years down on its luck but today basking in the success of the newly opened V&A Dundee. This is Scotland's first design museum and stands at the centre of the newly revamped waterfront, where you'll also find the RRS Discovery, the ship that took Scott and Shackleton to the Antarctic.
Robin MacGregor/Shutterstock
Scotland's most charming towns
Scotland is peppered with cute wee towns and villages, all chocolate box cottages and picturesque harbours. Fife has more than its fair share, especially in the East Neuk where Anstruther, Crail and Pittenweem (pictured) all gather around the fishing boats in their harbours – you'll find super-fresh lobster and excellent fish and chips in all three.
orlando alberghi/Shutterstock
Further north, the coast of Banffshire has a line-up of fish-focused communities, including Cullen, where the beach is the focus and a Victorian viaduct sweeps overhead. Banff is another beauty, with its yellow-fronted castle and pretty marina.
READ MORE: The UK's most beautiful small towns and villages
Further south, Melrose stands in the valley of the Tweed, backed by the Eildon Hills. The rose-coloured ruins of Melrose Abbey preside over town, while just outside you'll find the romantic home of Sir Walter Scott, Abbotsford.
Nella/Shutterstock
In the Highlands, Ullapool winks in the sunlight, its brilliant-white cottages bouncing the light back into Loch Broom, while out in the isles, both Tobermory on Mull and Portree on Skye have harbours lined with rainbow-coloured buildings, including some very lively local pubs (don't miss the Mishnish).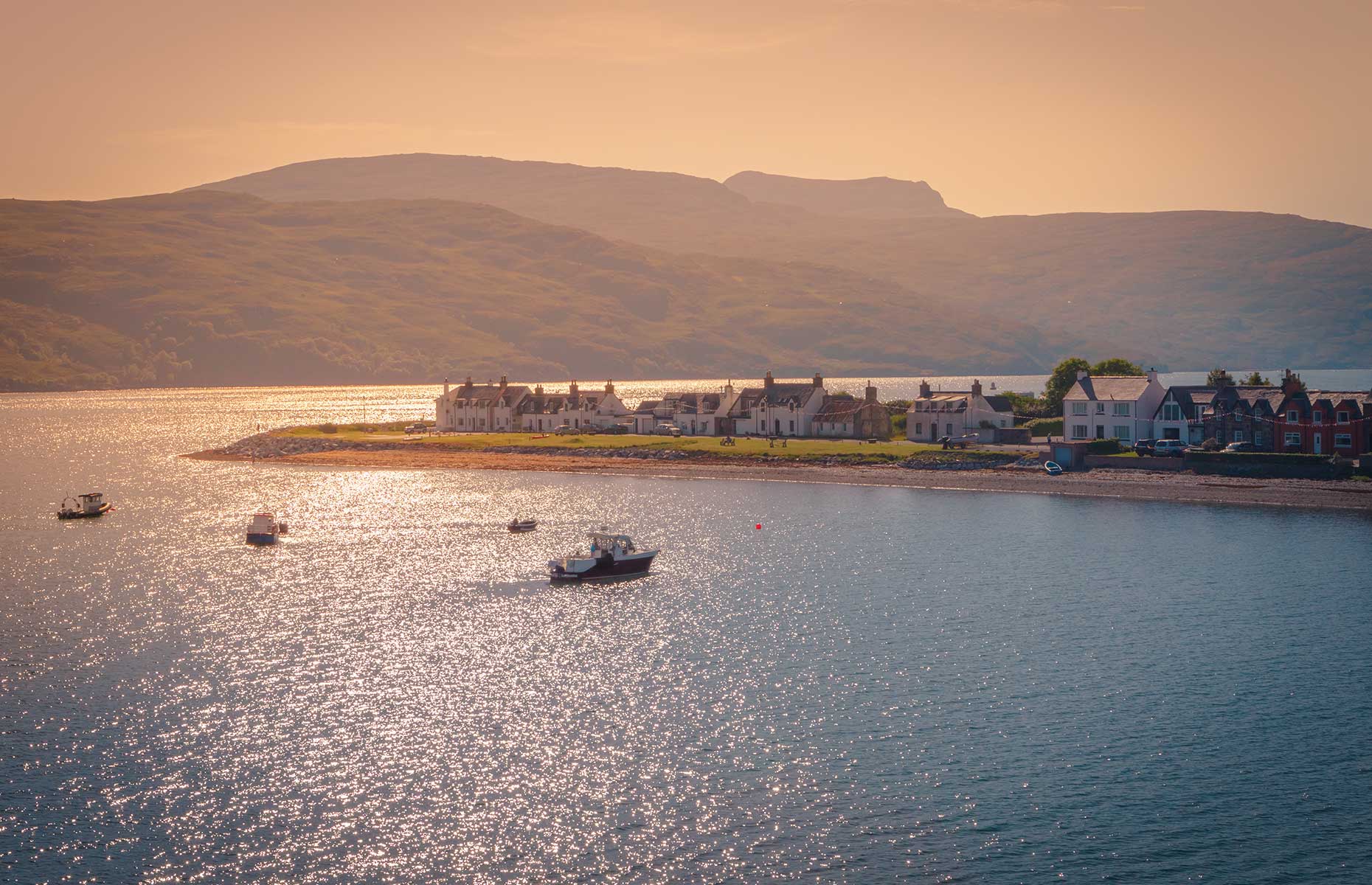 Jose Arcos Aguilar/Shutterstock
Brilliant places to stay in Scotland
For affordable but stylish rooms within a caber's toss of all the capital's attractions, try Motel One Edinburgh Royal (from £69), while in Glasgow the Z hotel is just off George Square and packs 104 small bedrooms into an old printworks (from £50).
In Fife, top pick is the wonderful Peat Inn, a Michelin-starred restaurant with elegant rooms (from £240), while over on the west coast, in Achiltibuie, the Summer Isles Hotel has a range of chic rooms, many with sea views (£175).
One of Scotland's best B&Bs is on Skye. Hillstone Lodge is a gorgeous, light-flooded bed and breakfast with three doubles all gazing out over Loch Dunvegan (£180). Owners Russell and Patrice couldn't be more welcoming and you're sure to make firm friends with their West Highland Terrier, Inca.
Rather self-cater? In Banffshire, Down on the Farm offers the chance to stay in cosy "high sea hobbits", cylindrical camping pods that come with their own fire pits (from £60), while on the shores of Loch Awe, in Argyll, the Loch Awe Boathouse has its own private pier with fishing rights, canoes you can borrow and two double bedrooms (from £995 for seven nights).
Finally, for something really special, book into Croft 103 on Loch Eriboll near Durness. The glass walls bring the loch right into the open-plan living space and there's a wood burner inside and a bathtub made for two on the terrace outside (from £1,980 for seven nights).
Helen Ochyra is the author of Scotland Beyond the Bagpipes, out now (bookguild.co.uk, £9.99)
Map of Scotland's best bits
Be the first to comment
Do you want to comment on this article? You need to be signed in for this feature