Scotland's style capital: what to do in Glasgow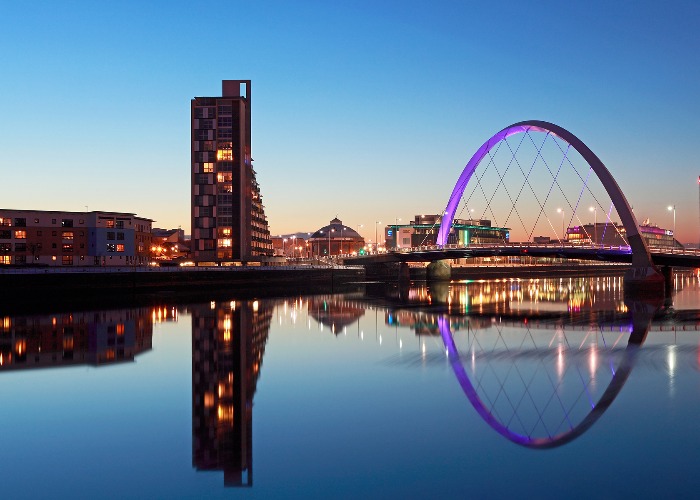 From rock 'n' roll drama to urban whisky – via trend-setting art and architecture – Scotland's upbeat capital of cool has it all.
Glasgow's nickname, the 'Dear Green Place', could hardly be more apt. The city encapsulates Scotland in miniature, with a rolling band of crooked hills and whisky distilleries to the north, a river carving through its midriff and just shy of 100 parks, gardens, castles and national treasures woven into its fabric.
It's also true that it's one of the world's first examples of a planned, grid-layout city (take that, Manhattan) and has world-renowned architecture. Glasgow's poster boy is Charles Rennie Mackintosh, and his star attractions can be savoured on a stroll across the city's mercantile centre. From the rose motifs of the visually-ambitious Glasgow School of Art to the helical staircase of The Lighthouse, Scotland's Centre for Design and Architecture, the city's ornate buildings never disappoint. And it's a heritage Glaswegians – the city's upbeat, loquacious locals – are justifiably proud of.
Use our tried-and-tested tips on what to do in Glasgow for a brilliant weekend escape.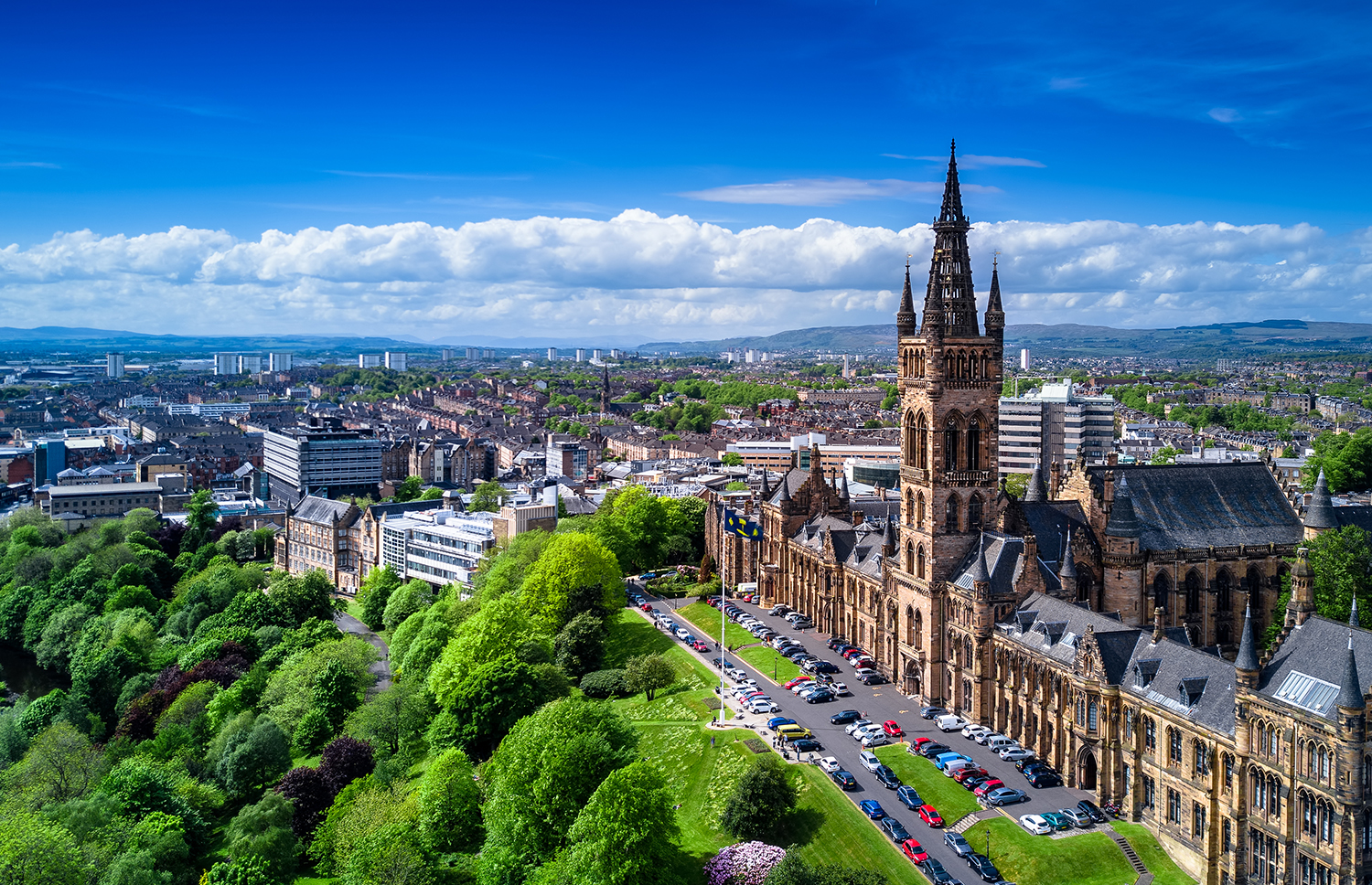 CappaPhoto/Shutterstock
Friday
Get around by: subway. Known as the Clockwork Orange because of its circular line and livery matching the colour of ubiquitous Scottish fizzy drink Irn Bru, Glasgow's underground train is the world's third-oldest metro. All-day tickets are a steal at £4 and the lines join the dots between the city's main attractions from early to late.
Check into: The Blythswood Square Hotel. Situated on a Georgian square, this landmark property, and former home of the Royal Scottish Automobile Club, has long been one of the city's most sought after addresses. Bedrooms have an aristocratic bent and the lobby and restaurant are fitted with marble fireplaces, period ceilings and wood panelling. You don't need to wear a cravat, but it wouldn't look out of place.
Eat at: The Two Fat Ladies in the City. Believe the stories and you'll think the Glaswegian diet consists of nothing more than a deep fried Mars bars and Irn Bru, the nemesis of dentists everywhere. But how wrong you'd be. With two sister branches in the city, this ravishing side-street restaurant is a pescatarian's dream, serving just-landed prawns, hand-dived scallops and line-caught river fish without fuss or pretension.
Have a pint in: Nice'n'Sleazy. The skin-tight jeans and scuffed Converse aren't a dress code, but you'll fit right in if you do wear them at this popular rock bar. The likes of Snow Patrol, Belle and Sebastian and Franz Ferdinand are known to prop up the bar, while downstairs is a claustrophobic music venue where touring bands are reminded, for better or worse, just how vocal a Scottish audience can be.
Saturday
Top tip: Look up: Glasgow delivers spectacle from on high and its buildings have serious wow factor. It's also an immensely walkable city, so wear sturdy shoes, embrace the fresh air, and make sure you pack an umbrella. Here life yields to all the elements.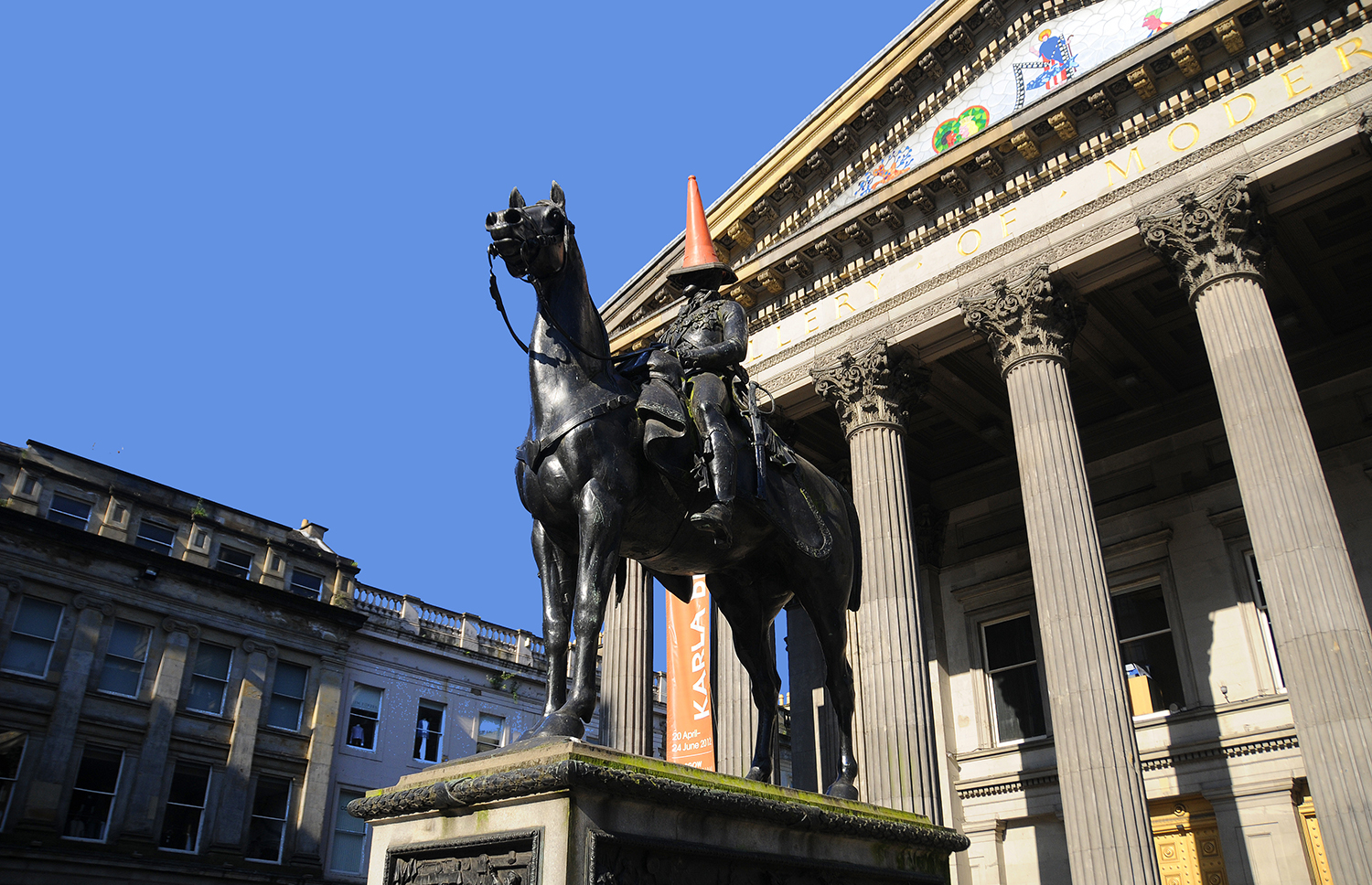 meunierd/Shutterstock
See: Gallery of Modern Art. It's hard to know what's more famous about this ground zero for modern art: the works inside the neo-classical building, or the statue of the Duke of Wellington on the steps – the orange traffic cone balanced on his brow has come to symbolise the city's coal-black humour and disdain for authority. Come for the cone, stay for career highlights from David Hockney, Andy Warhol and Sebastião Salgado, as well as Scottish artists John Bellany and Peter Howson.
Discover: Kelvingrove Art Gallery and Museum. There's little not to like about art, sculpture, dinosaurs, an Asian elephant and a Spitfire all under one roof. The city's most popular museum – a short hop from the city centre to Kelvinhall in the West End – hides 22 themed galleries beyond a baroque sandstone grimace. One highlight, among many, is Christ of Saint John of the Cross by Salvador Dalí.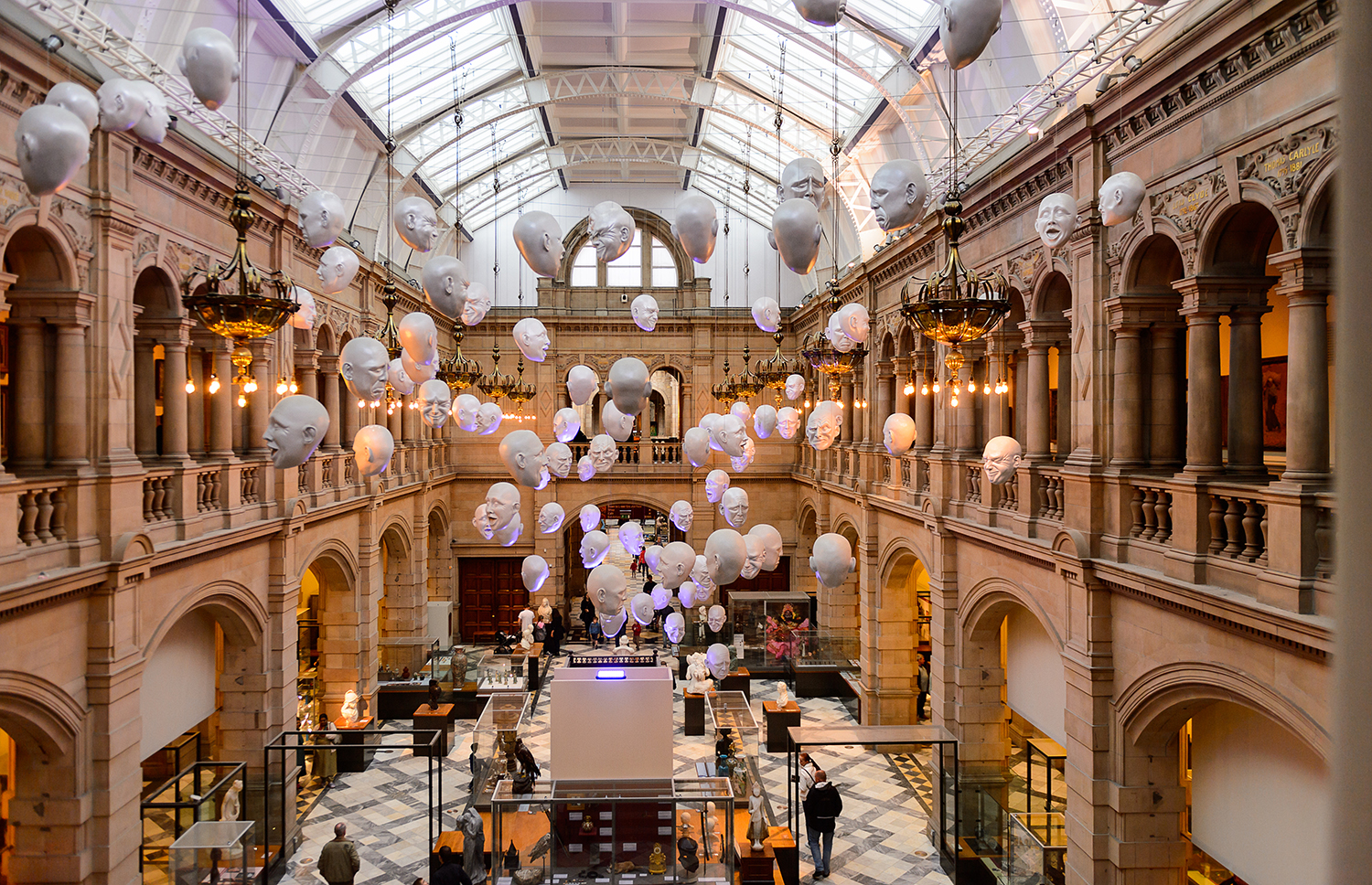 Anton Ivanov/Shutterstock
Take in a show at: Òran Mór. It's rare for religion to be forsaken in the name of regeneration, but not in Glasgow. A saunter down Byers Road leads to this church-turned-bar, with a mural by local artist and Lanark author Alasdair Gray. At lunchtime (Mon–Sat only, 1pm) the popular residency, "A Play, a Pie, and a Pint,' combines the city's holy trinity of flavours. It's so good, in fact, it has become the UK's most successful lunchtime theatres.
Have a dram at: The Clydeside Distillery. It's not just in the straw-coloured Highlands that whisky is an art form. Following the recent opening of the Glasgow Distillery Co. in an old pump house (the first to do so in more than a century) this small-batch, urban distiller brings whisky back into the folds of Finnieston. Look back in history and such punch-drunk opportunism isn't that crazy. Glasgow was once home to more than 33 Victorian-era outfits, with Queen's Dock on the banks of the River Clyde the beating heart of the global Scotch industry. Tours run daily from 10am–4pm.
Eat at: Ox and Finch. Built on the shared plates philosophy, this Mediterranean tapas outpost tucked away in Finnieston is immensely popular for its Spain-meets-Sauchiehall Street vibe. Dishes like haggis merguez and crab and crayfish on toast with orange and chili set the mood, while the drinks list tops out with bubbles, rioja and fine sherry. As a measure of its success, sibling new restaurant Baba, opened in December, is now the hottest table in Edinburgh.
Continue the party at: SWG3. Home to a see-and-be-seen arts and music venue, repurposed out of a series of defunct railway arches, this unpredictable community for creatives regularly puts on the hottest tickets in town. After the closure of The Arches, Glasgow's mythical Xanadu-like nightclub, this is a winning alternative.
Sunday
Visit: The Glasgow School of Art. Built from 1897 to 1909, Mackintosh's masterpiece was ravaged by fire in 2014, but is thankfully on its way to full health – and best experienced through insightful, student-led tours. Spot a splash of baronial architecture here, a dash of Far Eastern detail there, then understand why his peers regarded him as a genius. Also highly recommended is The Lighthouse, where you can start the city's themed Mackintosh heritage trail.
Pay your respects at: Glasgow Cathedral. Built on the tomb of the city's patron saint Saint Mungo, this medieval cathedral is a superb example of Gothic architecture on the fringe of the Merchant City. Worth a wander regardless of your faith, its tall spire casts shadow over the ivy-covered confines of the nearby Necropolis, Glasgow's city of the dead and Victorian-era cemetery.

Cafe Gandolfi/Facebook
Stop for lunch at: Café Gandolfi. Before Hebridean-born chef-owner Seumas MacInnes came to town, Stornoway black pudding was used mainly to grout brickwork in Glasgow, or so he jokes. Now it's a highlight at his long-running, all-day café, which specialises in the full monty of Scotland's larder. For nostalgic dishes, such as Cullen skink soup and Arbroath smokies, look no further.
Shop in: Mono. You're unlikely to have set foot inside a record store like this before. The pitch perfect combo of a café, bar, music venue and rare vinyl emporium, this all-rounder is a magnet for savvy record collectors and local musicians. No wonder: its run by Stephen Pastel, one of the godfathers of the city's music scene.
Rock on at: The Barrowland Ballroom. To see this creaky and dilapidated venue on any given night, when the dance floor turns into a raucous bear pit, is to become part of the city's music history. Everyone from The Clash and Depeche Mode to Oasis and U2 has played, but you'll need to steal, borrow or beg for a ticket to see homegrown legends Primal Scream, Teenage Fanclub or Mogwai top the bill. Few venues in the UK – indeed, anywhere in the world – rival it for scuzzy rock 'n' roll glamour.
Be the first to comment
Do you want to comment on this article? You need to be signed in for this feature