Isle of Islay: the ultimate guide to Scotland's whisky island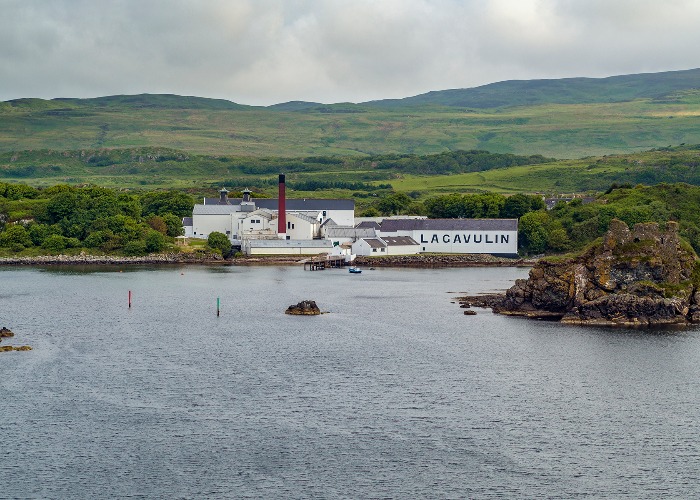 Writer Robin McKelvie journeys around the Scottish whisky isle of Islay. Here's how to recreate it...
Let's be honest about Islay whisky right from the start – the fiery, peat-laden malt whiskies from this hallowed Scottish isle are the Marmite of the Scottish whisky scene. Many of them pack a smoky, salty punch that can feel like an assault on the senses of the uninitiated. Persevere though, and I know you will end up agreeing with me, as a native Scotsman and huge whisky fan, that these are the world's most fascinating and rewarding whiskies.
Islay is brilliantly set up for whisky touring. This bijou Hebridean isle is deeply scenic, awash with sweeping sandy beaches and rolling hills, peppered with cute wee villages and restaurants, where the local seafood is the ideal accompaniment to the malts. The distilleries themselves are as welcoming as the friendly islanders.
The eight whisky distilleries currently open are about to be joined by more as the industry booms, with mothballed distilleries re-opening and completely new ones emerging. You can tour all eight, but what they offer varies wildly, so read on to find what visiting is like and why you should come to each one. I thoroughly recommend taking in all eight, which I did in one glorious weekend recently. Sláinte!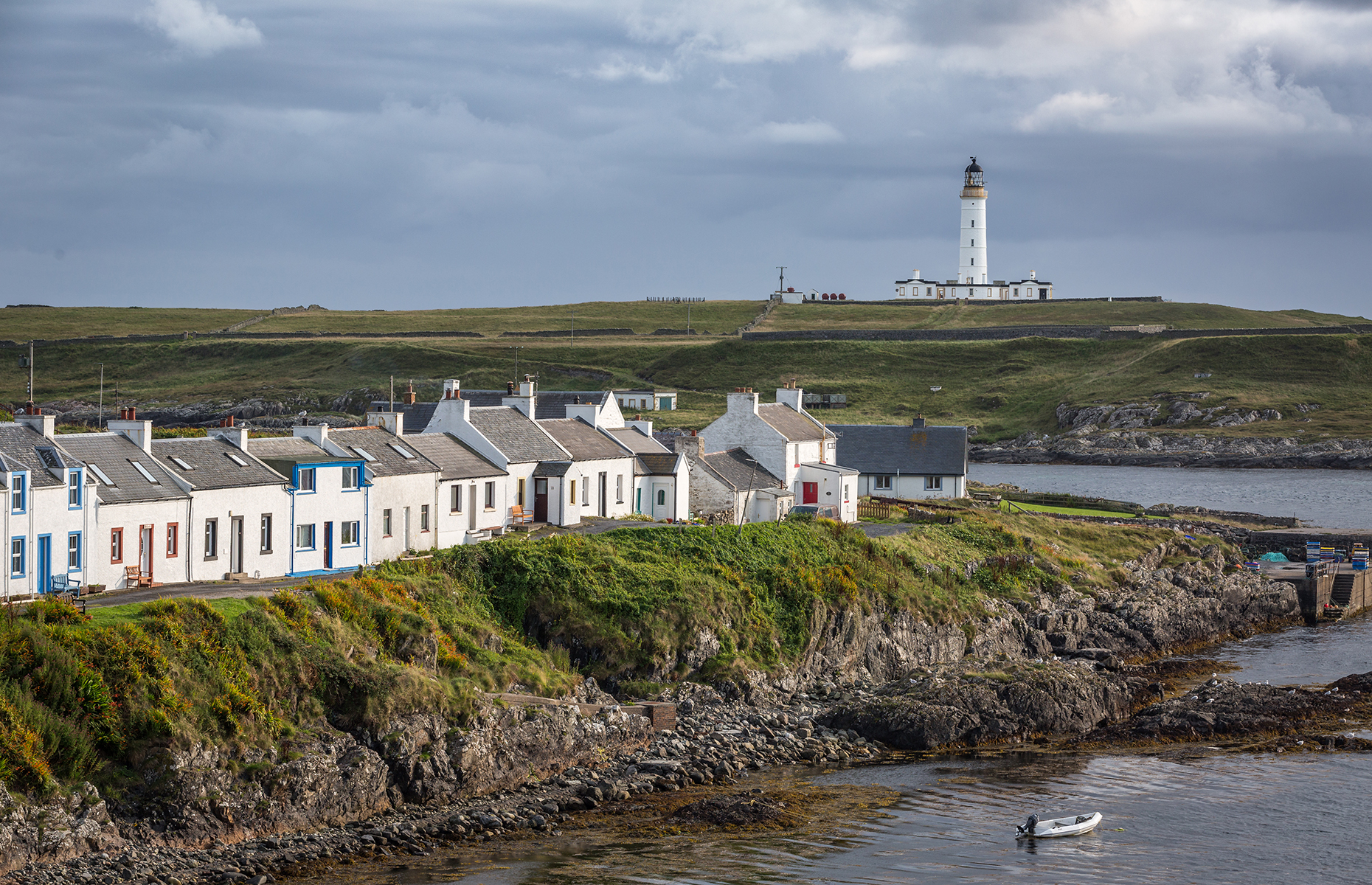 Kevin Standage/Shutterstock
Ardbeg
I'll put my hand on my tartan heart here and confess that this is my favourite Scotch whisky. This is the quintessential Islay distillery, a whitewashed old dame that gazes out over a rugged Atlantic shoreline. Ardbeg's Kiln Café is not just the best place to eat in any Islay distillery, but the whole island. Their shop is very well stocked – as with all Islay distilleries look out for 'distillery only' expressions (the industry term for a special edition), which are normally very collectible. My tip is to take a tour that takes you on a guided yomp up to the malt's unique source, Loch Uigeadail, where you can return a dram 'home'.
READ MORE: Scotland in minature: what to see on the Isle of Arran
Lagavulin
A new pathway now connects the trio of southern distilleries so it's an easy stroll to Lagavulin where my firm belief that their whisky needs to be matured for 16 years was challenged by the launch of their frisky new eight-year-old expression. The visitor set-up here is pretty laid-back. Show an interest in buying a bottle in the shop and you will usually be asked if you'd like a taste of a few malts in their lounge. It's a sublime experience sitting in one of their leather armchairs savouring this stunning whisky.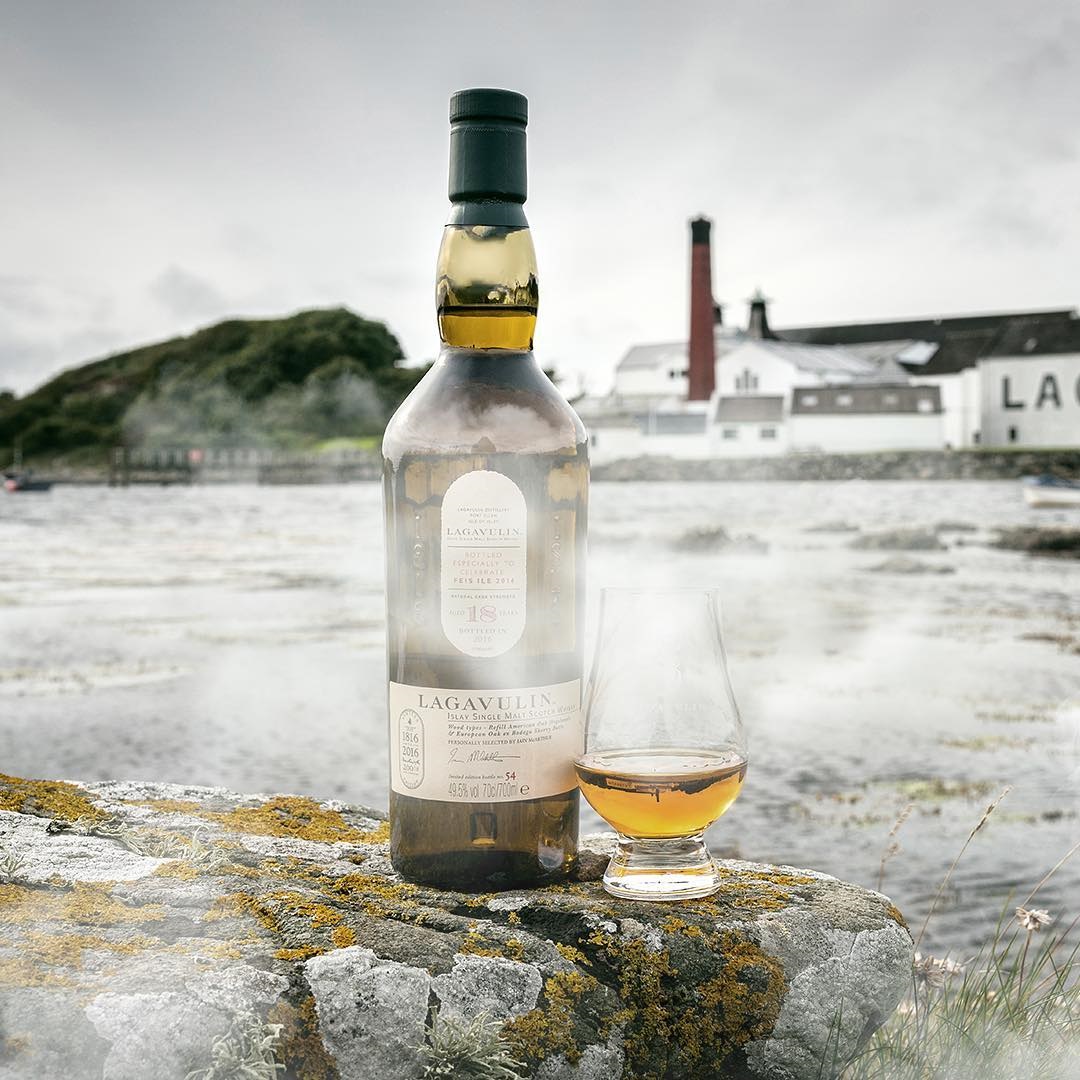 lagavulinwhisky/Instagram
Laphroaig
The third of the south coast dames is within walking distance of the Port Ellen ferry. Laphroaig is typical of these southern distilleries, her 200-year-old whitewashed walls standing strong against the salty spray of the Atlantic – walk down towards the shore for brilliant photos. It's the saltiness, making its way into the maturing casks, that's responsible for one of the most distinctive tastes in Scottish whisky. I thoroughly recommend their tours, which include a whisky and food pairing – how about orange or blue cheese matched with a smoky, salty whisky?
Bowmore
This trim distillery sits at the heart of the island capital of Bowmore and is very much part of the local community, so much so that the whisky production is used to heat the local swimming pool. They still do some of their own malting by hand here so if you're lucky on your tour you'll see them working the barley on the floor as they have done since time immemorial. Bowmore whiskies are ideal for timid Islay drinkers as they are much smoother with less peat and definite sherry notes from the casks they are matured in – be careful which whisky you buy here as they have bottle that comes in a cool £100,000. If you're really looking to immerse yourself in the whisky experience, they have self-catering cottages on site too.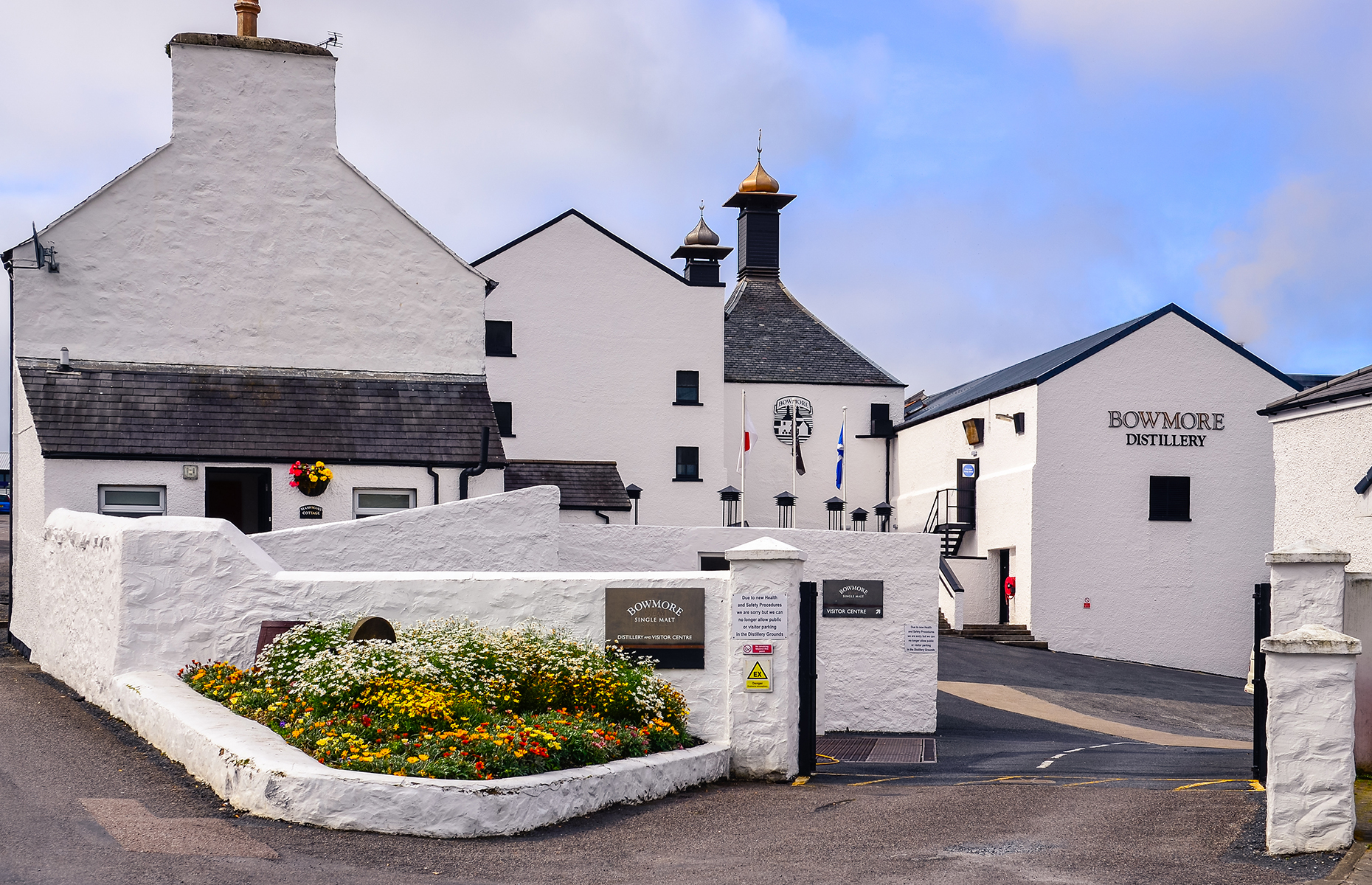 Martin M303/Shutterstock
Bruichladdich
This unusual distillery was very much independent until very recently and it remains thoroughly unique. Rather than relying on high tech gadgets, Bruichladdich works with some seriously old-fashioned production equipment that gets whisky purists very excited. They spin a great yarn here too – ask them about the waylaid Royal Navy minisub and the time when the CIA got in touch as their more traditional Victorian distillation techniques are apparently similar to some of the processes used in manufacturing weapons of mass destruction. Bruichladdich also lays claim to producing the peatiest whisky in the world – the mighty Octomore.
READ MORE: 9 things you mustn't miss when exploring the Scottish Highlands and Islands
Bunnahabhain
Tricky to spell, but easy to drink. On the same eastern coast as Caol Ila this often forgotten distillery boasts the tallest stills on Islay, which may in part account for the sweetness of their malts. Aged in sherry casks, these are smooth whiskies that still have enough peat to interest the Islay purists. Although much of Bunnahabhain's malts go into one of Scotland's most famous blends, Black Bottle, their non-age statement (meaning the age of the whisky isn't indicated on the label) Toiteach is a star with a little more peat, making it a lovely accompaniment to one of Scotland's excellent blue cheeses.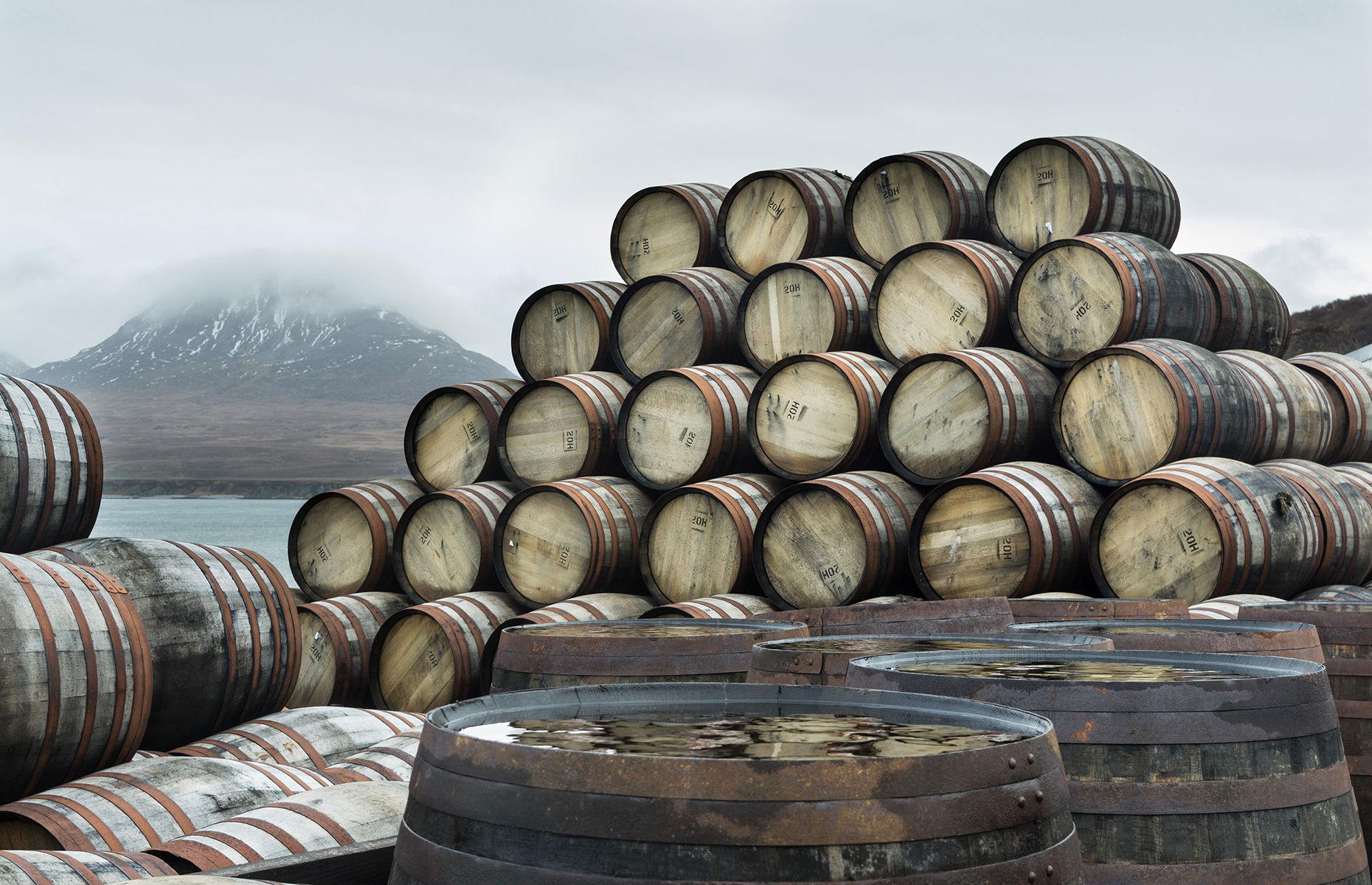 Niall MacTaggart/Shutterstock
Kilchoman
The newest of the island's whisky distilleries, Kilchoman is a mere baby in Islay terms and only opened in 2005. It's definitely the smallest too, with only around 200,000 litres produced each year. The setting is gloriously low-key at Rockside Farm, which pays homage to the old days of the illicit stills that were once sprinkled across every community on Islay before the arrival of the exciseman. None of Kilchoman is sold off into blends and increasing attempts are being made to keep things seriously local at a distillery where handcrafted is the way to go. Take their 100% Islay expression, which only uses barley grown on the isle. Their tours are short affairs given the distillery's compact size, though make sure to enjoy lunch in their café – their beef panini is excellent and perfect with a dram.
Caol Ila
By far the largest producer of whisky on Islay, it conjures up over 6.5 million litres of whisky a year, with the majority of it going into blends, most famously the Johnnie Walker brand. In recent years Caol Ila malts have started to be taken more seriously and some of them are delicious. The 25 year old is a stunner – it may have a similar phenol content to peaty monster Laphroaig, but it also has lovely warming fruit and spice notes too. The distillery itself isn't the prettiest, but its giant stills have the best views as a whole wall of glass gazes out over the Caol Ila or the Sound of Islay.
Lead image courtesy of Visit Scotland.
Be the first to comment
Do you want to comment on this article? You need to be signed in for this feature