Explore incredible Istria
This stunning region of Croatia flaunts charming scenery, world-class gastronomy and history by the bucket load. It's easy to enjoy a few days here – but this is how to do it properly...
Why go to Istria?
A large heart-shaped peninsula at the head of the Adriatic, Istria is a region of Croatia that is almost impossible not to fall in love with. Along the coast you'll find oodles of hidden rocky coves, great sweeps of shingle or pebble beach, and tiny rocky islands.
There are UNESCO-listed Byzantine mosaics, spectacular Roman ruins, medieval frescoes and elegant Venetian and Habsburg palaces – and there are also bustling open markets, sleepy village squares and hiking and biking trails.
Inland the landscape is dotted with bijou hill towns, surrounded by truffle-rich woodland and vineyards.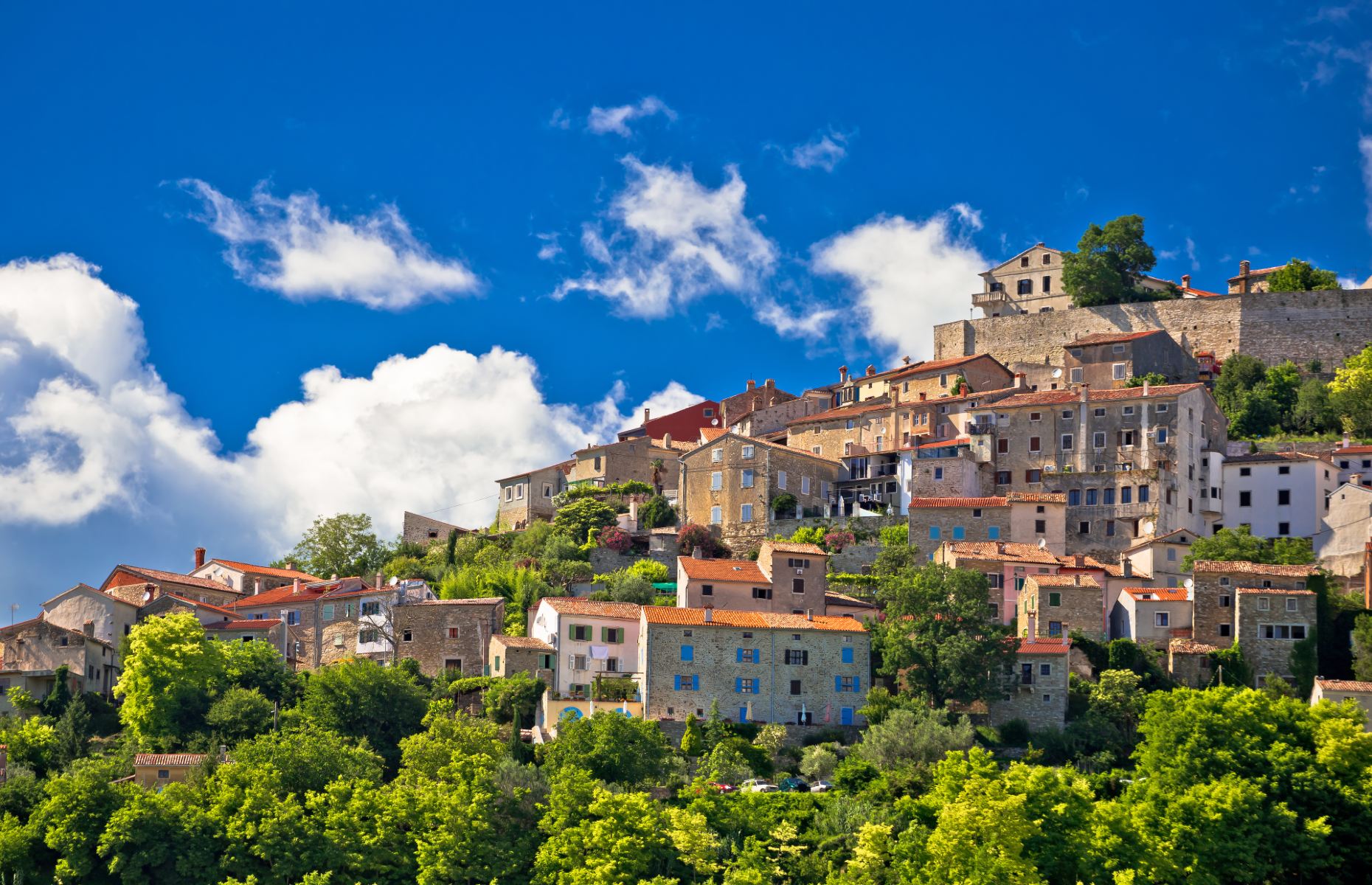 xbrchx/Shutterstock
Istria is also Croatia's greatest gastro region – from superb seafood, to delicious local pasta dishes, melt-in-your-mouth pršut (dry-cured ham) and the exquisite tartufi (truffles) for which it is famous – and home to many of the country's best wines, not to mention its finest olive oils.
READ MORE: 48 hours in Zagreb
4 must-see places in Istria
1. Pula
The little town of Pazin in central Istria may be the peninsula's administrative capital, but it is Pula, on the west coast, which is its largest, most bustling city. It's also home to what's locally referred to as simply the 'arena' – a magnificent Roman amphitheatre, remarkably well preserved and among the six largest in the world.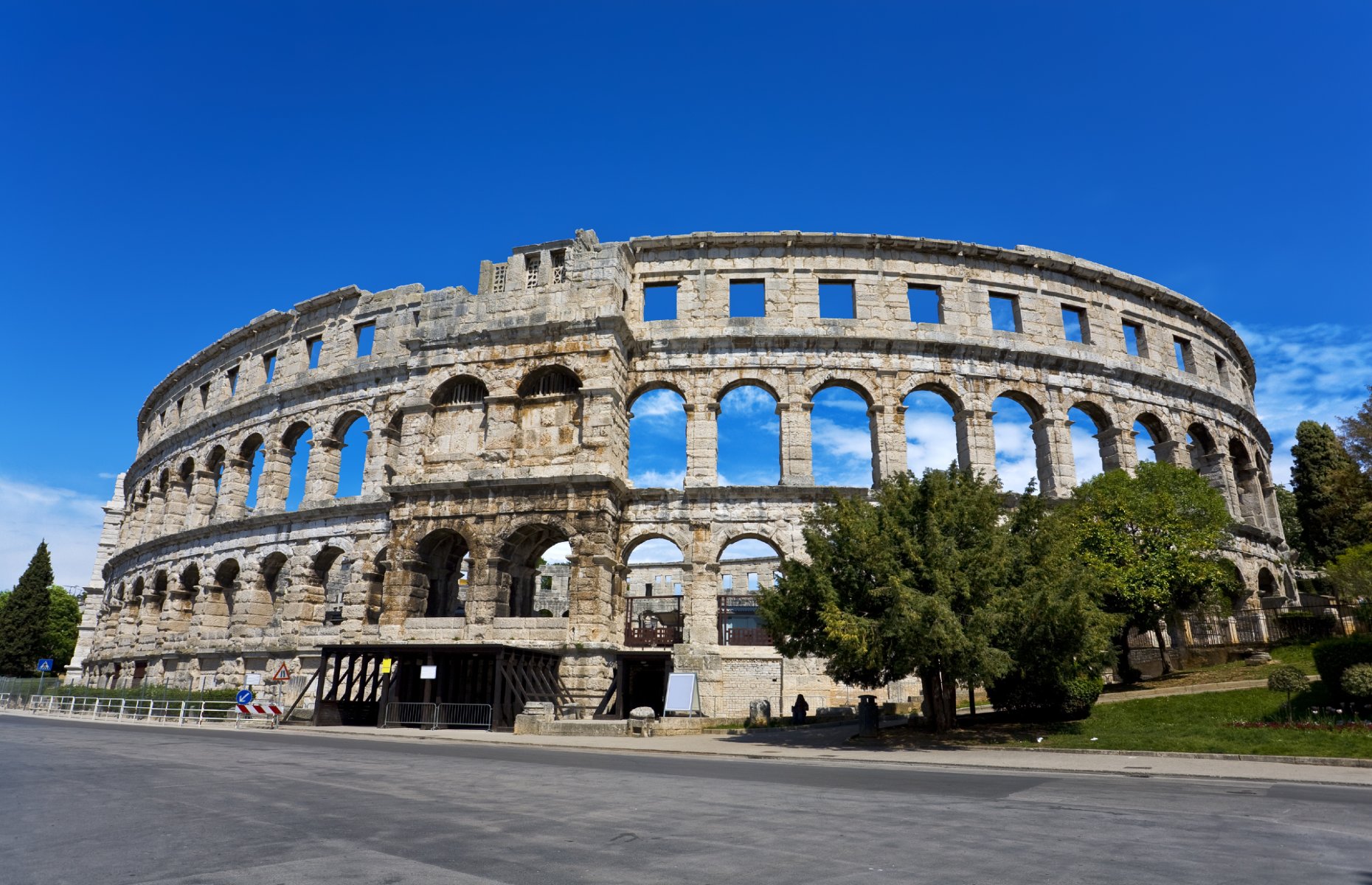 WitR/Shutterstock
Pula is also a good base for boat trips to the Brijuni Islands, and the rather wonderful Rt Kamenjak, a narrow peninsula at the southern tip of Istria with numerous coves and beaches, and amazing wildflowers in the spring.
2. Motovun
Istria's most famous hill town, Motovun is surrounded by vineyards, topped with a crenellated bell tower, and has sweeping views from its medieval walls. It's also home to one of Croatia's best film festivals.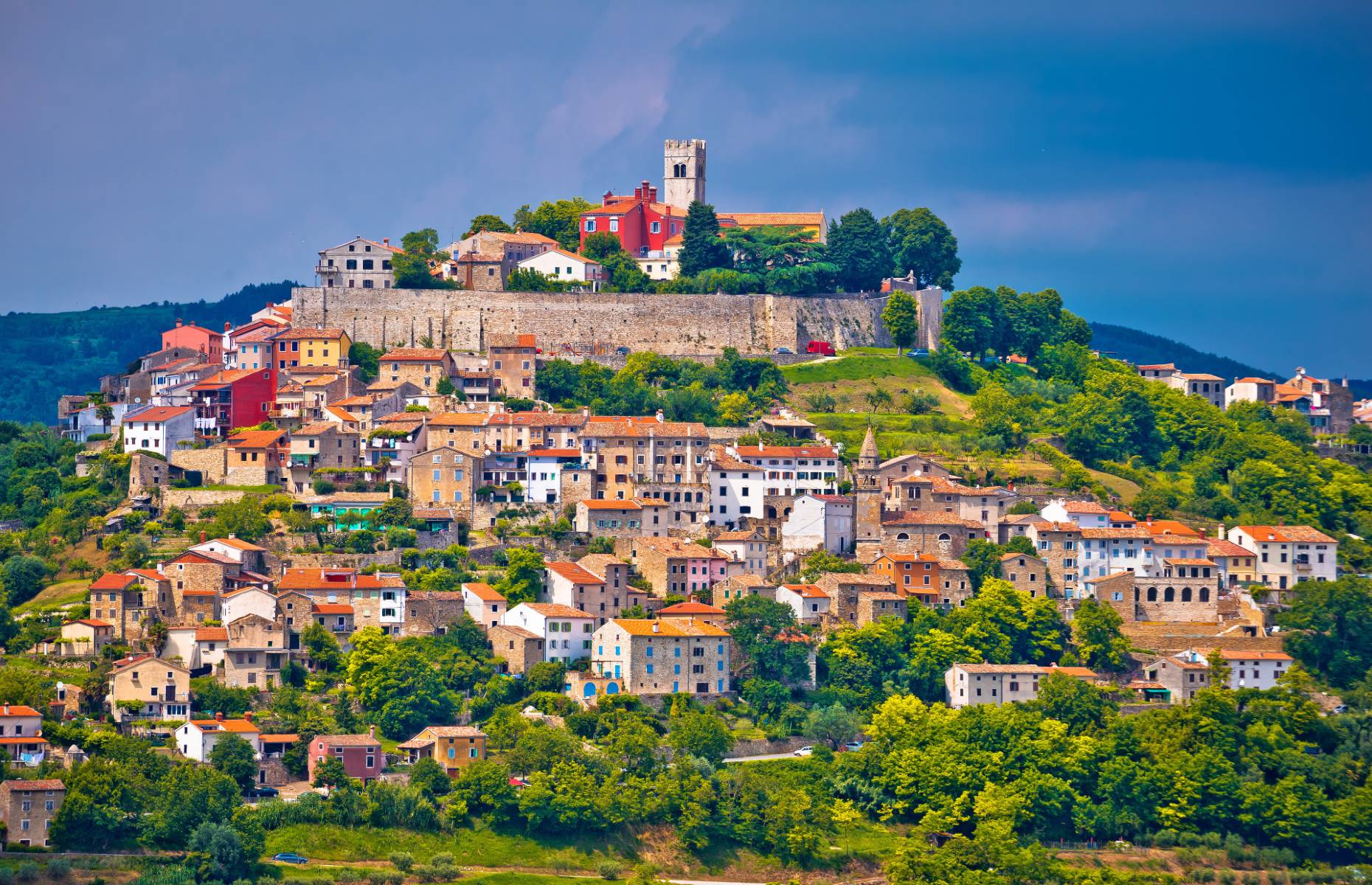 xbrchx/Shutterstock
3. Poreč
Poreč has a lovely old town centre – however the main reason to visit is to see its truly amazing, UNESCO-listed Euphrasian Basilica, with its dazzling Byzantine mosaics. Dating from the 6th century AD, these are on a par with those other great cycles of Byzantine mosaics at Ravenna in Italy and in the Hagia Sophia in Istanbul.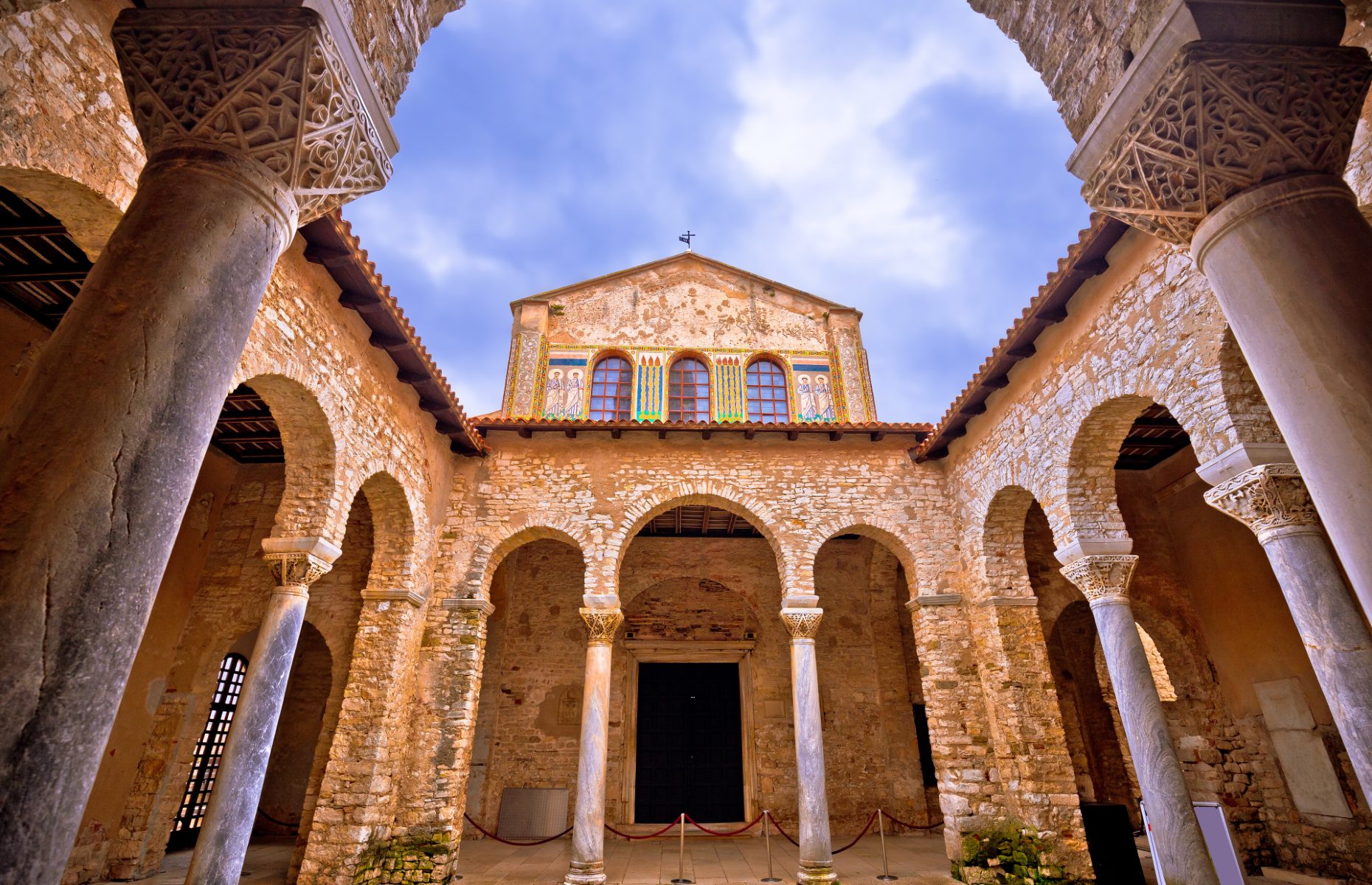 xbrchx/Shutterstock
4. Rovinj
Istria's most popular and possibly most instagrammed city, Rovinj is a wonderfully Italianate cluster of shuttered houses, cobbled alleys and brightly painted façades, spilling downhill from the large hilltop Church of St Euphemia, with its soaring bell tower, modelled on that of St Mark's in Venice.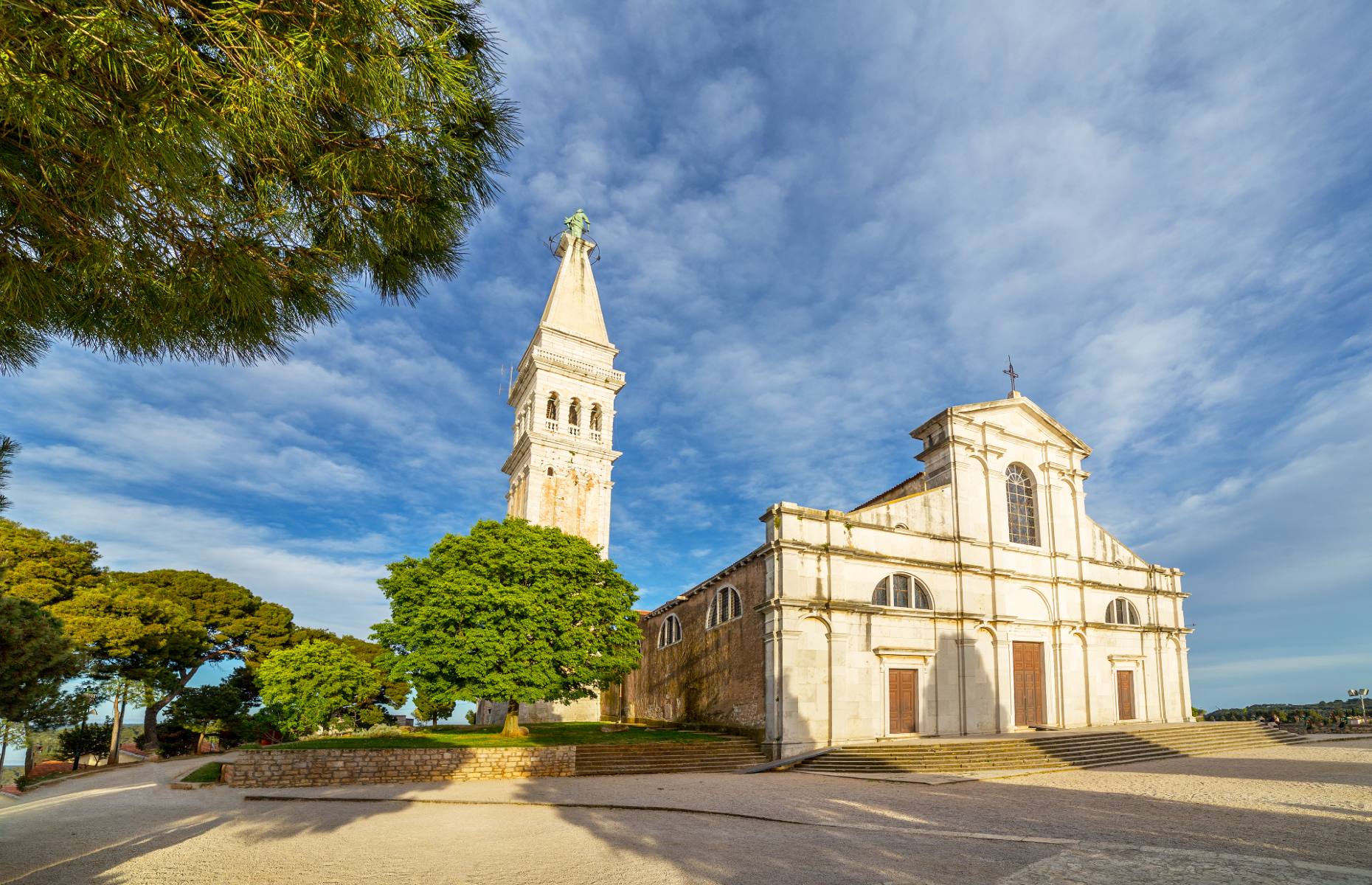 Marcin Krzyzak/Shutterstock
READ MORE: 5 hilltop towns you need to visit in Istria and why
4 lesser-known highlights in Istria
1. Hiking on Učka
Učka is a large, sprawling mountain in the northeast of Istria, mostly forested except for its upper slopes, with some excellent hiking routes and breathtaking views from its 4,596 foot (1401m) summit, Vojak.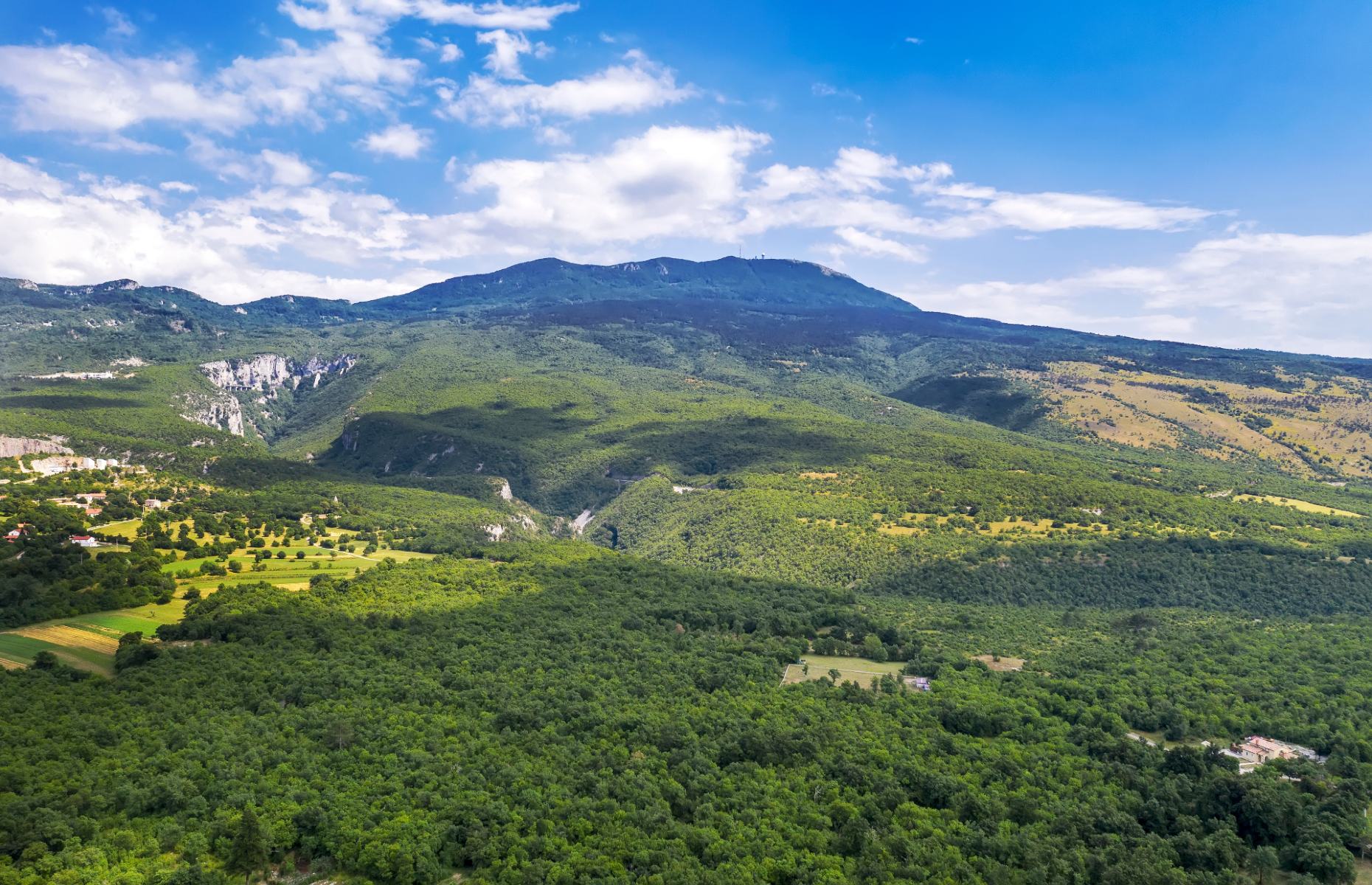 burnel1/Shutterstock
You can hike to the top from Lovran on the coast, for which you'll need to allow at least seven hours for the uphill and return trip – or there's a road crossing a nearby saddle, from where it's a more modest 80-minute hike up to the summit.
2. Cycling the Parenzana
The Parenzana is a 76-mile (123km) cycling route following the course of a former narrow-gauge railway line, running from Poreč on the coast, up through the hilly centre of Istria, along the Slovenian coast to Trieste in Italy.
Whether you choose to bite off a short section or peddle the whole route, it's one of the best outings on two wheels in Croatia.
3. Labin
This unassuming little hill town on the east side of Istria still feels something like a smaller, largely undiscovered version of Motovun. Come and wander the cobbled streets, escape the crowds, and sip coffee on the square. Or if you're in need of some beach time, head downhill to Rabac, a popular resort on the coast.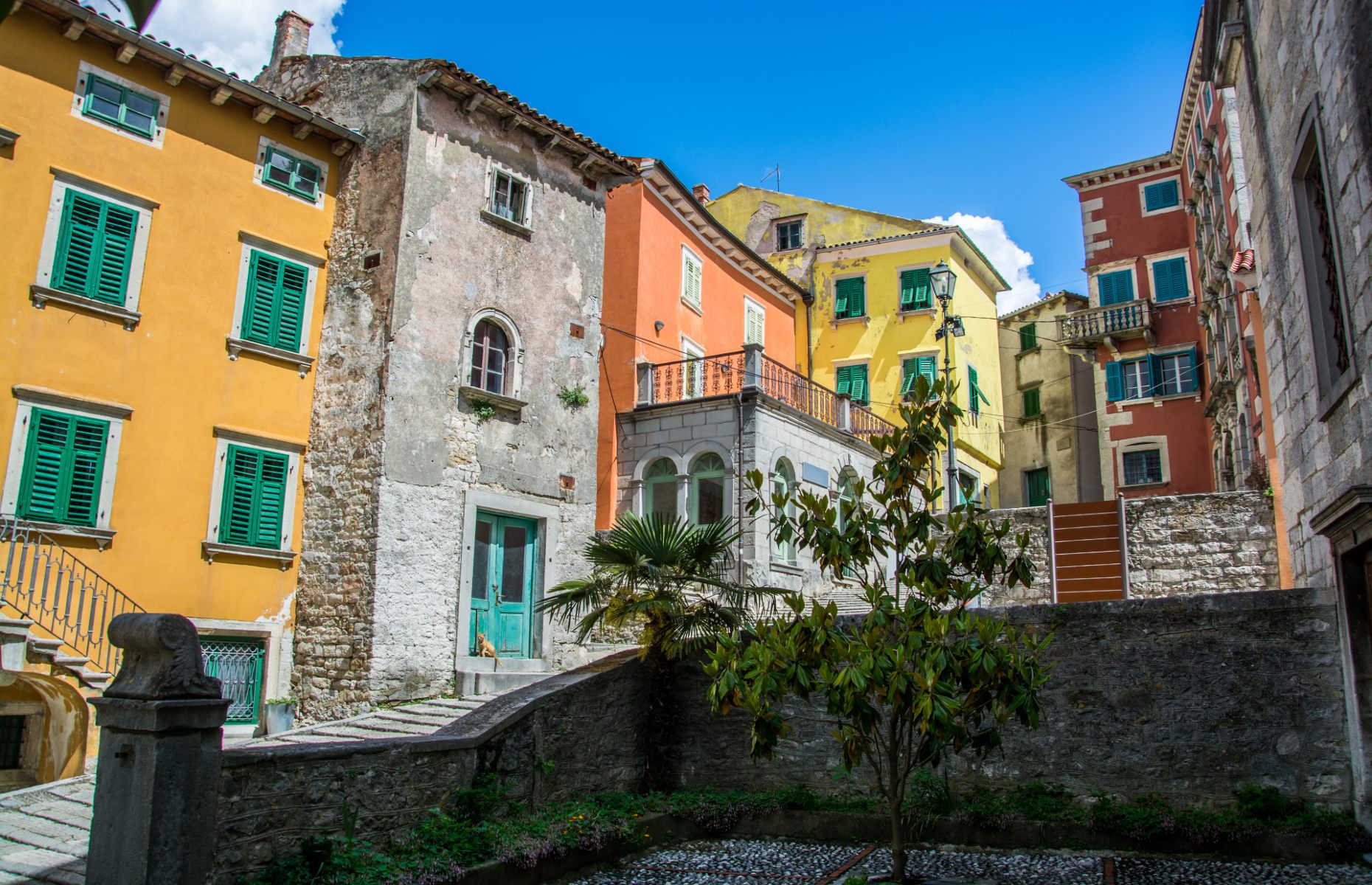 U. Gernhoefer/Shutterstock
4. Rijeka
OK, technically speaking Rijeka is in the Kvarner region, not Istria – but its location next to one corner of the Istrian peninsula, means that you really should include it in any trip to Istria.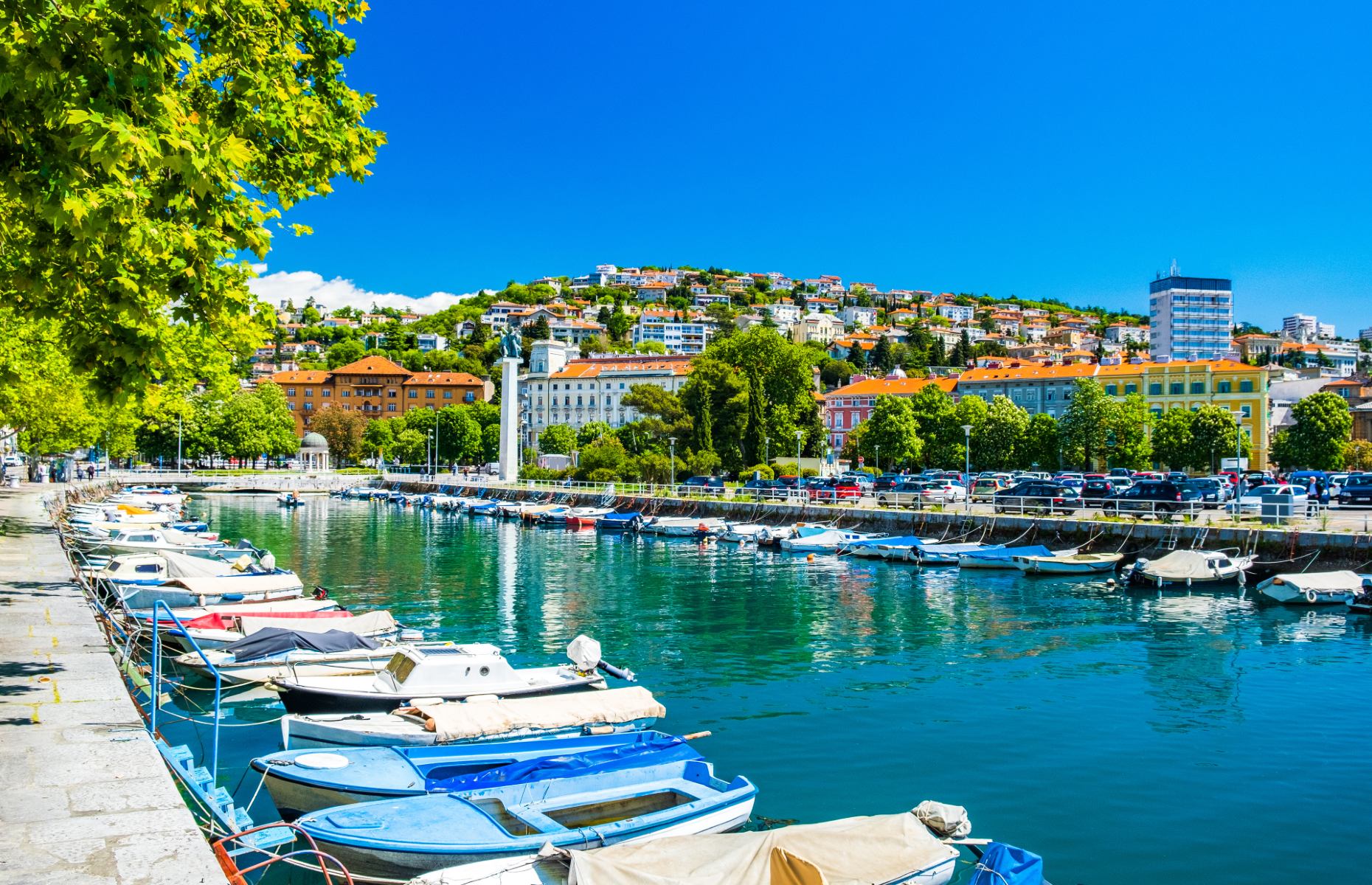 Ilija Ascic/Shutterstock
Croatia's largest port, it's a vibrant city which for years slipped well off the tourist radar of many visitors – and yet it was Rijeka which was inaugurated as European Capital of Culture in 2020 (the first Croatian city to receive this accolade). It's home to an excellent new museum space, as well as Croatia's largest carnival.
READ MORE: A weekend away in Rijeka
Why wine and olive oil are big business in Istria
Istria has been named the world's best olive oil region by Flos Olei for the past seven years in a row – and many of Croatia's finest wines are also produced in Istria. So it's well worth spending some time visiting a vineyard or two, and an olive oil producer, many of which offer tastings and degustations (generally, you should book these rather than just turning up).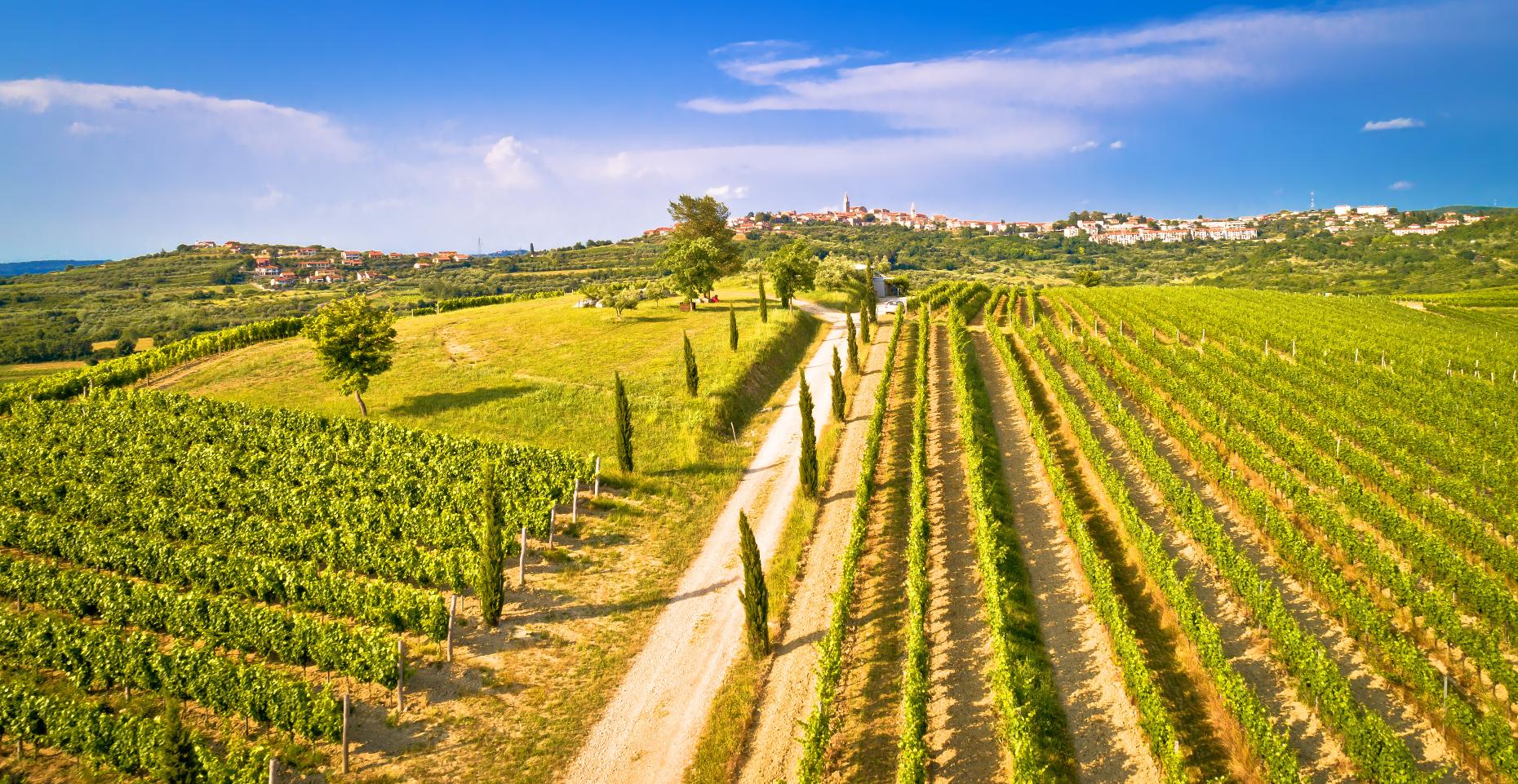 xbrchx/Shutterstock
Here are a few suggestions for multi-award-winning wines to try and vineyards to visit, to get you started: Benvenuti and Fakin, both near Motovun; Cattunar, in Brtonigla, Damjanić near Poreč, Dešković near Grožnjan, and Kozlović near Buje.
And here are some equally highly awarded olive oil producers in Istria: Al Torcio near Novigrad, Ipša near Oprtalj, Mate in Savudrija, Negri near Labin, and Olea BB near Fažana.
READ MORE: How to spend 48 hours in Dubrovnik
Where to stay and eat in Istria
Whether you're visiting with family or splashing out on a swanky boutique stay for two, Istria has plenty of accommodation options. For food, you're spoiled for choice too...
Hotel Kaštel – a lovely little family-run hotel on the old town square in Motovun, in a restored former palace.
Hotel Navis – uber-stylish design hotel in Volosko, right on the waterfront, with luxurious rooms. The restaurant here is superb – one of the best in Croatia.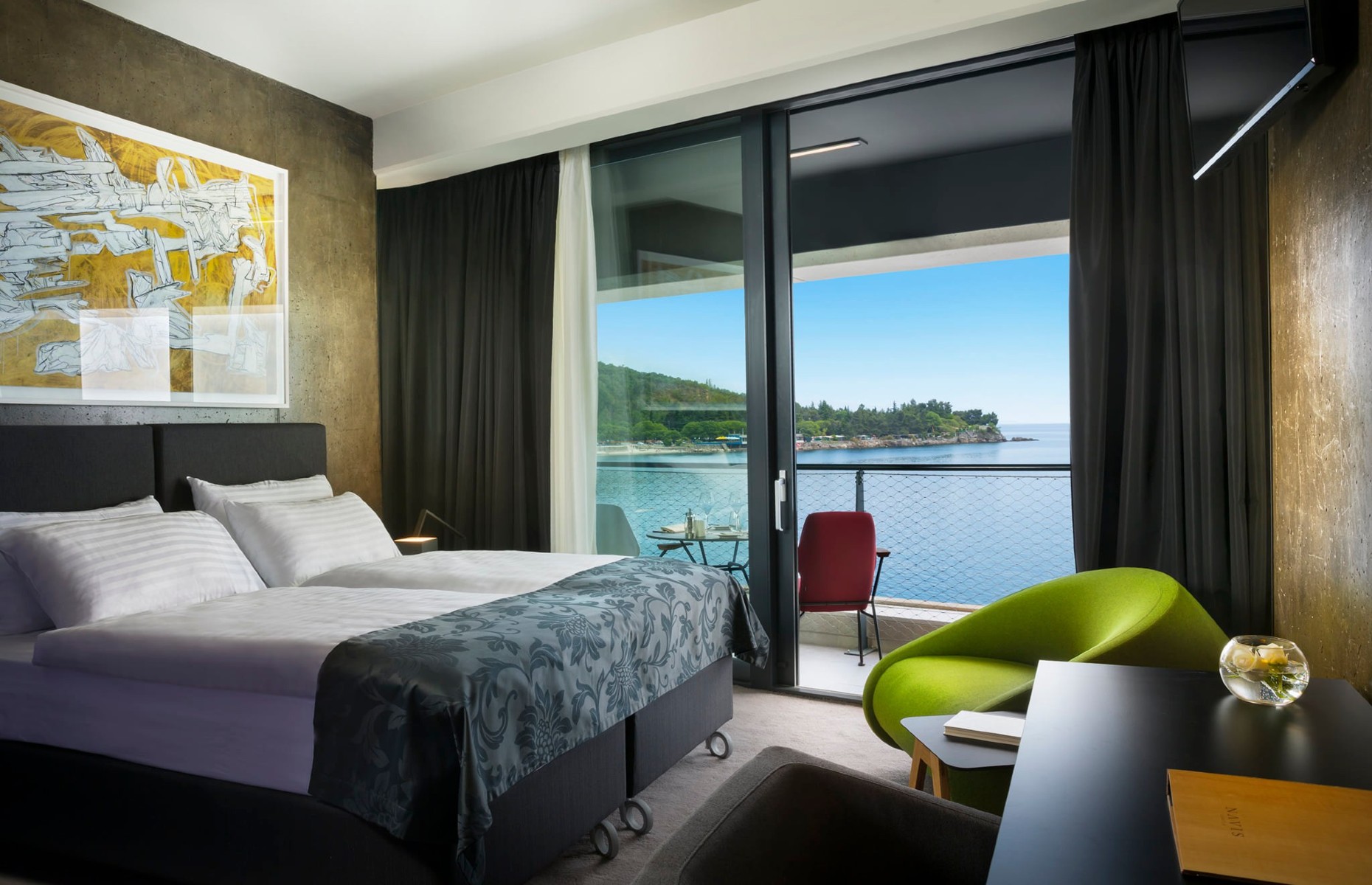 Hotel Navis Opatija/Facebook
Hotel Peteani – a small and very stylish family-run boutique hotel in Labin, with an extremely good restaurant.
Konoba Nono – excellent restaurant on the road between Umag and Buje, serving plenty of mouth-watering Istrian fare.
San Rocco – boasts exquisite rooms and one of Istria's finest restaurants, in the village of Brtonigla.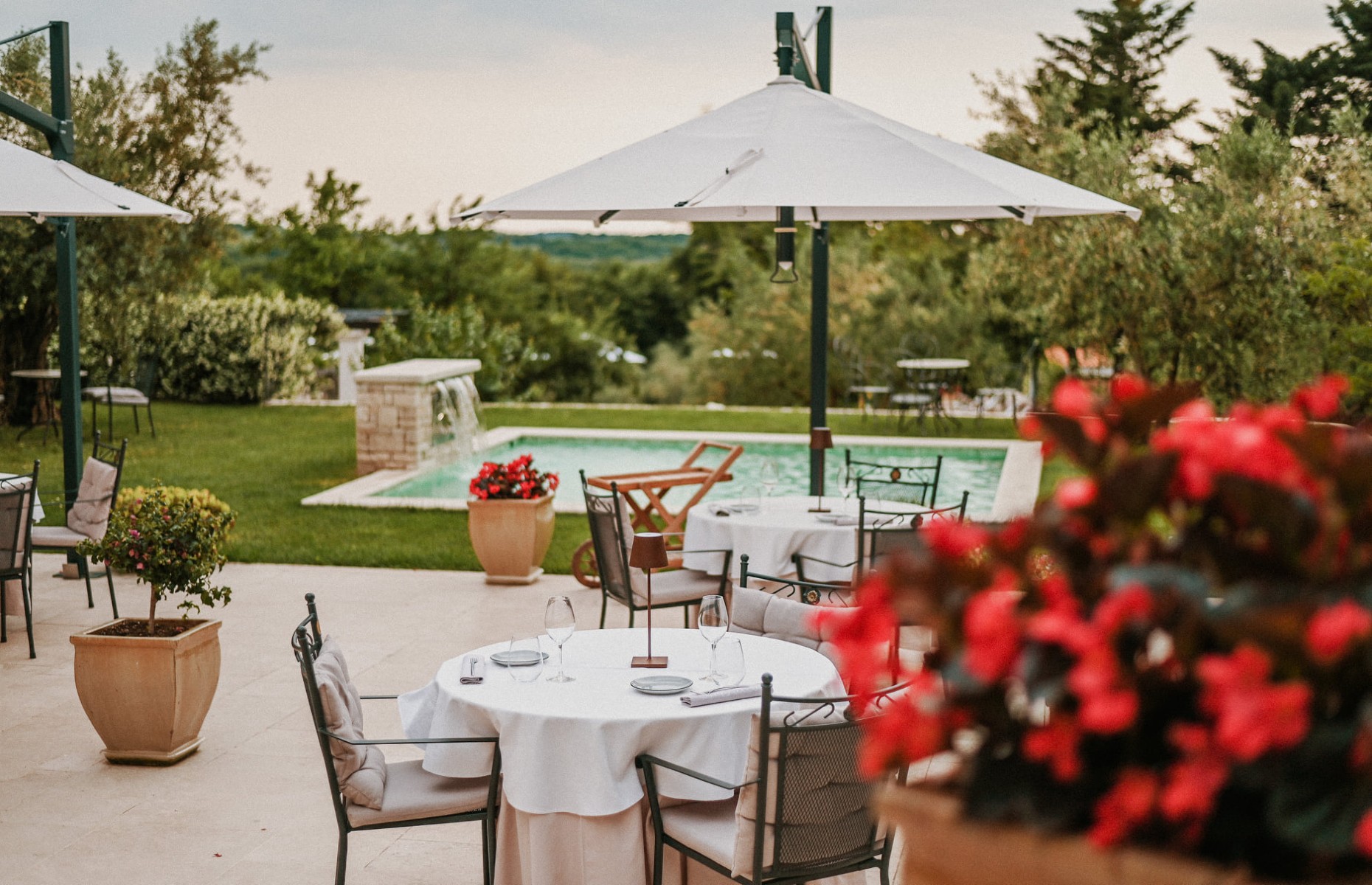 San Rocco-Boutique Hotel/Facebook
Snack Bar Rio – don't let the 'snack bar' prefix fool you – this is a very, very good restaurant in Rovinj, run by the same family who own the excellent La Puntulina just along the waterfront.
Villa Tuttorotto – a wonderful place to stay in Rovinj, it's a 16th century Venetian palazzo which has been beautifully restored and stuffed to the brim with antiques.
Getting to Istria and around
easyJet flies to Pula, and there's a shuttle bus running from the airport into town. easyJet also flies to Rijeka (the airport is actually on the nearby island of Krk).
Croatian Airlines, BA and Ryanair fly from the UK to Zagreb's Franjo Tuđman Airport, and there are shuttle buses running between the airport and Zagreb's main bus station, from where you can take a direct bus to Rijeka, Pula, Rovinj or elsewhere in Istria (check the timetables here).
Local buses will get you between the main places on the coast and inland to Pazin – but elsewhere in central Istria they are almost non-existent, unfortunately. Trains run from Pula inland to Pazin and Buzet.
For more information, head to istria.hr
Lead image: Boris Stroujko/Shutterstock
Map of Istria
Be the first to comment
Do you want to comment on this article? You need to be signed in for this feature