The best things to see on the Normandy coast
Headlands and harbours, cliffs and charming towns, beaches and brilliant museums... Normandy has seaside to suit everyone.
Why go?
No other region of France can match Normandy for seaside experiences, whether you want chic or child-friendly, sporty or stylish. From Le Tréport in the north to the Bay of Mont Saint-Michel in the south, Normandy's varied coastline is just a ferry ride from England's south coast.
Explore sombre history along the D-Day landing beaches of the Second World War and discover the rural interior with its apple orchards, heritage towns and lush pastures grazed by native cattle. Eat like a Norman with a seafood platter and a glass of local cider or apple juice.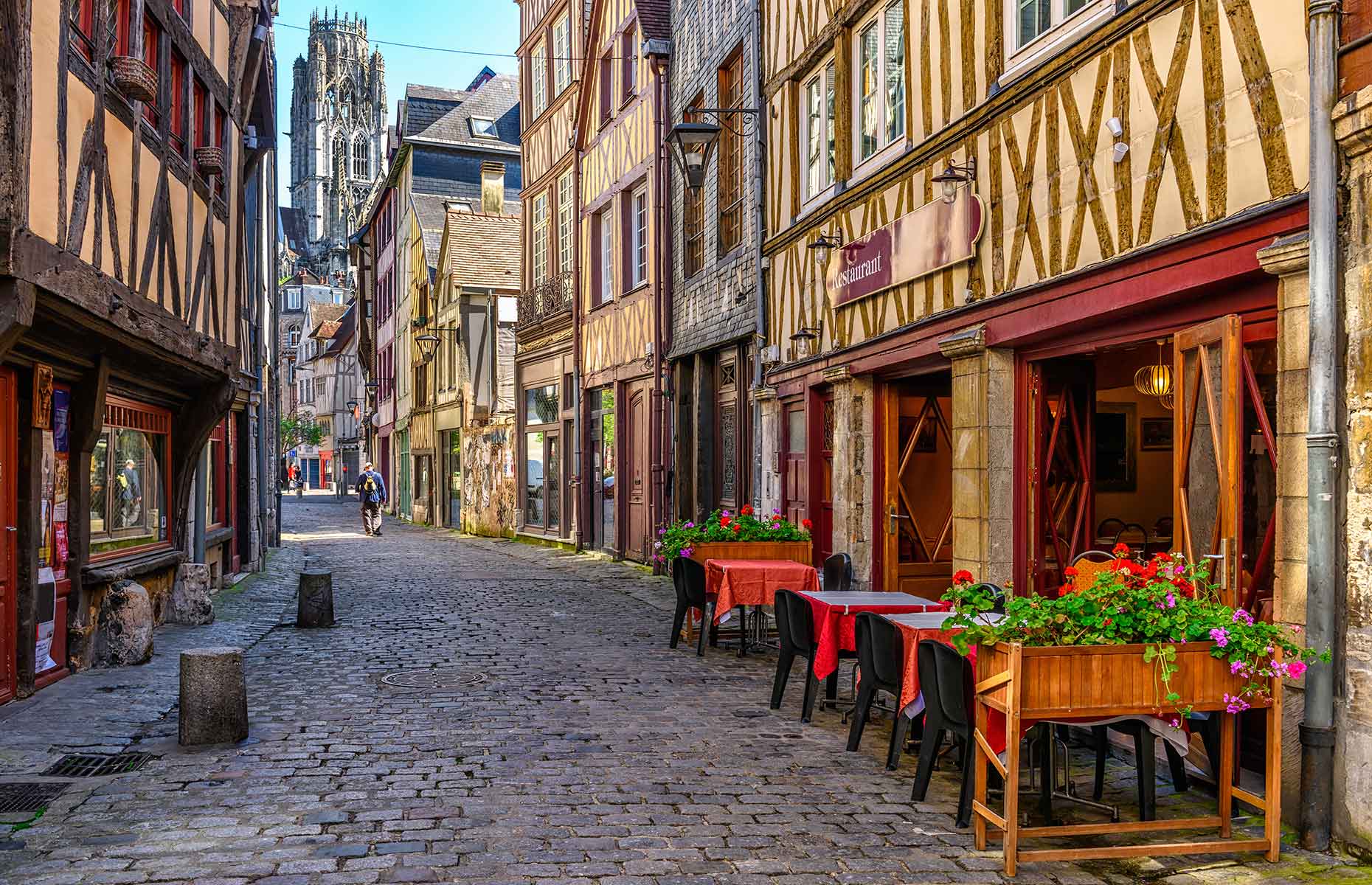 Catarina Belova/Shutterstock
England's links to the region date back to 1066 when William Duke of Normandy – known as the Conqueror – made his successful takeover bid for the English crown. Cross-Channel traffic stepped up in both directions over the centuries as England's medieval monarchs sought both land and revenge, but in the 20th century, new bonds were forged in the darkness of two World Wars.
Today the big pull for British invaders is Normandy's enchanting coastline that stretches for almost 400 miles (640km). Chill out with the children, up your adrenaline with a wide range of seaside sports, or simply sit and watch nautical folk from a stylish seafront restaurant.
Here are five big-hitters for your travel itinerary and five alternative attractions, each with their individual charm.
Five must-see sights on the Normandy coast
1. Etretat
No lover of Impressionist art should miss Etretat, a modest resort in the département (county) of Seine-Maritime in the north of Normandy. Claude Monet painted the sheer chalk cliffs and impressive natural rock arch on several occasions and where Monet led, other painters followed.
The small fishing village became a popular holiday destination in the mid-19th century as sea-bathing became fashionable and many of the era's elegant villas remain today. Fans of the Netflix TV series Lupin will also recognise the promenade where the hero's son is kidnapped. Don't leave without a visit to Les Jardins d'Etretat, high on the cliff for great views of the bay and some extraordinary contemporary topiary.
READ MORE: Amazing places you might now know about in France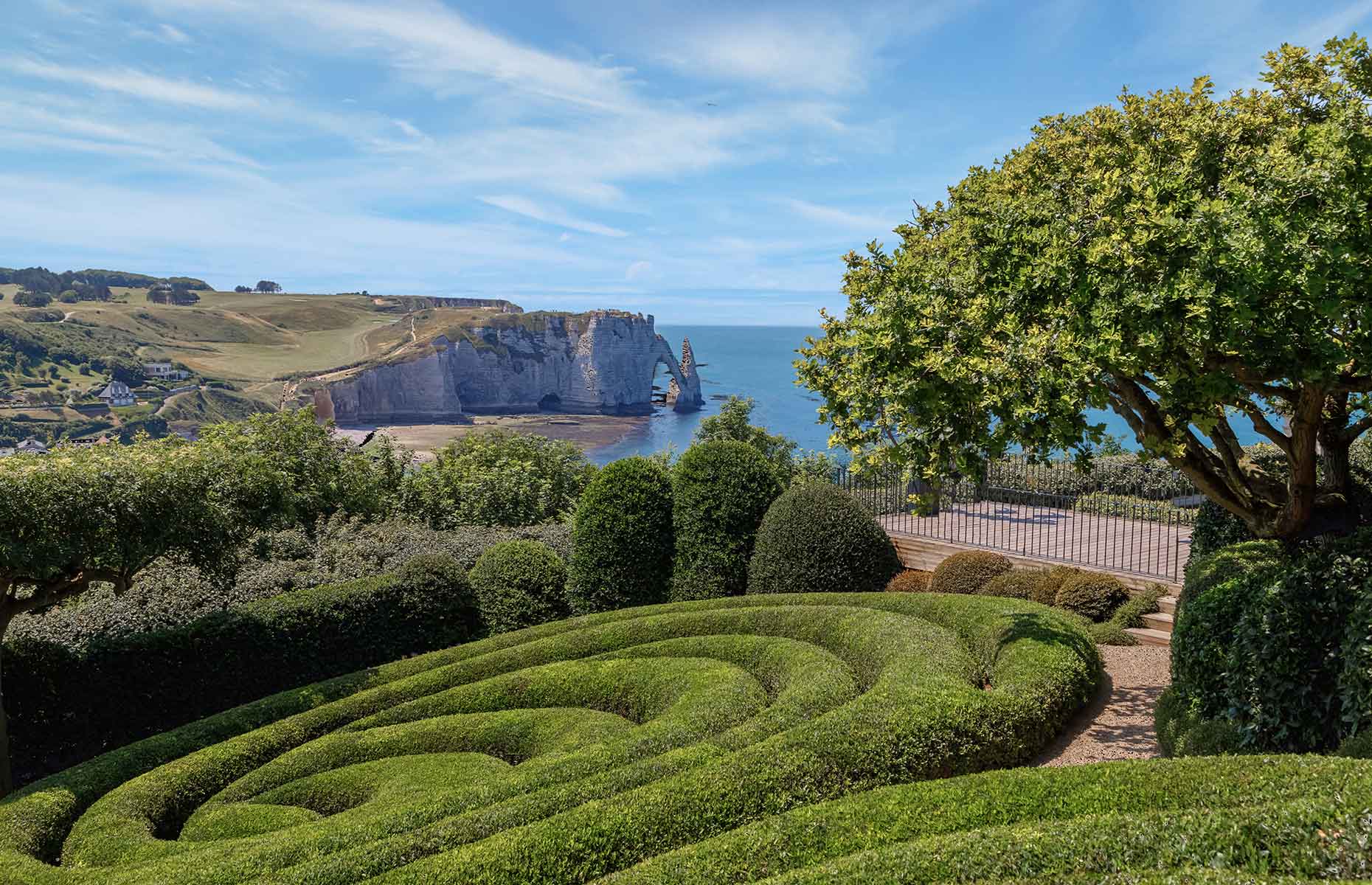 Telly/Shutterstock
2. Honfleur
Hometown of seascape painter Eugène Boudin and avant-garde composer Erik Satie, Honfleur lies near the mouth of the Seine estuary, north of Etretat. It's instantly recognisable from its postcard-pretty harbour, the Vieux Bassin, where picturesque houses tower up to seven storeys above colourful boats and restaurant canopies. You will always find artists with their easels on the quayside, following on from Monet, Turner, Corot and their contemporaries.
Visit Satie's birthplace; the wooden church of Sainte Catherine in the shape of an upturned boat; and the Eugène Boudin Museum which is filled with local art. Then relax in the riverside Jardin des Personnalités, dotted with busts of famous local residents.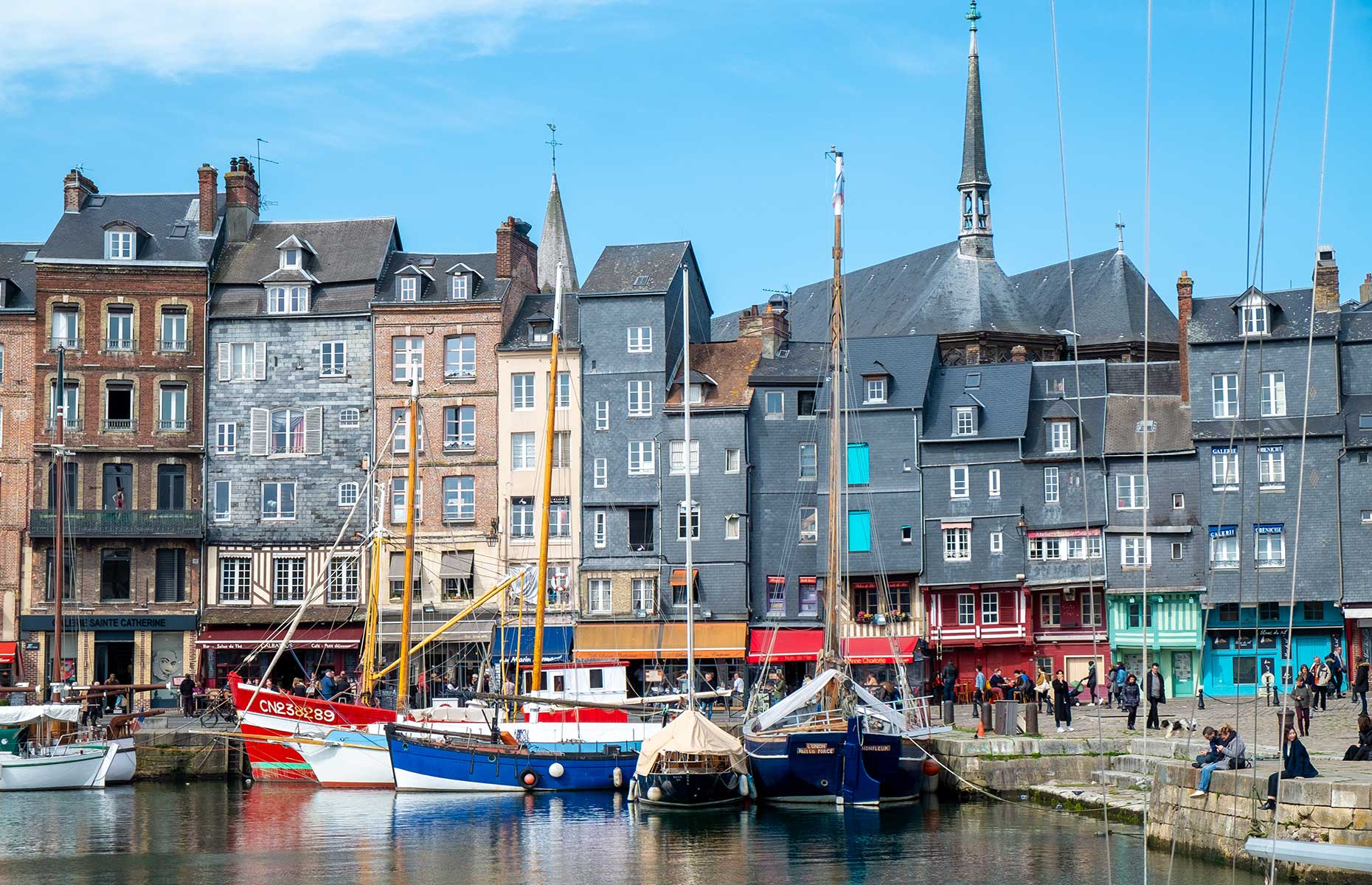 Bjorn Beheydt/Shutterstock
3. D-Day landing beaches
The turning point in the Second World War came in June 1944 with Operation Overlord, the Allied invasion of Normandy that started with D-Day, or Jour-J to the French, beginning an advance that led to the defeat of the German army a year later. British, American and Canadian troops made a surprise landing on five beaches between Ouistreham in the east and Sainte-Mère-Eglise in the west.
Today these broad sands are popular with French families, but the sacrifices of Overlord are ever-present in the museums, cemeteries and memorials dotted along the cliff tops and promenades of the beaches code-named Sword, Juno, Gold, Omaha and Utah. The new British Normandy Memorial at Ver-sur-Mer is the latest in a long list of moving but uplifting remembrance sites.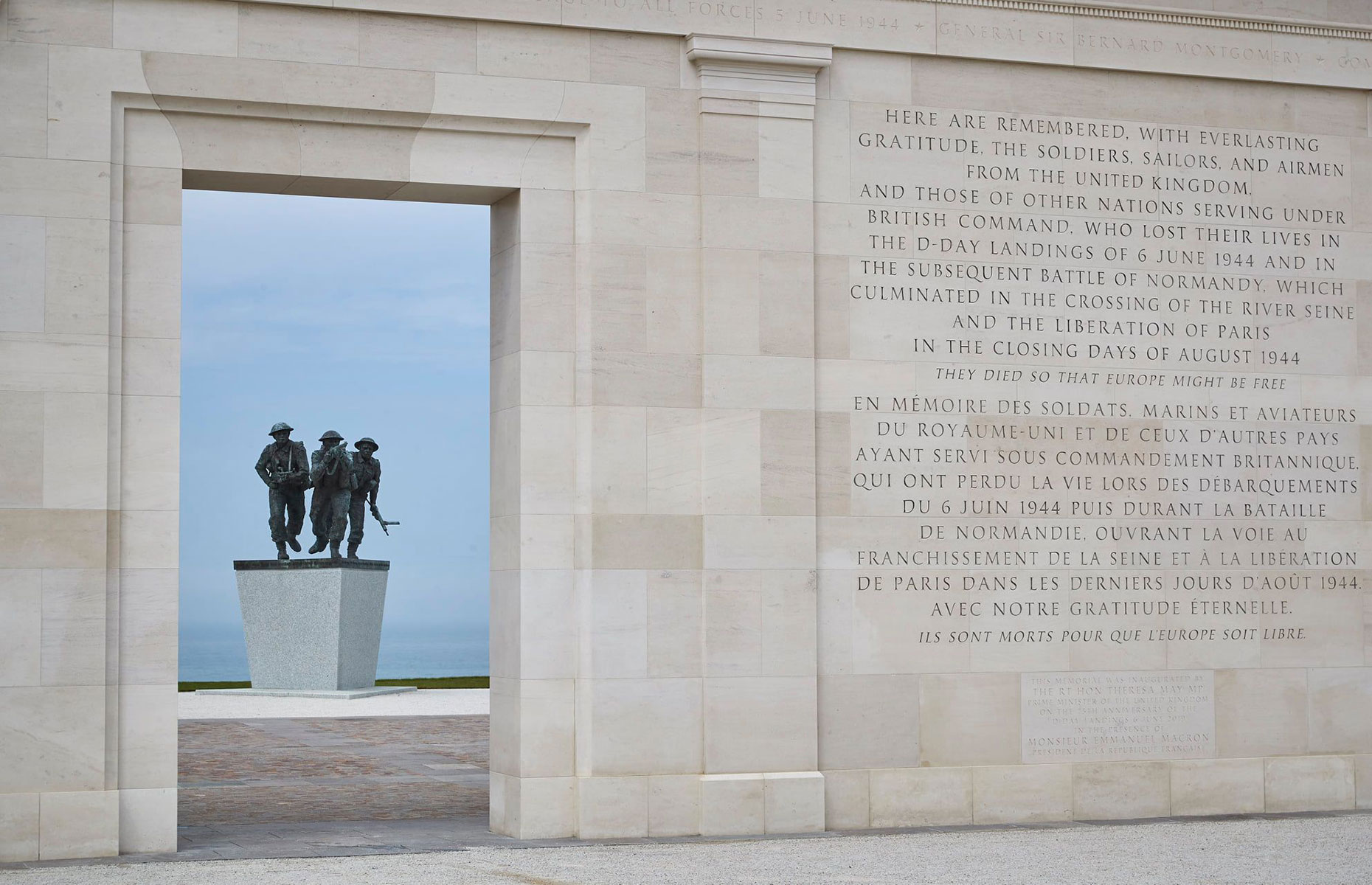 British Normandy Memorial/Facebook
4. Granville
This enchanting town on the west coast of the Manche peninsula lies to the north of the Bay of Mont Saint-Michel in the far south of the region. An important fishing port from the 15th century, Granville was also the base for corsairs, 'pirates' licensed by Louis XVII to plunder enemy ships.
Today the large marina is full of gleaming private boats which lies beneath the atmospheric Haute Ville, or Upper Town, with its winding narrow streets and historic stone houses clustered together. Don't miss the annual fashion exhibitions at the Christian Dior Museum, an elegant pink and white property where the couturier spent his childhood.
READ MORE: A long weekend on the French Atlantic coast
5. Mont Saint-Michel
Consistently voted among France's top tourist attractions, this island community is a stunner from any angle, rising out of a vast bay that drains of water twice daily. Reached by a causeway from the mainland, Mont Saint-Michel is topped by an 11th-century abbey that is still a place of pilgrimage today.
Visit early or late in the day, or in low season, to avoid the crowds that can throng the single winding street up to the hilltop abbey with its panoramic views. For an unforgettable low-level view, walk the bay at low tide, but always with a qualified guide who knows about tides and quicksand.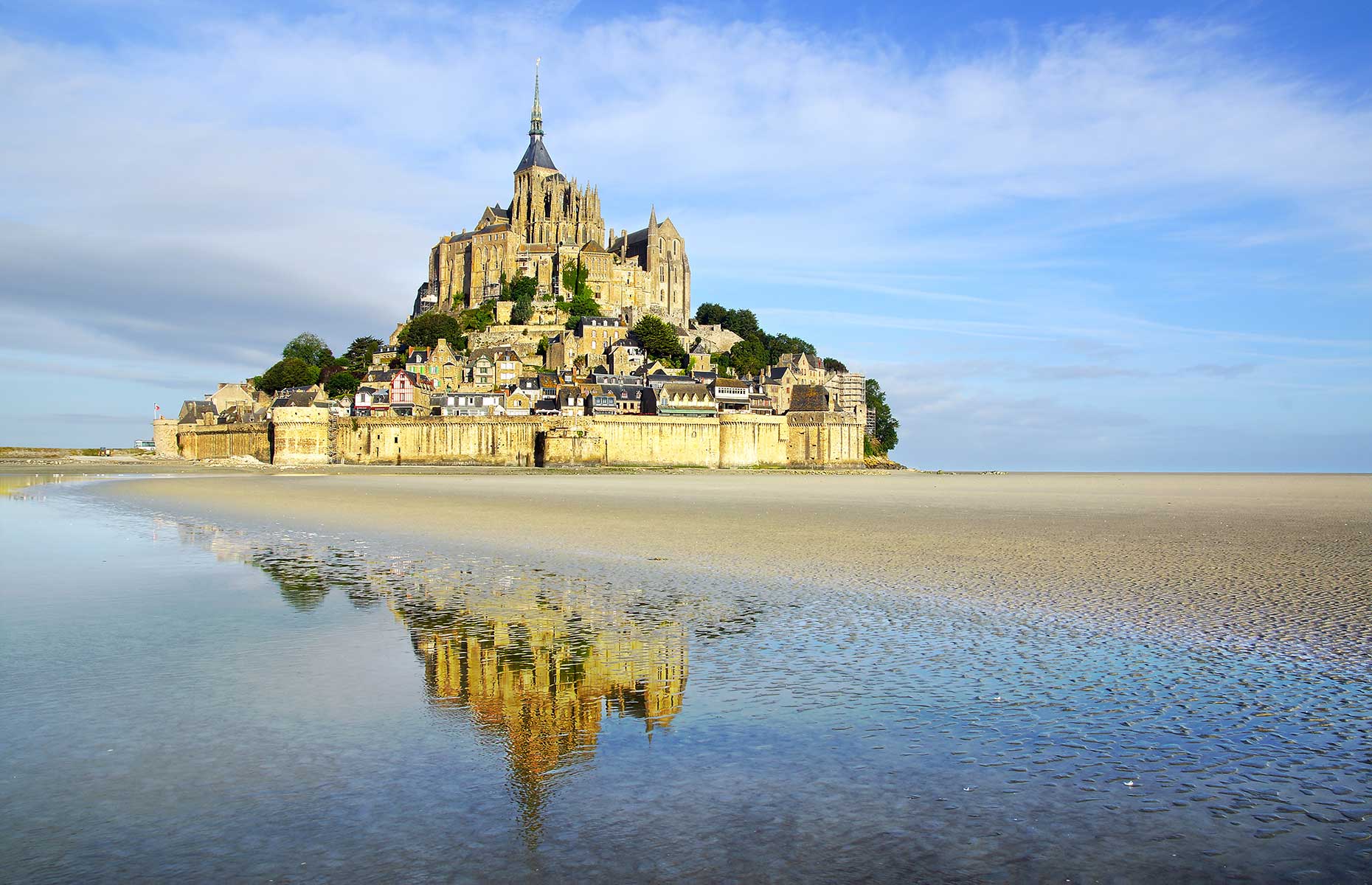 Igor Plotnikov/Shutterstock
Five alternative Normandy coastal highlights
1. Veules-les-Roses
What's not to love about a small town named after a flower, bisected by water and dotted with thatched cottages, wash-houses and mills? Welcome to Veules-les-Roses in Normandy's north, a member of the prestigious Plus Beaux Villages de France, an association of 164 communities that must fulfil strict criteria to be included in the Most Beautiful Villages of France.
Walk beside the shortest river in France – barely half a mile (1km) in length – and stroll the bijou promenade beloved by Victor Hugo, author of Les Misérables. Relax on the wide sandy beach; breathe in the scent of flower-filled gardens from a café terrace; and browse the weekend market stalls for local produce.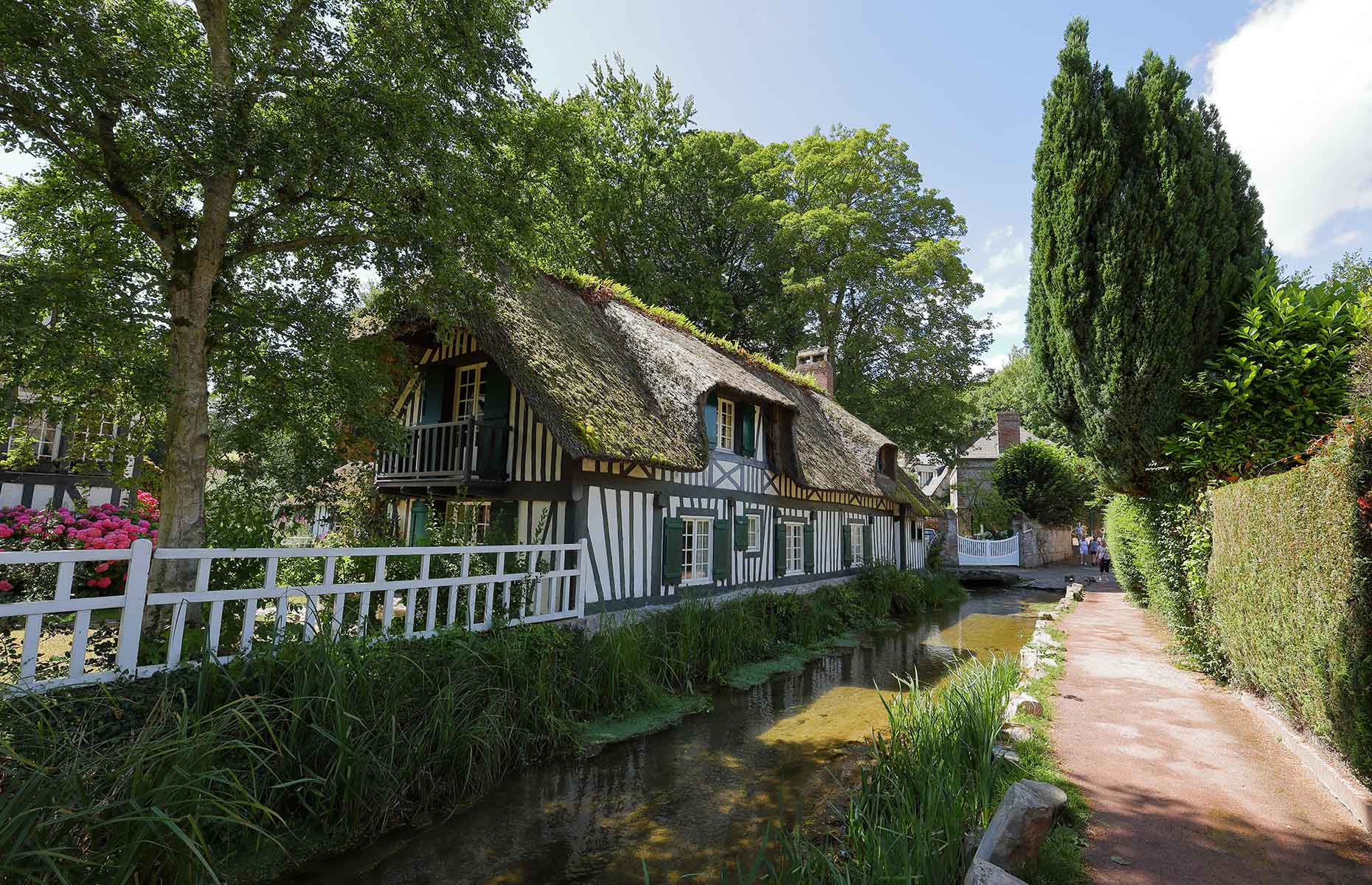 hecke61/Shutterstock
2. Fécamp
Framed by the white cliffs that give the Alabaster Coast its name, Fécamp is a town that simply oozes maritime history. Located on Normandy's northern shores, this former home of the Dukes of Normandy rose to be France's premier cod fishing port and a seaside stroll is a must-do. Soak up the atmosphere of the old fishermens' houses along the harbour and the contrasting splendour of the Abbey of Sainte-Trinité.
Discover the story of this busy fishing port at Fécamp's interactive Fisheries Museum with its themed galleries and panoramic viewing terrace. Or soak up the over-the-top splendour of the Bénédictine Palace, built by local wine merchant Alexandre Le Grand in 1863 after finding the secret recipe to an ancient liqueur created by monks. Tour the opulent rooms and art treasures, ending with a tasting.
READ MORE: France's most beautiful villages
3. Le Havre
An urban concrete environment doesn't sound like a must-see but Le Havre is rightly listed by UNESCO as a World Heritage Site. Designed by Auguste Perret, it is a harmonious and surprisingly attractive example of post-war architecture.
Don't miss the view from the Town Hall tower, nor the extraordinary cathedral of Saint-Joseph whose tower is studded with geometric stained-glass windows. Art lovers will adore MuMa, the wonderful André Malraux Museum of Modern Art that is home to the second-largest collection of Impressionist paintings outside the Musée d'Orsay in Paris.
4. Barfleur
An important port in medieval times, Barfleur is another member of the Plus Beaux Villages de France association. And it's not hard to see why. Located near the tip of the Cotentin peninsula in northwest Normandy, it has all the hallmarks of an idyllic French village: a picturesque harbour, cute Norman church and properties ranging from modest fishermens' cottages to grand Renaissance townhouses.
There's always something to watch in the busy fishing harbour where the light changes constantly, but maybe take a boat trip along the coast or drive out to the Pointe de Barfleur lighthouse for dramatic coastal views.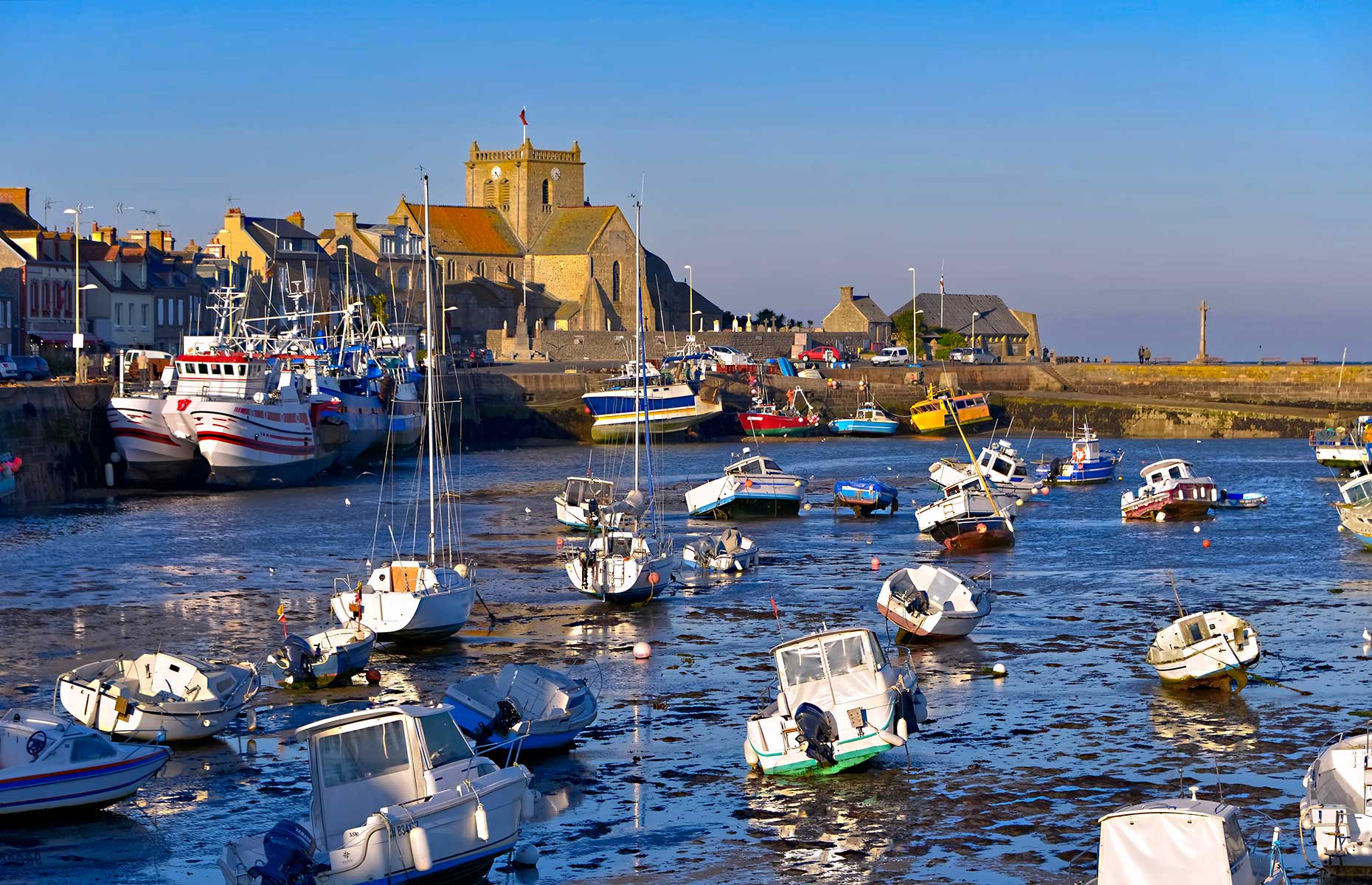 Christian Musat/Shutterstock
5. Cherbourg
No ship has fascinated the world quite like Titanic which made its last stop at Cherbourg on mainland Europe. Immerse yourself in Cherbourg's maritime history at the Titanic exhibition within the excellent Cité de la Mer which takes visitors on an interactive journey through the deep and includes the Redoutable submarine in dry dock.
Elsewhere in this bustling town, you will find parks, gardens and the Thomas Henry art museum. Take a boat tour of the world's second-largest artificial harbour and visit the panoramic Fort du Roule to discover its Second World War history.
READ MORE: Discover our complete guide to Nantes
Normandy hotels
From the grand luxury hotels of stylish Deauville and Cabourg to cosy self-catering cottages and friendly guest houses, Normandy is big on atmospheric accommodation.
Northeast
Relax in a traditional half-timbered property with contemporary decor and views of the Seine at the Hotel la Chaumière in Honfleur. Expect sumptuous furnishings and character bedrooms at the super-chic Hôtel Barrière Le Nomandy Deauville, just moments from the beach.
Northwest
Enjoy a quiet location between Cherbourg's town centre and pleasure harbour at the Hôtel Chantereyne. And explore both coasts of the Cotentin peninsula from English-owned farmhouse bed-and-breakfast La Ferme de Banoville.
READ MORE: How to explore France by campervan
Central
Explore the D-Day beaches and Bayeux Tapestry from La Ferme de la Ranconnière at Crepon near Arromanches, or from Les Villas d'Arromanches, located less than 500 feet (152m) from the beach.
South
Live like an 18th-century aristocrat at the elegant Château de Chantore near Avranches, with its large park and distant views of Mont Saint-Michel. Or stay in a classified historic building on the mount itself at Hôtel la Vielle Auberge.
How to get to Normandy
Travel direct to Normandy with Brittany Ferries from Portsmouth to Cherbourg, Caen-Ouistreham or Le Havre, and from Poole to Cherbourg. Or with DFDS from Newhaven to Dieppe. The closest airports are Paris Charles de Gaulle, Paris Orly and Nantes International.
For further information and inspiration, visit Normandy Tourism.
Lead image: Pecold/Shutterstock
Map
Use this handy map to explore all of our favourite places on the Normandy coast:
Be the first to comment
Do you want to comment on this article? You need to be signed in for this feature